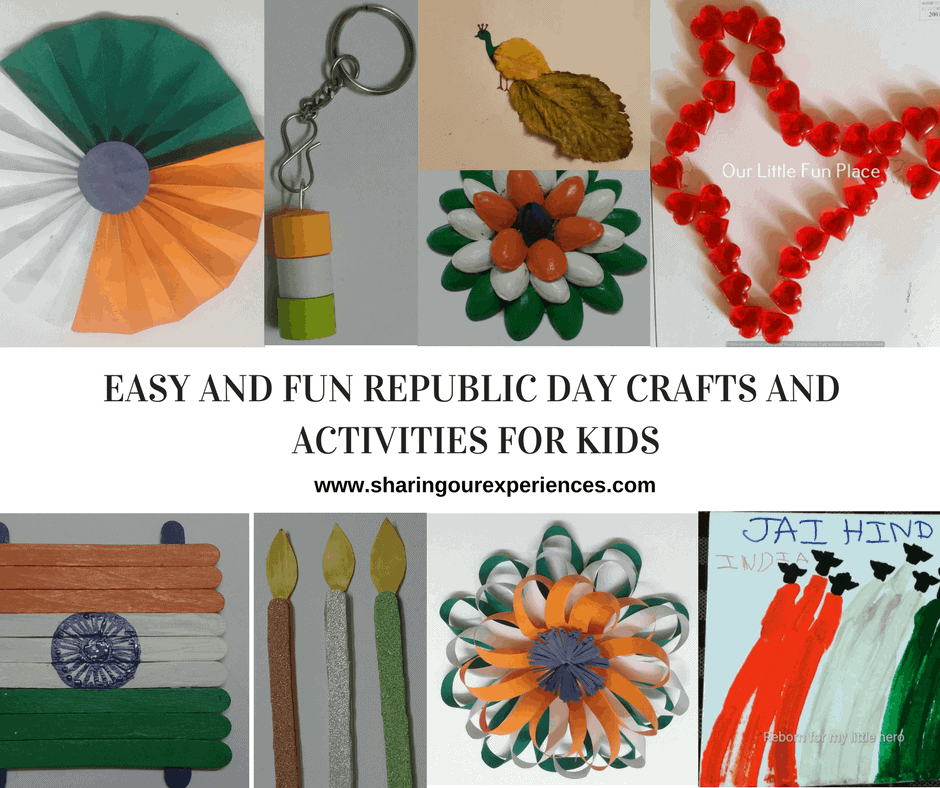 ---
Today is Republic day and what better day to engage our kids in some republic day activities and crafts.
And while we are crafting, let us tell our kids about why this day is special. Why has it been declared as a national holiday. Why do we celebrate it. If you are looking for a simple way to explain this to your kid do read  How To Explain The Significance Of Republic Day To Your Child In Simple Words
As said by Benjamin Franklin – "Tell me and I forget, teach me and I may remember, involve me and I learn." So there is no better way to teach our kids but to involve them.
The below are carefully selected Republic day activities and crafts from around the world. These are activities that I would like to do with my son as and when I get time and when he is ready for them. Do scroll down till the end to download free India themed coloring worksheets.
I have also added some more Tricolor crafts that you can do – Check out this list of Independence day crafts.
Get Coloring sheets about National symbols and monuments of India on your mail for free . Take printouts and contribute to your kids growth and development
So here are some very easy republic day activities and crafts that you can plan to do with kids.
Republic Day Activities and crafts for kids
Trace the outline of India in map
You can print India map on A4 sized sheet and involve your toddler in tracing the outline using heart beads as Bindu from Our fun little place did with her toddler.
A fun activity with lots of fine motor exercise for those little fingers and see how beautiful our country looks.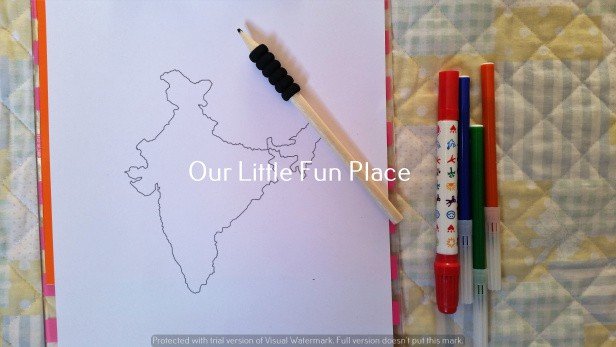 back to menu ↑
Make National Flag of India
You can teach your kids how to make Indian flag. Check out these creative ideas for making flag.
You can make our national flag by cutting tri-colored thick sheets into equal strips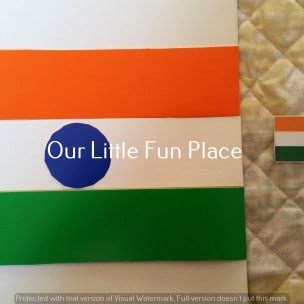 Or you can chose to make national flag of India with ice cream sticks. This is what I did with my toddler. It was fun watching him stick Popsicle sticks to white paper.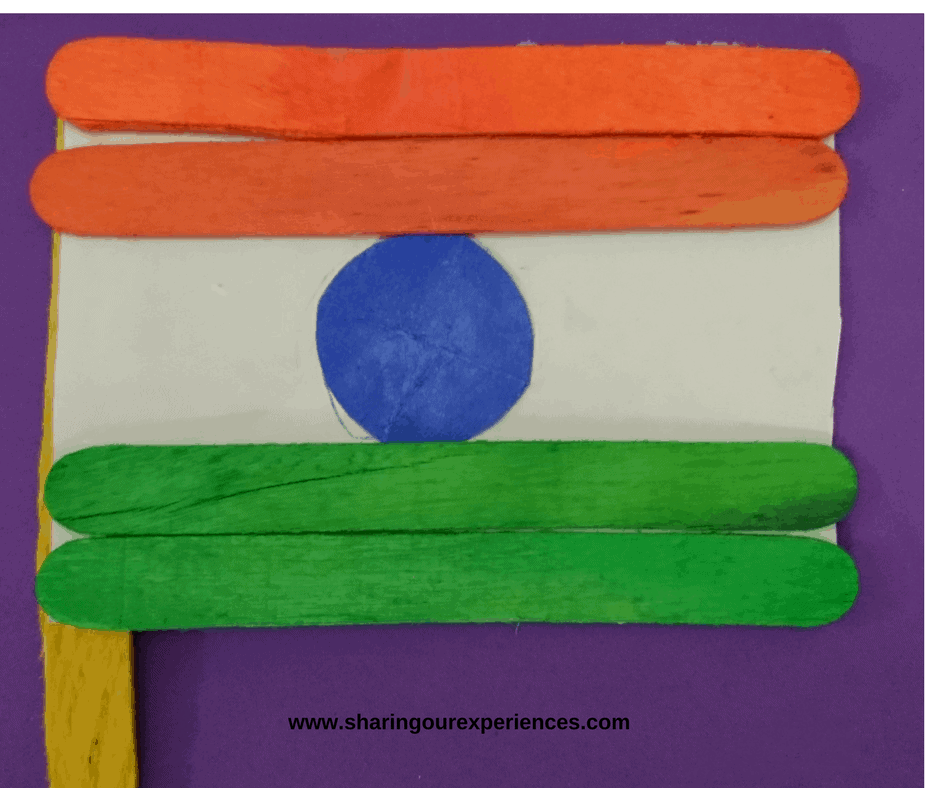 Ice-cream Popsicle sticks national flags can also be hung on walls using a ribbon as shown below
Check out what Sulbha from our journey of learning did with her very talented adorable toddlers.They made flag of India from colored rice, from paint colors and from coloured papers (a simple DIY cut and paste activity).
Such activities not only keep your toddler engaged and happy but also improve their fine motor skills and hand eye co-ordination. I also use this as an opportunity to teach them about colours and shapes.
You can also see what Bhuvaneswari a mother who is reborn for her little hero Haren, a very sensible 4 year old, encouraged her son to do – make Indian national flag with clay.
Bhuvaneswari believes in letting her son do things on his own and making him independent.
back to menu ↑
 Introduce your kids to national symbols and currency of India
You can use a All in One book to explain about the national symbols and currency of India. This activity can be followed with matching the national symbol color cards on a black and white printable.
back to menu ↑
Make tricolor sandwiches
Looking for republic day food ideas. Why not make tricolor sandwiches ?
This is what Sulbha and her toddlers did to celebrate republic day. The toddlers did everything – right from grating, making till eating on their own.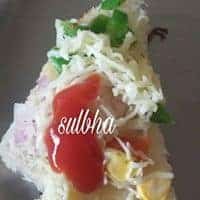 You can also check out this recipe from Tarla Dalal for the same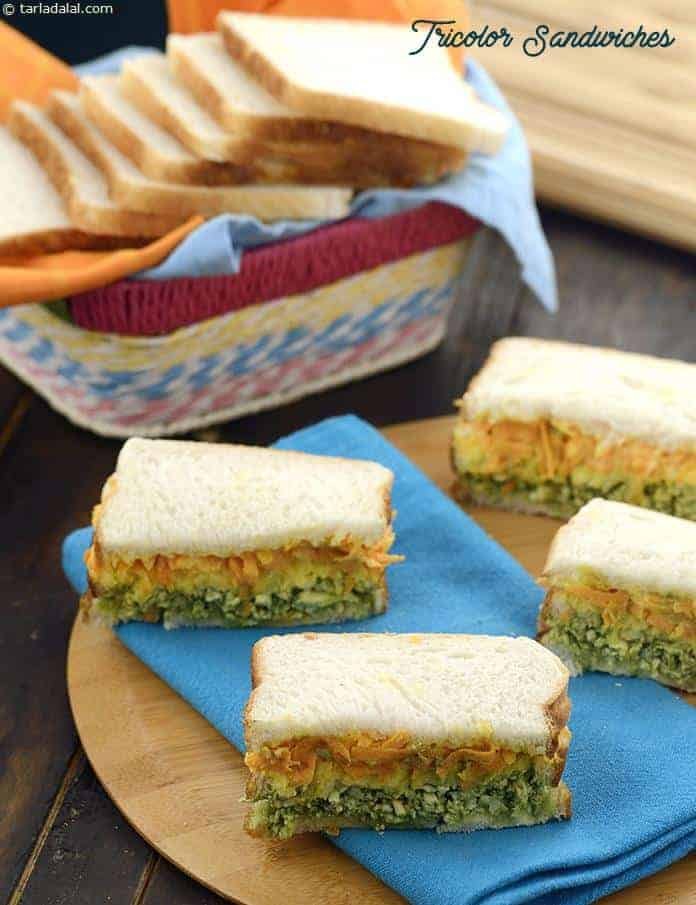 back to menu ↑
Introduce your kid to National Bird – Make Peacock with paper or leaves
Republic Day is a good time to introduce your kids to National bird of India and one of the ways of doing this would be by making this easy Paper Peacock using leaves.
Or you can also make a peacock using colored papers as shown below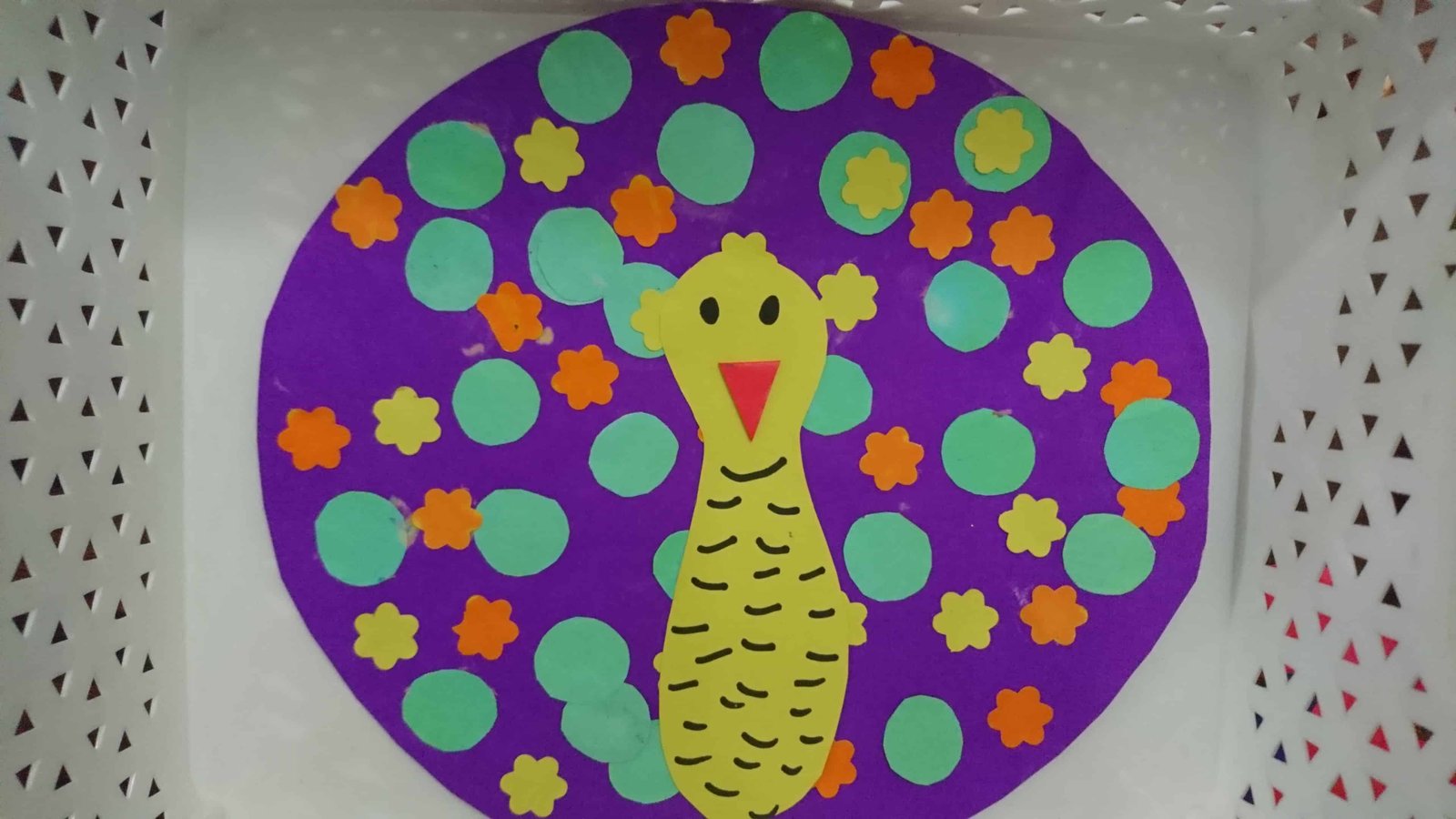 back to menu ↑
Make Tricolor Paper Flowers
You can make tricolor paper flowers with your kids. This could be simple ones for toddlers and preschoolers or a little elaborate ones using Origami or paper quilling for bigger kids.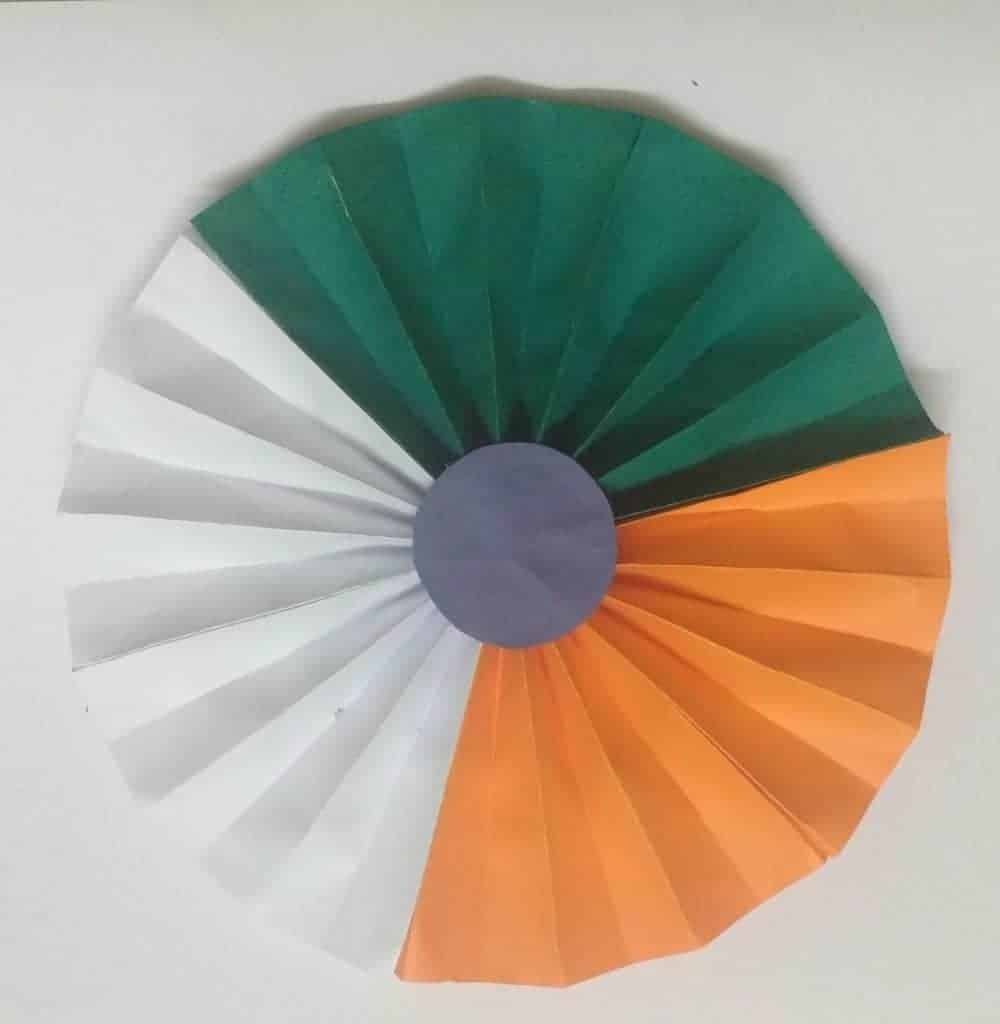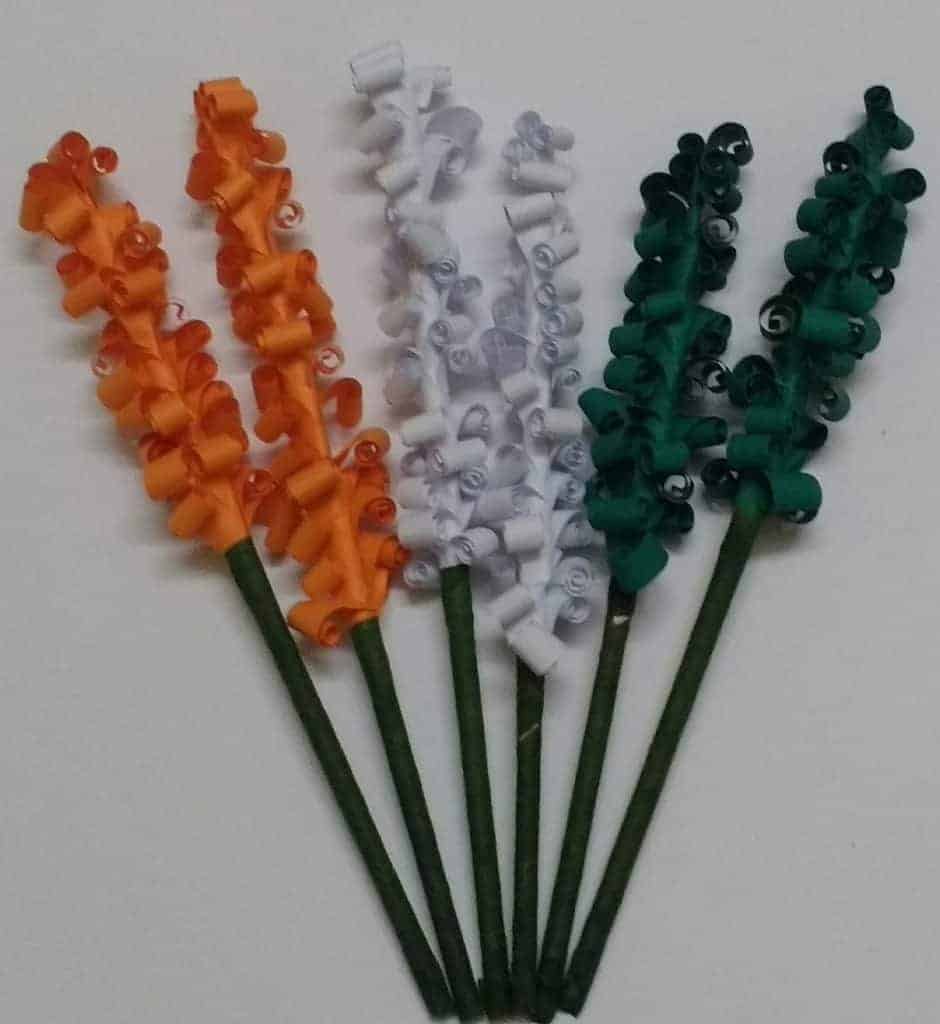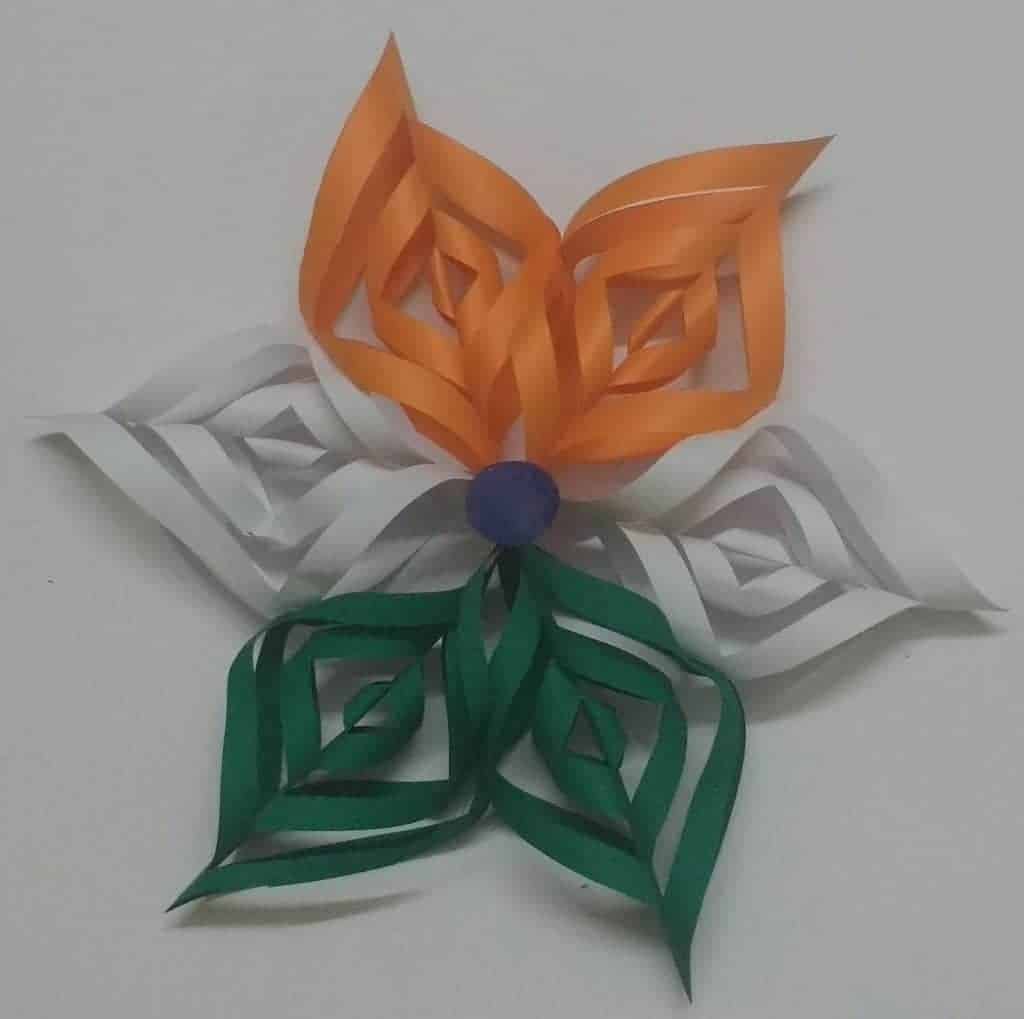 Easy Tricolor Paper Flower by using Paper strips, forming loops of paper strips and pasting them.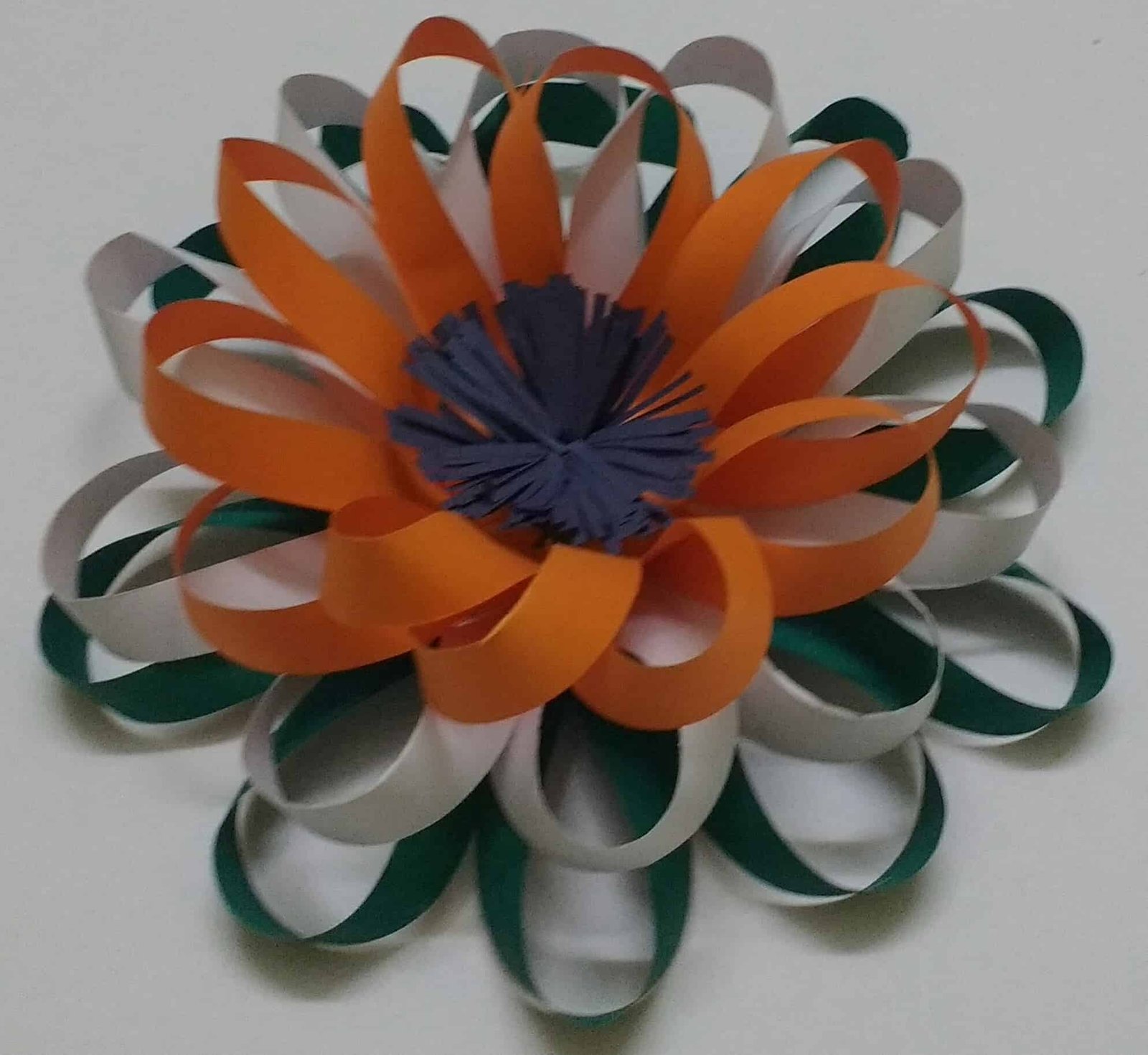 back to menu ↑
Make Tricolor Paper Buntings or wall decoration
You can involve kids to make beautiful tricolor paper buntings or wall decorations. These are great as Republic day crafts for kids and can be used to decorate school boards or preschool Republic day themed projects.

Easy Tricolor flower or wall decoration with Pista shells
back to menu ↑
Make Tricolor candles using glitter tapes and popsicle sticks
You can also make Tricolor candles using popsicle sticks and glitter tapes to spread light, hope and happiness.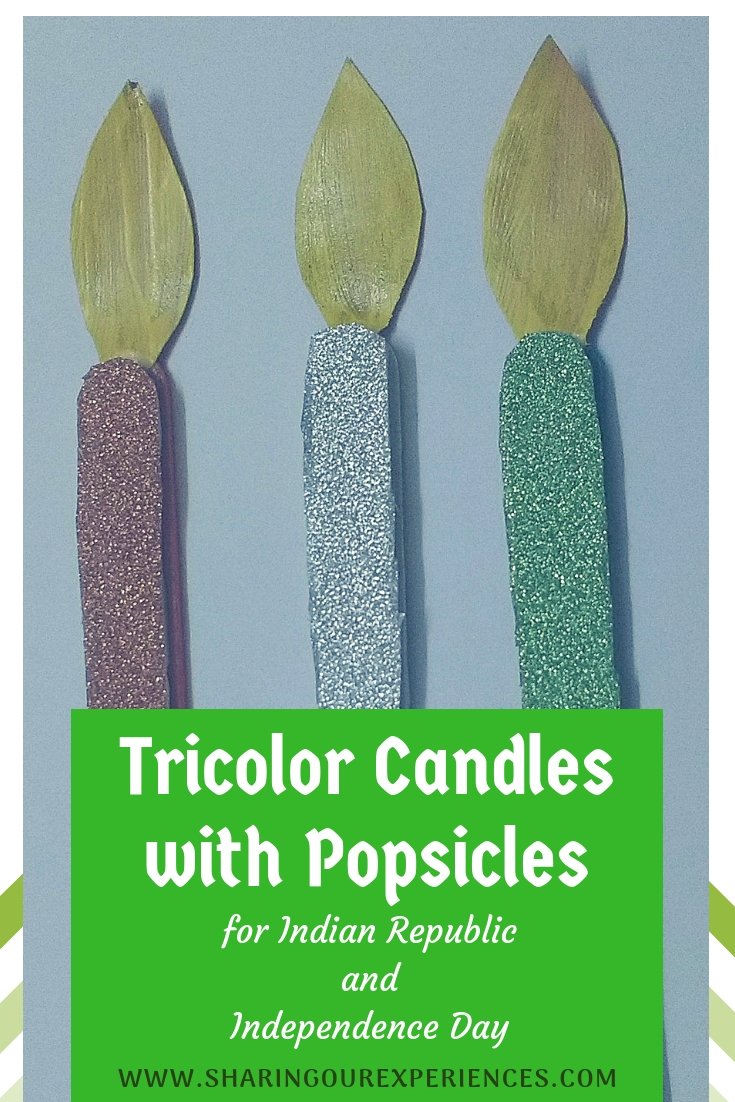 back to menu ↑
Make Tricolor garlands using Pom poms
Pom Poms are great for kids of all ages, you can use them to make garlands for decoration or they can also be used to make simple wrist bands for kids.
back to menu ↑
Make Tricolor Key chains using Paper quilling
This is another idea I loved, you can make Tricolor key chains using quilled paper.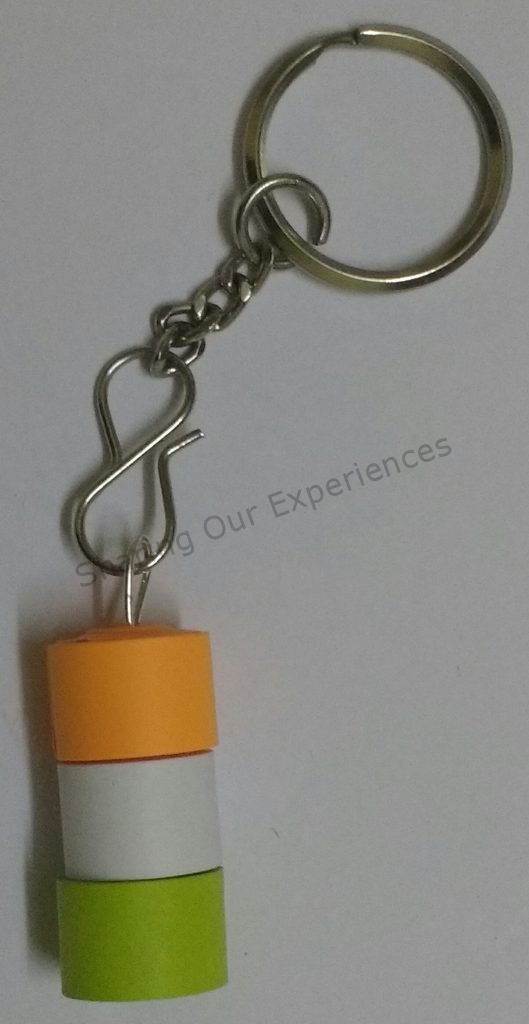 back to menu ↑
Boat Race between two countries
Who does not like races ? Involve your kid in this simple game and plan a boat race between two countries. No prize for guessing which country will win today.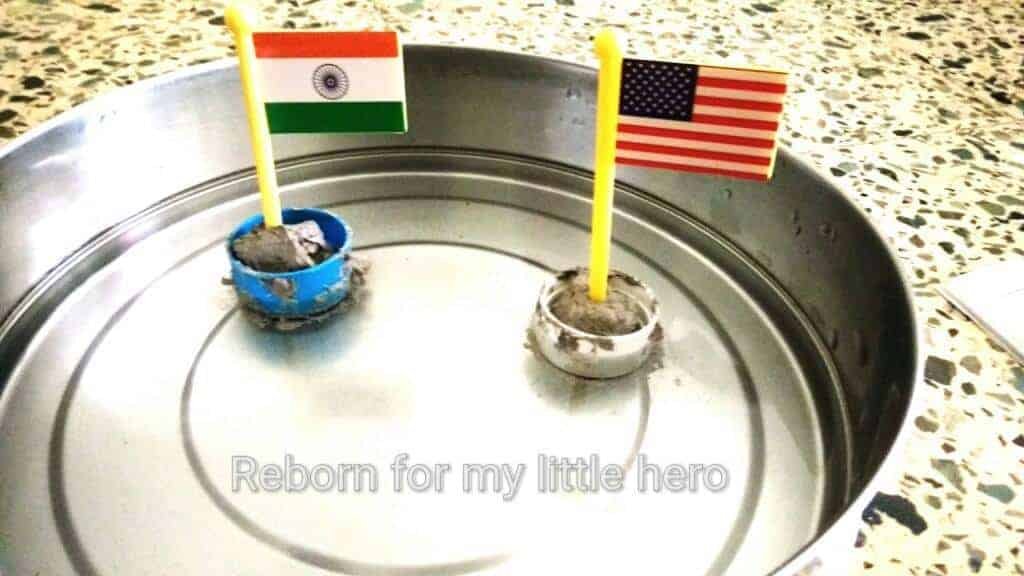 back to menu ↑
Dry transferring of Dal and colored rice resembling the tricolor
Transferring is one activity that is loved by all kids. So another great idea  from Bindu on Republic day theme.
You can use tricolor Dal and rice for a transferring activity or just for sensory play. For older kids you can also involve them in making  India flag rangoli.
Click here to see more such activities from her.
back to menu ↑
Paint Airshow for Republic day
Another interesting activity to talk about how we celebrate republic day is to let you kid paint airshow for Republic Day. All it requires is a white paper, water colours and paint brushes.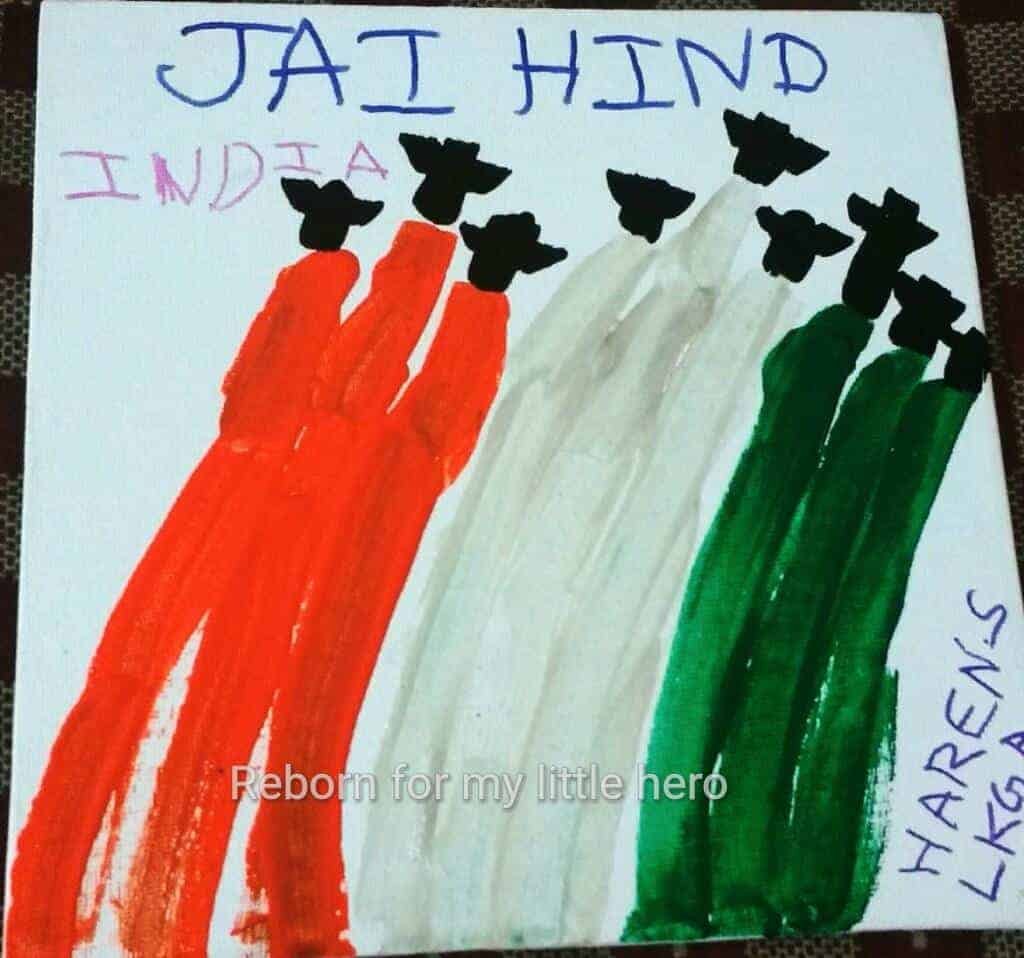 Hope you enjoyed this list of Indian republic day activities and crafts for kids. These Republic day crafts can also be used to decorate bulletin boards in schools or kindergarten.
back to menu ↑
Download Free India themed Coloring sheets
You can also use Republic Day or Independence day as an opportunity to talk to your kids about National symbols of India, our currency and famous monuments. Here are more than 10 free coloring sheets/worksheets on India theme to help you get started with the conversation.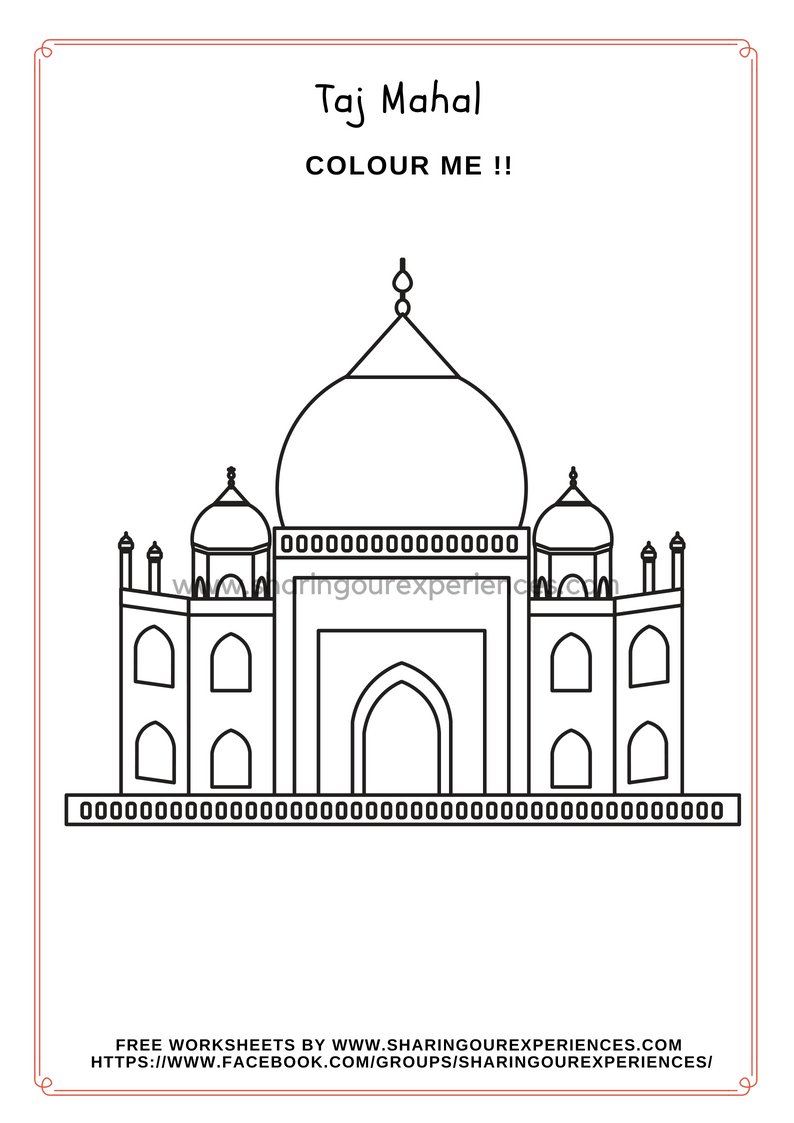 Get Coloring sheets about National symbols and monuments of India on your mail for free . Take printouts and contribute to your kids growth and development
Do let us know what you did this Republic day by using comments below.
If you want to check out how, do read our popular posts on Child Growth and Development.
Hope you enjoy reading it and find it useful.
You may also be interested in some Easy Rakhi crafts for kids.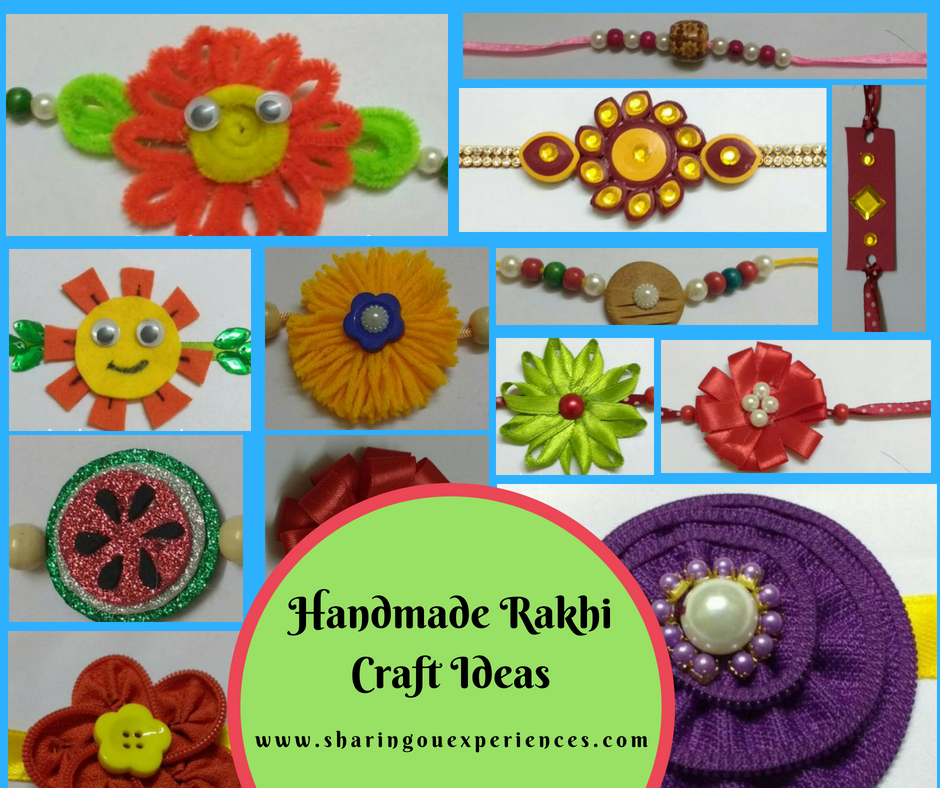 qz
Don't miss to pin

Liked this post ?
You may also want to check out books you can read to kids on Republic or Independence Day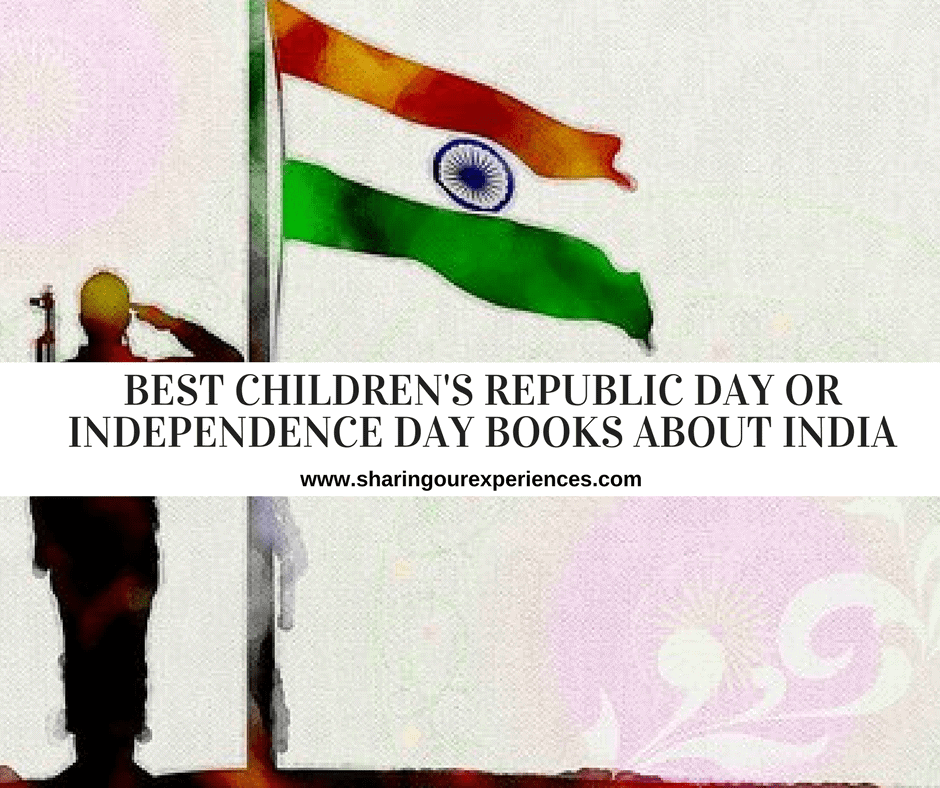 Your Turn Now
In case if you liked this article do show your support by sharing this article.
Like our Facebook Page 
Stay connected with us using your favorite social media, we can be found on
Add a comment
Don't you find these Republic day craft ideas interesting and beautiful ? Try it and let me know using comments below. Would love to hear from you.
We love hearing from you. Add a Comment using your Facebook id (if you don't want to use Facebook, scroll down to leave a reply using other options)