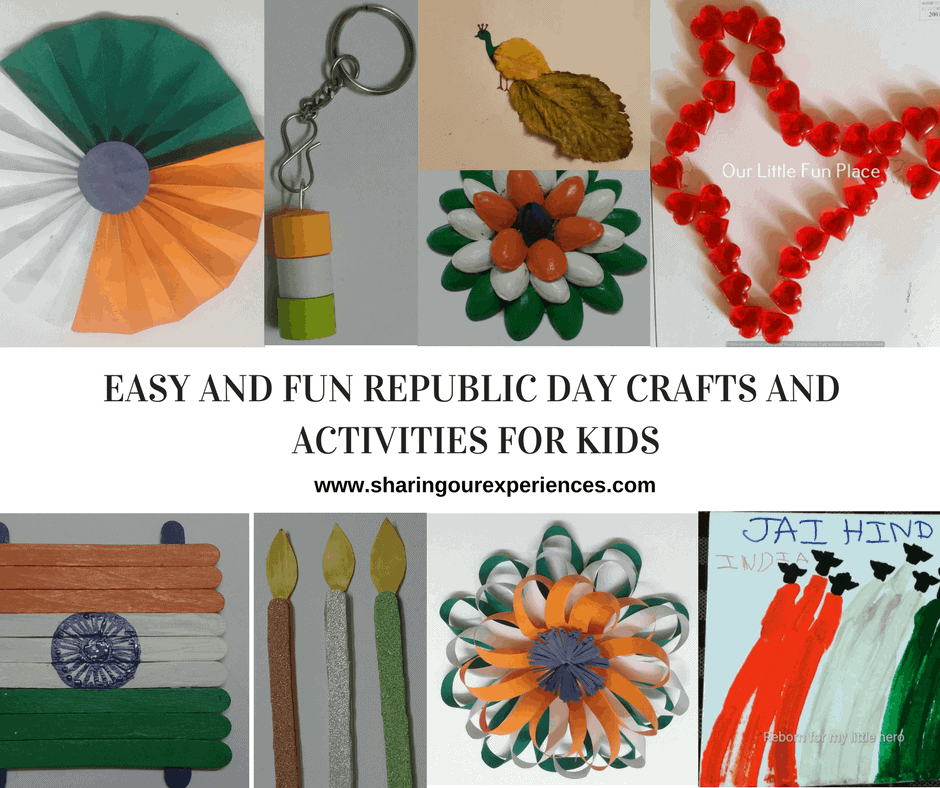 Are you looking for fun activities and crafts for Republic day. Check out this article and also Download free worksheets and printables.
Today is Republic day and what better day to engage our kids in some republic day activities and crafts. Also download India themed FREE printables . I am sure your child would love these India activities for preschoolers
And while we are crafting, let us tell our kids about why this day is special. Why has it been declared as a national holiday. Why do we celebrate it.
You may also like to check out these Best books to read to kids on Republic day
As said by Benjamin Franklin – "Tell me and I forget, teach me and I may remember, involve me and I learn." So there is no better way to teach our kids but to involve them.
The below are carefully selected Republic day activities and crafts from around the world. These are activities that I would like to do with my son as and when I get time and when he is ready for them. Do scroll down till the end to download free India themed coloring worksheets.
I have also added some more Tricolor crafts that you can do – Check out this list of Independence day crafts.
Fun Republic Day Activities and fun kids crafts for Republic day (India activities for preschoolers)
Here are some very easy republic day activities and crafts that you can plan to do with kids.
Unity Doll (Fun activities for teaching Unity to preschoolers)
Do we often wonder how to teach children about Unity? Check out this fun activity by Nikita. This can be done for teaching unity in the classroom or at home. Excellent DIY activity to include in your lesson plan on unity in diversity and unity is strength.
These beautiful unity dolls are made by Nikita Choudhury with the help of her son Kushagra to explain the concept of "UNITY"
Process for setting up Unity in diversity Activity
Take A4 size paper in orange, white & green colors. Cut half and fold in a fan shape. Draw and color 3 faces and 6 hands. Decorate the hairs, fold hands and stick the head & hands. Assemble all 3 together by sticking hands.
Great Hands-on activity to try to teach him "Unity is Strength" and how we all are united in spite of being of different cultures.
Tissue Roll & Paper Air Show by IAF(Best out of waste craft for pre-schoolers)
This craft was done by Ruchika of @alearningcarnival. This is the 72nd Republic day for India on 26th January. It marks the day when the Constitution of India came into effect. Every year a Republic day parade is organized by the regiments of the Indian Army, Navy and Air Force. Different states showcase their culture and diversity by building beautiful displays.
Our favorite has always been the air show by the Indian Air Force. Here we are depicting on such a show. Take paper rolls to make the air crafts. Sponge painted the sky. And tissue papers for the colored smoke display.
Dropper Painting – Peacock Feathers!(Fine motor activity for toddlers)
Decorating peacock feathers with painting on tissue paper !
When Karishma from @fun2learnwithus's kiddo is in mood to do some painting with dropper especially, she needs to think of some fun idea that doesn't create more mess around on a busy day.
They tried hands on dropper painting over tissue paper and loved decorating the Peacock feather with festive theme. It can be adapted in many ways instead painting we can put sight words over Peacock feather part, number coding and alphabets
Material used :
🔸️Cardboard
🔸️Paint colours
🔸️Paintbrush 🖌
🔸️Cardboard cuttings
🔸️Glue
🔸️Tissue paper
🔸️Dropper
🔸️ Water Colors
This activity promotes
🔹️Fine motor skills
🔹️Creativity
🔹️Hand-eye coordination
🔹️Make them productive
🔹️Visual skills
🔹️Expressive
Making of Peacock artworks
Draw a peacock on a cardboard and color the body leaving the feathers. Now take cardboard cuttings and make stick them on feather sections. Now roll tissue papers and fill the feather sections. Take some watercolors and dilute them. Use a dropper to add colors on the tissue paper of feather sections. Voila, you have beautiful artwork.
It was a beautiful and perfect play 😇😊 I hope you also like this idea!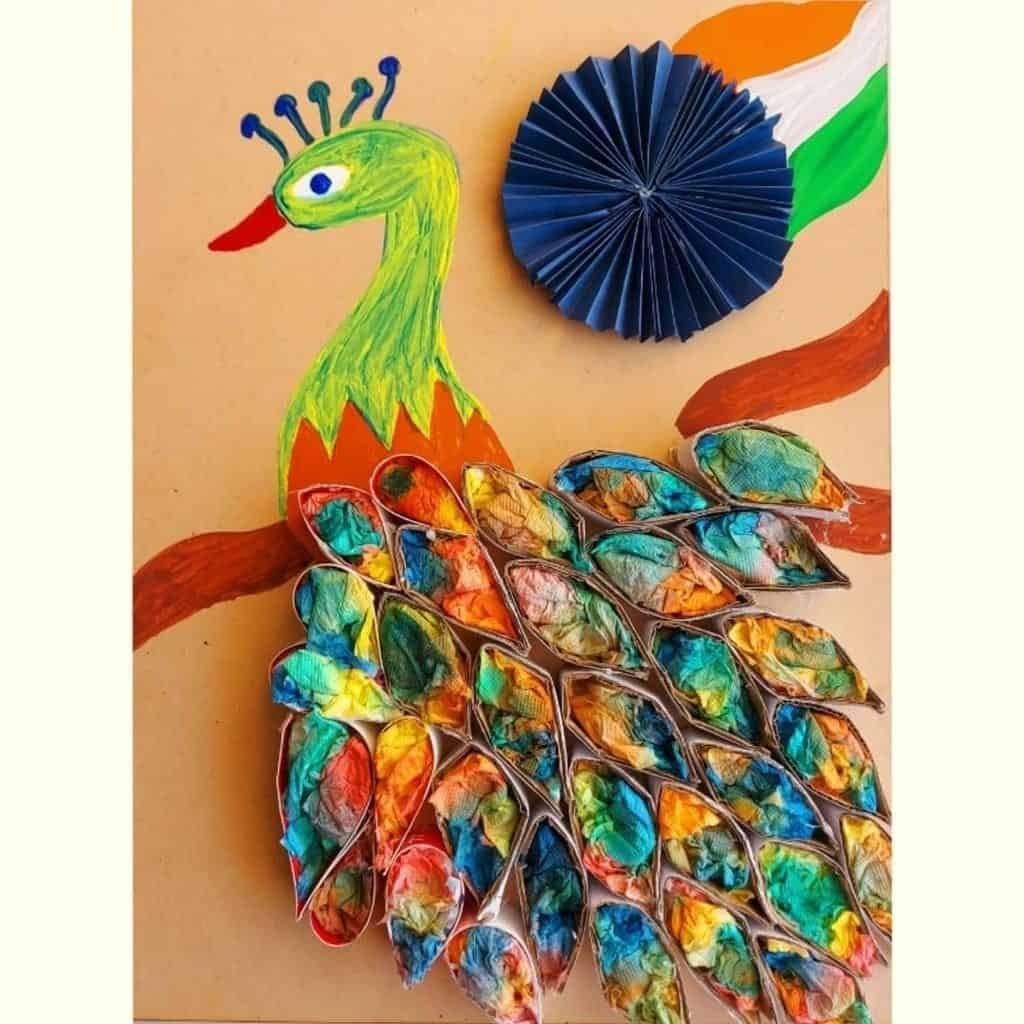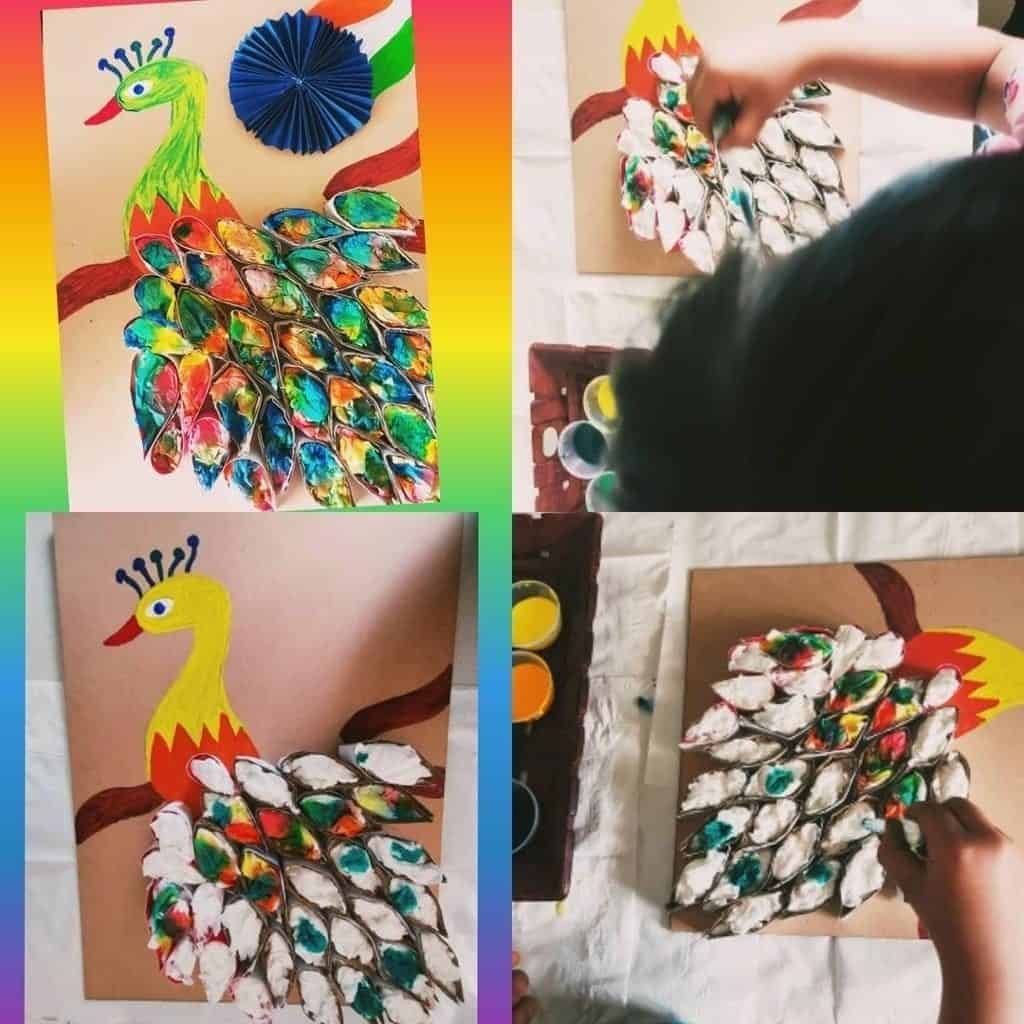 Tricolor Sticky Flower Art (Nature art for Toddlers)
This post & story is from @crayonsandgiggles. The second prop for our learning about India week were flowers and leaves. Mr. 2 loves exploring flowers and I thought it would work very well with the colors of India's National flag. Since we did a pom-pom balls matching activity yesterday, Mr.2 was quite familiarized with composition of the Indian flag.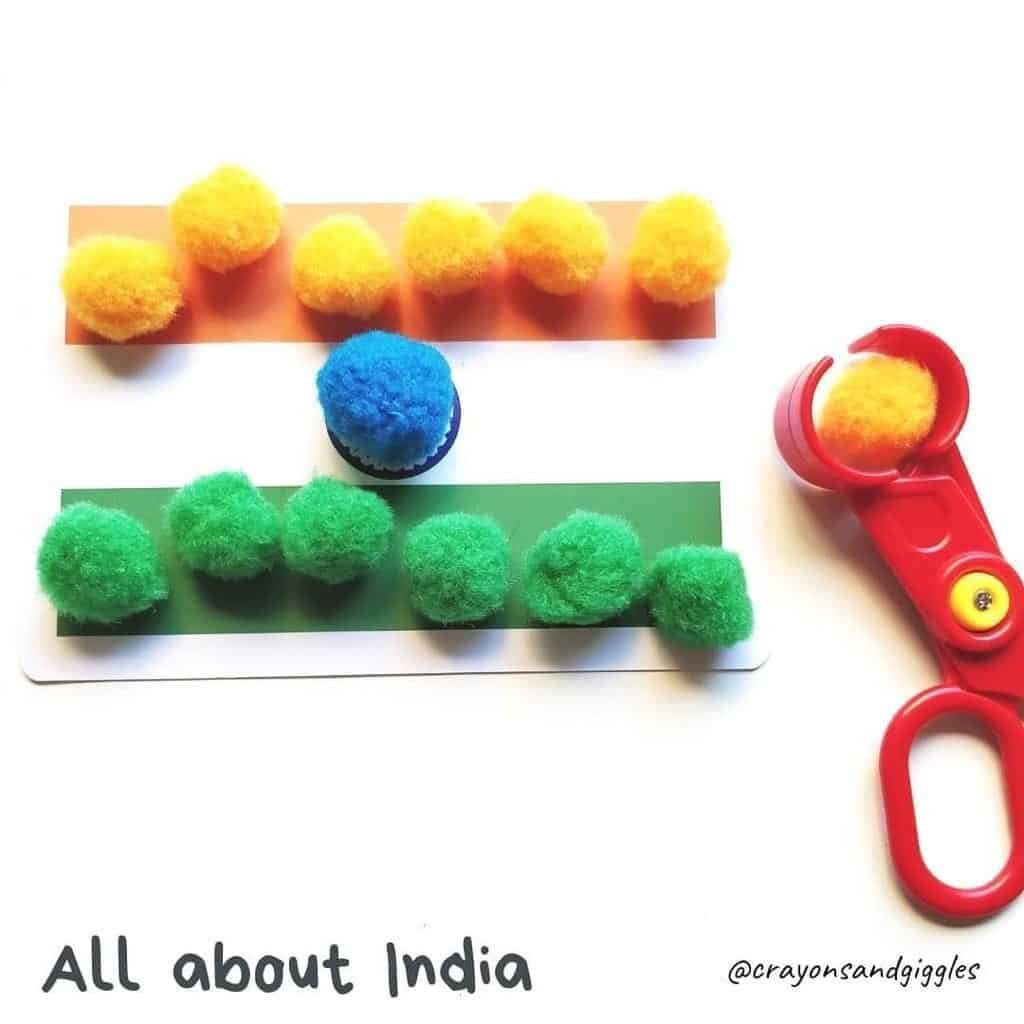 ✂️I used a cardboard sheet and taped onto it a sticky paper (with sticky side up). I had a day-old temple garland consisting of Marigold and white chrysanthemum (Guldavri) flowers, along with some green leaves from my garden, this activity was setup in literally 5 minutes. I didn't have a blue flower so we used a purple one (which was rightly pointed out by Mr.2 🙈)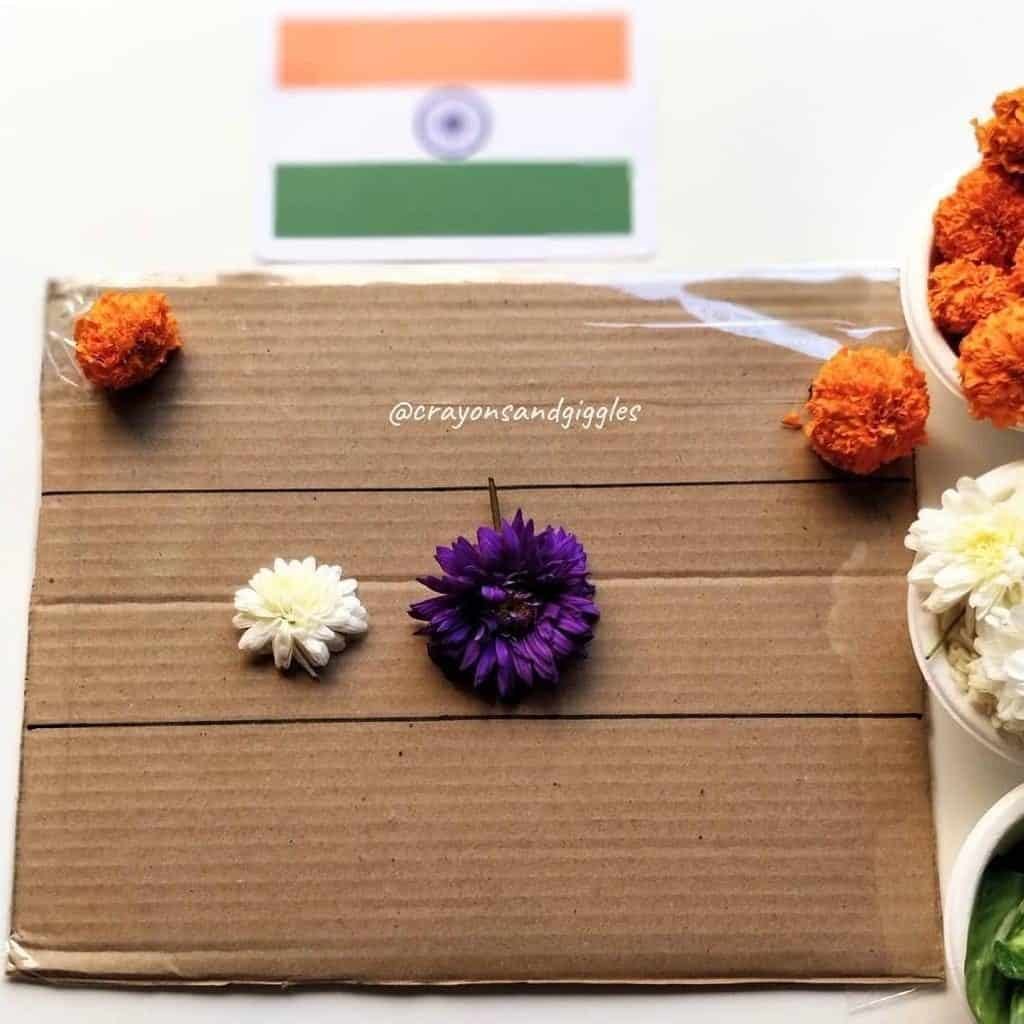 🍁The sticky paper made sure the mess was contained. We could also rearrange flowers if placed incorrectly (No adjustments on the National Flag please!)
🌿Mr.2 couldn't wait to dive in! He was pretty engaged with this hands-on learning experience. I love that it encouraged him to exploring more closely. We talked about colors, textures. We even counted flowers and leaves.
Tricolored Rice Sensory Bin for Toddlers
This sensory bin is a delightful invitation to play by @ourjourneyofhappiness. This is how their happy morning started.
PLAY INVITE
Early celebration – Flag hoisting at my place this morning! This morning I set up this simple REPUBLIC DAY THEMED RICE SENSORY BIN for our morning play invite.
Ever since we started our Republic day activities at home, Little one is been talking about the flag hoisting event. For 2 years he is a part of my office independence day and republic day celebrations and the most favorite part of the celebration is the flag hoisting and singing the national anthem for him. He is always very excited about it than receiving the sweets/chocolates 😉every year. So I tried to create the India gate and flag hoisting scene with whatever material I had at home.

Great activity for talking about culture, celebration, and reasons behind it!
Sensory ✅
Culture✅
Vocabulary✅
General/ knowledge awareness✅
Music/ Rhythm✅
Cognitive: Emotions: Patriotism✅
Dry Leaf painting Art – Indian Flag and other National Symbols
This is a beautiful post by Prerana of @auritroandmommy. The story in her own words.
‼️Disclaimer ‼️‼️
By mistake, our national flag upside down in the pictures🤦🏽‍♀️🤦🏽‍♀️ is not to harm anyone's sentiments. It's a sheer mommy brain mistake and work done in hurry! Hope you all understand!
India will be celebrating 72nd Republic Day. The Constitution of India came into force on January 26th, 1950, and on that very day, our country became an independent republic.
We started talking about the Indian flag on the last independence day and this time I introduced Auritro to the national flower – Lotus! National Animal – Tiger and National Bird – Peacock
We collected these leaves from our recent Kerala trip and I was saving them for a nature art! Though as you all know Auritro loves painting this seemed the perfect thing to do on these beautiful leaves. He painted all the leaves himself, however helped with the eyes of the tiger and made the body of peacock using pipe cleaners.

We had super fun creating them and now they decorate our walls 💕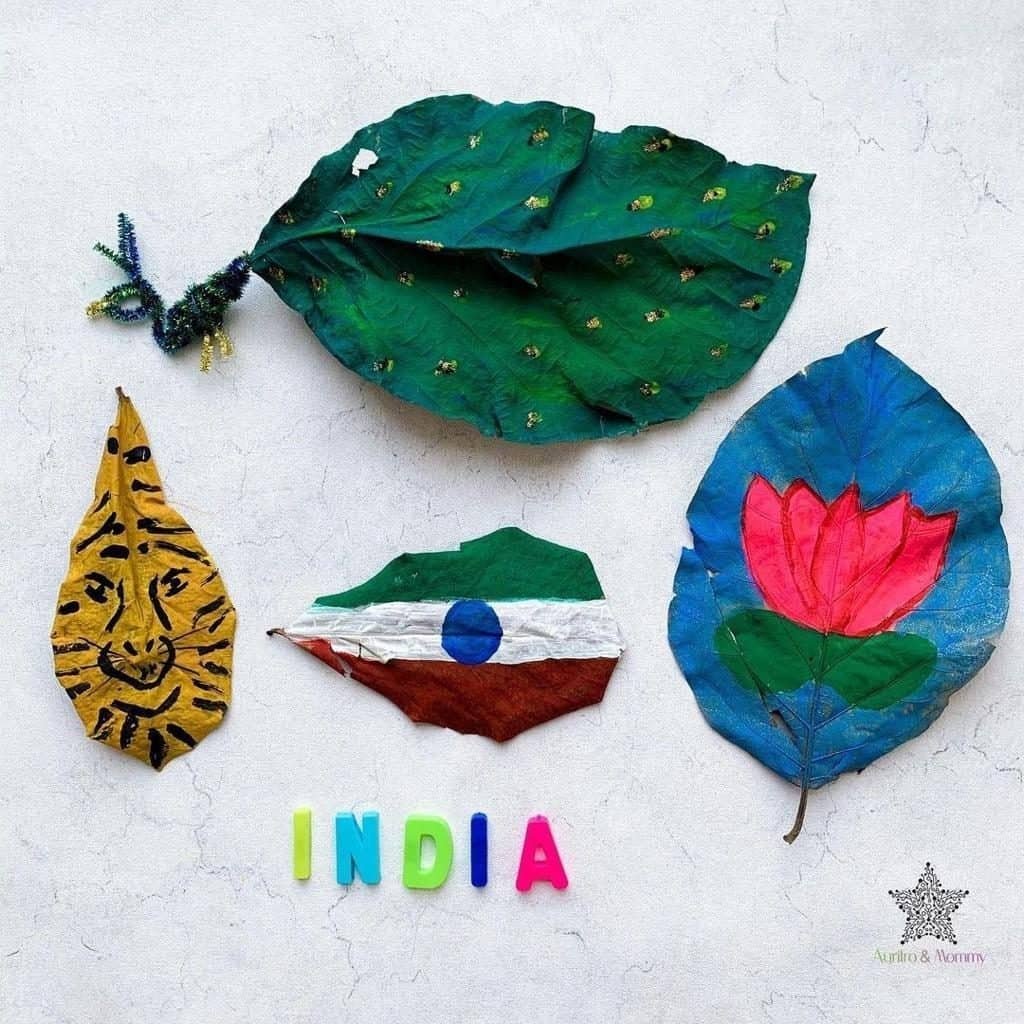 Nature Art for preschoolers- Peacock Feathers
This beautiful artwork is by Bhavisha Pamwani of @littlelearner_h. Peacocks symbolize New beginnings and Eternal Life!
During this Republic Day week, Hiyansh came across many new things about the nation and one of them being, "PEACOCK- The National Bird"😍

This activity was done using Plain white paper, glitter foam sheet, playdough for an eye, and leaves which were stuck by Hiyansh in a way it completes the Peacock. From this activity, I introduced Hiyansh to new Hindi words too and taught him colors in Hindi. It was a fun session with my little one!

This activity helps us to connect with nature and also collecting leaves with children adds extra meaning to this project, extending into a nature walk.

Things we used:
🌿 Green leaves
🌿 Crayons
🌿 Playdough
🌿 Foam sheet
🌿 Paper

Benefits :
– Develop fine motor skills
– Encourage creative thinking
– Develop an understanding of upcycling materials (leaves)
– Develops an understanding of aesthetics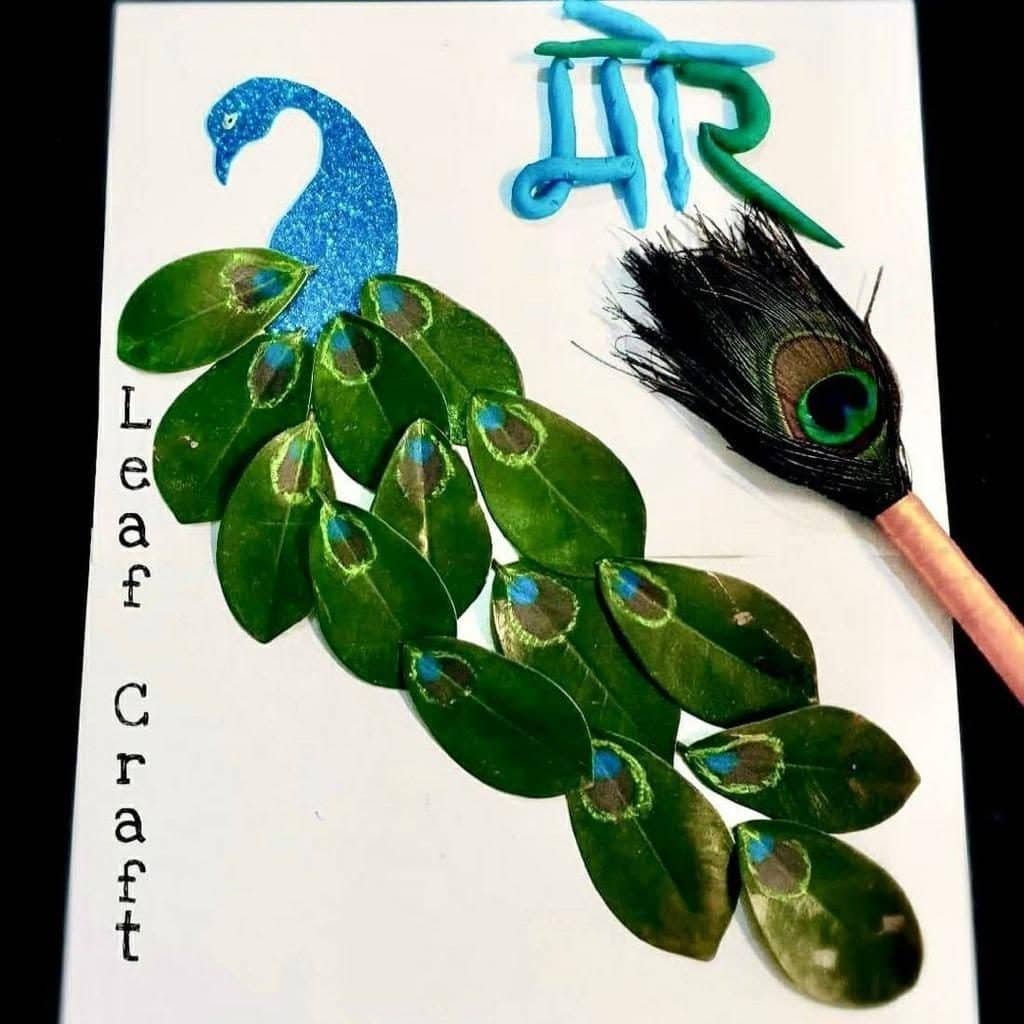 Mini Tricolor Tikka-Republic day food ideas
These yummy & simple tricolored tikkas are by Hema from @the_pursuit_of_learning. Mini Tricolor tikka.. for the republic day activities.
Very easy and simple tikka made with carrots, paneer, and capsicum.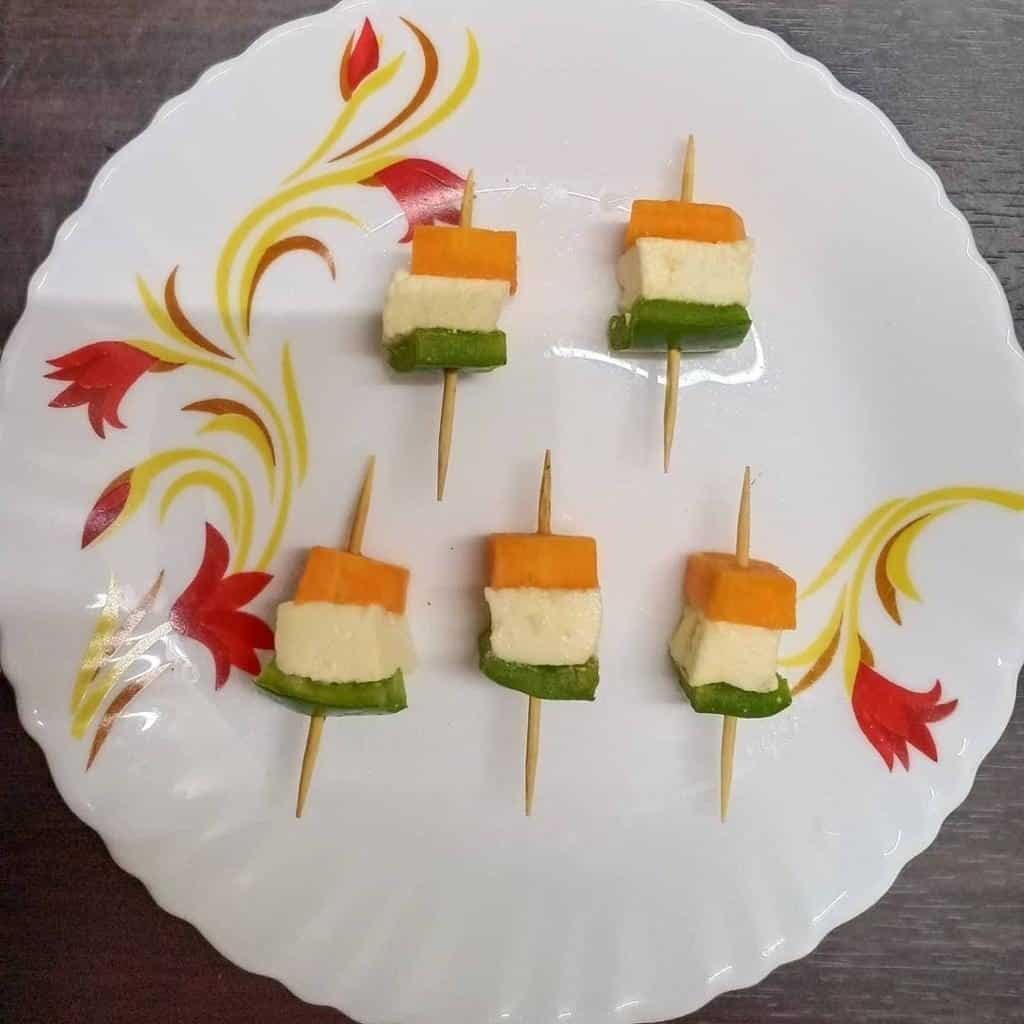 Paper Cup Rocket Launcher- STEM activity for pre-schoolers
Paper Cup Rocket 🚀 Launcher" – Garima Jayant Mali of @learning_with_g2
This is a simple toy that you can make with plastic cups, rubber bands, and Tiranga stripes can be print on a paper cup.
To make one, cut 4 slits in the top rim of a paper cup. They should be about 1/2 inch to 1 inch long. Put a piece of tape under each slit to keep the slit from growing.
Once you have your slits, cut two rubber bands so that you have two long strands, not loops. Tie a knot at each end of the rubber bands, and thread them through the slits.
To launch, put a plain cup on the ground. Push the rubber band cup down on top of the other cup (like you are stacking them) and then let go. It launches really well!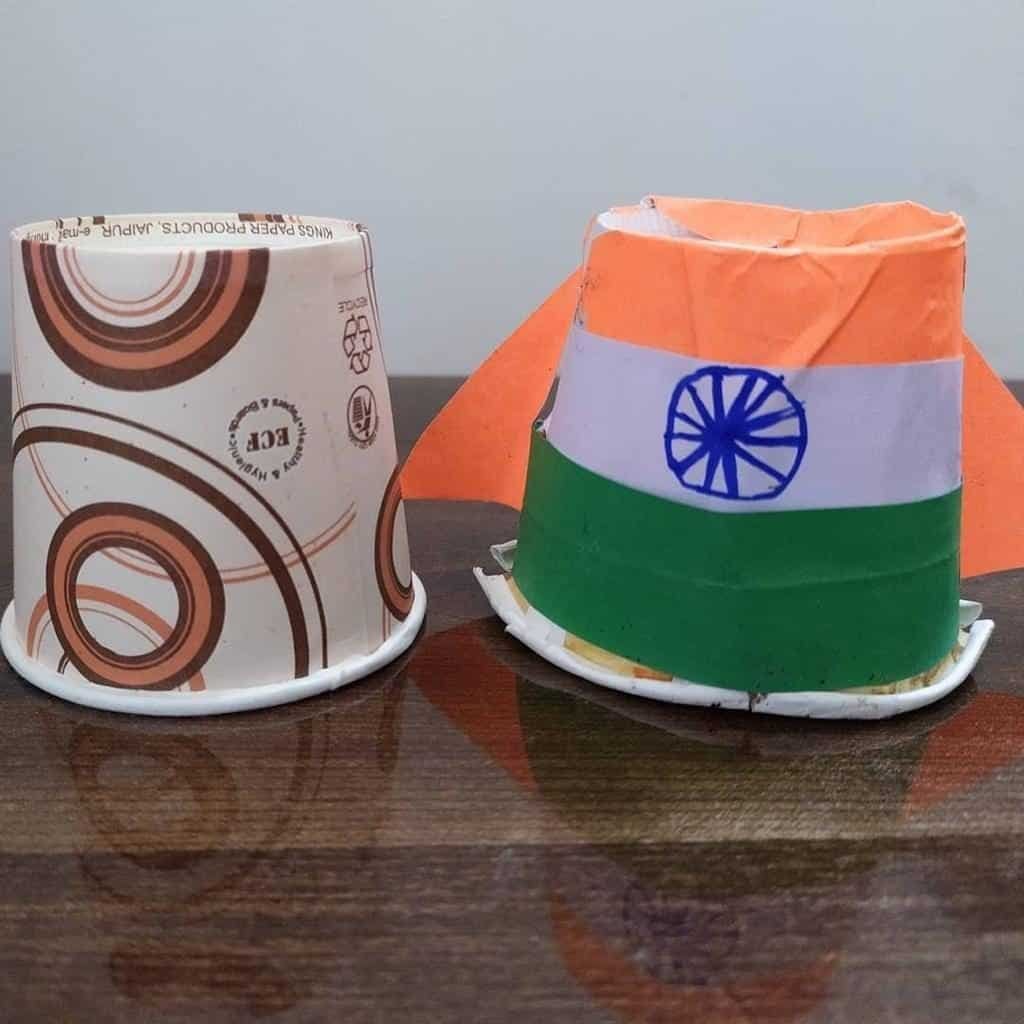 🚀Easy to make a rocket with household objects and it gets some good height if you attach your rubber bands tightly.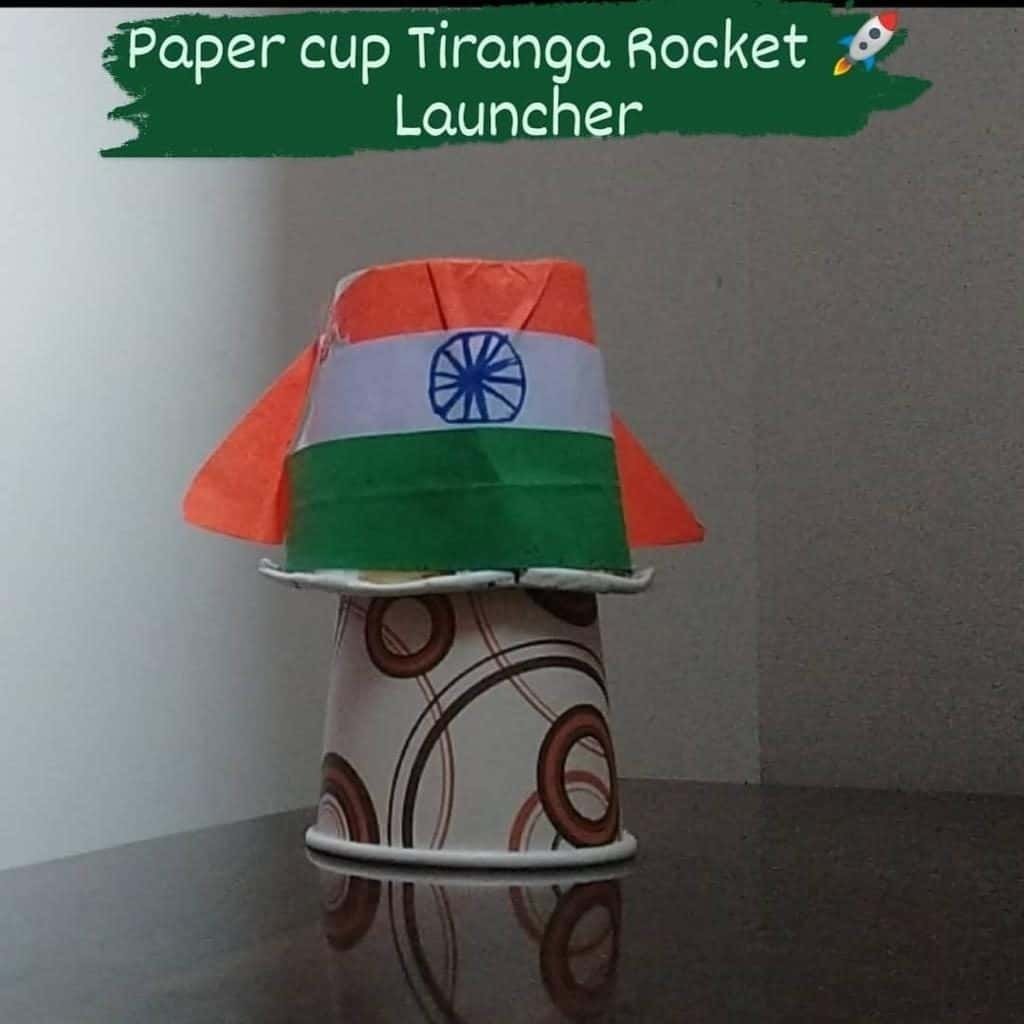 We had a blast launching this!🚀
Pista Shells – Peacock feathers (best out of waste artwork for Preschoolers)
This beautiful best out of waste artwork is by Mahira Seth of @kid_crafty_joy and her son Hassan. Our national bird: peacock
This artwork is done using Pista shells painted in tricolor. I made a peacock and Hassan stuck Pista shells and did some colour in it.
We also did stamp art of peacock😍
Isn't it looks soo Beautiful !!😍..tell me in comment.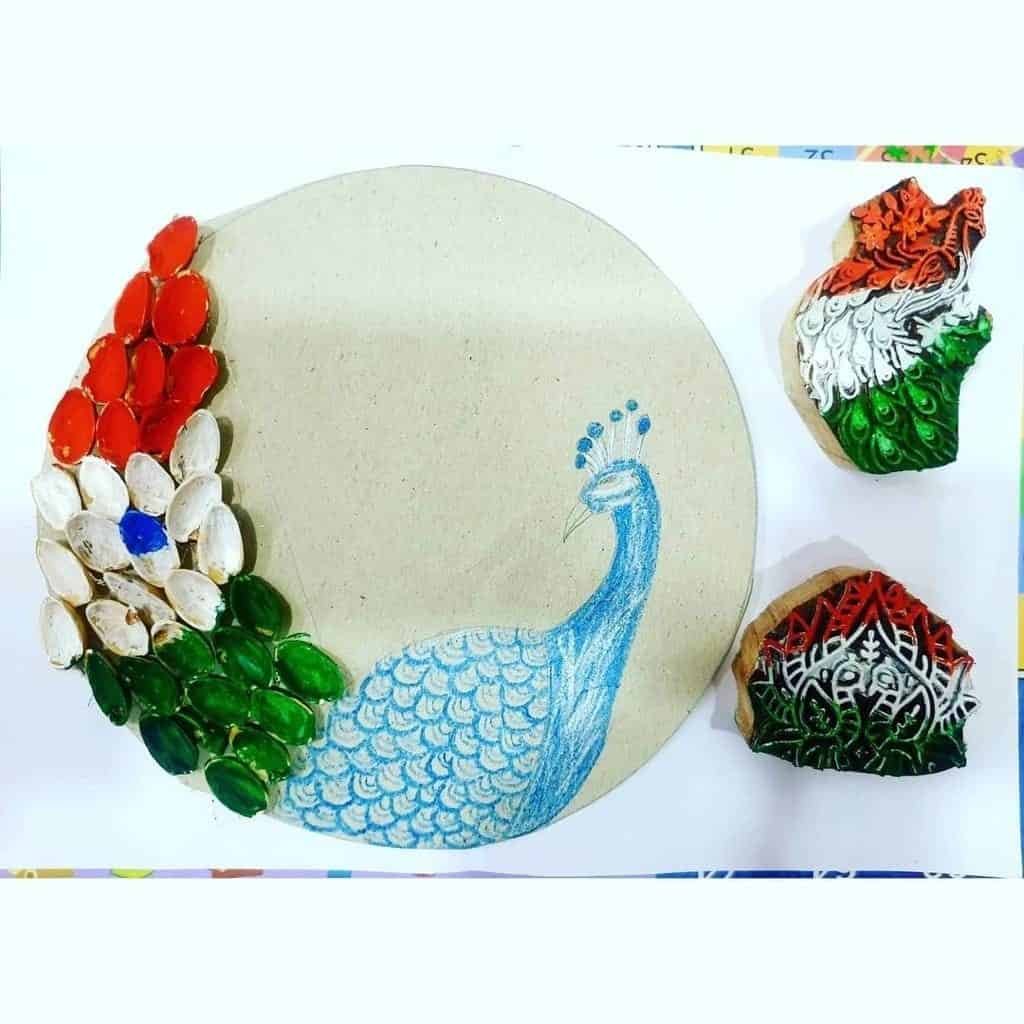 India Themed Magical Messages- Water Activity for toddlers
Nikita Choudhury here has some amazing crafts for this Republic day. This craft does prove that beautiful messages are magical. It's a wonderful STEM water activity.

You just need a bowl of water, some tissue paper, and sketches. Take 2 layers of tissue paper and draw these beautiful messages on the bottom layer and cover them with the 2nd layer of tissue paper. This way you would see just plain white tissue paper. Now take a bowl of water and place the tissue paper in it. Now as the tissue paper is super absorbent, the top layer becomes transparent revealing the drawing in the bottom layer. I'm sure kids would be excited to see these magical messages.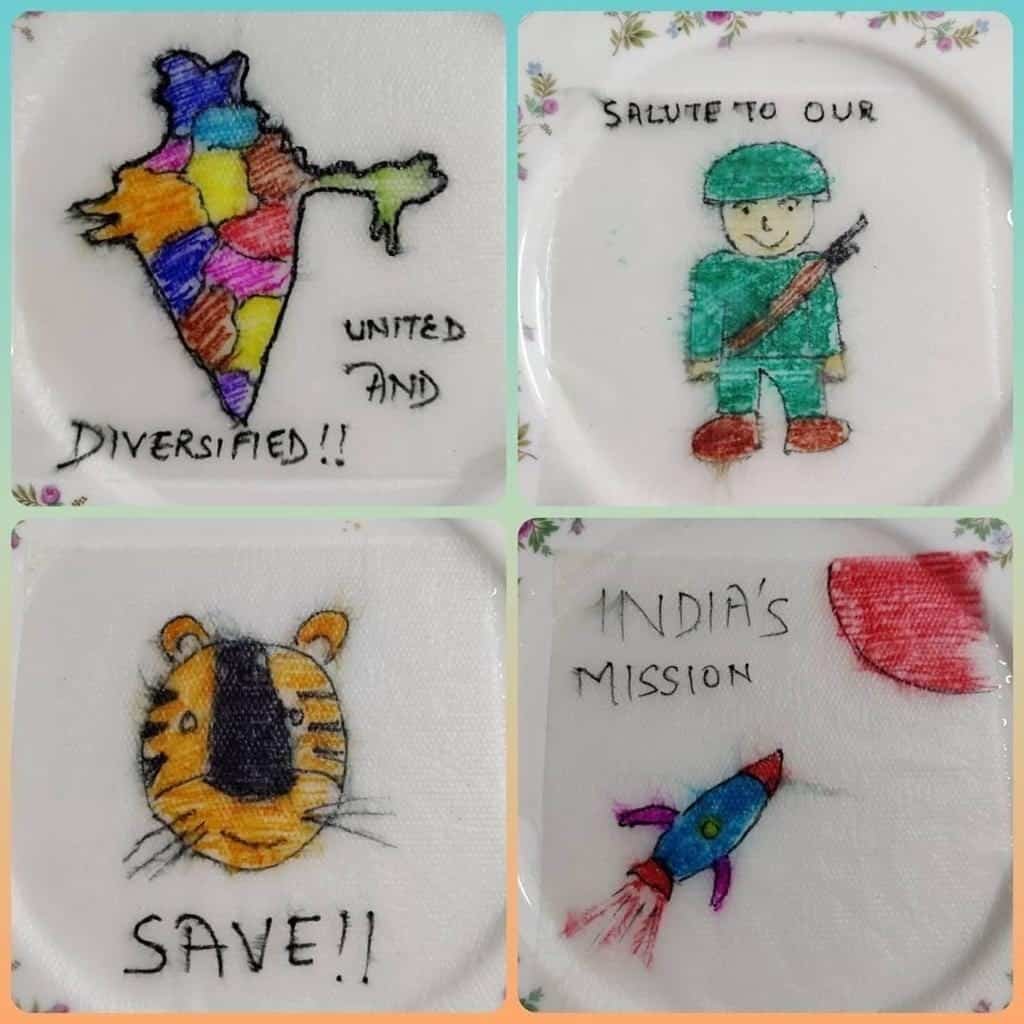 Trace the outline of India in map
You can print India map on A4 sized sheet and involve your toddler in tracing the outline using heart beads as Bindu from Our fun little place did with her toddler.
A fun activity with lots of fine motor exercise for those little fingers and see how beautiful our country looks.
Make National Flag of India
You can teach your kids how to make Indian flag. Check out these creative ideas for making flag.
You can make our national flag by cutting tri-colored thick sheets into equal strips
Or you can chose to make national flag of India with ice cream sticks. This is what I did with my toddler. It was fun watching him stick Popsicle sticks to white paper.

Ice-cream Popsicle sticks national flags can also be hung on walls using a ribbon as shown below
Check out what Sulbha from our journey of learning did with her very talented adorable toddlers.They made flag of India from colored rice, from paint colors and from coloured papers (a simple DIY cut and paste activity).
Such activities not only keep your toddler engaged and happy but also improve their fine motor skills and hand eye co-ordination. I also use this as an opportunity to teach them about colours and shapes.
You can also see what Bhuvaneswari a mother who is reborn for her little hero Haren, a very sensible 4 year old, encouraged her son to do – make Indian national flag with clay.
Bhuvaneswari believes in letting her son do things on his own and making him independent.
 Introduce your kids to national symbols and currency of India
You can use a All in One book to explain about the national symbols and currency of India. This activity can be followed with matching the national symbol color cards on a black and white printable.
Make tricolor sandwiches
Looking for republic day food ideas. Why not make tricolor sandwiches ?
This is what Sulbha and her toddlers did to celebrate republic day. The toddlers did everything – right from grating, making till eating on their own.
You can also check out this recipe from Tarla Dalal for the same
Introduce your kid to National Bird – Make Peacock with paper or leaves
Republic Day is a good time to introduce your kids to National bird of India and one of the ways of doing this would be by making this easy Paper Peacock using leaves.
Or you can also make a peacock using colored papers as shown below
Make Tricolor Paper Flowers
You can make tricolor paper flowers with your kids. This could be simple ones for toddlers and preschoolers or a little elaborate ones using Origami or paper quilling for bigger kids.
Easy Tricolor Paper Flower by using Paper strips, forming loops of paper strips and pasting them.
Make Tricolor Paper Buntings or wall decoration
You can involve kids to make beautiful tricolor paper buntings or wall decorations. These are great as Republic day crafts for kids and can be used to decorate school boards or preschool Republic day themed projects.
Easy Tricolor flower or wall decoration with Pista shells
Make Tricolor candles using glitter tapes and popsicle sticks
You can also make Tricolor candles using popsicle sticks and glitter tapes to spread light, hope and happiness.
Make Tricolor garlands using Pom poms
Pom Poms are great for kids of all ages, you can use them to make garlands for decoration or they can also be used to make simple wrist bands for kids.
Make Tricolor Key chains using Paper quilling
This is another idea I loved, you can make Tricolor key chains using quilled paper.
Boat Race between two countries
Who does not like races ? Involve your kid in this simple game and plan a boat race between two countries. No prize for guessing which country will win today.
Dry transferring of Dal and colored rice resembling the tricolor
Transferring is one activity that is loved by all kids. So another great idea  from Bindu on Republic day theme.
You can use tricolor Dal and rice for a transferring activity or just for sensory play. For older kids you can also involve them in making  India flag rangoli.
Paint Airshow for Republic day
Another interesting activity to talk about how we celebrate republic day is to let you kid paint airshow for Republic Day. All it requires is a white paper, water colours and paint brushes.
Hope you enjoyed this list of Indian republic day activities and crafts for kids. These Republic day crafts can also be used to decorate bulletin boards in schools or kindergarten.
Download Free India themed Coloring sheets
You can also use Republic Day or Independence day as an opportunity to talk to your kids about National symbols of India, our currency and famous monuments. Here are more than 10 free coloring sheets/worksheets on India theme to help you get started with the conversation.
Do let us know what you did this Republic day by using comments below.

Apart from keeping your kid engaged, Do you know such crafts are also great for developing fine motor skills , hand eye coordination and Visual spatial Intelligence.

Learning about India for preschoolers
There is a lot for preschoolers to learn about India. India is a large country with a rich culture and history. Here are some things that your preschooler can learn about India:
– The geography of India. India is a large country with many different types of landscapes. Help your preschooler learn about the different types of landscapes by looking at maps and photos together.
– The people of India. India is home to many different types of people. Help your preschooler learn about the different types of people by looking at photos and learning about their cultures.
– The animals of India. India is home to many different types of animals. Help your preschooler learn about the different types of animals by looking at photos and learning about their habitats.
– The history of India. India has a long and rich history. Help your preschooler learn about the different aspects of India's history by looking at photos and learning about the different events that have shaped the country.
If you want to check out how, do read our popular posts on Child Growth and Development.
Hope you enjoy reading it and find it useful.
You may also be interested in some Easy Rakhi crafts for kids.
Don't miss to pin


Liked this post on India themed activities ?
You may also want to check out books you can read to kids on Republic or Independence Day
In case if you liked this article do show your support by sharing this article.
Like our Facebook Page 
Don't you find these Republic day craft ideas interesting and beautiful ? Try it and let me know using comments below. Would love to hear from you.