Check out these easy India Independence day crafts for kids, preschoolers and Kindergartens. Download Free coloring sheets on National symbols & famous monuments of India, Free worksheet on national symbols of india for class 1, National symbols flashcards for kids and India themed worksheets for preschoolers and nursery kids
If you are looking for Indian Independence day craft ideas and activities for nursery, kindergarten kids or toddlers – you will find multiple ideas here.
To help kids learn about India – You can talk to them about India, how freedom fighters of India contributed us in getting Independence. You can introduce kids to our national symbols or you can make tricolour crafts like flowers, flags, candles, tri color keychains on this Indian Independence day along with your kid.
So here are some very easy Independence day crafts that you can plan to do with kids. These art and crafts activities are not only good for Independency day or Republic day but can be used for preschool theme – my country India or planning India activities for preschoolers, toddlers and Kindergarten kids
TRENDING >> Free Preschool, Nursery Kindergarten worksheets for kids
I have also included multiple FREE India themed worksheets and flashcards towards the end of the article, You can click on black download buttons to start Instant download
Do not miss 300+ Holiday Crafts for kids and FREE worksheets
Independence Day crafts for kids
Tricolour Flower – paper craft for Independence day
Check out this beautiful Kusudama flower made with tricolor papers. You can make this to decorate your school board as its an excellent classroom decoration.
All you need to get started are colored papers and glue.
Learn how to make Kusudama Origami flowers (FREE tutorial)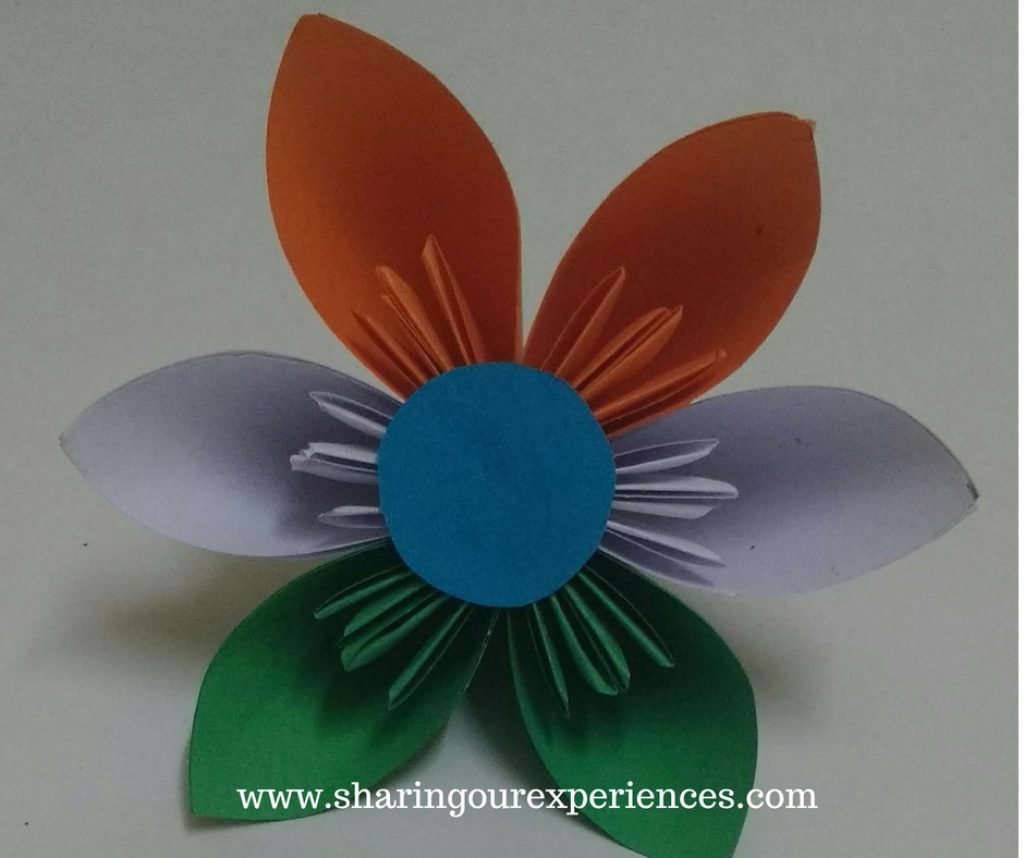 You can also make easy paper flowers like below
Take a circle cut out of paper
Fold it into two
On one side fold from the middle
Apply glue as shown in the picture and stick the sides
One petal is ready
Now you can make more petals and stick it together to form the flower
Apply a round paper of blue color in the middle
DO NOT MISS >> Want to make your life easy – Click here to see ONLY the MOST LOVED Essentials you need to plan activities (They are CHEAP and wont burn a hole through your pocket)
Tricolour Tulips – Easy art and craft activity for preschoolers
For younger kids, you can try making these beautiful and easy Tri color tulips.
Cut the colored papers in Tulip shape.
Fold the flowers to and fro as given in the picture
Put holes in a line, with a punching machine
Put a straw through the holes of the flower.
Tricolor tulips are ready !
For detailed step by step tutorial check how to make easy paper tulip crafts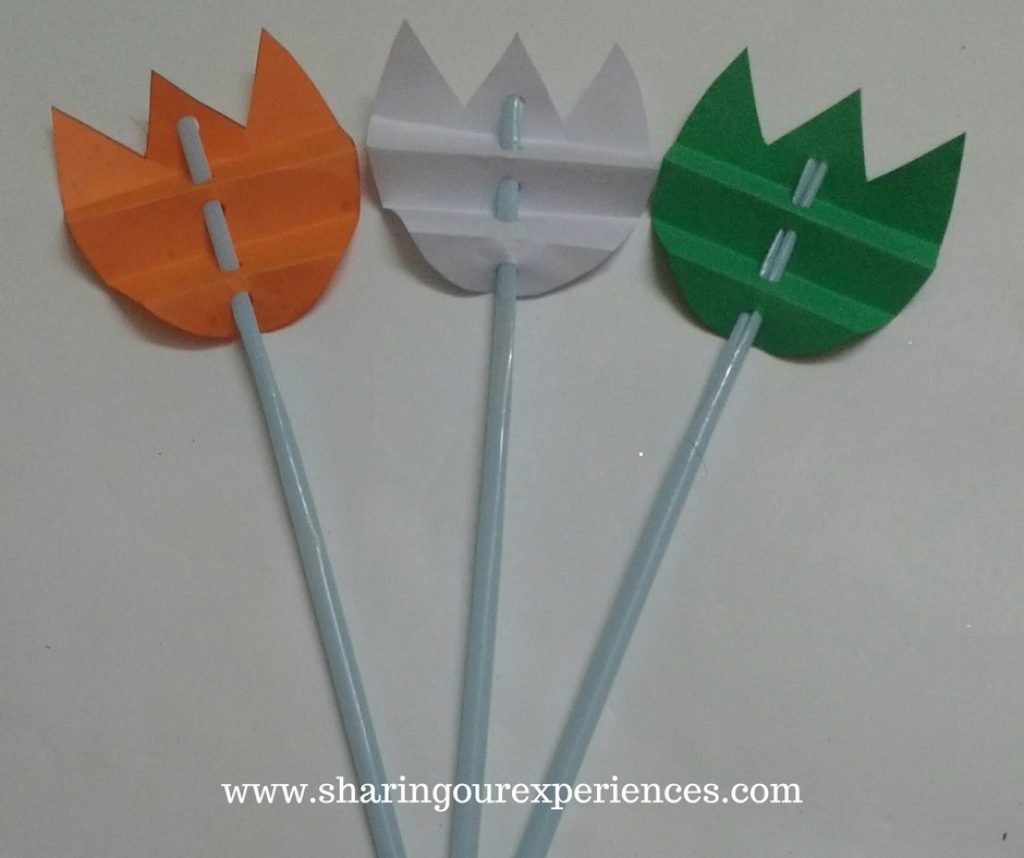 Tricolour Bird – Easy independence day decoration ideas
You can also make this Tricolored bird craft. These would look great when tied together to form a bunting.
Take three color sheets of saffron, white and green.
Cut the shape of the bird and wings in three different sizes.
Cut a small triangle for beak in another color (here we have used brown.)
Arrange and stick the pieces one above the other in tricolor.
Stick a googly eyes and stick to hold the pretty tricolor birdie
For detailed step by step tutorial check how to make Tricolor Bird craft for kids. You can use either paper or foam to make this bird craft.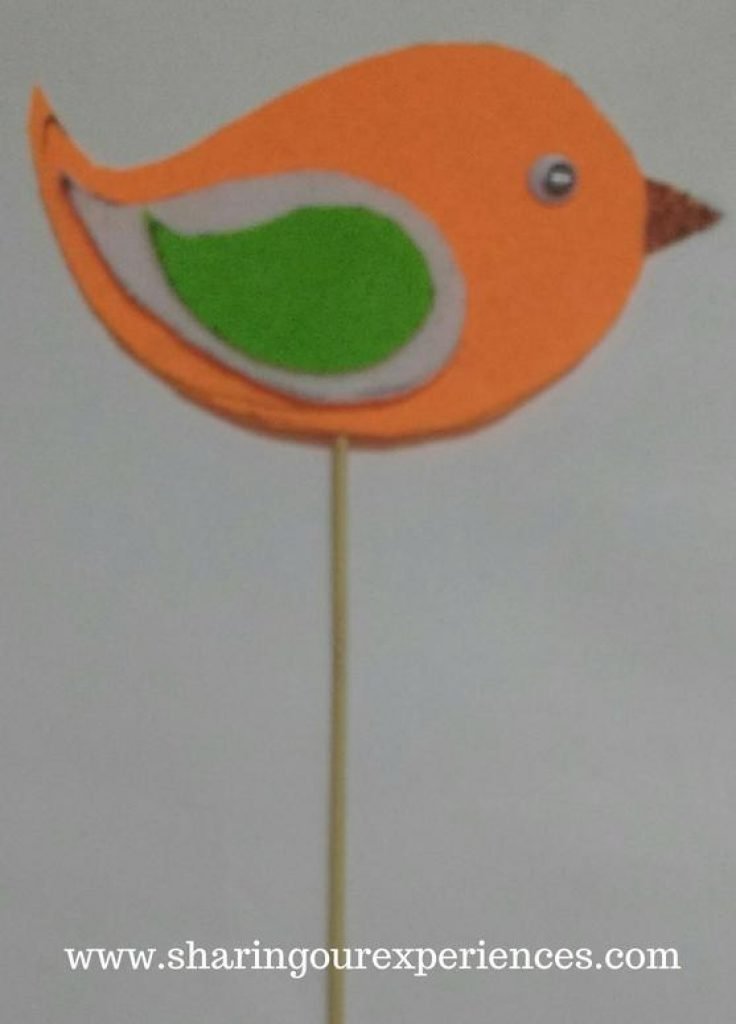 Ice-cream Popsicle Sticks National Flag – Easy activity for toddlers on Indian Independence day
Ice-cream Popsicle sticks national flags can also be hung on walls using a ribbon as shown below. Or you can make them to decorate your classroom. You can also use these as your self made flags for flag hoisting ceremony.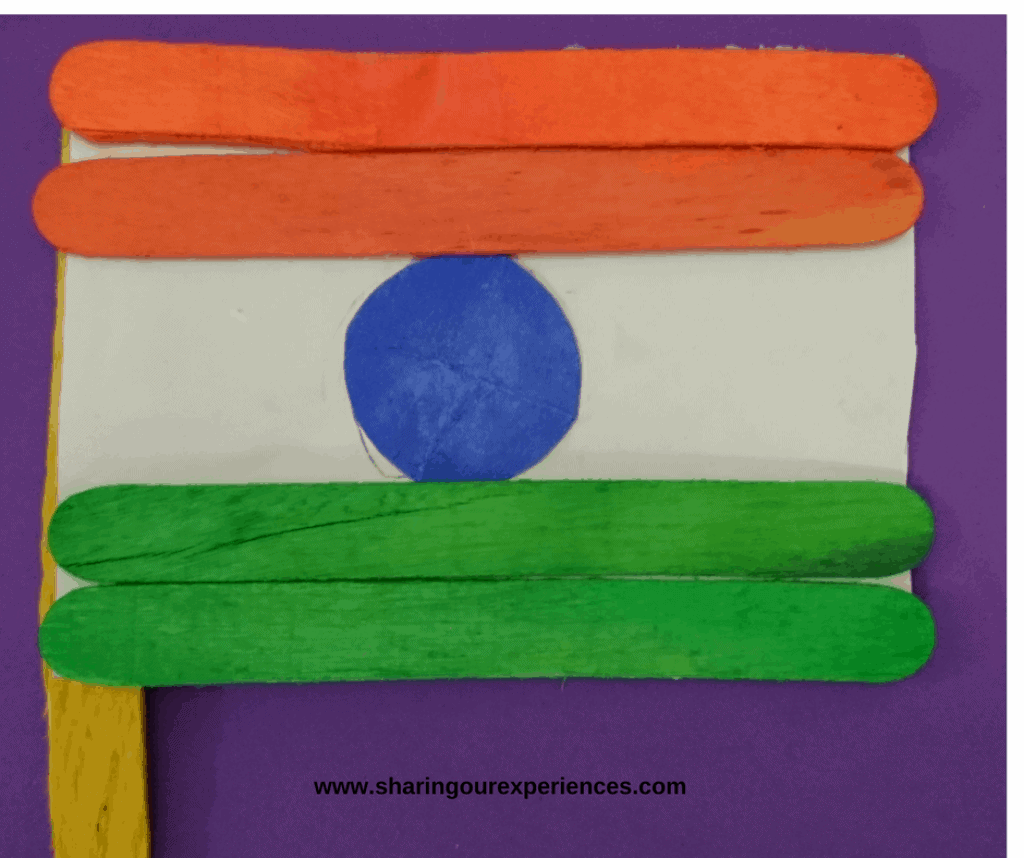 Make peacock with leaves or paper – craft idea for preschool
Republic Day or Indepencence day is a good time to introduce your kids to National bird of India and one of the ways of doing this would be by making this easy Paper Peacock using leaves.
You can also make a Peacock paper craft 🙂
Tricolour paper Flowers – fun easy craft for kindergarten kids. Great for Independence day board decorations
You can make tricolor paper flowers with your kids. This could be simple ones for toddlers and preschoolers or a little elaborate ones using Origami or paper quilling for bigger kids. The below can also be worn as a DIY tricolor badge on your T-shirt.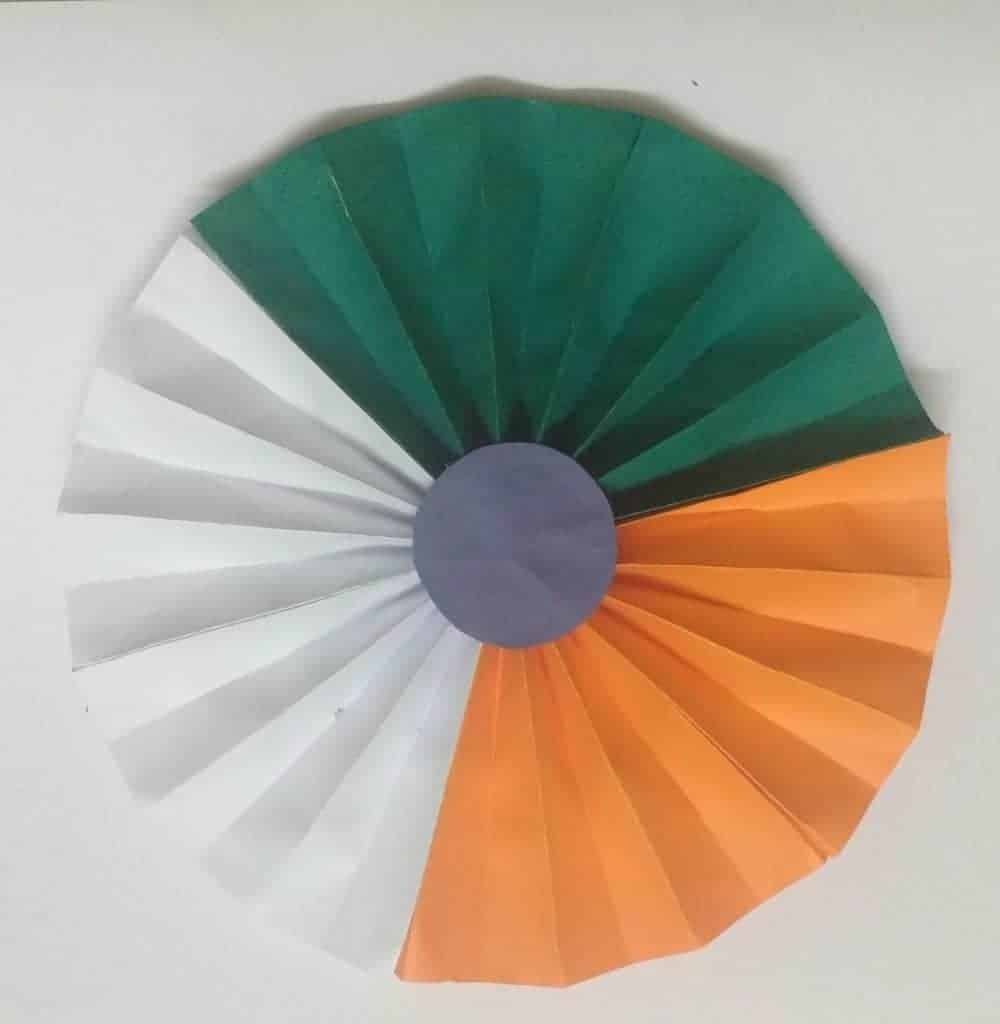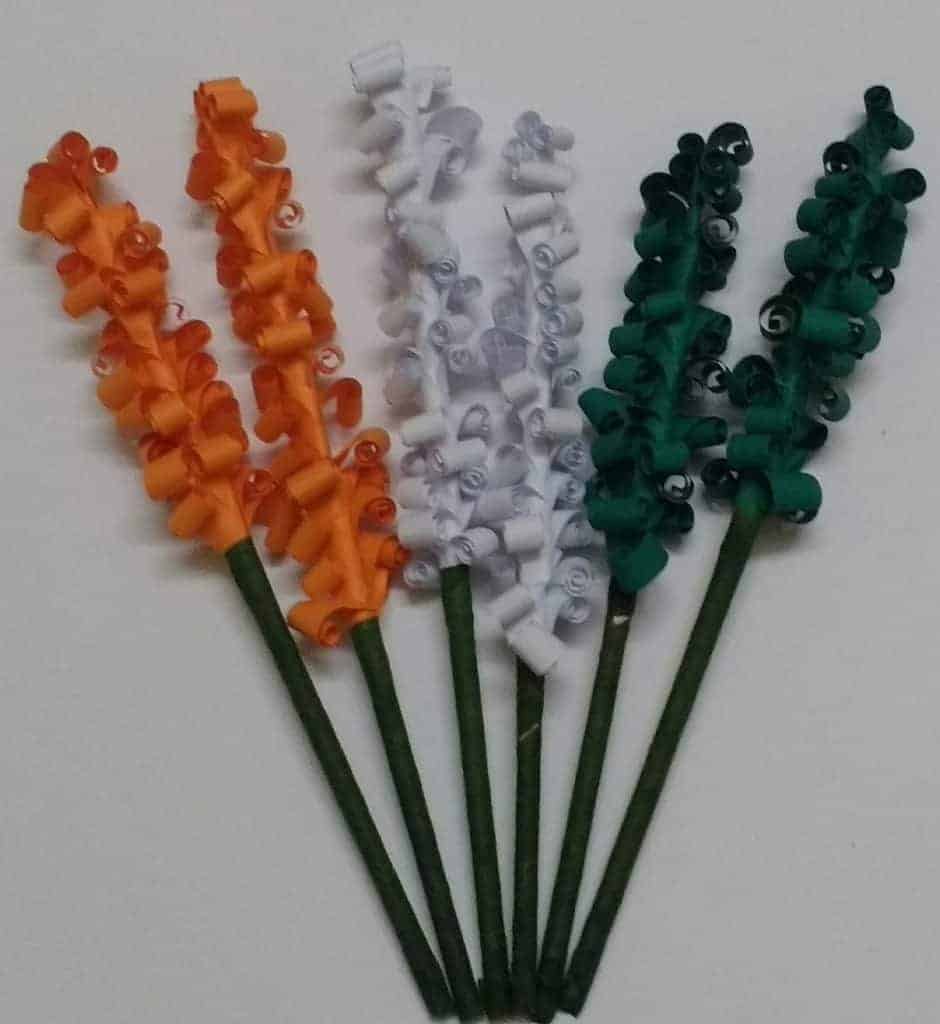 You can cut papers to form a beautiful flower and use to to decorate walls or classrooms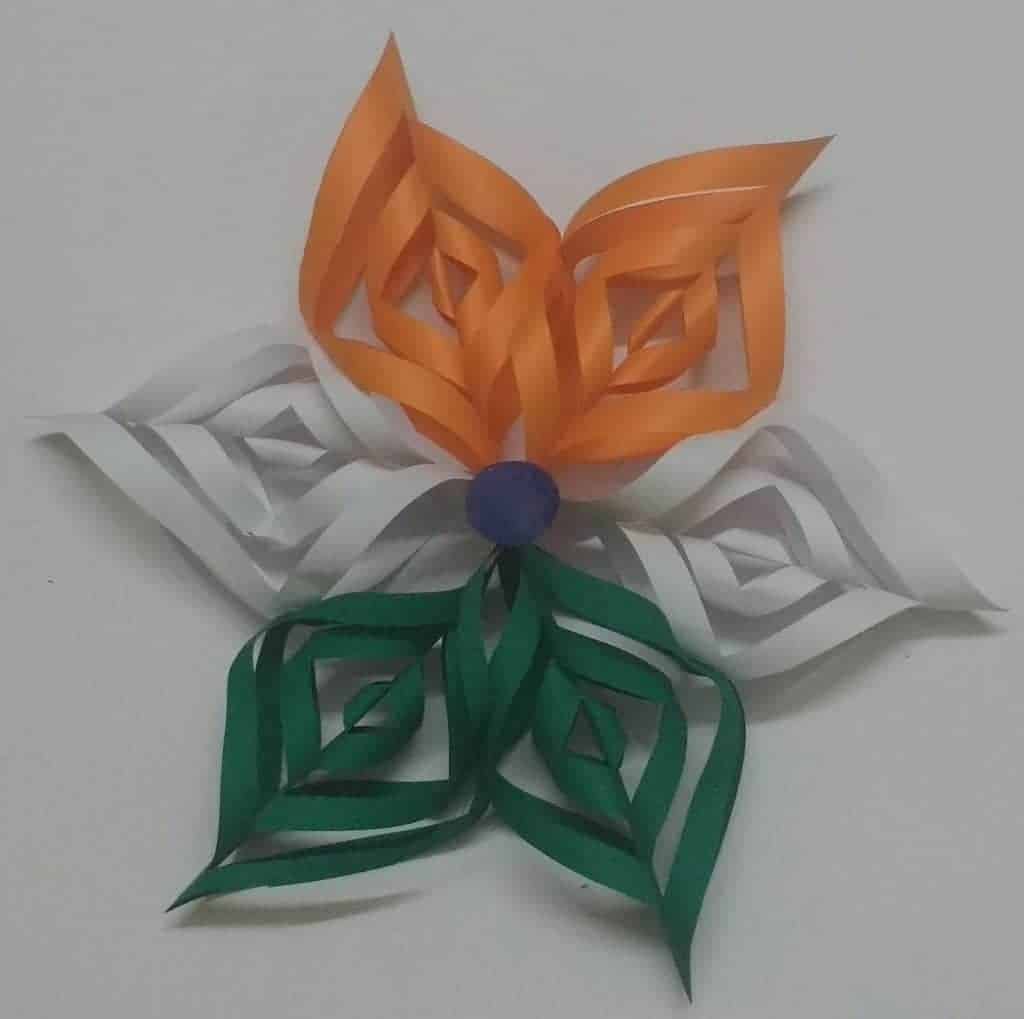 Easy Tricolor Paper Flower by using Paper strips, forming loops of paper strips and pasting them.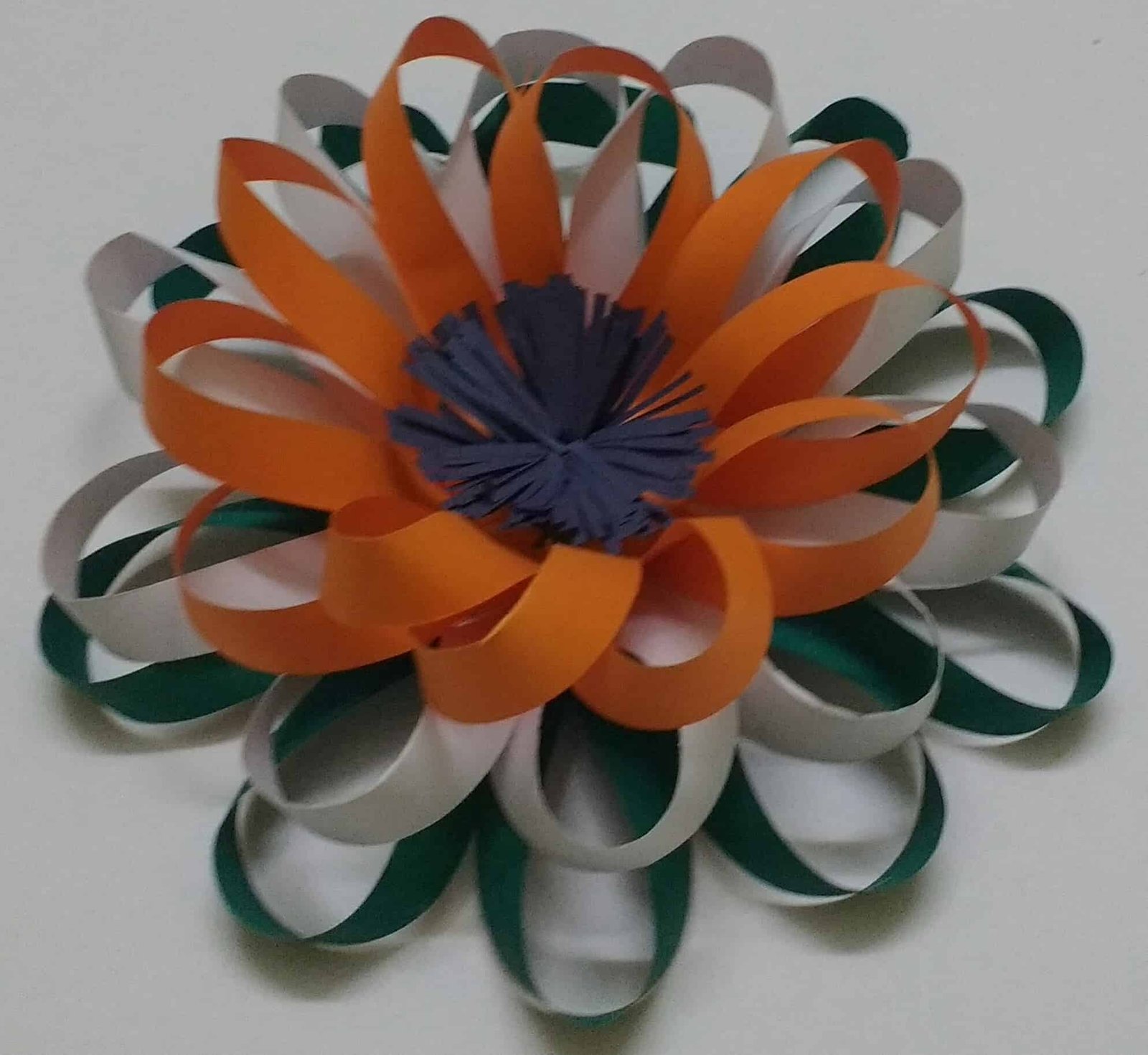 Tricolour Paper Buntings or wall decorations
You can involve kids to make beautiful tricolor paper buntings or wall decorations. These are great a Independence day crafts for kids and can be used to decorate school boards or preschool Independence day themed projects.
Easy Tricolor flower or wall decoration with Pista shells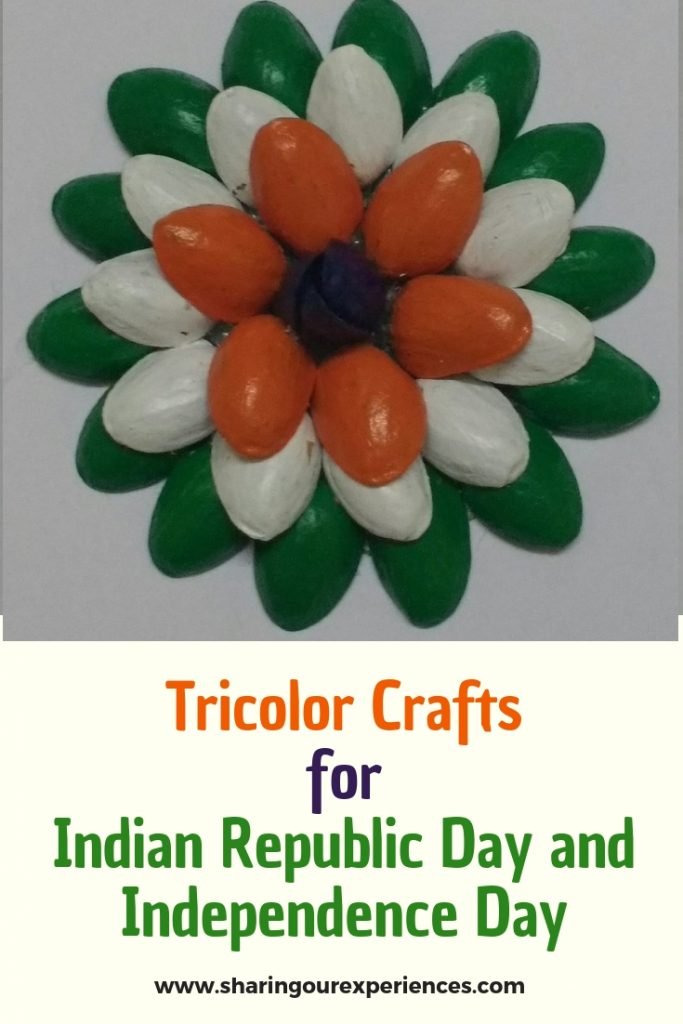 Tricolour Candles using popsicle sticks and glittered foam sheets
You can also make Tricolor candles using popsicle sticks and glitter tapes to spread light, hope and happiness.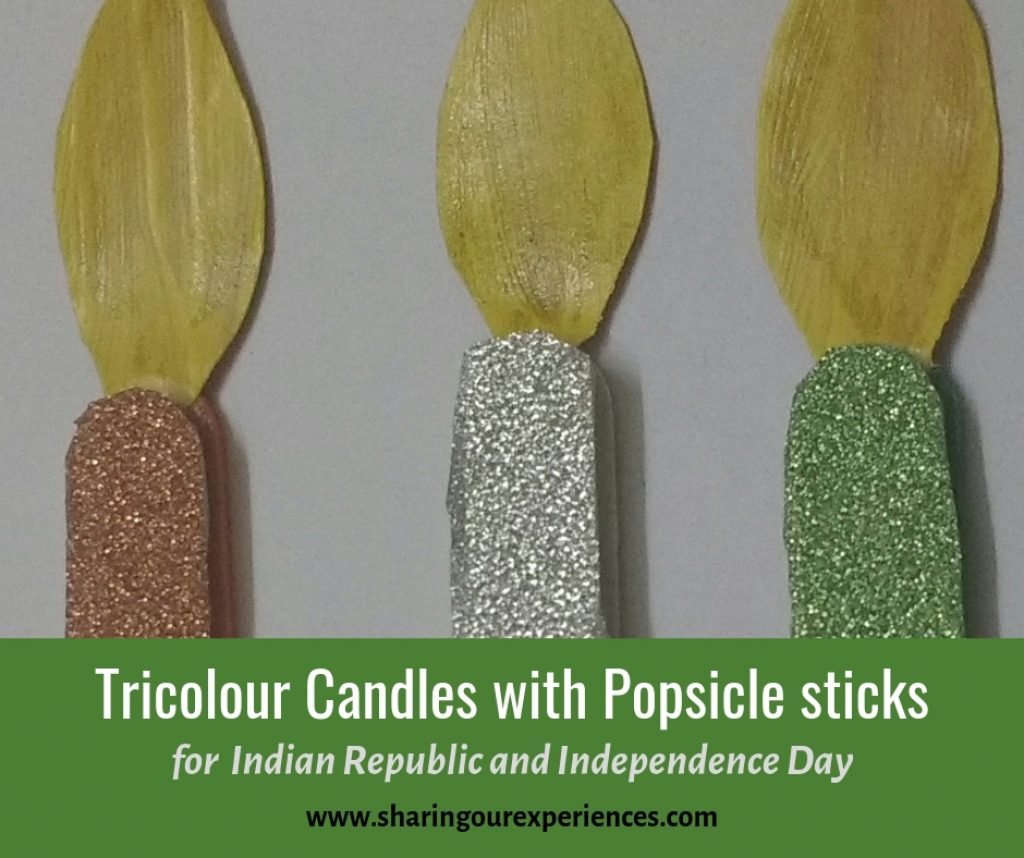 Tricolour garland using pom poms
Pom Poms are great for kids of all ages, you can use them to make garlands for decoration or they can also be used to make simple wrist bands for kids.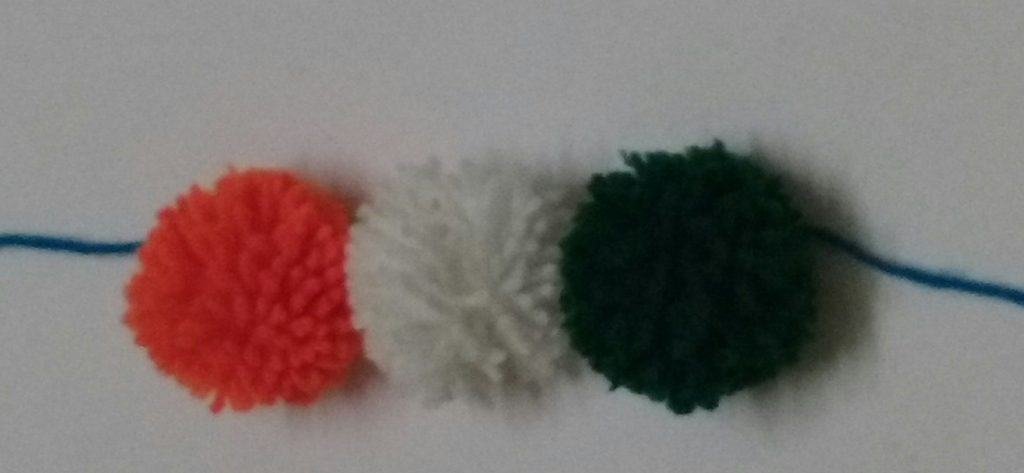 Tricolour Key chain using quilling
This is another idea I loved, you can make Tricolor key chains using quilled paper.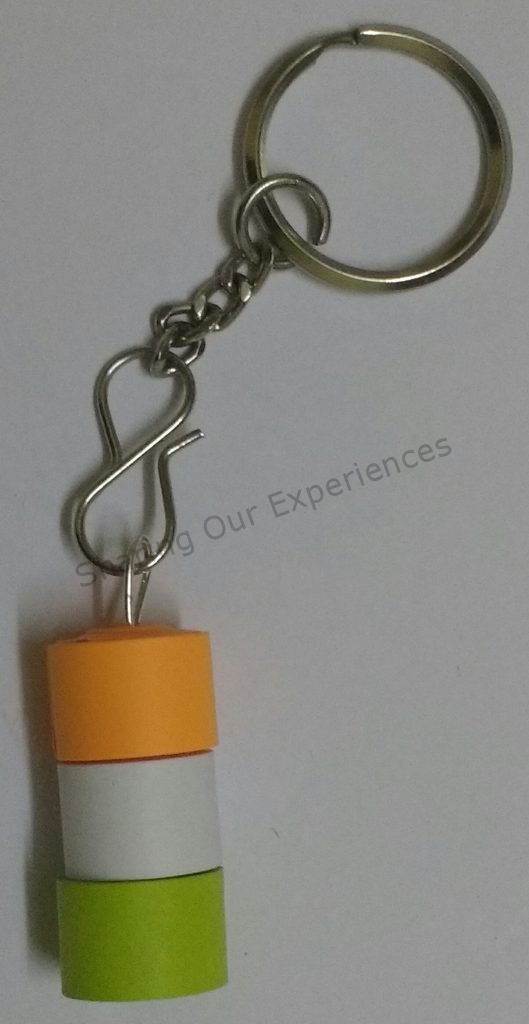 FREE National symbols flashcards for kids (worksheet on national symbols of india for class 1)
Click on the black download button to download these flashcards. You can print on thick stock paper or laminate them at home.
– Cardstock or thick paper for printing (Click here to see on Amazon)
– Or you can use Laminating machine and Laminating sheets. I personally have this laminator purchased in 2018 and it is still going strong. And I have these sheets
Free Indian Independence day activities for toddlers and preschoolers (14+ FREE worksheets)
Click on the black download button to download these. It covers:
Beginning sounds
Number Counting
Cut and Match Fun
Find the odd one out
Sudoku (Brain Development)
Directions (Left and Right)
Missing Numbers
Tracing India Map
Free Indian Independence day themed Coloring sheets
You can also use this day as an opportunity to talk to your kids about National symbols of India, our currency and famous monuments. Here are some worksheets to help you get started with the conversation.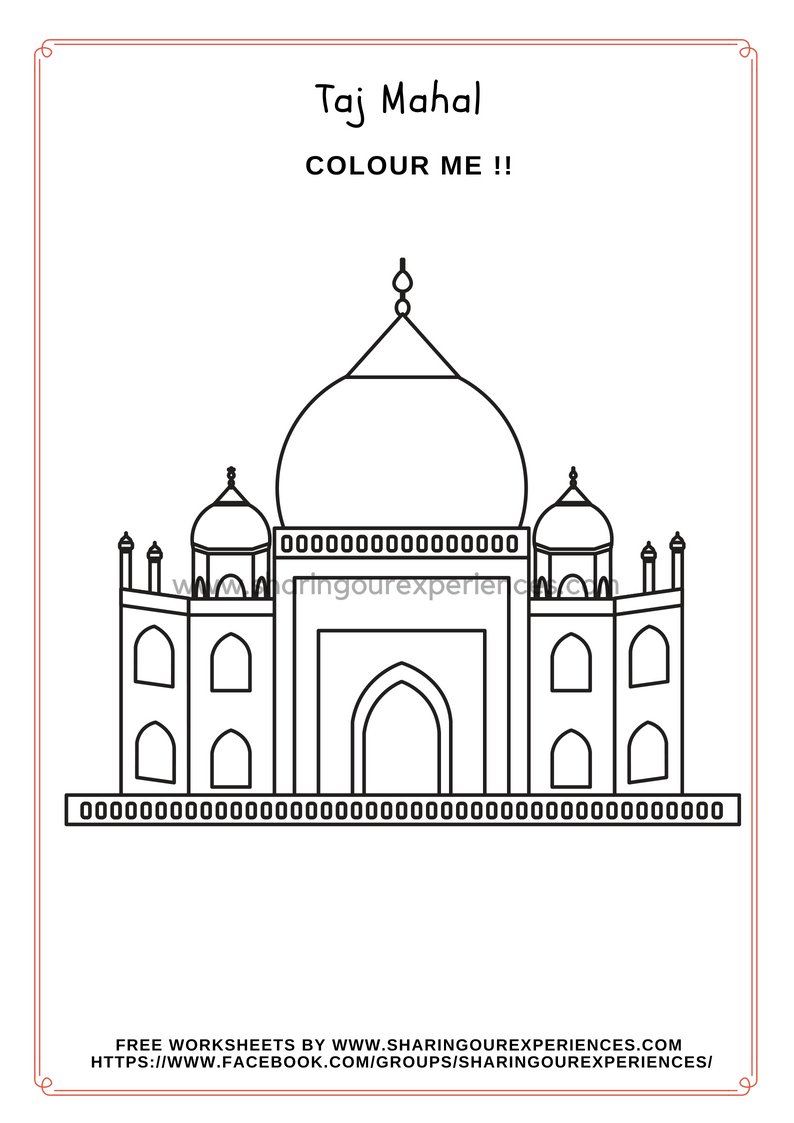 Hope you enjoyed this list of Indian Independence day activities and crafts for kids. These crafts can also be used to decorate bulletin boards in schools or kindergarten.
Do let us know what you did this Independence day by using comments below.
Hope you enjoy reading it and find it useful.
Liked this post on Indian Independence Craft ideas and activities for preschool and Kindergarten kids?
You may also want to check out books you can read to kids on Republic or Independence Day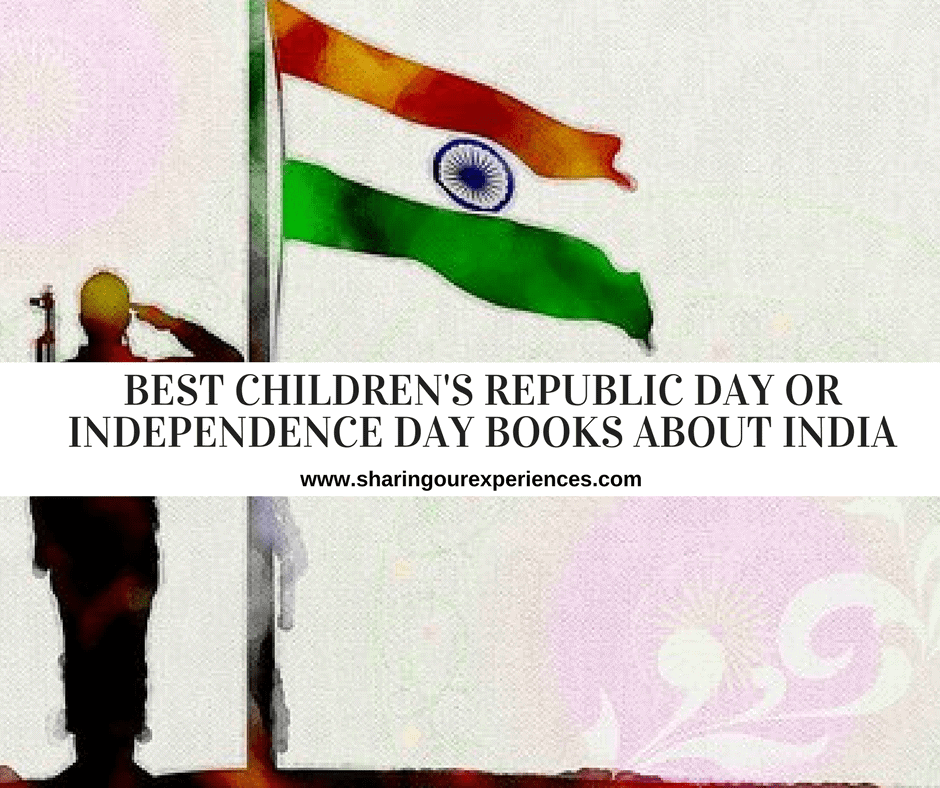 In case if you liked this article do show your support by sharing this article.
You may also want to read
-> Dussehra, Navratri crafts and Activities for kids
-> Christmas Activities for kids
Don't you find these Independence day craft ideas interesting and beautiful ? Try it and let me know using comments below. Would love to hear from you.