---
Looking for some handmade Dussehra and Durga puja craft ideas and want to decorate your house with some beautiful handmade things !! Here are some really good Dussehra and Durga puja craft ideas for kids – preschoolers, kindergartens as well as old kids.
Check all the lovely craft ideas below. I am sure you will love them all and would love to give them a try. 
All the mentioned crafts are easy to make and super quick crafts.
Try them and decorate your lovely home this festive season.
Advertisement| Article continues below.
---
---
Dussehra crafts and activities for kids
Kalash Wall Hanging
Check this beautiful Kalash Wall Hanging made with glittered foam sheets, beads and glitter tubes.
You can make many beautiful Kalash and can decorate them in your home or you can make multiple colourful Kalash and can make a beautiful Toran also known as Bandhanwar with them.
So get ready to decorate your home with handmade wall hangings and bandhanwar.
back to menu ↑
back to menu ↑
Swastik and Om Bandhanwar
Try this lovely Swastik and Om beautiful toran, you can hang it on your doors during the festive season.
What you need to make this beautiful toran is coloured glittered foam sheets, satin ribbon and glue.
So why wait!! grab the materials and give it a try.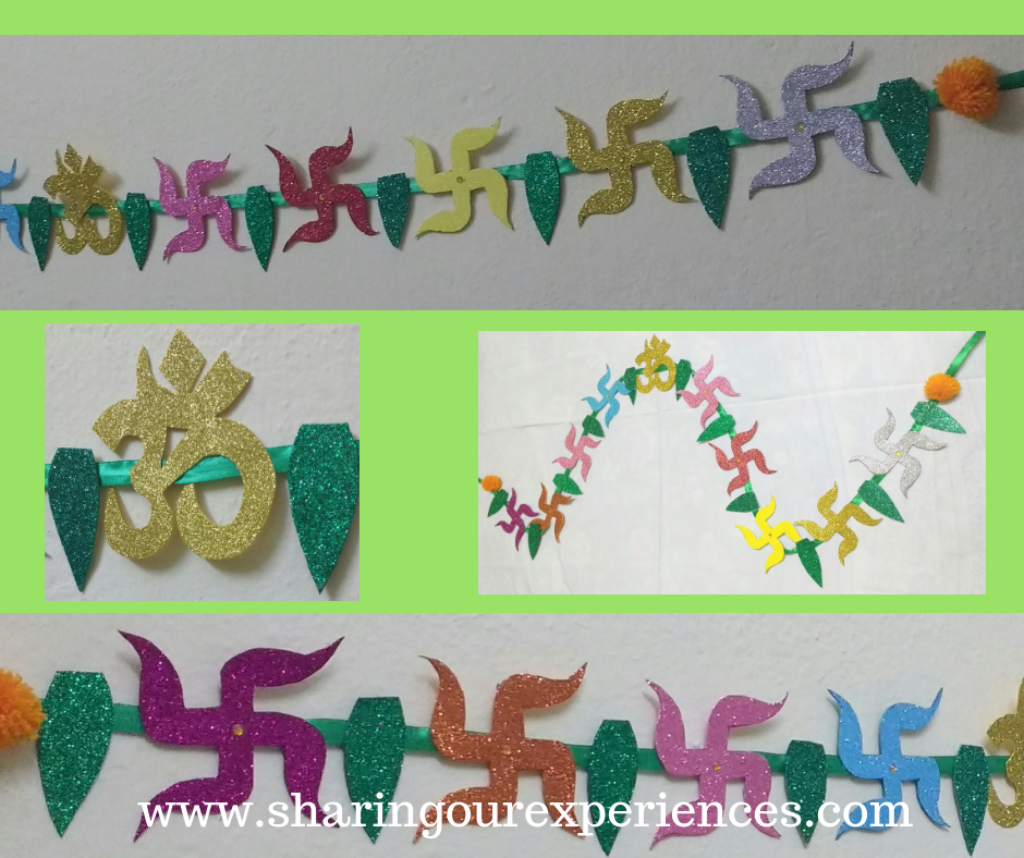 back to menu ↑
Dandiya Sticks
We all love to play Garba during festive season.Why buy dandiya sticks from market when we can make our beautiful dandiya sticks at home!!
All we need is sticks and glittery tape.
Wrap the glittery tape around the sticks and you will be ready to play with dandiya sticks made by you.
To make it more beautiful you can make some satin ribbon flowers and can paste them on dandiya sticks or can paste some beads etc.
So get ready to have some real fun with these dandiya sticks.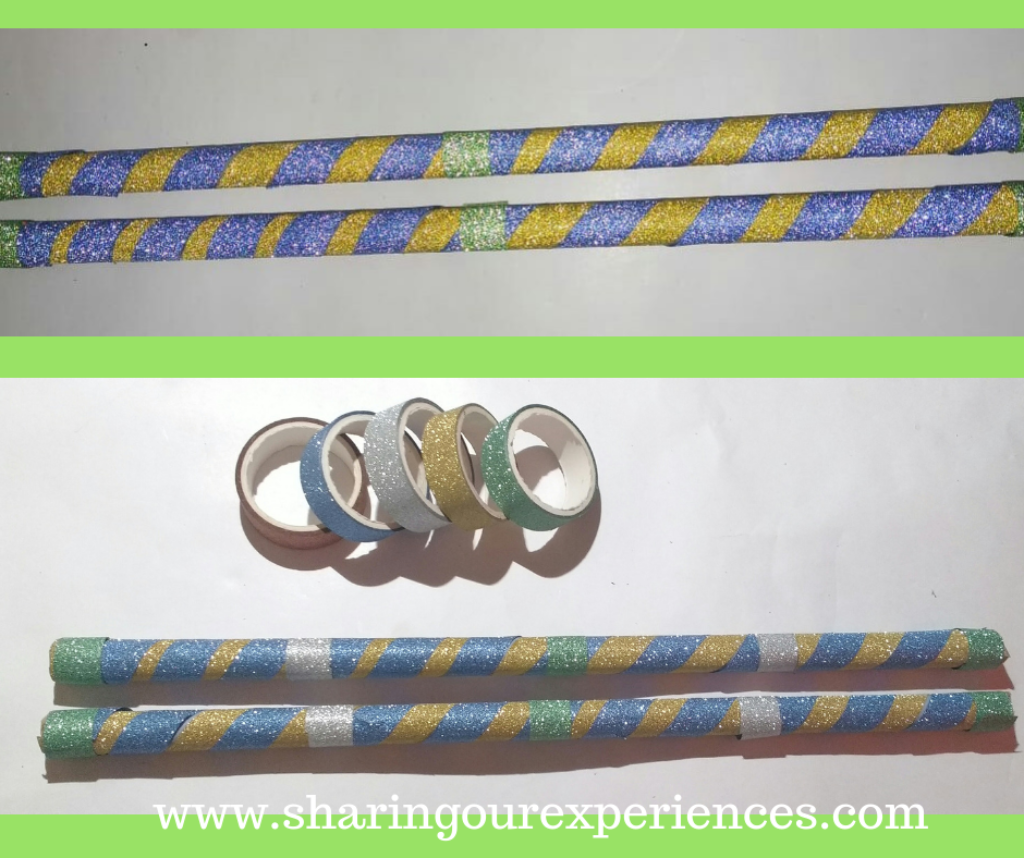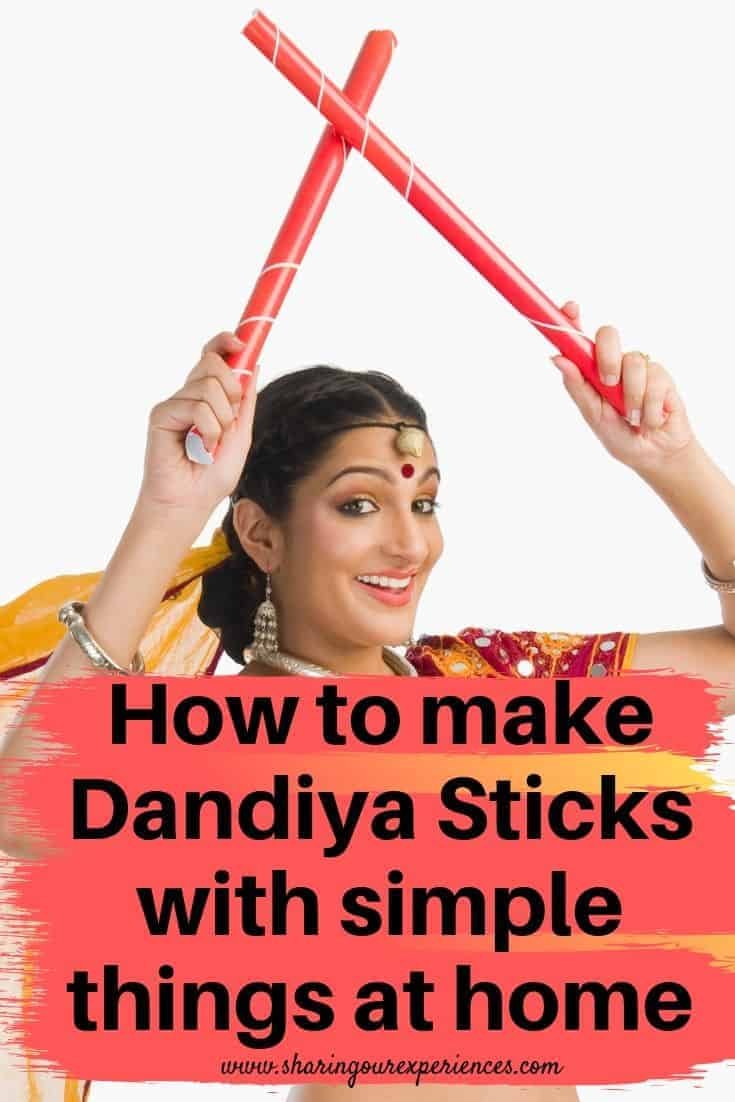 back to menu ↑
Durga Puja and Dusshera Wall Hanging
Try this simple paper wall hanging this durga puja to decorate it in your house.
Draw simple Durga maa symbols on paper, colour them and paste them together to make a wall hanging.
We saw these on Pinterest and wanted to make our own reusable wall hanging using this idea.
How to make Dussehra and Durga maa craft wall hanging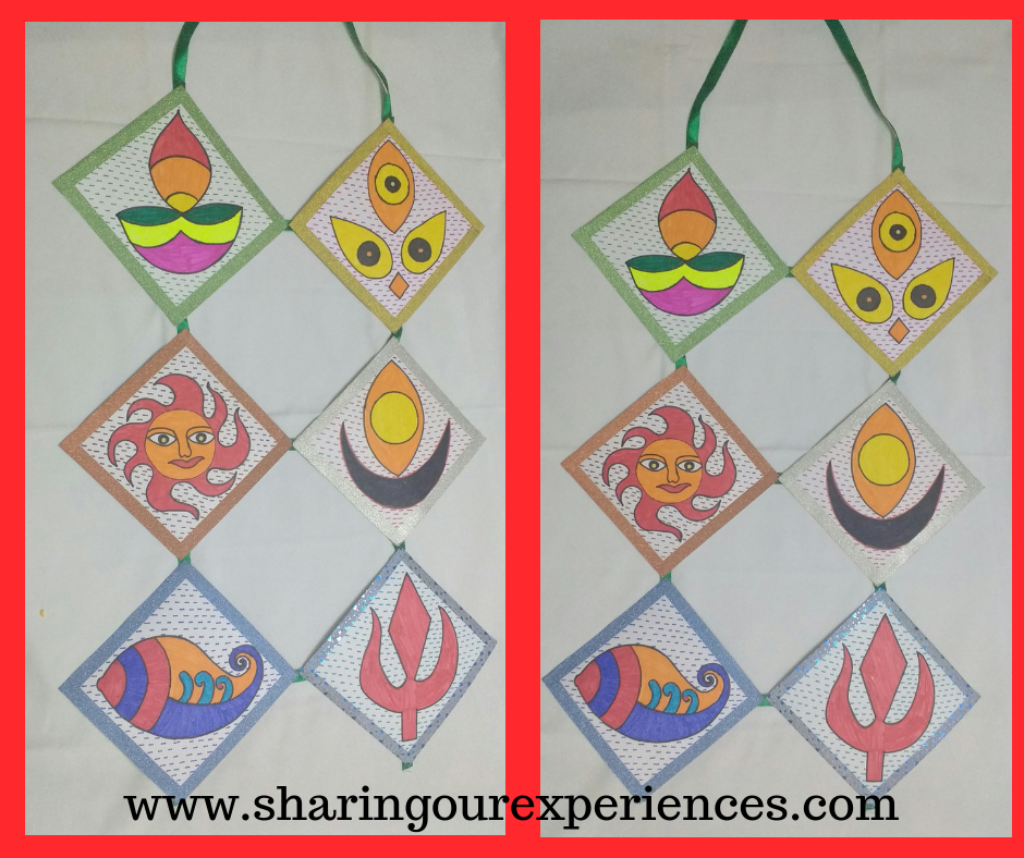 back to menu ↑
Ravana Face Mask
Try this simple and cute Ravana face mask this dussehra.
You need some coloured chart papers, glittered lace, some stickers and glue and you will be ready to make this cute Ravana face mask.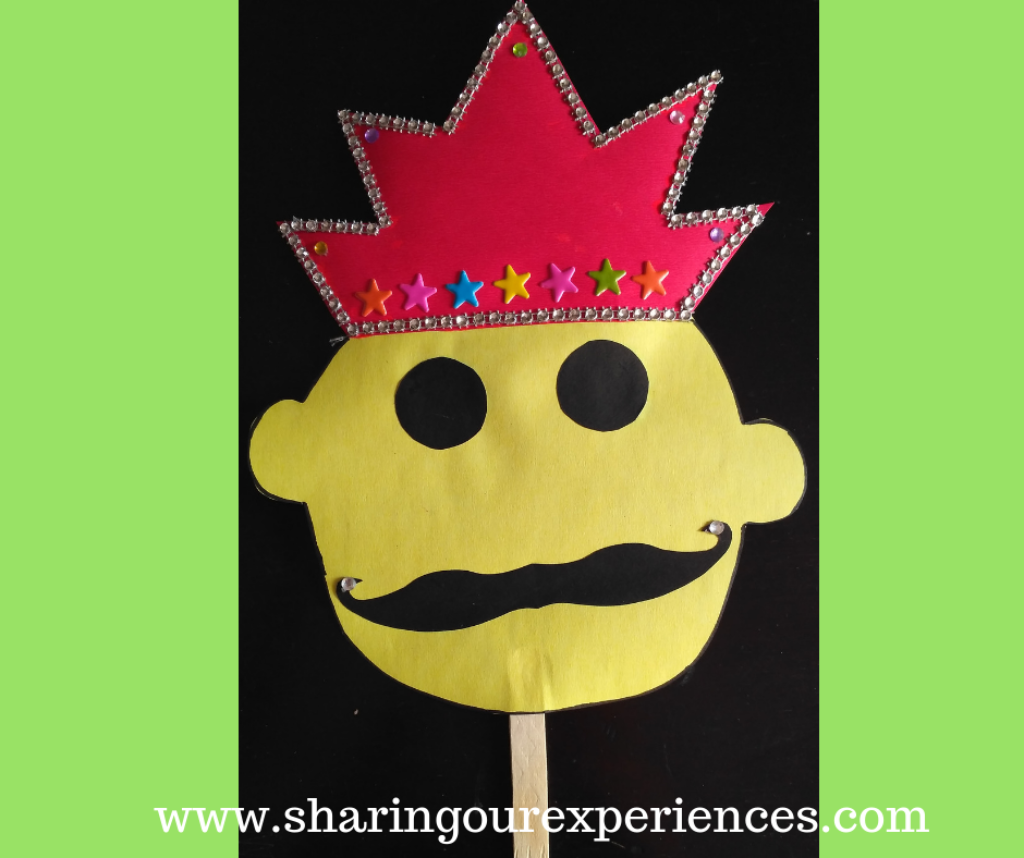 back to menu ↑
Hanuman Face Mask
Try this simple and quick Hanuman paper face mask.
Hanuman ji played very important role in Ramayana, so while reading the story behind Dussehra, why do we celebrate it and how we celebrate it you can use this mask, it will add more fun to your reading.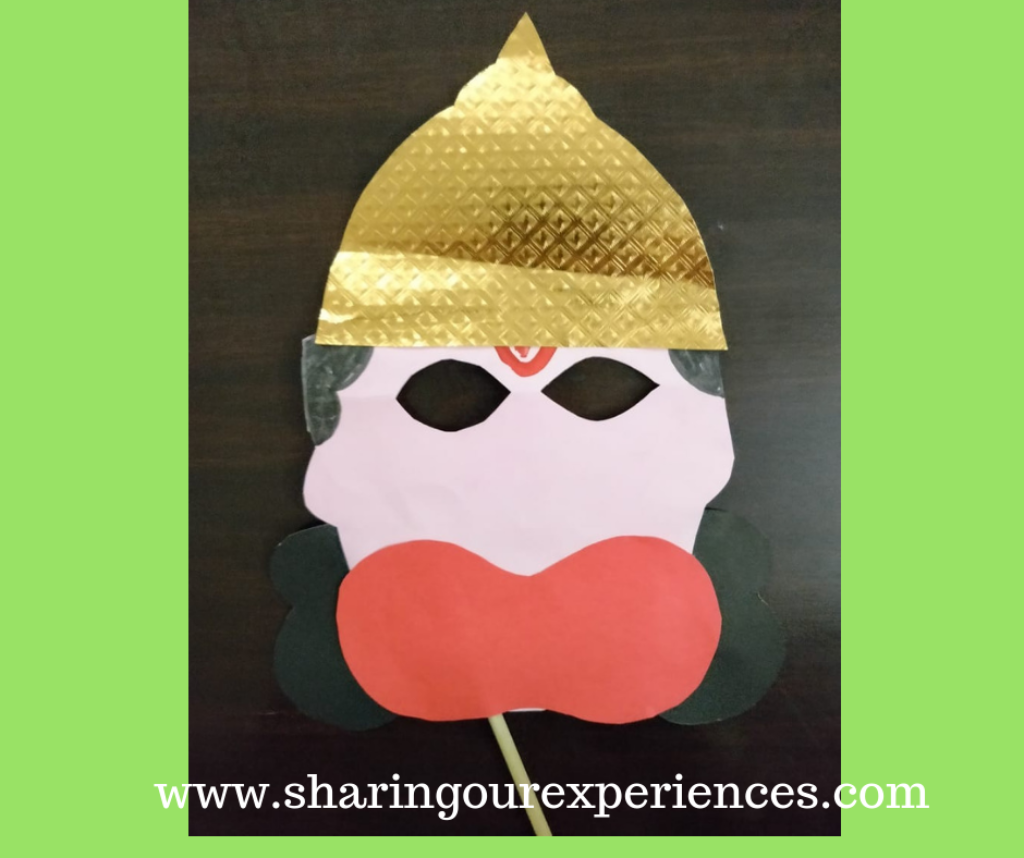 back to menu ↑
Mysore Dussehra Elephant Paper Craft
Try this super simple and super quick elephant craft (part of Mysore Dussehra celebration) with your kids.
Make an elephant with foam sheet and do some dot painting and you will have this lovely craft to decorate it in your home this festive season.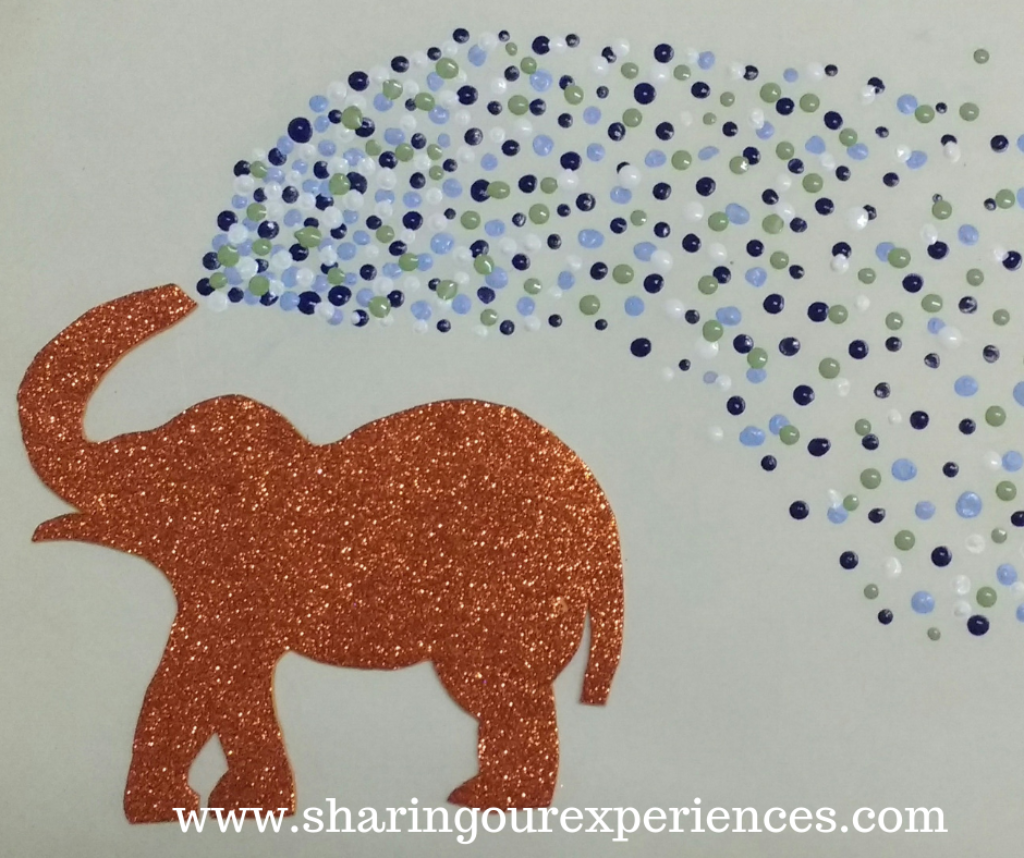 back to menu ↑
Mysore Dussehra Elephant Dot Painting
Below is a beautiful craft made with dot painting. This is not for small kids but as I loved the ideas this sharing with you all. Would love to try it and decorate it in home.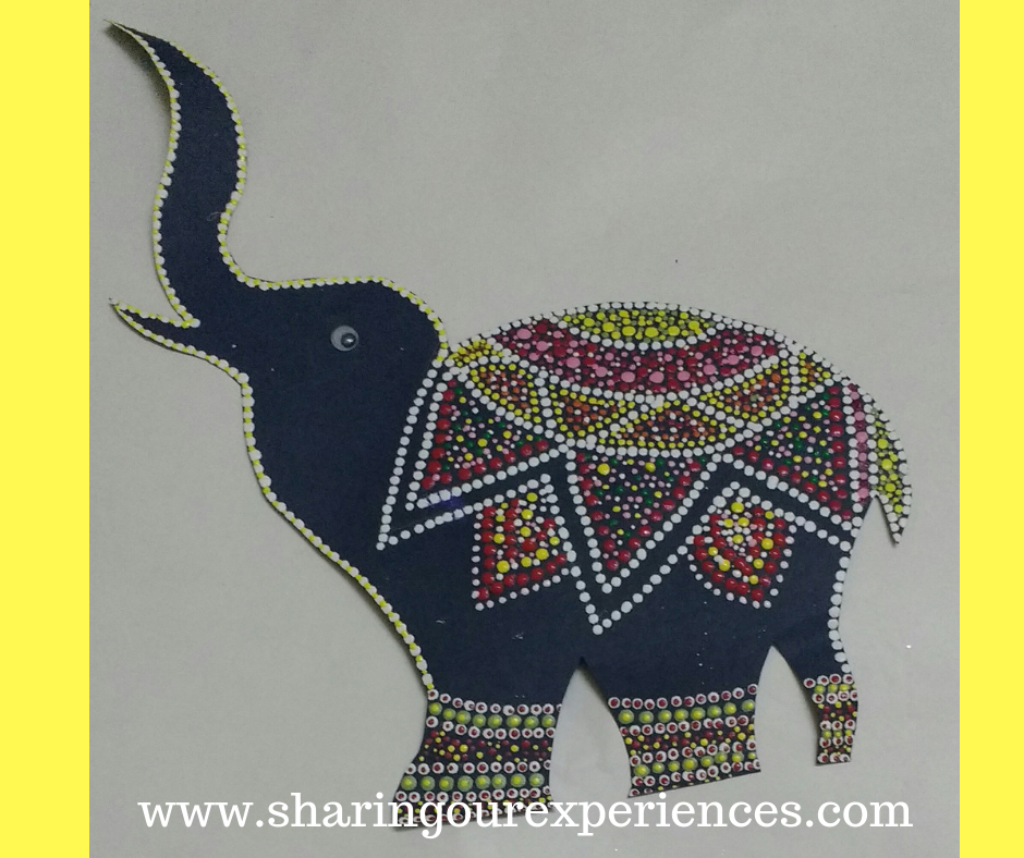 back to menu ↑
Books you can read with your kids to explain them significance of Dussehra, Navratra and Durga Puja
Check full list of Dussehra books along with frequently asked questions in Dussehra answered here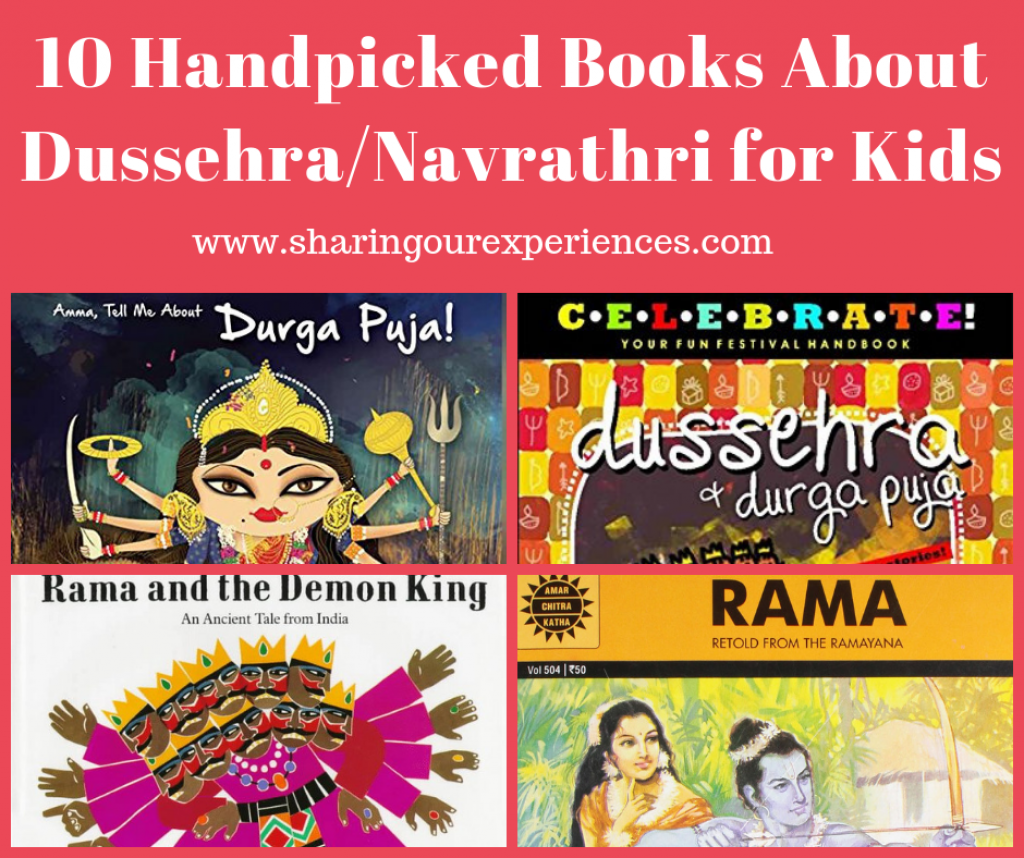 Hope you have liked the above Dussehra craft ideas !!
Do pin it..
While making these crafts and while decorating your house you can discuss the significance of dussehra, how do we celebrate it, the story of Ramayana etc.
You can check the books above you can read with your kids on ocassion of durga puja and dussehra.
Your Turn Now
In case if you liked this article do show your support by sharing this article.
Like our Facebook Page
Stay connected with us using your favorite social media, we can be found on
Do you want to share your crafts, parenting tips, stories, toy or book review, let us know by using comments below or mailing us on sharingourexperiencesblog@gmail.com
Add a comment
Don't you find this Dusshera crafts idea and activities interesting and beautiful ? Try it and let me know using comments below.
Would love to hear from you.
We love hearing from you. Add a Comment using your Facebook id (if you don't want to use Facebook, scroll down to leave a reply using other options)