Looking for easy Ganesh Chaturthi crafts ideas for preschoolers and activities to do with kids at home or in schools? We have some easy and simple crafts and FREE worksheets that kids of all ages – toddlers, preschoolers or older ones would enjoy :-).
Doing such crafts and activities helps us connect with kids, instill some love for hobbies, gives us an opportunity to talk about festivals and make beautiful handmade items.
These Ganesha crafts were made by fabulous moms in our parenting group.
So let us check what all we can do with kids as Ganesh Chaturthi celebration in preschool or at home – you can make decorations for Ganesha, Ganesha mask craft, Lord Ganesh drawing with kids, you can make your own eco-friendly DIY Ganesha, you can make Ganesha with paper, you can also make Ganesha with things available at home and reuse and recycle.
I have also included FREE Ganesh Chaturthi worksheets for kids. So scroll till the bottom. Go ahead download, print, and have fun
Let us check out these activities and crafts ideas below. These are all from craft moms in our Facebook group.
Ganesh Chaturthi Crafts ideas for Preschoolers
Starting with Sulbha's and her creative boy's Ganesh Chaturthi crafts in her own words.
Ganpati is also known as vighnaharta, and staying in Maharashtra we have a strong and emotional connection with the 10day long festival celebrated. People bring Ganpati for one and half days, 3 days, 5 days, 7 days, and 10 days. Ganpati is offered Modak or ladoo as prasad
We brought Ganpati home last year and my then 4 years old were quite happy and excited. I think kids think of Ganesha as their friend and resonate with the trunk God. This time we bought Ganesha home for one and half days but before Ganesha came home to bless us all …kids created some art and craft
DIY Ganesh or Ganpati made using Playdough
We bring sadu mitti moorti of Ganpati and kids are quite inspired to save mother earth they wanted to create some form of clay but since it's raining continuously. I told them it will not dry hence I gave them the idea let's make one from play-doh and next year we will make it from clay. They agreed and our play-doh Bappa was created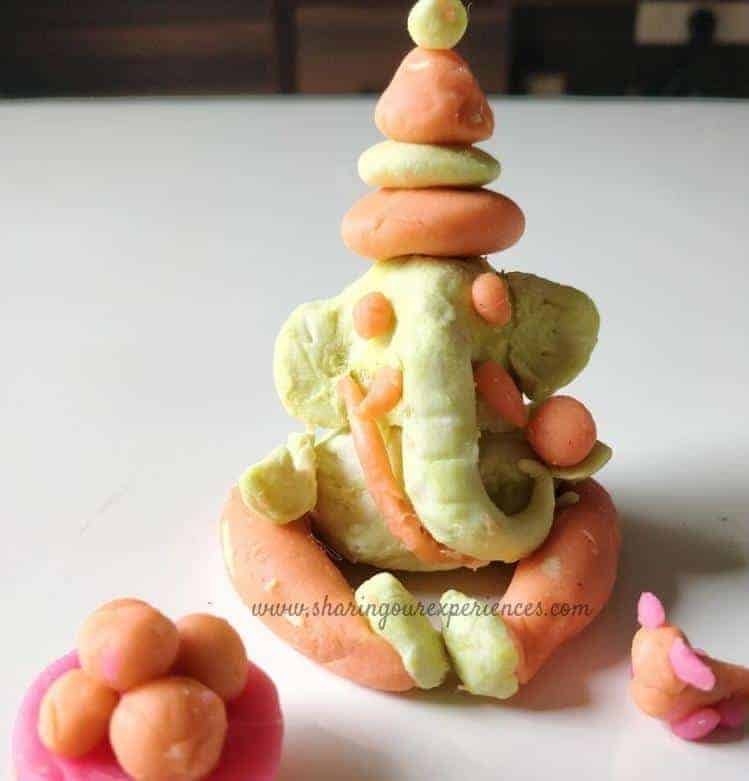 you can check Clay for making Ganesha idol here. The Most eco-friendly and traditional way of making Idols.
Ganpati made using leaves we offered (eco-friendly DIY Ganesha craft)
Still, boys were not happy and they wanted their own Ganesha whom they could worship and immerse. This is when my kids used the pan and mango leaves which we offered Ganesha to create a Ganesha of their own. Just glued few leaves and then decorated them with chalk markers
Ganpati drawing by kids
It was their Mami's birthday and they drew a Bal Ganpati and colored to gift her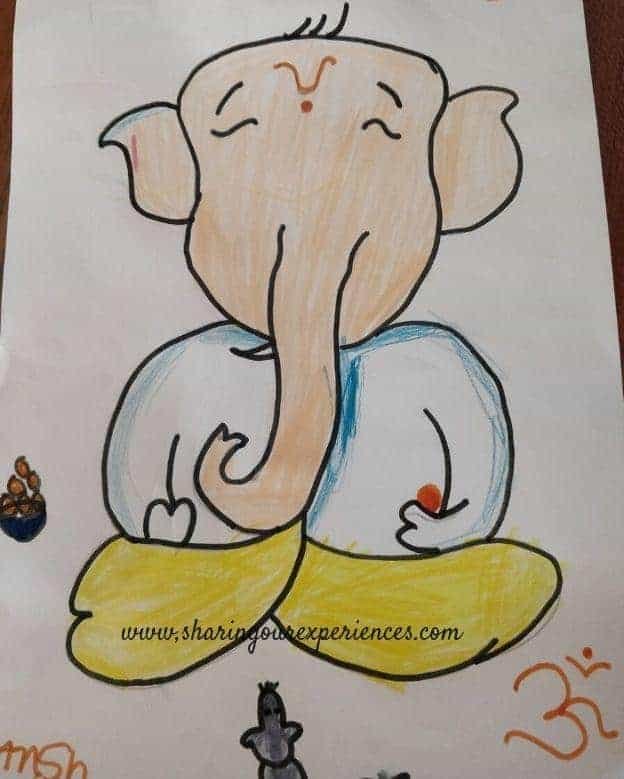 Ganesha mask with paper for fun play
Here is a cute craft you would love. Check out this Wonderful mask idea by Shashi Anurag Mishra, kids just love this one.
Ganesha craft for glittery foam
You can also make an elephant with a foam sheet and do some dot painting and you will have this lovely craft to decorate it in your home this festive season.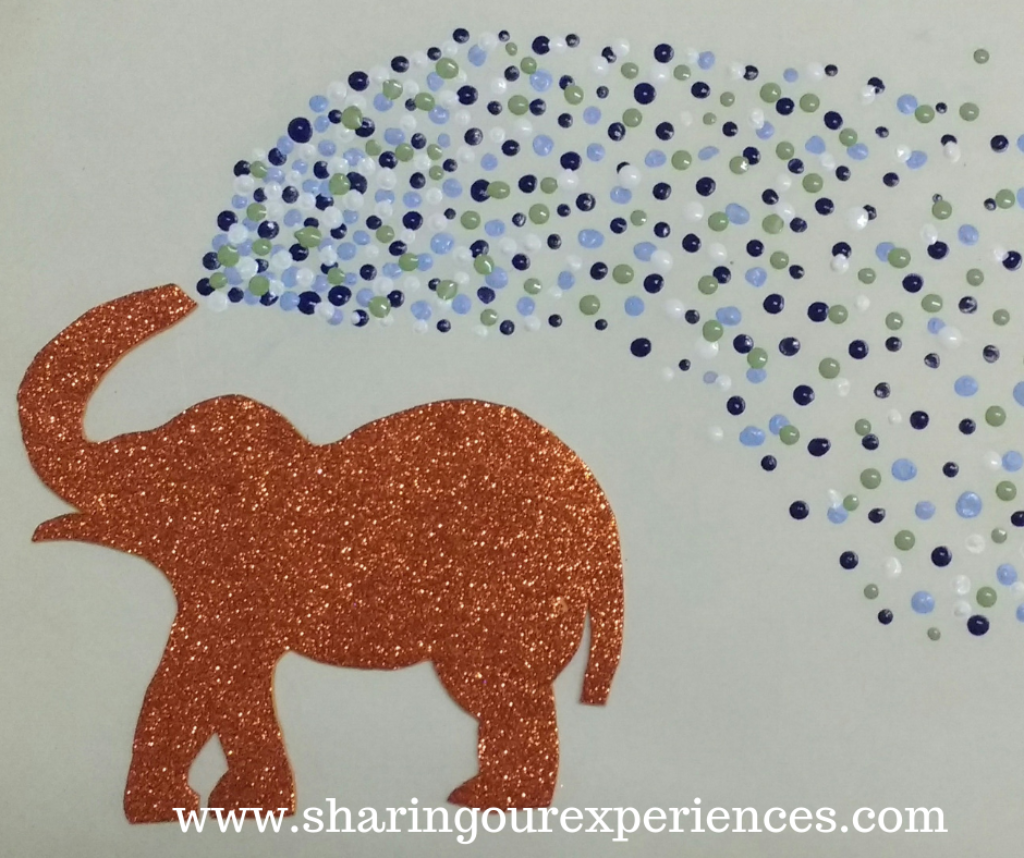 Check out our favorite > Ganesha Book series by Chinmaya Mission. <
Ganesha paper craft kit for kids
If you are like me and at times do not have time. You may want to get these craft kids from amazon. Click here to know more
Natural Clay Ganesha Idol Making | Mould, Make & Design | Ecofriendly & Simple to Make | DIY Kit
I would love to try this one next year
Free printable Ganesha Colouring sheet for kids
For kids who love coloring they can colour this coloring sheet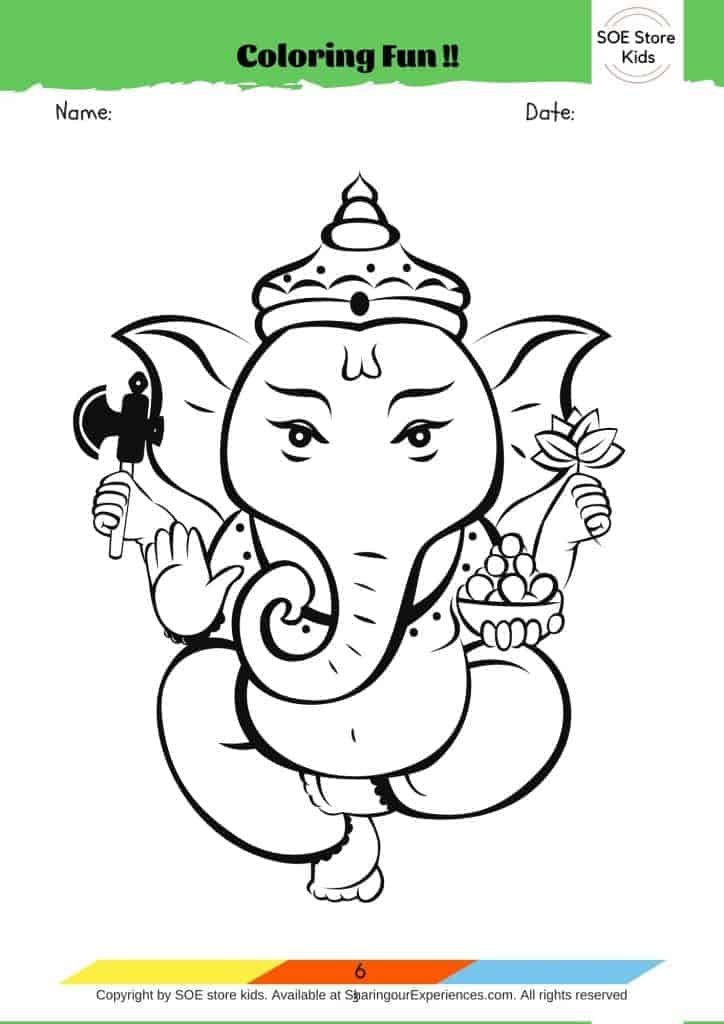 Ganesha Maze fun
If your kids like mazes and puzzles – I am sure he or she would love solving this Ganesha maze puzzle, You can download these and more at the bottom using the Free worksheets button.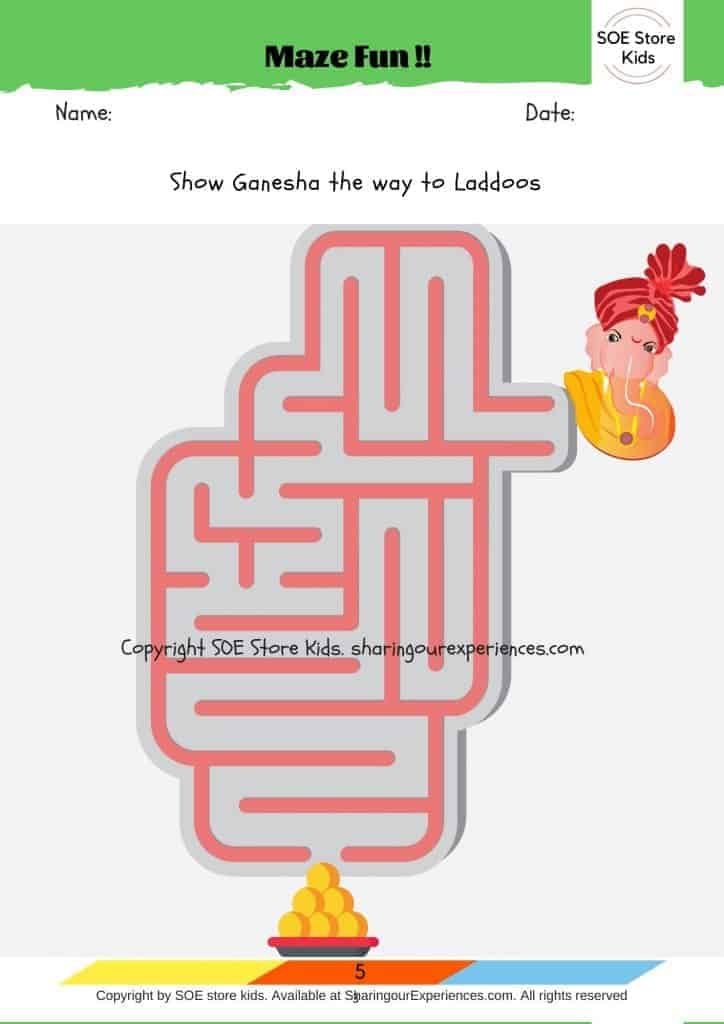 Ganesha story for kids
You can read this story together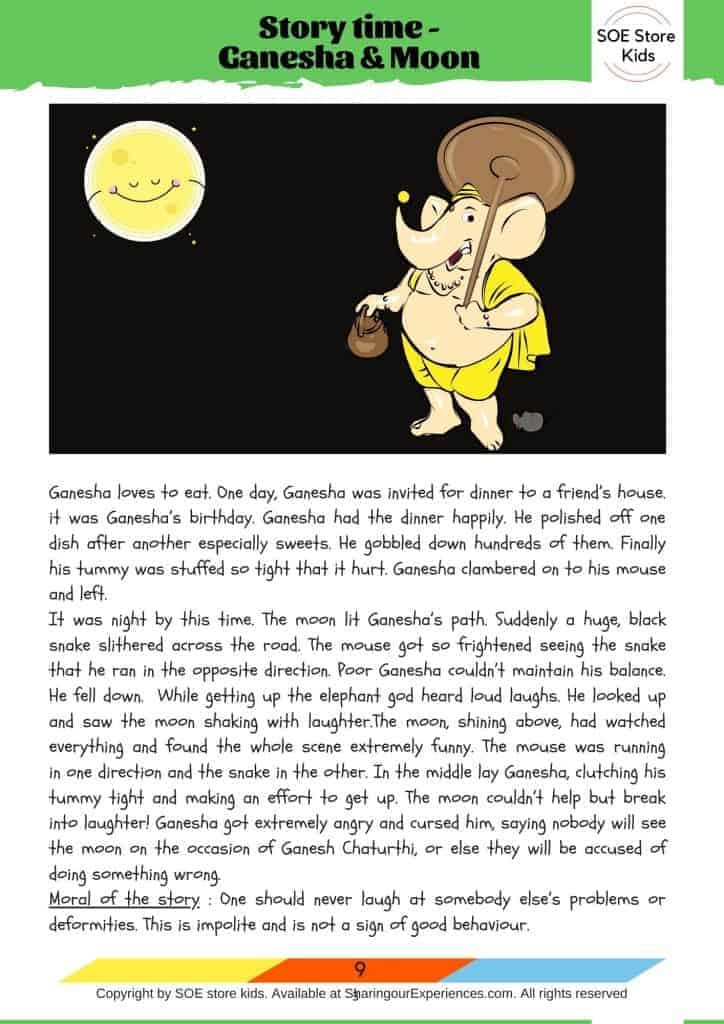 Ganesha Decor Ideas
Festivals call for special decor, especially if you are bringing the bappa (Ganesha) home. there is a combination of things people do like decorating the entrance, making beautiful rangoli, and then setting up a table for Ganesha. Below we have listed some reusable decor items that will make your decor stand out.
Marigold or gendaphool strings are considered auspicious and used for all pooja and religious occasions. They look beautiful, adding color and a festive vibe to the decor. these garlands or strings can be used for entrance or Ganesha backdrop.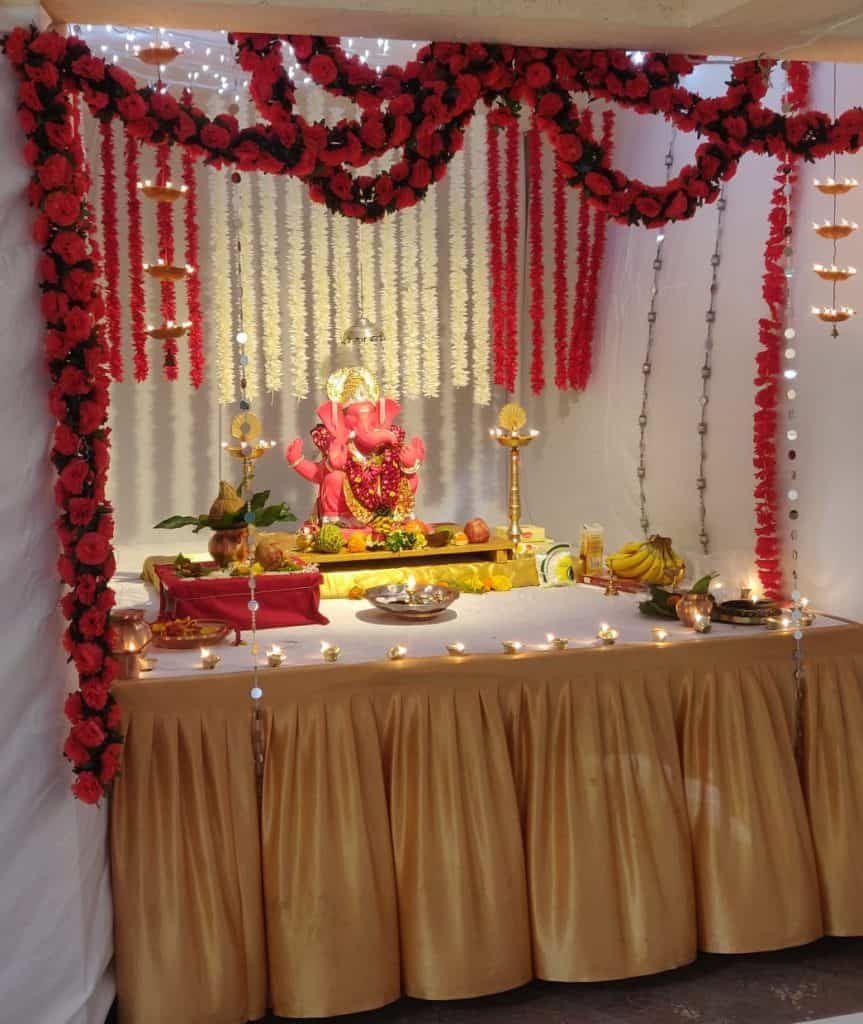 These pretty-looking reusable torans are perfect for doorways, these are washable and look very good.
These torans with bells look lovely, you can hang these on doorways or in your Ganesha decor.
If you are bored with using traditional flowers, you can opt for artificial orchids, anthuriums and carnations.
FREE Ganesh Chaturthi worksheets activities for kids
Click on the download button below to download FREE Ganesh chaturthi printables for kids
Interesting facts About Ganesha
Lord Ganesha shlokas
There are a few shlokas about our beloved God ganesha, we have tried our best to put the together with meaning, however, please forgive in case of any errors.
"Vakratunda Mahakaaya, Suryakoti Samaprabha
Nirvighnam Kuru Mey Deva, Sarva Kaaryeshu Sarvada"
Lord Ganesha has a curved trunk with a powerful body. He has the brilliance of a million suns. May the Lord, remove all the problems from the actions I aim to achieve.
"Suklaambara Dharam Vishnum, Sashi Varnam Chatur Bhujam
Prasanna Vadhanam Dhyaayet, Sarva Vighna Upashaanthaye"
Lord Ganesha represents purity. He is omnipresent with gray complexion like that of ash glowing with spiritual splendor. The Lord with bright appearance has four arms. I meditate on the God who can destroy all obstacles whether material or spiritual.
"Agajaanana Padmaarkam, Gajaananam Aharnisham
Anekadantham Bhaktaanaam, Ekadantam Upaasmahey"
Lord Ganesha, the elephant faced is like sun to the lotus face of Mother Parvati. The single tusked Ganesha is the giver of boons. I salute the great lord to grant us a boon.
"Om Ekadantaya Vidmahe
Vakkratundaya Dheemahi
Tanno Danti Prachodaya"
We devote our thoughts to the One Tusked Lord. We meditate upon Him who has a Curved trunk May the tusked one guide us always.
How do children learn slokas?
Children learn slokas by repetition and by listening to them regularly. You can dedicate a particular time in a day for prayers and shlokas for your child.
How do you explain Ganesha to a child?
Ganesha or (Ganesh) is the elephant-headed god in Hinduism. He is the son of Shiva and Parvati.
Ganesha is a very popular God for Hindus. It is said that Ganesha is a god of wisdom, success and good luck. The Hindu tradition calls Ganesha as the Vighneshvara or Vighna-harta. "Vighneshvara" in Sanskrit language means remover of all the obstacles and difficulties.
Why is Lord Ganesha called Vakratunda?
Vakratunda is known to be the first incarnation of Lord Ganesh which means the one with a curved trunk. Vakratunda incarnation of lord Ganesh slayed the demon Matsarasura, a devotee of lord Shiva.
Why do we celebrate Ganesh Chaturthi?
Ganesh Chaturthi is celebrated annually to mark the birth of our favourite Hindu God, Lord Ganesha, the God of new beginnings and fresh starts.
The festival occurs in the month of Bhadra, as per the Hindu calendar and in August/September according to the Gregorian calendar. This year (2021), the ten-day celebrations will begin on September 10th.
What are the rituals of Ganesh Chaturthi?
There are four primary rituals which are performed during the 10-day long festival. – Pranapratishhtha, Shhodashopachara, Uttarpuja, and Ganpati Visarjan.
Some people follow these rituals for 1.5 day, some for 5 days and some for 10 days.
Ganesh Utsav is not just about these 1-5-10 days, It brings excitement weeks before Ganesh Chaturthi, as the markets are dressed with beautiful Ganesha idols and decor material. Artisans start preparing idols months in advance.

The Ganesha idols are installed in beautiful 'pandals' or at homes, temples. The first ritual called Pranapratishhtha is observed where a pandit chants mantra to invoke life in the Ganesha diety.
Devotees offer prayers to the Ganesha in 16 different ways, this is called Shhodashopachara.

At home people invite family and friends to take blessings from their beloved Bappa. people celebrate by singing, dancing, playing bhajans.
In larger societies, bigger pandals, competitions are organised and fun activities are planned for children and adults alike.

The Uttarpuja ritual is then performed which is towards the end as it is about bidding farewell to Ganesha.
The Ganesha idol is then immersed in water- this is known as Ganpati Visarjan. While carrying the Ganesha idol for immersion and while immersing it, people chant in the Marathi language 'Ganapati Bappa Morya, Purchya Varshi Laukariya' which means 'Goodbye Lord, please come back next year'.

People also prepare Lord Ganesha's favourite Modak, Pooran Poli, and Karanji for friends, family and visitors.
How do you greet Ganesh Chaturthi?
You can wish in the following ways-
"Wishing you a happy Ganesha Chaturthi, may Lord Ganesha bless you with health, wealth and prosperity."
"May Bappa remove all the obstacles from your oath and lead you to success, health and prosperity, happy Ganesh Chaturthi."
"I wish lord Ganesha's visit fulfills all your dreams."
"May Lord Ganesha fills your home with wealth and good health".
Ganesha books for kids
Read these amazing Ganesha books for kids
Liked – Ganesh Chaturthi craft ideas for preschoolers
Do not forget to share this article with others.