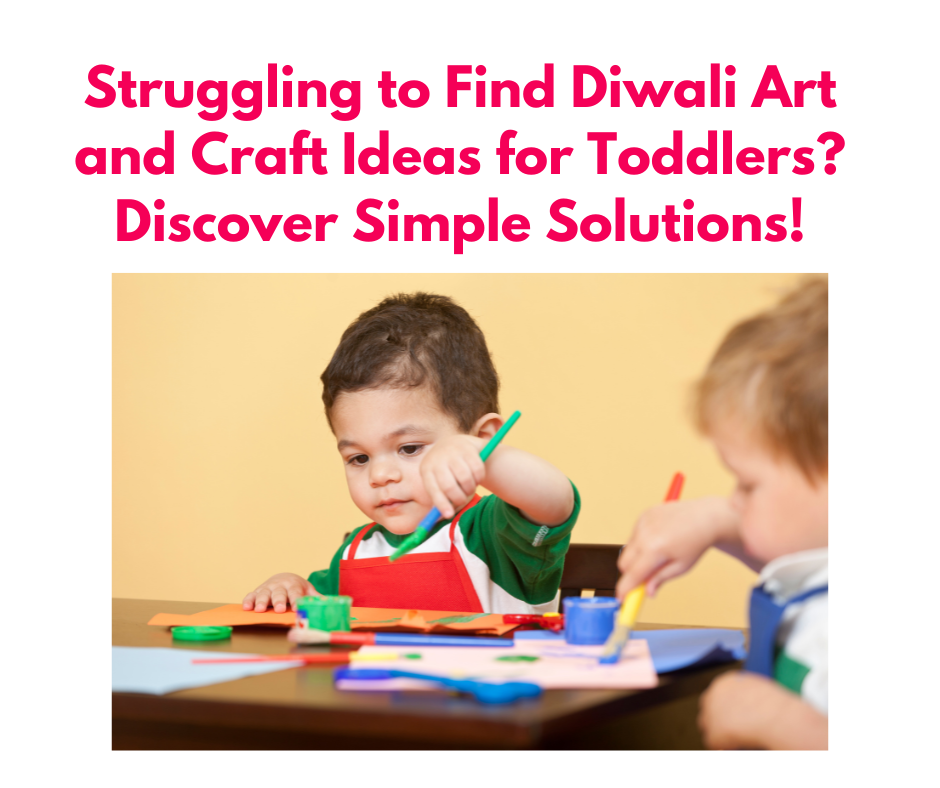 Discover engaging Diwali art and craft ideas for toddlers, perfect for parents and teachers. Make this festive season special with fun, age-appropriate projects that celebrate the spirit of Diwali.
Are you a parent or teacher on the hunt for the perfect Diwali art and craft ideas that will make this festive season extra special for your little ones? We know how important it is to keep them engaged and entertained, and we're here to help. Diwali is a time of tradition, light, and color, and there's no better way to introduce these concepts to your toddlers than through fun, age-appropriate arts and crafts.
We've handpicked a selection of simple, mess-free, and exciting Diwali projects that both you and your kids will love. These ideas are tailored to capture the spirit of the festival and provide an opportunity for little ones to express their creativity.
Also Read – 40+ Handpicked Diwali Activities Crafts for Kids (Free printables) DIY Decor Crafts & Home Decor
Let's make this Diwali a memorable and enriching experience for your unique, budding artists!
Simple Diwali Art and Craft Ideas for Toddlers: Spark Creativity this Festival
Here are some simpler and age-appropriate Diwali art and craft ideas for toddler kids aged 1 to 2.5 years old.
Handprint Diyas:
Dip your toddler's hand in paint and help them make handprints on a piece of paper to create a diya shape. You can add a fingerprint for the flame.
Diwali Collage:
Provide your child with pre-cut colorful shapes and let them glue these shapes onto a piece of paper to make a colorful Diwali collage.
Diwali Stickers:
Offer Diwali-themed stickers for your child to stick on paper. They can create their own artwork by arranging stickers in different patterns.
Diwali Paper Plate Art:
Cut a paper plate in half and provide your child with safe, child-friendly paint to create a Diwali-themed design on the plate.
Finger Painting Fireworks:
Dip your child's fingers in paint and help them create fingerpaint fireworks by pressing their fingers on paper.
Diwali-Theme Playdough Fun:
Create or buy playdough in various colors and let your child shape it into simple Diwali-themed shapes, like diyas or stars.
Color Sorting with Diwali Decorations:
Collect colorful Diwali decorations and encourage your child to sort them by color. This activity helps with color recognition.
Diwali Nature Exploration:
Take a nature walk and collect leaves, flowers, and other natural items. Then, let your child explore these items by touching and feeling them.
Diwali Sensory Bottles:
Fill clear plastic bottles with colorful beads, sequins, and glitter. Seal the bottles tightly and let your child shake and explore the sensory bottles.
Diwali Card Making:
Help your child make simple Diwali greeting cards using crayons and stickers. They can decorate the cards and send them to loved ones.
These ideas are simple and engaging for toddlers, focusing on sensory experiences and fine motor skills. Always ensure a safe and supervised environment when doing these activities.
Here are answers to some frequently asked questions from moms regarding Diwali art and craft ideas for toddlers:
What are some easy and safe materials for Diwali crafts with toddlers?

Some safe materials include non-toxic paints, colored paper, child-safe scissors, glue sticks, stickers, and washable markers. Always supervise to ensure safety.

What Diwali crafts are suitable for very young toddlers (1-2 years old)?

For the youngest toddlers, consider activities like handprint art, simple finger painting, and exploring sensory materials like colored rice.

How can I ensure my toddler's safety during art and craft projects?

Always use age-appropriate materials and supervise closely. Avoid small items that could be choking hazards. Cover the workspace and use washable, non-toxic materials.

What are some mess-free Diwali craft ideas for toddlers?

Consider sticker art, handprint projects, or crafts that involve coloring with washable markers to minimize mess.

How can I make the crafts educational for my toddler?

You can use the opportunity to teach about Diwali traditions, colors, shapes, and fine motor skills like cutting and pasting.

What are some Diwali-themed books for toddlers to complement the craft activities?

Some great options include "Let's Celebrate Diwali" by Anjali Joshi and "Diwali Lights" by Rina Singh. Reading these books can enhance the educational aspect of your crafts.

What are some fun and safe ways to add lights to Diwali crafts with toddlers?

To safely add lights, consider using LED tea lights or string lights in paper lantern crafts. Ensure the lights are securely attached to prevent any accidents.

How can I engage my toddler in crafting even if they have a short attention span?

Break the project into smaller, manageable steps and keep the activity short and sweet. Toddlers often enjoy the process more than the end result.

What are some tips for preserving and storing the Diwali crafts my toddler makes?

Store completed crafts in a dry place to avoid moisture damage. You can also laminate or frame special pieces to keep them in good condition.

Where can I find Diwali-themed craft supplies for toddlers?

You can find Diwali-themed stickers, paper, and craft kits at local craft stores or online retailers. Look for age-appropriate options.
Remember to customize the craft activities based on your toddler's interests and abilities, and most importantly, have fun crafting together with your little one.
As we wrap up this creative journey for your little ones, we hope these Diwali art and craft ideas have sparked their imaginations and added a touch of magic to your celebrations. Now, it's your turn to bring these projects to life with your toddlers and watch them light up with joy.
We'd love to hear about your experiences and see the wonderful creations you and your little artists come up with. Share your Diwali crafts with us, and let's spread the festive cheer! And if you found these ideas helpful, don't forget to explore more creative activities throughout the year to keep the magic alive.
Let's make this Diwali unforgettable for your children and keep the creative spirit alive! Happy Diwali, and happy crafting! 🪔🎨💫