---
Check out these interesting Diwali Activities and crafts for kids. Encourage your kids to be involved in festivities and help them learn about our culture. Involving kids also gives them a sense of responsibility and accomplishment.
Diwali is around the corner and we all are busy in Diwali preparations like cleaning of house, getting the walls painted, doing lots of shopping- buying gifts, clothes, candles, diyas, things to decorate the house etc.
Diwali is the festival of love, care and happiness. It is the festival of light and colours. We all happily decorate our home with lights, diyas and rangoli etc.
When we parents are busy with these preparations, our little ones may feel left out and they also want to contribute in Diwali preparations. We should let them feel the joy and happiness of celebrating Diwali in the most beautiful way.
Specially when they are in their early childhood, when they are growing in every aspect emotionally, physically and mentally. It is very much necessary to make them aware about our rituals, festivals and culture so they can understand our sanskriti of love, care and share.
So this year I decided to do some Diwali crafts with my kid so he can learn about this festival and contribute his share in Diwali celebrations. Through this way I can teach him about being responsible and he was happy to create some cute handmade pieces for Diwali decorations.
So below are the Diwali activities crafts which we (me and my kid) did for Diwali.
Advertisement| Article continues below.
---
---
Diwali crafts and activities for kids
Rangoli on paper
One of the most colorful and beautiful aspects of Diwali is the bright and eye catching Rangoli drawn in every corner of home. While your child may not be old enough to help out with the real Rangoli, he can spend some quiet time coloring a Rangoli design on paper.
Materials required to make rangoli on paper
A 4 sheet
Fevicol
Rangoli Colours
Sieve
back to menu ↑
How to make rangoli on paper
Draw a design of your choice on paper. You can draw proper rangoli design or draw something simple your child can enjoy to colour. My kid is familiar with diya design so I made a diya on a paper
Now you need to apply fevicol on your design. If you want to fill different colours in your rangoli design then you can apply the fevicol accordingly. I want to make my diya colourful so I applied fevicol in very small part of diya.

Note :  If you want, you can spread the Fevicol with the help of finger evenly or simply apply it and don't make it even, it will give your design a different texture.

As you have applied the fevicol on your design the colour you will apply will be pasted with fevicol so now take the sieve put some colour in it and then shake it gently to spread colour on you design.
After you are done with third step above remove the extra colour from the paper and then start from step  1 again.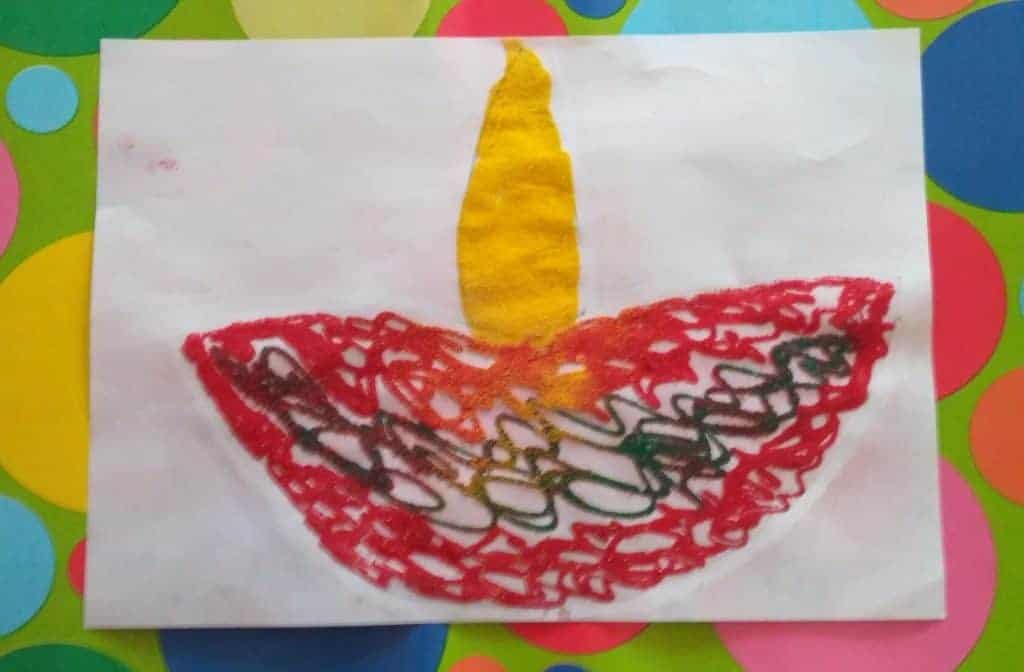 Your colourful and beautiful rangoli on paper is ready. This is a very simple and quick activity loved by kids.
You can use this design in making proper Rangoli just cut the extra paper from the design and use it as center of rangoli and let your child know that you have used his design to make the complete rangoli. Don't forget to acknowledge his efforts.
back to menu ↑
Colour the Diyas:
This Diwali activity was most enjoyed by my kid. He just wanted to colour the diyas for whole day and did not want to do anything else..  🙂
As diwali is the festival of lights and it is incomplete without diyas. Usually we buy coloured diyas from the market and then decorate our home.
This year I am going to decorate my home with coloured diyas made by my little champ.
Materials required to make coloured diyas
Plain diyas
Fevicryl oil paints ( I was not comfortable in using the oil paints as my kid is too small to handle them. I used normal water colours to paint the diyas)
Paint brush
back to menu ↑
How to colour the diyas
First of all when you buy the diyas wash them gently to remove the dirt from them. Keep them aside and let them dry.
With the help of thick brush apply the base colour on diyas. Keep them aside and let them dry.
Note : My kid wanted to colour the diya with orange colour and we didn't have that colour. Thus, we made this secondary colour by mixing the red colour with yellow colour. Thus, I got the opportunity to make him aware about the secondary colour and how can we make that.
3) With the help of fine brush draw some fine designs of your choice on diyas.
While making the designs on diyas discuss the various holy sign like "Swastik" or "Om" with your kid.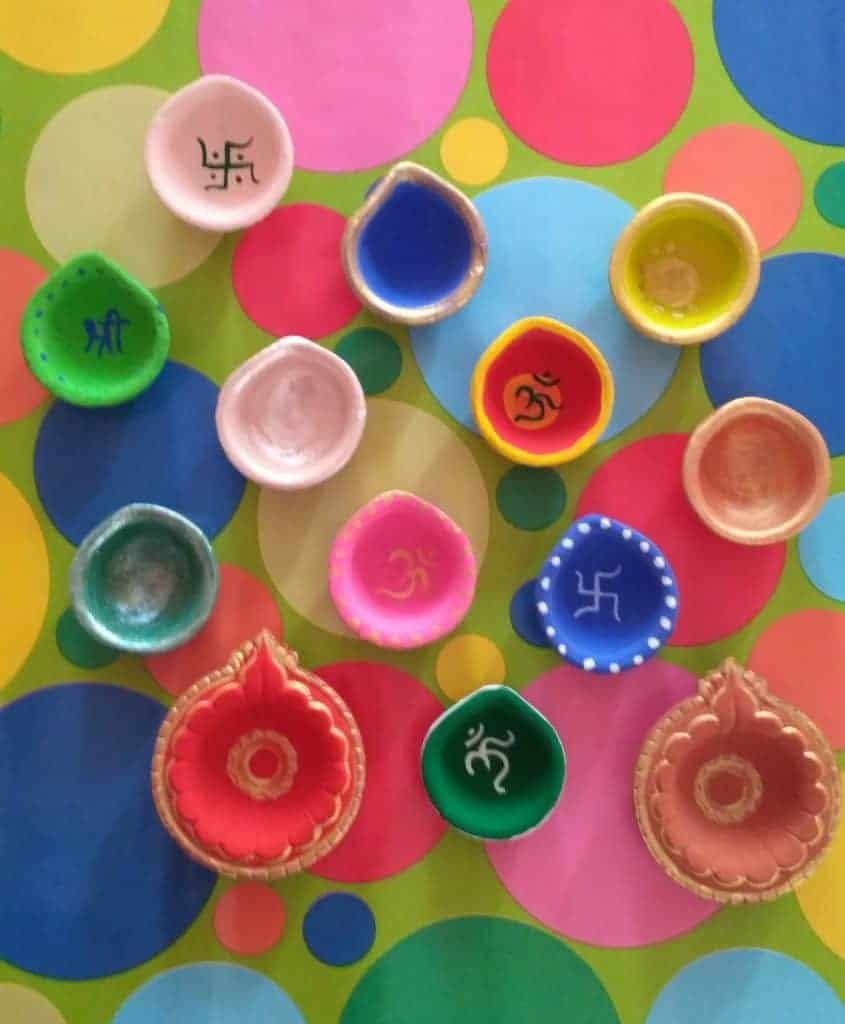 Note: If your kid wants to do this fine work, let him do or ask him what design he wants to make on diyas. As my kid was super excited to colour the diyas, all the base colour was done by him.
Yes, I did some finishing work to make it look smooth. You can ask your kid to wear some old clothes or apron to avoid any colour stains on clothes.
Above coloring Diya Diwali activity was completely enjoyed by my kid. It is very good for fine motor skills and imagination of kids. All the colours were decided by my kid.
As we have made lots of coloured diyas we have decide we will gift them to our dear ones.
back to menu ↑
Paper Plate Diya
This quick craft is really good for toddlers and preschoolers. You need one paper plate and cut it into half, with your kid colour it with yellow colour (or colour of your kids's choice) and cut leaf shape cut outs from the coloured chart papers to make the flame of diya. Paste the cut outs and your colourful diya is ready.
Note – You can make multiple coloured diyas and decorate it in your home.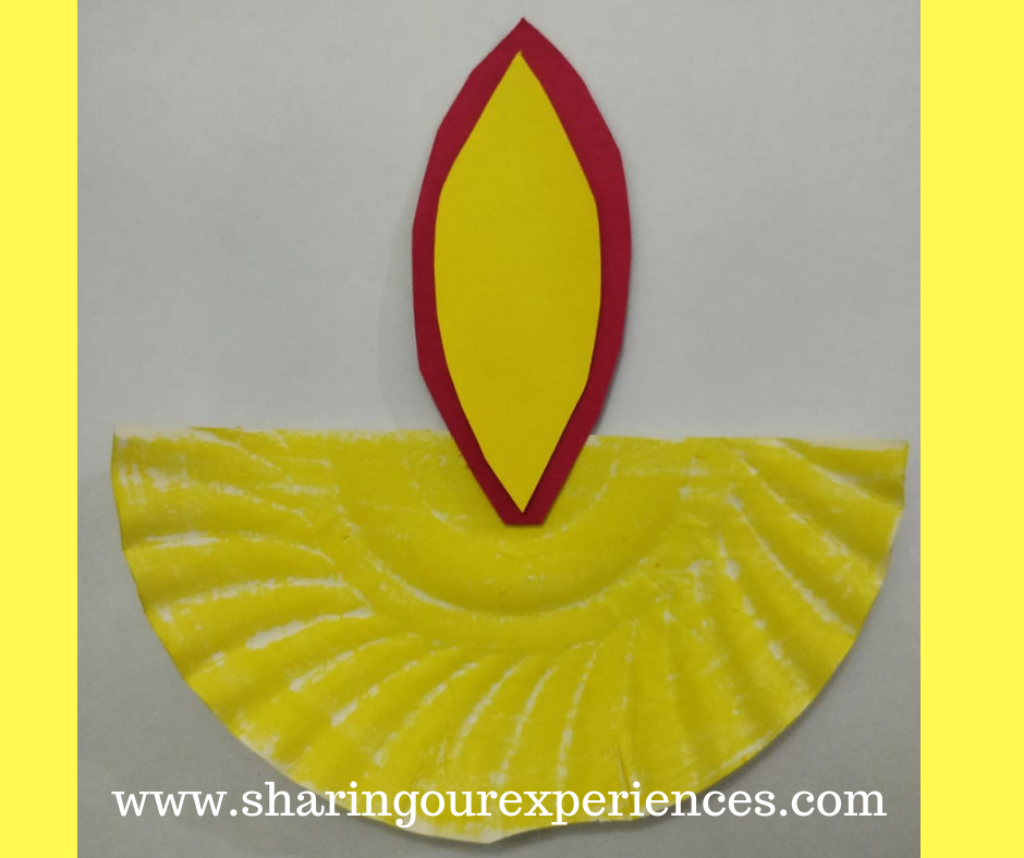 back to menu ↑
Paper Rocket
Kids always love to talk about rockets and love to play with them on diwali. Try this super cool rocket craft with your kids and get ready to see them giggling and playing with this.
You need some coloured chart papers and satin ribbon to make this craft. Paste the cut outs and get ready to play with it.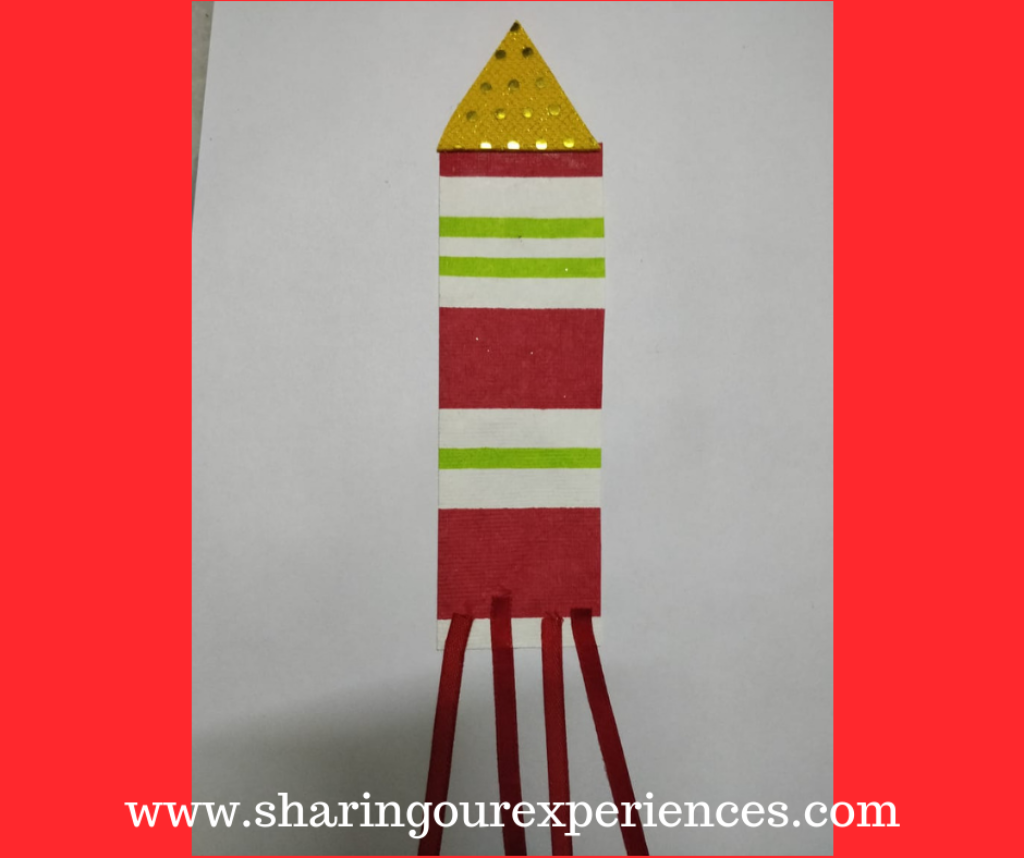 back to menu ↑
Swastik and Om Toran
This diwali make this beautiful Swastik toran made with glittered foam sheets and satin ribbon. Make multiple coloured Swastik and Om and paste them on a satin ribbon and decorate your home with handmade bandhanwar this Diwali.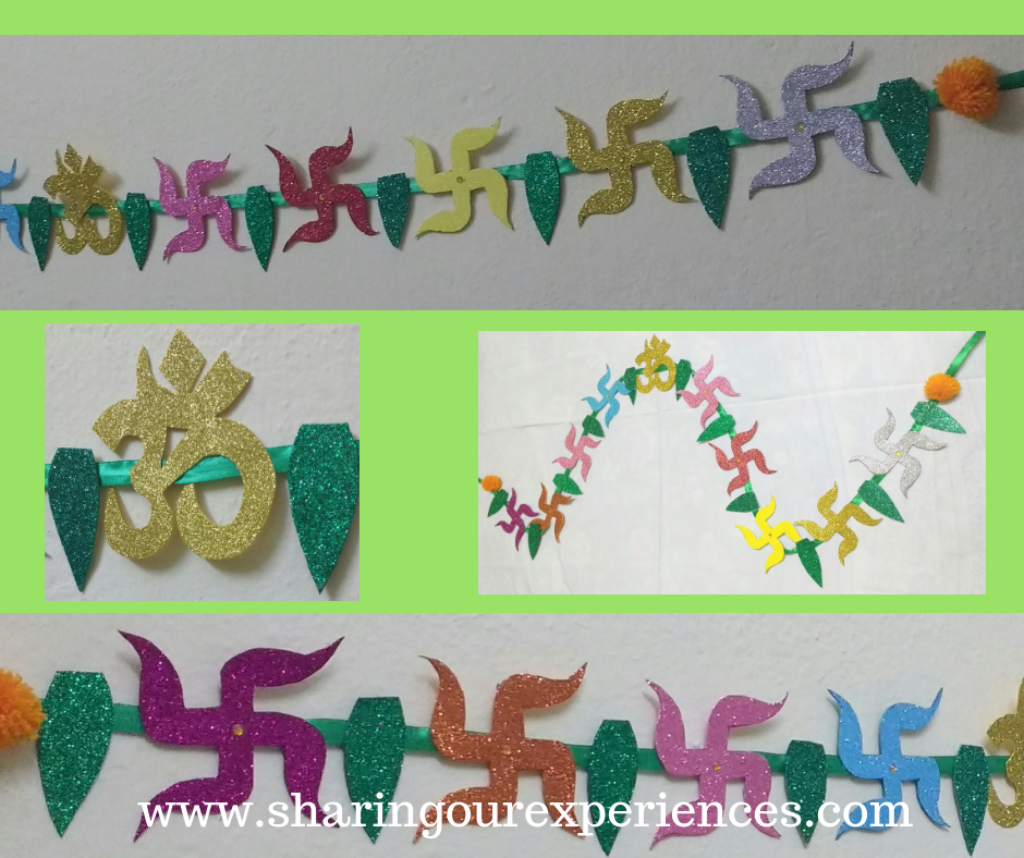 back to menu ↑
Kalash Wall Hanging
Make this beautiful kalash wall hanging this diwali and decorate your walls this festive season. You can also make kalash toran with small size kalash cutouts.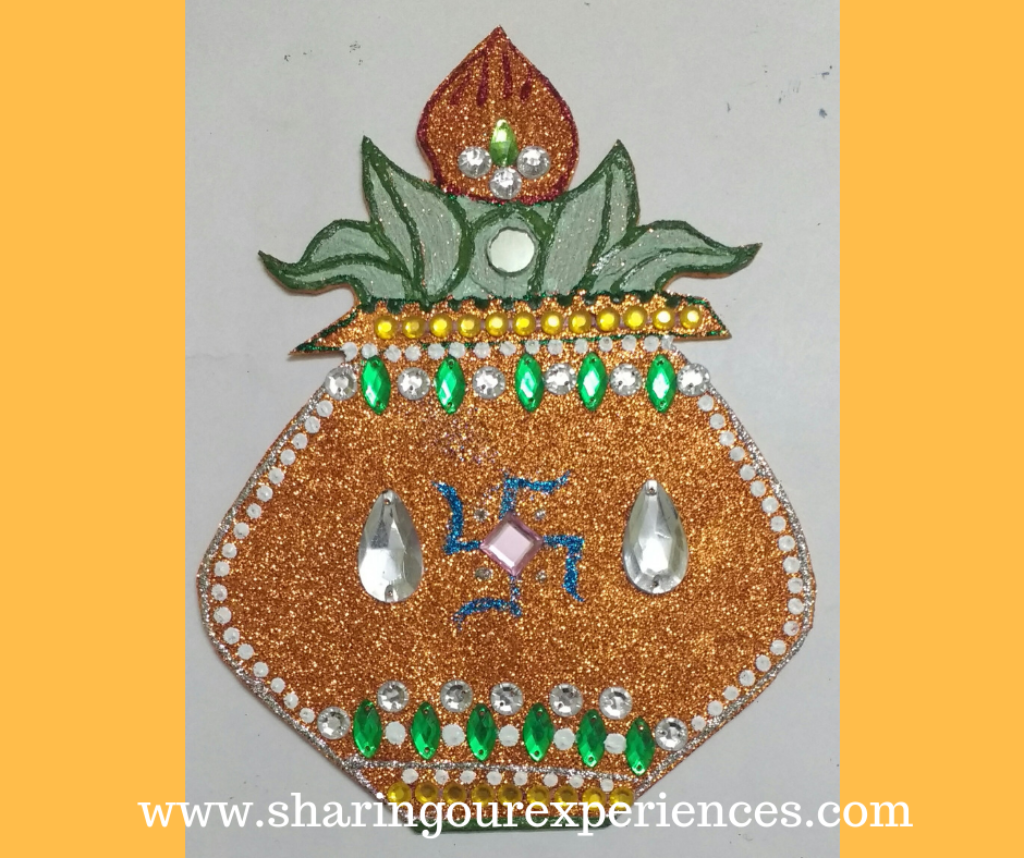 Hope you have liked ideas for diwali crafts for children. Give it a try and spend some happy moments with your kids.
Happy Diwali !!
back to menu ↑
Liked this post ?
You may also want to read
How to make a Diwali paper lamp
Why do we Celebrate Diwali in India – How to explain the significance of Diwali to kids
Handpicked Durga Puja and Dussehra books for kids
You may also want try your hand at this interesting Clay Urli pot for Diwali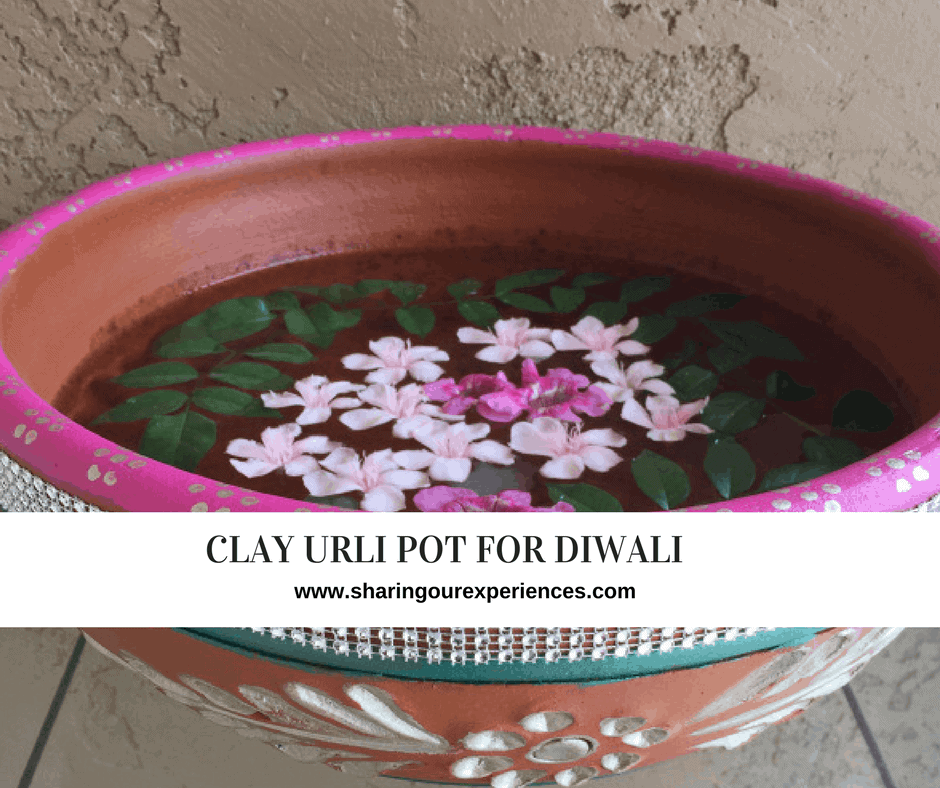 back to menu ↑
Your Turn Now
In case if you liked this article do show your support by sharing this article.
[shareaholic app="share_buttons" id="27265281″]
Like our Facebook Page and Stumble It!
Stay connected with us using your favorite social media, we can be found on
back to menu ↑
Add a comment
Don't you find this Diwali craft idea interesting and beautiful ? Try it and let me know using comments below. Would love to hear from you.
We love hearing from you. Add a Comment using your Facebook id (if you don't want to use Facebook, scroll down to leave a reply using other options)