Easy tutorial on how to make Door/wall hanging with clay. Easy DIY home decorations. Perfect for festivals like Diwali 
My favorite of all wall hangings is traditional Rajasthani ones. Specially, the string decorations are absolutely beautiful and comes in various designs and sizes. They add so much warmth, color and most important festive feel 🙂
Well, it is easy buy stuff from India, but I was itching for a project and decided to "DIY" and here is the result – a cute and traditional flower string door/wall hanging 🙂
Aren't they cute and colorful. They are about 24 inches (2ft) in length and add color and style to any room.
Well, before initiating this project,  I was looking at clay options to make the flowers. The ideal pick was polymer clay as it is light and break resistant. This time I wanted to go for an inexpensive option.
After some search, I found this recipe to make clay at home. That was super exciting.  It is easy-to- make, easy- to-work, inexpensive and can be used in variety of projects.
I couldn't wait to get started and bought glue from dollar tree and corn starch from local grocery store for less than $3.
So this is a wonderful wall hangings craft idea, you can use it for diwali decorations or simply decorate it on your walls to make your house more colourful and beautiful.
Craft materials needed to make Door/wall hangings with homemade clay
Homemade clay is ready and the other supplies you need are –
wooden beads (hobby lobby)
Cookie or fondant cutter
decorative mirrors (hobby lobby)
Bells (optional)
Lace or string of your choice 
Super Glue 
How to make Door/wall hangings from homemade clay
Step 1 : Condition the clay and roll it out until it is 1/8th inch thick approx. Here i used a fondant cutter for flowers. Choose a cutter of your choice and make 10-12 flowers.
Step 2 : Let the flowers dry overnight. Once dry they are very light, unbreakable and almost look like resin. Color the flowers with acrylic paint and glue a decorative mirror in the center.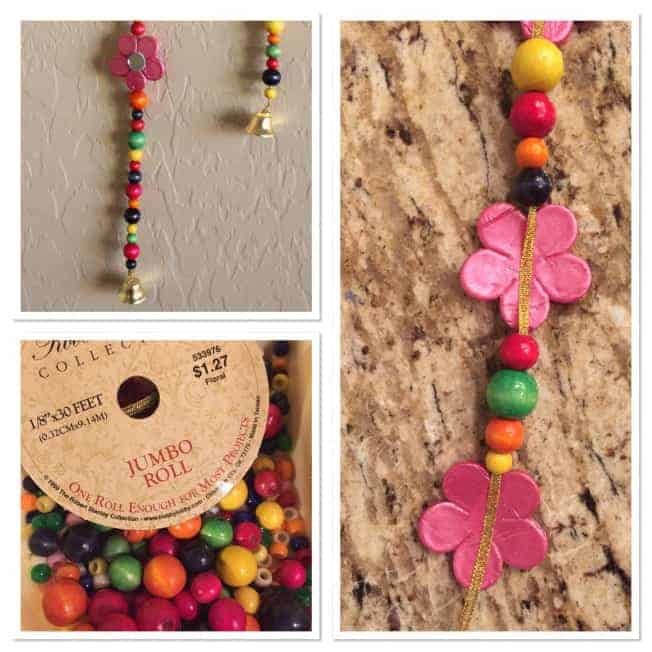 Step 3: Take a string or decorative lace and few wooden beads. I added random and used multi colored beads. Once you add couple of beads glue the painted flower like shown above.
Once you string beads and glue flowers add a decorative bell and you have beautiful string wall hanging decor ready to use 🙂
If you like this easy Home décor don't forget to Pin It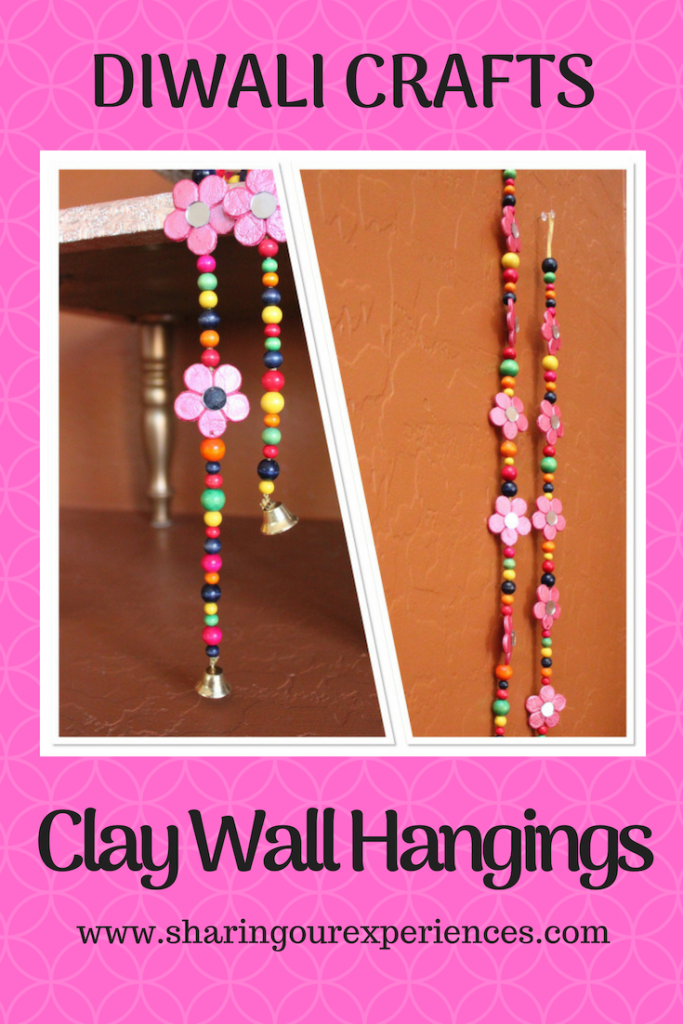 This blog was first posted on author's blog
Liked this post ?
You may also want try your hand at this interesting Diwali Luminaries
Your Turn Now
In case if you liked this article do show your support by sharing this article.
[shareaholic app="share_buttons" id="27265281″]
Like our Facebook Page and Stumble It!
Stay connected with us using your favorite social media, we can be found on
Add a comment
Don't you find this Diwali craft idea interesting and beautiful ? Try it and let me know using comments below. Would love to hear from you.