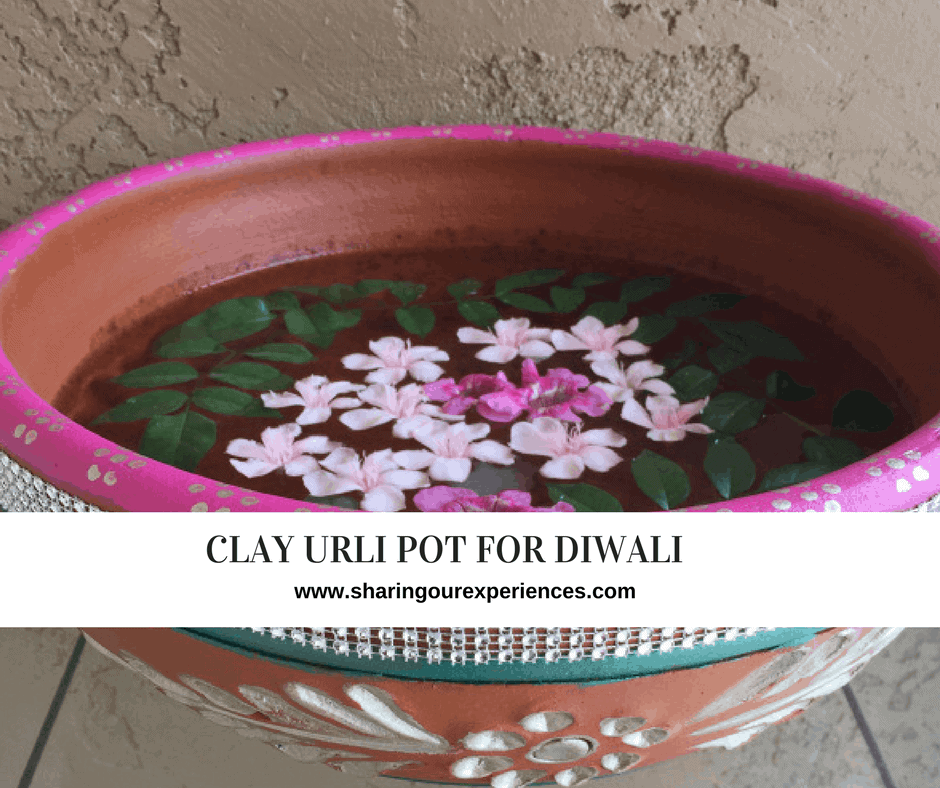 Today we are going to learn how to make a Clay Urli pot for Diwali. Very useful idea for those who who are celebrating Diwali outside India and would like to decorate your home in traditional ways
Diwali is incomplete without diyas,rangoli (traditional Indian chalk art), bright and  beautiful decorations, yummy food, family gatherings and fireworks. When I think of decorations – the first on the list is illuminating every corner of the home with diyas/candles and the second is urli pot filled with rose petals/fresh flowers and candles 🙂
Living away from home, I miss having this decorative piece for Diwali and this year I decided to use a terra-cotta cactus/round dish as a substitute. It will not replace the traditional brass uril but for sure warm and welcoming.
Here is before and after picture 🙂
This clay cactus dish is available @ home depot and has perfect depth and width to use it as urli pot. Since it is a garden pot it has drainage hole and all you have to do is to fill it with some waterproof silicone sealant/caulk.
Place the pot upside down and use some duck tape to close the hole.
Turn it right side up and squeeze out some Silicone sealant to fill the hole.
Use a toothpick to spread it making sure the hole is filled without any gaps/vaccum.
Instructions on the silicone caulk says 30 minutes to dry, since the hole is large and we squeezed quite some I would suggest to leave it to dry overnight.
Once dry you have the Clay Urli pot for Diwali ready 🙂 
You can decorate the pot in multiple ways – go with a solid spray paint or give some details with acrylic paints and embellishments.
Isn't that perfect and beautiful for Diwali ?
You could use it in multiple ways – indoor or outdoor, on floor or on a platter stand.  All you need is to fill some water and arrange fresh flowers. Don't forget to use some floating candles for Diwali 🙂
And here is a picture from Diwali 2016 with the clay urli pots filled with flowers and floating candles 😍
Happy decorating! If you liked this post Don't forget to Pin it
This post was first published on the author's blog .
Liked this post ?
You may also want try your hand at this interesting Clay wall hangings
Your Turn Now
In case if you liked this article do show your support by sharing this article.
[shareaholic app="share_buttons" id="27265281″]
Like our Facebook Page and Stumble It!
Stay connected with us using your favorite social media, we can be found on
Add a comment
Don't you find this Diwali craft idea interesting and beautiful ? Try it and let me know using comments below. Would love to hear from you.