Today, we are going to learn how to make very easy handmade foam sheet flowers. These foam flowers are great for making bouquets for home decoration, for making wreaths or for using as  door decorations. Check out step by step free tutorials on how to make variety of foam flowers
Homemade Foam Flowers are excellent for party or home decorations. This foam craft is so simple that you can involve kids in making flowers out of foam sheets, which is exactly what I did. And moreover, these are such a great alternative to real flowers.
You can check out all DIY Foam sheet crafts here
Now let's get back to DIY handmade foam sheet flowers tutorial.
---
In this article
---
Materials used to make Foam Flowers
Wires
Bottle (used as Vase)
Newspaper Tubes
Colour
Foam Piece
Glue
Scissors
How to make flowers out of foam sheet step by step
So here is a step by step instructions (with pictures) on how you can make craft foam flowers.
Step 1 – Cut flowers out of colored foam sheets.
In this method there is no need to create individual petals.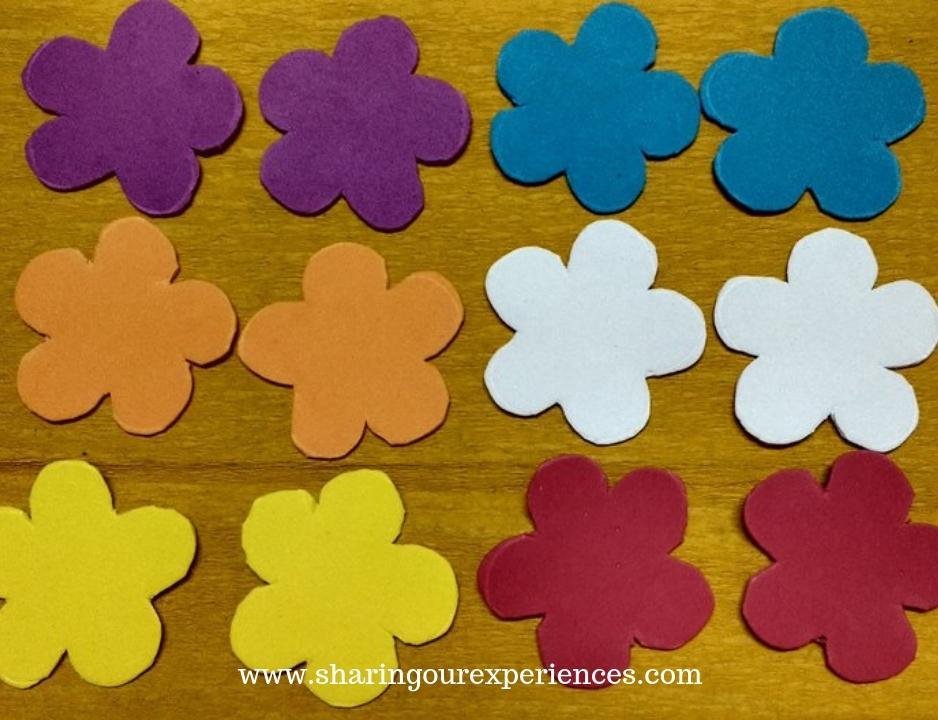 Step 2 – Create Stamen from Beads and wire.
Insert a bead into a wire and fold it in half as shown in pic below. Repeat to create multiple stamens. https://www.senpaisquad.net/ You can also use a pipe cleaner instead of wire.
Step 3 – Insert the stamen created above into flowers (as shown below).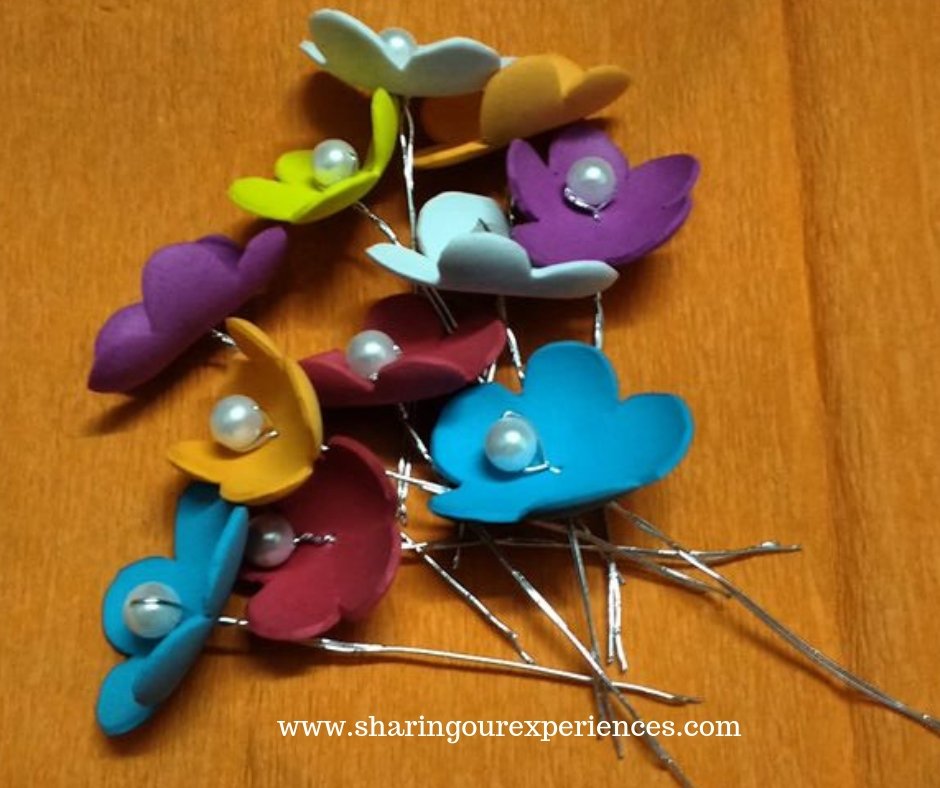 Step 4 – Wrap floral green tape on the wires. (This step is not be necessary if you are using a green pipe cleaner)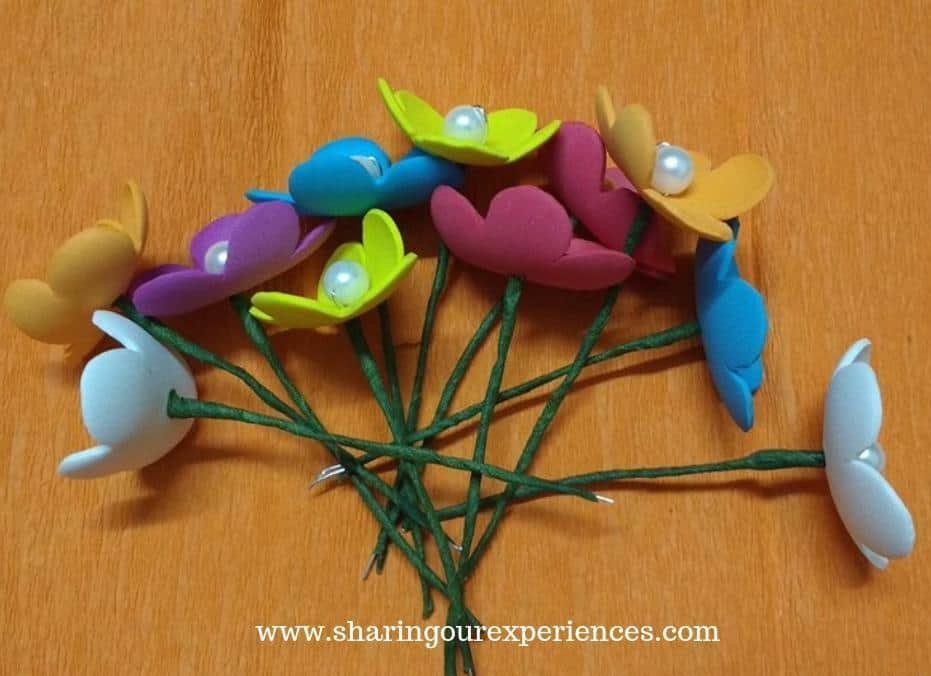 Step 5 – Create Vase (Optional)
Wrap newspaper tubes on a bottle and paste it. Paint the bottle.
Step 6- Make a base for the flower bunch by keeping a foam or sponge piece at the center of the vase.
Step 7 – Keep your Foam flowers bunch into a Vase.
You can also keep beads or colored marbles in the vase to decorate it further.
Your beautiful handmade bunch of Foam flowers is ready.
Don't miss to pin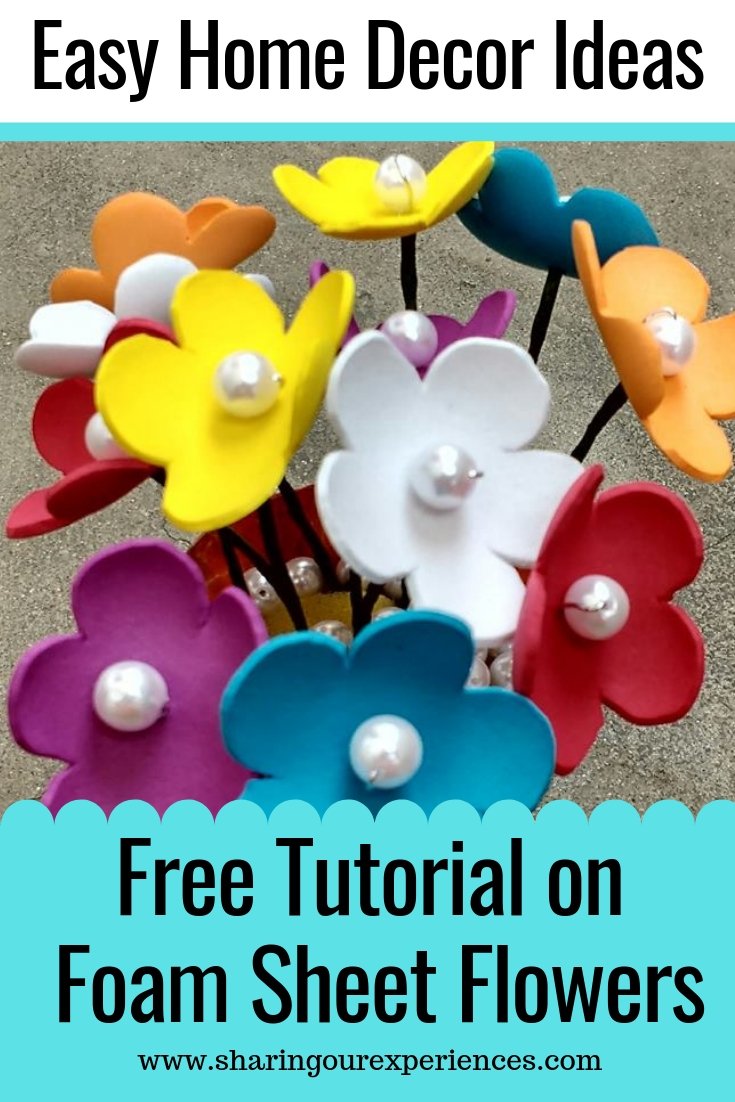 More Easy Foam flowers tutorials
Super Easy Foam Flowers
These are really easy that even kids can do it on their own with little help. Click here to learn how to make easy kids crafts with foam sheets.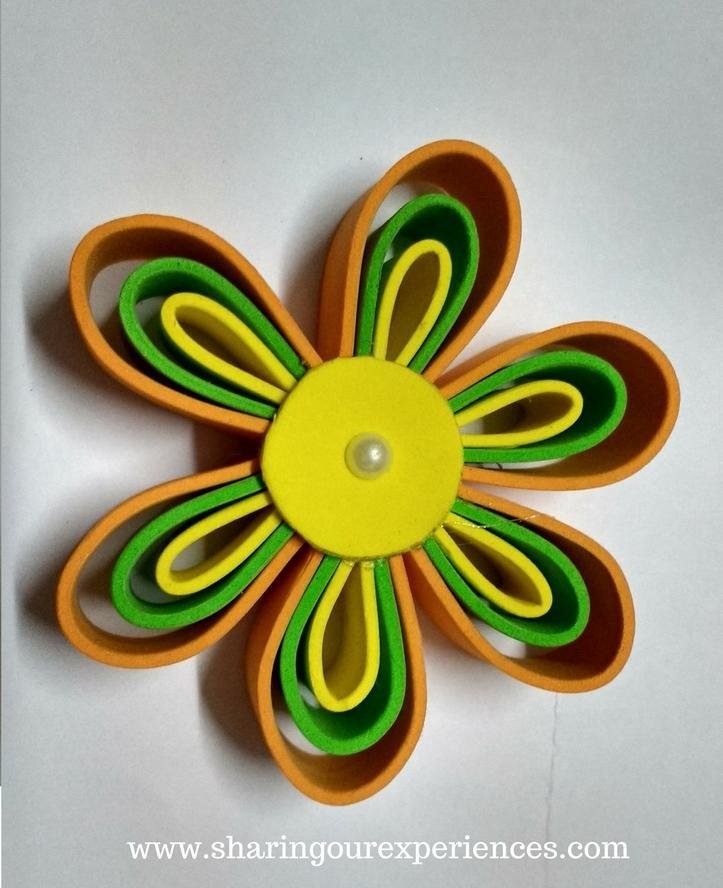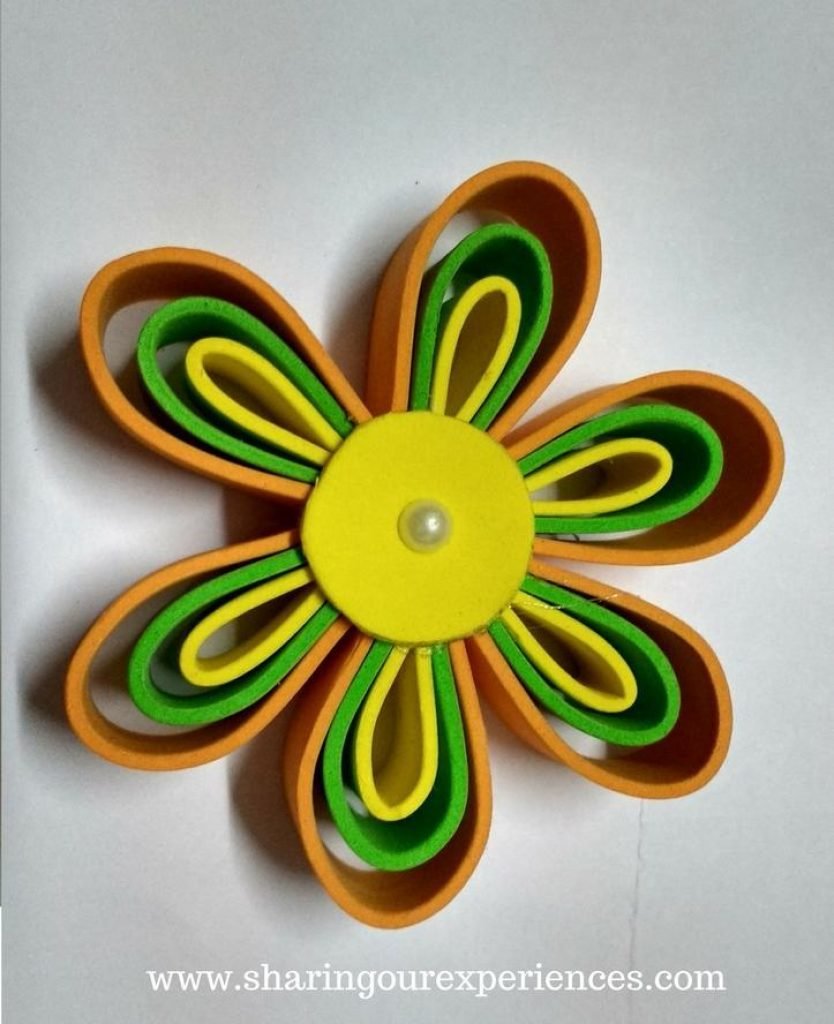 Glitter Foam Sheet Flower Making
Glitter flowers are a treat to the eyes. We can also make flowers using glitter foam sheets. Here are
How to make glitter foam sheet flower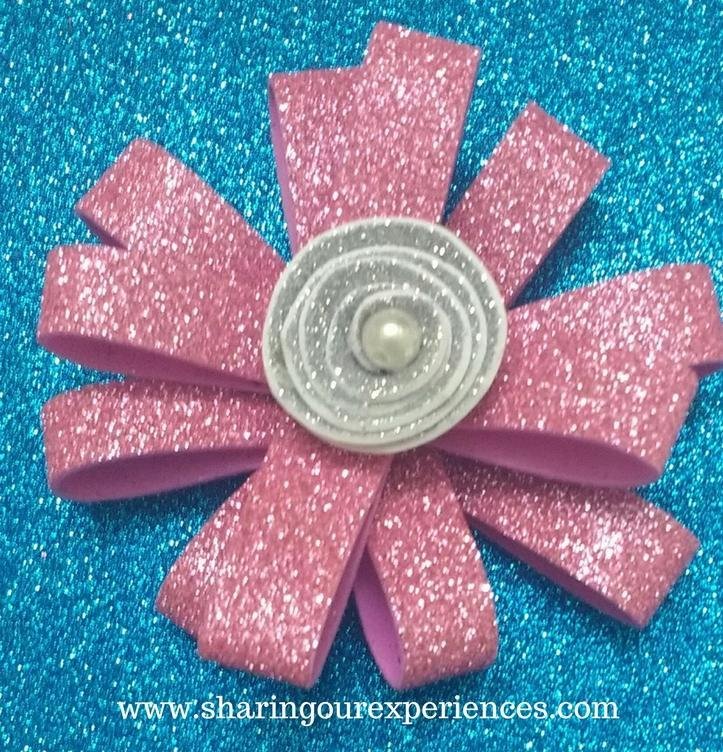 Click here to read a FREE tutorial on how to make these beautiful Green and Purple Folded Glitter Foam Sheet Flower.
Handmade Foam Rose flower tutorial
These Spiral rose flowers are great for decorating Popsicle stick handmade photo frames or make a bouquet of foam roses in different colours. Learn how to make this super easy handmade spiral roses craft
Foam sheet Rose flower
How to make Plumeria foam flowers or frangipani foam flowers
Champa flowers are also known as plumeria or Hawaiian flowers can be made with foam sheets. You can get a step by step tutorial on how to make beautiful foam sheet flower.
Foam Sheet Hibiscus Flower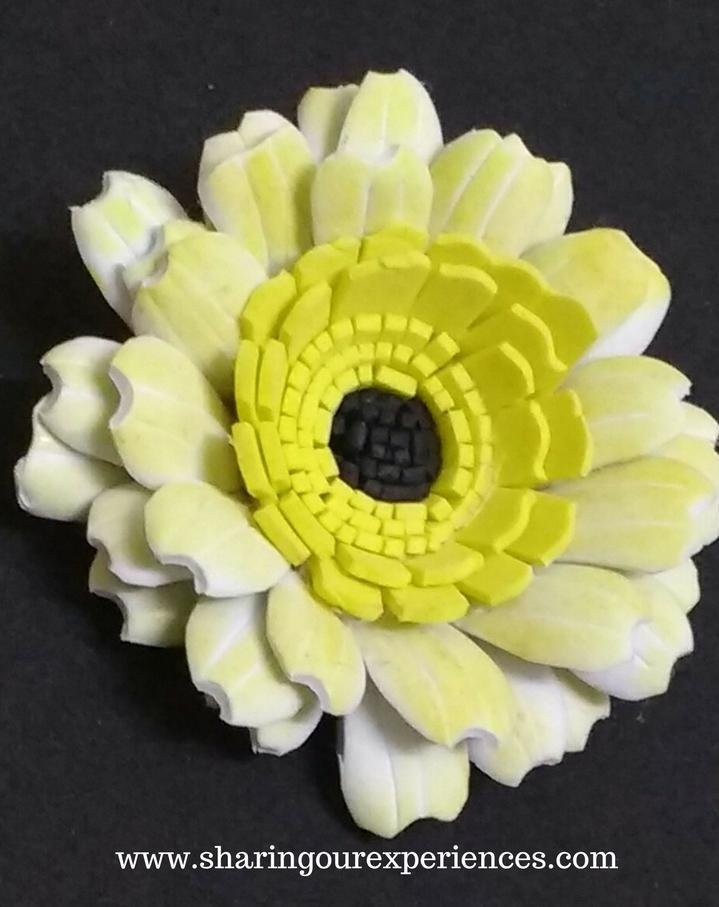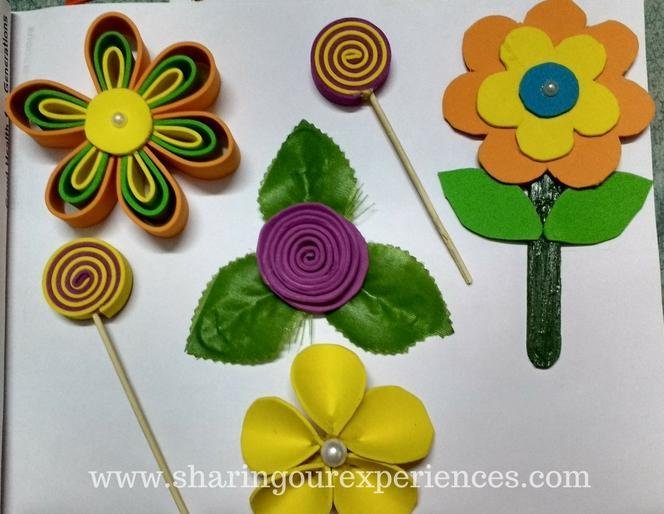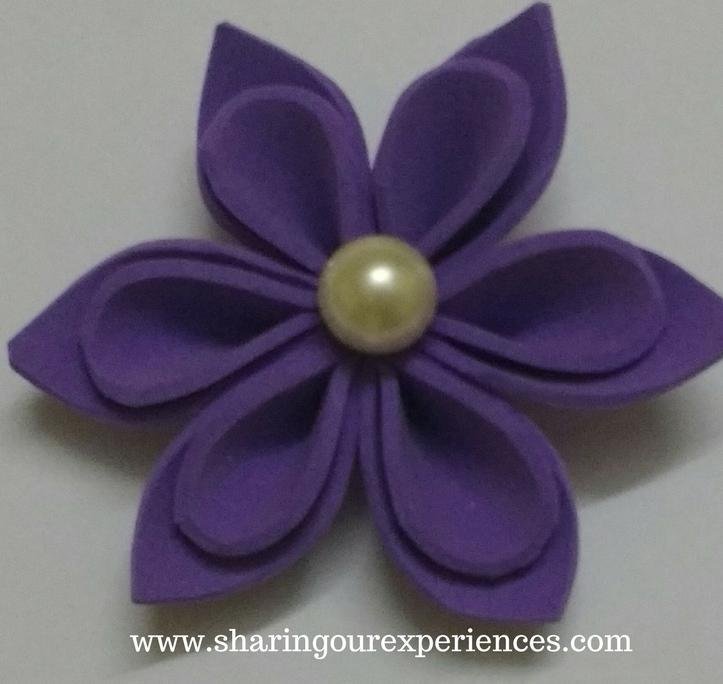 Other Foam crafts
Foam Basket
Click here to read How you can make an easy basket from foam sheet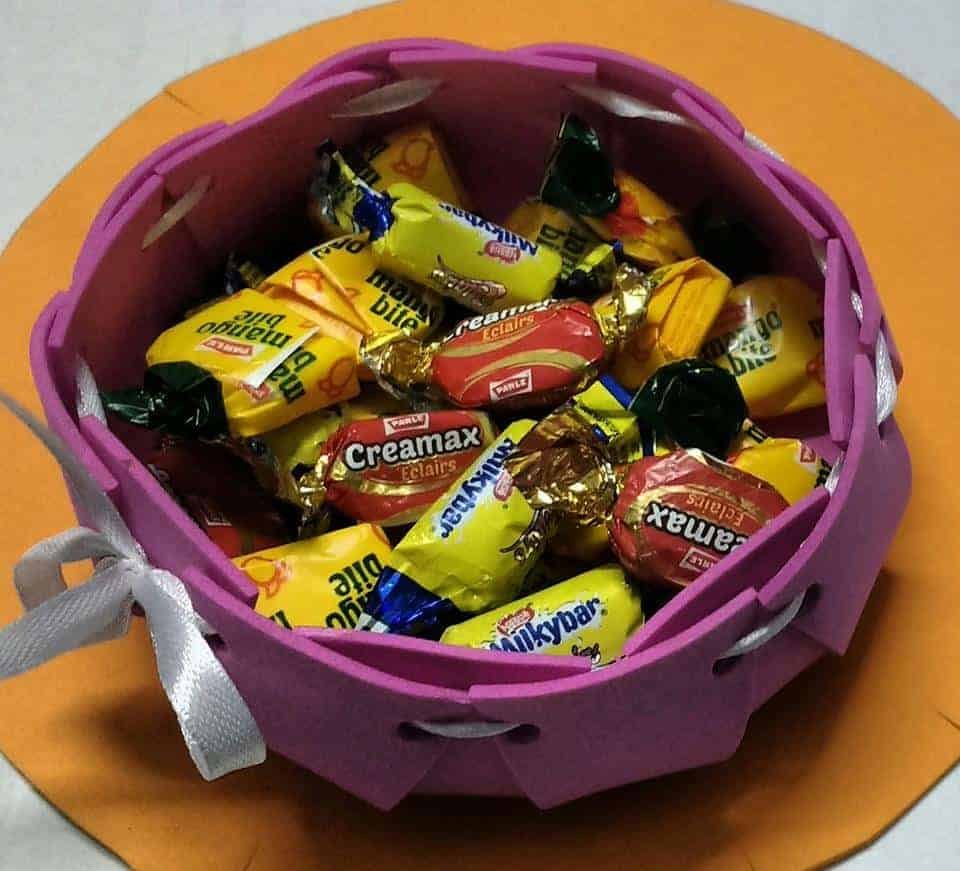 Foam Rakhi
Check out this super cute Sun wristband or Rakhi made from Foam and ribbons. Here is a FREE DIY tutorial on how to make Foam Rakhi
Also do not miss these cut and paste Foam Rakhi craft for toddlers. All we needs is simple shape cut outs to make these fun wristbands or Rakhi for kids.
Where to buy foam sheets and other supplies to make foam sheet flowers
Many people ask me where do I buy material for doing crafts, I usually get them from local market or Amazon.
Craft Paper
Foam Paper
10 assorted colours Sheet size A4 Great for all art and craft projects Assorted Colours
Last update was on: 15th August 2022 7:25 pm
Craft Paper
Foam Paper
10 assorted colours Sheet size A4 Great for all art and craft projects Assorted Colours
Liked this post?
You may also want to try making this Ice Cream Popsicle Sticks Coasters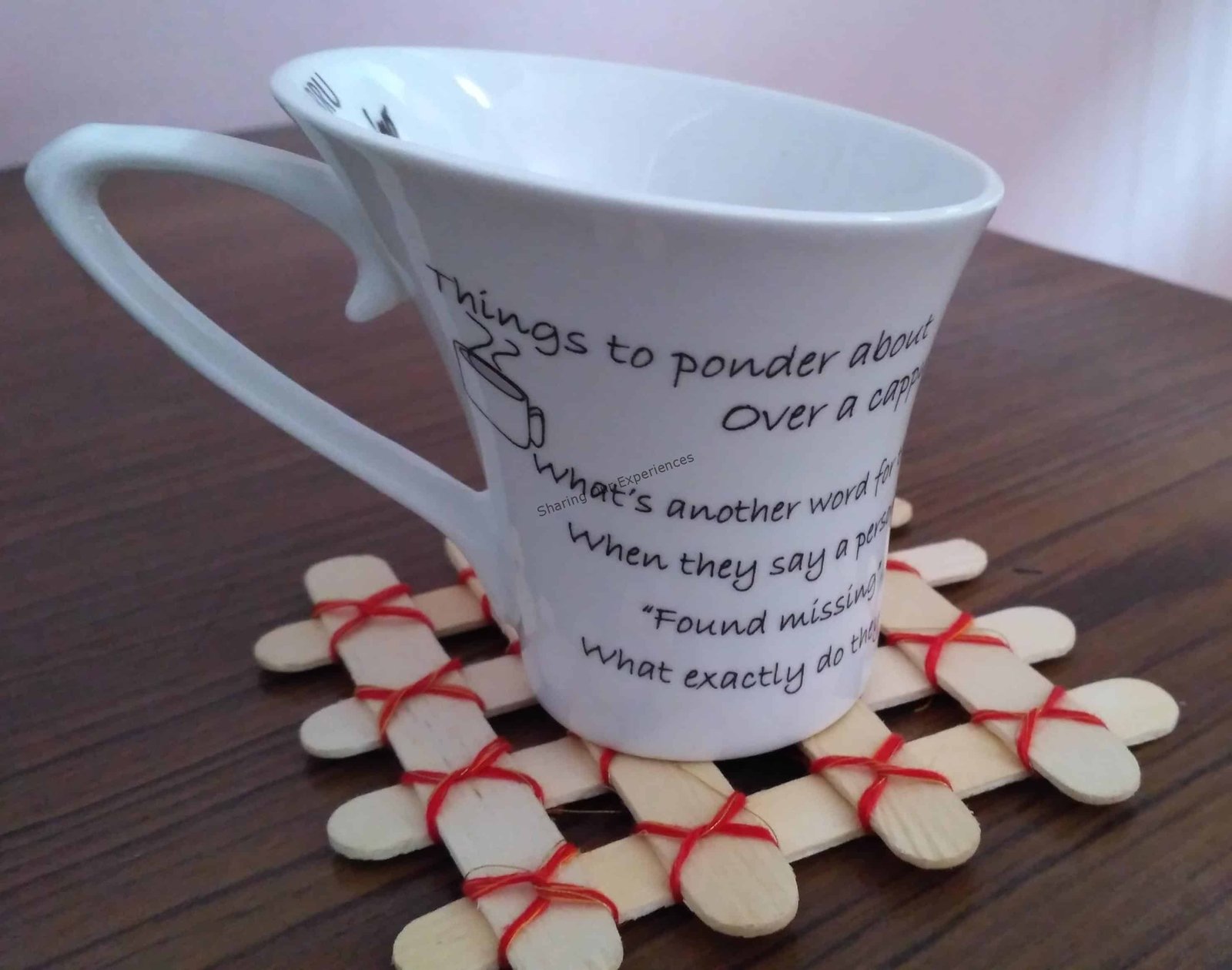 Your Turn Now
In case if you liked this article do show your support by sharing this article.
Like our Facebook Page 
Stay connected with us using your favorite social media, we can be found on
Add a comment
Don't you find this foam craft simple and quick? Try it and let me know. Do share what you have made using comments below. Would love to hear from you.