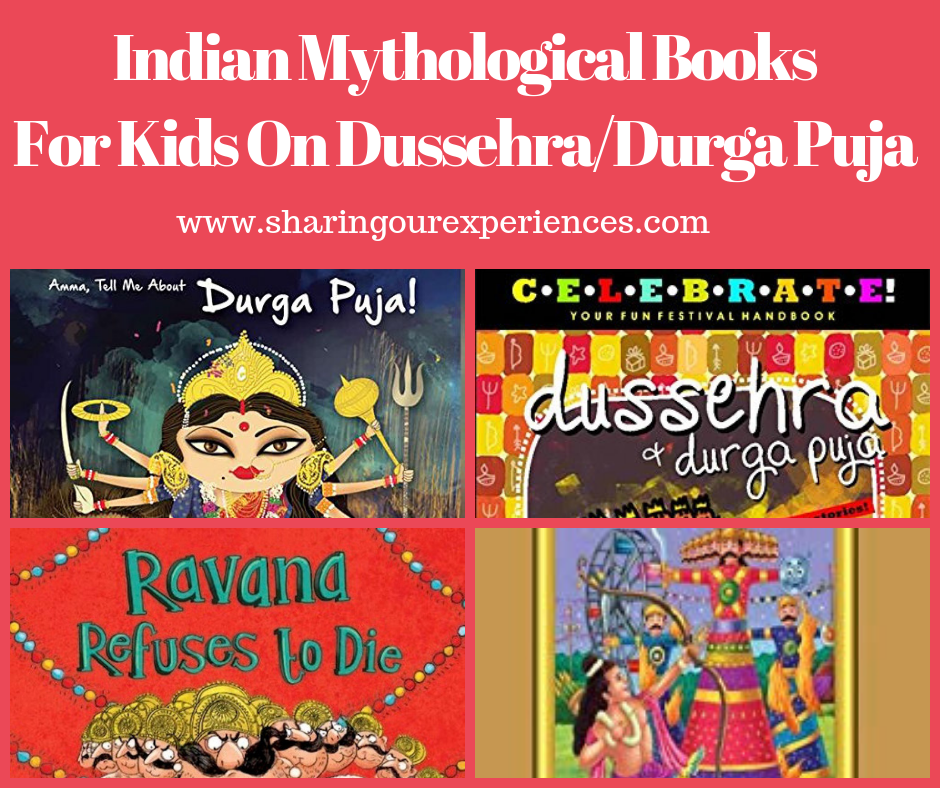 Looking for Dussehra story for preschoolers and Kindergarten? This article covers Frequently asked question on Dussehra festival answered for kids along with handpicked Dussehra for your kids.
Check out why we celebrate Dussehra, when is it celebrated. How its celebrated across India and Books that you can read with your kids about Dussehra.
Dussehra Story for Preschooler and Kindergarten
Long time back there lived a prince Rama. He was exiled from his kingdom of Ayodhya. As a result he lived in the forest with his wife Sita and brother Lakshman.
One day Sita was abducted by Ravana. Ravana was the demon king of Lanka. Lord Rama with help from Lakshman and an army of monkeys attacked Lanka to rescue his wife. Dussehra is celebrated as the day Lord Rama defeated demon king Raavan.
Best Dussehra Diwali books for kids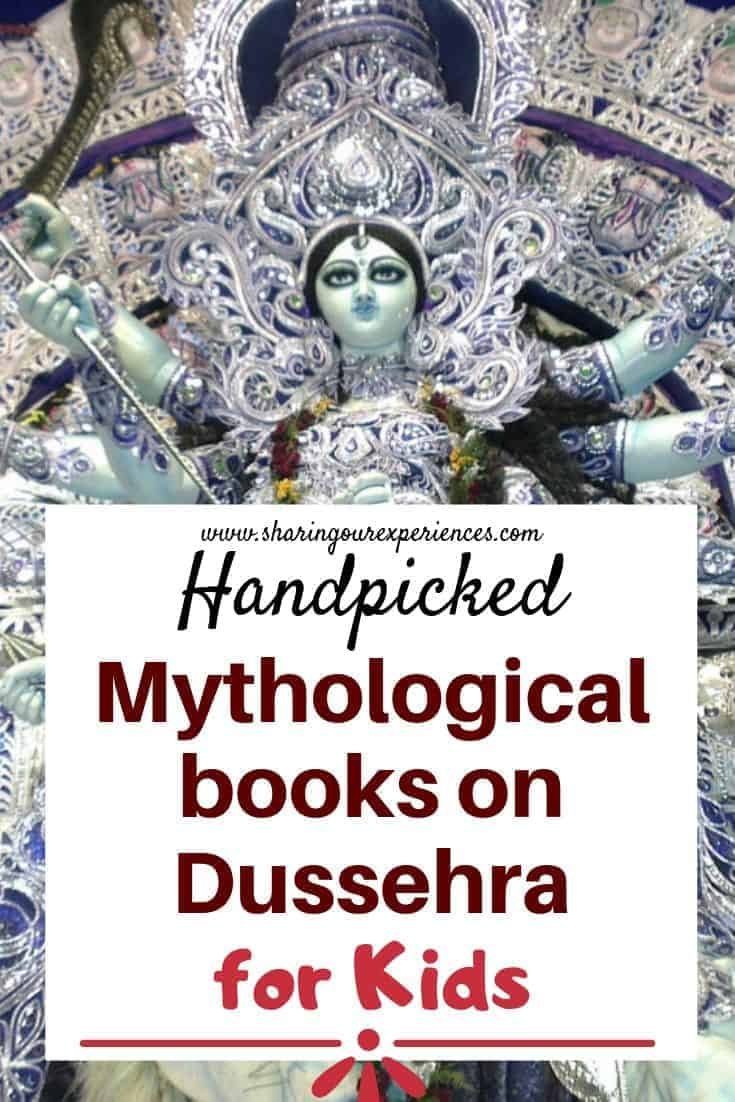 Dussehra: Festivals of the World
A great book to tell kids about Dussehra. I personally have most of Om books group on mythology.
Diwali: Festivals of the World 
This is another books we have at home to talk about what happens in Diwali festival. Please note that these are not story books
Ramayana for Children
This is a story book and is a full account of life of Rama and his family. My son loves flipping through this book and listening to the story.
For young kids you will need to simplify the book in your own words
Festivals of India by Om Books International
Recommended Age – 8 yrs+
This book will make your toddler impressed as well. I have been reading it since my kids was 3+ years old. These are not stories but mainly information about various festivals in India.
This well illustrated book explains about different festivals in India with stories behind them. It tells about Navratri, Dussehra and Durga Puja.
The colourful and bright festivals of India are an integral part of India's culture. People live here celebrate their festivals with great joy and zeal. Through these festivals they spread colours of happiness and importance of togetherness. These festivals are symbols of the rich cultural heritage of this diverse country. Each unique festival is a celebration of great significance. Each festival has a story behind it, why we celebrate it and how we celebrate it.
Tales of Durga by Amar Chitra Katha
Recommended Age – 9-14 yrs
This book contains major stories of Devi Durga.
Durga is the fierce form of Devi also called Shakti, which is considered as the symbol of universal energy. The book is from Amar Chitra Katha who have been the pioneers in mythological story books in India.
Ravana Remedy by Suddhasattwa Basu
Recommended Age – 3yrs +
This is an informative book which talks about the history of Ravana, how they evolved with changing times, their importance and relevance in changing times. the complete narration in story – form makes the book impressive and interesting.
Celebrate Durga Puja with me by Shoumi Sen
Recommended Age – 3 yrs+
This lovely colorful book is part of the series 'From the toddler diaries'. The complete story is narrated through the eyes and experience of a 3 yrs old girl Riya. Artful illustrations and lovely narration talk about the 5 days of Durga Puja – Shashti, Saptami, Ashtami, Navami and Bijoya Dashami. The book has Bengal touch but it talks about the universal celebration of Durga Puja across the communities.
The book is easy to read and understand for small kids. I am sure this book will surely make your toddler fall in love with it.
Amma, Tell me about Durga Puja by Bhakti Mathur
Recommended Age – 3-12 yrs
This is a book from Amma tell me about… series.
The book talks about the victory of goddess and defeat of demons. In this book kids will see how Ma Durga outshone even the mighty gods, how a woman achieved an impossible feat! In this book, story of Durga and how we celebrate Durga Puja in Bengal is being told.
The pictures and narrations of the story are good enough for kids to understand and enjoy the complete story with great zeal.
You can also check the Amma tell me about Diwali here
Rama and the Demon King by Jessica Souhami
Recommended Age – 5 yrs+
The book talks about 14 years life of Lord Rama in forest along with his lovely wife Sita and his brother Lakshman. All three went to spend 14 yrs of their life in forest due to jealous of Lord Rama's step mother. Lord Rama has triumphed over the demons that dwell there and the three live a simple, peaceful life among the forest animals. But a twist came when the ten-headed King of the Demons decided to take revenge from Lord Rama.
Eye-catching illustrations, amazing narration based on the Indian tradition tells the story in a lovely way.
Celebrate Dussehra and Durga Puja
Recommended Age – 6 yrs+
Durga Puja and Dusshera the ten whole days for fun and festivities, we thank the gods and goddesses for their blessings. We fast, we feast, we listen Rama stories, we burn Ravanas, we meet our friends , we exchange gifts, we celebrate it in differently in different parts of the
country but the innermost reason and feelings are same. Celebrate the victory of good over evil.
This book brings you wonderful stories about Dussehra and Durga Puja… Can you solve the case of a stolen idol? Or imagine a private mother goddess? Or figure out how festivals can help you be the most person you can be? Or work out ways to fight a monster you can't see, and win? It's all here!
An amazingly wonderful book that tells the story of  our Gods victory but let you involve and have fun in an interesting way and make your learning more interesting.
Rama by Amar Chitra Katha
Recommended Age – 9-14 yrs
Another book from the pioneer – Amar Chitra Katha. The book tells about the life of Lord Rama, his life as a student , as a prince and then 14 years of his life in forest. In simple words the book tells everything about Lord Rama, his fight with  demon king Ravana and at least his victory on bad demon.
Simple illustration and smooth narration make the book worth buying.
Ravana Refuses to Die by Rustom Dadachanji
Recommended Age – 10-13 yrs 
A set of 4 stories happening during Dussehra time in India. This is a book with funny narrations and amazingly eye catchy illustrations.
The different way of telling the stories about Indian festival is what makes the book worth buying. I am sure your kids going to love it.
What is Dussehra Festival (also called VijayaDashmi) ?
Vijayadashami ,also known as Dussehra, Durga puja or Navrathri is a major Hindu festival which is celebrated in almost all parts of India. It is observed on the tenth day in the Hindu calendar month of Ashvin, which typically falls in the Gregorian months of September and October.
(From Wikipedia)
Why do we celebrate Dussehra?
Vijaya Dashami marks the victory of good over evil. It was on this day that Lord Rama killed ten headed, Ravana. The word Dashara is derived from two Sanskrit words – dasha (ten) and hara (defeat). People celebrate by burning the effigies of Ravana.
VijayaDashami also marks the victory of Mother Durga over the demon Mahishasura. The nine days preceding Vijaya Dashami are celebrated as Navaratri, when Goddess Shakti or Durga is worshipped in her different forms .
How do we celebrate Dussehra festival in different parts across India?
Durga puja is is the biggest festival in Kolkata. Exquisitely crafted and decorated life-size sculptures of Goddess Durga slaying Mahishasura are set up in the temples for worship for five-days . On the fifth day, these sculptures are taken in a procession and then immersed in the river.
In South India, especially in Tamil Nadu, Andhra, Telangana and Karnataka, the Navaratri is celebrated with Golu display (a display of dolls representing various parts from the Puranas, royal processions, weddings, etc.).
The City of Mysoru in Karnataka, has a 400 year long tradition of celebrating Dasara festival with great splendour.The Mysore palace is illuminated these nine days and There will be a grand procession in which Goddess Chamundeshwari (Durga) is carried on a golden throne which is mounted atop a decorated elephant,The procession comprising of colorful tableaux, dance groups, music bands, decorated elephants, horses and camels.
Vijaya Dashami is considered auspicious to begin your learning. The traditional Vidyarambham ceremony observed mainly in Kerala and Karnataka introduces children formally to learning of music, dance, languages and other folk arts. Another celebration on this occasion in Kerala and in some parts of Karnataka is the three-day Saraswati puja in which books are worshiped.
So much to tell about a festival… 🙂
You can also let your kids learn about all these facts and more with the help of stores and books. We have handpicked some Dussehra books for kids below.
If you liked this post on Dussehra books for kids Don't forget to Pin it ..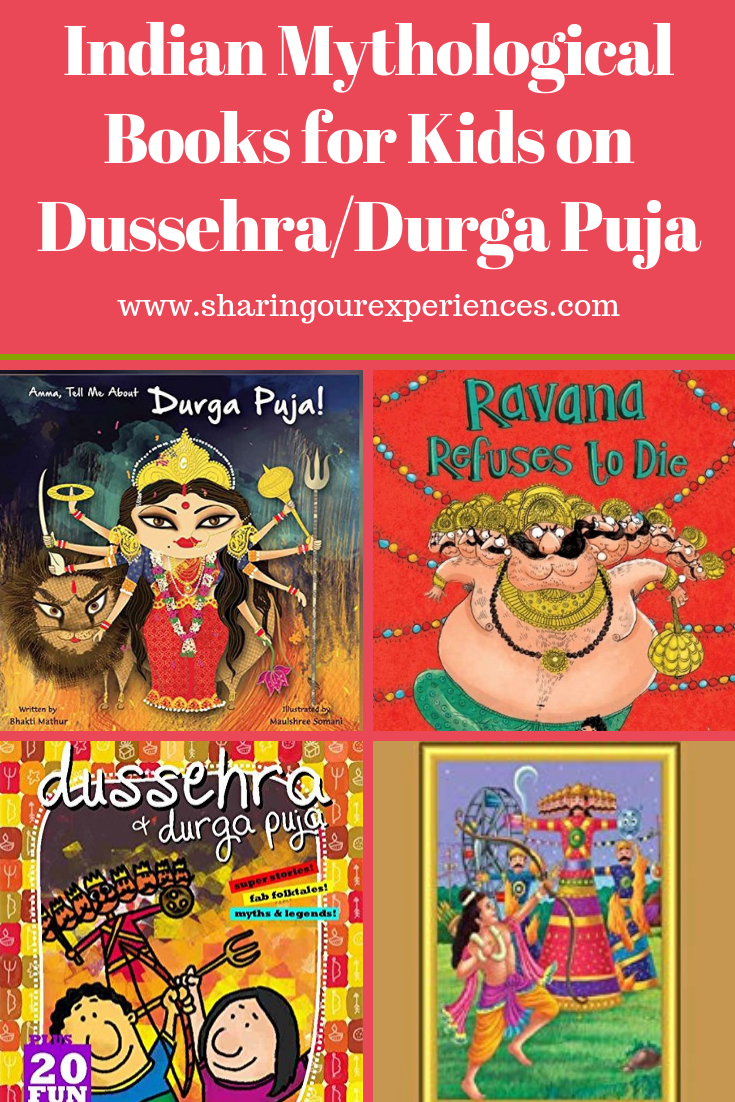 Liked this post on Dussehra story books for kids
Don't you find this Dussehra books list for kids interesting and useful ? Share it and let me know which book you read using comments below. Would love to hear from you.