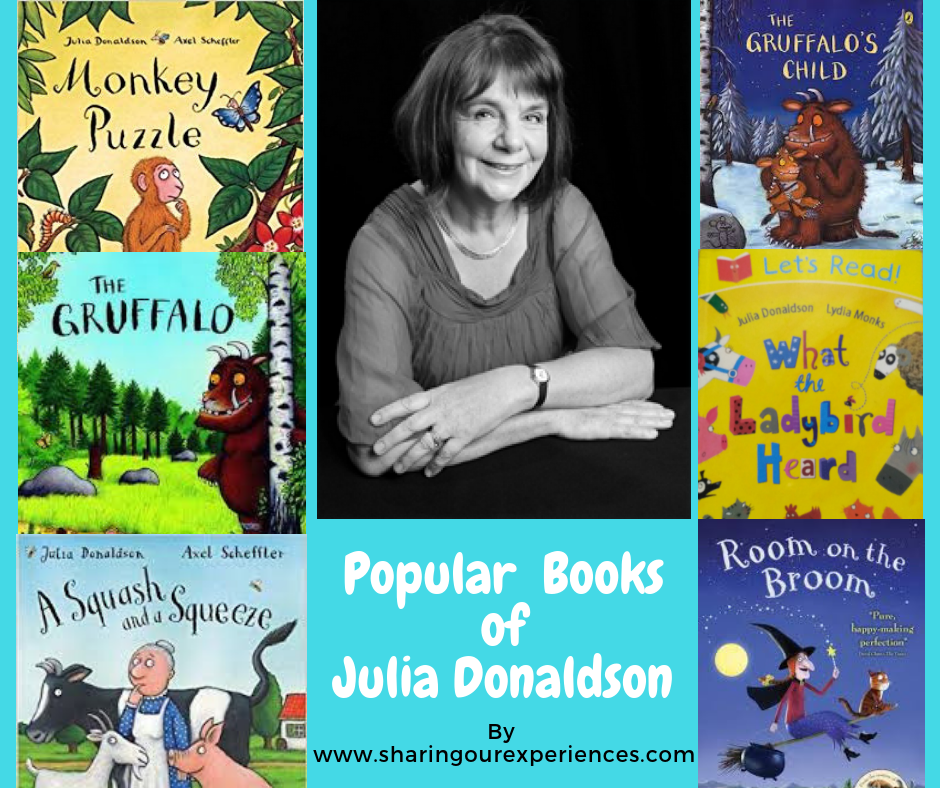 Below are Popular books by Julia Donaldson that my kids have enjoyed. I have tried to classify them age wise so you will find my recommendations on best Julia Donaldson books for one year old, two year old, three year old till five years old. Some of these books like The Grufallo are also one of Julia Donaldson bestsellers. 
Julia Donaldson, the name that does not need any introduction, a well known author of children's picture books, an English writer born on 16th September 1948.
Julia Donaldson's books hold a special place in each kid's library. Her books are always loved by young kids and parents.  The rhythmic sentences and beautiful illustrations make her books different, which kids love to listen and read. We feel that her books have a way with kids that grabs their ever fleeting attention and make them want to read and listen.
Most Popular Books by Julia Donaldson
Below are the list of some popular books for toddlers by Julia Donaldson. You can also check out a list of her best rated and most popular books on Amazon by clicking here
Also if you are in a hurry and want to save money, get this combo. Its on sale at time so if you get it below Rs 1400, check current price
Now let us see our favourite Julia Donaldson books in the list below. We have divided the list in 2 sections – Best Julia Donaldson books for toddlers and Best Julia Donaldson books for Preschoolers.
You can choose as per your kids age
In case if you would like to stay updated on book reviews we add on our you tube channel – Click here
Best Julia Donaldson books for one year old and two year old kids (1.5-2.5 years) – toddlers
Rabbit's Nap
A lift the flap book for toddlers Rabbit's Nap is a book about a rabbit who is trying to have some good sleep but unable to do so because things around her keep disturbing her. Lift the flap and find out who is disturbing her and will she be able to have some sleep?
The book has sturdy flaps, rhyming stories and lovely illustrations make the book a great joy for kids and parents.
You may also be interested in  – Curated list of books you can read with your kid (loved by babies and toddlers)
Hide & Seek Pig
This is an amazing book by Julia Donaldson. Pig and hen are playing hide & seek and it's pig turn to find hen. Lift the flap and find out where hen is hiding? Hide & Seek is a lovely animal themed book for toddlers which kids love to go through.
You may also be interested in  – How to choose books for your kid
Postman Bear
This is another beautiful lift the flap book by Julia Donaldson for toddlers. The book is about a bear who is writing letters to his friends but the question is what he is writing and to whom? Lift the flap and meet his friend squirrel , frog and many more.
Again the quality of book and flaps are quite good. Rhythmic phrases and cute illustrations add charm in the book. I am sure your kid will love to read it.
You may also be interested in  –The very hungry caterpillar inspired DIY crafts ideas for kids
Tiddler
A funny story for toddlers from Julia Donaldson.
This is the story about a small fish who loves to talk and make excuses even now and then. Tiddler a cute little fish with big imagination, her statements like "Sorry I'm late, Miss. I set off really early but on the way to school I was captured by a squid. I wriggled and I struggled till a turtle came and rescued me." "Oh, no, he didn't." "OH, YES, HE DID" makes the story interesting for kids.
You may also be interested in  – A very easy cut and paste fish craft that my toddler loved
Monkey Puzzle
It's a really funny, clever and charming story by Julia Donaldson.
The story is about a baby monkey who is looking for his mum. a gentle butterfly tries to help him but all in vain and they end up finding a wrong animals and they find his DAD but he is looking for his mum and wants a mumma hug. But eventually Dad knows where mum is.
Wonderfully illustrated and smooth story line make the book eye catchy and interesting for kids.
Check out this review
You may also be in interested in – How to make puzzles at home using free printable (we loved this easy trick)
Fox's socks
A lovely lift the flap book fortoddlers, this is a book about a fox who has lost his socks and looking for them here and there. Are they in the kitchen or under the stairs ? Where are they, lift the flap and find out.
I am sure your kid would love to read the book, go for it.
You may also be interested in – Easy games you can play at home to improve visual discrimination skills
Cave Baby
The story is about a hairy mammoth and a cute little baby who go on a thrilling ride through a moonlit landscape. On the way they met a toothed tiger, a leaping hare, a laughing hyena and even, just maybe, by a big brown bear.  But where are they going? And what else happened on they way?
A lovely book by Julia Donaldson.
You may also be interested in  – Easy Age wise activities for kids to help in their development  
Best books by Julia Donaldson for three year old till five year old kids (2.5- 5 years) – Preschoolers 
Below are the list of some popular books for preschoolers and young kids  from Julia Donaldson
The Gruffalo
A funny, animal themed story by Julia Donaldson. The story is about a quick – witted mouse who very smartly saves his life from other animals in the woods. This is the award winning story by Julia Donaldson and no kids' library is complete without this book. The book has special place in hearts of parents and kids.
If you like this book you can also get the next in the series The Gruffalo's child here.
Both these books are also available on Amazon prime so for elder kids you can show the story to them 🙂
You may also be interested in  – Easy riddles for kids
Room on the Broom
Another lovely book by Julia Donaldson. The story is about a nice witch and a cat who roams around on a broomstick. On their way witch keeps loosing her stuff and some animals help her to find her stuff. Each time she losses and finds her things she gains an animal. At last what happened that is an interesting story.
A must buy book for kids.
You may also be interested in  – Curated list of books that you can get for your preschoolers
The Snail and the Whale
The snail and the whale is a wonderful story of an adventure of a small snail and a whale. A tiny snail who longs to swim and want to explore the world tells about her wish to a whale. She takes a lift on a whale's tail and roams in the deep vast sea. Together they go on an amazing journey and past icebergs and sharks and penguins. The snail feels very small in a huge sea but when the disaster comes, it is the snail whose big and smart plan saves the day.
A perfect combination of story and illustration. Must read for kids.
The Singing Mermaid
The story is about a mermaid who wants to go away from home Silversands and wants to join circus. She escapes from home and reaches to the circus. To her surprise audiences love her but the wicked circus owner caught her in the tank. Poor mermaid wants to go back home… does she succeed want to know !! Grab the book and read with your kids.
Superworm
This is the bestselling picture book of Julia Donaldson. The story is about a super-long and super-strong superworm who keeps wiggling and squirming. No fear when superworm is here. He helps a spider to come out of a well , rescue a toad from a busy road, but who will come to rescue superworm when he is in danger. Luckily his friends has a cunning plan and what was it?
Get the book and know about the plan.
A Squash, and a squeeze
This is a brilliant funny story by Julia Donaldson. The story is about an old lady who is not happy with her house. She thinks it's too small for her. She asks for advise from a wise old man who suggested her to bring in all her farm animals one by one. When she takes them all in she realised her house is too small now and when she sends them all out of the house she actually feels her house is enough for her.
A nice and wonderfully illustrated book. Must read.
Sharing a shell
The story is about a tiny hermit crab who loves his new shell and he doesn't want to share it with anyone even not with a blobby purple anenome and a tickly bristleworm. But the truth is,  life in the rock pool proves tougher than Crab thinks, and soon he finds himself in the need of  his new housemates in this rocking story of sea, shells and friendship.
What the Ladybird Heard
The story is about the farm animals and a ladybird who never ever said a word. One fine day she comes to know about two bad men who want to steal the fine prize cow from the farm. Now its hard for the ladybird to keep silence and she tells everyone about the mischievous plan of bad men. Then with other farm animals ladybird makes a plan to save the cow. Do they get success and what was the plan?
A cute story about the tiny and wise ladybird. Must read.
Hope you enjoyed this list of best books by Julia Donaldson. We are currently reading The Paper Doll and am in love with that as well.
If you are looking for some Traditional stories for kids, Do check out the Bestsellers here. This is one of those places which has loads of loads of good books together.
Happy Reading !!
If you are in a rush and want to see all books we love and that would be suitable for your child between 2 to 6 years of age – Click here to explore our handpicked books on Amazon.com and Click here to explore our most loved book on Amazon.in
About Julia Donaldson
Julia Donaldson is the outrageously talented, prize-winning author of some of the world's best-loved children's books. Julia Donaldson is a proud receiver of  the MBE (Most Excellent Order of the British Empire) in 2011. She is the playwright and performer, and the 2011–2013 Children's Laureate too.  She is best known for her popular rhyming stories for children, especially those illustrated by Axel Scheffler, which include The Gruffalo, Room on the Broom and Stick Man. The book " The Gruffalo" being published in 1999, has sold over 10 million copies.
She originally wrote songs for children's television but has concentrated on writing books since the words of one of her songs, "A Squash and a Squeeze", were made into a children's book in 1993. Of her 184 published works, 64 are widely available in bookshops. The remaining 120 are intended for school use and include her Songbirds phonic reading scheme, which is part of the Oxford University Press's Oxford Reading Tree.
Childhood:
Julia Donaldson grew up in a tall terraced Victorian London house with parents, grandmother, aunt, uncle, younger sister Mary and cat Geoffrey (who was really a prince in disguise. Mary and Julia would argue about which of them would marry him).
Both sisters were always creating imaginary characters and mimicking real ones.
Education: Julia studied Drama and French at Bristol University, where she met Malcolm, a guitar-playing medic and later married to him.
More on Julia's work: After seeing how much play-reading improves children's reading skills, she was delighted to collaborate with the publishers Pearson on a series of sixty fun short plays, called "Plays to Read", which each have parts for six characters and are graded to suit all primary classes. She has created a website, www.picturebookplays.co.uk with lots of ideas to help teachers to dramatize picture books with their classes.
Don't miss to pin

Liked this post ?
You may also want to checkout best Books for kids recommended by moms and free worksheets we have for toddlers, nursery and Kg kids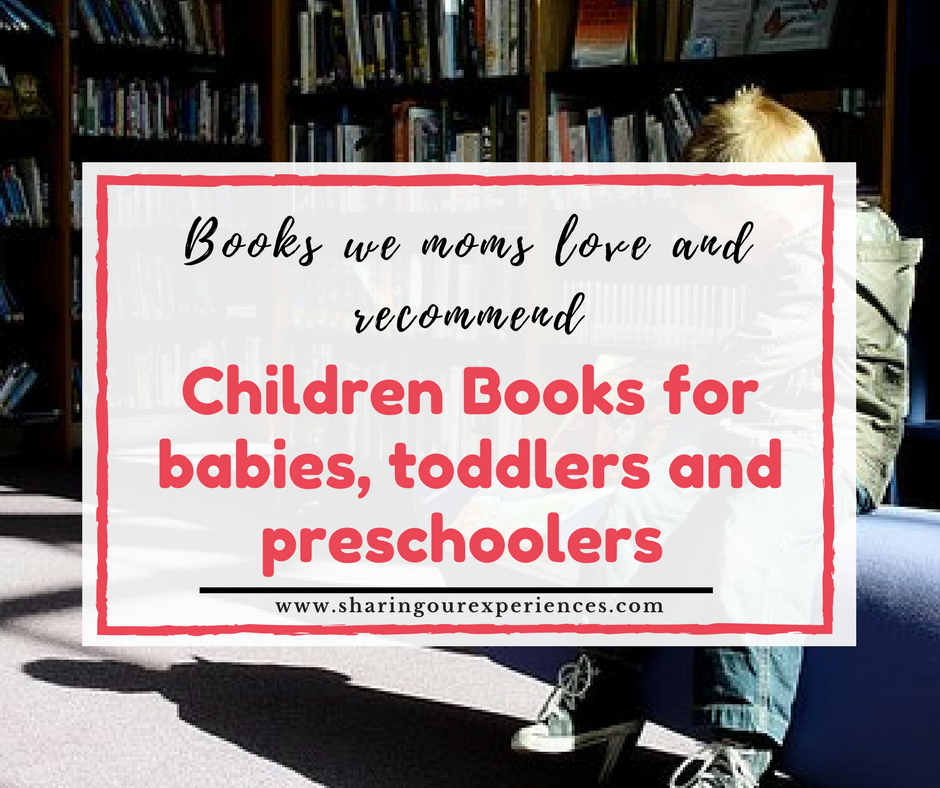 In case if you liked this article do show your support by sharing this article. Click here to stay updated on video book review
Add a comment
Don't you find this post on Julia Donaldson books interesting ? Try it and let me know using comments below. Would love to hear from you