Hello friends, today we are going to learn how to make crepe paper Daisies.
These daisies look so real that you will fall in love with them. Moreover they do not cost you much and also do not demand much care. So they are perfect for home decorations.
One of the most amazing thing about paper flowers is that – they give you an ability to display any flower in any season and fill the environment with its beauty.
Crepe paper daisy flowers are easy to make and are perfect for beginners who want to venture into the world of crepe paper flower making.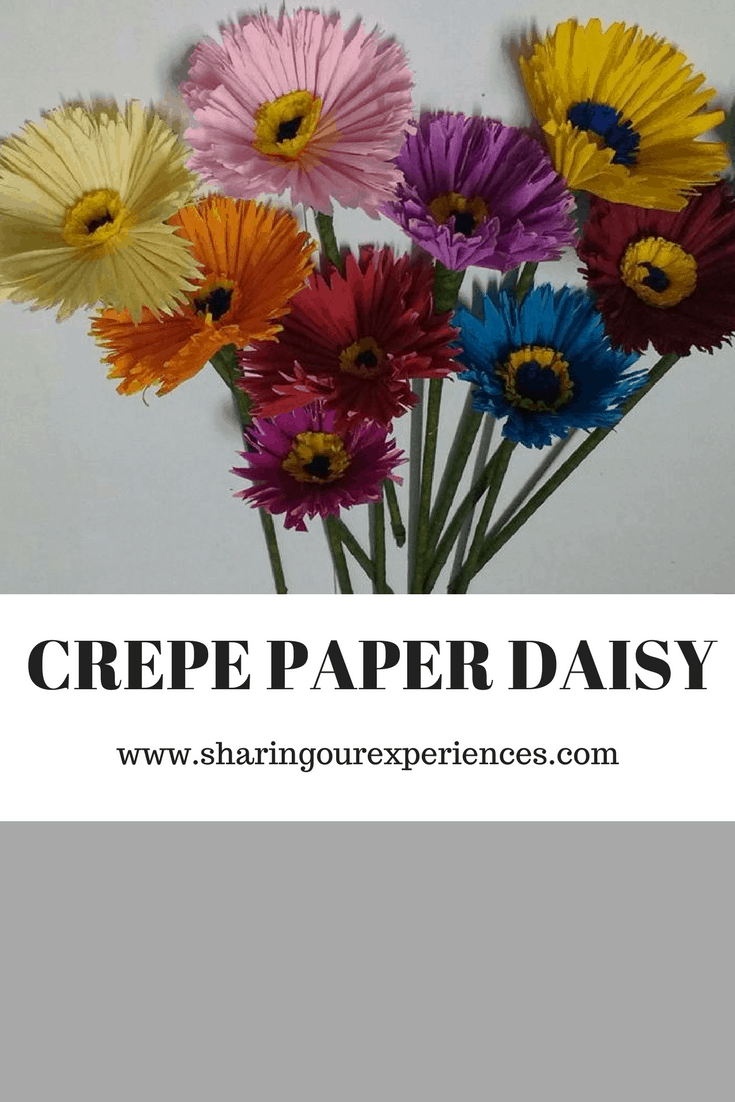 ---
In this article
[contents h2]
---
If you want to try making a variety of paper flowers, check out any of the free paper flower tutorials below:
[pt_view id="7bf942en6o"]
Now let us get back to the DIY handmade Crepe paper Daisy flowers tutorial. So here are step by step instructions (with pictures) on how you can make Daisies from crepe paper.
Materials needed to make Crepe paper Daisies
Crepe paper
Newspaper tubes or Sticks
Floral tape
Thread
Needle
Scissors
Glue Stick/Fevicol
Step by step process to make Daisies from Crepe paper
Step 1 – Cut Crepe Paper
To make a flower take 3 colored crepe papers and cut them as per the measurements given in pic below.
Note- I have used yellow and blue crepe paper to make the center of the flower and maroon crepe paper is used to make the petals of flower. You can use colours of your own choice.
Step 2 – Make cuts in paper to form petals
With the help of scissors make cuts (as shown below) at one side of the maroon crepe paper.
Step 3 – Sew the Flower together
Take the thread and needle and start sewing the flower as shown below. Keep doing the same until you have formed a Daisy flower like structure.
Note: For better results I have used the thread of the same colour as flower.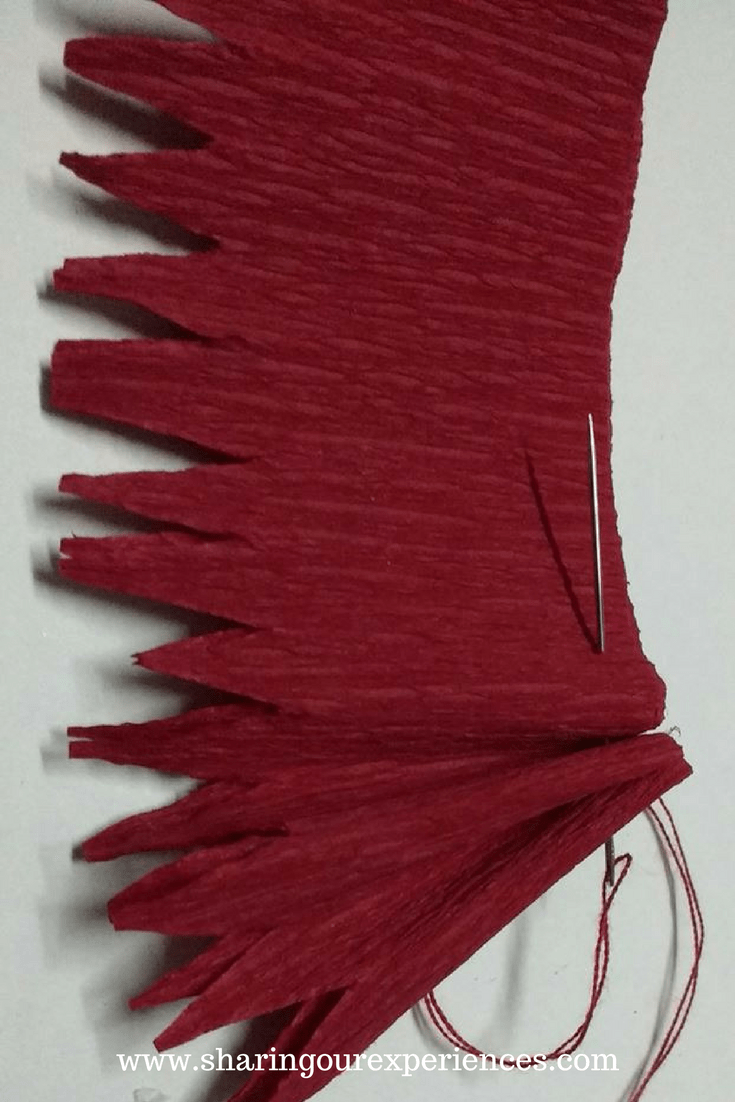 When you reach at the end of crepe paper then tie a small knot. Our basic Daisy flower shape is ready
Step 4 – Make the center of Daisy flower
Take a newspaper tube and wrap the blue crepe paper (cut above in step 1 and 2 ) around it. Then tie the end with the same colour thread.
Note – I have used newspaper tubes you can also use sticks.
Now wrap the yellow crepe paper around the stem and blue center formed above. Tie the flower firmly with a thread.
Step 5 – Put together the center with the Daisy flower structure (from step 3)
Insert the stem into the center of the Daisy flower. Gently pull it down and let it fix to form the center of Daisy flower.
Your Daisy crepe paper flower with beautiful multi-coloured center is ready.
Step 6 – Prepare stem of Daisy flower
Wrap the floral tape around the stick to give it a perfect look of stem.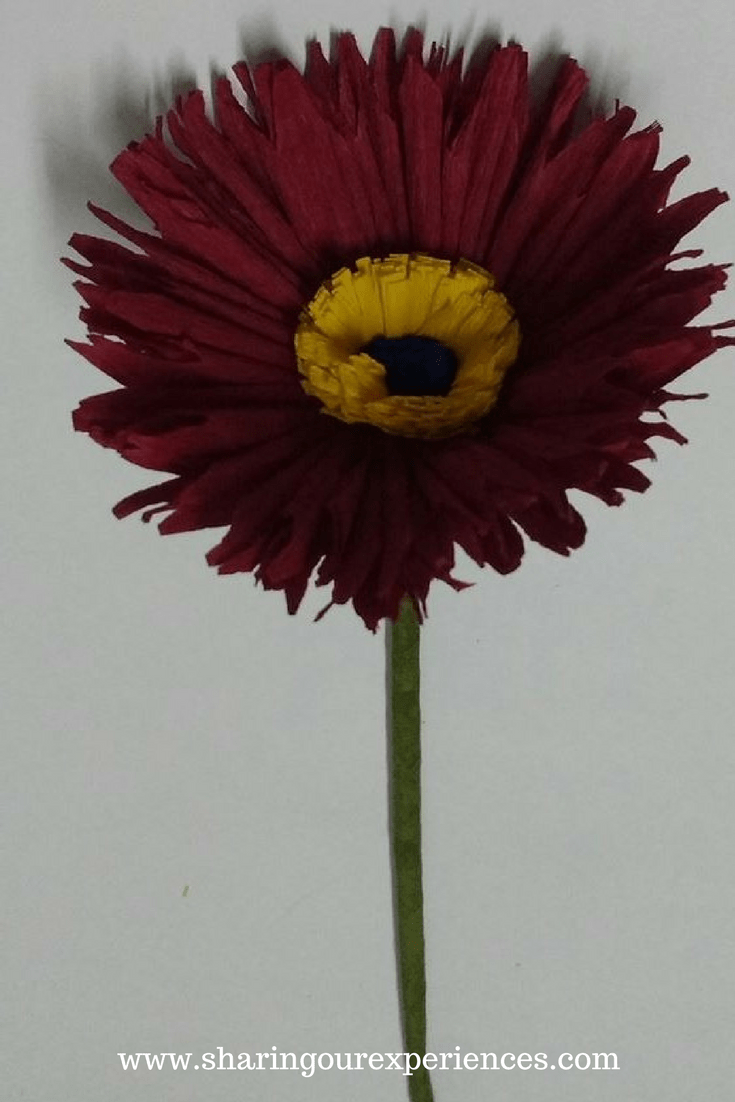 Repeat the above steps to form more colorful Daisy flowers and arrange them in a bouquet.
Your beautiful Crepe Paper Daisies are ready.
Use it for home decoration, or gift it to some one on special days like Valentine's day or birthdays.
Where to buy Crepe paper and other supplies to make paper flowers
Many people ask me where do I buy material for doing crafts, I usually get them from local market or Amazon. So here is a carefully curated list of craft materials that you can use for this crepe paper flower making craft.
Last update was on: 20th March 2023 12:23 pm
Liked this post ?
You may also want try your hand at this interesting DIY Paper Quilling Lamp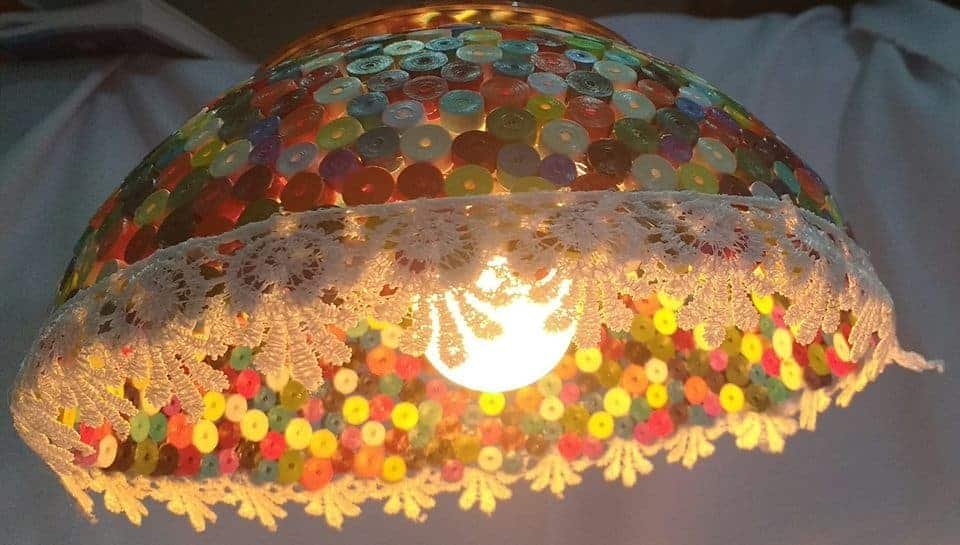 Your Turn Now
In case if you liked this article do show your support by sharing this article.
[shareaholic app="share_buttons" id="27265281″]
Like our Facebook Page and Stumble It!
Stay connected with us using your favorite social media, we can be found on
Add a comment
Don't you find this crepe paper flowers craft idea interesting and beautiful ? Try it and let me know using comments below. Would love to hear from you.