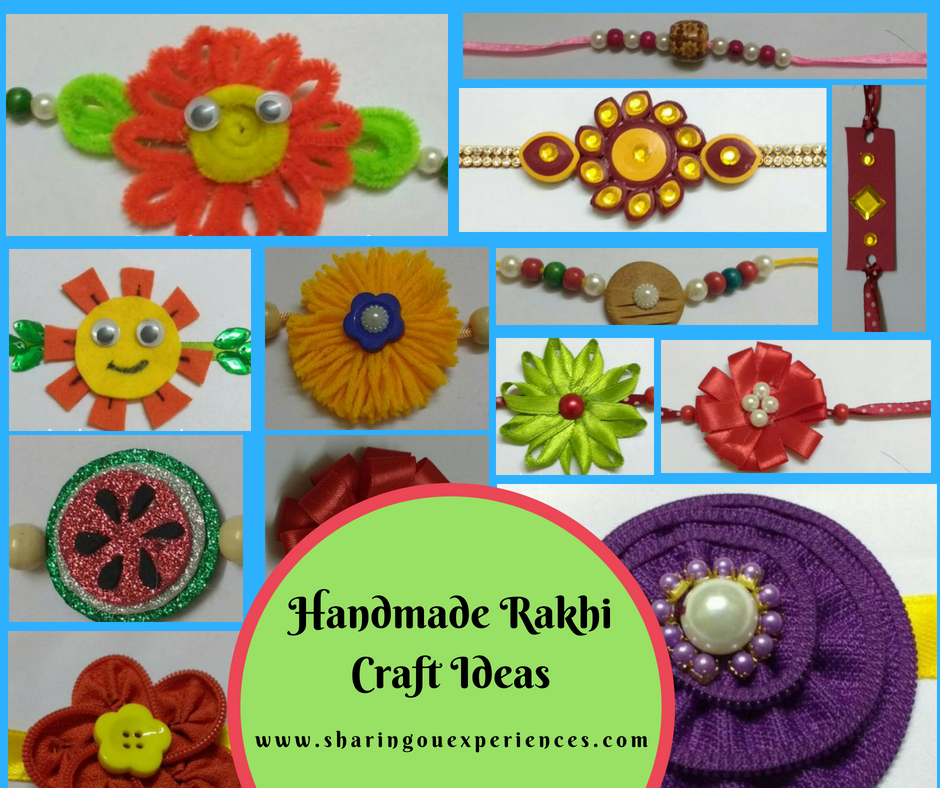 Checkouts these easy DIY handmade Rakhi ideas for kids. Perfect for making handmade Rakhis for brother, or for making easy Rakhi crafts for making at preschool or participating in Rakhi making school competitions.
Great ideas for those who are wondering HOW can I make my own Rakhi at home?
If you are wondering which paper can be used for making Rakhi?
I would say you can get this kit from amazon as it has everything you need and has good reviews. You can explore more rakhi making kits by clicking here. You can also use a good quilling kit like this – click here .
Rakhi is around the corner and both brothers and sisters are planning to do something different this Rakshabandhan. A beautiful festival of love and care between a brother and sister is celebrated in a lovely way.
Let's add more beauty and love to this lovely festival of love and care this rakhshabandhan surprise your brothers with a handmade rakhis made by you just for them. These Rakhi making craft ideas are simple and are a great way to strengthen to bond. After all there is nothing like handmade gifts 🙂
DO NOT MISS these FREE – Preschool, Nursery and Kindergarten worksheets for Kids
If you are Looking for last-minute unique Rakhi gift ideas. check out this ultimate guide to buy Rakhi gifts for sister, brother, bhaiya bhabhi. All items available on Amazon so perfect for current times when you can not go out and shop
Here are some super easy and super simple, mess free rakhi craft ideas. You can do it yourself or do it with your kids and make them understand the true meaning of this wonderful festival.
What material is used for making Rakhi?
In below tutorials we have shown – how you can make Rakhi using Wool/Yarn, ribbons, foams, pipe cleaner, stickers, wooden beads and ribbons. You can make whatever you have available at home.
Easy Handmade Rakhi Craft Ideas (Easy Raksha bandhan activity for kids)
Handmade Sun Rakhi – Great Rakhi making idea for Preschoolers
You can make this cute DIY rakhi with foam sheet cut outs, some beads and ribbon. I think, you should give it a try and I am sure your kid will love making this.
Since this mainly requires cutting and pasting – this is one of the best ideas to make easy Rakhi with your preschoolers helps.
Click on How to DIY Handmade Sun Rakhi with foam sheets to read full tutorial.
Check out festivals of India book and activities book on Amazon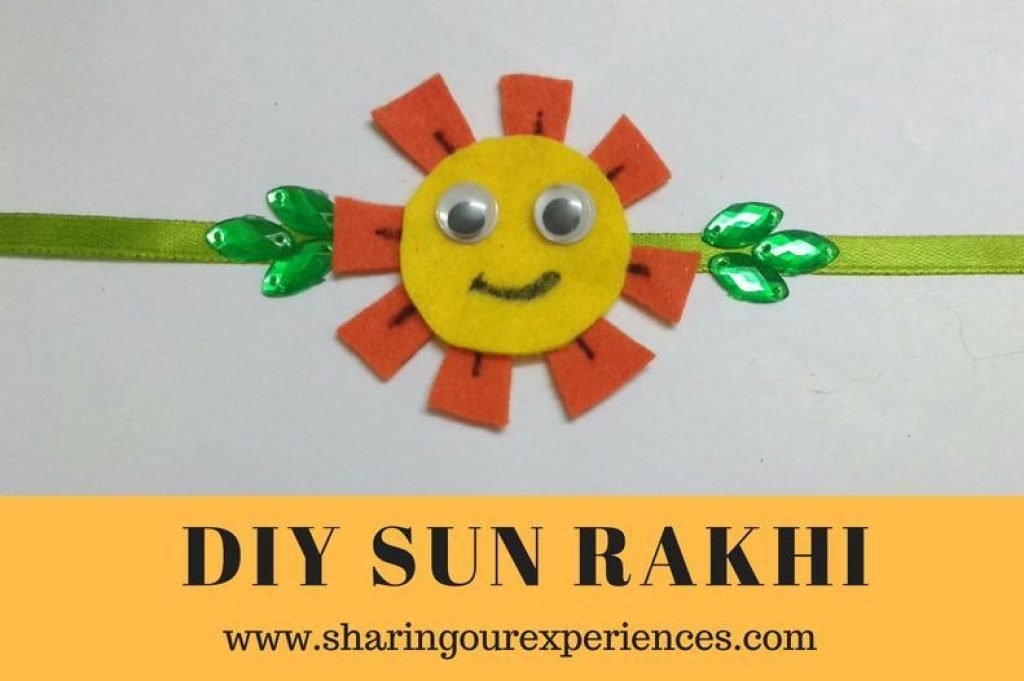 If you have foam sheets you can also try to make beautiful foam flowers 
Click Here to get ART SUPPLIES for making Rakhi
Handmade Wooden Beads Rakhi – Simple and beautiful rakhi at home
Do you like beads? If yes, then try making this lovely wooden rakhi for made with beads and ribbon. This idea is very quick and easy and outcome is definitely worth trying.
If you are wondering how you can make simple and beautiful rakhi at home. This tutorial is for you. You can use beads from your old Rakhi to give them a new look.
Click here to read how to make DIY Wooden Bead Rakhi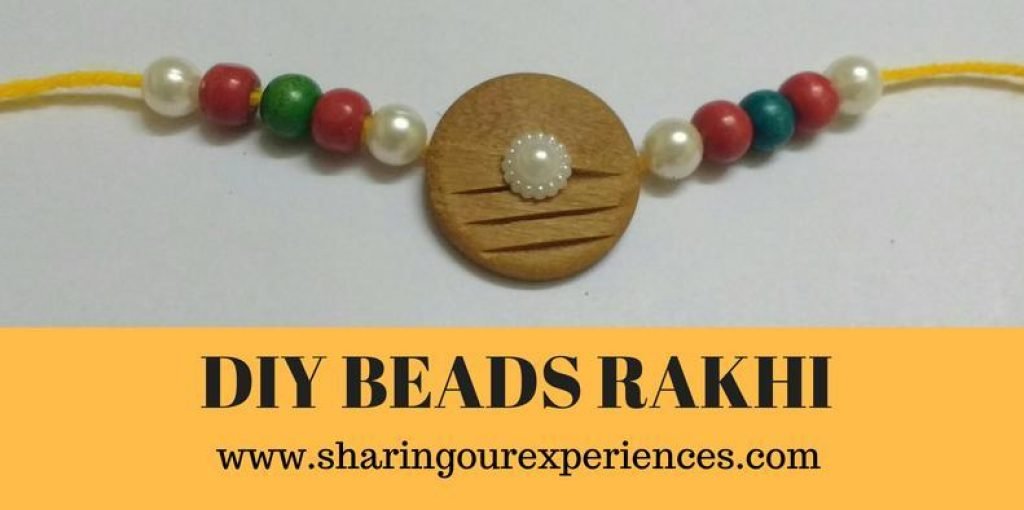 Our Cool Picks – Rakhi cards and Gifts with great reviews
Last update was on: 26th January 2023 9:13 am
Cute Foam Rakhi for kids – Another Rakhi making idea for toddlers and preschoolers (Perfect for small children)
Check out these Super Cute Foam Rakhi for kids.
Just cut various shapes and let your kids decorate them. You can also use Foam stickers and ribbons to let your kids create their own Rakhi.
Perfect Rakhi craft for toddlers and preschoolers. Since these do not contain much moving parts, if you are wondering how to make Rakhi for small children then this tutorial is for you.
Read Full tutorial on How to make Foam Rakhi for kids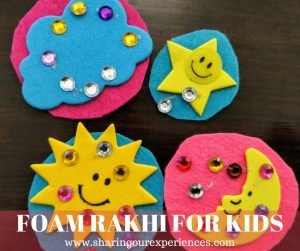 Handmade Quilled Rakhi – How to make Rakhi with paper
Quilling adds more beauty to the craft and the outcome looks very elegant and beautiful.
Try this Paper quilled rakhi with your kids and I am sure you will tempt to make more and more such rakhis.
So if you are wondering how to make Rakhi with Paper – This step-by-step tutorial with pictures is perfect for you. Click here to read how to make DIY Quilled Rakhi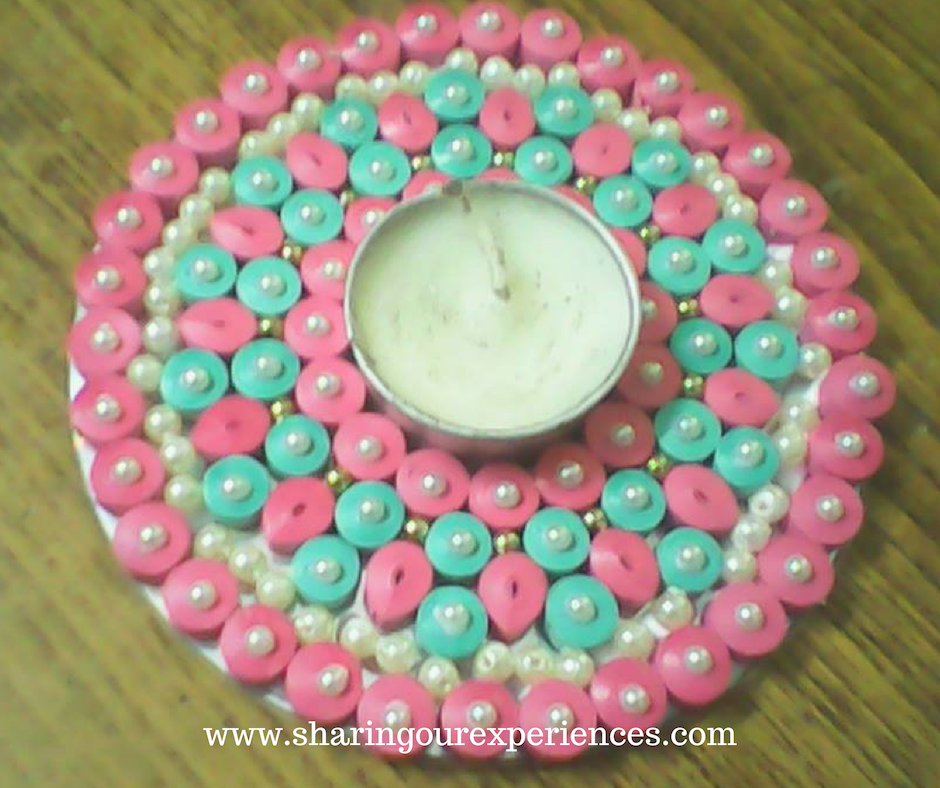 If you enjoy quilling, you can also try to make
Handmade Yarn Rakhi – How do you make homemade Rakhi with wool
If you know how to make a pom pom you can also try different types of crochet designs to make these beautiful Rakhi. Yarn or wool is soft on skin and stays put for much longer 🙂 So try this yarn pompom Rakhi for your dear brother and I am sure you would enjoy.
If you are wondering how to make Rakhi with wool then this tutorial is for you.
Read How to make Handmade Yarn Rakhi on how to make Rakhi at home with wool or yarn (Step by step pictures included)
Get Perfect Yarn for Rakhi and other art and craft here
Handmade Rakhi idea with Pipe cleaners and Googly eyes – handmade Rakhi design for kids (Easy raksha bandhan activity for kindergarten kids)
If you have kids in home, you may have art supplies like pipe cleaners and googly eyes lying around. Check out this cute Rakhi craft with pipe cleaners and Google eyes. I am sure your kid will enjoy making Handmade Rakhi with pipe cleaners and googly eye. These can be used as puppets after Raksha bandhan 🙂
Handmade DIY Rakhi with pipe cleaners tutorial 

You may also want to try making these beautiful pipe cleaner roses
DIY Rakhi with Zip – how to make Rakhi with waste material
Now this is something that you will definitely see for the first time :-).
Do you know you can make beautiful and trendy Rakhis with zips. Check out below designs and do get inspired 🙂
So if you have old clothes or bags lying around – you can use the zips and learn How to make Rakhi with Zips at home
DIY Rakhi craft with Ribbons – Rakhi making with waste materials
Another way you can make Rakhi yourself at home is by buying or reusing ribbons that are lying around in home. We usually have ribbon lying around as a waste material. This Rakhi find these ribbons and use them to make simple handmade Rakhi designs.
Yes simple ribbons can be transformed into beautiful flowers and used for makin Rakhi this Raksha bandhan.
Do check out below DIY Rakhi designs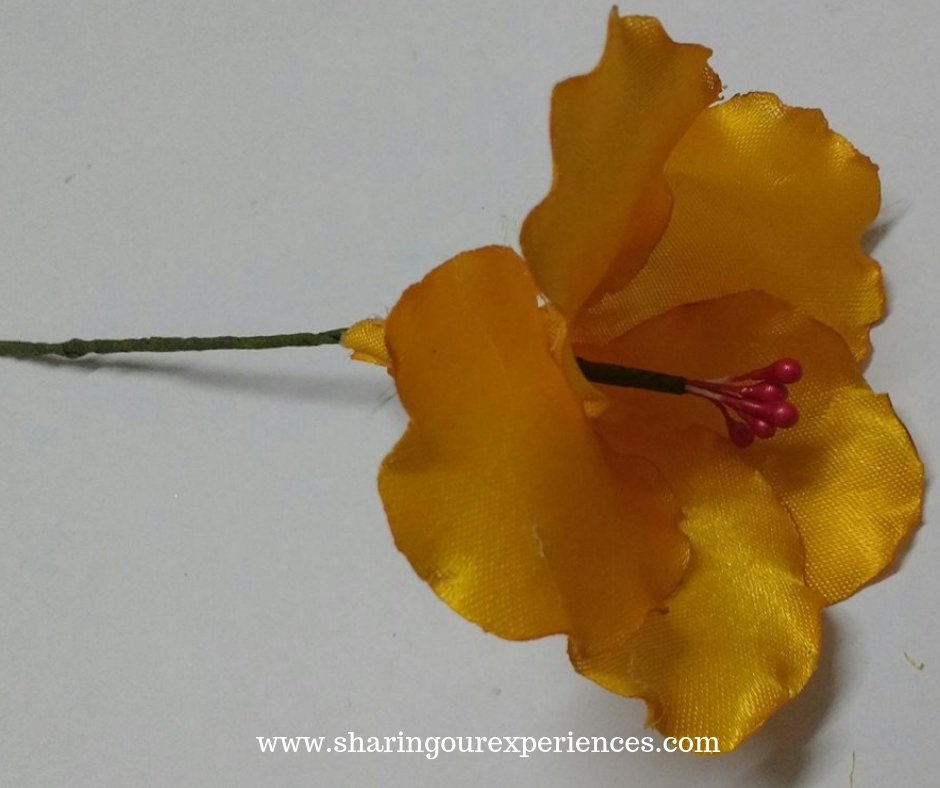 Check out how to make beautiful flowers using ribbon and paper
Handmade Watermelon Themed Rakhi – Rakhi making activity for Kindergarten kids
This watermelon themed rakhi looks so nice and lovely you can't take off your eyes from this.
Very simple and quick idea , you just need glittered green, red and silver foam sheets and a ribbon. Check the tutorial and make this beautiful watermelon themed rakhi with your kids.
DIY Watermelon Themed Rakhi  – I am sure your kid would love this idea.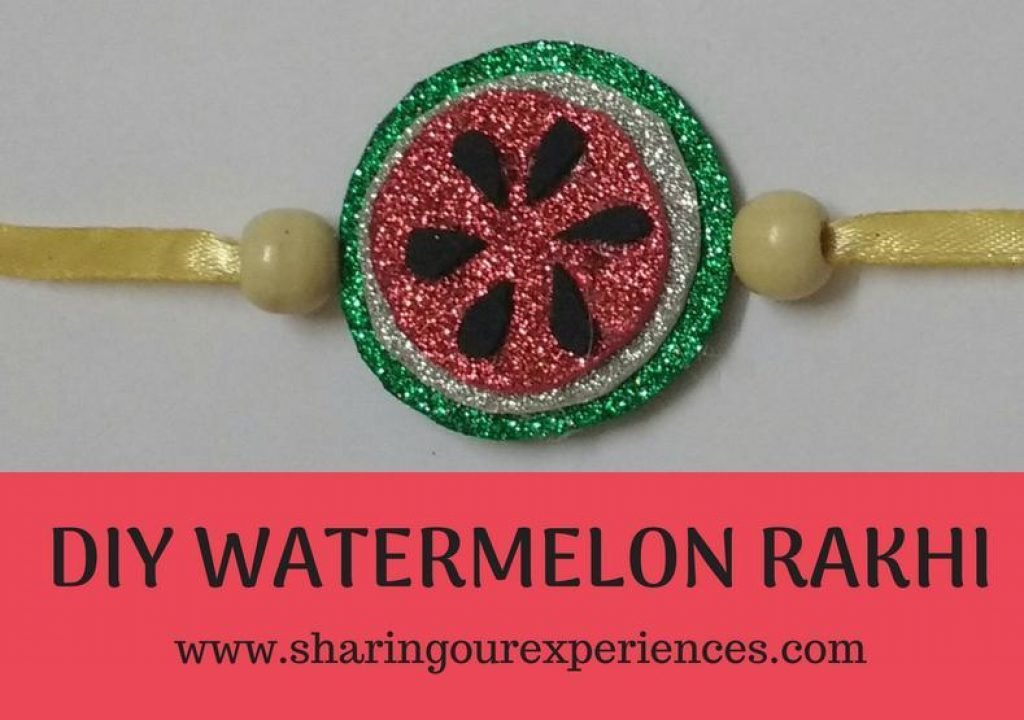 Click here to check >> GLITTER PAPER << For all your craft needs.
Handmade Foam Sheet Rakhi
Crafts made from foam sheets are very easy to make and undoubtedly they look quite good and attractive. You can cut the foam sheet in any shape and can paste stickers and beads of your choice. Try this foam sheet rakhi which looks very simple yet elegant and use your imagination while making this. I am sure the final result will be beautiful and worth trying.
How to make DIY Foam Sheet Rakhi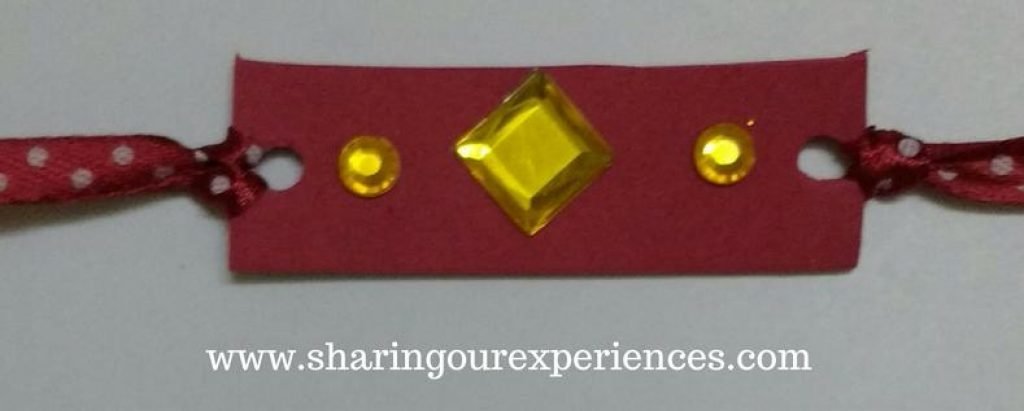 There is nothing more beautiful than making your own gifts. Not only do we value them more but we make memories on a festival. So do get inspired by these easy DIY Rakhi crafts and make something beautiful for your siblings this Raksha Bandhan.
Check this The Man Company's Exclusive Rakhi Gift Boxes Will make a great gift for your brother
Raksha bandhan Activities for Preschool and Kindergarten kids
You can involve kids in making DIY Rakhi using ideas above
You can tell your kids Raksha bandhan story on the origin of Rakhi festival
Read Rakshabandhan books to kids
Make a DIY Rakhi/Greeting card
Involve kids in decorating a Rakhi Thali
Play games, see old photos, watch movies together
Involve them in making home made sweets
Missed Sending Rakhi Gifts to your Sisters? Click here for quick Gifts deliver> Rakhi gifts for sisters <
NEXT YOU CAN READ
Check out festivals of India book and activities book on Amazon
DON't MISS to PIN these Handmade Rakhi designs for later
Materials required to make DIY Rakhi at home
Last update was on: 26th January 2023 9:13 am
Liked this post?
If you liked this post Rakhi making crafts, You may also be interested in
Liked these innovative Rakhi making ideas
In case if you liked this article do show your support by sharing this article.
Add a comment
Don't you find these Rakhi craft ideas and home made Rakhi designs for kids and adults interesting and beautiful ? Try it and let me know using comments below. Would love to hear from you.