Free step by step crafts tutorial on how to make a Crepe Paper Rose Flowers. This is easy and quick activity and it can be a wonderful idea to do a group activity/summer activity for kids. Just pick up the required material and try this simple crepe paper rose flowers and make beautiful bouquets with them.
If you want to do something nice and lovely on weekend with family and friends. I would suggest this is the best craft.Each one of you can take different colours of crepe papers so that end of the activity you will have lovely colourful roses bouquet.
This is one of the easy and mess free activity for kids when you have very few items and very less time.
 Materials required to make Easy Crepe Paper Rose Flowers
Crepe paper (of all colours of your choice )
Scissors
Glue Stick
Crochet stick
Step by Step tutorial on how to make DIY  Rose Flowers using Crepe Paper 
Here is a step by step instructions (with pictures) tutorial on how you can make crepe paper rose flowers.
Step 1 : Take 3 paper squares,  Start with one and fold it in half corner to corner  Fold in half again and half again, each corner to corner until you have a triangle with folds along two edges and an open top.  
Step 2: Fold the paper as shown in pic below and draw a half heart shape and then cut it along the line you drew.
Step 3 : Now Open up the heart shapes. You will have 3 flowers with 8 petals each. To make the center of flower cut the sharp edge of triangle to make a tiny hole.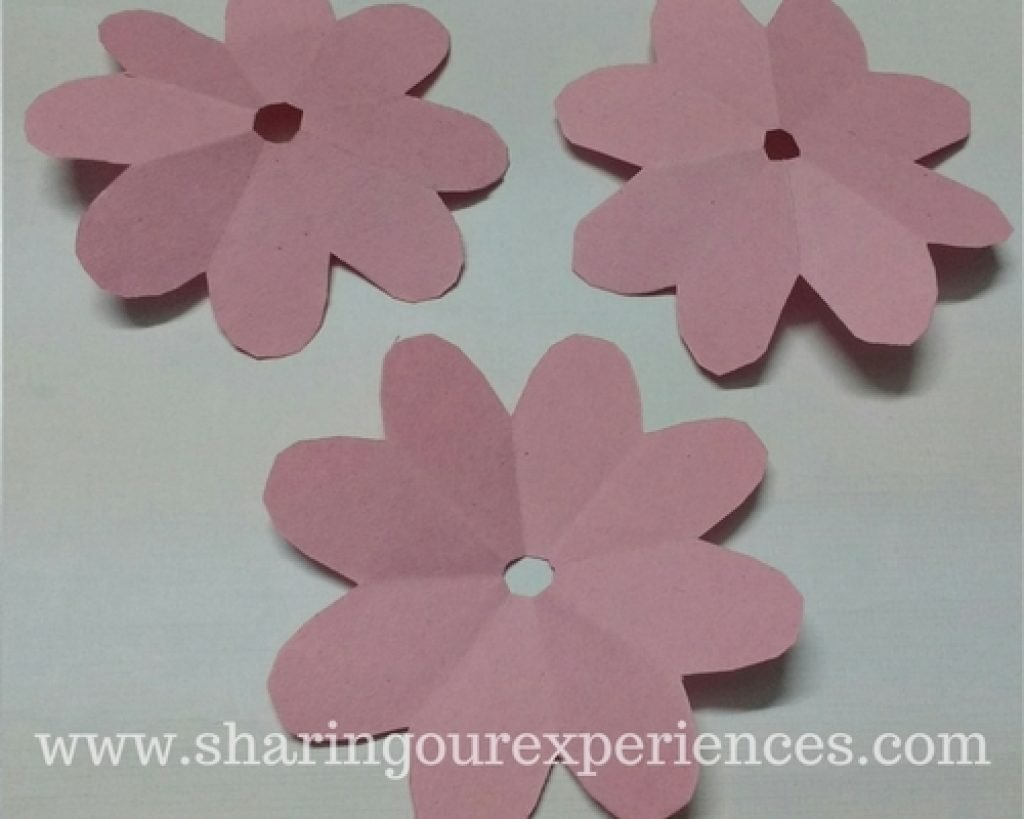 Step 4: Take the 1st flower and cut off 1 petal. For the second flower cut off two petals and for the third petal three petals.
Step 5 : Now keep the cut-out petals aside and and take rest of flowers. Apply glue on the right most side of the petals for all three flowers (shown below).
Step 6 : Stick the petal to the next immediate petal making it like a flower.Now we will have three flowers and 3 petals separately.
Step 7: In this step fold the cut out pieces (cut in step 4) like a flower (as shown below).
Step 8: In this step we need to make a single flower by inserting each flower into another. While doing this we need to keep in mind the size of the folded flowers.
Before we insert the flowers we need to fold the edges of petals little outwards using crochet stick or knitting stick, it will give a flower a natural look.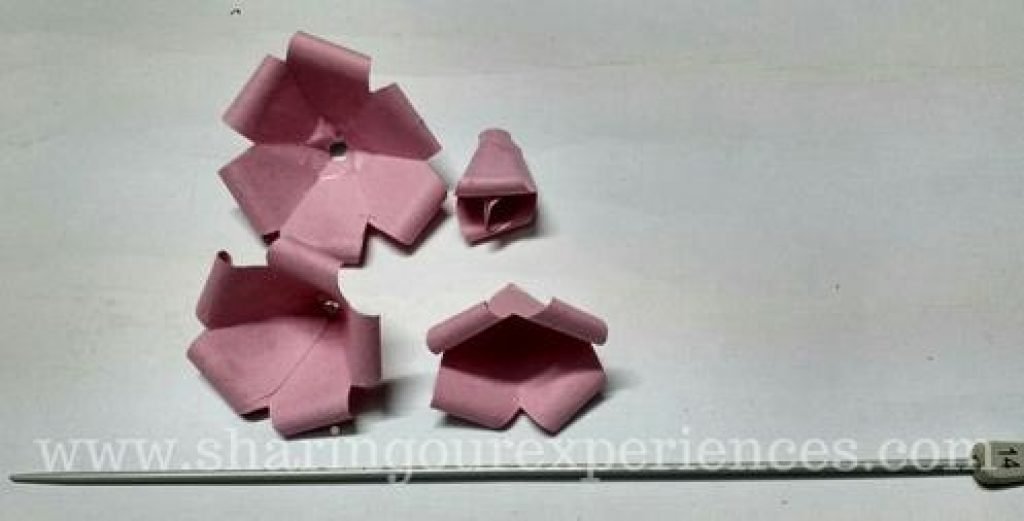 Step 9 : Now keep all the folded shapes one into the other to make it like a flower and stick the sharp edges with the glue to keep the petals intact. 
Step 10: I am in love with this rose. Are you?  We did one rose with silver colour too. Look at both beauties together.
Don't you find these Rose flowers making is super interesting and quick. Now quickly grab all the material required to make these beautiful handmade crepe paper rose flowers of all colours to make flower bouquet and don't forget to share with me right here.
Don't miss to pin

Liked this post ?
You may also want try your hand at this interesting Bowl with a foam sheet
Your Turn Now
In case if you liked this article on rose flower with pipe cleaners do show your support by sharing this article.
Like our Facebook Page
Stay connected with us using your favorite social media, we can be found on
Add a comment
Don't you find these Rose flower tutorials interesting and fun? Try it and let me know using comments below. Would love to hear from you.