Free step by step crafts tutorial on how to make a DIY handmade quilled Rakhi with paper quilling. This cute quilled Rakhi is a wonderful Rakhi craft can be done by little sisters for their lovely brothers. If you are looking for handmade Rakhi crafts ideas this can be the one for you. This is super simple and super quick can easily be made with kids.
Materials required to make DIY Quilled Rakhi Craft for kids
Paper quills (you can make your own paper quills with the help of quilling kit or get them from market) of different sizes and shapes
Thin satin ribbon
Kundan Stickers
Glue
Scissors
Step by Step tutorial on how to make a DIY Quilled Rakhi Craft for kids
Here is a step by step instructions (with pictures) tutorial on how you can make quilled rakhi with quilled papers and stickers.
Step 1 – Make paper quills of different sizes and shapes (you can make your own paper quills or get them from the market). I have used yellow and mahroon combination ones.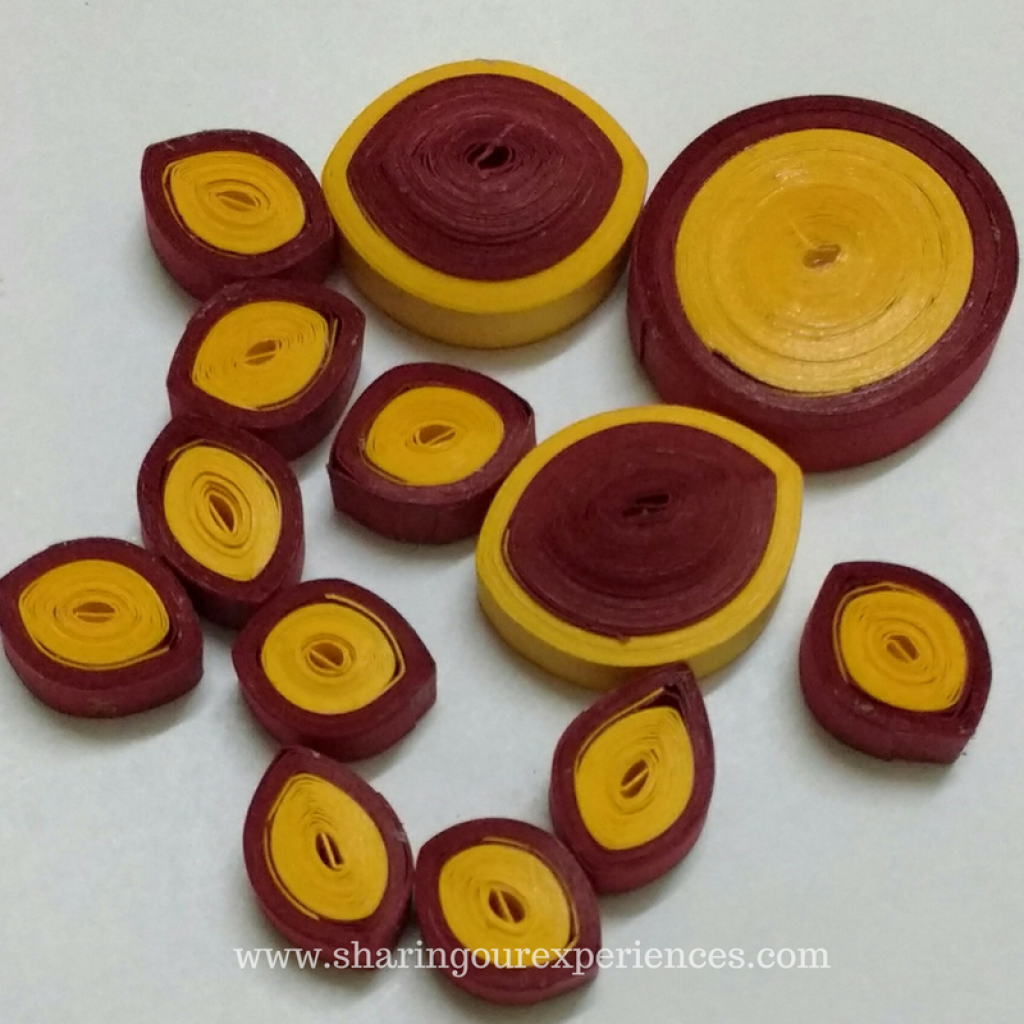 Step 2 – Paste round stone stickers at the center of each quill.
Step 3 – Stick the paper quills in a flower shape and stick two (petal shapes) on both the ends too. Keep it asie for a while and then paste it on a stone lace.

Step 3 – Place the stone lace with quilled flower on a thin satin ribbon of matching color.
Your beautiful Paper Quilled handmade Rakhi is ready.
Isn't it interesting and quick? Why wait !! Grab all the required materials and make this beautiful rakhi at home.
Don't miss to pin

Materials used to make Quilled Rakhi
Liked this post ?
You may want to make other quilled craft with your kid or Some paper crafts
Your Turn Now
In case if you liked this article do show your support by sharing this article.
Like our Facebook Page 
Stay connected with us using your favorite social media, we can be found on
Do you want to share your crafts, parenting tips, stories, toy or book review, let us know by using comments below or mailing us on sharingourexperiencesblog@gmail.com
Add a comment
Don't you find this handmade rakhi craft idea interesting and beautiful ? Try it and let me know using comments below. Would love to hear from you.