Free step by step crafts tutorial on how to make a yarn rakhi at home with yarn and beads.  This elegant yarn rakhi would be a wonderful surprise to big brothers from their little sisters. If you are looking for  handmade rakhi crafts ideas this can be the one for you. This is super simple and super quick can easily be made with kids.
The creative things which we can do with yarn are numerous. Among one is our cute yarn rakhi.
Materials required to make DIY Yarn Rakhi with yarn and beads
Old bangle
Coloured yarn of your choice
Beads
Thread or Satin Ribbon
Glue
Scissors
Step by Step tutorial on how to make DIY Yarn Rakhi
Here is a step by step instructions (with pictures) tutorial on how you can make yarn rakhi with yarn and beads.
Step 1 – Wind the yarn on to the bangle in many layers (as shown below).
Step 2 – After wrapping it many times and when it gets thicker, tie it from the center (shown below).
Step 3 – Now slowly remove from the bangle and cut on side.
Step 4 – Follow the same for other side also.
Step 5 – After both sides are cut arrange and spread the threads to give it a flower shape .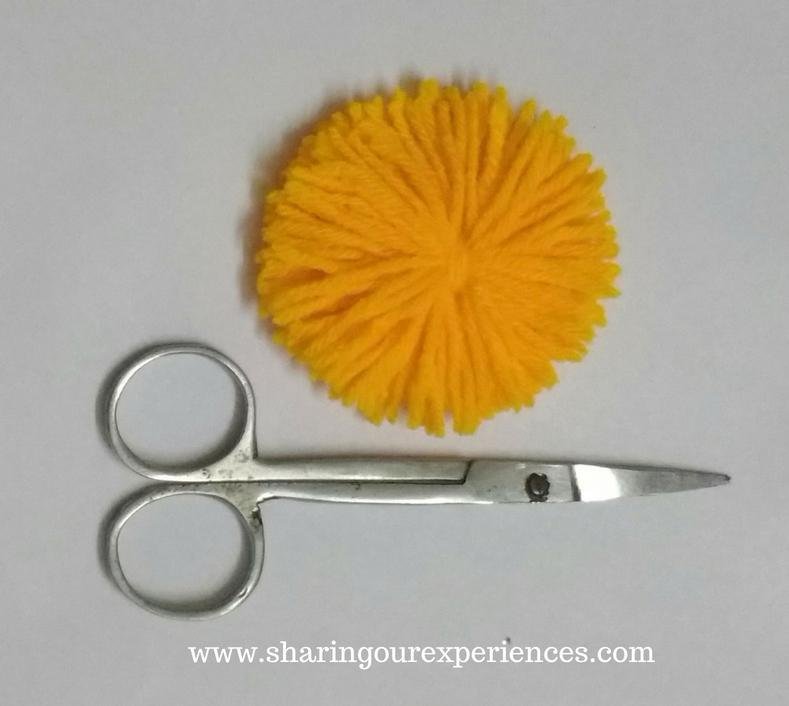 Step 6 – Now paste the flower on a lace or a thread  and paste a beautiful bead at the center of the flower. You can also put one or two beads on both sides of the flower. 
The beautiful handmade rakhi is ready for your brother.
Isn't it super quick and easy rakhi craft idea? Try it at your home and do let us know right here.
Don't miss to pin
Liked this post
You may also want to try out these beautiful handmade decorations with clay
Your Turn Now
In case if you liked this article on handmade yarn rakhi with yarn and beads do show your support by sharing this article.
Stay connected with us using your favorite social media, we can be found on Facebook
Add a comment
Don't you find this yarn rakhi craft for toddlers and preschoolers interesting and fun? Try it and let me know using comments below. Would love to hear from you.