Hello friends, today we are going to learn how to make DIY Satin Ribbon Hibiscus Flowers Bunch.
Usually we use satin ribbons to tie over gift items to make it more attractive and beautiful. This time let's use them to make beautiful handmade flowers.
These beautiful handmade satin ribbon hibiscus flowers look so gorgeous that you can't resist yourself from trying this. This activity is so simple and quick that within very small time you can decorate your home with these amazingly beautiful handmade satin ribbon flowers bunch.
Now let's get back to the easy DIY Satin ribbon hibiscus flowers bunch tutorial. So here are step by step instructions (with pictures) on how you can make satin ribbon Hibiscus flowers bunch.
Materials needed to make Satin Ribbon Hibiscus Flowers Bunch
Stain Ribbons (Preferably of two colors- Orange and Green)
Stamens
Wires
Floral Green tape
Scissors
Glue Stick
Candle
Step 1 – Cut the satin ribbon.
Cut the satin ribbon into 37 pieces of 5 cms width and 7.5 cms long.
Step 2 – Curl the edges.
Show the edges to candle heat and twist them with fingers as shown in pic below.

Step 3 – Make a leaf.
Cut the green satin ribbon into a leaf shape (shown below)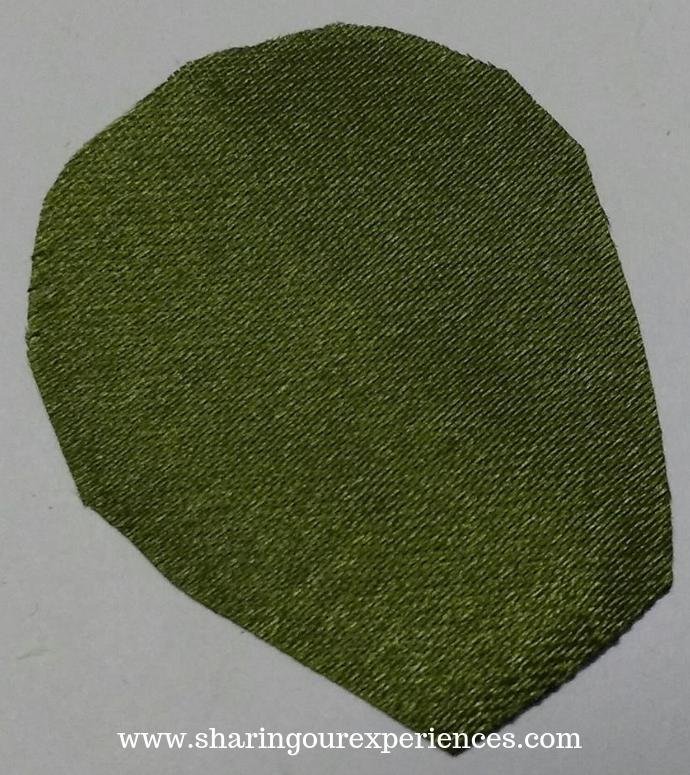 Step 4 – Make the stamens.
Take 3-4 stamens and a golden wire.
Step 5 – Tuck the stamens into golden wire (shown below) start wrapping the floral tape.
Step 6 – Wrap the whole wire with floral tape (shown in pic).
Step 7 – Make a flower.
Take 5 pieces of petals and paste them together (shown below) to make a flower.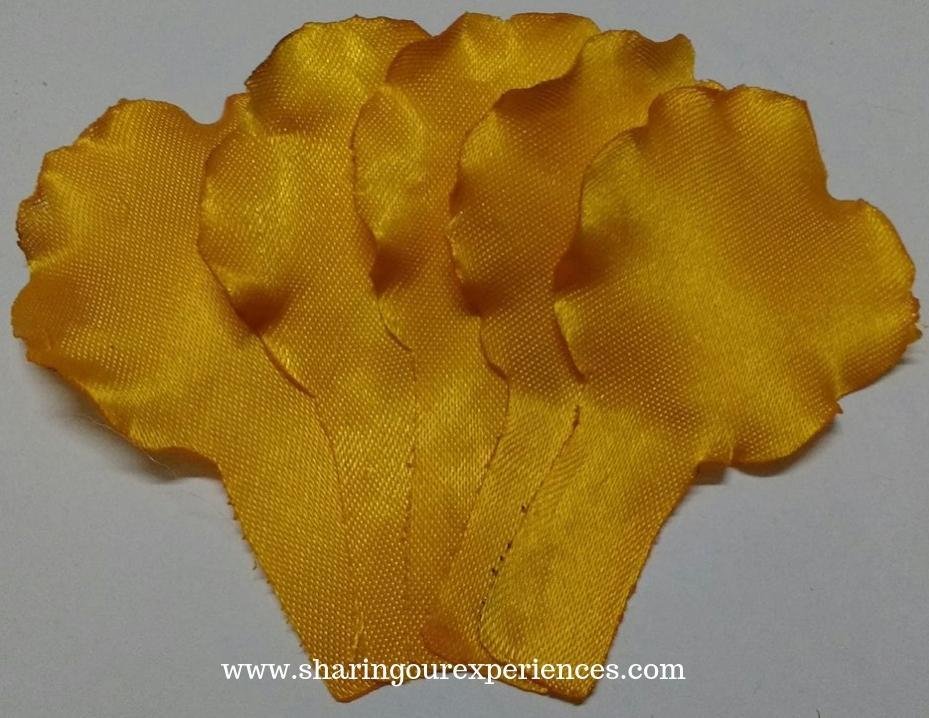 Step 8 – Fold the pasted petals in a shape of a flower and paste both the ends.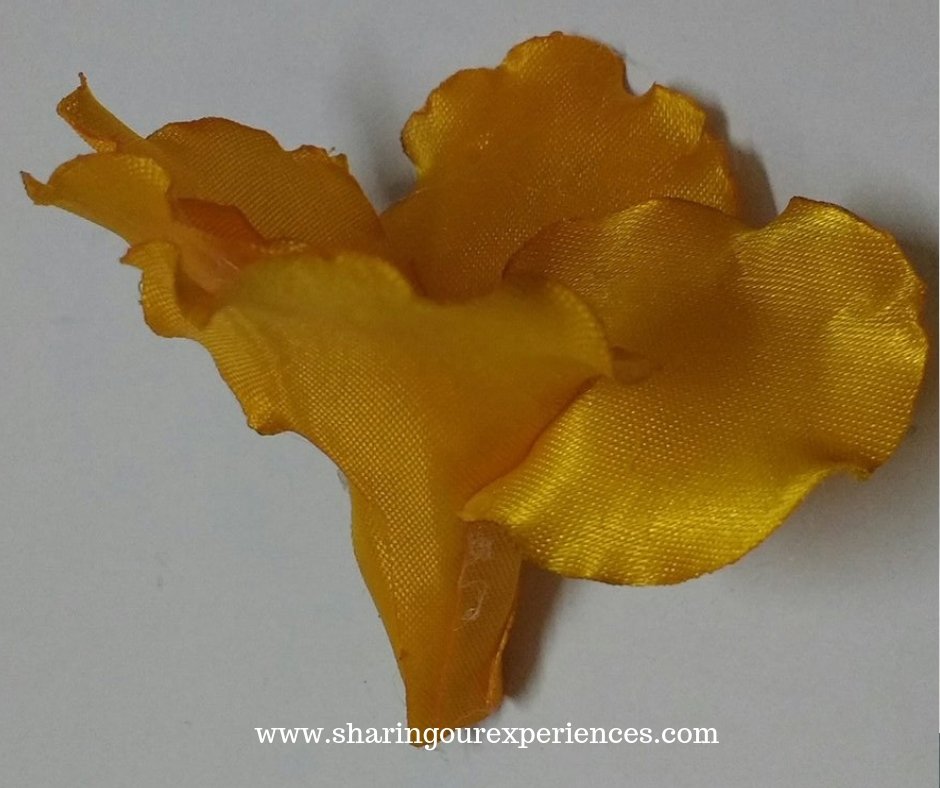 Step 9 – Give it a perfect look.
Insert the stick into a flower (as shown in pic).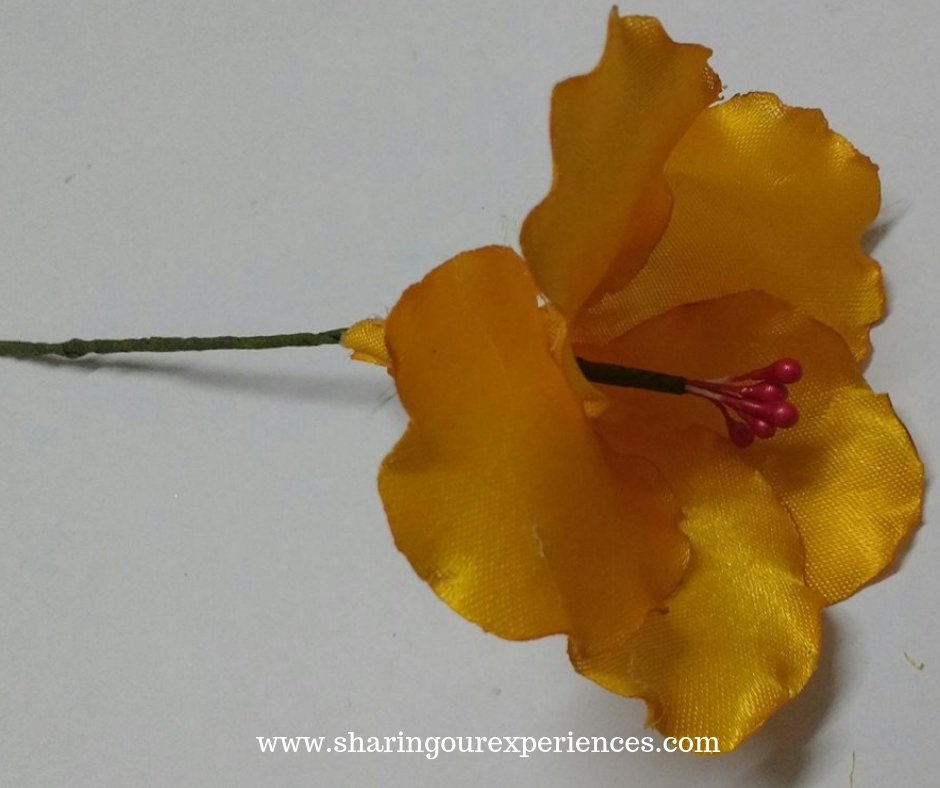 Step 10- Take 2 pieces of leaf and paste them at the outer side of flower.
Step 11- Make the buds.
To make a bud take 3 pieces of petals and follow the same procedure.
Step 12 – Make the bunch of flowers.
Start pasting the flowers and buds at the both side of wire to make a beautiful bunch of flowers.
Step 13 – Your handmade satin ribbon Hibiscus flowers bunch is ready.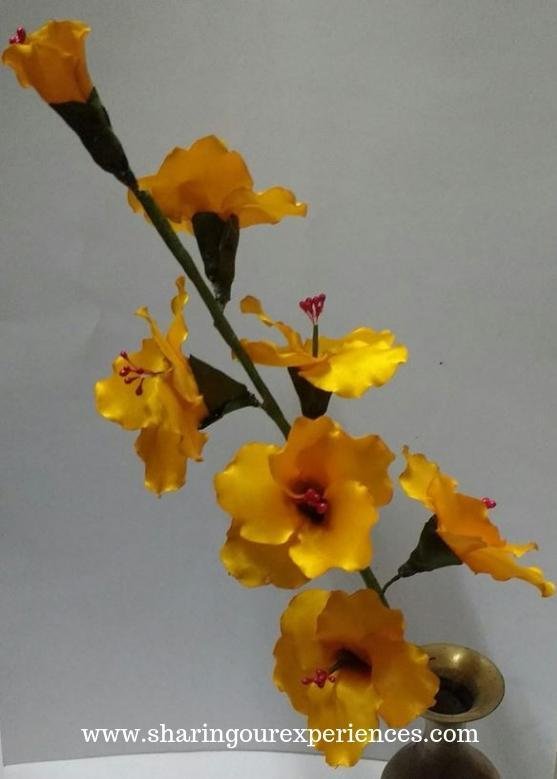 Don't miss to pin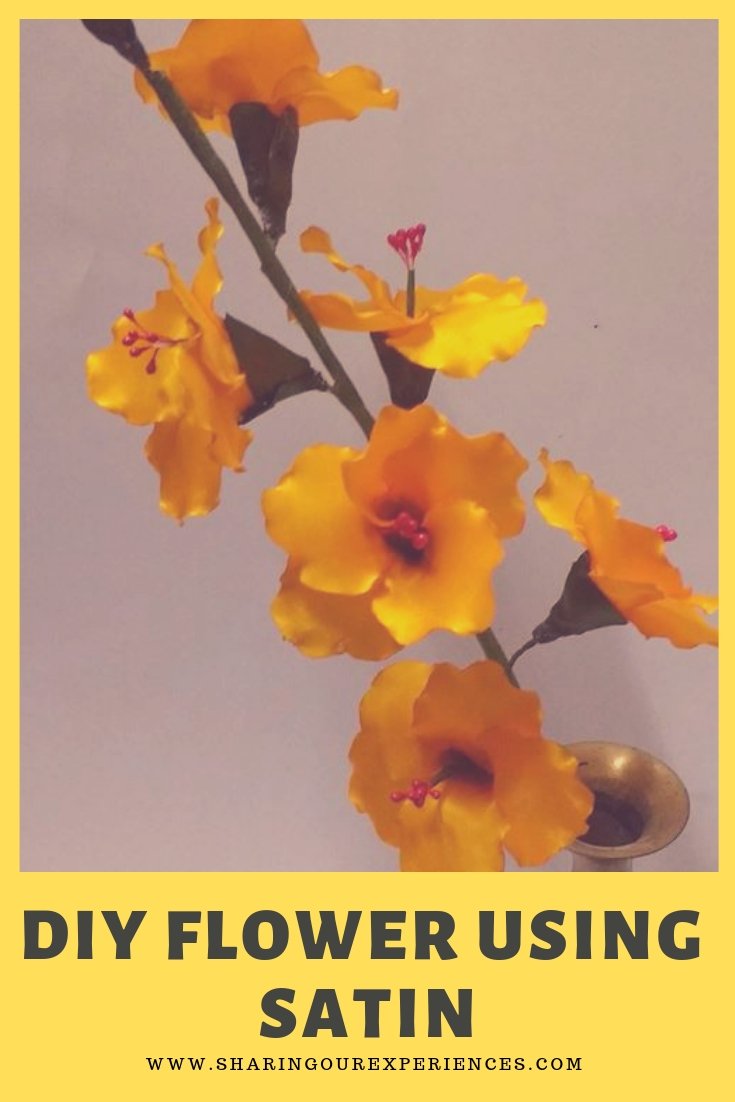 Liked this post?
You may also be interested in trying your hands at this Wall hanging from Icecream popsicle sticks.
Your Turn Now
In case if you liked this article do show your support by sharing this article.
Like our Facebook Page 
Stay connected with us using your favorite social media, we can be found on
Add a comment
Real flowers look so beautiful but they are not always available and can't last long. Why not decorate your house with these beautiful handmade satin ribbon Hibiscus flowers bunch? Try this, and let me know.
Do share what you have made using comments below. Would love to hear from you.