Millet's provides so many health benefits to us compared to regular rice. Hence we can replace rice with Millet's wherever possible. There will not be much different in taste though.
It's my first recipe with millet and hoping to try more in future. I have used Varagu (Kodo millet) to make this Pongal. The recipe is very simple and you can opt this for a easy breakfast. We simply loved this Pongal than our regular Kara Pongal.
Millet Pongal Recipe
Prep time : 5 mins
Cook time : 15 mins
Total time : 20 mins
Healthy Pongal with millet's
Author: Kalyani
Recipe type: Breakfast
Cuisine: South Indian
Serves: 3
Ingredients for making Millet Pongal
Varagu/Kodo millet – 1 cup
Moong dal – 2 to 3 tbsp
Pepper – 1 tsp
Jeera – 1 tsp
Curry leaves – 1 sprig
Turmeric powder – a generous pinch
Water – 4 cups
Ginger – 1 tbsp finely chopped
Ghee – 1 tbsp
Cashews – 5 splitted
Also try : Pistachio Shell crafts 
Preparation :
Take all your ingredients and chop the ginger finely. Wash the Varagu rice twice and keep it ready.
Procedure to make healthy Millet Pongal:
1. Heat a small pressure cooker with ghee and add pepper, jeera. Once the pepper starts splutters, add curry leaves.Then add moong dal with ginger and saute for two minutes.
2. Add turmeric powder at this stage and mix well.After that add the washed Kodo millet in and fry it for a minute.

3. Add water and bring it to a boil.Now close the lid of the cooker and pressure cook it for four whistles in medium flame.

4. In the meantime, Heat a tadka pan with ghee.Once the ghee is heated, add cashews and fry it till golden brown.Add the ghee fried cashews to the Pongal once pressure released from the cooker and mix well. Transfer to a serving plate!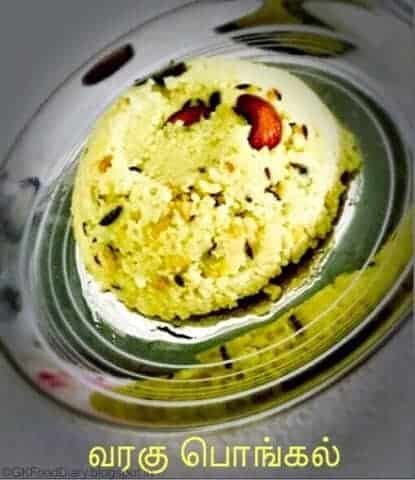 Serve hot with coconut chutney or sambar! Delicious and healthy breakfast is ready.

Also read about : Health and Fitness for women
Notes :
1. Add generous amount of ghee to make it more tasty if you are not a weight watcher!
2. You can use any millet instead of Varagu rice and try your hands on this recipe!
This article was first published on author's blog.
Liked this post on Millet Pongal recipe?
You may also want to try  Sweet Potato Carrot Soup with Almonds Recipe
Your Turn Now
In case if you liked this article do show your support by sharing this article.

Add a comment – Millet Pongal Recipe
Don't you find this recipe nutritious and yummy ? Try it and let me know using comments below. Would love to hear from you.