Sweet potato carrot soup – wholesome, creamy, healthy soup with sweet potato, carrot and almonds.
Sweet potato and carrot are made for each other combination perfect for making puree or soups. I have made this hot soup in a rainy evening, it was perfect for the season and my little daughter also had this soup without any complaints! This sweet potato carrot soup is ideal for babies from 8 months after introducing sweet potato, almonds & carrot separate. Now Let's check how to make this easy sweet potato carrot soup for babies, toddlers and kids.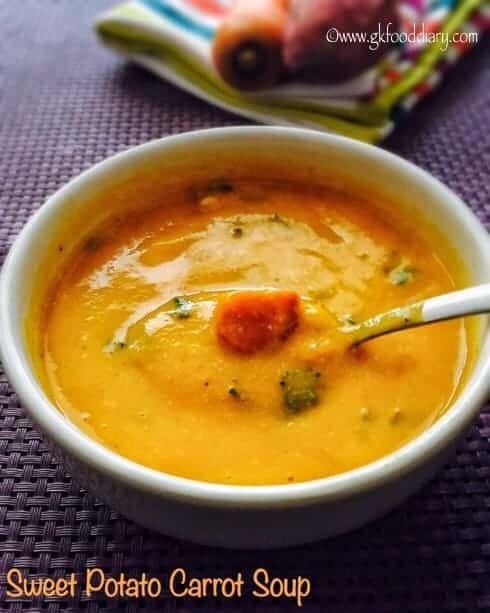 Also read : Tips for moms
Sweet Potato Carrot Soup Recipe for Babies, Toddlers and Kids
Prep time : 10 mins
Cook time : 15 mins
Total time : 25 mins
Author: Kalyani
Recipe type: Soups
Cuisine: World
Serves: 3
Ingredients to make Sweet Potato Carrot Soup
Carrot – 2 small
Sweet Potato – 1 small-sized
Ginger – 1 tsp finely chopped
Garlic – 4 small cloves finely chopped
Salt – as needed
Butter/Olive Oil – 1 tsp
Pepper powder – 1/4 tsp
Almonds – 7
Water – as needed
Coriander leaves – a handful(optional)
Also try : Healthy Eggless Banana Oats Muffins Recipe
Method :
1. Wash carrot & sweet potato in running water well. Then peel the skin off from carrot & sweet potatoes with a peeler. Then chop them into equal size small cubes. Finely chop ginger & garlic. Soak almonds in warm water for 10 minutes. Set aside.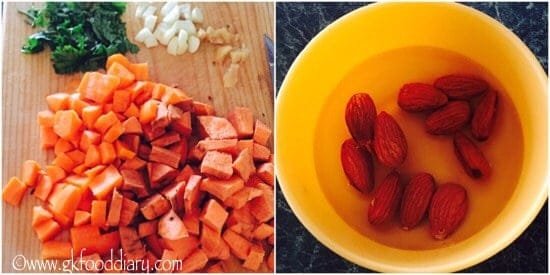 2. In a pressure cooker, heat a tsp of olive oil/ butter and add chopped ginger garlic. Saute the veggies for two minutes. Now add chopped carrot & sweet potatoes. Give a quick stir.

3. Pressure cook the carrot, potatoes, ginger & garlic together with a cup of water for 3 whistles in medium flame. Once the pressure is released open the cooker, the vegetables will be soft and transparent.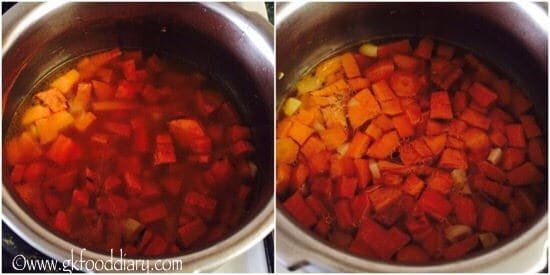 4. Transfer the cooked ingredients(except reserved veggies) to a blender along with peeled almonds. Grind it to a smooth paste.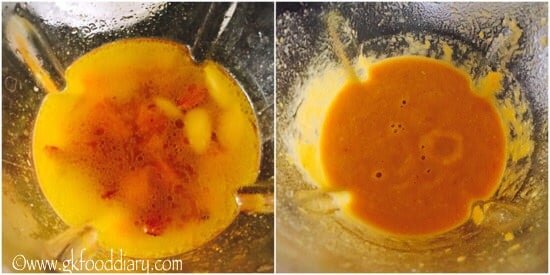 5. Then add a tsp of olive oil or butter in a pan, add reserved vegetables and give a quick stir. Then add ground paste along with required salt & pepper powder .Mix well.

6. Bring it to a boil. Lastly add coriander leaves and Switch off the flame.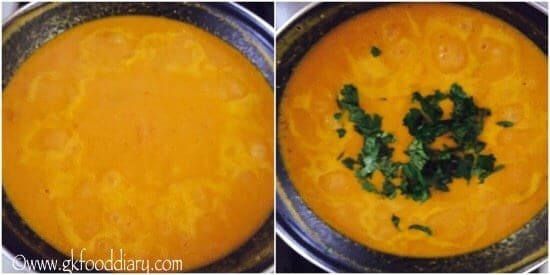 Healthy sweet potato carrot soup is ready. Serve warm!
Also read about : Child Behavior and Discipline
Notes:
Introduce this sweet potato carrot soup to your baby, after introducing sweet potato & carrot separate.
Always check with your pediatrician before introducing any new food.
For small babies and picky eaters (if they don't interested in eating veggies as such), grind all the cooked sweet potatoes and carrots together. Skip reserving the vegetables.
You can steam cook the veggies instead of pressure cooking.
Adjust spices according to your preference.
This article was first published on author's blog 
Liked this post ?
You may also want to try Dry Fruits Laddu Recipe
Your Turn Now
In case if you liked this article do show your support by sharing this article.
[shareaholic app="share_buttons" id="27265281″]
Like our Facebook Page and Stumble It!
Stay connected with us using your favorite social media, we can be found on

Do you want to share your crafts, parenting tips, stories, toy or book review, let us know by using comments below or mailing us on sharingourexperiencesblog@gmail.com
Add a comment
Don't you find this recipe nutritious and yummy? Try it and let me know using comments below. Would love to hear from you.