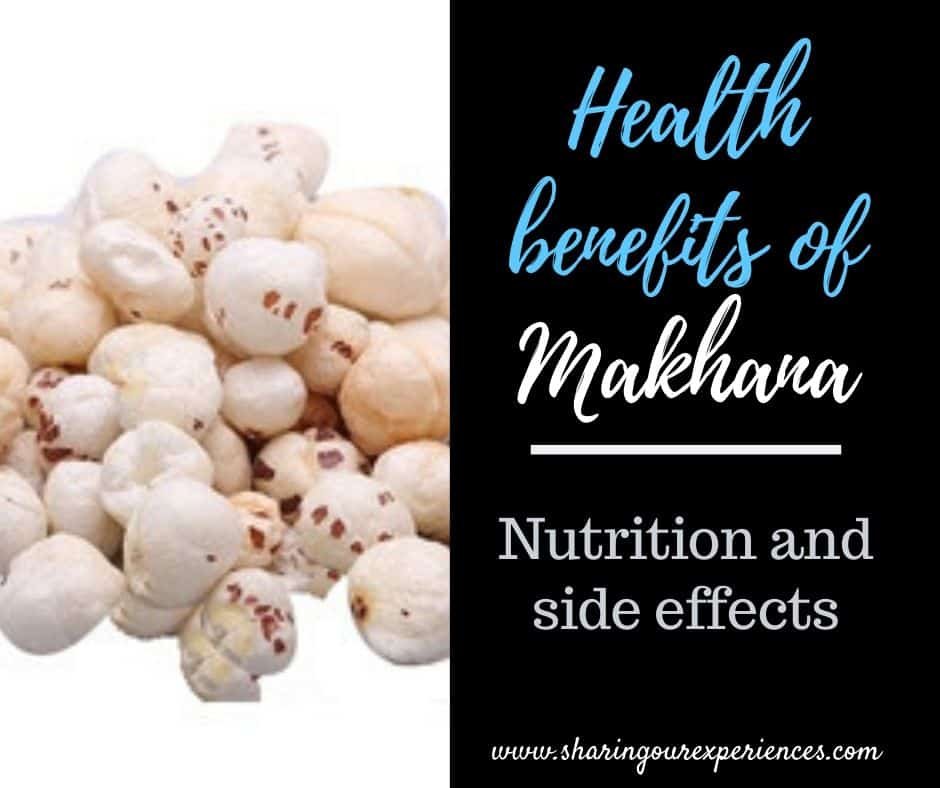 Health Benefits of Makhana – Its nutrition and  Phool makhana side effects from a nutritionist who is also a mom. FREE recipes and details on how to include Makhana in our diets for healthy living and healthy eating
---
In this article
---
Makhana Nutrition Health Benefits and recipes
Have you ever noticed that colorful biscuit packets are always placed on shelves which are parallel to your eye level! When you happily take your kids grocery shopping, what they can get hands on easily is chips placed strategically close to their reach and far from counters which house healthy snacks.
When a mother starts thinking the healthy way it automatically transforms the shopping choices of the family. So next time when you visit the store, check the upper shelves and the corner ones….these are wh ere healthy choices are.
You will find my snack of discussion (Makhanas) amongst the farthest placed items.
If you find it placed on your center shelves, check it for its ingredients and price. They will be for sure processed and marketed in a way that you can't just say no.
Don't buy Makhana packets like these (Click here to see). Nothing against the brands but the are pre-packaged and with preservatives.
Go for normal makhana like these (Click here to see) or that are available in normal shops as dry fruits.
Getting to my point, what is making our children obese is the snack time routine. We often choose and munch on the wrong snacks.
Snack as you know is a mid-meal light portion but as children are most hungry in the evenings owing to our faulty meal choices, they end up taking in even more calories in their snacks than their meals.
So here is an article which will help you choose your child's snacks as well as the timings so that you win as a parent both in feeding healthy and feeding the right way.
The first food item which tops my list of powerful snacking is MAKHANA.
What is Makhana?
It is also your phool makhana or the gorgon nut as the westerners call it!
They are harvested primarily in Bihar, India as lotus seeds. Other names we use for them are foxnuts or Gorgon nuts.

Nutritional Value of Makhana
Why I call it a powerful snack is its rich nutritional value.
It is low in sodium and rich in magnesium making it a much healthier choice than salt rich chips and nachos. It is naturally gluten free and rich in anti-ageing and anti-inflammatory flavonoid "kaempferol".
It's one of the few munching options which will also give your body a dose of cancer-fighting phytonutrients; at the same time being low in cholesterol and saturated fat.
These lotus seeds have been used in India from ages commonly in fasting and religious offerings.
Makhana can be dubbed as our very "desi multivitamins" since they also provide you with potassium, manganese, phosphorus along with being rich in proteins.
They are good for your bones as they are also rich in calcium.
Health benefits of Makhanas
The health benefits of this snack swipe are way more than the regularly used food items.
Some of the health benefits of Makhanas are
1 WEIGHT LOSS :
When taken in a moderate amount, this nutrition rich snack helps you control your weight. It can be used as a snack instead of fried and sweet food. It gives the body it's nutrition boost and helps you lose weight.
2 ANTI AGEING :
Makhanas are rich in anti-oxidants which helps you fight the free radicals making you look old with age .
3 ANTI-HYPERTENSION and Heart Friendly:
with the right balance of sodium and potassium, makhanas have been proved to help your heart maintain it's rhythm . A person prone to hypertension benefits from its consumption as it is high in potassium and low on sodium. high magnesium improves heart health
4 LOWERS KIDNEY DISEASE :
Modern snacking loads our system with so many toxins which remain accumulated in our system. When we take in nutrition powerhouses like makhanas, our organs like the kidneys restore their detoxifying abilities with the help of the much needed nutrient fuels. This reduces buildup, enhances function and lowers disease.
5 ANTI -INFLAMMATORY AND DETOXIFYING.
Makhanas fight free radicals and flushes out the undesirable substances from the body renewing the body with it's inherent health and strength. phytonutrients and free radical fighting properties protects the body from various diseases.
6 DIABETIC FRIENDLY :
With less calories per serving size and a low G.I, these nutritious snack bites are a friend of diabetics. It replenishes their system with the much needed nutrients while keeping sugar levels in control hence making it an ideal snack option.
7 HELPS SLEEP :
Compounds present in makhanas are proven to improve sleep patterns and overall health. Good nutrition always facilitate a good sleep.
They are a low calorie snack option which heals your body like magic .
If you are not a dairy person, you can add makhana to your diet since it has a very good calcium content which will keep your teeth and bones healthy.
They are way lower on the glycemic scale making them a diabetic friendly snack.
It also adds fiber to your usual diet. They help with your stress and the body detox.
How to consume Makhanas
You might wonder why this snack is unpopular despite its multiple health benefits. Simply because of its bland taste.
Children today are exposed to multiple flavors and tastes owing to the ever expanding food processing industry. To convince them that a thing can be a snack while it tastes like nothing can be a daunting task.
The best solution is to market it well dear parent. Make this tasty with your mom magic that a kid can never say no!
Most of the readers would have opened amazon by now and browsing through multiple attractive options of makhana available but let me caution you again. A processed snack is not always a healthy snack.
While makhana are too good a food option, they become not so healthy when deep fried or processed.
So when you chose your readymade makhana pack, be careful to read the trans-fat content, sugar and salt levels at the back of the pack.
When you make this snack at home, it remains low in sodium and absolutely free of Trans-fats and preservatives.
I am listing here a few of my favorite snack recipes which keep the nutrient essence of makhana alive while imparting to them a flavor and taste your child will repeatedly ask for!
Healthy Makhana Recipes
ROASTED MAKHANA RECIPE
These are crunchy makhana which can easily replace – Bhujia and chips on your child's snack table.
You only need a packet of plain makhana, half a spoon of salt and a teaspoon of homemade Desi ghee to do the magic.
How to make Roasted Makhanas
Heat a thick bottomed pan and add ghee to it. When ghee heats up a bit add salt followed by makhana. Just keep roasting the makhana so that they don't get burnt. After ten minutes of roasting, taste them for the flavor and crunch. Add more salt suiting your child's pallet and turn off the flame. Store them in a glass container once they cool down.
ROASTED MASALA MAKHANA RECIPE
Roast the makhana as done in the first recipe. You can always increase the ghee content for better taste but I keep it to minimum since it also add up the fat and cholesterol level in the otherwise healthy snack. You can manage to roast them without or with slight amount of fat only if you mix the contents in the pan without any gaps to prevent burning.
How to make Roasted Masala Makhana at home
This recipe adds a masala seasoning for children with elaborate taste for spices. Just mix a teaspoon of pepper, Garam masala, Chat masala, Red chili powder and half teaspoon salt and add it as a seasoning when makhana are done roasting. Mix well and transfer into a glass container once it cools down.
CARAMEL MAKHANA RECIPE
You need a pack of white makhana and half cup jaggery melted into syrup.
Dry roast makhana in homemade ghee as in the first recipe but this time omit salt. Check between fingers for complete crunch. Once they are done, slowly add jaggery syrup while tossing makhana without pause. Slowly all of them get coated with jaggery.
Keep tossing to evaporate a bit of moisture and switch off the gas. Let them cool before storing them away in a glass container.
MINT MAKHANA RECIPE
Makhanas are a versatile snack since they don't have a strong taste of their own. You can add different flavors and they blend so well with this snack.
For a bowl of relishing mint makhana, you need 2 spoon freshly chopped mint leaves, 1 tbsp. of homemade desi ghee or rice bran oil, black pepper and salt to taste. The procedure is quick and easy.
You have to heat the ghee and add the mint leaves. Just sauté till crisp and add makhana. Keep tossing till they pop between fingers and add salt and pepper when done.
Cool before transferring into containers. You will just love the taste.
How to eat Makana with Milk?
It's good to consume 15-20 roasted foxnuts with evening milk. You can also put them in kheer made by boiling the milk with jaggery or sugar. They can be added in powdered form also.
These were some quick and easy snack time recipes for makhana.
Just make sure you limit salt and oil while making these recipes since the snack will remain healthy only if we keep fat and salt under check.
Hope you enjoy this wonder nut and provide your children with tasty alternatives on their snack table. I will be adding few meal time recipes constituting this wonderful indigenous nut in my next blog.
Until then
Happy reading and healthy eating!
FAQ
Is Makhana good for health?
Yes , makhana is like a natural multivitamin with a very rich nutrition profile.
Is Makana high in protein?
Yes, their high protein content keeps you feeling full for hours.
Does Makhana help in weight loss?
Yes, their high protein content, good nutrient density and low calorific index gives optimum levels of energy to the body while maintaining body weight when taken in right proportions.
Is Makhana good for the heart?
Yes, it has an ideal constitution of high potassium and low sodium which while keeping B.P in check also lowers heart risk in already hypertensive patients
Can we eat Makhana everyday
Makhana is a healthier alternative to popcorn and other snacks. It is low in calories and fat, and is a good source of protein and fiber. Makhana is also a good source of magnesium, potassium, and phosphorus. So, yes, we can eat Makhana everyday
How many Makhana can be eaten in a day
This nutritious and filling snack is perfect for satisfying hunger pangs or cravings. Plus, it is a healthy alternative to processed and sugary snacks.
So go ahead and enjoy 2- 3 handfuls of Makhana everyday.
Please Note – Phool MAKHANA SIDE EFFECTS
Phool makhana is a type of lotus seed that is often used in Indian cuisine. It has a nutty flavor and is often used as a replacement for rice or other grains. While phool makhana is generally considered safe, there are some potential side effects to be aware of.
Any food item taken in more than the required amount causes more harm than good. If portion sizes are exceeded for makhanas, they add a few extra pounds since they are carbohydrates after all.
Also excess consumption can result in digestive issues like constipation, gas and feeling bloated. 
It's always good to check for food allergies if consumption leads to unpleasant symptoms.
Processed makhanas come with added sodium and sugar which can put the health of hypertensive and diabetic patients at risk.
Don't miss to pin


Liked this
You may also want read one of our other popular articles on How to encourage healthy eating habits in kids
Your Turn Now
In case if you liked this article do show your support by sharing this article and Liking our Facebook Page
Add a comment
Don't you find this Blog series on Makhana nutrition useful ? Try it and let me know using comments below. Would love to hear from you.