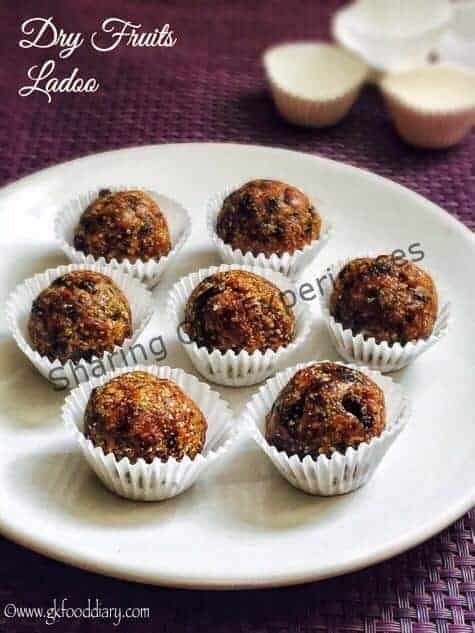 Dry Fruits laddu recipe for babies, toddlers and kids – easy,quick, no sugar energy balls made with mix of dry fruits and nuts. My little daughter loves to eat dry fruits and nuts, so I make this laddus once in a while.
This laddu are more healthier snack than any store bought ones and the best part is you can customize it as per your liking's and preference 🙂
Dry fruits laddu are best suited as a healthy snack in between meals and it helps to stay kids energetic throughout the day. This ladoos are naturally sweet and chew-able, hence its ideal for babies from 10 months or once the baby started chewing the food well.
Here is how to make healthy and tasty dry fruits laddu recipe for babies, toddlers and kids.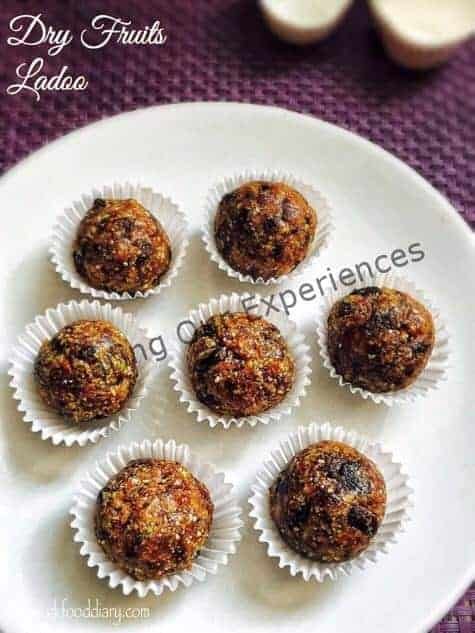 DRY FRUITS LADDU RECIPE FOR BABIES, TODDLERS AND KIDS | ENERGY BALLS RECIPE
PREP TIME : 10 mins
COOK TIME : 15 mins
TOTAL TIME : 25 mins
Serving size: 8-10 Small Ladoos
Dry Fruits Laddu – healthy and tasty ladoo with mixed dry fruits & nuts.
Author: Kalyani
Recipe type: Sweet
Cuisine: World
INGREDIENTS
Dates – 7
Raisins – ¼ cup
Dried Apricots – 3
Almonds – 15
Cashews – 7
Pistachios – 10
Cardamom powder – ¼ tsp
Ghee – 1 tbsp
INSTRUCTIONS
Measure and keep all ingredients ready. De seed and chop dates roughly. Also cut apricots and raisins roughly into pieces.
Grind chopped dates, raisins and apricots to a coarse paste using a blender. Set aside.
Then, grind the almonds,cashews and pistachios to a coarse powder in the same blender along with cardamom powder.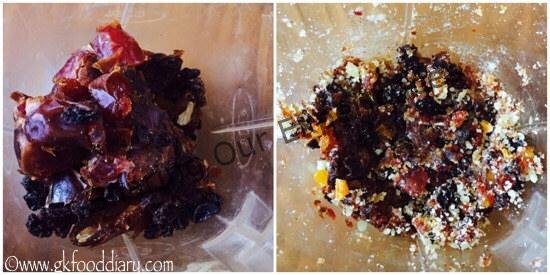 Add a tbsp of ghee in a pan, add grounded dates and nuts mix together and fry it in low flame for 2-3 minutes or until the dates is soft. Switch off the flame once done and cool it down.

When the mixture is still warm, start making balls.
The tasty and healthy dry fruits laddu is ready! Store it in a air tight container once done.
Notes :
You could alter the quantity of nuts and dry fruits as per your preference. But make sure to adjust the amount of dates and raisins for the sweet taste.
Make sure to ground the nuts finely for small babies in order to avoid choking hazard.
This dry fruits ladoo stays well for 4 days at room temperature and keeps well for a week if stored in refrigerator.
Sauting the dry fruits nuts mix in ghee after grinding is purely optional. But it helps to roll the ladoos easily.
Always check with your baby's doctor before giving any new food to your baby.
Make sure to introduce everything separate to your baby before you try this dry fruits ladoo for your baby.
This blog was first published in authors blog.
Do share your experiences and recipes in the comments below. We would love to listen from you 🙂
Liked this post ?
You may also want try your hand at this interesting Pomegranate Fizz Recipe for Valentine Day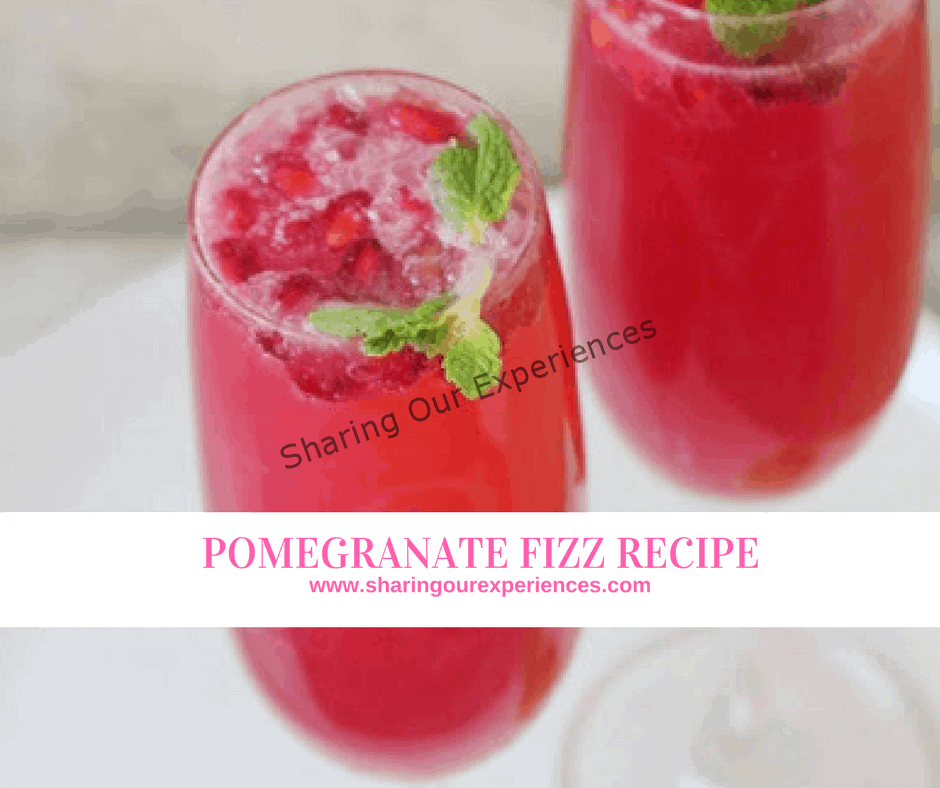 Your Turn Now
In case if you liked this article do show your support by sharing this article.
[shareaholic app="share_buttons" id="27265281″]
Like our Facebook Page and Stumble It!
Stay connected with us using your favorite social media, we can be found on
Add a comment
Don't you find this recipe yummy ? Try it and let me know using comments below. Would love to hear from you.