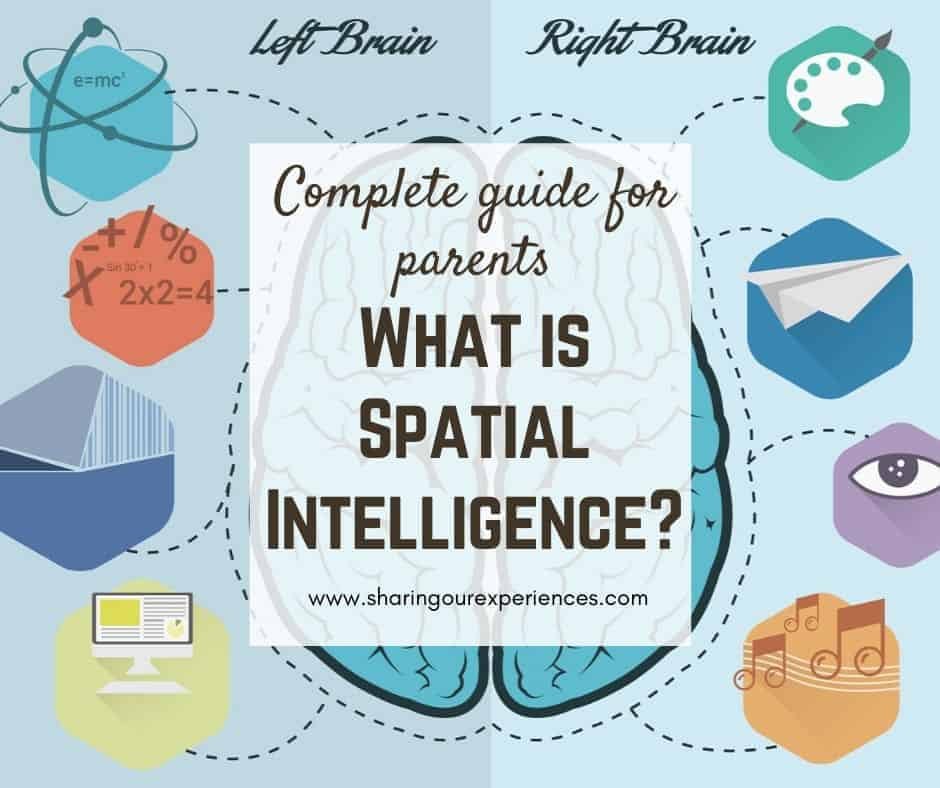 Read about What is Spatial Intelligence ? What is Spatial Intelligence in Children ? Is it something you should be aware of as a parent. Why spatial intelligence is important and how can it be improved. 
Before we start on what is Spatial intelligence.
Have you ever wondered how some people are so good at playing Chess ? Or why some people need very less time to solve Rubik's puzzle ? And how some people know where exactly to fit a shape in order to quickly solve a big puzzle  ?
In all of the above questions I asked or scenarios I gave, there is one thing common. There is a need to visualize something before it actually happened or comprehend three dimensional shapes or images.
In chess you visualize various moves you can make and anticipate what your opponent can do and thus quickly based on this analysis and visual thinking we make our move. Similarly when solving Rubik's puzzle or any big puzzle, we see shapes, try to establish its relationships with near by shapes and thus try to come up with a solution and solve puzzle without actually doing it.
In case of babies and toddlers, some are good at solving puzzles, some are good at construction toys and blocks, others can solve riddles easily and some kids have an eye for how shapes will fit to form another shape or pattern. All of the above require understanding shapes, their relation to each other and a visualization of tasks before actually doing it.
This analysis or 'visual thinking' is called spatial Intelligence.
Let us see what all are we going to cover today
---
In this article
---
What is spatial intelligence ?
Spatial Intelligence definition from Brainmetrix
Spatial intelligence is the ability to comprehend three-dimensional images and shapes. This is a primary function of the right side of the brain and is used when solving puzzles, figuring out maps etc.
Spatial intelligence not only involves vision it also includes abstract and analytical abilities that is beyond merely looking at images. Recognizing the image, knowing its relationship to other surrounding objects and displaying the organizational structure of a thought are all involved in spatial intelligence.
In simple terms it is the ability to see with mind's eye before you actually do anything or create anything.
Does the above remind you of Sherlock Holmes? When I had read the about spatial intelligence somehow he is the first person who it reminded me of.
Why is Spatial Intelligence important ?
Developing Spatial Intelligence is important because it is required in everyday tasks – for deciding the best route to take when reaching a destination, when driving a car or when playing games like chess. It is also required when we are doing our job . for e.g. Engineers need to visualize how different parts of machine would interact, an architect visualizes how a building would look like, a fashion designer visualizes how an outfit would look like even before anything has been done physically.
Training and improving your spatial intelligence can help you develop cognitive ability, thinking and memory.
Now after we have talked about Spatial Intelligence Definition. Let us talk about some more related terms.
What is Visual spatial intelligence ?
Visual intelligence includes our ability to visualize, remember images and details, and an awareness of our surroundings.
Have you ever been told that you have an eye for finer details or have a good memory? Are you able to judge correctly distance between two objects ? Can you accurately answer questions like – is this painting placed at the centre of the room or should I move it more towards the right ? Are you able to imagine and visualize what a room would like after its been painted with a particular color? Can you design something lets say a greeting card after imagining or visualizing what colours should be used ?
These are traits of visual spatial intelligence or lets say how visual spatial intelligence is demonstrated.
Visual intelligence deals with shapes, patterns, designs, colour, placement and relationship of objects in space including distance and direction.Our ability to judge how far is an object, in which direction it is going,
Leonardo da Vinci is said to be one of the famous people who had high visual intelligence.
Do you know Visual Spatial intelligence is also one of the intelligence identified in Howard Gardners theory of Multiple intelligence. So some kids may naturally have high visual intelligence than others. All it means is that these kids are "visual learners". They can easily understand anything when its drawn to them or when they see it.
Spatial Intelligence in Children
We have established above that spatial intelligence (inclusive of visual spatial intelligence) is very important for every day tasks, but lets look at two most frequently asked questions in relation to development of spatial intelligence in children.
Is this something that is developed only when you are adult ? NO.
Is Spatial Intelligence determined by our genes ? To some extent may be yes. But research has proved that we can train our minds or mind of our kids to sharpen spatial skills and influence development of spatial intelligence.
Like other skills or intelligence, the basics of development start when we are a kid. And as I always say that early childhood development is very important and crucial. The first few years of a child life will set the foundation for  lifelong learning, behavior and health.
So we can influence development of Spatial Intelligence in our kids and we need to start early.
Spatial intelligence is one aspect of over all intelligence but research suggests that spatial thinking is an important factor in over all growth of ac child. It provides tools or predicts a kids chance of success and achievement in STEM (Science, Technology,Engineering and Mathematics).
Spatial Intelligence is crucial for many tasks but its often neglected at home or schools, So in our next blog we are going to talk about how to develop Spatial Intelligence in kids.
Also it is not necessary to buy expensive toys and plan elaborate activities; your time is the biggest gift for your little one. Your time combined with what we discussed today will help you convert normal day to day jobs and everyday use objects in a fun and learning experience for your little one.

With the awareness of what is spatial intelligence and visual spatial intelligence, you can now make a conscious effort to involve your little one in a variety of games and activities and contribute to his growth and development.
Liked this post ?
You may also want to check our other popular articles and activities for child development. Hope you enjoy reading it and find it useful.
Go back to all Parenting Blogs and articles on Child Care, Growth, development and safety.
 Your Turn Now
In case if you liked this article do show your support by sharing this article.
Like our Facebook Page
Stay connected with us using your favorite social media, we can be found on
Do you want to share your parenting tips, stories, toy or book review, let us know by using comments below or mailing us on sharingourexperiencesblog@gmail.com
Add a comment
Don't you find this post on Spatial Intelligence informative and useful ? Try it and let me know using comments below. Would love to hear from you.