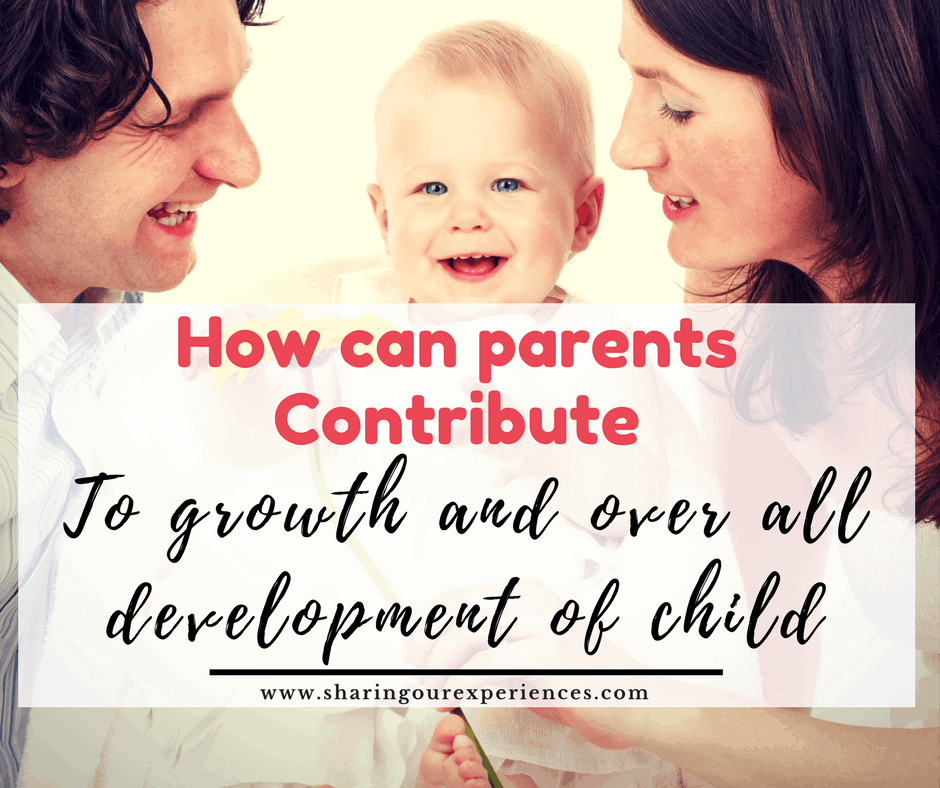 Read how as parents you can contribute to your child growth and development.  Learn why early childhood development is so important.
Today we are going to talk about questions that most parents think about  – How can you contribute to the growth of  your child?
How would you contribute to the overall development of your child ?
As parents we all want our children to succeed and do well in life. And we want to give them the best we can, to help in our child's growth and over all development.
But usually we are not sure and not aware of how can we contribute in their overall development.
At times we parents get so caught up with work and household chores that we sometimes forget how important our role is in the overall development and growth of our kids.
The nurturing and caring needed during the child's growing years is very crucial in laying down the foundation for your child's future and well being.
Do you want to actively contribute in your kid's growth and over all development or just be a passive spectator of life going by?
So let us start with what we are going to cover in this article:
Why early childhood development is important?
Before we go further it is important for us to understand the importance of early years in our child's life.
This is the time when their potential level is at peak, they are much curious about things and full of energy, thus ready to understand, learn and grasp new things happening around them.
Do you know the brain grows faster in the first five years of your child's life than at any other time in his life?

Thus, the best time when we can contribute in their development is their early childhood period because your kid's development during these early years will set the foundation for lifelong learning, behavior and health.
Do you know ?
If babies' bodies grew at the same rate as their brains, they would weigh 170 pounds by 1 month old.
A baby's brain reaches 70% of its adult size by the first birthday and 80% by the second birthday
The first five—and especially the first three years—of a child's life are the most important. They shape the brain's organization, development, and functioning throughout life
Also Read – Do you know what is STEM in Early Childhood Education
What is the role of parents in child development
Some parent's think that they will admit their kids in school on time and there they will learn and grow.
But we can't avoid the fact that home is the primary and basic school for kids' development.
You are your child's first and the most important teacher.
Thus, we should be more like a coach and less like a captain. Babies learn from their environment and people in it. Every day via your interactions and activities you are helping your child learn new information, skills and ways of behaving.
As parents, we must allow our children to be more independent.
They can only be so, if we give them some breathing space.
They must learn to fall and pick themselves up.
I am not saying that we should pressurize them or start giving them compulsory lessons at very small age, and not let them enjoy their childhood.
But we also cannot avoid the fact that they are our next generation and Gen-next is always superior than the previous one, thus they have the capability to learn and understand the things in fast mode.
Also Read – How to teach moral values to kids
Studies have proved that children who are well supported and nurtured physically, emotionally, socially and intellectually will physically develop a multitude of neural connections in their brain that will serve them well throughout their life.
But usually we as parents fail to make a conscious effort to nurture our kids intellectually.
Quick facts
Babies whose parents talk to them frequently know 300 more words by age 2 than babies whose parents rarely speak to them.
Researchers suggest that the majority of parents fall within one of four different parenting styles: 1) authoritarian, 2) authoritative (which is more democratic than authoritarian, 3) permissive, and 4) uninvolved parenting. Of these four, authoritative parenting tends to result in children who are more happy, capable, and successful
How can we parents help our kids in their overall growth and development?
Many a times I have seen questions like "How can I keep my little one occupied at home such that it helps in his development?" Or "How do I decide activities for my kid" or may be "Should I buy expensive early development toys".
 With time I have realized that the reason for these question is we parents have a strong desire to contribute to our child's development in the best possible way we can.
But have very little knowledge of how we can help our kid develop skills or contribute to child development. 
I believe to understand how we can contribute – we first need to understand what Child Development is and what the main areas of Child Development are?
I have covered these topics in a separate article (link below).
In below I have covered what are fine motor skills, what are gross motor skills and much more
Understand what is child development definition, what are the main areas of child Development
Also we need to learn how the brain of a child develops, how our words and personalities affects them.
We can read about positive parenting and mindful gentle parenting and apply those techniques to help our kids in a positive way.
Kids don't listen they follow us so if we want to develop them, we need to spend time and efforts in developing ourselves.
That's essential to raise happy and emotionally well balanced kids.
I have mentioned a list of books that helped me learn about Parenting at the end of this article, for eg How to talk to little kids (I got from here but its also available on Amazon.com) is a survival guide for parents like me –  it gives us ways of dealing with situations in our every day life.
These books gave me a perspective that I did not have.
These books have taught me how our words can affect our kids and hamper or help in their development.
How we can talk to kids get their co-operation.
Reading the whole brain child (I got from here but also available on Amazon.com) gives you a perspective on how a child's brain is wired and how it develops.
Also what can we do to help a child in handling emotions and understanding their feelings.
Also Read – How to help your child calm down
Apart from above, below are few steps or specific actions that you can take to help your kid in his over all growth and development.
Limit screen

time

for toddlers and avoid screen time for babies
Do you know Screen time of any kind Laptop, tablet, TV or mobile can hamper with the growth of your child.
So, the first thing we can do is to switch off the TV or any other screen and spend uninterrupted time with our kids.
Infant educational television does not promote intellectual development, because infants respond to things that respond to them.
Even the most advanced DVD does not respond to the specific cues of an infant. Playing with a baby is far more valuable than even the most expensive system of videos.
So what can we do instead of TV and mobiles (no matter how educational the content is)
Read Books
Do Age wise activities.
Play with toys and things available at home
Involve kids in every day routine tasks, its important to teach them life skills
Also Read : Not sure what to read – start with How to choose a book for my kid.
Provide an environment that encourages play
Our homes are made for adults and not kids. Kids need free space to run around engage in physical activities, try out some new experiments and learn on their own.
To help our kids in their development, we need to set up a space in our homes where our kids can play on their own. Now I am not talking about a fancy nursery or a space filled with fancy and expensive toys.
I am actually talking about a space that is open, bright and cheerful. Always invest in toys that are open ended and simple.
Let us make a conscious effort to give our kids an environment where they can grow and offer them opportunities so that they will learn the practical life skills.
And thus help us lay a strong foundation for our kid's future.
Do some activities together
We can nurture our kids intellectually by playing with them, doing activities with them, talking to them and reading to them.
Even simple things like going on a walk with them or sitting with them during meal times can make a lot of difference.
These activities give us a chance to spend more and more time with our kids and allow us to get to know our kids better.
You can understand their likes and dislikes, their hobbies and their skills (which may be god gifted to them).
And during these daily interactions you will get many teaching moments to teach them about their environment, give them practical life lessons and thus help in improving their skills as well.
You can use your child's interest and curiosity as a medium to tell him about new things.
Introduce kids to new experiences and activities
I know it is not possible to travel through out the year. But going to a new place once in a while is good for your kid.
If you can not travel outside the city – you can take your child to a museum, a railway station, a grocery store or any near by place where he has not been before.
The idea is to expose our kids to various experiences.
Believe me such trips make you learn more about the world than any book can ever can.
It is our duty as parents to give our kids exposure to various experiences and activities so that they can develop their own interests, learn new skills and have fun along the way.
Also read – Fun Travel games for kids to make your life easier, 
Encourage Critical thinking
Encourage your kid to solve their own problems.
If our child is unable to solve a puzzle, our first response is solving it for them.
Even I have been guilty of doing this at times. Because a s a mother I want my son to never face a problem in life.
But sadly that is not in my control.
All I can do is to help him learn how to solve problems when he faces any. And this is where critical thinking can help him.
We can provide our kids with puzzles for encouraging critical thinking.
For older kids we can ask them – how they would have behaved in a certain situation? We can ask such questions after reading a book or after a story telling session.
We want our kids to be able to solve their own problems and to be able to make their own decisions.
Also Read  – Easy riddles for toddlers to develop critical thinking
Be a role model
Kids learn from what they see us doing rather than what we are telling them to do.
If we shout when we are angry, we may actually (though unconsciously) be teaching our kids that – it is OK to shout when things don't go our way.
Child' growth and development is also inclusive of his social and emotional development.
And how he learns to behaves depends a lot on how we parents behave.
Also Read – Good manners for kids
We unknowingly pass on a lot of biases and our behavior to kids. So being aware of how we are behaving in front of our kids is very important.
Also Read – My parenting Mantra for bringing up my kid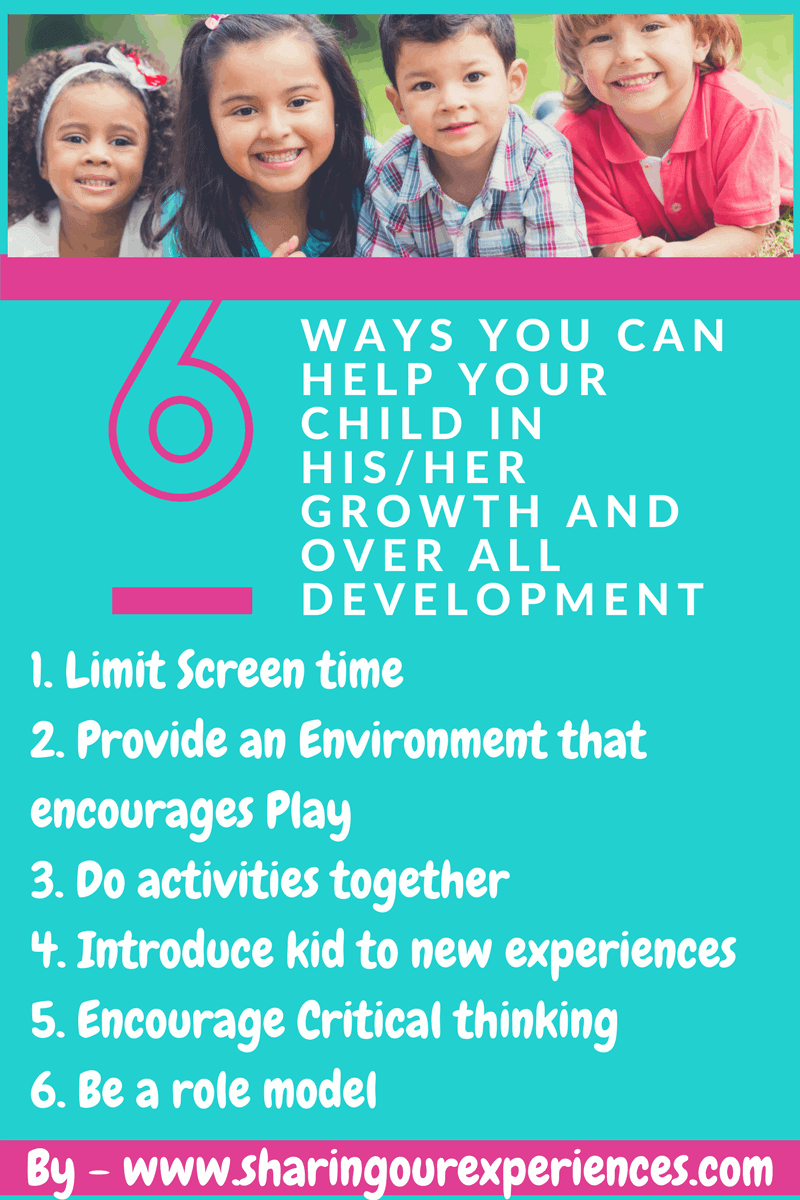 Source – Child Development facts
Liked this post ?
You may also want to check our other popular articles and activities for child development.
Did you find this article on growth and development useful ? Do let me know using comments below (scroll down till the end). Would love to hear from you.