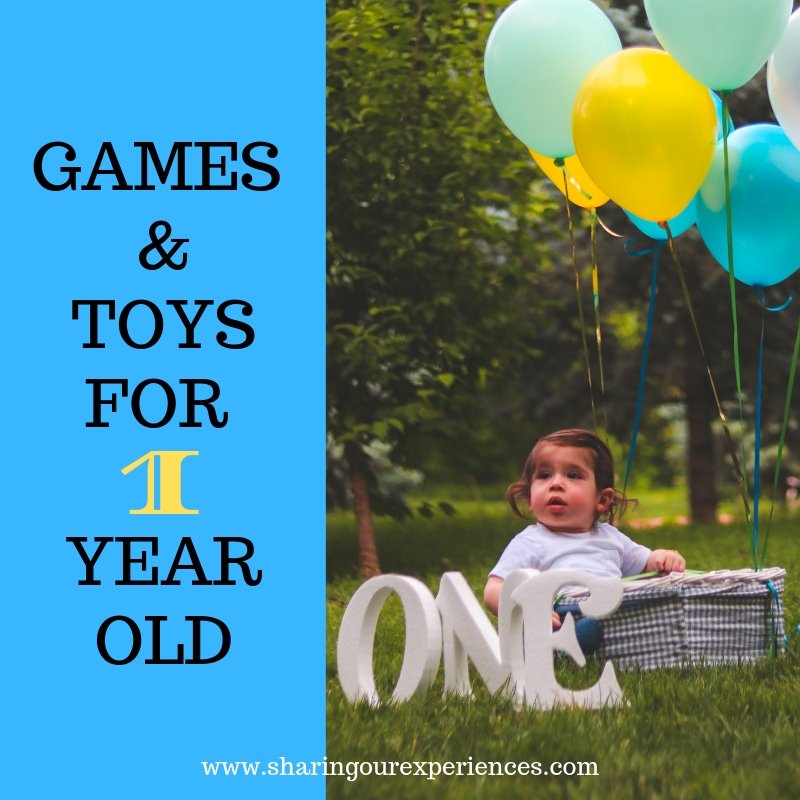 Talk, Talk and Talk.
As laughter is the best medicine, talking is the best game you can play with your one year old kid.
At this age they can't speak or understand fully but they are listening and understanding and trust me babies love to listen. When you talk to them their listening and language skills get better and their vocabulary increases.
Through you, babies try to understand other things around them.
Show them the bright moon, the sparkling stars, the shining sun, the beautiful sky, flying and chirping birds, barking dogs, running vehicles etc. They love to see and understand and will soon start recognizing them.
I would love to share one of my wonderful experiences with my kid when he was just 1.3 year old. One fine day I was giving him regular body massage and it was in my practice that when I used to do his leg and hands exercise I used to say number 1,2,3..10. I was doing same and when I reached to 9 he spontaneously said 10. I was so surprised and happy by his reaction.
Obviously it was result of my continuous practice with him. He was listening regularly and when he was able to speak he said what he wanted to say.
As a mom I used to keep looking for some activities for toddlers I can do with my one year old. I am sharing with you some games or activities for 1 year old that you can play with your kid. Below are some really fun activities and games your toddler would love to play.
Roll it to me
Balls are popular toys for one year olds. Preferably ball should be small that kid can hold in his hands and of bright colour (red, orange). It should be soft and chewable with nontoxic colours because the baby will naturally try out its taste and texture with his mouth. Babies enjoy rolling balls along their high-chair trays or on the floor. They also enjoy taking the ball back from under the chair or table. They also like having the balls rolled back to them. Make a circle of two or three people along with kid and keep passing the ball. Kid will enjoy the activity and will learn to play with others.
The activity will enhance fine motor skills and social skills in kids.
Catch the Balloon
Kids love Balloons and are great for indoor play. They move slowly enough to be chased and are relatively easy to catch. Blow one up, to your toddler's delight, and pat it up into the air and let your toddler try to catch it.
This is a great game to help develop gross motor skills and hand-eye coordination.
If the balloon does pop, make sure you pick up all the little pieces, and put any in-popped balloons out of reach until next time.
Stacking and Nesting Games
Stacking games are very good for this age of kids.
Through this game they learn about the sizes as it comes with the graded sizes. They learn to balance the things. They can stack them up on top of another or can keep them inside each other (nesting).
It also helps in increasing their hand-eye coordination skills, fine motor skills and are good for intellectual development.  This toy helps in development of cognitive skills as well (related to child's thinking and learning). As these blocks come with different colours later on you can teach your kid colours with these blocks.
Peg Toy
The babies of this age are also ready for the peg toy that holds a number of colored rings of graded sizes. At this time, the baby will be able to remove the rings from the peg and perhaps can learn to place one on the peg.
It enhances development and, with maturation and practice, the baby will be able to place the rings on the peg in the appropriate order. Thus this toy encourages kids to think logically, what is bigger and will go first and what is smaller and will go last.
The game helps in the development of fine motor skills, cognitive skills and hand-eye coordination.
Nesting Eggs
It is a wonderful game. Kids learn to open and close the eggs. It comes with a little duck in it. So you can hide the duck in one egg and then ask the kid to find the duck.
Kids love to look for the duck.
Apart from fine motor skills, hand eye coordination and mental stimulation, this game teaches kids about object permanence, i.e. an object can exist even when it is out of sight.
Building Blocks
This is perfect game for kids. They can hold them in their hands, put them in and out of cups, jars or boxes. They can fix them together to make something.
Building block is one toy that can be used by kids differently as they grow. So invest in good quality blocks. Ensure that they are big enough for your kid's little hands and can be interlocked easily. Buy blocks with large number of blocks, bright colours and variety of shapes.
Playing with blocks increases their fine motor skills and hand-eye coordination and also enhances their imagination skills.
Blocks also teaches them to think logically. For e.g. as they grow they will learn blocks have to be placed in a particular way to make something out of them, this is a mental stimulation. And these skills are necessary for child's intellectual development and improving cognitive skills.
Not to forget that blocks also encourage creativity in kids.
Cloth Books or Hard board books
Books are always a good companion. Cloth books with one picture per page are good for this age of kids. Keep showing the pics regularly they will start recognizing the images.
Usually kids start recognizing things they see in their day-to-day life, like fruits, vegetables, vehicles etc.
Continue telling them about the things, always remember that you child is listening to you. Introducing them to books and reading to them will increase their language skills and vocabulary.
If you think your kid is too young to be introduced to books, we would love for you to read Five Reasons why you should read to your baby
To know what factors you need to consider when buying books, you may also want to read How to Choose books for babies and toddlers ?
Pull Along Toy
This is a good toy for babies of this age. It comes in different shapes like elephant, dog, tortoise etc. It comes with a thread so that kids can pull it along with them and can pretend as if they are going for a walk with them. It may have small storage space where kids can keep their small toys.
Good for free play and building gross motor skills.
What's in your box?
Go for a walk with your kid and take a box with you. Encourage your toddler to be curious and point out small and interesting objects that you see along the way such as stones, flowers, leaves, bird feathers and pine cones etc. Describe them to your little one as you put them in your box. Your toddler may well want to carry the box himself, but don't be surprised if he suddenly decides to dump its contents and start again. At this age he'll love to fill containers just so he can empty them again!
Meanwhile, he's practicing his hand movements and building vocabulary.
Catch me if you can
Toddlers love to be chased and this is a great way of using up some of that endless energy with physical play. The idea is to be caught, with the reward of a huge hug and a kiss for your little one every time you catch him.
For extra excitement, pretend to be an animal, such as a lion or a cat. Change the sides so your toddler has to chase and catch you.
A great game for building up your toddler's gross motor skills and stamina. Easy exercise for you too :-).
Baby Play Station made with toilet rolls
A wonderful idea to keep your one year old busy. Just take the waste toilet paper rolls and wrap them in a nice attractive coloured papers (be careful about the choking hazards, do not use beads or something that can easily be taken out with little hands and be extra careful about the sharp edges, make the edges as smooth as possible) and then put the rolls on a curtain rod and then let them roll it.
Be ready to watch them enjoying.
Another interesting way to use the toilet rolls is wrap them in attractive, bright coloured papers and show your kid to make a building with the help of these. Just keep the rolls one over the other. Your kid will soon try to imitate you and would love to make a tower on his own.
Let's Knock them down:
This activity is so simple and very quick to start with. You can play this game with recycled old plastic cups. Just keep the cups in a shape of a pyramid and ask your kid to kick it with hand or with the help of a ball.
When he will see he can kick them all what you will have is giggles all around and a lovely smile on your toddler's face.
A wonderful fun game with small learning. Your kid learns how to throw a ball.
Easy Game:
A very quick and easy game to start. What you all need is a plastic container and some small objects or toys of your kid. You may buy some plastic eggs from market or simply use coins or pom pom for this game.
Just grab your stuff and show your kid how to drop an egg or coin or pom pom with hands in a container and then ask him whether he can do like this?
If you are playing with coins please use some big plastic coins of different colours. To make the game more challenging in an old carton you can make a small slit and then show your kid how to drop a coin in the box.
He surely loves to give it a try and will be busy for some time in keeping the things in a container.
At first instant he may not like it and after some attempts he does not want to play it anymore, but no worries. You can again play this game after some time.
Rolling Ramp fun:
What you need for this activity is a ramp like a hard board book on a box with the flap open. You need to make it like a slide (kids' ride) so that things can roll on that.
Just show your kid how to keep the things on edge and give it a push and see how it rolls down on a ramp.
It is a super fun game your kid learn how to grasp a thing and keep it on edge and knock it down. It improves his hand-eye coordination skills and he observes how things go down when we push it.
Activity Box :
Your kid surely gonna love this game. Just take a cardboard box and cut some slits and tie some threads or ribbons on it. Leave it for baby to undo it and untie the ribbons.
In another cardboard box you can make slits in a shape of a circle, square and diamond. Show them how to drop shapes in box and let them wonder where it goes? Let them enjoy the dropping activity and keep them engage in a fun and learning game.
If you have number of colourfull balls, take a big cardboard box make big holes so that balls can pass through it. Just show your kid how to insert the ball in the hole and leave the game for him. While playing you can keep singing the rhymes or can talk about the colors of the balls.
Tunnel game:
There are various type of tunnels available in market. Just buy one for your kid. Your kid gonna love to go inside it and will explore where it goes. Kids love to go inside the tunnel and very good for their gross motor skills as they need to crawl inside the tunnel.
So friends, be ready to rock with your kids. Try these games and activities and have fun.
Liked this post ?
You may also want try your hand at this interesting Never Say These Things to Your Kids – Part 1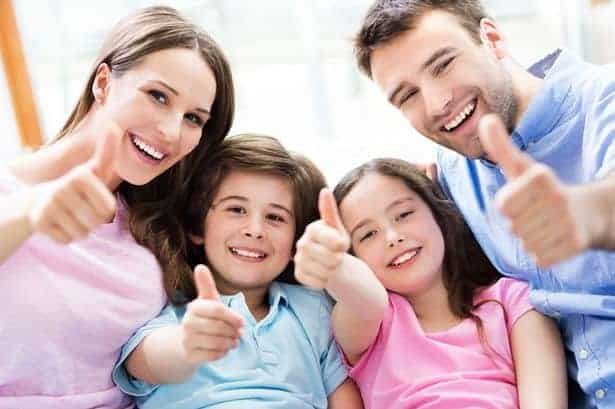 Your Turn Now
In case if you liked this article do show your support by sharing this article.
Like our Facebook Page
Stay connected with us using your favorite social media, we can be found on
Add a comment
Don't you find this post useful ? Try it and let me know using comments below. Would love to hear from you.