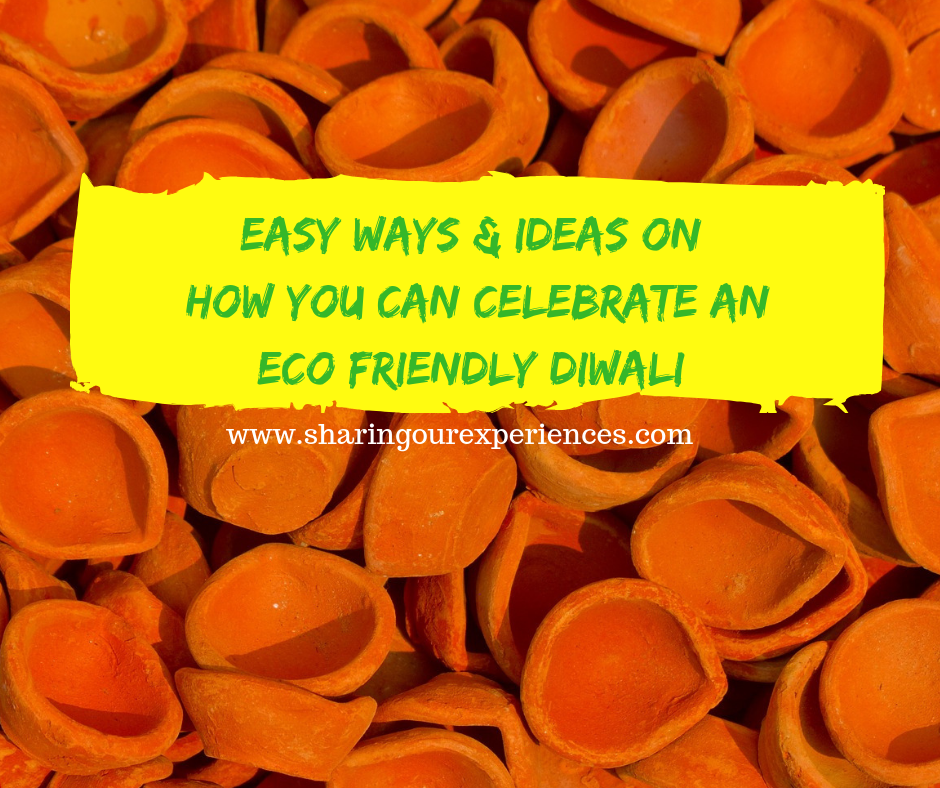 Looking for how to celebrate eco friendly Diwali? Here are some easy tips and ways to celebrate eco friendly Diwali with your kids. This can also be used to write an essay for '10 lines on Green Diwali'
This is becoming increasingly important and essential with rising pollution levels every year and quality of air worsening after festivals. If you are wondering how do you celebrate eco friendly Diwali then you can follow these easy tips to celebrate Diwali in a responsible way.
Diwali the festival of lights also called Deepavali is widely celebrated by people across our country with joy. It's time to meet friends, family get-together and celebrations. Read more about the significance of Diwali and why Diwali is celebrated in India.
Though over the years, this festival has put a lot of pressure on living standards. As soon as the celebrations begin, people indulge in spending, shopping and wasting a lot all through this joyful time.
Children learn from what we the elders are doing. For them the meaning of festival will be what we show them. So why not teach them the real meaning of Diwali by making some positive change in the way we celebrate the festival that benefits everyone and leads to a healthier tomorrow.
And in today's world it has become essential for us to take some small steps to create a healthy environment for our kids to grow up. So check some easy ideas below and have a safe, happy and prosperous Diwali.
Few Green Diwali ideas and ways – How to celebrate eco friendly Diwali
[wpsm_toplist]
Here are some Tips and ways to celebrate an eco-friendly Diwali with kids. Read Ideas to celebrate Eco Friendly Diwali this year, get some tips on how Diwali without crackers can also be a blast. We need to teach our kids ways to celebrate eco-friendly Diwali which do not harm Mother Nature. Check out how to celebrate Green Diwali with kids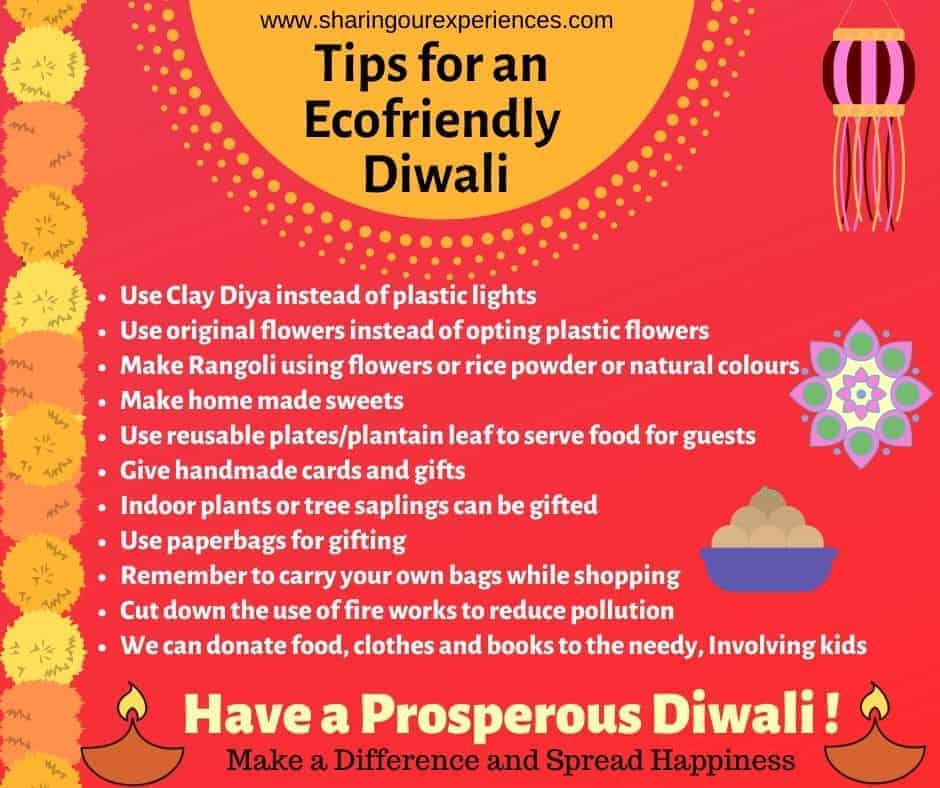 Making Rangoli using flowers or rice powder or natural colours
We decorate the entrance of our home with beautiful Rangoli.
Nowadays some people usually stick paper stickers of Rangoli instead of drawing one. But in the earlier days drawing Rangoli was for the dual purpose one for decoration and another to feed ants and insects as they used to make Rangoli using fine rice powder.
You can also make simple Rangoli using flower petals such as marigold, rose and jasmine.
Involve your kids in filling Rangoli with petals and children will enjoy doing it.
Next days you can clean this and throw it in the compost. This way there will be no harm to the environment.
Earthen Diya's instead of wax candles
Make use of earthen diyas instead of Wax candles this Diwali.
As Earthen Diya can be washed and reused and even if thrown they will mix with the soil and won't harm the mother earth.
Whereas candles are one time used and petroleum based release toxins when they burn that affects the air quality.
We can include our kids in decorating these earthen diya in painting or applying glitters on diya or sticking decorating stickers, an activity that the children will enjoy doing.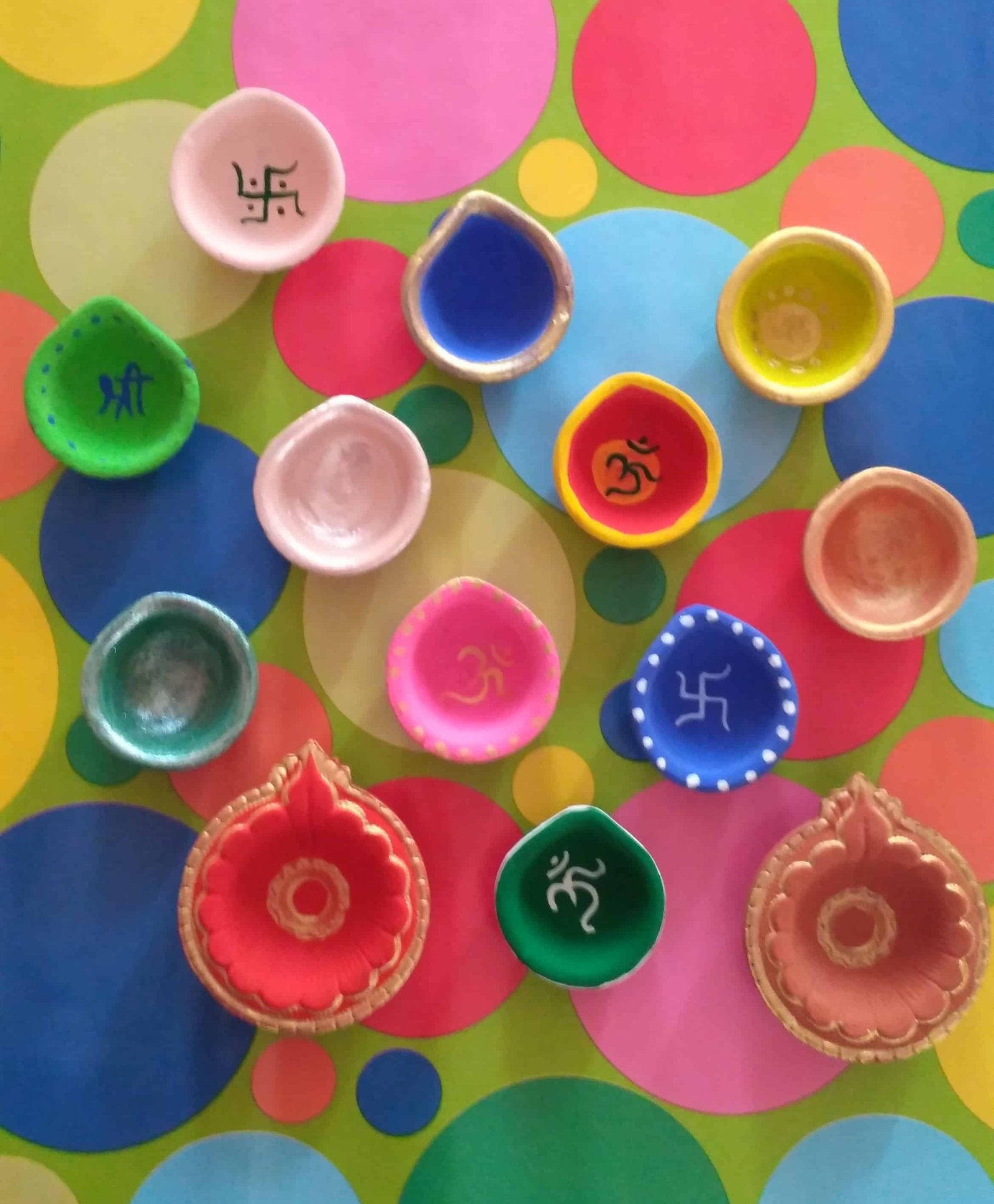 Related –How to decorate earthen Diyas and other Diwali activities and crafts for kids
Diya instead of electric lighting
Using earthen diya not only reduces pollution but also acts as helping hand for a poor if we buy from a needy potter instead of big mall.
Using earthen lamps reduces the consumption of electricity thus saving on electricity bill.
Go for LED lights if at all you want to use electric lighting as it saves considerable amount of energy.
You can also make handmade Diwali paper lamps. Read step by step tutorial on how make Diwali paper lamp.
Decorate your home using Handmade Home Decor
Rather than buying plastic flowers we can make our own paper flowers.
We can use Paper quilling or popsicle sticks to make handmade lamp shades. We can make clay to make wall hangings. There are multiple ways on how we can make decorations at home or recycle and reuse things we have available.
Related – How to make paper flowers and step by tutorial to make paper roses, How to make Clay wall hanging, How to make Clay urli pot, How to make Paper luminaries
Give handmade gift
If you are passionate about giving and receiving gifts then why not try some handmade gifts items?
You can choose gifts that are made of natural material such as jute, recycled cloth bags and paper flowers, cloth purse, toys made of bamboo for kids etc.
I bought a plate, glass, bowl, fork and spoon made of bamboo for my niece and he loved it. He says he loves eating in that plate.
How to make handmade lamp shades
How to make handmade wall hanging
How to make your own Paper bag
Make your Diwali cards
Instead of giving expensive gifts if possible make greeting cards with the materials available at home and personalise it using stickers.
You can make goddess Lakshmi footprints on card using haldi – kumkum available at home.
Making greeting cards with children will be a memorable activity for the kids as they can make cards for their cousins and friends. They can make use of ribbons, bindis, leaves and stickers to decorate the card as they wish.
Arrange events
Stay traditional and go eco-friendly this Diwali, instead of using expensive crockery for parties use banana leaves and clay glass to serve the guests.
You can also organise a community events both for kids and grownups.
Few options are:
Paper lanterns making competition for children
Flower arrangement competition
On the spot Sweet making competition
Rangoli competition
Cooking without fire for kids
Arrange puppets show, talents show, cultural and music competitions.
Dance party is better instead of loud and polluting crackers this Diwali
Other fun activities for kids to cut down on burning crackers
These days the market is flooded with environment friendly cracker but still they pollute the air. So why not give a miss to firecrackers this Diwali and try something new!
Children can collect dry leaves, twigs and grass from nearby parks, put a bonfire and sing, dance surround the fire to celebrate Diwali with sweets and soft drinks along with family and friends.
To make cheerful sound this Diwali, children can blow brown paper bags and jump to burst them. This will not only make children happy but also fill them with joy doing it with their friends.
If you do play with crackers, please stay safe. You may want to check out some easy tips on how to have a safe Diwali with kids.
Get indoor plants or plant a sapling in your society
For making air quality better and combating pollution, you can plant trees and plants. To start with get an indoor plant for your balcony as it purifies the air we breathe in.
Related – Best Air purifier plants in India for your home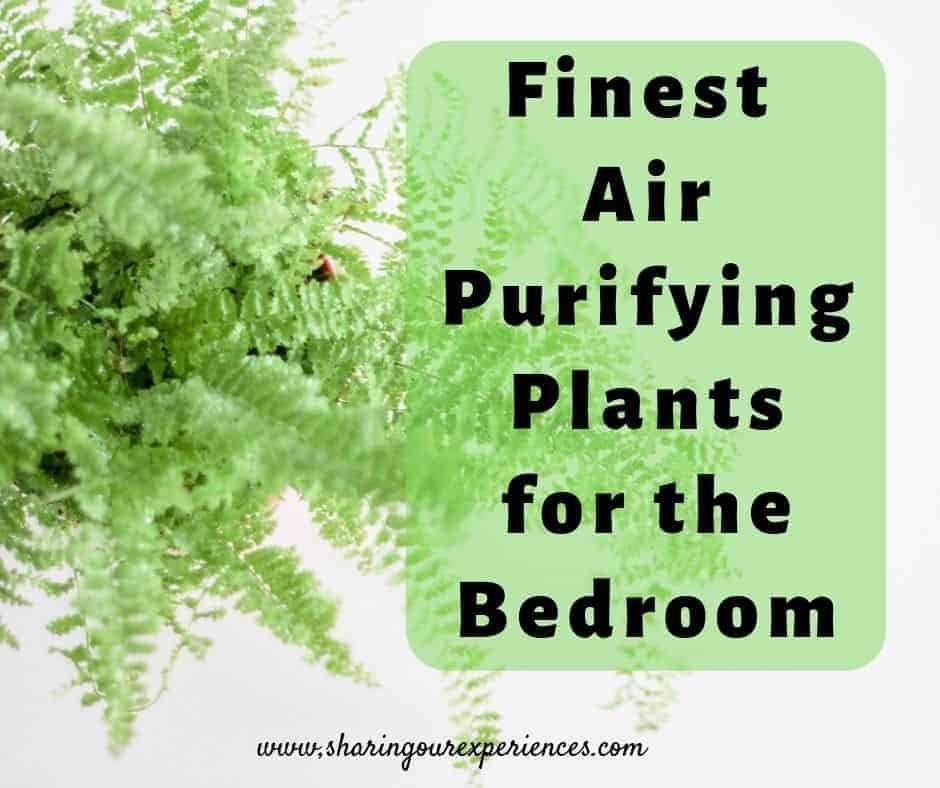 Give back to the society
Instead of bursting cracker and spending thousands of rupees on fireworks, we can donate food, clothes and books to the needy and the poor.
By involving children in this activity we can teach them to give back to the society and create a sense of giving and sharing in them.
After all Diwali means sharing and spreading happiness.
Liked this post ?
You may also want to read all Related posts on Diwali
How to make a Diwali paper lamp
Why do we Celebrate Diwali in India – how to explain significance of Diwali to kids
Diwali activities and crafts for kids
Handpicked Durga Puja and Dussehra books for kids
If you liked this article on ecofriendly Diwali Don't forget to Pin it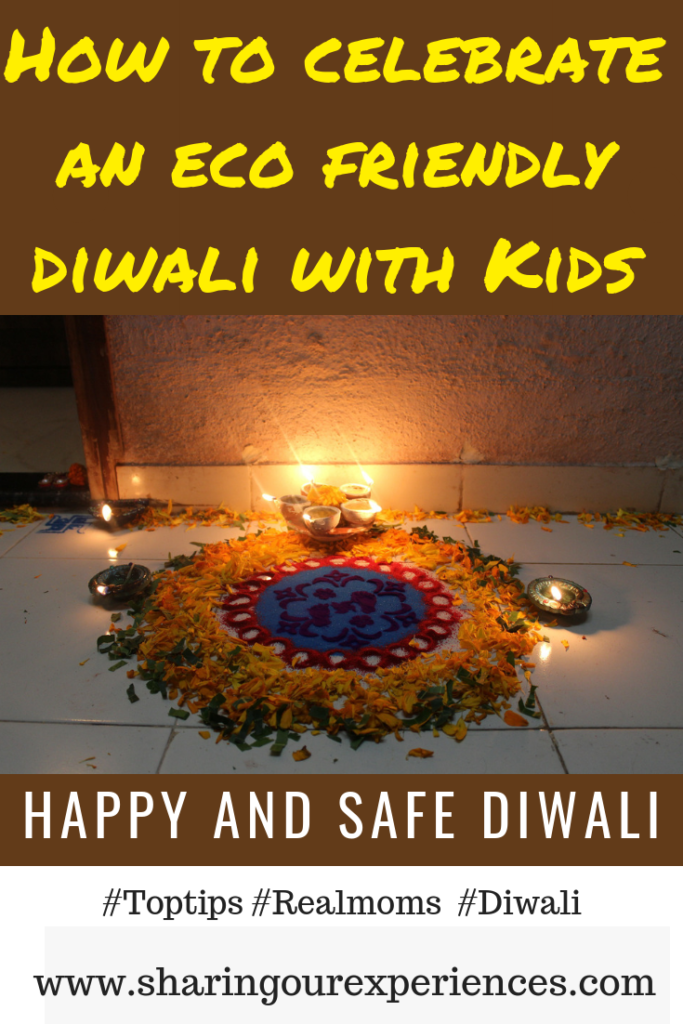 Your Turn Now
In case if you liked this article on eco friendly Diwali festival and think it may help someone do show your support by sharing this article.
Like our Facebook Page and Stumble It!
Add a comment – Green Diwali ideas
Did you like these tips on how to celebrate an eco friendly Diwali? Do let us know using comments below. Would love to hear from you.
Tags – green Diwali ideas