Tips to have a safe Diwali with Kids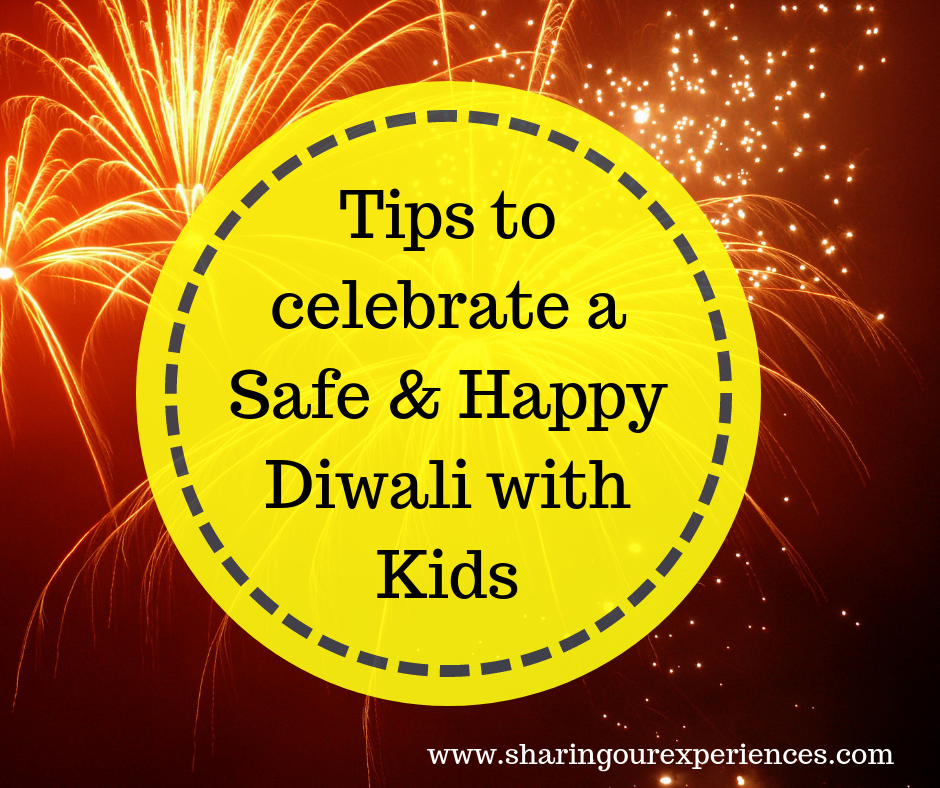 ---
Check out tips to have a safe Diwali with kids. Diwali is the most widely celebrated festival in India and people of India celebrate it with great enthusiasm and zeal. Diwali is known as the festival of lights. This is the festival of spreading joy and happiness and a symbol of victory of good over evil.
As this festival of lights is knocking the door and is around the corner so we all are excited and busy in finalizing our to-do-list, shop for new clothes, gifts, sweets, crackers is all about Diwali. As a kid and as an adult we all love Diwali to its core.
Besides shopping for new clothes, gifts and sweets we love to buy crackers. So this time too, I with my kid equally excited for Diwali.
We all are ready with fireworks and gifts to celebrate the festival in our own way. But playing with Fire Works requires lot of safety otherwise this festival of happiness can convert into tragedy also.
We have a right to enjoy and celebrate this festival of light and happiness in our own way but few things we should keep in mind to avoid any mishap during this beautiful festival.
While playing with crackers one should be attentive and careful so that nobody can get hurt. It is very important to play safe and happy Diwali.
During Diwali many cases of burning are being reported but if people follow some guidelines and take proper precautions during Diwali we can avoid such cases to happen.
It is necessary for parents to take safety precautions during Diwali as kids are kids and we can't expect an adult like behavior from them when they are happy and enjoying the festival.
Specially while burning crackers, if don't take proper precautions then we can have some bad memories about this festival of happiness.
Here are some safety tips for your kids while playing crackers. Follow them and make this Diwali happy for you and for your loved ones.
Advertisement| Article continues below.
---
---
Below are some tips to have safe Diwali
Adult supervision
The most common and obvious reason of accidents during Diwali is wrong handling of Fireworks.
We should take proper safety measures while bursting crackers. Adult supervision is what required mostly. It is most important that you don't leave your kids unattended while playing with crackers.
Parents should buy crackers and fireworks suitable their child age. Please keep in mind that fireworks, candles, matchstick can be injurious for kids, so keep them away from all the stuff.
Ensure that kids should be supervised all the time during festival.
back to menu ↑
Play crackers in an open area
A very important tip for Diwali is to ensure that always play crackers or fireworks in an open area never burst cracker in an indoor place or on roads or near trees or other things which may catch fire.
Make sure place is free from obstructions and vehicles. Never play fire works in crowded area.
Make sure while burning crackers you maintain proper distance from them and keep your kids aside at a safe distance.
back to menu ↑
Keep a bucket of water nearby
It's better to take precautions. Always keep a bucket of water nearby while playing with Fire Works.
Keep in mind that always put used fireworks in water as sometimes leftover gunpowder can also react with environmental activities, same time if you think the cracker was not burst properly the good idea is to keep a good distance from it for sometime. It may burst again.
back to menu ↑
Clothing and shoes
We all love chiffon and Georgette dresses and Anarkalis for our daughters and silk shervani for our smart super men. But note that these fabrics are not safe for our kids especially when they are near lights, diyas and fireworks.
We all love to wear our heavy traditional dresses during festival but while playing crackers make sure you and your kid wear body fitted easy to carry cotton clothes only.
To avoid your clothes catch fire avoid wearing synthetic clothes as they easily catch fire.
It is better your kids wear shoes to prevent any feet injury, which may happen while playing with crackers. Keep your kids feet fully covered, whether he is going to burn crackers or not.
back to menu ↑
Firecracker handling
It is better you keep the crackers away from kids.
Make sure kids don't carry firecrackers in their pockets. Store firecrackers safely and give it to your kids one by one and let them burn the crackers when you are with them.
Crackers should only be lit from a proper distance. Light crackers from an arm's length distance. The good idea is to tie a candle in a long stick to burn the crackers.
Always keep fireworks in closed safety box and away from any source of Fire.
Do not leave any naked wires lying around the house.
back to menu ↑
Food safety
Every festival is incomplete without food and sweets.
Kids are fond of sweets so make sure buy dry fruits and Sweets only from reputed shops only. In festive days some money making business man made sweets from synthetic ghee or artificial sugar which can be harmful for our kids health.
So it's better to stay safe.
back to menu ↑
Choose crackers wisely
It is essential to purchase crackers from government licensed shop.
It is better to buy the crackers from the known brands. Parents should purchase crackers according to age group of child.
Pistol poppers, glowworms, bamboo sticks are safe crackers that can be used by all age groups.
back to menu ↑
Exercise safe practice for the lighting
While placing diyas make sure not to keep near curtains or upholstery items, take care of your heavy clothes and wear clothes which you can carry with ease.
Avoid placing diyas in hallways and or at doors. Keep the kids away from diyas, let the kids see them and if they want let them decorate the house with diyas but make sure they don't hurt themselves.
Show them the right way and things to keep in mind while keeping diyas.
Purchase good quality lightning equipment to avoid short circuit.
back to menu ↑
Handy first aid kit
Keep your first aid kit handy.
Sometimes even after taking every precaution accident happen so you should be ready with your handy first aid kit. Precaution is better than cure.
back to menu ↑
Maintain hygiene
During Diwali there is rise in pollution levels. Our hands are exposed to gunpowder, smoke and many more chemicals which are very harmful .Therefore it is essential to wash hands after using fireworks.
This should be practiced by everyone not just by kids.
Related – Best air purifying plants to combat air pollution
back to menu ↑
Be Sensitive to others
Fireworks during Diwali cause too much sound in our near areas. Small kids or older ones and even pets may not like that noise and may get uncomfortable.
Don't burst too much crackers and avoid bursting them till late night.
It is not good for our environment and health too.
Diwali is the festival of happiness, love, brightness. Meet with your friends and relatives, share gifts, eat good food and spread happiness.
back to menu ↑
Environmental Concerns
Diwali is the most joyous and lovely festival celebrated with full enthusiasm and zeal across the country. The crackers we burst during Diwali not only produce the sound pollution it also leads to bad air quality and litter which is the left over of the fireworks.
We should take care of our mother earth and celebrate our beautiful festival with adding more beauty to our earth. Plant trees, decorate your house, use stuff that can be reused or can be decomposed. Spread happiness, spread smiles and love nature.
Above are some simple, yet important safety tips during Diwali which we should follow and should keep in mind while celebrating Diwali.
Wishing you all a blissful , happy and safe Diwali. If you have more tips to share Do leave a comment.
Liked this post ?
You may also want to read
How to make a Diwali paper lamp
Diwali activities and crafts for kids
Why do we celebrate Diwali in India – How to explain its significance to kids
Handpicked Durga Puja and Dussehra books for kids
If you liked this article on Safe Diwali tips for kids Don't forget to Pin it
Your Turn Now
In case if you liked this article on Safety tips for Diwali festival and think it may help someone do show your support by sharing this article.
[shareaholic app="share_buttons" id="27265281″]
Like our Facebook Page and Stumble It!
Stay connected with us using your favorite social media, we can be found on
Add a comment
Did you like this article on how to celebrate a safe Diwali with kids? Do let us know using comments below. Would love to hear from you.
We love hearing from you. Add a Comment using your Facebook id (if you don't want to use Facebook, scroll down to leave a reply using other options)