Step by step instructions on how to make paper lantern at home. These are also called paper lamps are great as home décor or party decorations. If you are like me who used to wonder how to make paper lanterns or how can I make paper lantern at home then this tutorial is for you.
So today we are going to learn the art of making lanterns out of paper.
Paper Lantern or Paper lamps are beautiful to look at and luckily they are very easy to make. They can be used for decorating homes and offices or shops on festive occasions like Diwali, New year or Christmas or may be just to brighten up our homes. They are so versatile and can be made in a variety of designs and look beautiful.
The best part is you can make paper lanterns in various shapes – round paper lanterns or star shaped paper lanterns.
Today we are going to discuss basic paper lantern instructions and we would be using colored printed papers to make them but you can actually make lanterns using chart paper, construction paper, card stock or scarp book paper.
Also for decorations you can use variety of materials based on what you have available ribbons, tapes, glitter papers, crepe paper or what you have easily available.
Paper lanterns is one of the few things which come to our mind when thinking about Diwali or Chinese new year or for me even Christmas. You can hang these with lights or use them with led T lights or without lights – just using a satin ribbon to tie them together and the effect is still beautiful.
So lets get started with how we can make Paper lanterns at home. This craft is easy and you can easily make paper lantern crafts or paper lamps with kids as well.
Step by Step Craft Tutorial on how to make Diwali Paper Lantern step by step (also called Paper Lamps)
I am calling this version of paper lantern a Diwali Lantern because I am planning to use it with LED T light candles which are perfect for Diwali. Though you can use this version for Christmas or new year as well.
Materials Required to make homemade Paper Lantern
White paper
Colored or designed paper
Scale
Glue
Scissors
Glitter tape
Card board
Light
Step by Step procedure to make Paper Lamp with Led T lights
To start with paper lamp mailing at home.
First Take a paper. I have taken a colored printed card stock paper and turn it up side down.
You can use any kind of paper, just remember the thicker it is, it will have more strength to hold its weight – So you can use chart papers, construction paper or card stock paper.
On the back side of printed paper, draw slanting lines of same width – I have used one and a half cm each
You can cut out the triangles at two ends. For me based on my paper size – the two ends of the paper were triangle of base side measuring 8 cm each.
Note this length would vary based on the paper size you have used and would not affect the paper lamp we are making.
Now Cut along the slanting lines on the white paper. Notice that I have left a portion or gap on the top and bottom. In next steps I am going to use it for folding and sticking the edges to make the paper lantern.
I have inserted the printed paper just to show that now the paper amp pattern is cut.
Turn the colored printed paper around and this is how it looks.
Do note – the longer the strips or slits you cut, the more light will show through and also more floppy your paper lanterns will be . Thus thickness and the strength of the paper you use matters .
Now fold the printed paper along the longer edge to make a tube. Take the two ends of the paper and wrap them around and stick the longer edges together to form a cylinder or tube shape. 
Stick the longer edges nicely using an adhesive of your choice, you can also staple them together if you want. If you are making this paper lantern with kids, avoid stapler and stick to adhesive to avoid any chances of kids getting hurt with stapler or stapler pins.
Now after sticking you will be able to see the paper lamp or paper lantern outline
Stick glitter tape on both the sides of the paper lamp. You can also decorate with ribbons or crepe paper frills or anything that you have easily available.
If you are planning to make hanging paper lanterns and hang these – then then attach a handle at the top of your DIY paper lantern. You can make handle by cutting paper or attaching ribbon at the top of the lantern.
As I mentioned before, I am planning to use this paper lantern with LED T lights so I am attaching a cardboard base at the top and bottom to give it more strength by making base more stronger
For making a base, cut a card board circle and cover it with printed paper. Stick this round card board on the bottom sides or base of the Paper Lantern
Now our bright and colorful Diwali Lamp or Diwali paper lanterns is ready.
I hope this easy tutorial answered your question on how to make lanterns using paper or how to make Diwali lantern. If you do make a paper lantern do share with us using comments below.
You can keep these Diwali lanterns on a flat surface or hang these paper lantern lamps and enjoy the beauty !
If you liked this craft tutorial on Diwali Lantern Don't forget to Pin it ..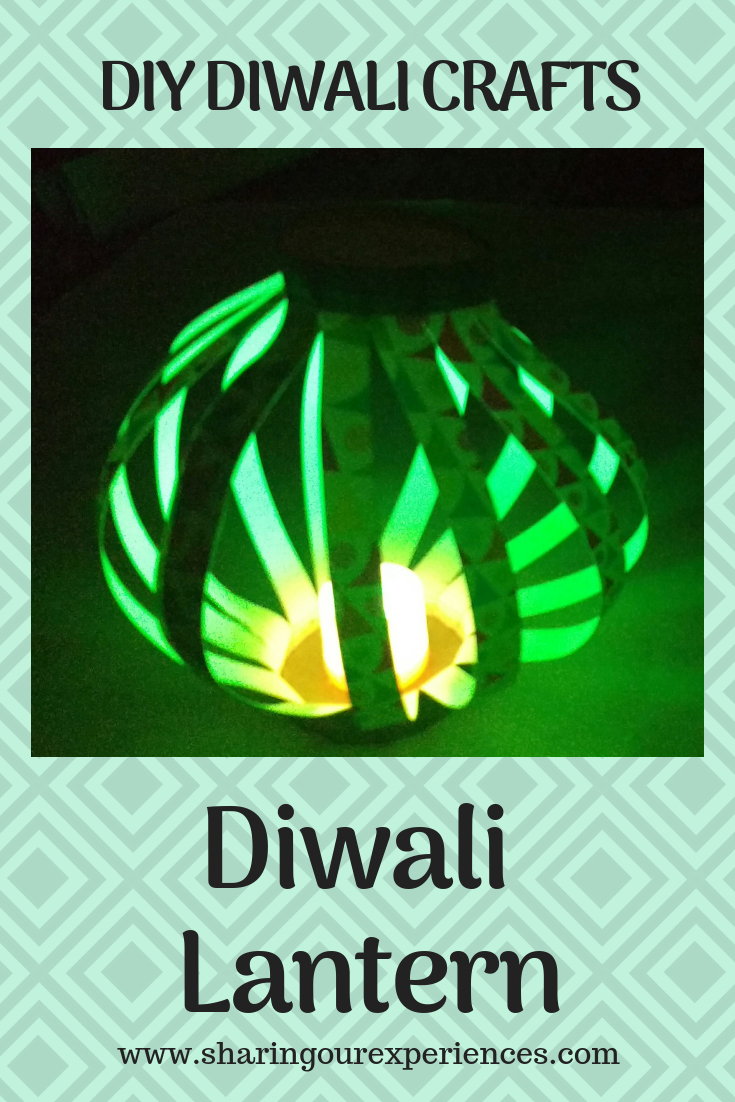 Materials I used to make Paper Lanterns
Last update was on: 1st October 2023 7:13 am
Liked this post ?
You may also want try your hand at other Diwali crafts  Clay Urli pot for Diwali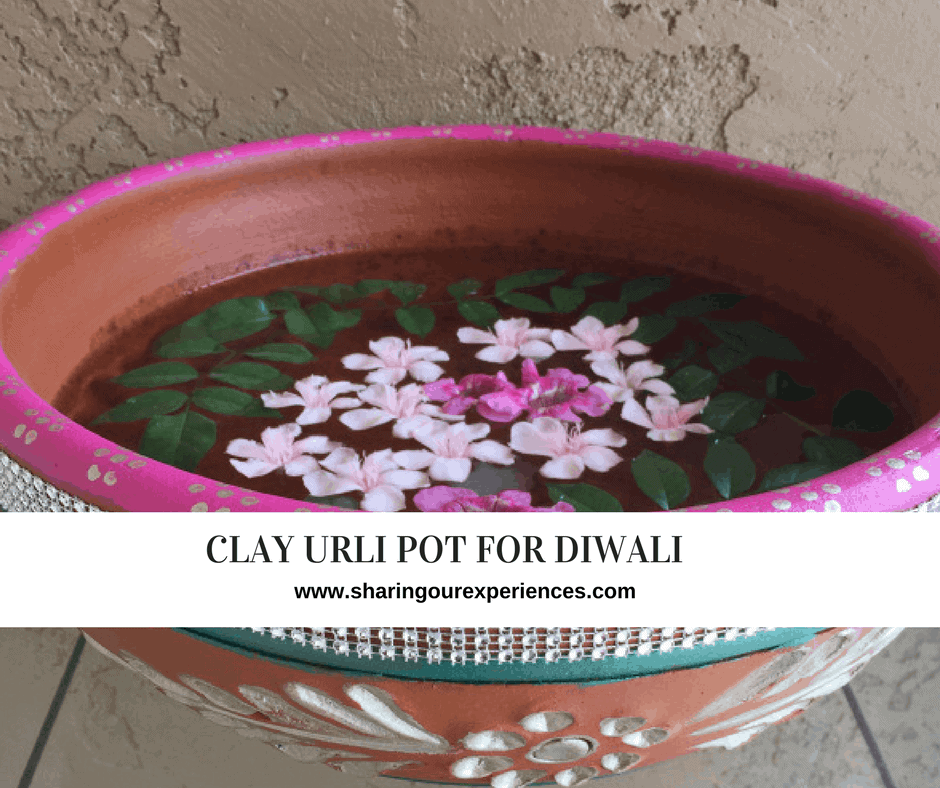 Your Turn Now
In case if you liked this homemade paper lanterns article and think it may be useful to someone, do show your support by sharing this article.
Like our Facebook Page 
Stay connected with us using your favorite social media, we can be found on
Do you want to share your crafts, parenting tips, stories, toy or book review, let us know by using comments below or mailing us on sharingourexperiencesblog@gmail.com
Add a comment
Don't you find this paper lanterns DIY idea interesting and beautiful ? Try it and let me know using comments below. Would love to hear from you.