Looking for fun spring themed activities for toddlers and preschoolers – here are some fun mess free craft ideas for kids with free printables and worksheets that you can download and print for doing crafts and activities at home or in preschools.
Spring time is the most beautiful time of the year as everything is new, colorful and full of life- new leaves, seasonal rare colorful flowers, baby animals, chicks, ducklings, honey bees, butterflies, birds and a lot more.
To help kids observe and connect to each season better – we can plan fun spring games that kids can play outside as well as set up themed activities while they are in school or a home.  These guided activities along with reading books  help us in talking about spring to preschoolers.
Here in this article – we have tried to capture spring art ideas for teachers and parents. We have also created a complete set of spring printable crafts for preschoolers and  a set of spring themed printables worksheets that cover preschool and nursery concepts in a fun way.
These activities can be done with kids as young as toddlers aged 2+.
Through these fun activities – kids will surely be happily engaged. These crafts can also be used as props when reading books about spring.
TRENDING >> Fun Easter crafts for kids
FREE SPRING THEMED ACTIVITIES PRINTABLE WORKSHEETS FOR PRESCHOOLERS AND TODDLERS
This pack has 10 pages with various activities related with spring that would keep your kids engaged for a lot of time.
Click here to Download FREE SPRING THEMED ACTIVITIES WORKSHEETS PDF 
The crafts activities can be used by kids of all ages – toddlers, preschoolers, nursery kids, kindergarten kids and elder kids in different ways.
Based on your kid's interest you can paint, cut and paste paper, paste stickers, use crayons or water paints – so be creative and use them the way you want to. Do drop in to our Facebook group and show us what you activity you did about spring or you can tag us on Instagram – @sharingourexperiences or @soestorekids.
 What all you get in the pack of spring themed worksheets
1 Spring theme Colouring page
2 Crafts pages (Flower crafts)
1  page with Tracing activities (Pattern tracing prewriting activities on spring theme)
1 page where kids need to circle things or objects related to spring season
1 Page – match the colour activity with different flowers
1 Page – Count and match spring related objects with numbers 1-6
1 page – Letter case matching (Small alphabet -Capital alphabet)
2 pages – Cut and match the other half of (Fun 2 piece puzzle that also works on cutting and pasting skill)
PIN THIS FREE SPRING THEMED PRINTABLE PACK NOW
This FREE printable is a part of full Spring theme printable downloadable set that has 30 pages of Spring crafts and fun activities. (also covering More Spring crafts, Fingerprint counting, Counting coloured flowers and tracing, Cut Colour and paste flowers in the basket, Write Missing numbers, Flowers and starting sounds, more Letter case matching, Alphabet sequencing via cut and paste missing letters, Sight word matching, Find the odd one out, Pattern fun and more)
You can buy the full Spring themed pack from here 
SPRING CRAFTS FOR TODDLERS (AGED 2+)
Here is a list of spring crafts that you can do with kids. Few of them also have free printables included
Lady bird craft for kids with construction paper
Check out how to make this super easy Ladybird craft. Easy and fun craft idea for toddlers and preschoolers
Good story time craft idea when you are reading "What the lady bird heard" by Julia Donaldson. Check out the What the lady bird heard book review here
Honey Bee Finger puppet craft for kids (Perfect for Spring season)
Click here to download free BEE template and learn how to make Honey Bee Craft for kids (Free printable included to make easy Bee crafts)
Easy flower craft for kids using glittery foam paper
Check out how to make easy flower foam craft for kids. If you have egg cart0ns lying around – Use them to make flowers. Check out Fun craft idea on how to make flowers from egg cartons
DIY Butterfly using heart shaped cutouts
Click here for how to make easy butterfly craft using construction papers
Caterpillar finger puppet
Check out how to make super cute Caterpillar finger puppet. An easy Spring craft for toddler. Do this while reading the very hungry caterpillar by Eric Carle. Check out Hungry Caterpillar Book review here 🙂
You can also make Caterpillar using Pom Poms and Popsicle sticks  – multiple Best Caterpillar craft ideas here
Easy Bird Craft for kids
Check out how you can make Easy Bird crafts for kids
Spring art ideas for teachers and parents
Paint flower pots at home
Make a nest with straw, yarn and Glue
Paint on paper with unique things available at home. Checkout these Art Painting ideas for kids 
Teach your kids how to draw simple objects like Caterpillar, Butterfly, Duck and so on.
Make wall hangings with Popsicle sticks. Check out some Fun handmade wall hanging ideas  
Bumble Bee craft activity for kids (Multiple art techniques used)
Check out this easy bumble bee craft activity for preschoolers. Perfect for summer or springtime crafts. Kids enjoy anything to do with colors so I am sure that your child will surely enjoy this honey bee spring craft activity.
This is a good idea in case if you are looking for how to make honey bee school project or the perfect craft to include in your insect study unit. .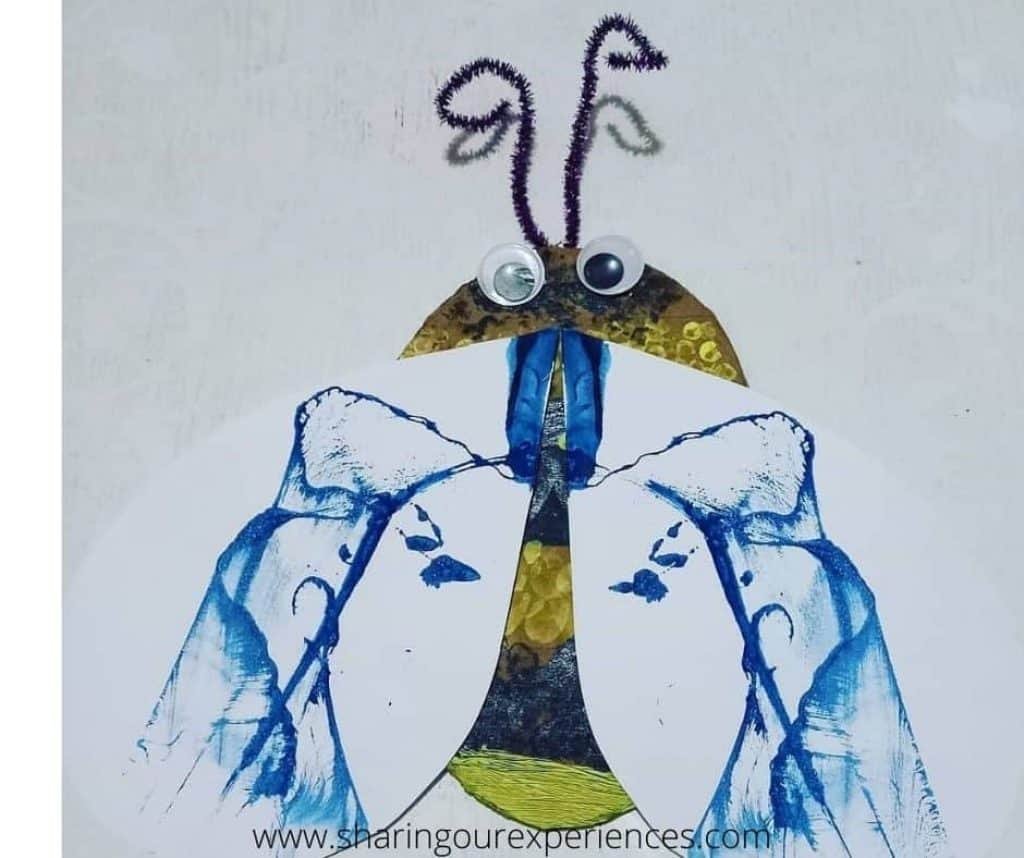 The honey bee art is made using different painting techniques and finally, this is the result. The layers of this bee are painted with different tricks. Try doing this honey bee with your little one for a fun filled spring craft.
So let's see how this bumblebee craft is made:
Materials required to make Honey bee craft for preschoolers
Blue, Yellow, and black acrylic paint

Oval shaped cut card for the body

White paper for wings

String

Glue

Googly eyes

Pipe cleaner

s
Step by step tutorial on how to make Honeybee craft
First, make a thin oval shape for the body of the honey bee.

Draw lines to divide the body of the bee into 5 sections.

Color the first section yellow using earbuds. Dip it in the paint and let your kid color that section.

The second section is to be colored black. You can use wax crayons or paint

The third second again yellow and she did it using the thumb painting technique, just let your kid dip thumb in the yellow paint and dab on that part. 

In the last section, paint it black.

For the wings, cut the white color paper in the wings shape and dip the string in the paint. Place the string between two pieces of paper and pull the string. Let it dry for some time. Once it is dry, stick the wings on the bumblebee body. 

Stick pipe cleaner for the bumblebee antenna
 Well, that is it – Our bumblebee ready to buzz this spring :-). You can use this bee craft as a prop when reading this popular bee book for kids. If you are visiting from outside India – Click here to check bee books for kids
Colorful Butterfly spring Papercraft for preschoolers
The colorful butterfly papercraft
we are sharing here is a simple and fun activity for preschoolers and toddlers.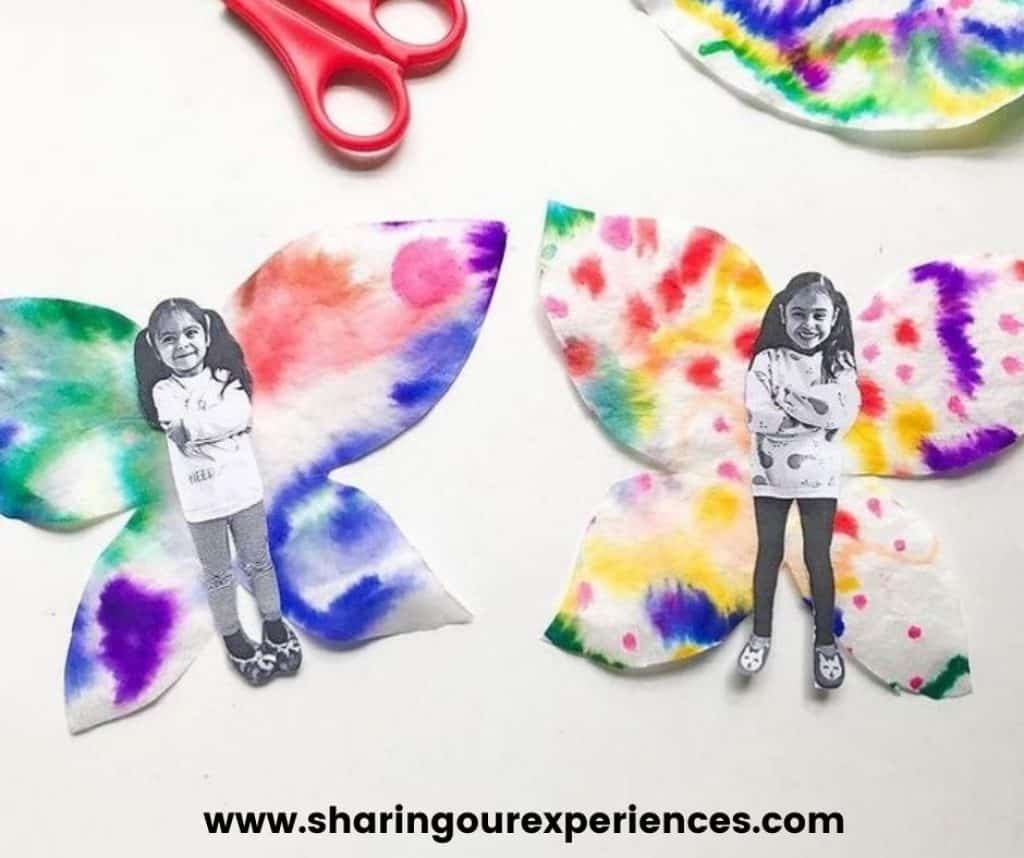 Butterflies are so colorful and attractive that kids never stop at making one papercraft. Before you know it, you will have several butterflies in your home.
Have a look at this easy papercraft butterfly to make with your toddler this spring.
This is a post shared by @jugando_con_las_hijas 🦋 The daughters became butterflies🦋
This unique craft is perfect for spring reading and insect theme activities for preschoolers. This simple yet beautiful butterfly papercraft is quick to make. Let's beautify your home this spring season with a butterfly papercraft.
How to make this amazing butterfly spring craft? Let's see
Materials required to make gorgeous papercraft:
coffee filters
washable markers
Your kid's photo
Pair of scissors
Glue
How to make the paper butterfly craft?
Let your child craw whatever shape they like on the coffee filter such as stripes, dots, hearts, square, so on
Spray water on the filters. This will make the paint move and spread, creating beautiful designs.
Let it dry completely
Fold a section of the filter in half and cut the shape of butterfly wings out of it. So, when you unfold you have two butterfly wings.
Now glue your child's photo in the center of the butterfly wings.
Here we have your kid with the butterfly wings.
This butterfly papercraft is ideal spring themed activity for toddlers, preschoolers, elementary kids or children of all age group. They will surely love to make one such butterfly.
Spring flower quilling craft for toddlers
Check out this cute paper flower quill craft activity for toddlers and preschoolers.
Craft activities give kids a space to develop creativity and imagination. This paper flower craft can be made on greeting cards and spring theme projects as well. This spring flower craft is an easy art and craft idea for preschoolers with associated reading.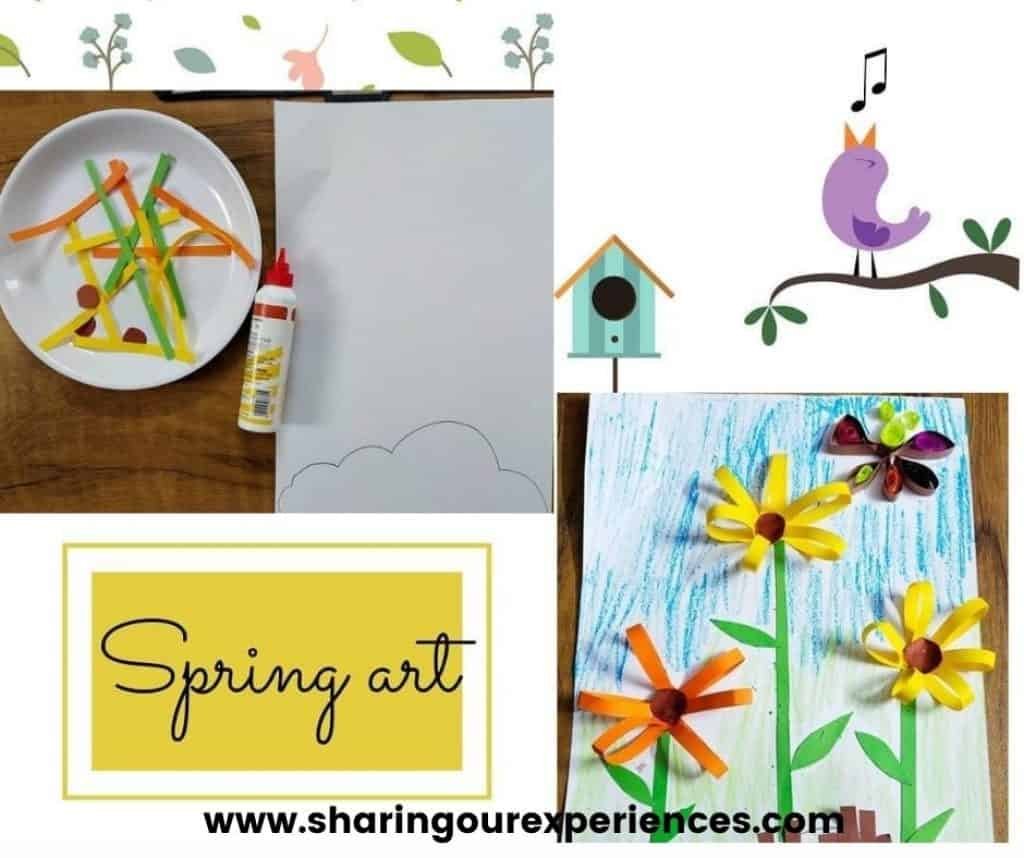 This easy to make paper flower quill activity is perfect for spring-themed projects for kindergartens.
Materials required for this paper flower quill projects are:
Different color craft papers(orange, yellow, brown and green)
White color A4 size craft paper
Glue
Pair of scissors
Procedure to make these spring flower craft:
Cut long strips of flower petals with color craft paper and cut a few leaves and strips for the stem.
On the White craft paper, draw the base or the soil for the flower.
Now apply glue to stick the stem and leaves, and stick the green strips.
Apply glue at the center and stick a yellow strip to make the flower then fold and stick to make the petal.
Repeat for all the petals and complete the flower.
Stick a small circle of brown paper to the center of the flower.
Now apply glue to the base of the stem for soil and stick the brown strips.
Now our paper flower quill craft is complete.
Benefits of the paper quill craft:
Improves hand-eye coordination
Teach color recognition
Improves imagination and concentration
Enhances fine motor skills
Encourage toddlers to make crafts by observing nature makes learning fun and interesting.
Finger painting spring flowers art for toddlers
Here we have a finger painting activity for preschoolers and toddlers if you are looking for so creative idea to include in this spring season.
The finger painting form of art is a messy yet fun activity for toddlers. This spring art activity develops creative skills in preschoolers and toddlers that will be very helpful for them all through their schooling.
This is a post shared by @Happymommydiaries.
Supplies required to make this activity are an A4 size sheet and acrylic paint. Here let the kid decide where to draw it, what colors to use, and how big or small they want it to be. Just guide your kid to dip their finger in the paint and paint it. When we give them the freedom to paint their lovely garden, it makes them think and observe nature.
Benefits of finger painting spring activity:
Improves fine-motor skills
visual memory
color mixing skills
cultivates creativity and imagination
When they grow up and look back, they will have colorful lessons with fond memories of learning.
Fun spring craft idea for preschoolers with chromatography
The Spring season is all about new life, butterflies, and bright beautiful flowers. So let's welcome this spring with a colorful activity.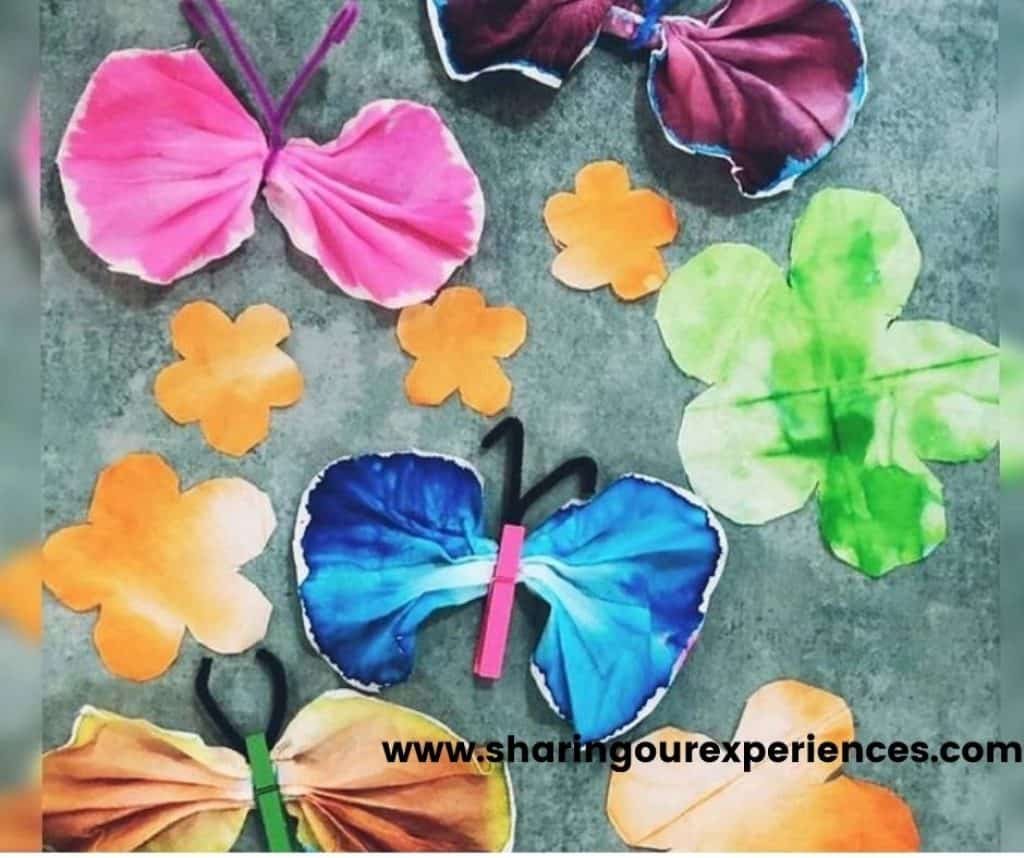 This spring chromatography activity is shared by @mommynyuvi. This spring art activity is a very easy experiment for kids to play with colors.
Let us see what all supplies are essential for this colorful activity:
tissue paper
food colors
Glass of water
How do we make this spring activity?
Take tissue and add a drop of food color at the edge of the tissue
Dip the colored edge in the glass of water
Wait for few minutes and see the color spreading across the tissue
Ones the color has spread has spread enough, remove the tissue from the glass and leave it to dry.
Cut the dried color paper as you wish.
Here the papers are cut into flowers and butterflies to celebrate the spring.
To make butterflies, cut the extra white paper from the edges, open and fanfold it. Clip it with the pipe cleaner in the center. Open the paper fold careful and the butterflies are ready.
Colorful Spin art activity for preschoolers(spring art)
March is the season filled with blooming flowers spreading different array of colors all around us. The spring art activity, we are sharing here is perfect for this season for toddlers and preschoolers.
Check out this colorful spin art activity for preschoolers.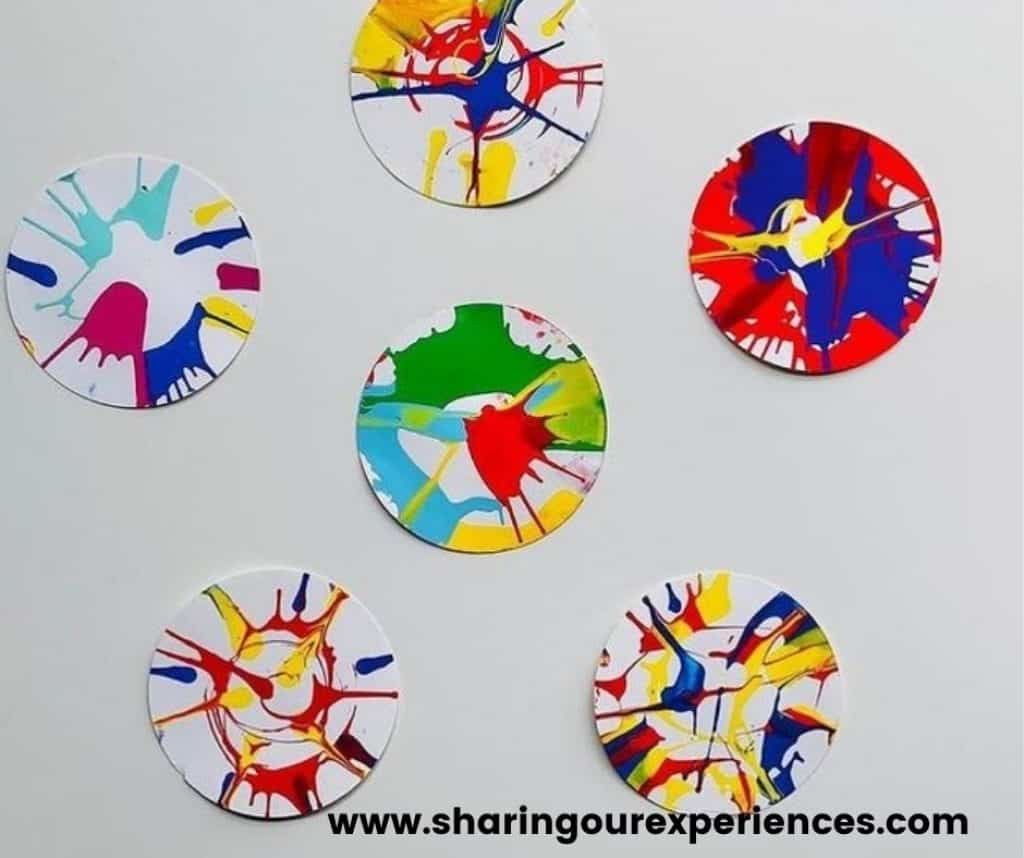 Spin painting activity is a load of fun for kids. The process of making this art is an excellent way to develop fine motor skills, beneficial for toddlers and preschoolers.
How to make this spin art spring themed activity?
Materials required to make the colorful spin art:
Spin art machine/Salad spinner
paint
A4 paper/White card sheet
Step by step instructions to create this spin art activity for toddler:
Using the bottom of the salad spinner basket to draw a circle on the A4 sheet.
Cut the paper as per the size and keep it inside the salad spinner.
Pour different colors on the paper.
Close the lid and let the toddler see the art they have created.
Messy spring flower craft with cotton for preschoolers
The colorful and bright colors of the spring season always motivate us to create beautiful crafts with kids. Here are two such creative and wonderful posts shared with us on @merel.speelt.plays.gioca.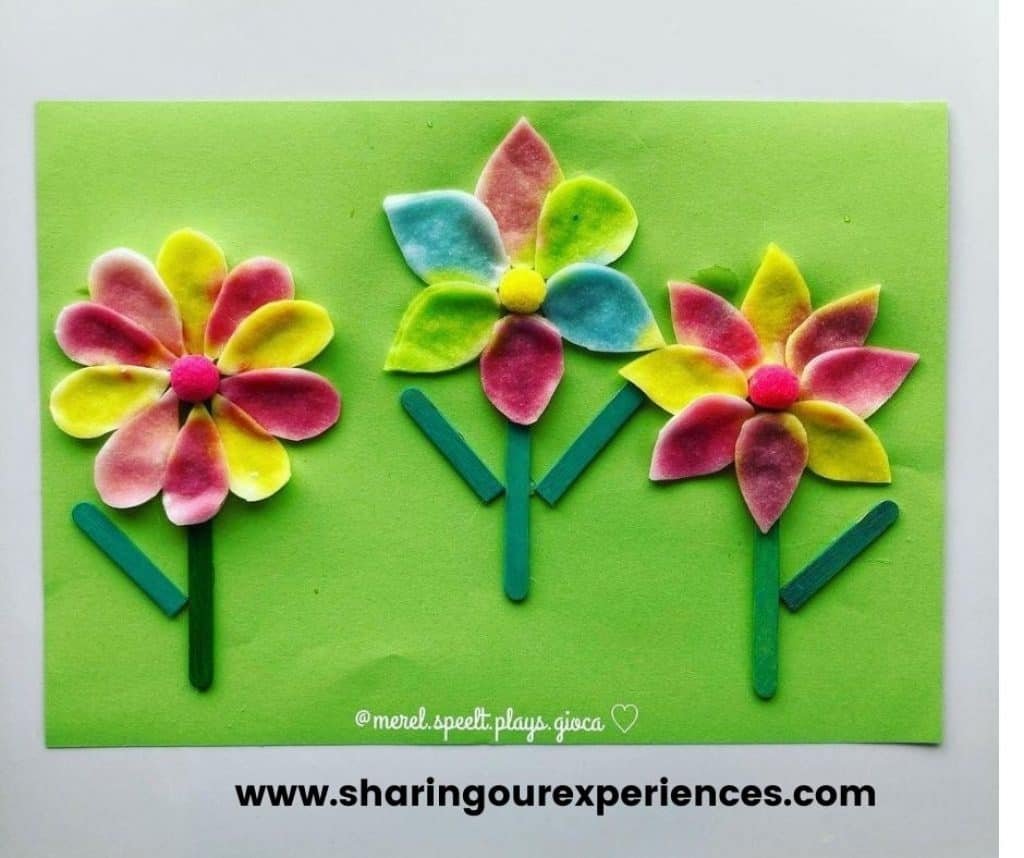 For the first craft, she made 3 flowers using the cotton disc, popsicle sticks, and pom -pom for the flowers. Let us see how she has made these beautiful cotton flower craft activities for spring.
Supplies essential for spring flower craft activity are:
A4 size sheet of cardboard
cotton disc
Green popsicle sticks
pom-pom
Glue
food colors
How to make this colorful spring flower craft?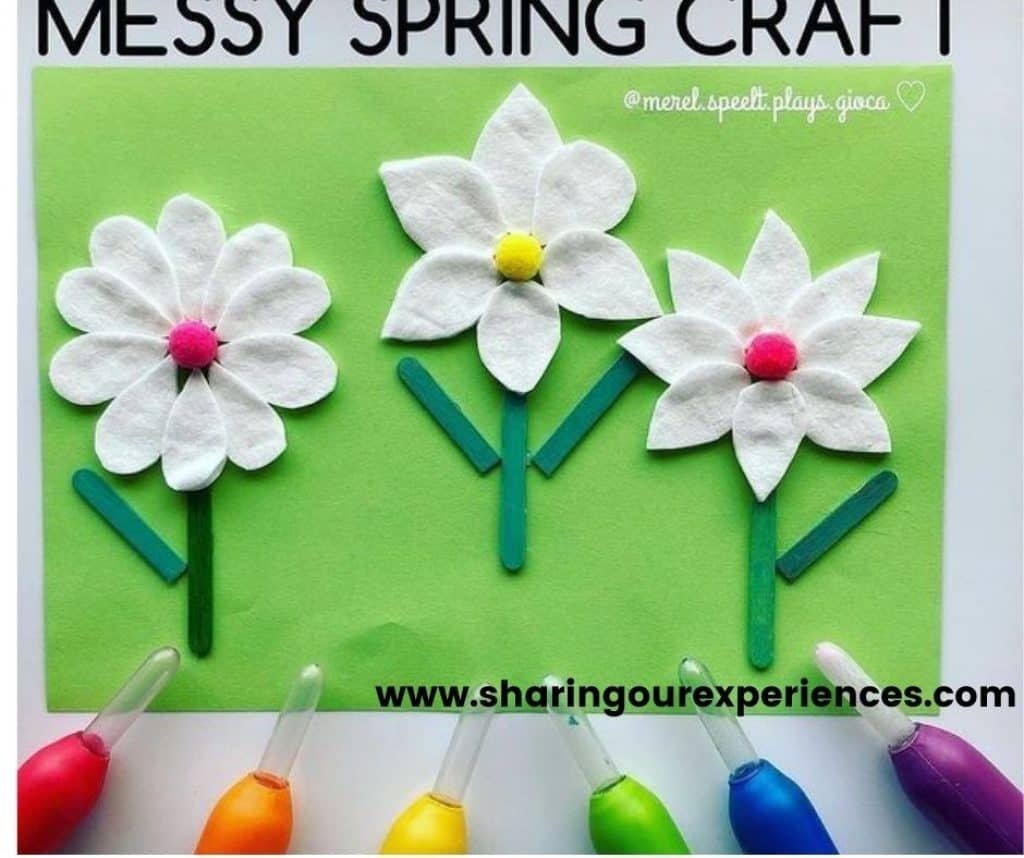 Take an A4 size card sheet. Apply glue to Green popsicle sticks and place them as stem and leaves.
cut the cotton disc in petals shape and apply glue to paste them in the flower pattern.
Paste the pom-pom at the center of the flower with the glue.
Now using the dropper, drip the food color of your choice on the cotton disc to make colorful flowers.
Here we have a vibrant flower craft for this spring
DIY Spring tree with cotton for toddlers
In the spring season, we see trees with new leaves and blooming with flowers everywhere. Here we have yet another craft to celebrate spring with cotton balls.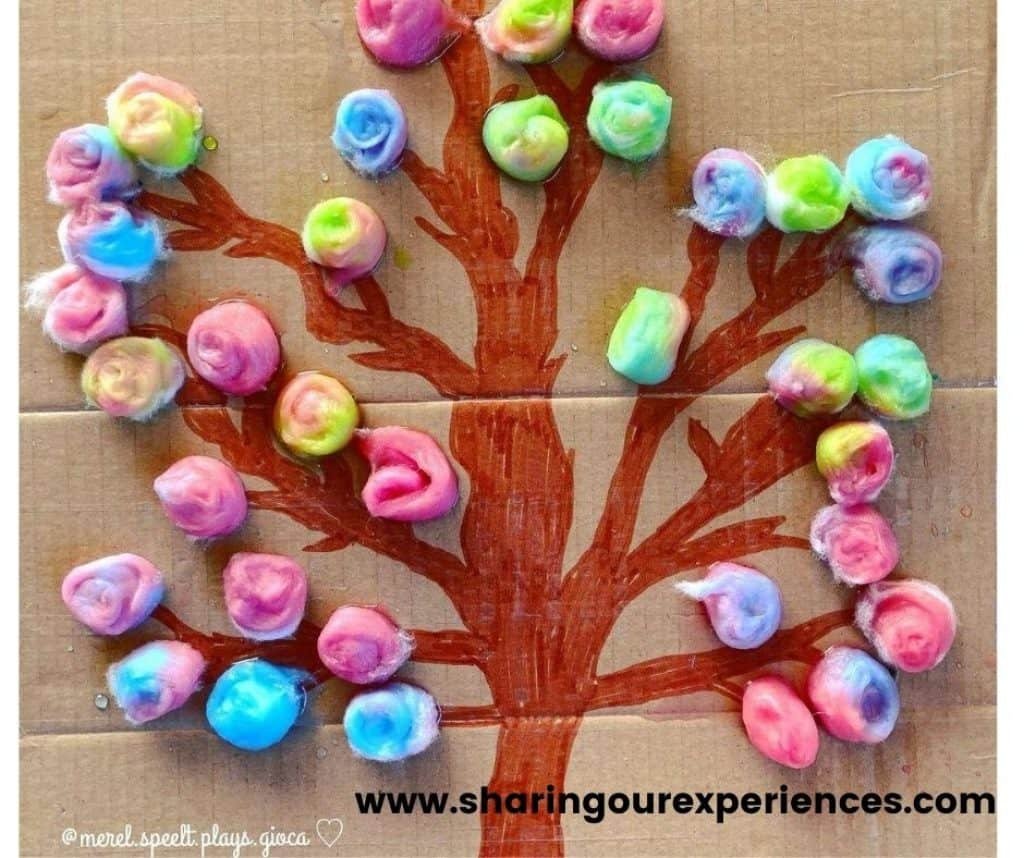 Kids enjoy playing with colors and what can be a better time than spring and summer to make some colorful crafts with them for theme-based reading or school projects. Let us see how to make this spring craft idea.
Materials required to make spring tree craft:
cardboard sheet of A4 size
paints
cotton balls
dropper
How do we do this spring tree craft?
Draw Tree using brown color on the cardboard sheet.
Guide your kid to glue the cotton balls on the branches of the tree.(see the picture)
Let your kid drop any color of his/her choice on the cotton balls using the dropper.
Let it spread and dry
Now your colorful spring tree craft is complete.
This colorful Spring tree look beautiful for any theme based activity for school projects. Kids of preschool, kindergartens and toddlers will enjoy making this colorful tree, watching the color spread on the cotton ball as they drop from the dropper.
Easy Rainbow spring craft with popsicle sticks for preschoolers
Are you in search of easy and fun idea to teach rainbow colors tp kids? Here we have for you a simple rainbow craft which is educational and fun craft for toddlers and preschoolers.
VIBGYOR (V-violet, I- Indigo, B- Blue, G-green, Y-Yellow, O – Orange, R -Red) is the vibrant rainbow colors. The Rainbow craft is helpful to develop fine motor skills, patterns, color recognition, and creativity.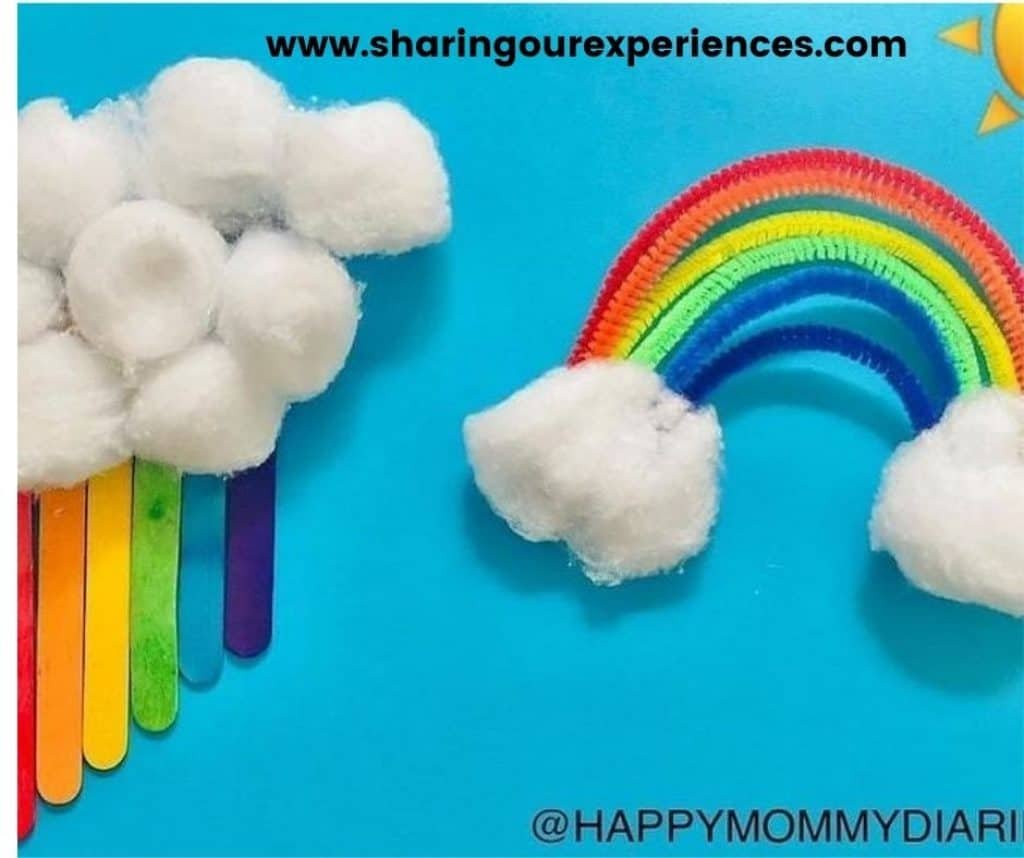 How to make the rainbow spring craft?
Supplies required for the easy Rainbow craft:
7 Popsicles sticks of rainbow colors
Cotton balls
A4 size card sheet
piper cleaner of rainbow colors
Glue
Instruction to make these rainbow craft:
On an A4 size card sheet, glue the Rainbow colored popsicle sticks on the left side of the sheet vertically in a VIBGYOR pattern as you see in the image.
Then on top of these popsicle sticks, glue the cotton balls to form a cloud.
Next to this, now glue the pipe cleaners in the arc shape to appear as the rainbow (VIBGYOR pattern).
Now glue cotton balls on both the edges of the Rainbow arc in the cloud form.
That's it! Now our Rainbow spring craft is ready.
Easy canvas painting idea for toddler(spring learning activity)
Are you in search of an easy art idea for fun learning this spring?
Creating art can be a fun activity for preschoolers and toddlers when it is colorful. It is an easy way for kids to express themselves and give life to their imagination. Here is a post shared with us by @happymommydiaries. She named it " DIY canvas Rainbow monogram Art".
She says that her little one enjoyed this monogram art with rainbow colors and she has hanged the canvas art painting on the wall in her room.
What are the materials used to create this colorful canvas art?
Canvas/ white sheet if you do have canvas
masking tape/painter's tape
Alphabet stencil
Acrylic paint
clothespin and cotton balls
paintbrush
Step by step Procedure to do this canvas art:
On your canvas, place the Alphabet stencil sheet and stick the masking tape to the sheet edge to keep it in place.
Pour different acrylic paint colors on a color palate. Take the cotton balls with the clothespin.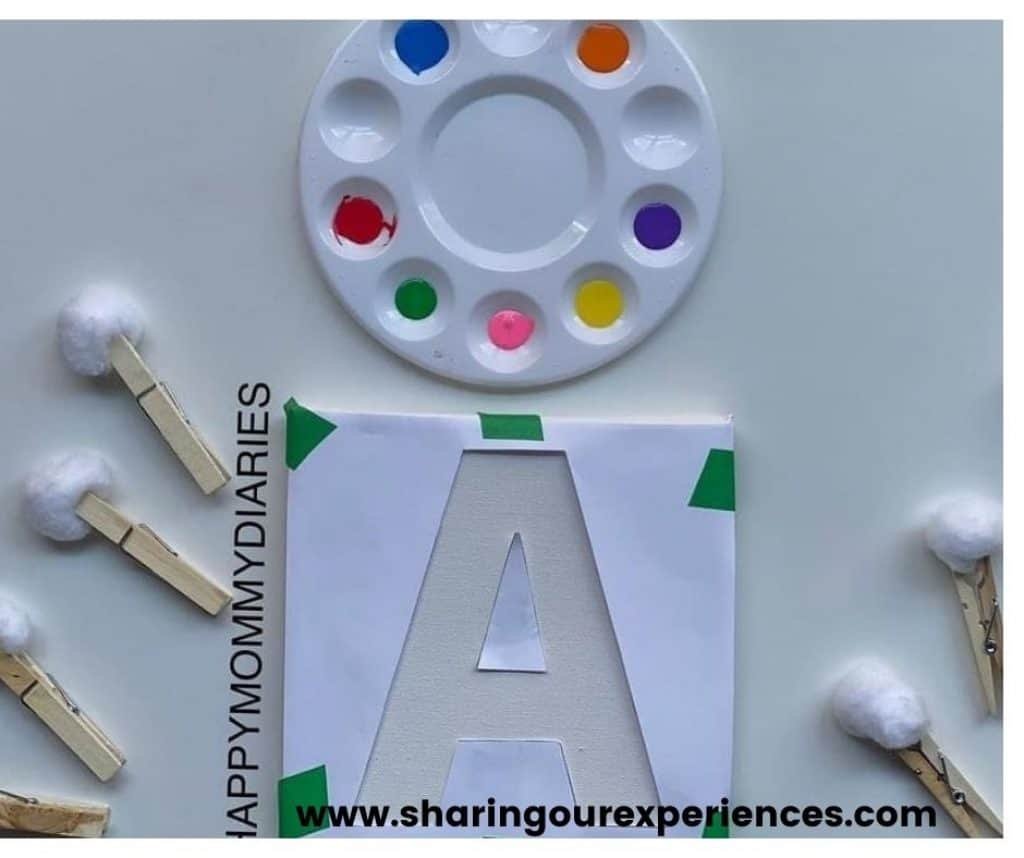 Now let your kid dip the cotton balls stuck in the clothes clip in the paint and dab them on the Alphabet stencil letter.
Let them choose any color but they should hold the clothespin and dab the letter completely. https://whitespools.com/ (Remember! there is no right or wrong here)
As soon as they fill the Alphabet letter with vibrant colors, let it dry for some time.
Carefully remove the masking tape and the stencil sheet.
The final result is here, the colorful canvas art perfect for spring.
This is an easy-to-do but fun-filled, engaging learning activity for toddlers, preschoolers, and kindergartens. Similarly, you can make for all the letters of your kid's name and it would look wonderful on his room wall.
Liked this post Spring themed activities for kids?
You may also want to check out all Spring books for Toddlers and Preschoolers next
Your Turn Now
In case if you liked this article on Spring activities for kids and enjoyed our Spring printables worksheets do show your support by sharing this article.
Like our Facebook Page 
Stay connected with us using your favorite social media, we can be found on
Add a comment
Don't you find this article on Spring themed activities interesting and fun? Try them and let me know using comments below. Would love to hear from you.