Spring themed activities for toddlers and preschoolers – Free printables included
---
Looking for fun spring themed activities for toddlers and preschoolers – here are some fun mess free craft ideas for kids with free printables and worksheets that you can download and print for doing crafts and activities at home or in preschools.
Spring time is the most beautiful time of the year as everything is new, colorful and full of life- new leaves, seasonal rare colorful flowers, baby animals, chicks, ducklings, honey bees, butterfly, birds and a lot more.
To help kids observe and connect to each season better – we can plan fun spring games that kids can play outside as well as set up themed activities while they are in school or a home. These guided activities along with reading books help us in talking about spring to preschoolers.
Here in this article – we have tried to capture spring art ideas for teachers and parents. We have also created a complete set of spring printable crafts for preschoolers and a set of spring themed printables worksheets that cover preschool and nursery concepts in a fun way.
These activities can be done with kids as young as toddlers aged 2+.
Through these fun activities – kids will surely be happily engaged. These crafts can also be used as props when reading books about spring.
TRENDING >> Fun Easter crafts for kids
Advertisement| Article continues below.
---
---
FREE SPRING THEMED ACTIVITIES PRINTABLE WORKSHEETS FOR PRESCHOOLERS AND TODDLERS
This pack has 10 pages with various activities related with spring that would keep your kids engaged for a lot of time.
Click here to Download FREE SPRING THEMED ACTIVITIES WORKSHEETS PDF
The crafts activities can be used by kids of all ages – toddlers, preschoolers, nursery kids, kindergarten kids and elder kids in different ways.
Based on your kid's interest you can paint, cut and paste paper, paste stickers, use crayons or water paints – so be creative and use them the way you want to. Do drop in to our Facebook group and show us what you activity you did about spring or you can tag us on Instagram – @sharingourexperiences or @soestorekids.
What all you get in the pack of spring themed worksheets
1 Spring theme Colouring page
2 Crafts pages (Flower crafts)
1 page with Tracing activities (Pattern tracing prewriting activities on spring theme)
1 page where kids need to circle things or objects related to spring season
1 Page – match the colour activity with different flowers
1 Page – Count and match spring related objects with numbers 1-6
1 page – Letter case matching (Small alphabet -Capital alphabet)
2 pages – Cut and match the other half of (Fun 2 piece puzzle that also works on cutting and pasting skill)
PIN THIS FREE SPRING THEMED PRINTABLE PACK NOW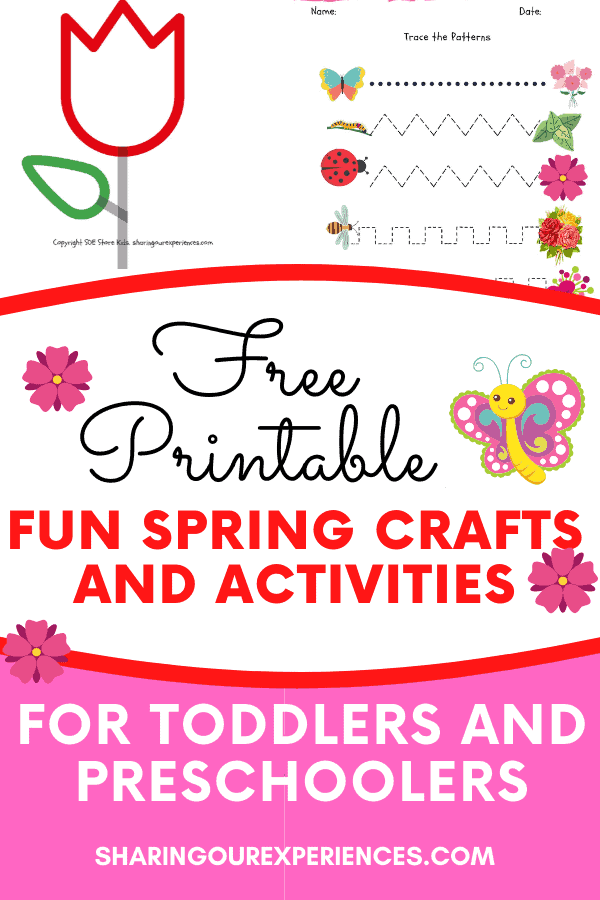 This FREE printable is a part of full Spring theme printable downloadable set that has 30 pages of Spring crafts and fun activities. (also covering More Spring crafts, Fingerprint counting, Counting coloured flowers and tracing, Cut Colour and paste flowers in the basket, Write Missing numbers, Flowers and starting sounds, more Letter case matching, Alphabet sequencing via cut and paste missing letters, Sight word matching, Find the odd one out, Pattern fun and more)
You can buy the full Spring themed pack from here
back to menu ↑
SPRING CRAFTS FOR TODDLERS (AGED 2+)
Here is a list of spring crafts that you can do with kids. Few of them also have free printables included
back to menu ↑
Lady bird craft for kids with construction paper
Check out how to make this super easy Ladybird craft. Easy and fun craft idea for toddlers and preschoolers
Good story time craft idea when you are reading "What the lady bird heard" by Julia Donaldson. Check out the What the lady bird heard book review here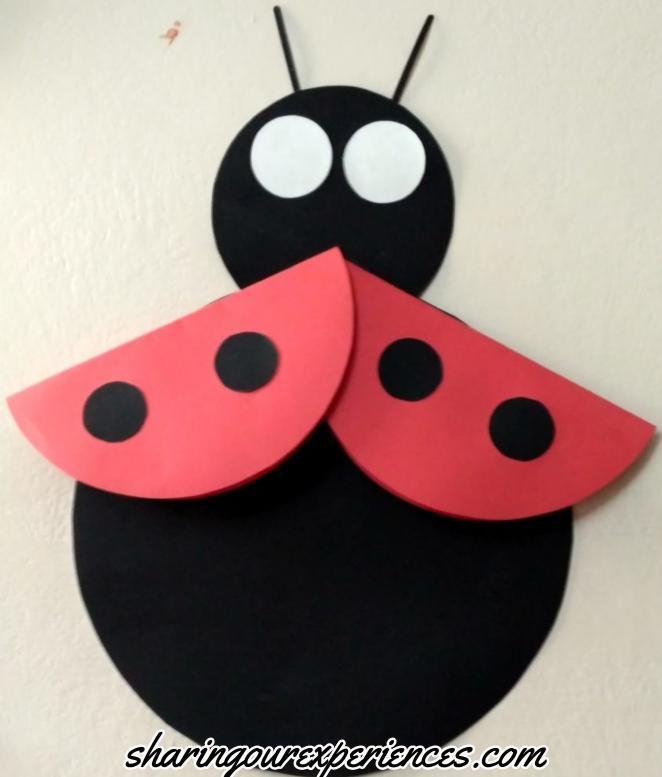 back to menu ↑
Honey Bee Finger puppet craft for kids (Perfect for Spring season)
Click here to download free BEE template and learn how to make Honey Bee Craft for kids (Free printable included to make easy Bee crafts)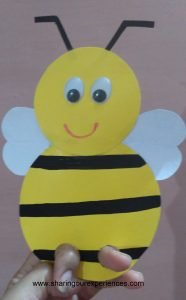 back to menu ↑
Easy flower craft for kids using glittery foam paper
Check out how to make easy flower foam craft for kids. If you have egg cart0ns lying around – Use them to make flowers. Check out Fun craft idea on how to make flowers from egg cartons
back to menu ↑
DIY Butterfly using heart shaped cutouts
Click here for how to make easy butterfly craft using construction papers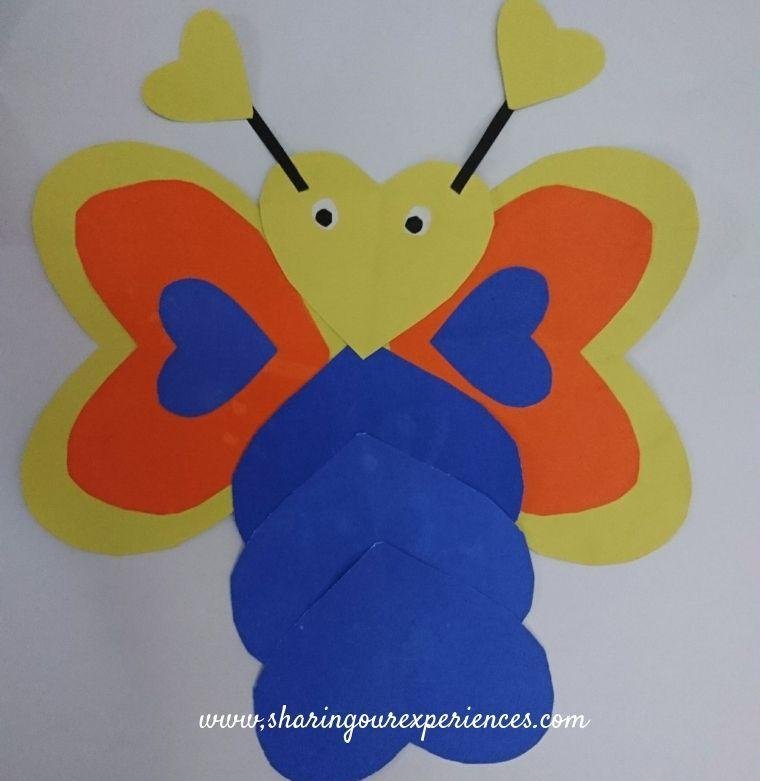 back to menu ↑
Caterpillar finger puppet
Check out how to make super cute Caterpillar finger puppet. An easy Spring craft for toddler. Do this while reading the very hungry caterpillar by Eric Carle. Check out Hungry Caterpillar Book review here 🙂
You can also make Caterpillar using Pom Poms and Popsicle sticks – multiple Best Caterpillar craft ideas here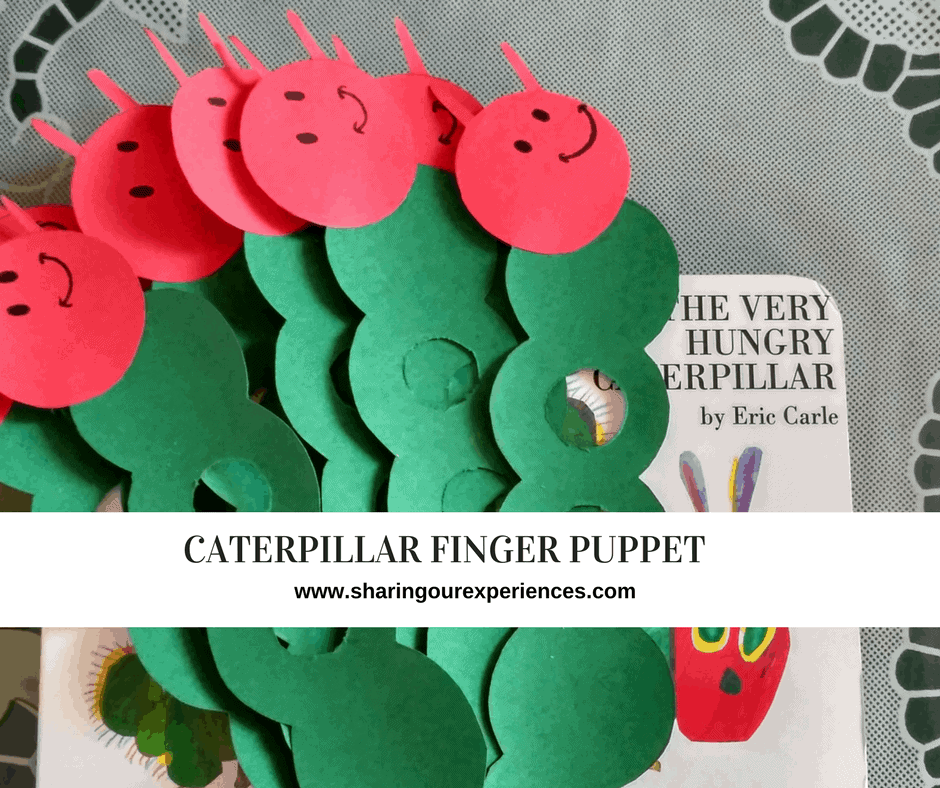 back to menu ↑
Easy Bird Craft for kids
Check out how you can make Easy Bird crafts for kids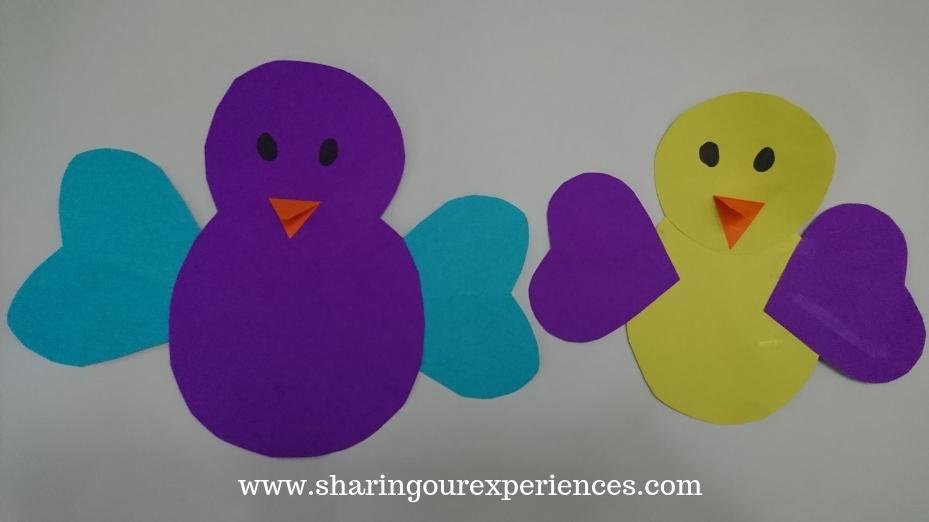 back to menu ↑
Spring art ideas for teachers and parents
Paint flower pots at home
Make a nest with straw, yarn and Glue
Paint on paper with unique things available at home. Checkout these Art Painting ideas for kids
Teach your kids how to draw simple objects like Caterpillar, Butterfly, Duck and so on.
Make wall hangings with Popsicle sticks. Check out some Fun handmade wall hanging ideas
TRENDING >> Fun Easter crafts for kids
Liked this post on Spring themed activities for kids?
You may also want to check out all Spring books for Toddlers and Preschoolers next
Your Turn Now
In case if you liked this article on Spring activities for kids and enjoyed our Spring printables worksheets do show your support by sharing this article.
Like our Facebook Page
Stay connected with us using your favorite social media, we can be found on
Add a comment
Don't you find this article on Spring themed activities interesting and fun? Try them and let me know using comments below. Would love to hear from you.
We love hearing from you. Add a Comment using your Facebook id (if you don't want to use Facebook, scroll down to leave a reply using other options)