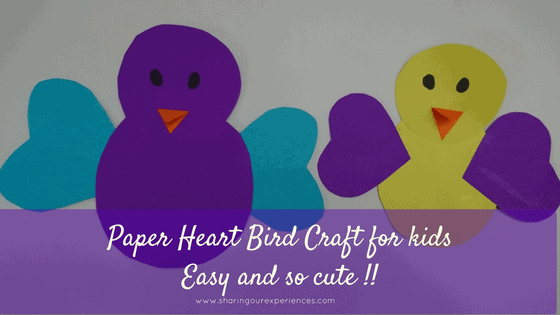 This paper heart Bird craft for kids is so cute and easy! Its a great Valentine day, Easter or spring craft for kids. All you need is papers, glue and a scissor so can be made with materials easily available at home. 
Today I am going to talk about how we (my toddler who is a little over two years old and me) made these colorful birds using circle and hearts (colored paper cut out in Heart and circle shape).
This is a cut and paste craft, easy enough for toddlers. You can also involve preschoolers and older kids in this craft as they can cut and paste shapes on their own.
If you believe its too early to introduce crafts to your kid, do read why I feel doing activities with our kids at an early stage is important for their growth development.
We have a balcony at the front of my house where we keep food and water for birds. So everyday you can see some birds sitting there – eating, drinking and chirping.  Somehow the sound of a bird chirping is a very happy sound and we love it .
So this time we decided to make cute smiling birds and tried some different shapes to make this easy bird craft. It was really a fun craft for me and my toddler.
So let us get back to the main topic, how to make a DIY Cute bird craft for toddlers and preschoolers.
Craft supplies required to make Easy Paper Heart Bird Craft for kids
Material required to make easy birds craft

Coloured construction or chart papers (Yellow, Purple, Blue, Red)
Glue stick/Fevicol
Black and white construction or chart paper for eye, you can also use a Googly Eye
Red construction paper for beaks
A pair of scissors
How to make Paper Heart Bird Craft for kids
Make body of birds
Cut four circle or oval shapes (two small and two big) from the yellow and purple construction paper, this will serve as the body of the birds.
Make wings of bird
Cut two pair of heart shapes of equal size from the purple paper and blue paper for wings of birds.
Make Nose
Cut two small diamond shapes from red paper and fold it into half for making bird's nose.
Make eyes of birds
Cut small round shape from black paper for eyes of birds, if you want you can use googly eyes as well.
Note – For toddlers and kids who have not yet learnt how to use scissors,  you will need to do the cut out and you can take their help in pasting. For older kids they can cut shapes on their own.
Make Paper Birds by pasting
Sit with your toddler and take his help in applying glue stick and stick these coloured shapes (circle and heart) to make the bird's body. In the beginning you can help him out but soon he will turn into a professional and would like to do everything himself.
While pasting keep discussing the shapes, body parts of bird and colors with your toddler. You can talk to him and ask him questions like – where are bird's hands  or wings?  Shall we stick bird's eyes ? You can sing a rhyme.
Two little dickie birds sitting on a wallOne named Peter, one named Paul.Fly away Peter! Fly away Paul!Come back Peter! Come back Paul!

Or

I saw a little bird go hop, hop, hop, I told the little bird to stop, stop, stop.
I went to the window to say 'How do you do?'
He wagged his little tail and far away he flew!
For popular rhymes you may want to look at Ten Favourite Rhymes for kids.
Your DIY cute birds craft using circle and hearts constructional paper cut outs is ready ..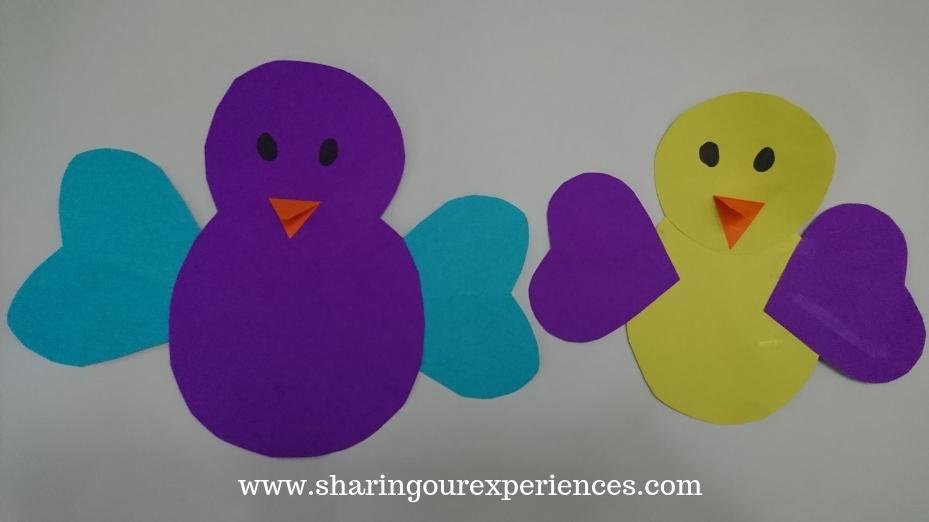 Its a very cheap and easy to make craft so I think we will more of these birds soon. Do make this Paper heart bird craft with your toddler or preschooler and let us know how it turned out
You can stick a popsicle stick to it and use it as a puppet or just weave a story around these cute birds and use it as prop. You can paste it on wall of your kid's room or just use it for free play.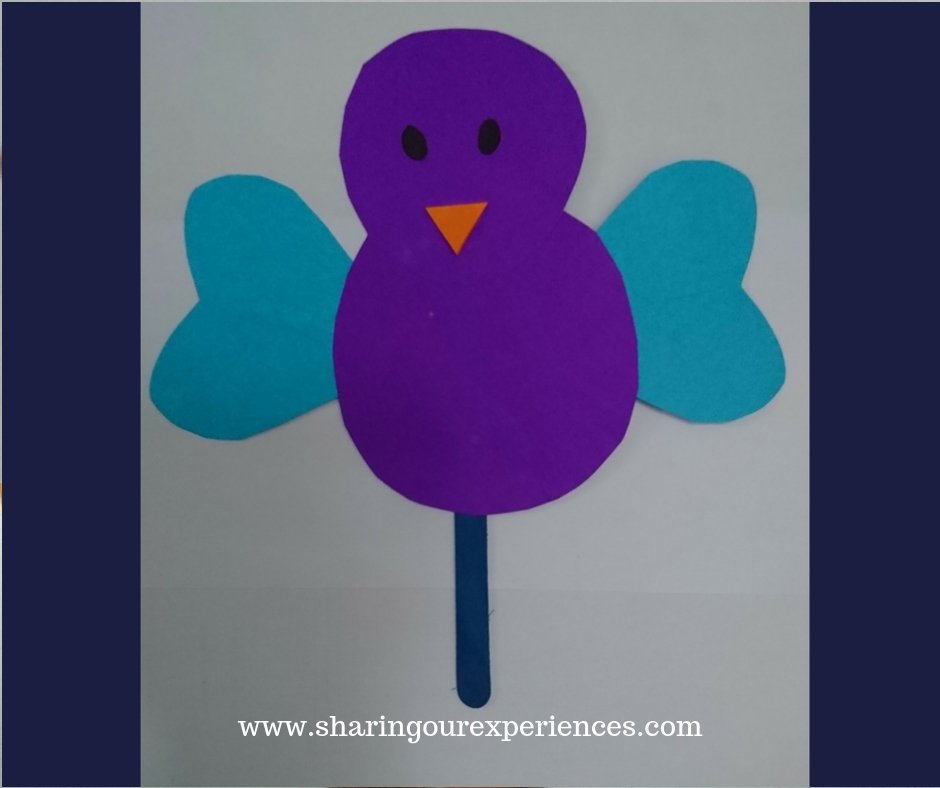 Why this cut and paste bird craft is good for your child's development
Do you know apart from keeping your kid engaged, these crafts and activities help your child in his growth and development and give you learning moments to introduce various concepts?
The bird craft above helps your child in
Improving Fine motor skills
Improving hand eye coordination
Increasing Concentration and the ability to sit for some time to finish a task
Doing this bird craft together gives you moments to
Teach colors to your child
Teach shapes to you child
Introduce rhymes to kids
Introduce him to what are birds
If you are looking for more ideas on how to keep your child engaged do check out more of the kids crafts and activities.
Don't miss to pin

Liked this craft
You may also want to try making this easy kite with your toddler.
Your Turn Now
In case if you liked this article do show your support by sharing this article.
Like our Facebook Page 
Stay connected with us using your favorite social media, we can be found on
Add a comment
Do let me know if you make any bird craft with your little one and also how did you use it, using comment below. Would love to hear from you.