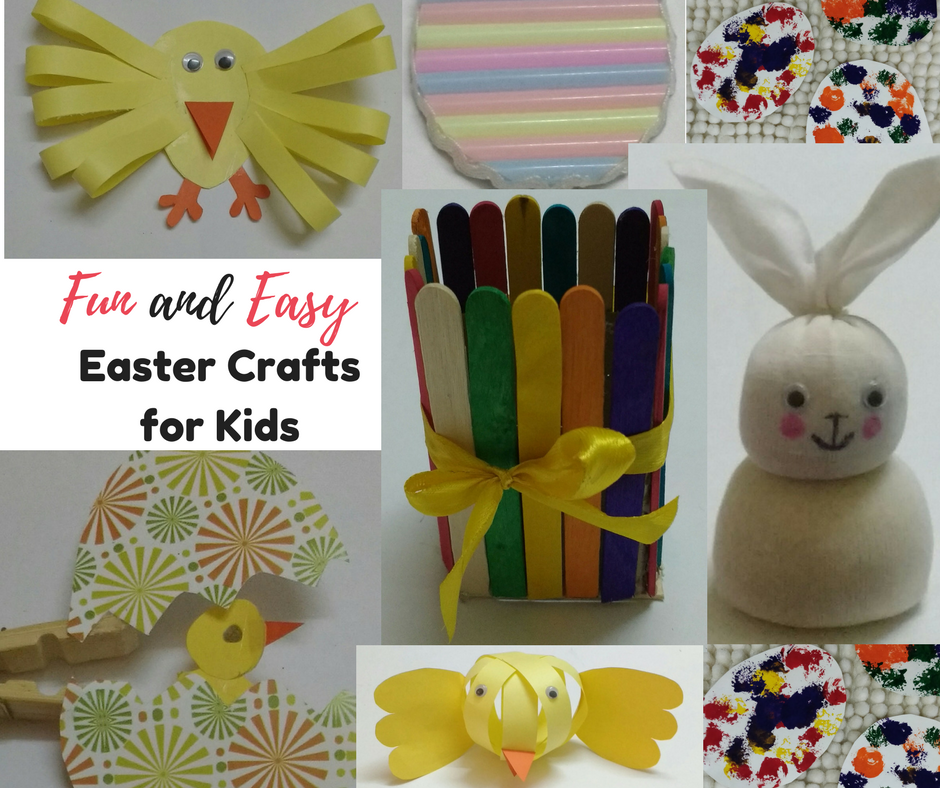 Check out these fun and easy Easter crafts for kids.  These simple craft ideas for Easter will not only keep your kids engaged but also is a great way of making memories and creating family traditions.
Doing crafts with kids is a great way to spend time together, and while doing these Easter egg crafts or making an Easter bunny you could talk about why we celebrate Easter.
Also Read Counting Bunnies and Easter eggs: Free Easter Math Worksheet for Kids!
Get 80% Off on Easter Worksheets for Kids – Celebrate the Holiday with Fun and Learning!
This list covers some crafts for making Easter baskets, some crafts for making Easter bunny, and some for Easter chick. Some of these are easy while some are good for older kids. Some of these are done with simple paper and some with old socks. So you can choose any craft idea based on what you have available or what your kids want to do for Easter.
Also Read – Why do we celebrate Easter and fun facts for kids
Fun and easy Easter crafts for kids
So here are some very easy Easter craft ideas that you can plan to do with kids.
Easter Wreath
The first thing that we decorate on any festival is our front door. So let us start with an Easter wreath.
This is a very simple Easter wreath made using colorful papers cut in the shape of an egg. This Easter egg wreath is an easy craft for kids young as toddlers. You can take their help in pasting the egg shaped cut outs to each other and then later use as satin ribbon for hanging it or making a bow.
Read full step by step tutorial on how to make Easter wreath.
Easter Bunny using Socks
Who doesn't like a cute Easter bunny ? You can make one using socks. All you need is a sock, handful of rice and big ball of cotton.
Red full tutorial on how to make Easter bunny with socks 
Easter Chick for toddlers
This is the cutest Easter chick! And all you need for making same is construction papers and a googly eye. This could be an easy Easter craft for toddlers. You can involve your little one in sticking the eyes, wings and beak of the chick.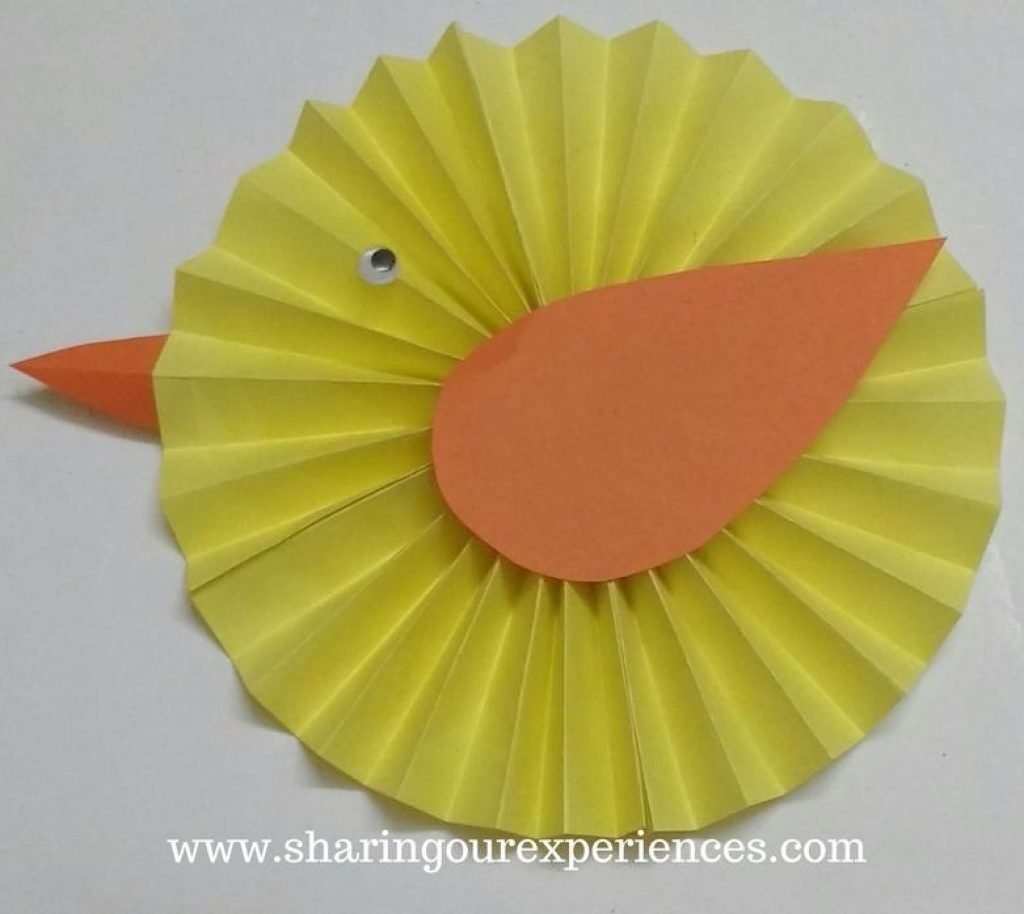 Easter Egg and Chick for older kids
You can also make an Easter egg from colored papers and attach a small chick to it as shown. I loved this idea and this can be easily made with a clothespin and colored papers.
This is a cool Easter craft for older kids and can be used later as well to explain the life cycle of a chicken
Easter chick craft with construction papers
You can also make Easter chick crafts with construction paper by folding papers and paper strips in any of the ways below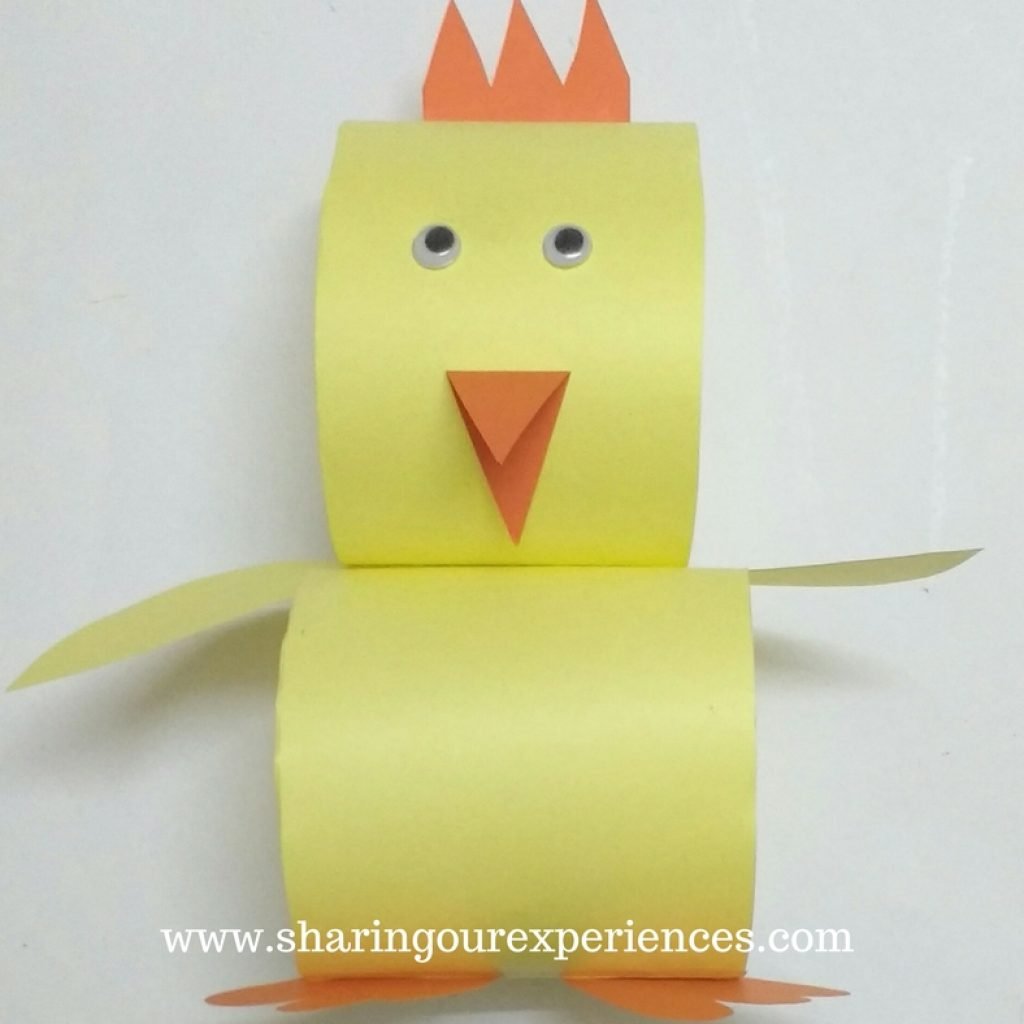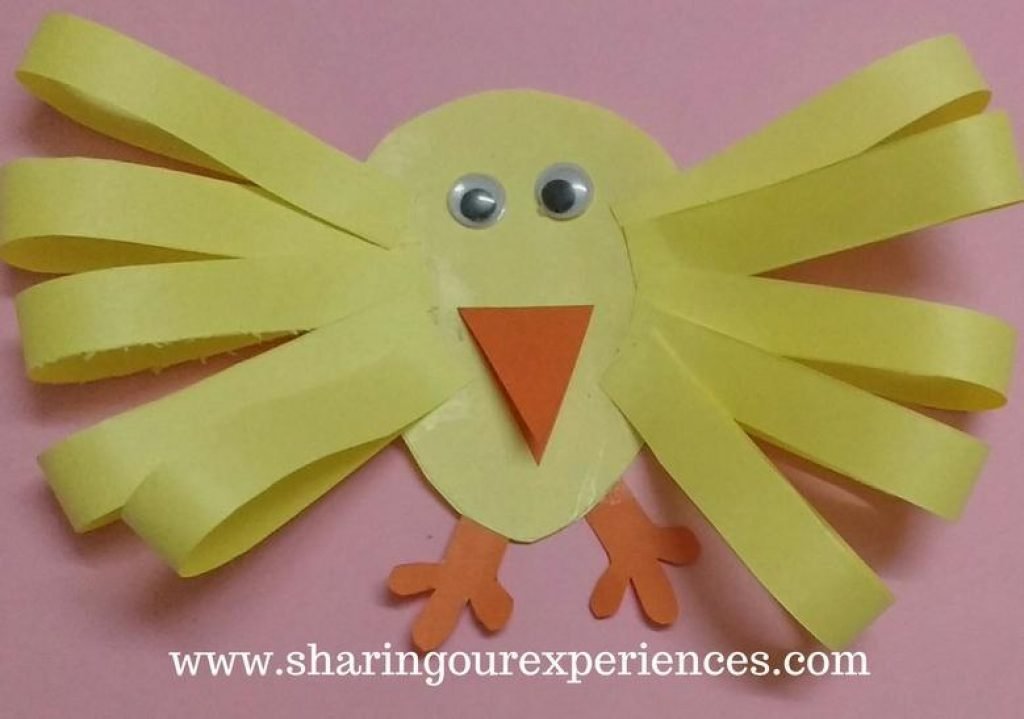 Easter chick craft with Popsicle sticks
Popsicle sticks are the most used material when making crafts for kids. Here is an easy idea on how you can use Popsicle sticks for making Easter chick craft.
Easter eggs with paper and Pop Pom painting
This is the easiest Easter egg craft idea perfect for toddlers. Just cut a white construction paper in egg shape and paint it with pom poms.
Easter Egg with Straws
Another easy Easter egg craft idea for kids. A pasting activity for kids in which they can paste straws on Egg shaped paper or cardboard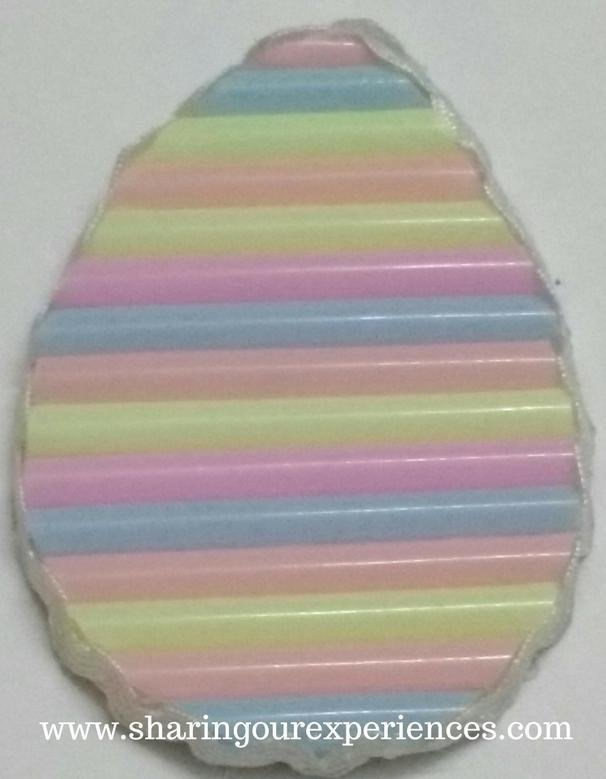 Three dimensional Easter egg with Colored papers
For slightly older kids, you can make these 3D Easter eggs with colored patterned papers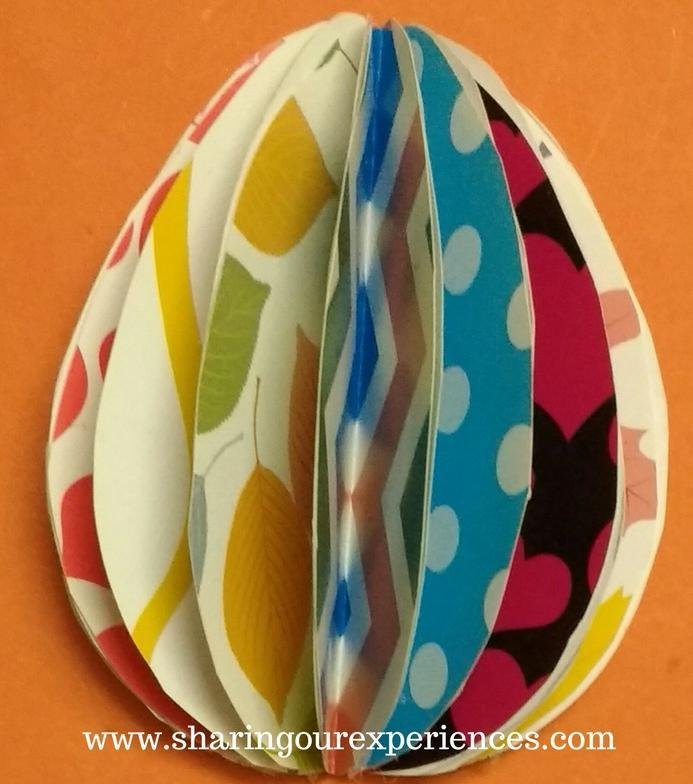 Easter Basket using straws
You can also make a Easter Basket with straws and a bottle and fill it with Goodies. It teaches kids how to re-use existing material lying around in the house.
Read full tutorial on how to make Easter basket with straws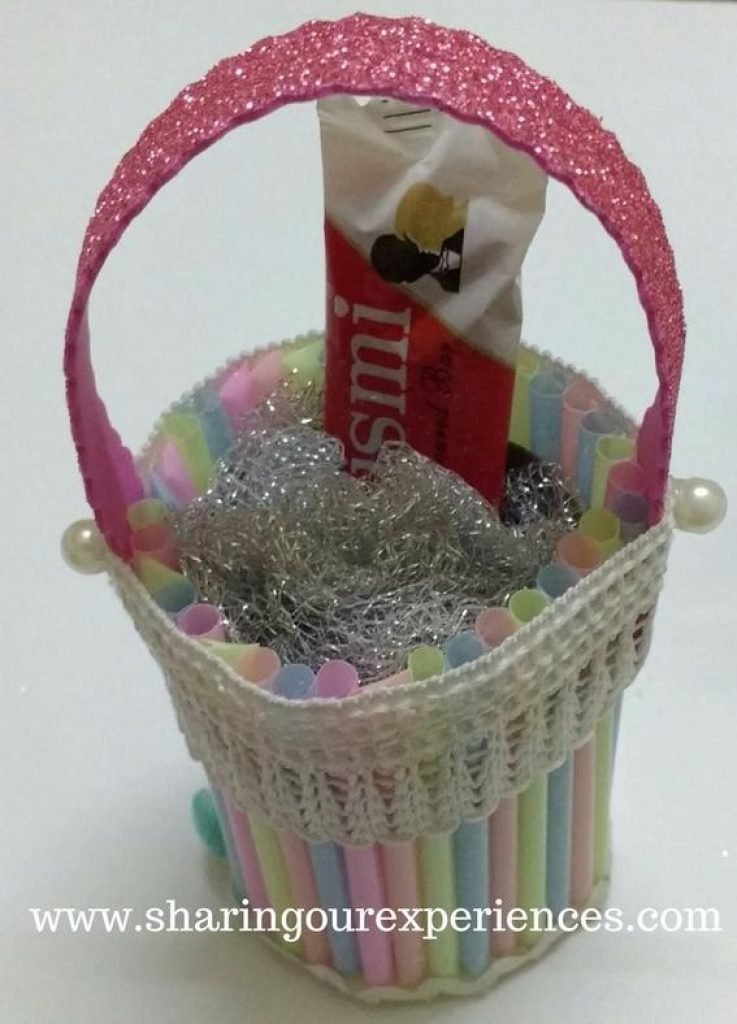 Easter Basket using Popsicle sticks
You can also make a Easter Basket with Popsicle sticks and fill it with Goodies. These handmade Easter baskets can be decorated with material easily available at home – laces or stickers or ribbons.
Read full tutorial on how to make Easter basket with Popsicle sticks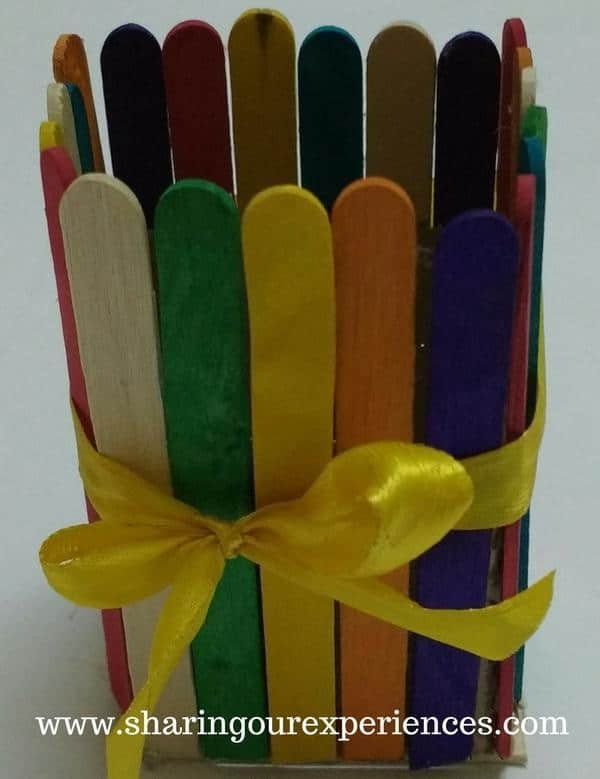 Easter egg card
You can also make Easter egg cards using colored papers and weaving them. This is a great way to develop hand eye coordination and develop fine motor skills in kids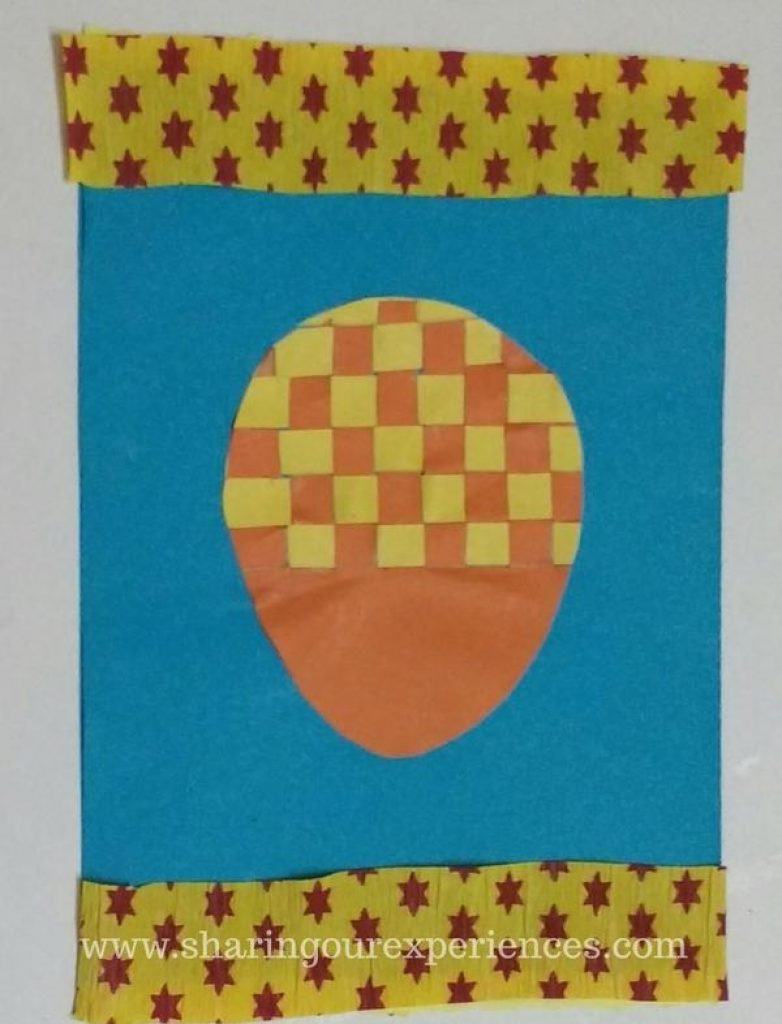 Easter bunny wall hanging using straws
You can also make a wall hanging in the shape of Easter bunny, Al you need is cardboard shape and straws. You can involve younger kids as well as in pasting the straws. Later we can use a ribbon for hanging this Easter bunny and decorate your kid's room.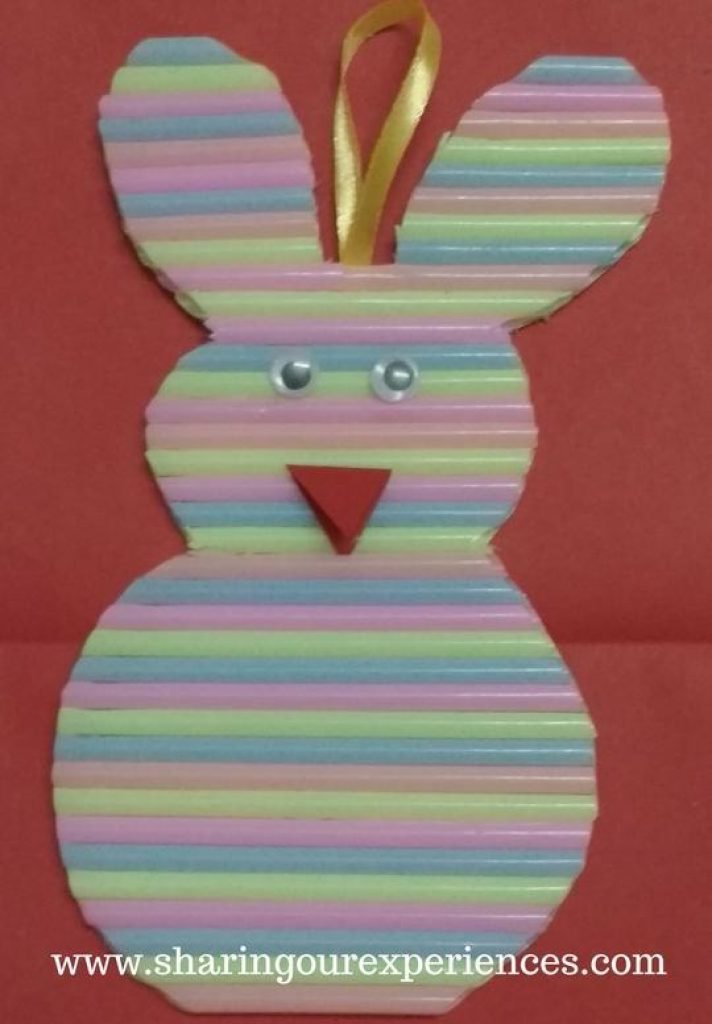 Easter egg card using buttons
You can cut card board in shape of egg and ask your kids to paste buttons on it. For younger kids do this craft along with them, you don't want toddlers eating the buttons. So do this only when you are around.
Hope you enjoyed this list of Easter craft projects for kids. In case if your kids make anything else do share with us, we would love to hear from you.
These Easter crafts can also be used for exchanging gifts or home decoration.
Easter eggs can be used for organizing Easter hunts
Cards can be exchanged with friends.
Easter baskets can be used later to exchange gifts and chocolates.
Bunny socks and Easter Bunny wall hanging can be used to decorate the living room or kid's study room.
 Easter chickens can be later used as puppets.
Easter egg name puzzle 
You can make these easter eggs on cardboard. This is a post shared with us by @momkids.smartplay.
Cut 6 pieces of cardboard eggs with colorful paper on them. Then stick lower and upper case Alphabets on it. Now ask your kid to make words with those Alphabet. This craft can be used to teach words like names or CVC words etc.
Easter Egg Potato Stamp Art Activity 
Here is an easy-to-do egg stamp activity for preschoolers. It is a perfect craft for the Easter and spring season to keep the kids active.  This is a post shared with us by @tinyprops4. Let's see how to make this easy potato stamp art activity.
All you need to do this activity are potato, paint, knife, and craft paper to stamp on.  Now cut the potatoes in desired shapes such as Horizontal lines, zig-zag,  vertical lines with gaps in between. Then apply paint and ask your kid to stamp it on the craft paper.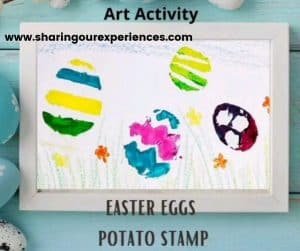 Surprise Easter Egg with a photo of your kid
Easter is finally here and we have a very surprising easter egg activity for kids. Children always look forward to egg hunt activities during easter. This is a post shared with us by @moms_bitof_thisnthat.  If you are looking for some fun easter egg activity then here it is.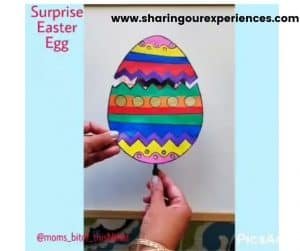 To make this craft take a printout of the easter egg template, color it with acrylic colors,
cut it in half along the zig-zag lines. Behind the upper half stick your kid's photo
Then at the back of the Photo stick a straw. 
Behind the lower half, glue a long strip to support the straw, and the upper half when inserted into this strip.
Now when you pull the strip down your kid's photo reveals.
Easter cute Bunny papercraft  
Easter comes with bright and vibrant colors all around in nature.  So here we have a super-duper easy cute bunny paper craft for kids to make and enjoy this Easter. This is a post shared with us by @tinyprops4.  You can make many such Bunnies and string them together to make a garland. 
Rainbow Easter egg colorful Layered Puzzle 
children love making something of rainbow colors and this Easter we have a beautiful Rainbow Easter egg layered Puzzle craft for kids. It is very simple and easy to make along with your kid. This post was shared with us by @momkid.smartplay. All you need for this craft are cardboard, crayons of 7 VIBGYOR colors and pair of scissors.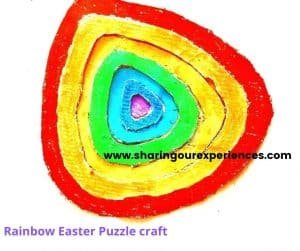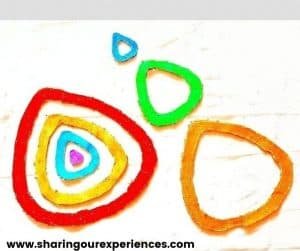 To make this simple and fun craft cut the cardboard into 7 layers and ask your kid to color them with crayons. Then layer the puzzle into VIBGYOR colors. 
Benefits of this Rainbow Easter egg Puzzle craft :
color recognition skills
cognitive and problem-solving skills
Importance of Easter celebration
Easter Egg Hatching chick craft with eggshells
Check out this beautiful Hatching chick easter craft using Eggshells. This is a post shared with us by @happymommydiaries. She made this Easter egg craft with her kid to make her understand that geometric shapes are the base for drawings. She made this vibrant Easter craft with Eggshell and colored them with Rainbow markers.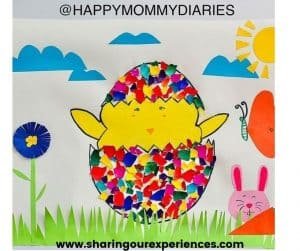 Learning outcome of Easter Egg hatching chick craft:
Concentration
Spatial awareness
Scissor Skill
Creative thinking
Cognitive Development
DIY Easter egg dyeing process craft
It is that time of the year when people look for pics or videos to dye the Easter eggs perfectly. Admiring the beautifully dyed eggs is easy but figuring out how to get it done is not. Here is a post shared with us by @happymommydiaries.
So here we have the process to dye the Easter egg. The key to do it is letting the egg soak in the dye for long enough. If removed too soon, you get the watery finish but with little patience, you will get photo-worthy dyed eggs for Easter.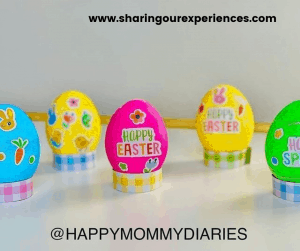 If you prefer home dyeing eggs for Easter then store brought then here we have the process to do it perfectly. Materials required are:
Hard-boiled eggs
Newspaper or paper towel
cup or bowl to submerge the egg completely
Tongs, egg dipper
1/2cup room temperature water
Food color/dye tablets
1/2tbsp vinegar
Gloves for safety
Egg stand to dry the dyed eggs.
How to dye these Easter eggs:
First, cool the Hard-boiled eggs
Spread newspaper or paper towel on the surface. Fill the container with enough water to cover the eggs.
1/2tbsp white vinegar and dye tablet or 20 drops of food color. The more food color you add darker the egg gets colored
Place egg on a spoon and dip it, turning occasionally so that it covers both sides. Keep it in the liquid for 5mins.
Carefully remove and set aside the egg to dry.
Our colorful perfectly dyed Easter eggs are ready. 
DIY Easter counting and Recognition activity
 Here we have an easy-to-do DIY Easter theme-based activity for early mathematical skill development. You can use this Easter egg theme to teach or revise pattern and number learning for kids. Here is a post shared with us by @happymommydiaries.
This is very beneficial in color and pattern recognition, fine motor skill development, Hand-eye coordination, cognitive development and improve concentration in kids. Most of all this is the perfect activity to keep kids engaged in some productive way.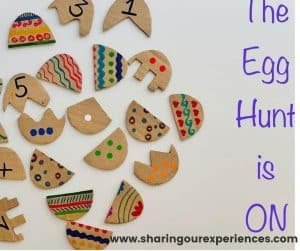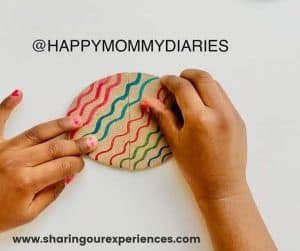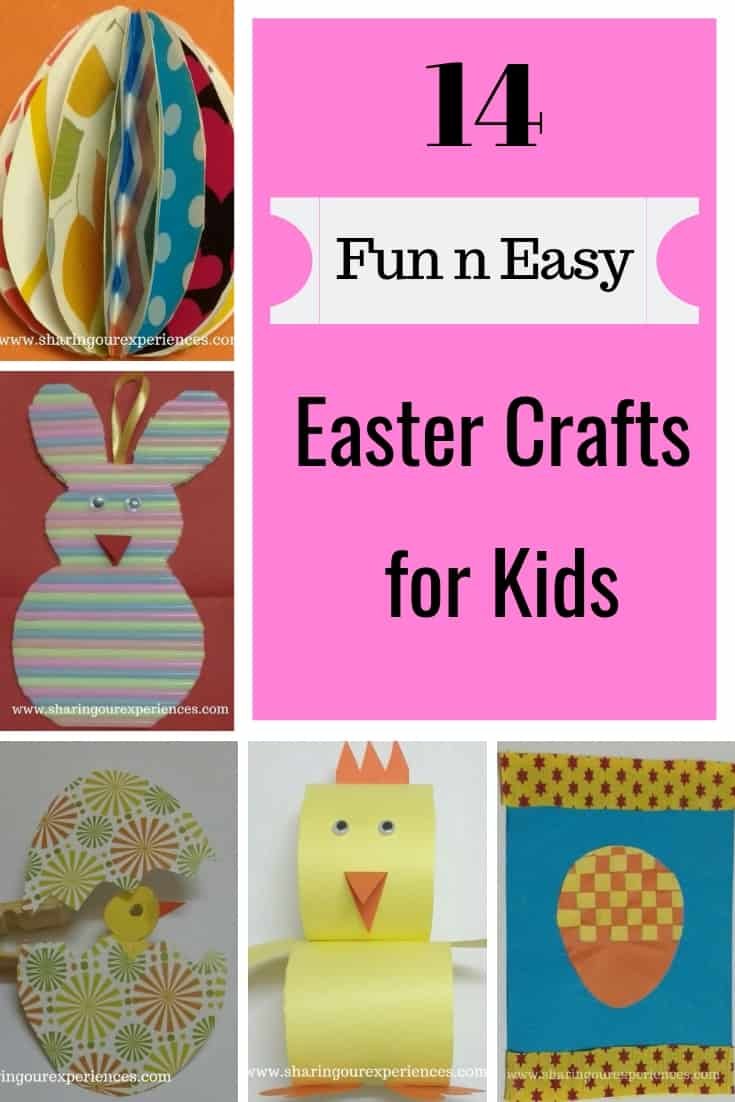 Don't miss to pin

Also Read Easter Egg Hunt Word Search: A Fun and Free Printable Worksheet for Kids!
Make this Easter unforgettable for your child with our amazing collection of Easter worksheets at an unbeatable 80% discount! Help your child develop essential skills while having fun with exciting math, literacy, and craft activities. Don't miss this opportunity to create long-lasting memories and boost your child's learning.
Download our Easter worksheets today and give your child the gift of fun and education!
You may also want to check out our popular article on How to make Crepe paper Rose flowers
If you want to try making a variety of paper flowers, check out any of the free paper flower tutorials below:
[pt_view id="7bf942en6o"]
Your Turn Now
In case if you liked this article do show your support by sharing this article.
Like our Facebook Page 
Stay connected with us using your favorite social media, we can be found on
Add a comment
Don't you find these Easter crafts for kids interesting and fun? Try it and let me know using comments below. Would love to hear from you.