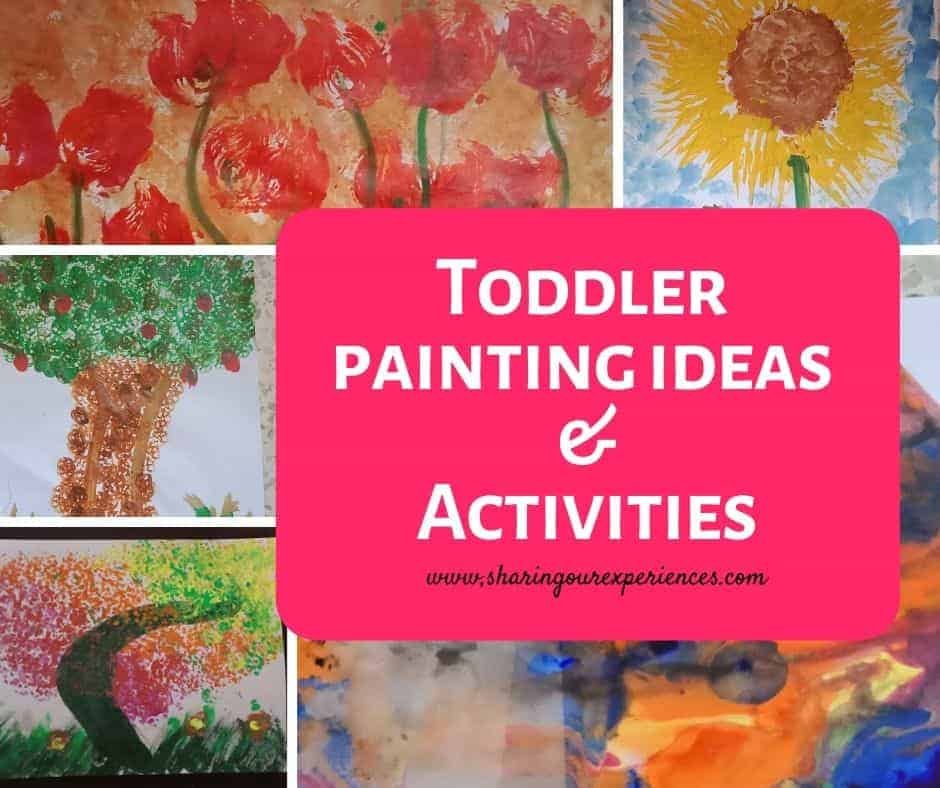 Check out these awesome Toddler painting ideas and activities in one place. Various ways to raise a creative kid and keep a toddler engaged. Also covers how to make home made paints and how to get started. 
Before a child talks, they sing…
Before they write, they draw…
As soon as they stand, they dance…

ART is fundamental to human expression
Research has shown that art activities are important for brain development in early childhood.
ART ignites imagination and creativity in young minds. Hence, any form of art exposed at an early age enables a child express himself better. It helps in developing a child's cognitive and emotional domain. Moreover, art enables an overall development of a child's brain. One such form of art that my toddler and I enjoy is PAINTING and when a toddler enjoys playing with colors, getting messy can be fun.
Below, I have shared some of the artistic experiences we have had ever since my toddler began understanding colors.
---
In this article
---
Art supplies for toddlers
You need some good quality non toxic paint, thick brushes and bib .
Check out >> FAVORITE ART AND CRAFTS SUPPLIES LIST ON AMAZON.com (Handpicked best rates supplies you need to do thousands of activities and crafts to engage your kid
I have done paintings below mostly without using brushes.
How to get started with Painting with a toddler
My idea of introducing paints to my toddler was completely different. I wanted to expose him to paints that he felt comfortable with. I used readily available resources at home. Safe on my toddler's skin and won't make him feel uncomfortable either.
Any guesses…… Well well well…….
It is said tha 'Har shubh kaam ki shuruvaat, shagun se karni chahiyee…..
On that note, we began our paint party with 'haldi Kumkum (Turmeric). And then moved onto hand made paints with materials easily available at home.
Let us go through my toddler's painting ideas and activities (as I call Paintastic journey) as we explore different colorful activities together
I have also covered how to make finger paint and home made paints for your toddler towards the end of this article.. So keep scrolling.
Painting Ideas and Activities for Toddlers
Hand Imprint Art
Hand imprint art is a fun filled method to enable children discover their creativity and be artisitic.
This Painting activity turned out to be a super initiation with bright colours. What better way to get your child feel paint like texture on his palm. We created a pair of roosters using my toddler's hand imprint.
Toddlers will love creating images of animals, birds and other figurines with this hand imprint art. Here we used haldi (Turmeric) and kumkum.
How can you preserve your child's art?
An easy idea – You can save a handprint as a keepsake to remember the size of your toddler's hand as he grows. They make great keepsakes if you put them on canvases. With this art, toddlers can make amazing greeting cards for joyous events.
Finger painting ideas
The name says it all, finger painting technique involves use of fingers and thumb.
Messy play like finger painting is important for every child's development. It involves dipping of fingers in paint and then using those fingers to create objects and shapes, animals, birds or insects on a piece of paper.
Children particularly toddlers may find it difficult to hold a brush. Hence, finger painting serves as an easier and a fun filled method of painting. It is my toddler's favorite form of painting.

Painting with throwaway bottle caps
Just place the used empty bottle caps upside down on a sheet of paper. Ensure that the bottle cap is not completely cleaned or wiped out. A little bit of paint will be required to get the circular shapes on the paper.
Painting with a fork
Dip the outer layer of the fork in color and then on the paper. You can create images of your choice. My toddler and I decided to go floral.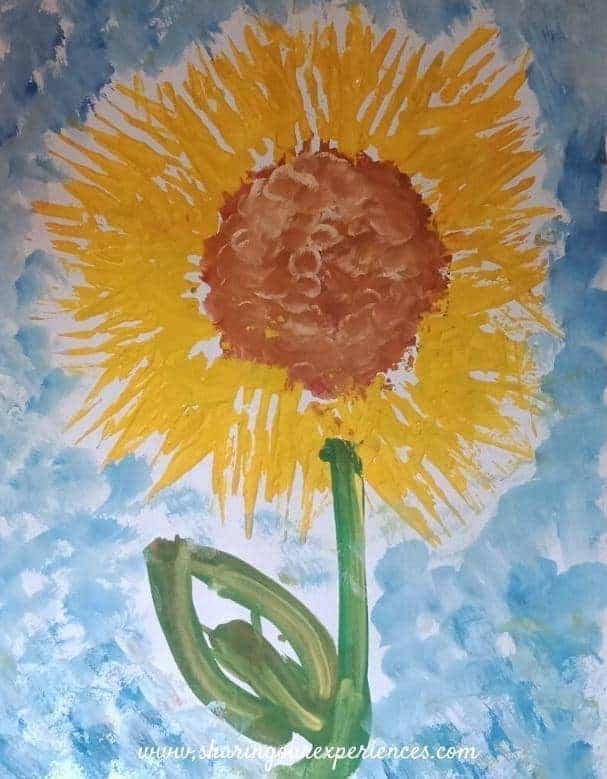 Painting with balloons
This form of painting is also known as 'Balloon stamping'.
Unwrap the bubble wrap with paints
Below is a picture of a tree using a bubble wrap. My toddler had fun creating this one and he loved the bubble wrap texture.
Painting using a dropper
Painting using a toilet paper roll
I cut the roll into strips and opened it up to give it a shape of a flower. My toddler loved dabbing it onto a sheet of paper.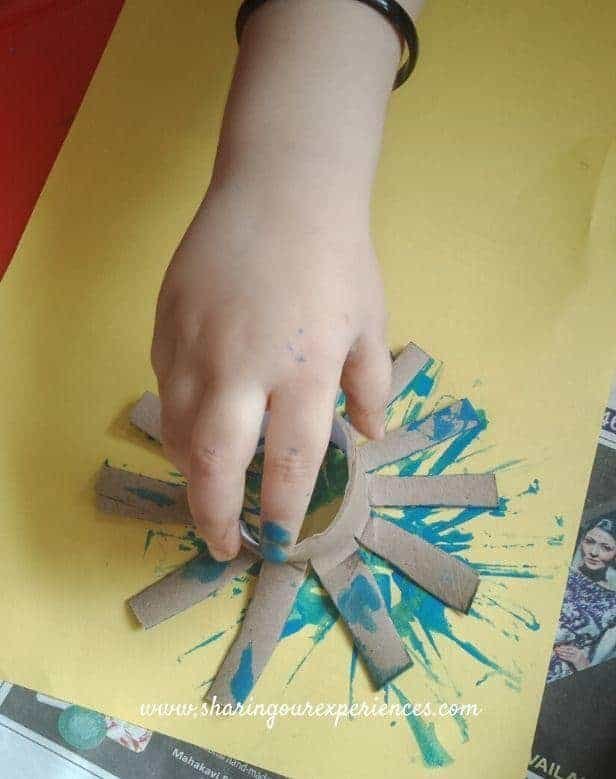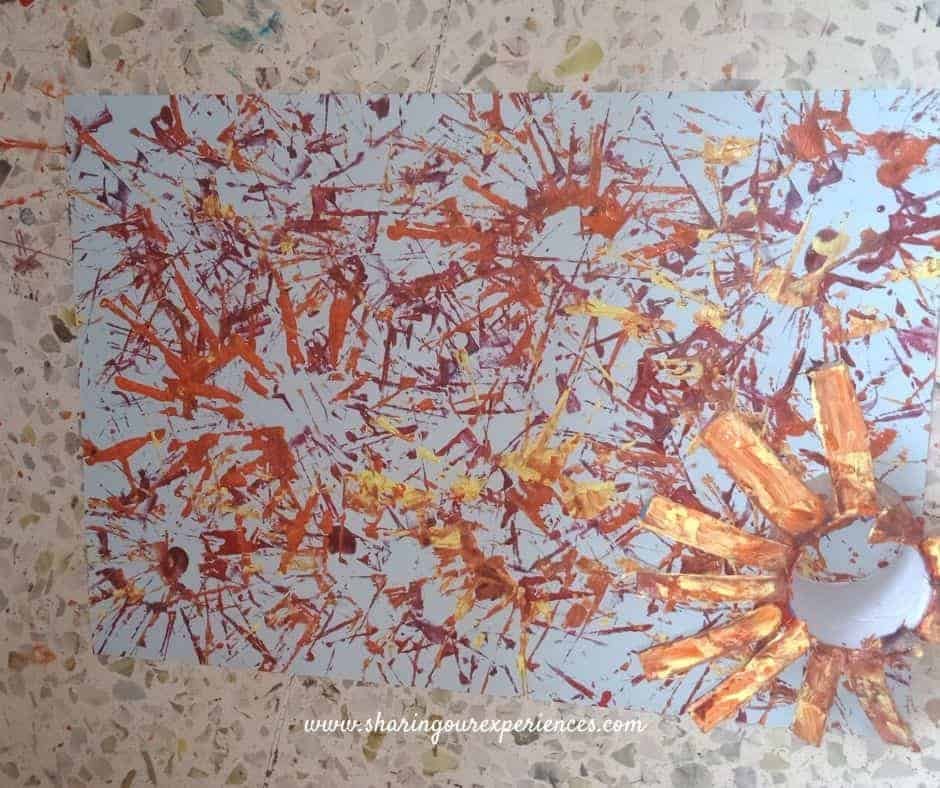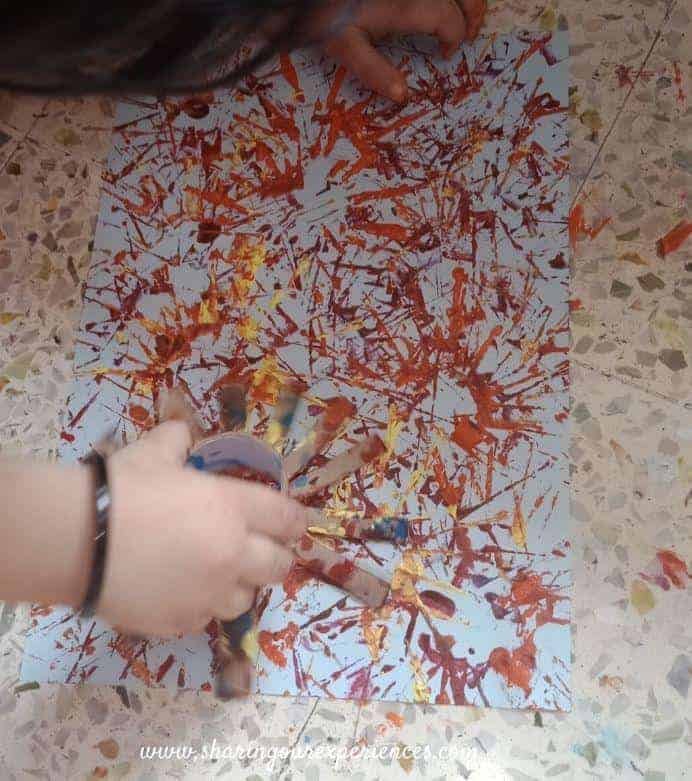 Making sparkling firecrackers for Diwali theme: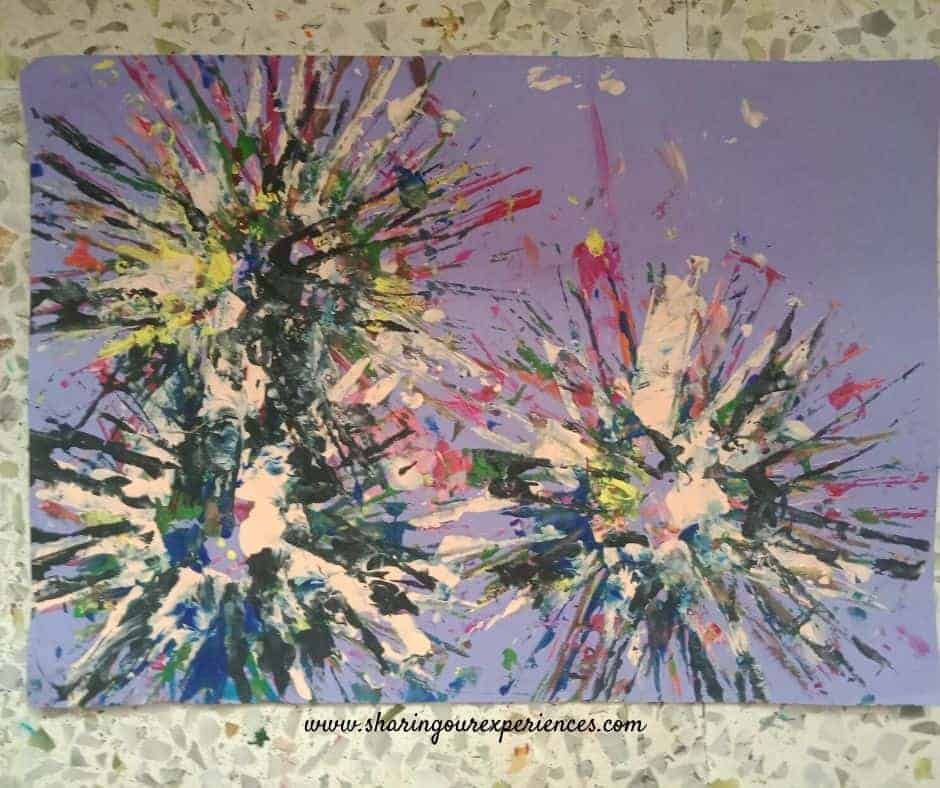 Painting using cotton buds (Q-tips)
Make bundles of ear buds. I made around 3 and used both sides. Keep in mind to use a fresh side for every new color. This will prevent distortion of colors.
This form of painting is done using ear buds(cotton swabs).
Such a painting is termed as POINTILLISM and what we just saw here was Pointillism painting for toddlers/kids.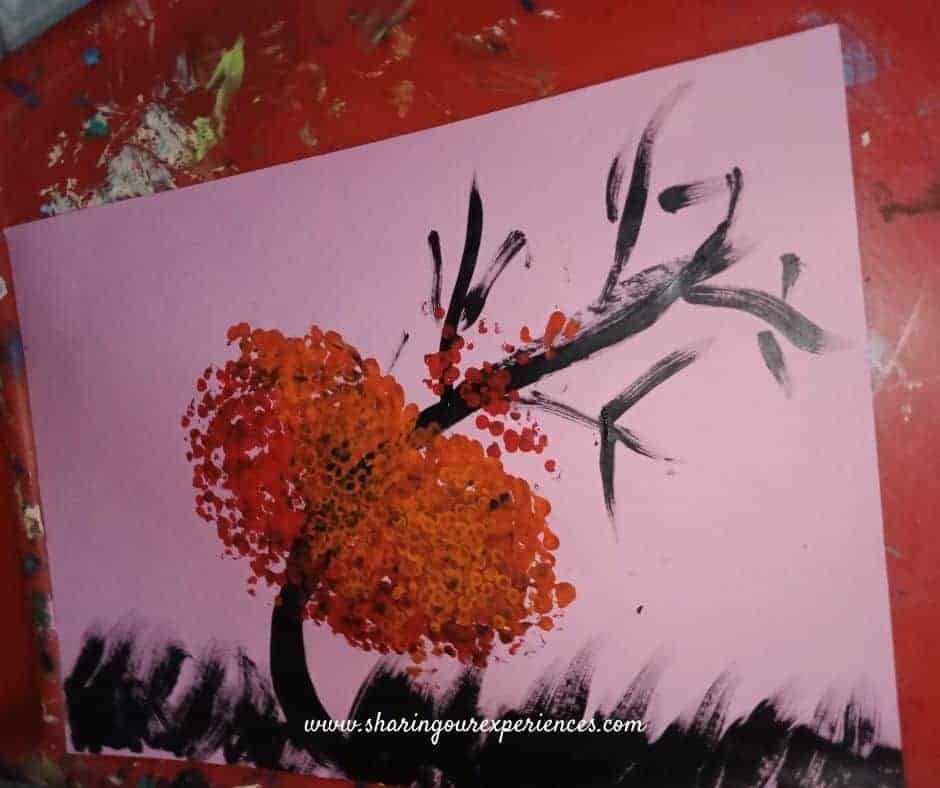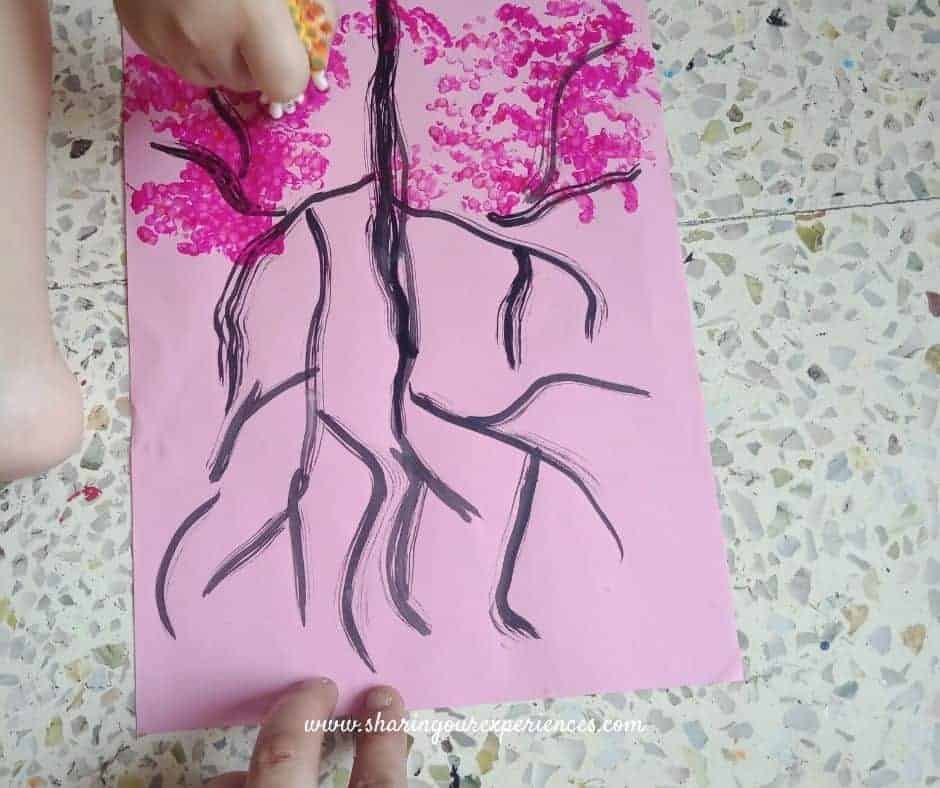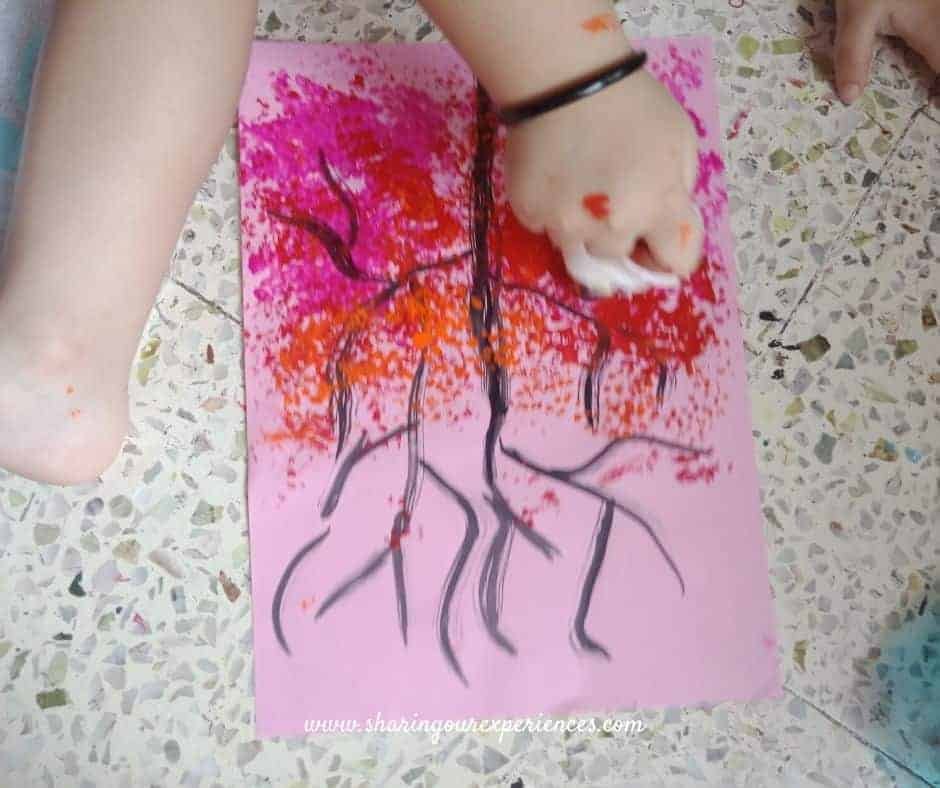 How to paint using Qtips
Just dip the head of cotton swabs in paint and then dab it onto your paper. My toddler and I are more of nature lovers, hence we always begin with a tree, floral paintings….
One can also make abstract paintings using this method.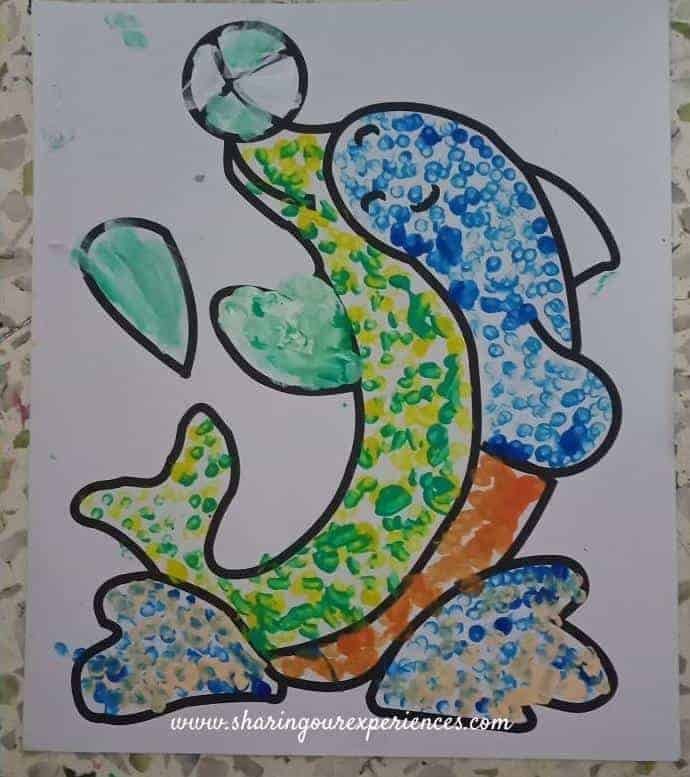 Georges Seurat was a famous artist in the Pointillist style.
A basket of fruits decorated using ear buds.
Blow painting
This painting is done by pouring paints onto your paper. Ensure that the paints you choose should be of running consistency and not very thick.
Once your paints float around, take a straw, hold it at a suitable angle, and blow in such a way that the paint flows its way to create beautiful patterns.
This form of painting enables children to observe and learn how colours react with each other.
Leaf painting
This form of painting as the name suggests is done by painting the leaves and using its imprint onto a paper.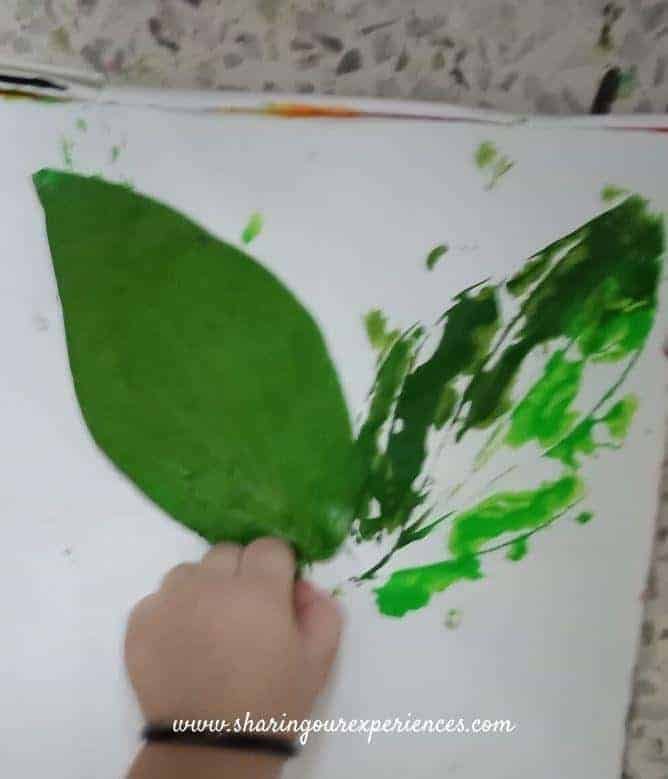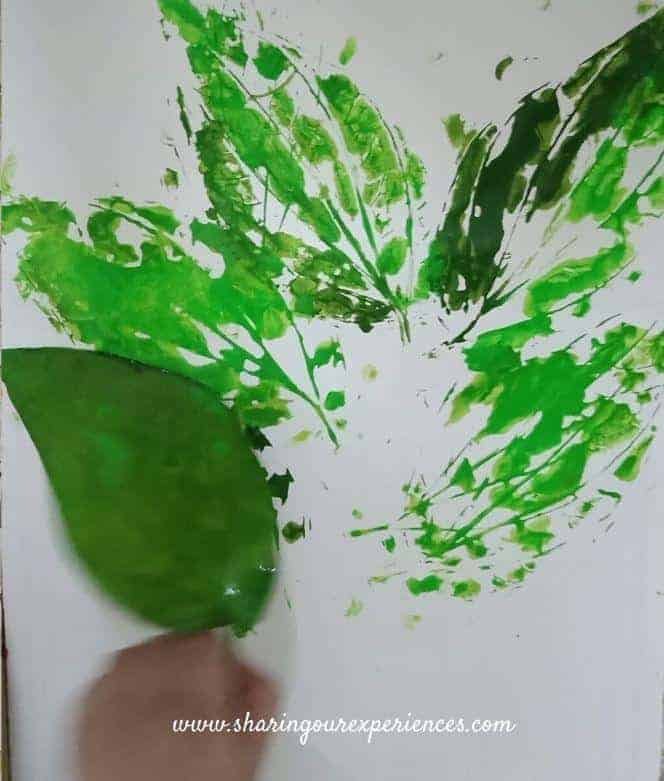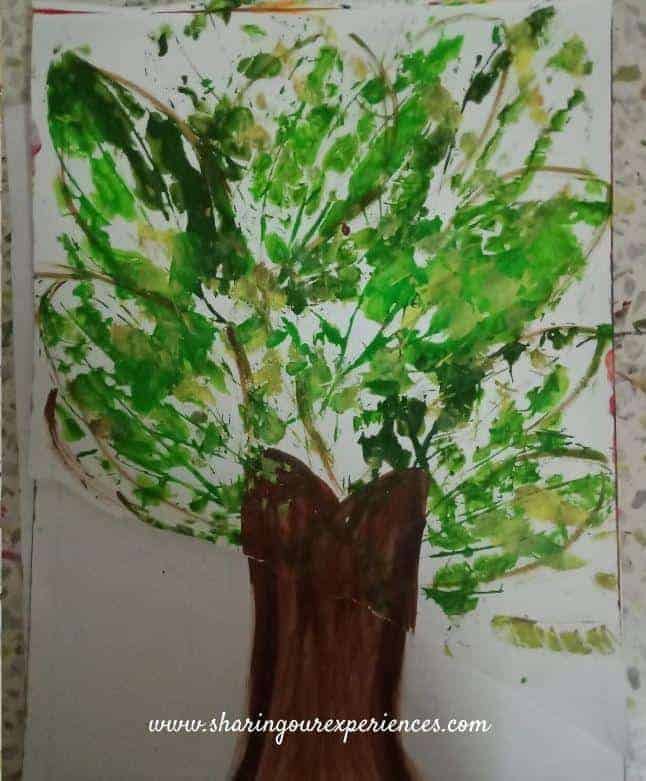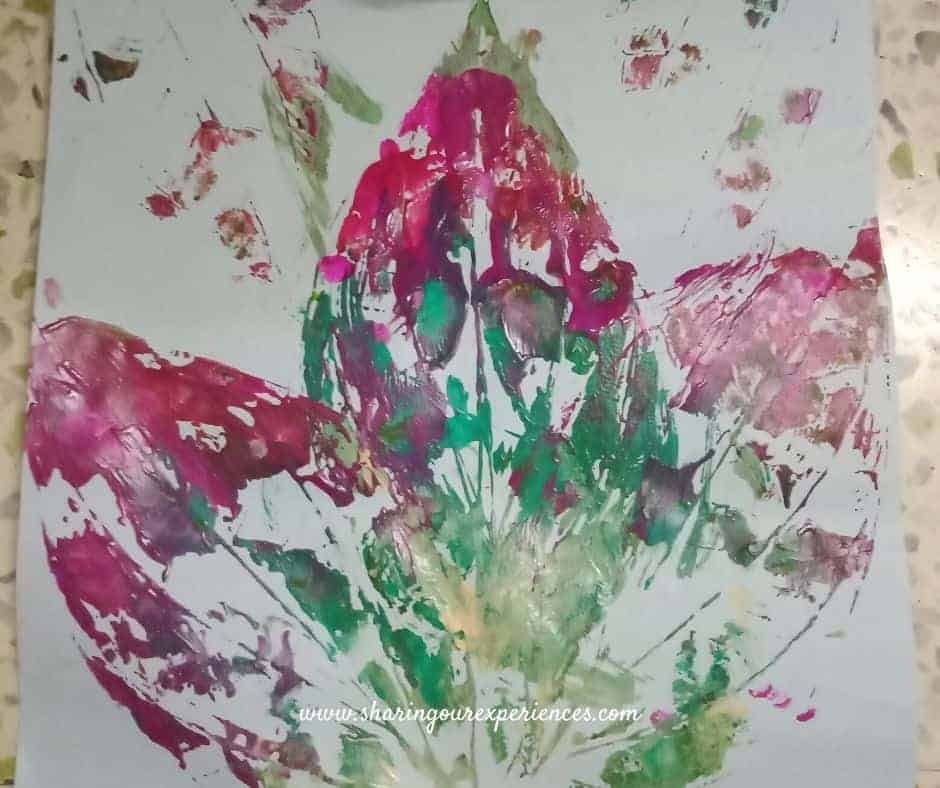 Sponge painting
The dab dab activity as my toddler calls it is his all time favourite.
From dipping sponge into a bowl of paint, to dabbing it on the sheet of drawing paper, he enjoys doing it all and I'm sure every toddler will. Sponge painting activities work best to create abstract images.
Following are the benefits of sponge painting activity
Enables self-expression with sponge and paint.
Develops eye-hand co- ordination.
Sensory experience of exploring paint and paint filled sponges.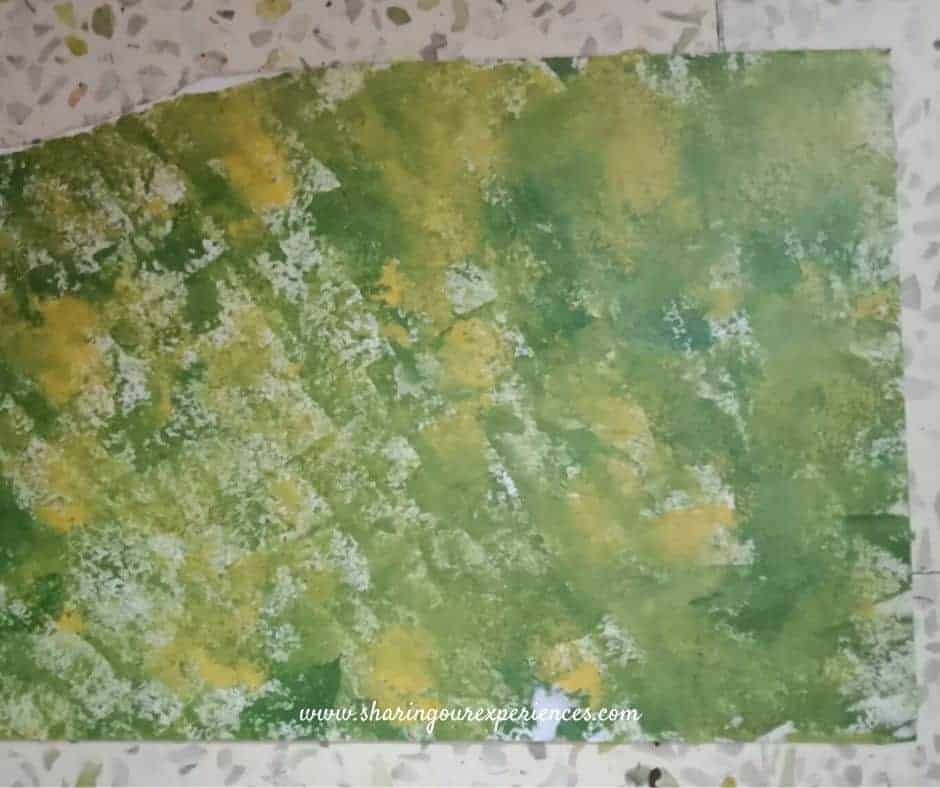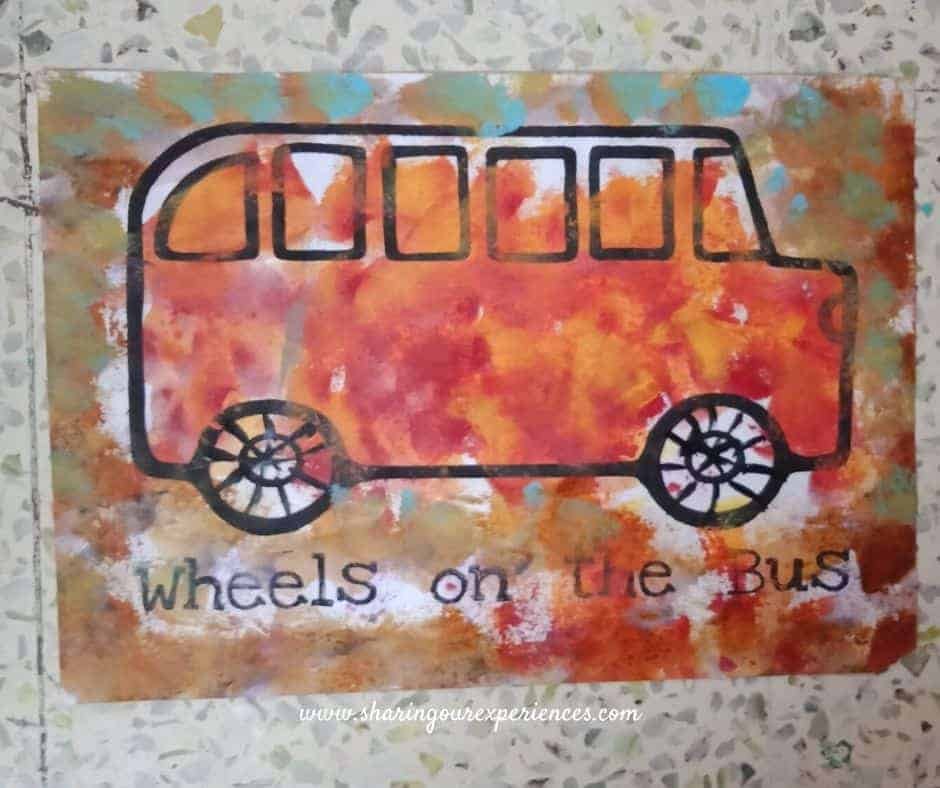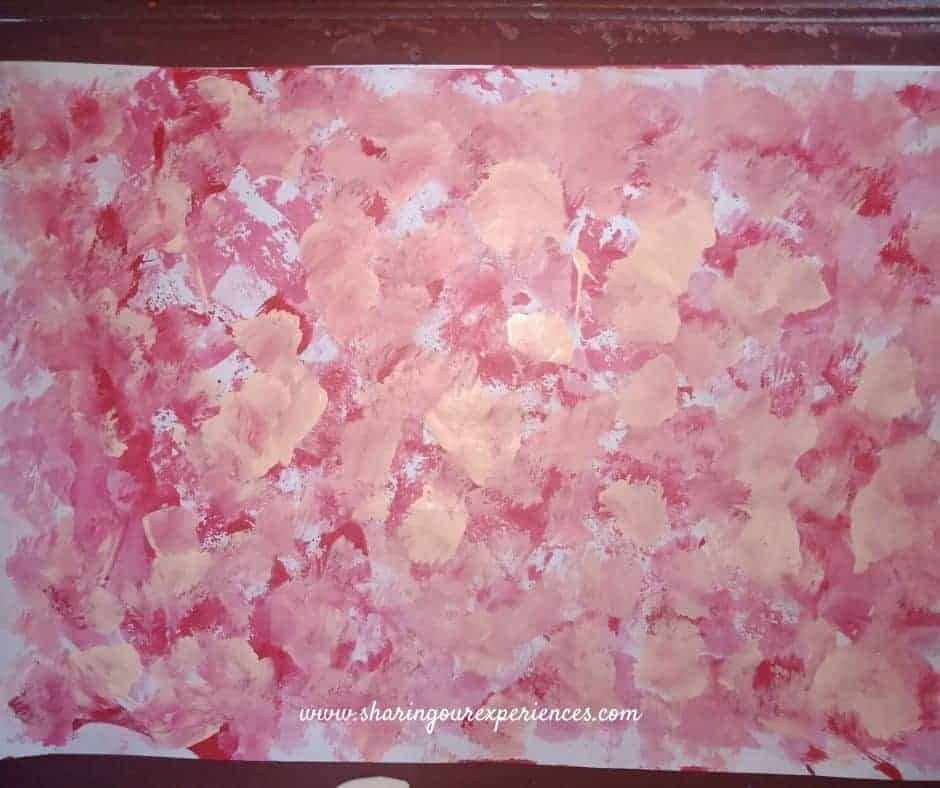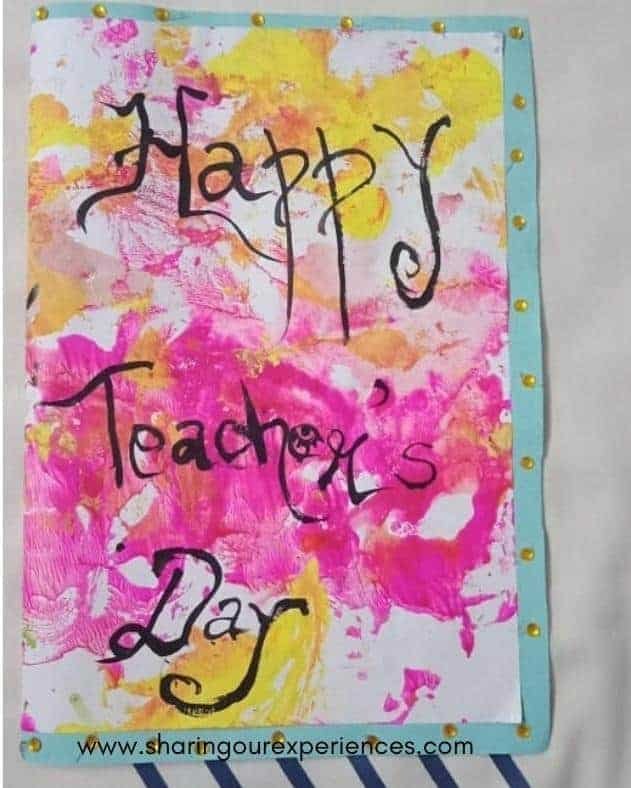 Painting with fruits
Fruits such as apples, pears, sweet lime, tomatoes, star fruits can be used for this art.
Using a corn, we created the brown texture for the basket. Thereafter, my toddler painted an apple slice red and created a basket of red apples, one can also use green or yellow paints to have a mixture of red,green,yellow apples.
A caterpillar was made using half cut apple slice and the tree was made with finger painting technique.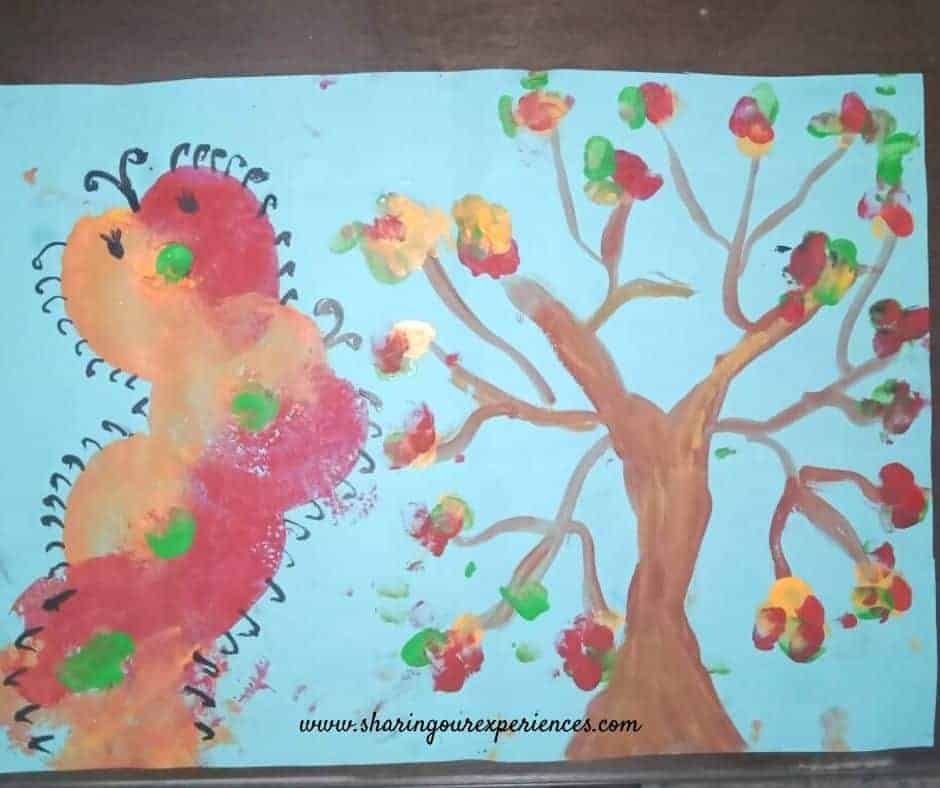 Another fruit we used was the star fruit, we created green grass and red,blue star flowers and a texture of pink, blue, orange and other colorful stars.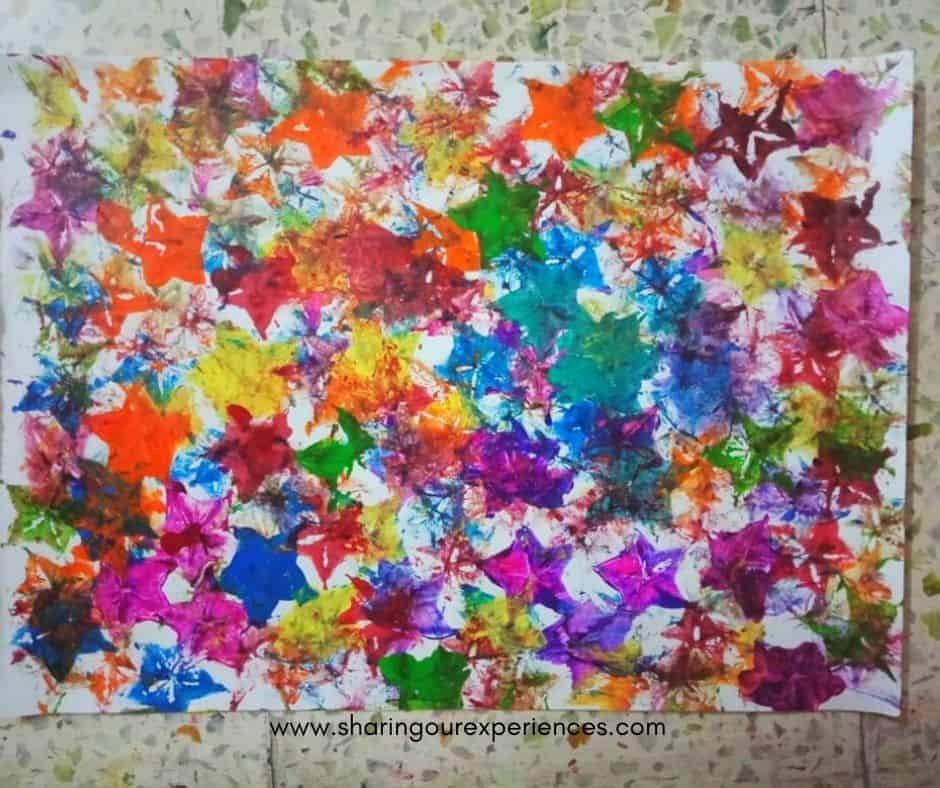 Painting with vegetables
Vegetables like ladyfinger, onion (half cut), mushroom (half cut),tomatoes,
We created a painting using a half cut onion. This one is my favorite.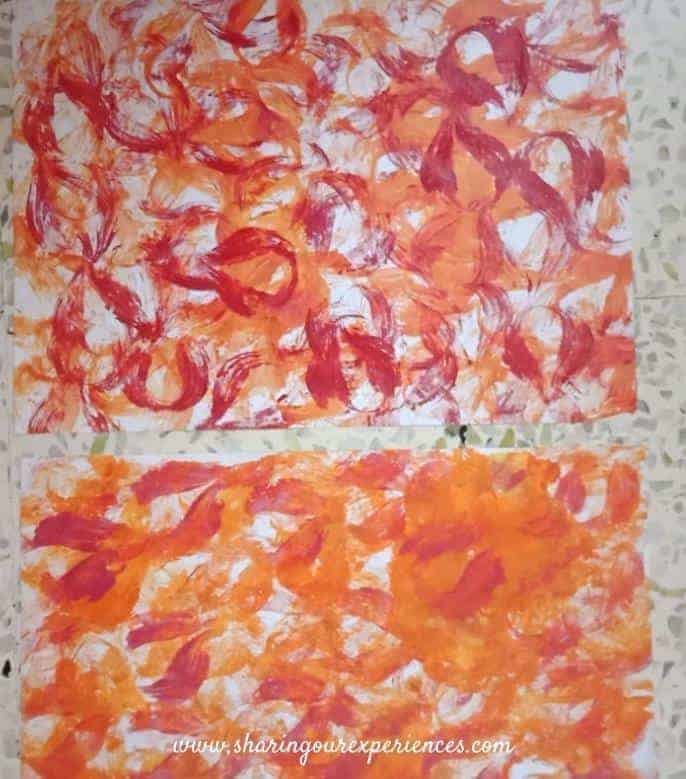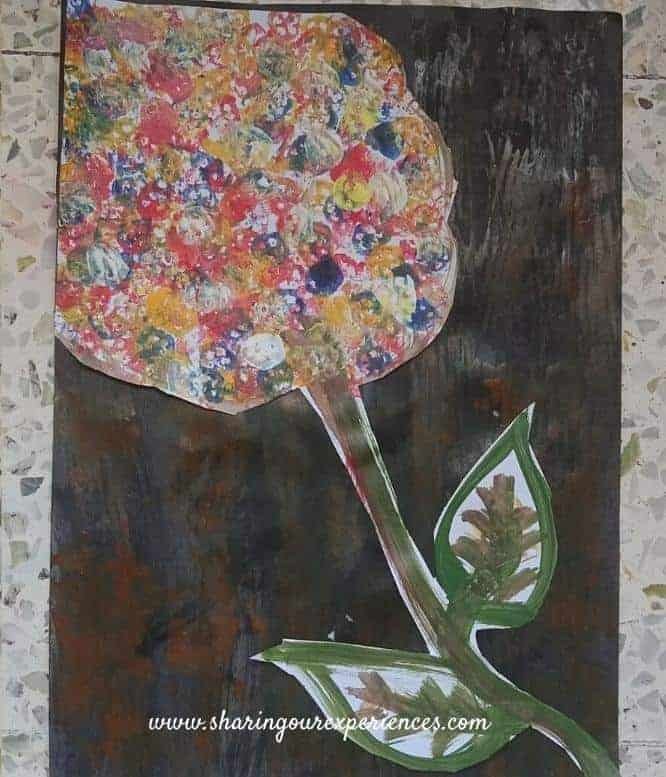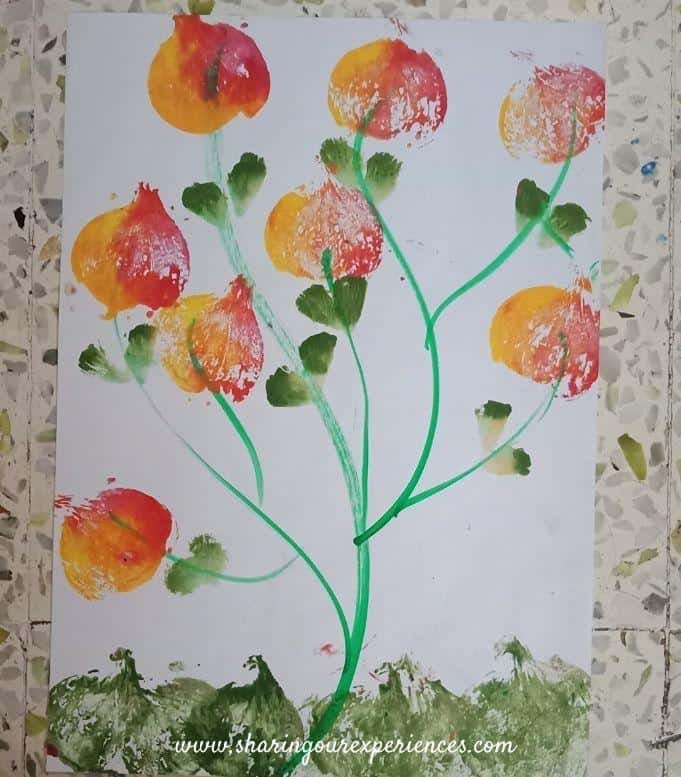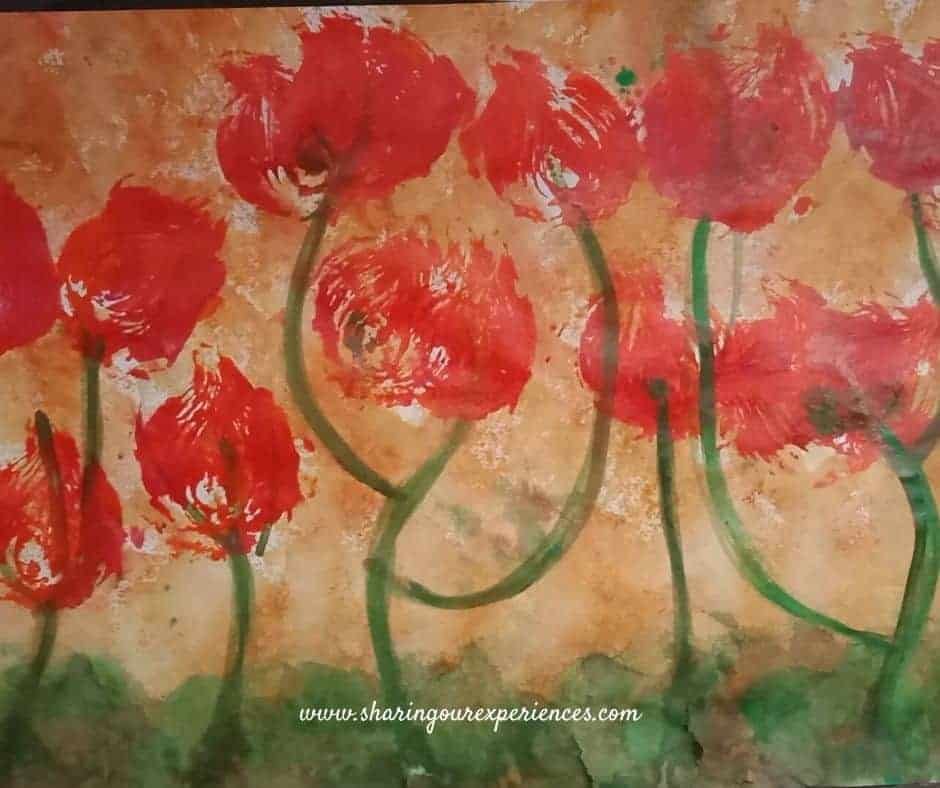 Painting with milk (Marbled Paper painting)
It is also known as marbled paper painting. Just pour milk in a tray. Add some colors of your choice with a dropper. Now place your drawing paper on to the tray as you watch the colors disperse. Pick the paper gently and place it on a flat surface. Leave it to dry.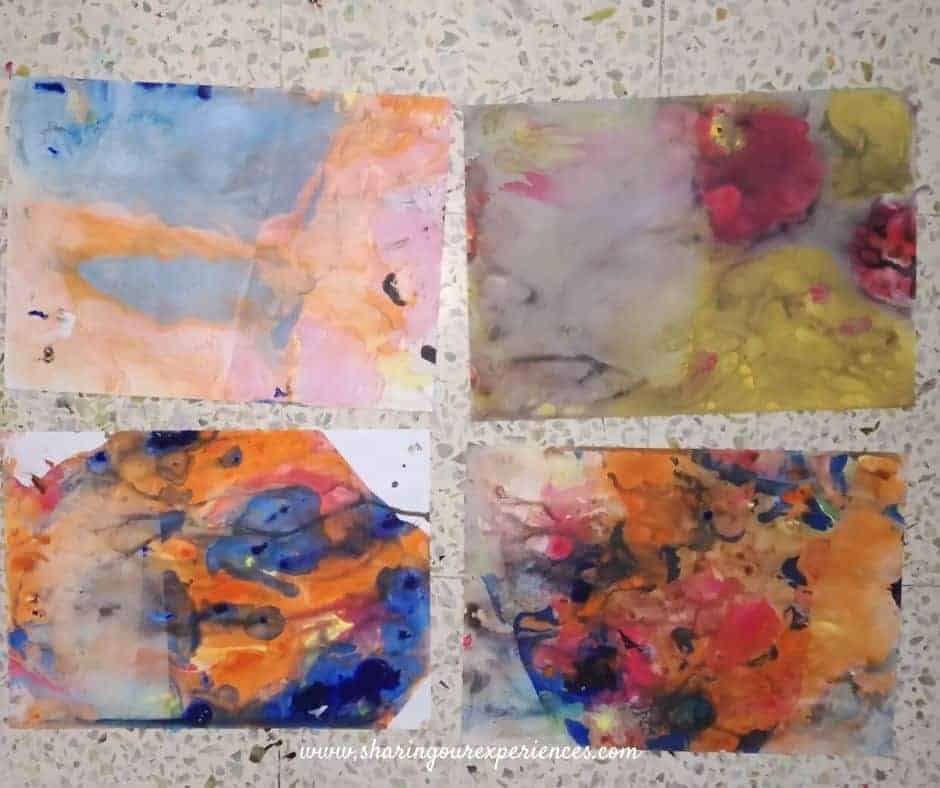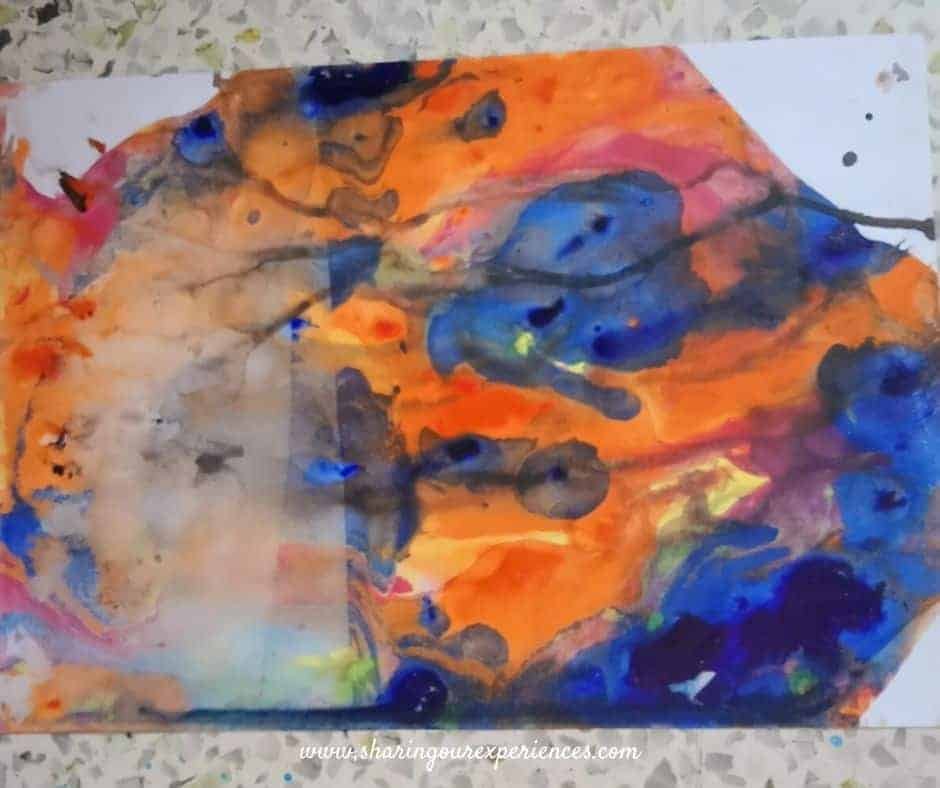 How a child benefits from Painting
Painting is a simple, accessible way to practice mindfulness.
Painting gives you and your child connection time and strengthens your bond by indulging in a meaningful, colorful activity.
Painting is a form of Art that ignites your imagination and builds up creativity.
Children learn to communicate and express their emotions better through art, through painting.
Children learn about different colors and its identification. The mixing of colors teaches your child how to create new colors. (primary and secondary colors)
Painting enables hand –eye co-ordination , thereby develops motor skills in children.
Painting stimulates your child's senses. (Touch/feel, sight, smell, edible finger paint, taste)
And Most importantly, it is FUN !
How to make finger paint at home
Materials you will need to make finger paint at home
1/2 cup cornstarch
3 Tbsp. sugar
1/2 tsp. salt
2 cups of cold water and
Some food colors of your choice
Step by Step Procedure to make home made finger paints for toddlers
Mix all ingredients in a medium pot over a low temperature until thick and smooth. Allow it to cool.
Separate into small containers, the number of which will depend on how many colors you require.
Store well sealed in the fridge when not in use.
Store bought Tempera paints can also be used.
I personally use Acrylic paints for my toddler as it is water resistant and blends easily but I ensure I wash off the paint immediately.
How to make homemade paints for toddler
Making your own paint is a fun and inexpensive alternative to buying the store-bought stuff. Below I have shared a few homemade paint recipes that are easy to make and fun for kid.
The very first option I chose to use paints was readily available resources at home and that was turmeric and a red coloured cosmetic powder (kumkum).
OR
Try the method given below
Method to make homemade paints for toddler
Blend 1/2 cup of flour with 1/2 cup of salt.
Add 1/2 cup of water…
Divide it up into three clean cups and add a few drops of liquid watercolor or food coloring to each cup.
Lastly, stir them until the "paint" is well blended.
Tada…Your homemade paints are ready.
These paints could be used for any type of painting activity.
One can also make home made paints using a few examples given below:
Beetroot pulp- dark red colour
Spinach pulp- green colour
Turmeric powder with water- yellow colour
Kumkum- bright red colur
Coffee powder- brown colour
Don't miss to pin

Liked this
You may also want read one of our other popular articles on Easy Visual discrimination activities and games for preschoolers with things available in your home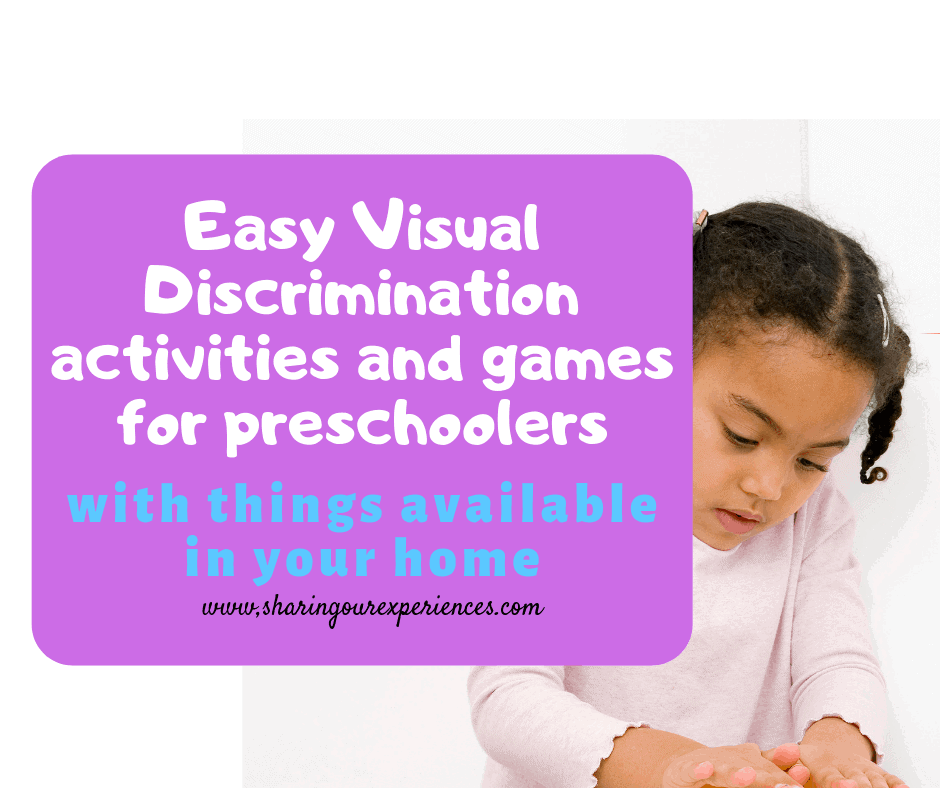 Your Turn Now
In case if you liked this article do show your support by sharing this article and Liking our Facebook Page
Stay connected with us using your favorite social media, we can be found on
Do you want to share your crafts, parenting tips, stories, toy or book review, let us know by using comments below or mailing us on sharingourexperiencesblog@gmail.com
Add a comment
Don't you find this Toddler painting ideas interesting and beautiful ? Try it and let me know using comments below. Would love to hear from you.