Check out this Easy and simple Valentines day crafts for kids. Occasions like Valentines day is a great way to spend some time with kids and get crafty, it gives us some time together making handmade gifts and cards.
There is something about hand made cards and hand made gifts that warms our heart. And thus we love everything hand made on all occasion be it Christmas, Birthday, Diwali or Valentine's day.
Check out these simple crafts ideas for kids for Valentine's day that you can try making together. Some of these Valentine's crafts can be attempted with toddlers and preschoolers and some can be tried with elder kids and some even by adults. There is no age young enough or old enough to get crafty so take out some colored papers , scissors and glue and try these easy crafts for Valentine's day.
Easy and simple Valentines day crafts for kids
Heart shaped wall hanging made with wool/yarn
This is a heart shaped Valentines day craft idea that I loved. Not for toddlers or preschoolers but can be easily done by older kids to decorate their rooms or make a handmade gift for someone. This heart shaped wall hanging with yarn is easy to make and looks beautiful.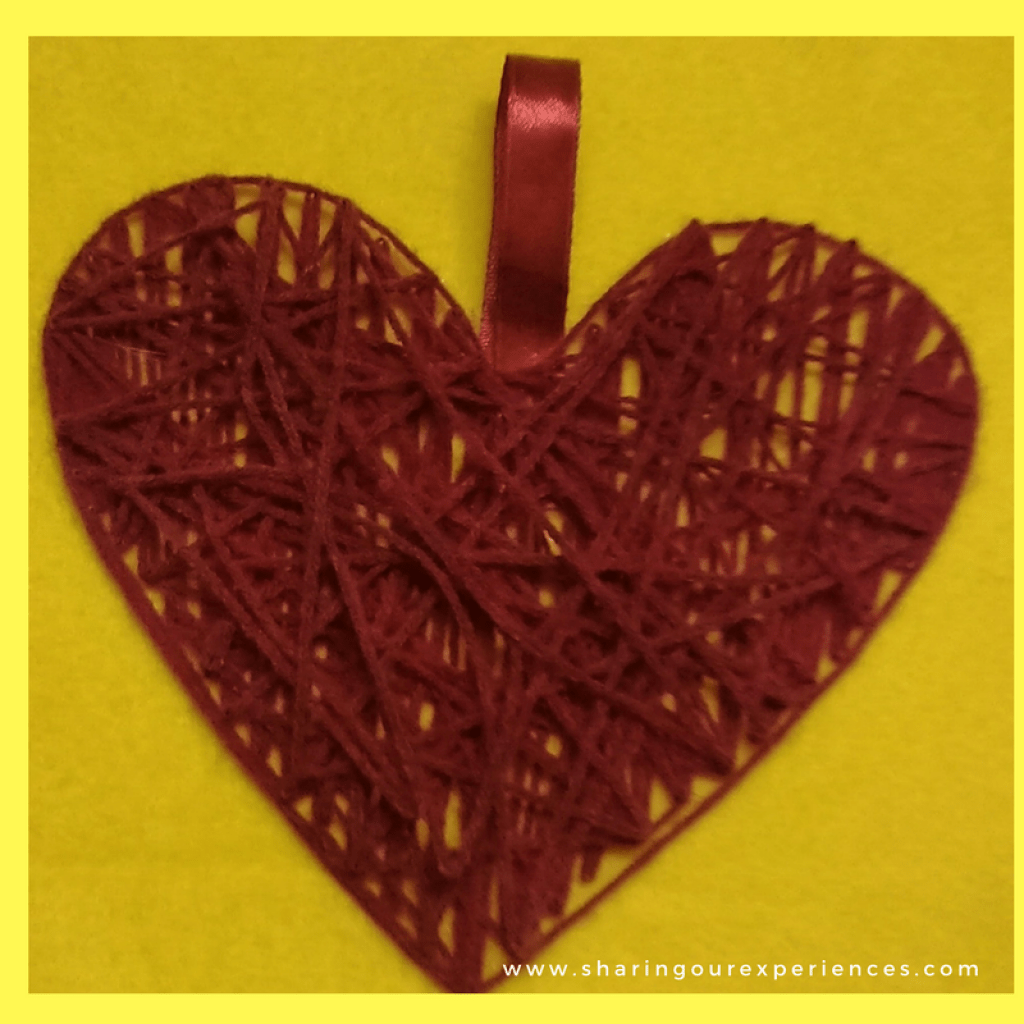 Valentines day card with handprint cut outs
There is nothing like hand made Valentines day cards. Check out this super cute idea. What I loved about this is that it can be made easily by kids of all ages and will look good for adults as well.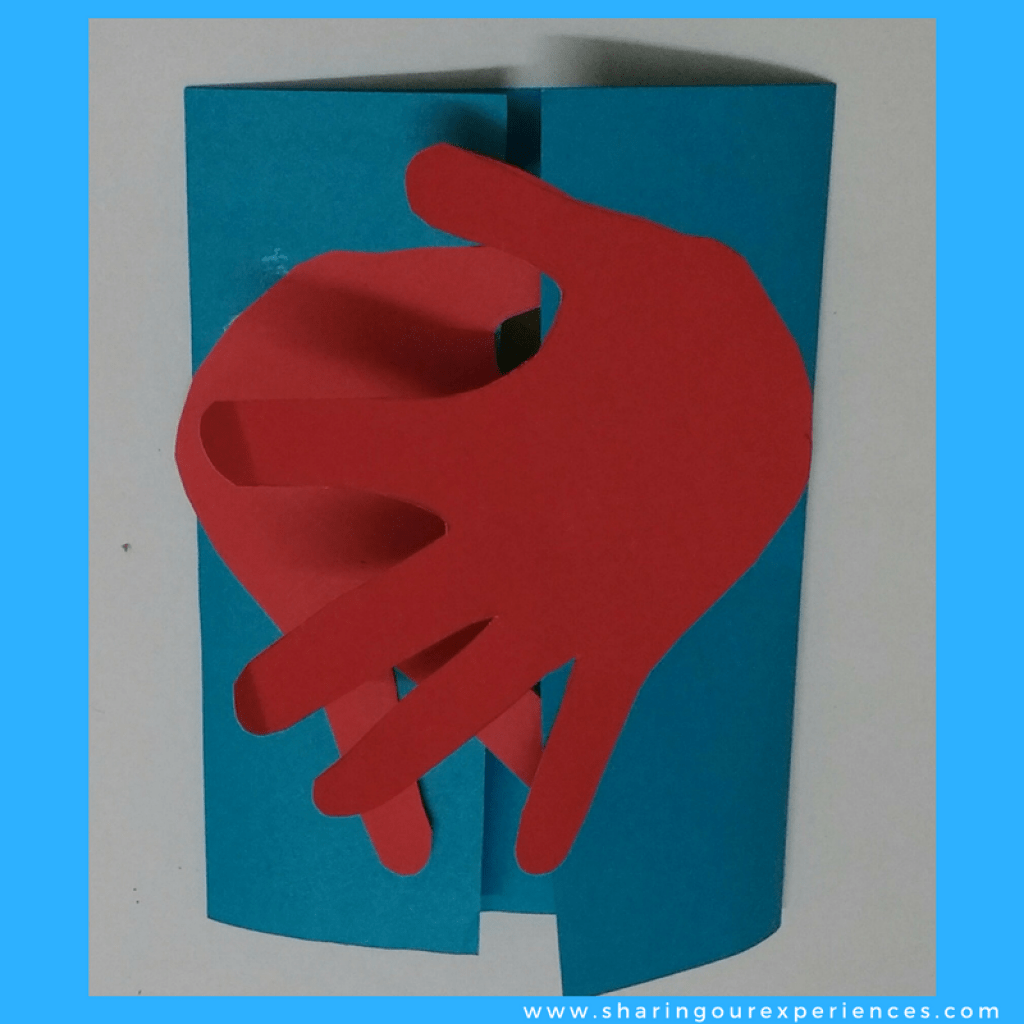 Cute Heart person Craft with Bouncy hands and legs
This Valentine's day craft idea is great for toddlers and preschoolers. This cute kids Heart person craft is fun not only while making but also for playing thereafter. Kids love the bouncy hands and legs. If you attach a Popsicle stick to it can be used as a puppet as well.
Colorful Cap with Heart shaped cutouts
This cute cap can be worn by kids of all ages. Another easy craft for Valentine's day for kids  – toddlers, preschoolers and elder kids.
Cute Little Heart Dog Craft
My son loved dogs so this is something we made when he was around two and a half year old. He helped me in sticking the shapes together or applying glue stick. There is something endearing about the way this little dog is holding his heart.
This cute little Heart Dog craft is Perfect for Valentine's day preschool craft.
Two Little Birds with Heart Shaped Paper cutouts
This is something that can be easily done with kids as young as two years old. This Heart Bird Craft can be also used a preschool activity for nursery rhymes – "Two little dicky birds". An easy Valentine's crafts for toddlers. We can also stick Popsicle sticks at base and use these Paper birds as Bird Puppets.
Valentines's Day Wall Hanging or Wreath
This wreath can be easily made with coloured paper heart cut outs. All we need is bright colored papers.
For elder kids they can make a rose, and for toddlers and preschoolers, if we want we can avoid the rose at center and just paste the heart shaped cut outs in a circular shape.
This wreath or wall hanging is perfect for Valentine's day preschool craft and would look great on preschool school boards or can be used to decorate Kid's room.
Heart Shaped Quilling Clock
This handmade clock can be gifted easily by adults or elder kids as its elegant and beautiful.
If you have not yet started quilling then this is a beautiful craft to start with. As making quilling rolls is easy and the result is beautiful. Check out this amazing Handmade Quilling clock tutorial
Easy Heart Shaped Painting
This craft idea is great for toddlers and preschoolers as well as elder kids. All we need is paint, brush and paper (for elder kids they can paint on fabric as well).
This can be used to paint Valentine's day cards or handmade gifts like wall hanging, gift bags, T-shirts or cushion covers.
Heart Shaped Caterpillar Craft
Another cute kids craft – perfect for toddlers and preschoolers. All we need is coloured paper heart shaped cut outs. Great activity to along with reading of The very hungry caterpillar by Eric Carle.
This heart shaped caterpillar craft will be loved by kids of all ages.
Heart Shaped Mouse Craft
While we are making heart shaped animals, we can also make this folded heart mouse craft for kids. All we need is colored paper and glue. This can be used as prop while reading Aesop's tale – The lion and the mouse which is currently one of our favorite stories.
This is an Easy Valentine's day craft for preschoolers.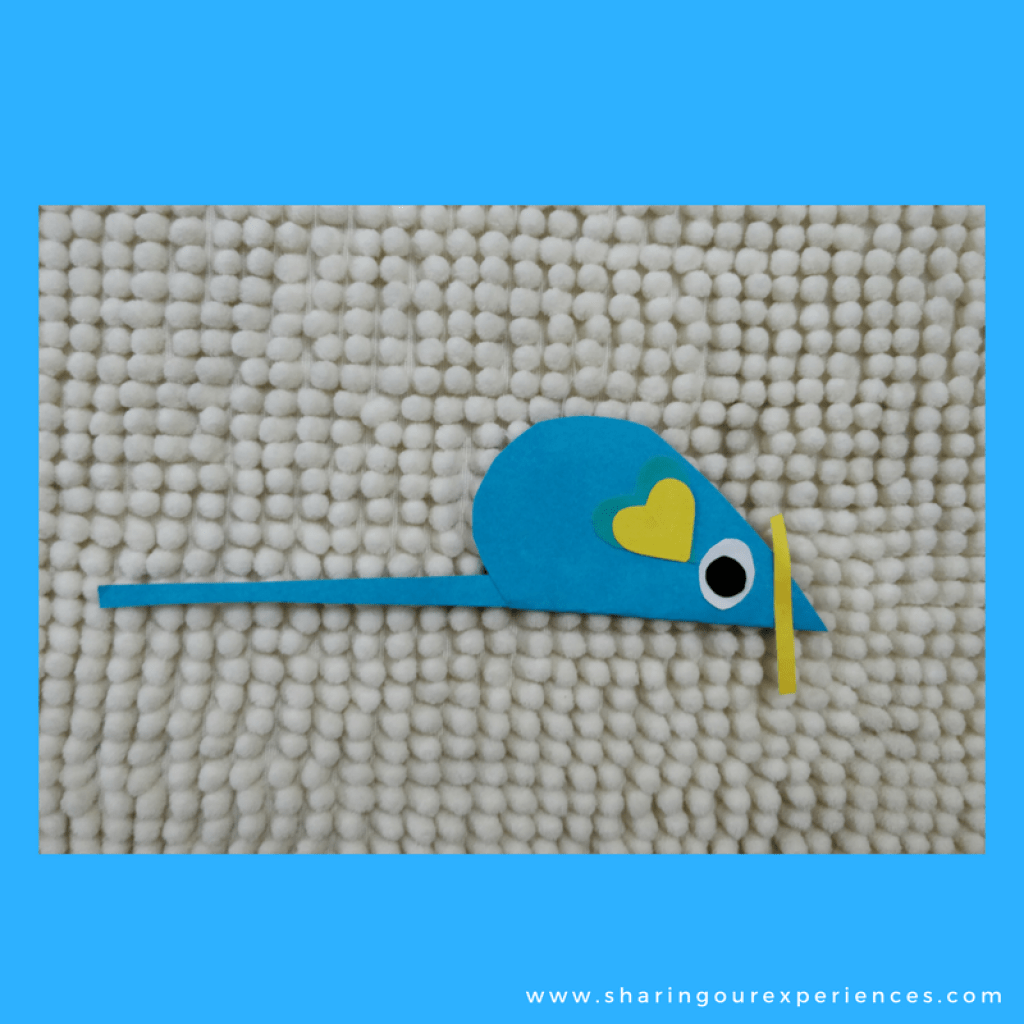 Hand print Heart Tree craft – Love Tree
There is something about hand print cut outs that all kids love to make one. Another Valentine day kids craft idea that can be easily done with toddlers and preschoolers.
The 3 dimensional heart cut outs used as leaves of the tree look beautiful. And while you are making these you can also arrange these to form a garland or bunting as shown next.
Simple Heart Garland or bunting with paper
While we are making 3 dimensional heart cut outs, we can also arrange them to form a garland or bunting. Good idea to decorate our home, Kid's room or preschool boards.
Heart wall hanging Craft made with Straws
This Valentine's day you can also make Heart shaped wall hanging  with colorful straws. Loved this DIY idea from waste material.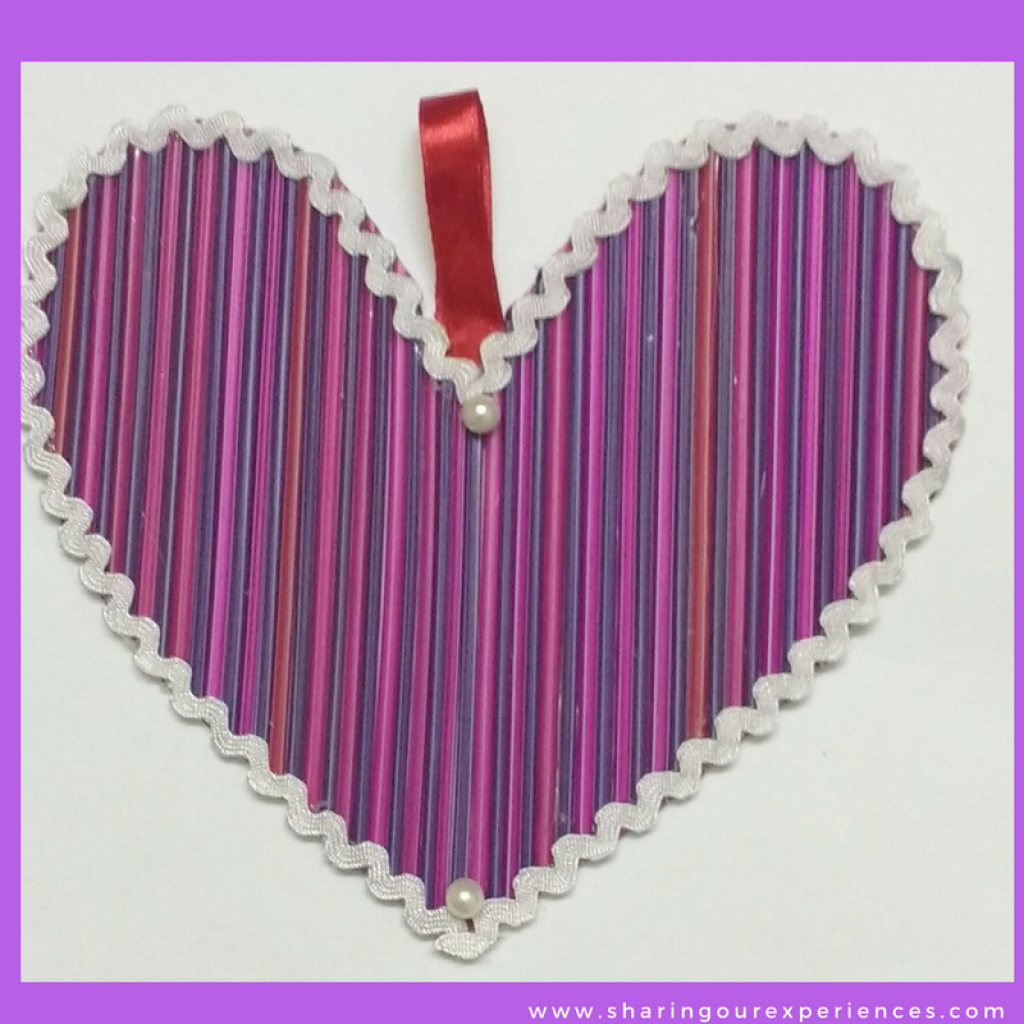 Heart Green Frog Craft
This cute heart frog craft can be made with toddlers as a cut and paste craft, in which we can take their help in sticking various colorful shapes. Older kids can make this colorful frog craft on their own.
Red Roses Wall Hanging Craft
Another beautiful wall hanging with red paper roses. Loved this Valentine day craft for adults. Can be given as a gift or used to beautify our home as home decoration.
This craft is comparatively difficult so can be done by adults or elder kids.
Well that brings us to the end of our list of Valentine craft ideas for now.
Hope you enjoyed these cute Valentines day crafts for kids and adults.
Don't miss to pin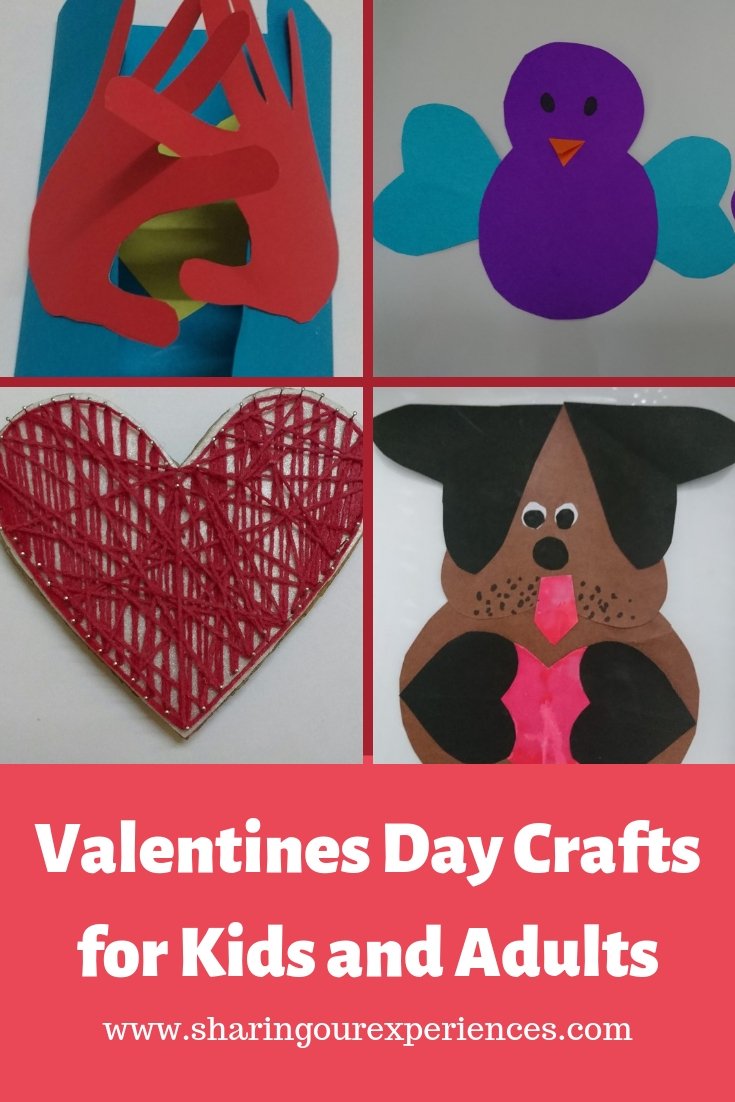 [pt_view id="bdc307de7a"]
Liked this post ?
You may also want to check out our popular article on How to make Crepe paper Rose flowers
If you want to try making a variety of paper flowers, check out any of the free paper flower tutorials below:
[pt_view id="7bf942en6o"]
Your Turn Now
In case if you liked this article do show your support by sharing this article.
Like our Facebook Page 
Stay connected with us using your favorite social media, we can be found on
Add a comment
Don't you find these Valentine craft for kids and adults interesting and beautiful ? Try it and let me know using comments below. Would love to hear from you.