Free Craft Tutorial on how to make heart shaped wall hanging with wool/yarn Valentines day Craft. Great Valentines day handmade gift idea for kids or adults. 
---
In this article
---
Materials required to make Heart Shaped Wall Hanging made with Wool or Yarn
Cardboard
Thermocol Plate
Pins
Wool or Yarn (preferably of Pink or Red colour)
Fevicol
Scissors
Laces or Beads
Process to make Heart Shaped Wall Hanging made with Wool or Yarn
Step 1 – In a bowl take fevicol or water in 2:1 ratio, mix them well and soak wool or yarn in it. Keep them aside for some time.
Step 2 – Cut heart shapes from cardboard and thermocol plate.
Step 3 – Apply glue on one side of cardboard cut out and then paste another heart shape (cut out from thermocol plate) on it. Let it dry
Step 4 – Then insert pins on border of heart shape cut out.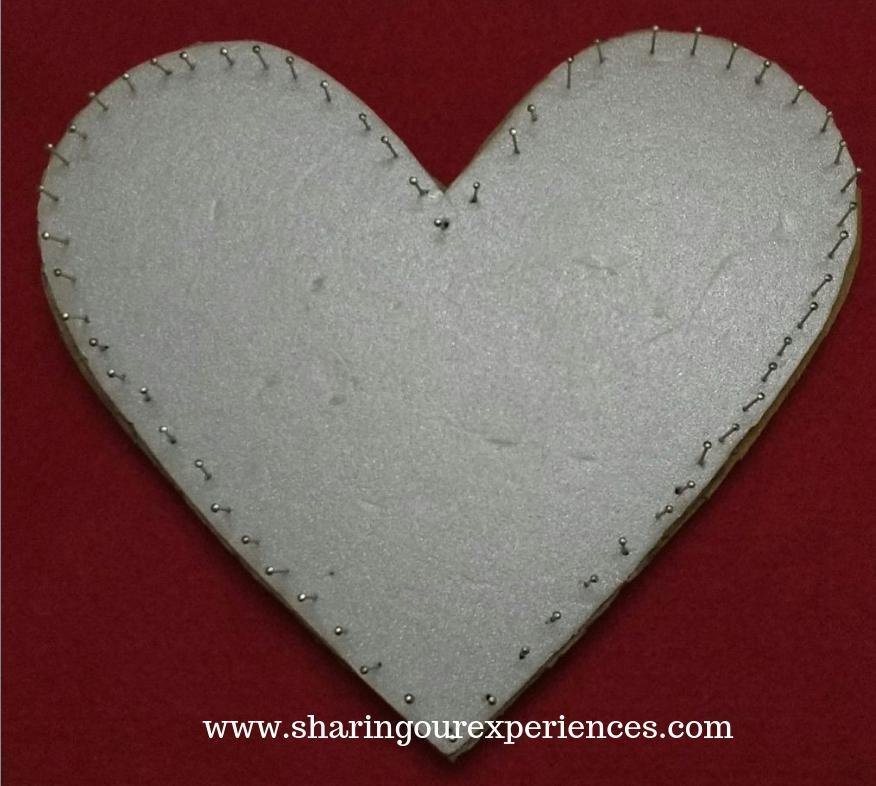 Step 5 – Then start weaving the wool (dipped in a fevicol-water mixture) keeping the heart shape and pins as base.
Step 6 – Keep weaving the wool as per your choice and when you finished doing this keep it aside for a while.
Step 7 – When it gets dry, gently remove the heart shape frame. After this, you will have a weaved heart as shown below.
Step 8 – Decorate it with beads or laces as per your choice. And paste a loop at the top so that you can hang it on wall.
Your weaved heart shaped wall hanging is ready.
Don't miss to pin

Hope you enjoyed these cute Valentines day crafts for kids and adults.
See all Simple and Easy Valentine's Day crafts for Kids and adults
Liked this post ?
You may also want to check out our popular article on How to make Crepe paper Rose flowers
If you want to try making a variety of paper flowers, check out any of the free paper flower tutorials below:
[pt_view id="7bf942en6o"]
Your Turn Now
In case if you liked this article do show your support by sharing this article.
Like our Facebook Page 
Stay connected with us using your favorite social media, we can be found on
Add a comment
Don't you find these Valentine craft for kids and adults interesting and beautiful ? Try it and let me know using comments below. Would love to hear from you.