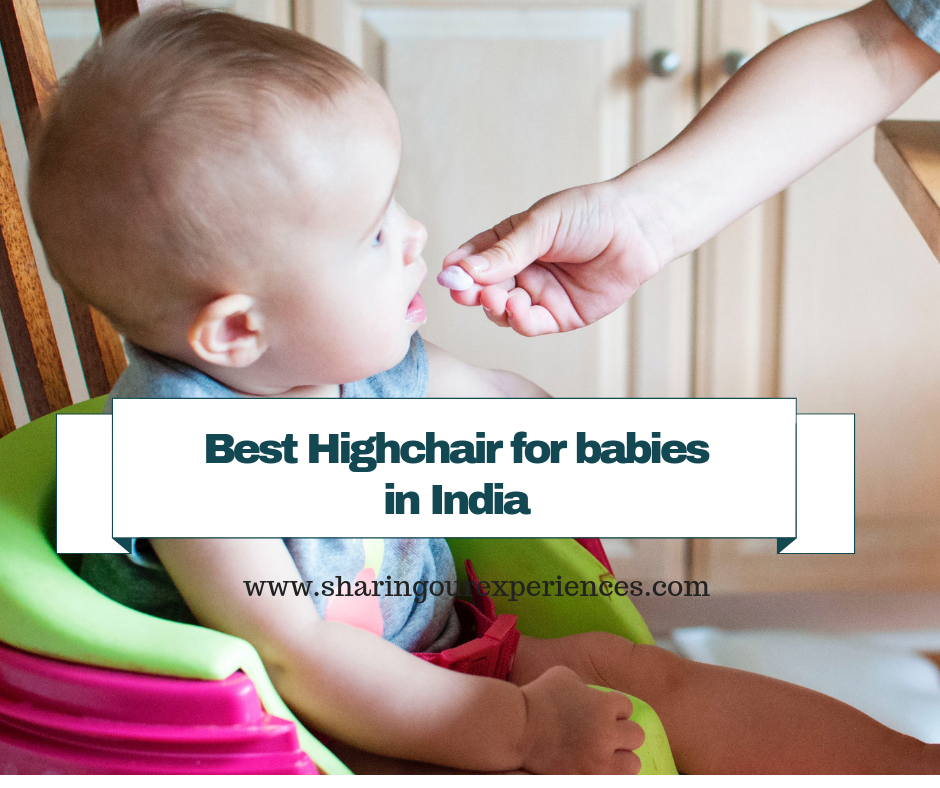 Here we have compiled a list of Best High chair for babies in India based on our analysis and experience :-). 
Buying anything for kids is not an easy task, specially if its kids furniture or things like high chair and car seats. So to make it easier we have written a complete guide on how to choose the right high chair for babies in India.
If you have not read above or if you have questions on What is a high chair, why do we need a high chair for my baby, what types of high chair are available in market, what age is the right age to buy a high chair for my baby, should I buy a wooden or plastic high chair or any more questions on high chair, I would recommend that you start with this guide on buying high chair for your baby.
Getting a feeding chair for my baby worked for me – as it was easier feeding my son on a high chair than running around him during meal times. More importantly. it also taught my son to eat on his own and getting him to eat on a table.
We did not have to rely on phone, TV or any activities during meal time as eating in itself was an activity. What also helped me were some baby feeding essentials as feeding a baby is definitely not easy but the right set of feeding spoons, spill free utensils, sippers and bibs make a lot of difference.
TRENDING >> Want to make your life easy – Click here to see only the MOST LOVED baby feeding essentials 
We started using a high chair since my son was 9 months old. Yes it used to be messy! but Thanks to removable washable tray and above feeding essentials it was easier cleaning him rather than running after him. I used to place a mat below the feeding chair so that I could wash the mat after feeding.
Also he was able to touch and feel the food he was eating. I used to sit with two spoons always – one for him and one for me. And having baby dining chair helped us a lot and made my life easier as he grew older.
Below are the BEST rated and most loved high chair for kids available online
Best high chair for babies in India 2020
So here is a list of best high chairs for babies in India that are available in the market at one place. I have tried to include the most comfortable dining chairs and some that are easy on pocket.
You can go on the do your own research for high chairs available online but having all these at one place would hopefully make life easier for you.
We have done this analysis in the basis of features of high chair as well as it amazon customer reviews and have only included high chairs that are genuinely a good buy
Fisher Price 4 in1  High chair 
back to menu ↑
Luvlap 4 in 1 Booster high chair
back to menu ↑
R for Rabbit Marshmallow baby high chair
back to menu ↑
Baybee 5 in 1 Smart and Convertible High Chair Baby Feeding Chair
back to menu ↑
Chicco Pocket meal high chair
back to menu ↑
Baybee LittleHug 7 Position Height Adjustable Baby High Chair Baby Feeding Chair
back to menu ↑
Baybee Little Miracle Convertible Baby High Chair Feeding Chair Study table
back to menu ↑
R for Rabbit cherry berry the convertible high chair
back to menu ↑
Luvlap sunshine Baby high chair
back to menu ↑
Little Pumpkin Kiddie Kingdom 3in1 fold-able high chair
You can also get a highchair from Mothercare and Hamley stores. 
back to menu ↑
✅ Best high chair for babies India – WINNER
Which baby high chair is the BEST ?
This highchair on amazon wins hand down. It also has multiple good customer reviews and is value for money. This high chair can be used for babies and then later as your baby grows up converted into study table chair, Its comfortable and certified safe (has non slip and anti tipping design). Has washable cover and removable tray.  If you can get this for lesser than Rs 4000 grab the deal. See Colour options, latest price and reviews here
If you are looking for a little bigger and higher high chair and one that converts into a booster seat and then table chair as your kid grows up –  then you can go for this Fisher price High chair.
Another option is to go for this R for Rabbit high chair – It is certified for safety and can be smartly folded.  It is loved by babies and parents and is a strong competitor to the one we selected above.
COMPARE ONLY  THE TOP 4 HIGH CHAIR FOR BABIES BY CLICKING HERE
See Today's Best High Chair for Babies List

back to menu ↑
How to choose a highchair for babies
Primary thing to consider while buying a high chair is that whether it's safe and comfortable for your baby and convenient for you to put the baby in and take him out easily or not.
When you buy a high chair, take care of below things:
your baby seems comfortable in it

you can operate it comfortably 

the height is convenient for you

you can remove or put the tray with single hand.

he seat strap is easy to fasten and unbuckle
One other important parameter for me was whether it had a removable tray and seat cover for cleaning. As that makes cleaning a very easy task.
For more details read our complete guide on how to choose the right high chair for babies in India
Note – Stop using a high chair when you see your baby standing on it unbuckled  – as there is a chance that he or she may fall down. Always use safety strap on the high chair and never leave your baby unattended in the high chair.
back to menu ↑
Do we have wooden high chair in India ?
If you are looking for wooden high chair for your baby. Then you can get this one
Though the product seems good but most people have received it broken (read review here) thus we have not added in our list above
back to menu ↑
Best high chair for Toddlers in India
When we look for high chair for toddlers, You can consider below high chairs
back to menu ↑
✅ Compare Best highchair for babies price online (Sorted by price)
Last update was on: 9th August 2020 10:39 am
back to menu ↑
What is a booster seat?
A booster seat is an adaptable seat as it can be fixed to a dining chair – helpful in keeping the baby at one place while eating. This can also be used as car seat- booster chair can easily be placed on the car seats and buckled. Though I would prefer that you get a car seat specially designed with safety features.
back to menu ↑
What is the difference between high chair and booster seats
A high chair is an independent tall chair (like one we use – a seat, with legs on the floor) in which we can make our baby sit and feed them.
A booster chair is a seat that is fixed on top of the existing chair (so no legs of its own as such).
back to menu ↑
Should I go for High Chair or Booster seat
If you compare the high chair with booster chair then high chair has certain disadvantages such as
High chair Pros
High chair comes with their own feeding tray (usually removeable as well) thus they are easy for cleaning.
Many baby high chairs have adjustable heights, reclining positions and nowadays even removal seats. So they can be used as high chair or booster seat or table chair. You can read more about the best high chair for babies in India
High chair is more stable
High Chair Cons
When high chair is used at the dining table it takes more space and is not compact (as compared to booster chairs).
High chair needs more space and is a complete piece of furniture by itself. (Though there are now convertible high chairs available that can be used as high chair, booster seat and a table chair for e.g. this one )
High chair is heavier and not portable.
High chairs are more expensive than booster seats
Some of these disadvantages of the high chairs made booster chairs popular and preferred choice among the parents.
Booster seat Pros
A booster chair is multipurpose piece of furniture because…..
It can be easily fixed on the dining chair so that baby feels that he is sitting with all other family members
It is very helpful in keeping the baby in one place while eating.
It can be used as a car seat as well. As the car seat belts are designed for adults they won't fit the baby. Hence the booster chair increases so that the baby is safe when buckled up.
Travel friendly and compact – easy to carry wherever you want without any issue.
It is suitable for kid's right from the age of 6months up till they are 4-5year old.
They are cheaper than high chairs
If you love to travel with the baby then booster seats are the best as they are travel friendly. And if chosen wisely then a compact one will not take much space in your car.
Booster seat cons
There are certain disadvantages as well of the booster seats
It is not for small babies who cannot sit properly by themselves
Make sure the straps are fastened properly or else it might lead to accidents
Booster chairs can be used for limited period of time as the babies grow very fast.
back to menu ↑
Do I need to buy Booster seat or high chair 
There are several benefits of using a booster seat or high chair few are listed below.
Booster seats or high chair helps the child to learn table manners and learns healthy eating habit by looking at other family members. This in turn is helpful in strong family bonding.
As the baby can hear the conversation during the mealtime it will be helpful in speech development due to the right sound exposure.
High chairs and Booster seats encourage the habilt of eating by sitting in one place and encourages baby to eat by sitting in right position.
back to menu ↑
Best Booster seats for toddlers in India
back to menu ↑
LuvLap 4 in 1 Booster High Chair 
This is one of the best option available online as it has advantages of High chair as well as booster seat. Its good quality, easy to assemble, light weight and complete value for money.
back to menu ↑
Mastela Booster to Toddler 6M+ Seat
This is one of best baby Booster seat, When we checked reviews on Amazon customers loved this. For eg this review (click here to read) talks about how these booster seats are higher and another review (click here to read)  covers how these can be used from 6 months till 2 years.
This is one of the best booster seats in the market and parents love it for being – durable, safe, easy to clean. One customer mentioned about the weight limit till which they could use the seat, read about it by clicking here.
We have done detailed analysis on how to choose a Booster chair and which are the best booster chair in India. (click here to read about best Booster chair in India)
Liked this post on baby dining chair ?
If you liked this article on best highchair for babies in India. Don't forget to Pin it
Your Turn Now
In case if you liked this article on best highchair for babies in India and think it may help someone do show your support by sharing this article.
Like our Facebook Page and stay updated
Stay connected with us using your favourite social media, we can be found on
Add a comment
Did you like this shopping guide on best highchair for babies? Do let us know using comments below and if you have any more questions or something to add please do let me know. Would love to hear from you.