Best Cloth Diapers in India 2021- Must read the guide from Moms to answer all your questions
---
A must read detailed guide on What is a Cloth Diaper, Are cloth diapers good for baby, which type of cloth diaper is best, what mistakes to avoid when choosing a cloth diaper, are cloth diapers leak proof, Best cloth diapers in India and much more.
Cloth Diapers are economical, rash free and best of all a sustainable way of living that we can definitely think of adopting. Here is a detailed guide for new moms on everything they need to know about cloth diapering
In this article we will cover everything you need to know about Cloth Diapering
Advertisement| Article continues below.
---
---
What is a Cloth diaper?
A cloth diaper resembles a regular plastic diaper in shape and size but is completely eco-friendly and re-usable. This means it is made of washable cloth or natural fibers or man-made fibers that do not harm the environment.
Some Cloth Diapers are waterproof some are not.
Often PUL (Polyurethane laminate) is the outer most layer used – that makes the diaper waterproof. The outer layer may be made of PUL or polyester or organic cotton or any other decomposable fabric.
back to menu ↑
✅ What are the best cloth diapers in India for babies and toddlers?
Here is a list of cloth diapers that you can invest in
back to menu ↑
Best Cloth diaper for babies: Superbottoms Newborn Diaper
Superbottoms Newborn Diaper Value Diapers with 2 Fleece Liners Free, New Born (Pack of 3)
Rs. 1,999


Rs.

1,400
in stock
2 new from Rs. 1,400

as of 1st March 2021 6:17 am
Features
Super soft newborn cover diapers with velcro closure- making it easier to wear on small babies. Covers are the ideal choice as they can be reused and dry faster
Super soft - supersoft diaper with velcro which makes it easier to put diaper on small babies.
Superbottoms diapers are designed by mothers and is an all-mothers team that works on the brand making sure, only the best product goes out to your babies
Certified organic cotton (one wash prep) inserts- organic cotton is super soft and lasts wash after wash
Designs - superbottoms designs/prints are done by leading designer moms of india
back to menu ↑
Best cloth diaper for new born babies – Bumpadum newborn diapers
Bumpadum Neo Putani Organic Cotton Cloth Diaper for Newborn Babies - 2-8 kgs (Eden)
as of 1st March 2021 6:17 am
Features
Newborn size diaper. Fits babies from 3 - 6 kgs approximately
4 absorbent layers topped with micro fleece give stellar absorbency as well as protect your tiny squish from wetness, allowing your baby and you some much needed sleep
Buttery soft fabric on the inside keeps baby's skin dry and comfortable. Slightly long insert allows you to fold to get more absorbency but doesn't add bulk
The only company to make modern cloth diapers in INDIA. Contact Bumpadum for any help in using our products.
Insert snaps on to the shell, making it easy to clean the diaper, especially important in those first few months
back to menu ↑
Best cloth diaper for toddlers: Superbottoms free Size diaper
SuperBottoms Freesize UNO - Washable & Reusable Cloth Diaper + 2 Organic Cotton Dry Feel Regular Pads Set [Day & Night Use] (for Babies 5 KG- 17 KG) - Rainbow Twinkles
Rs. 1,999


Rs.

799
in stock
2 new from Rs. 799

as of 1st March 2021 6:17 am
Features
Contents: 1 Multi-size Waterproof Outer along with 2 pads (1 Dry Feel Pad and 1 Booster Pad)
Our waterproof diaper shell comes with adjustable rise settings so that the same diaper can be used for 3 month baby and 3 year baby. Dry Feel Pad consists of 8 layers of GOTS Certified 100% Organic Cotton with a SuperDryFeel layer on top. Booster Pad consists of 8 layers of GOTS certified 100% organic cotton and adding the Booster Pad makes SuperBottoms UNO ideal for night time use.
Our diapers are organic, skin friendly and eco friendly diapers. These are reusable and washable 300+ times hence a sustainable diapering option.
Our diapers are known to last overnight and we have a lot of customers who use them so. Since it is an adjustable diaper, it needs to be sized properly, most of the customers miss this step. If you think that the diaper is leaking/ not absorbing as it should- please get in touch with our momsconnect team and they will help you with the right fit for the diaper.
India's First Cloth Diapering Helpline: For any help, reach out to our Cloth Diaper Helpline at +91 74990 25345. Our helpline is managed by a team of mothers who are passionate about cloth diapers.
back to menu ↑
Bumpadum free size diapers
Bumpadum Duet Stay Dry All-in-1 Diaper (Lapland, One Size)
out of stock
as of 1st March 2021 6:17 am
Features
One-size diaper, fits babies from 5-15 kgs. Just pick a fresh diaper, snap on the insert and put on baby - no stuffing, no tying, no pinning
Its 2 part insert, so you can absorbency and trimness. Use just one insert for babies 6 months for trim look, use both for older babies to last 3-4 hours
Buttery soft fabric on the inside keeps baby's skin dry and comfort, very important during overnight usage
back to menu ↑
Bumberry Baby Reusable Cloth Diaper With 1 Natural Bamboo Cotton Insert
Bumberry Reusable Diaper Cover and 1 Natural Bamboo Cotton Insert (Baby Blue)
2 new from Rs. 519
Free shipping
as of 1st March 2021 6:17 am
Features
Closure Type: Flap-over-snap
Recommended Age: New Born to 1 Years
Material: Polyester, Nylon and Bamboo Fibers
Size: Free size- small, medium, large sizes can be adjusted in the same diaper
Color: Blue; Wash Care Instruction: Washable; Package Content: 1 Reusable Diaper Cover, 1 Natural Bamboo Insert
back to menu ↑
Bumberry Reusable Diaper Cover and 2 Wetfree Inserts
Bumberry Reusable Diaper Cover and 2 Wetfree Inserts (3 - 36 Months, Blue and White)
2 new from Rs. 599
Free shipping
as of 1st March 2021 6:17 am
Features
Closure Type: Flap-over-snap
Recommended Age: 3 Months to 36 Months
Material: Strong Breathable, Absorbent Material
Size: Free size- small, medium, large sizes can be adjusted in the same diaper
Color: Multicolor; Wash Care Instruction: Washable; Package Content: 1 Diaper Cover and 2 Wet Free Inserts
back to menu ↑
Tushions Green Diapers Organic Cotton Muslin Flats,
Tushions Green Diapers Organic Cotton Muslin Flats, 70 x 70 cm - Pack of 5
as of 1st March 2021 6:17 am
Features
Made of GOTS certified Organic Cotton
Breathable and great diapering solution for summers
Can be used with Snappis or Diaper Pins or with Diaper Covers
back to menu ↑
How are diapers of different brands different from each other?
All diapers are made eco-friendly with PUL/Polyester/organic cotton material. All the brands have various varieties of diapers and inserts. What varies are size, material, and design. Some find a brand best in fitting; some may find another one better. It's a personal choice, depending on the size of your baby.
Remember to confirm that the fabric is made natural and chemical-free. Also, you can find some brands expensive. It's the quality, designs and the best fitting they make, that makes them expensive. Trust me, it's totally worth it.
back to menu ↑
Why choose cloth diapers? Are they worth it?
Yes. Cloth diapers are definitely something that you can invest in as a parent. Its good for babies as they do not cause rashes. Also they are economical and sustainable way of living.
1. Rash-free diapering
Plastic diapers cause rashes to baby's skin especially to those born with sensitive skin. Cloth diapers do not cause any rashes since they are made of natural soft harmless fibers.
2. Economic decision
Buying cloth diapers is a one-time investment of around 6000-7000 for a good stash that can last for complete diapering stages of all your kids when compared plastic diapering that would amount to 15k to 20k per year per child.
That's a huge difference.
Cloth diapers save a lot of money. Moreover, there are people who would will to buy pre-loved cloth diapers, so once we are done with diapering our child, we can also sell cloth diapers.
Look good and Feel good
They are super colorful and come in great varieties of prints that make diapering journey memorable and fun.
3. Offer a sustainable way of living
As parents, we always choose the best for our kids. From clothes to toys to diapers, we make a lot of research before buying them anything.
But, sometimes we forget to think and research about the consequences of our little decisions.
For example, we have some brands in our mind as the best diaper brands for our kids. They may be best for babies, or rather best for parents who want to avoid mess at home, but are they doing well to the environment? We use and throw the diaper away and forget about it. Do you know where they all go? Do you think they get recycled like other wastes? No! They are dumped into landfills and remain non-decomposed for 200-400 years.
Shocking??
This is the bitter truth. And the same applies to sanitary pads which remain non-decomposed for 800 years polluting the water and the environment around.
back to menu ↑
Cloth Diapers Vs Disposable Diapers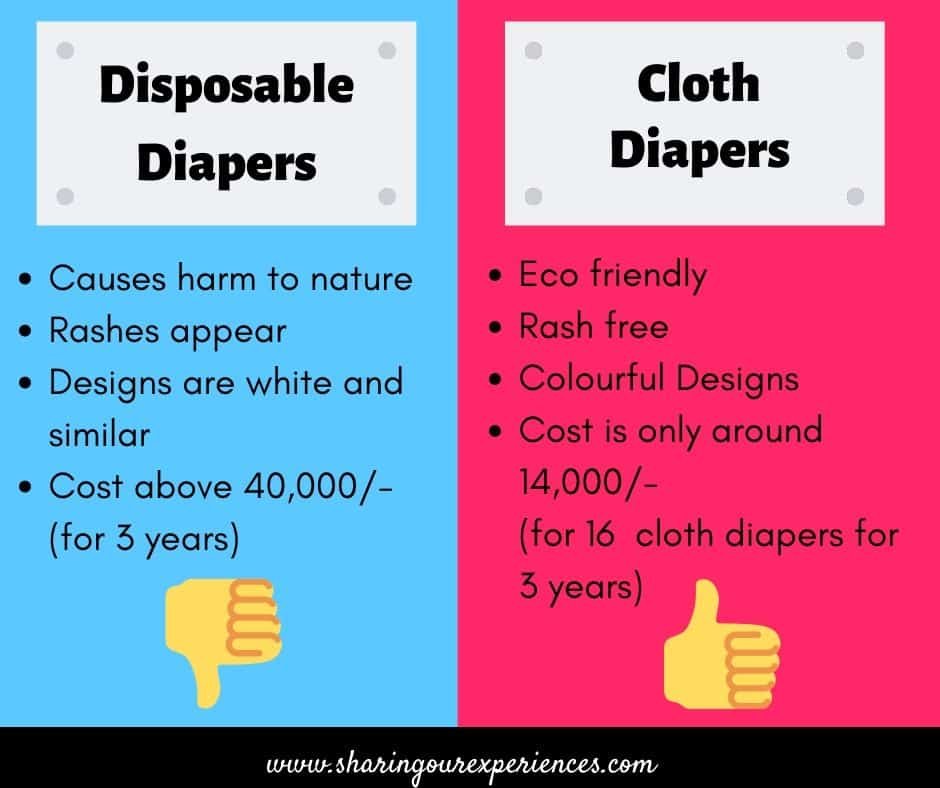 We may be making right decisions for kids today, but what about their future? We must work towards solving the problem. Hence, we must opt for Cloth diapers – natural, plastic free, chemical free, reusable, eco-friendly. It's a one-time investment that will last for over 200 times thus economic.
back to menu ↑
How to use cloth diapers?
Use them like any other diaper. Simply lay the diaper under baby's bottom and snap them according to the size. Change it in 3-4 hours or when baby poops and wash it off under running water and keep it in a corner for further wash process (discussed later).
What are the types of cloth diapers?
Pocket diaper
:
This diaper consists of an outer shell with one side open forming a pocket to insert one/more soaker(s). The shell has a dry feel layer attached that touches the baby's bum. This is mostly used for medium wetter babies. They work well for up to 3-4 hours.
Cover diaper
:
consists of outer waterproof shell which needs a soaker/insert to be attached to it that directly touches the baby's skin. These are best for day time diapering.
All-in-one
:
This type of diaper works as a pocket as well as a cover. It has attached inserts with dry feel layers and contains a pocket to insert extra soakers if needed. These are mostly used for night time diapering since a good quality all-in-one would work up to 8-9 hours.
Fitted
:
These are same like pocket diapers but the outer shell isn't waterproof. It is made of organic cotton and makes the diaper breathable. You can attach a waterproof shell outside while using. Some people prefer using breathable diapers, so it works best for them. The complete shell acts as an absorbent.
Training pant
:
They resemble the plastic training pants available in market, but are reusable. They have multiple layers of micro fleece or micro suede that hold 1 or 2 pees. The outer layer is waterproof.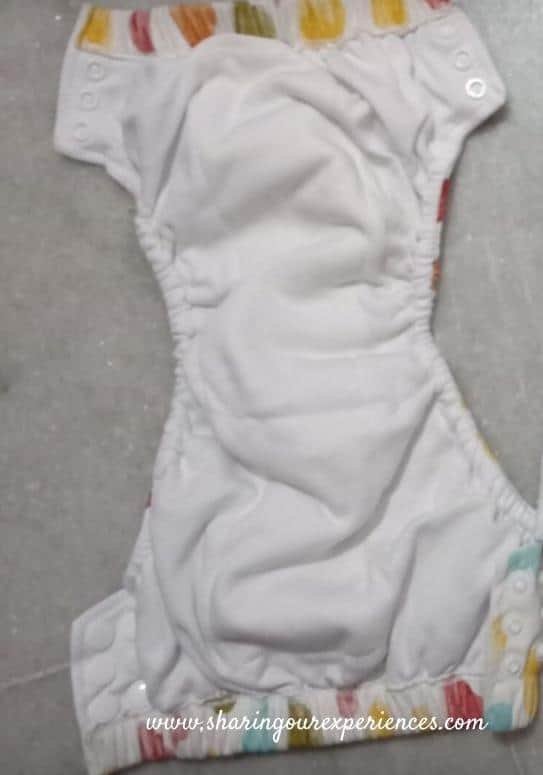 You can find small sized pockets, covers and all-in-one diapers for new-born as well.
The dry layers that touch a baby's skin are made of micro fleece or micro suede. These help in keeping baby's skin dry without letting them feel any wetness or irritation. Hence preventing diaper rashes.
Types of soakers/inserts:
Microfiber

: Made from microfiber material, they are great absorbents and can work well for up to 2-3 hours.

Charcoal bamboo

: Made from charcoal and bamboo material, soaks well and can work well for 4-5 hours.

Organic bamboo cotton

: Made from organic bamboo material, this one has great absorbency and can work up to 6-8 hours without leaks.

Hemp

: made from organic hemp fiber, it has the most absorbency. It can be used for night time since it absorbs pee for up to 8-10 hours.
back to menu ↑
How to choose a cloth diaper?
First of all, analyze whether your baby is a medium wetter or a heavy wetter. A medium wetter can do with microfiber inserts in pocket/cover diapers during the daytime, and for the night, you can opt for bamboo inserts or all-in-ones for longer absorption.
For a heavy wetter, you will need bamboo inserts during day time as well. Otherwise, you will need a huge stash of microfibers. So, you can choose all-in-ones for day and nights, and 'hemp' inserts for longer absorption.
Now, research on a trusted and certified brand for these inserts. I had been convinced with Superbottoms and Bumpadum seeing loads of positive reviews on their websites and on Amazon. Both are certified organic and fit all babies really well. Also, they make excellent quality diapers and inserts that absorb really well. They don't get stained soon and wash off easily. Also, they have good re-sale value since they are loved by all since their prints are droo-oo-ooling.
I had a huge stash of them that I used for more than a year. They looked like new even when I sold them off to other moms and they were all very happy to receive them.
'Superbottoms' also gives you a free trial of their diapers. Do try them out.
back to menu ↑
How to wash and maintain cloth diapers?
Once you remove a diaper off a baby's bum; wash it under running water removing all pee and poop from it. It may take 1 minute of continuous water pressure. You can use a hand shower too.

Next, separate inserts and shells and hang them on the rim of a bucket. Let them breathe.

Similarly, you can collect diapers for a day or two in the same bucket.

Now, they can all go in the machine for a wash with normal detergent.

You can hand-wash them as well like any other clothes.

You can also wash them along with other laundry since they are pee and poop free now.

Try to sun-dry them every time so that they dry faster and sun is a natural and best disinfectant.

You can reuse them all now. They are fresh as new.

You can bleach or strip them all once in a while to refresh them and get rid of stubborn stains and odor.
back to menu ↑
Where to find cloth diapers in India (Best Cloth Diapers brand in India ?
There are a lot of brands that make cloth diapers. You can find some in local stores as well. However, my favorites have been 'Superbottoms' and 'Bumpadum'.
I don't say that others aren't good enough, but I have personally tried the two brands and I love my experience of diapering. Their quality is amazing and I bet you won't regret.
If you find them expensive, there is a group of experienced moms on Facebook who sell off their pre-loved diapers once they are done with diapering, at low rates. Don't worry about the performance; it will be the same at the 200th time as it was at 1st use. Just make sure you don't buy a damaged one.
Points to remember:
A cloth diaper works as good as a plastic one. Don't worry about leaks. Once you get the heck of it, you will love them.

Buy the best quality. Don't worry about the price; they are worthy and definitely much cheaper than plastic diapers.

You can find some brands like 'Superbottoms', 'Bumpadum' and many others that are certified organic and safe to use.

Rating absorbency from best to good:
Hemp

Organic bamboo

Charcoal bamboo

Microfiber
Always wash the diapers well before starting to use them, since the fabric needs to be prepped so that it starts to absorb well.

Wash and dry them well, they get better and better after every use.

I had bought a large stash of different brands that cost me around 10k and sold them all at 5k once my kids were trained. You see! I diapered my baby for a year at 5k only and I could use the same for my next baby for free as well: So much money being saved here.

There are dedicated teams from brands who assist you throughout your diapering journey.

Always apply coconut oil on the baby's skin while cloth diapering to avoid frictional rashes by the dry cloth layer on top.

Its better late than never. Start cloth diapering now for a better future for your little bum.

The Municipality of Kerala doesn't accept plastic and sanitary wastes from homes. It's a great initiative to promote cloth diapering and I hope the rest of our country becomes plastic-free too very soon.
back to menu ↑
FAQs answered.
What are cloth diapers?
Cloth diapers are reusable ecofriendly diapers made of washable cloth or natural fibers.
How do cloth diapers work?
It works the same as disposable ones, there are many options we can choose from.
Are Cloth diapers better than the disposable diapers?
Best for the environment, best for the bum, more comfortable and breathable than disposables, economic too.
Is the outer layer of cloth diapers is water resistant?
Yes, most are made of layer which is waterproof and breathable. However, some people use organic cotton diapers that are non waterproof.
Do the chances of getting skin rashes are lesser than the disposable diapers?
Almost nill. They donot cause rashes. It is most recommended to apply coconut oil after each change of diaper. Also, if you use the wrong size, there are chances that babies develop frictional rashes. So, choose the right fit.
Can Cloth diapers be washed at home and can be reused?
Can be washed at home or at hotel stays and can be reused upto 200 times.
What things should we keep in mind when we reuse it? How it should be sanitized?
Sun dry is enough to be reused again. It should be completely dry. Thatsall, nothing else is required.
How many types of cloth diapers are available in market and which one is highly recommended?
Already mentioned above. Most recommended is the all in ones for perfect fit and high absorbancy.
When Cloth diapers should be used more during the day or night?
Both. However, use highest absorbancy soakers for night time.
If night then which insert has maximum absorbency to get through the night?
Organic cotton and Hemp
Recommended Cloth diapers brands in India
Superbottoms
Bumpadum
Bumberry
Green diapers
Is it safe to use preloved cloth diapers?
Absolutely. You can bleach them before using and wash well once and sun dry them. However, avoid reusing stained or torn ones. Only buy preloved, when they are in good condition.
Are Cloth diapers messy?
No, they aren't. You will take a week's time to understand the whole process. The only extra thing is that you need to wash off poop off the diaper. A little extra patience needed but definitely not messy.
Do cloth diapers really save money?
Undoubtedly! They save loads of money. It's a one-time investment. Your second baby's diapering will be for free.
How often to wash cloth diapers?
Wash off pee and poop once it's off the bum. Wash the collected stash once in 2 days. You can rewash all the stash once in 2 months for thorough wash or to remove detergent build-up.
Can you wash diapers and inserts together?
Yes. In fact, if they are pee and poop free, you can wash them with regular laundry too.
What age group of kids does cloth diapers support?
From birth up to 3.5-4 years, there are a lot of sizes available in the market.
How many cloth diapers are needed in a day?
Approximately, 4 to 5 diapers are needed per day. So you would need a minimum of 12-15 diapers in your stash.
Do cloth diapers look bulky?
When compared to plastic diapers, they look a little bulkier, but believe me; your baby won't be affected by this at all. Also, cloth diapers do not cause any hindrance in achieving baby milestones.
How long do cloth diapers last?
A single cloth diaper works amazingly well up to 200 times of use, and it gets better and better in absorption after every wash.
A little extra patience and energy is required for a happy cloth-diapering journey. Also, if you love Nature, and you want your kids also to enjoy the same when they grow old, then it's high time we switch to eco-friendly, sustainable choices.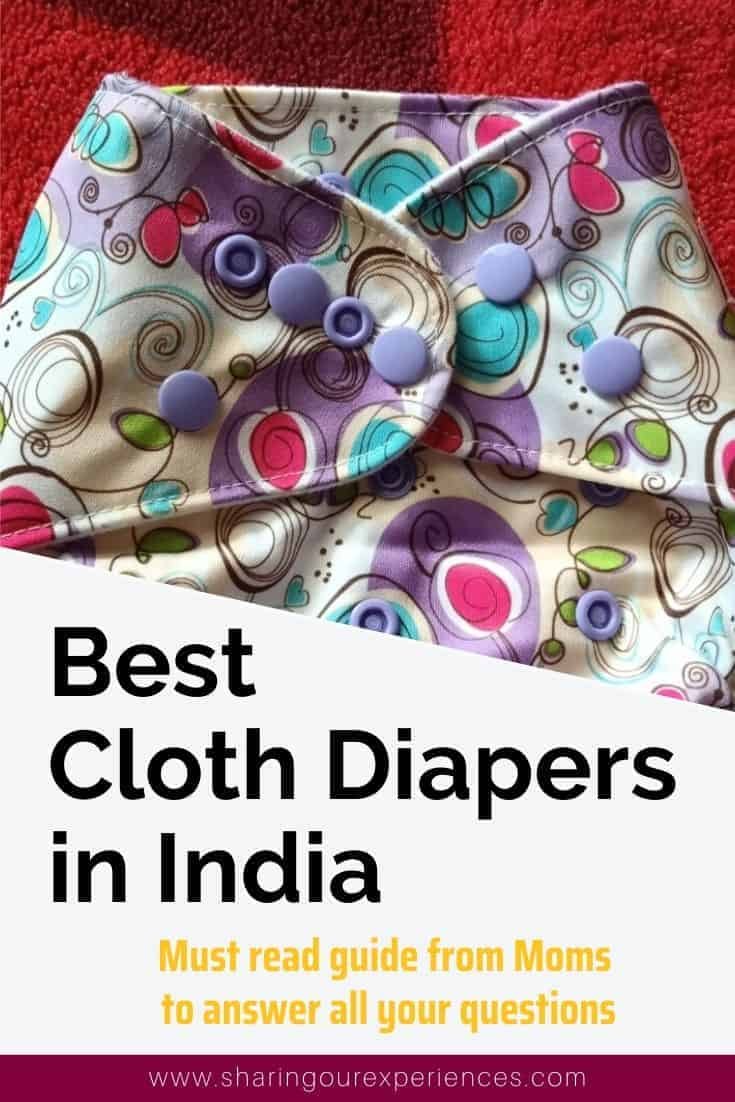 Don't miss to pin


Liked this
You may also want to read one of our other popular articles on Best baby booster seats in India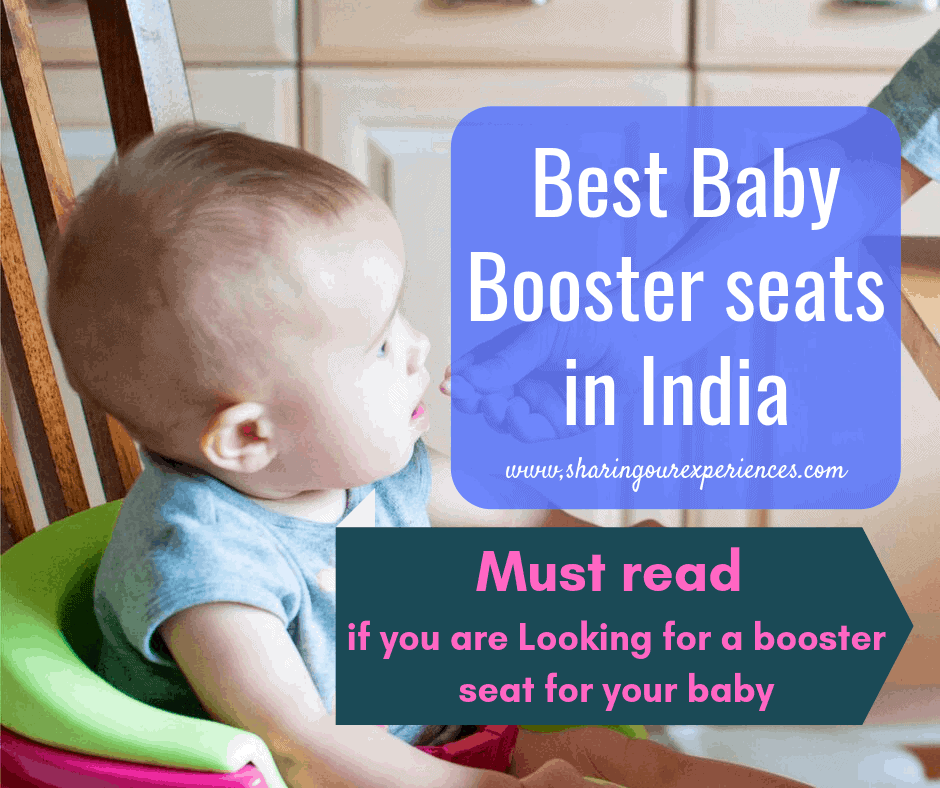 Your Turn Now
In case if you liked this article do show your support by sharing this article and Liking our Facebook Page
Stay connected with us using your favorite social media, we can be found on
Do you want to share your crafts, parenting tips, stories, toy or book review, let us know by using comments below or mailing us on sharingourexperiencesblog@gmail.com
Add a comment
Don't you find this blog on cloth diaper interesting and useful? Try it and let me know using the comments below. Would love to hear from you.
We love hearing from you. Add a Comment using your Facebook id (if you don't want to use Facebook, scroll down to leave a reply using other options)