---
Looking for a diaper rash cream India. Check out this list of Best Diaper rash cream in India that are trusted by moms. Also covers home remedies for Diaper rashes that have worked for moms
What is Diaper rash? Diaper rash is very common in babies. It is a form of inflamed bright red patchwork skin formed on buttocks of babies. Diaper rashes can be very painful.
The main reason to cause diaper rash is infrequent change of diaper, diarrhea, new food and anti-biotic. Some diapers rashes can be cured at home by taking some self care preventive measures.
Advertisement| Article continues below.
---
---
Tips to avoid Diaper rashes
Few things that can be take care to avoid diaper rashes are – Make sure your hands are clean whenever you change diaper. Invest in Good quality of diapers as  they are must. It's advised to use cloth diaper during summers. Most of the time diaper rashes are caused during summers. Always keep the area clean. If you have newborn baby at home make sure you follow the following points below.
Never leave baby in soiled diapers.
Always keep the genital area clean. Try to wash with warm water.
Avoid using wet wipes often. You can choose the wide range of organic wet wipes available in market.
Don't rub the area harshly with wet wipes or any other cream.
Use Diaper rash cream or coconut oil after diaper change.
If your baby has a diaper rash, avoid giving spicy or citrus food. If you're breastfeeding, mother should also avoid eating such foods.
Visit a Doctor as soon as you can and rely on medications suggested. Nothing said in this article should replace Doctors advise.
Home Remedies for Diaper Rash
Apply coconut oil to the genital area and keep baby diaper free for a while. Airing out the area helps prevent moisture accumulation that cause rashes and infections
Applying thin layer of Vaseline/petroleum jelly before a fresh diaper helps create a protective barrier between skin and diaper.
Cornstarch is also an effective remedy for diaper rash. Personally used it by me for my daughter. Its effective when diaper rash is mild. Just apply cornstarch on genital area before new diaper.
back to menu ↑
Best Diaper Rash Creams India 2020
Sebamed Diaper rash cream

Himalaya Diaper rash cream

Boudreaux Butt Paste

Aquaphor Advanced healing ointment

Destin Diaper Rash Cream

Lotus Herbal Baby+ Happy Bums Diaper Rash Cream

Mothercare – All we know nappy cream

Cetaphil Baby Diaper Cream

Sudocream Skincare Cream

Bebe Diaper Rash Cream
Here I have Compiled a list of Top 10 Diaper Creams Available in India. You can order them online or buy from a store. It would take few days time to delivery to your location (depends upon the availability).
What is zinc oxide?
Zinc oxide is a term that you will see throughout this article as it is an active ingredient of most diaper creams. It is a fine white powder that is insoluble in water and is an ingredient of a number of facial creams and beauty products. You might have observed that when you try washing your hands after applying some creams, you tend to have water droplets on your skin. This is due to the presence of Zinc oxide. It creates a barrier on your skin and repels the wetness which cause the rashes. The percentage of Zinc oxide in a diaper cream is one of the factors that determine its efficacy.
back to menu ↑
Sebamed Diaper rash cream
Sebamed Baby Rash Cream contains micronized form of Titanium dioxide which forms physical barrier over skin. pH 5.5 + micronized form of Titanium dioxide ensures faster recovery as compared to conventional rash creams which contain zinc oxide and pH 7. The high panthenol content promotes skin regeneration and the healing of damaged skin. Natural bees wax + squalene + sorbitol ensures optimal hydration of baby's skin.
Key Features of Sebamed Diaper Rash Cream
Gentle protection for delicate baby skin
Provides effective relief from and reliable protection against diaper rash
Panthenol stimulates the healing process
Vernix-related squalane provides the necessary lipid support and protection
Titanium Dioxide forms a protective barrier against aggressive substances
Allantoin makes the skin smooth and supple
Ideal from month 1 — 2 years
back to menu ↑
Himalaya Diaper rash cream
Himalaya diaper rash cream is a comprehensive Ayurveda formulation to heal rashes, occurring due to diaper edges rubbing against soft baby skin. Frequent contact of a damp diaper against a baby's bottom causes redness and rash. To nurse this discomfort, clean your child's skin gently, pat it dry and apply the protective, soothing Himalaya nappy rash cream for effective healing. This diaper rash cream is enriched with the anti-bacterial, anti-fungal and anti-inflammatory properties of Five-Leaved Chaste Tree, that's traditionally acclaimed for its healing of sores and skin infections like blisters. Moreover, the soothing and moisturizing effect of Aloe Vera and Almond oil heals and restores the supple skin texture of your child's skin.
Key features of Himayala Diaper Rash Cream
Keep diaper rashes away with the power of herbs & Zinc Oxide
Yashad Bhasma (Zinc Oxide): Prevents and heals rashes
Nirgundi (Five-leaved Chaste Tree) & Manjishtha (Indian Madder): Relieve pain, redness, and discomfort due to diaper rashes
Indian Aloe & Almond Oil: Moisturize sensitive skin and keep it soft & smooth
Free from Parabens, Mineral Oil & Synthetic Colors, the usual factors for allergies & rashes
Provides relief from the very first use
back to menu ↑
Boudreaux Butt Paste
Boudreaux butt paste is an effective skin friendly ointment used to for diaper rash.
Key Features of Boudreaux Butt Paste
Treat and prevents diaper rash
Skin friendly
Free from dyes, paraben, talc and preservatives
back to menu ↑
Aquaphor Advanced healing ointment
Aquaphor claims to relieve diaper rashes within 6 hours. Its active ingredient is petrolatum which protects the skin and the inactive ingredients include Mineral Oil, Ceresin, Lanolin Alcohol, Panthenol, Glycerin and Bisabolol.
Though the ingredients are synthetic in nature, reviews suggest it suitable for sensitive skins and many vouch that Aquaphor has been able to heal many harsh diaper rashes when other brands failed. It is also suitable for rash from excessive drooling and can be used for minor cuts, scrapes and dryness.
Key features of Aquaphor Advanced healing ointment
Relieves diaper rash within 6 hours
Skin protectant
Pediatrician recommended
back to menu ↑
Destin Diaper Rash Cream
Destin mainly has two types of nappy cream namely Destin Rapid Relief Nappy Cream and Destin Maximum Strength Nappy cream.
The main difference between the two lies in the percentage of zinc oxide each contains. While Destin Rapid relief has 13% Zinc oxide, Destin Maximum strength has 40%. Its hypoallergenic, pediatrician tested formula is free from fragrances, parabens and dyes and is said to bring relief for up to 90% of diaper rashes within 12 hours of application.
Some might feel that the cream is way too thick and difficult to clean. This is because of the presence of zinc oxide- the ingredient that actually helps to heal the rash.
Key features of Destin Diaper Rash Cream
4-ounce tube of zinc oxide diaper rash cream
Fast-acting formula helps heal, soothe, and treat diaper rash
#1 choice of pediatricians and moms
Formulated for babies' tender skin
Clinically shown to provide relief
back to menu ↑
Lotus Herbal Baby+ Happy Bums Diaper Rash Cream
This unique natural formula helps to appease delicate baby skin, blend of calendula extracts and zinc oxide protects from the causes of nappy rash.
Wrap your bundle of joy in the pristine care of all things natural. Brought to life with handpicked ingredients sourced from rare plants, herbs and flowers. Lotus Herbals baby+ is as safe as nature itself. Go ahead and escape into a safe and enchanting world of giggles and squiggles with your little one.
Key Features of Lotus Herbal Baby+ Happy Bums Diaper Rash Cream
No harmful chemicals
100 percent goodness
999 percent naturals
Pediatrician recommended
No preservatives
Clinically tested
back to menu ↑
Mothercare – All we know nappy cream
Mothercare's all we know baby nappy cream is soothing and cooling for baby's bottom and is the perfect partner for nappy changing. It's a blend of natural ingredients that's hypoallergenic and dermatologically tested – perfect for your baby. The all we know baby nappy cream is made with natural ingredients, including moisturizing olive oil and soothing chamomile, which will leave your baby's bottom comfortable and cool after nappy changing. The all we know baby nappy cream is hypoallergenic and dermatologically tested, as well as tested by an independent group of expert midwives to leave you assured that the baby oil is of the highest quality and is safe to use for your little one from birth.
Key features of Mothercare – All we know nappy cream
A Perfect Partner for Nappy Changing Sessions
Hypoallergenic and Dermatologically Tested; Suitable for Newborns
Natural extracts, including olive oil and chamomile
Any kind of discomfort caused by nappies ,Hypoallergenic.
back to menu ↑
Cetaphil Baby Diaper Cream
Cetaphil Baby Diaper Cream is a gentle everyday soothing formula which protects babies from chaffed skin, leaving it soft and smooth. This non-sticky, non-greasy and easy to apply cream keep babies' skin hydrated. It is enriched with natural ingredients & Vitamin E, improves diaper rash in three ways.
Key Features of Cetaphil Baby Diaper Cream
Sooths: Soothes diaper rash symptoms with overnight results
Repair: Helps to relieve diaper rash discomfort from the very first use
Protect: Protects from wetness that causes diaper rash. Forms a protective barrier on the skin
Contains Natural ingredients like Chamomile, Sunflower seed oil, Soybean oil and shea butter
Formulated & clinically-proven for all skin types, even those with sensitive skin
back to menu ↑
Sudocream Skincare Cream
The cream is creamy and thick and can spreads easily without it, pulling on the baby's skin. It is fully tested by physicians and creates a visible barrier so as to provide speedy relief from the skin irritations and redness. It comes with no added fragrance.
Key Features of Sudocream Skincare Cream
Contains zinc oxide that acts as a barrier
Water repellant
Contains a benzyl alcohol
sudocream is also made from benzyl alcohol to ease irritation and pain
back to menu ↑
Bebe Diaper Rash Cream
Bebe nature, natural skincare products are perfect for new babies' delicate skin. Comprising of the quality ingredients.
We use earth's finest natural ingredients to ensure your baby's skin remains protected, irritation free, smooth and soft. Our team of skincare experts combines awesome natural ingredients, old traditions with the latest and greatest formulation recipes to make sure that our products deliver on what you want – whether that is to cleanse, moisturize or protect baby's delicate skin. Made from only the finest natural ingredients.
Bebe nature diaper rash cream is remarkably effective in healing and preventing diaper rash. Contains the purest and safest ingredients possible. Has anti-inflammatory, antioxidant, and skin regenerating properties. No preservatives, artificial colors or fragrances added. No mineral oil. No paraben. Not tested on animals- cruelty free. 100 percent vegan without any animal derivate ingredients.
Key features of Bebe Diaper Rash Cream
Baby diaper rash cream made with zinc oxide (micronized) and natural butters and oils
Ingredients- organic shea butter, chamomile oil, natural vitamin e, organic astrocaryum murumuru seed butter, help treat diaper rash and inflammations while keeping baby skin soft and moisturized
Mild and gentle care for baby soft skin – bebe nature range of baby skin care products are all mild and gentle for baby's soft sensitive skin
Bebe nature baby care range is made with finest ingredients – unlike other rash creams that may contain hidden chemicals, our baby products are made with finest ingredients without compromise
Bebe nature natural mineral oil free diaper rash cream contains no harmful or synthetic ingredients
back to menu ↑
FAQ
Is Vaseline good for diaper rash?
Vaseline helps in preventing chafed skin caused by diaper rash by helping in locking mooisture.
Are baths good for diaper rash?
When you're baby having diaper rash avoid using soap in the affected area. Warm baths soothes them and allowing them diaper free for a moment will make them feel good.
How long does diaper rash last?
Diaper rash last long for 2-3 days by self care at home. If it still persist , visit your doctor.
Is coconut oil good for diaper rash?
Coconut oil is a natural treatment that's commonly used to treat skin conditions and maintain good skin health. It may also help treat or prevent diaper rash. Using coconut oil topically may help relieve inflamed diaper rash and any accompanying redness, irritation, or itching.
Should I use diaper cream at every diaper change?
It's best advised to use diaper rash cream or ointment every night before change to avoid diaper rash.
How to choose a good diaper?
Cloth diapers are always a good choice. But if you're using disposable diapers, make sure to check they're chemical free.
Don't miss to pin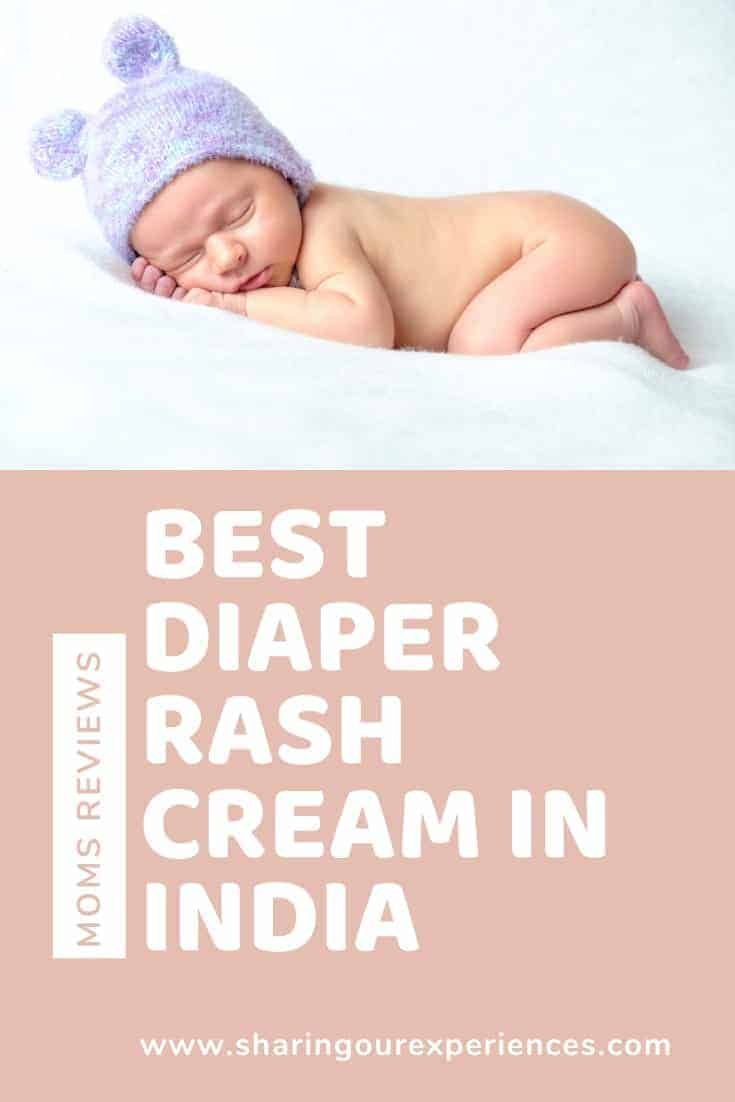 Liked this post on Best Diaper rash creams in India
You may also want read one of our other popular articles on how to make cloth diaper inserts at home
Your Turn Now
In case if you liked this article do show your support by sharing this article and Liking our Facebook Page
Stay connected with us using your favorite social media, we can be found on
Do you want to share your crafts, parenting tips, stories, toy or book review, let us know by using comments below or mailing us on sharingourexperiencesblog@gmail.com
Add a comment
Don't you find this Diaper rash cream post useful? Share with someone who may need it. Do let us know if there is any other Diaper rash cream that worked for your baby. Would love to hear from you.
We love hearing from you. Add a Comment using your Facebook id (if you don't want to use Facebook, scroll down to leave a reply using other options)