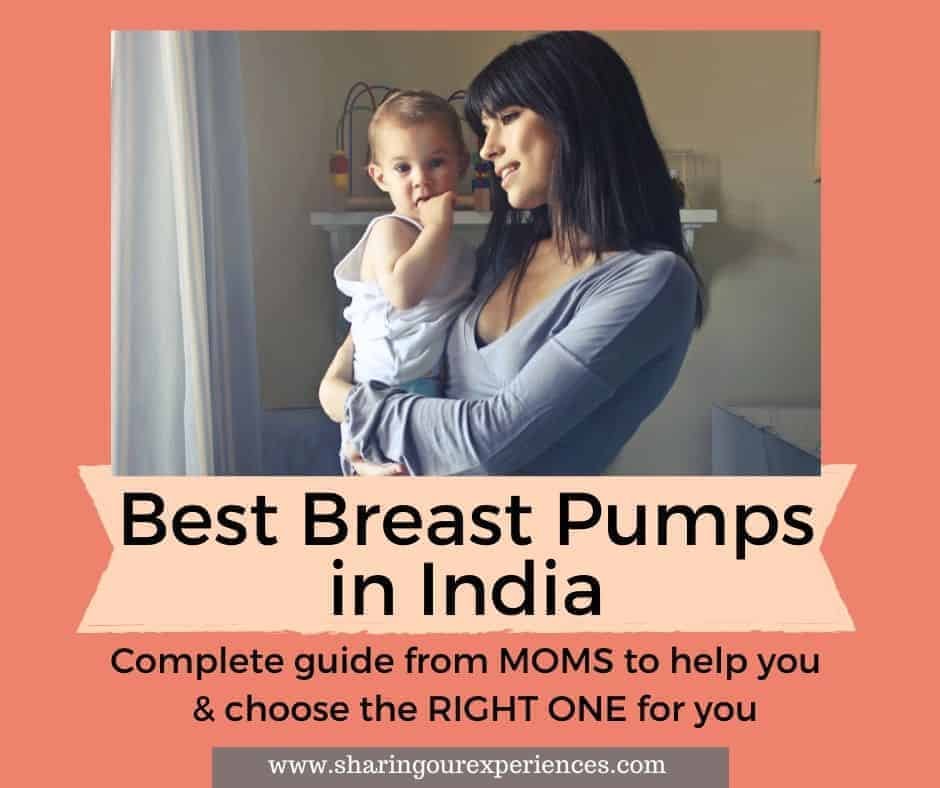 If you are looking for the best Breast-Pump in India, not sure whether to buy a manual pump or electric breast-pump and which are the best breast-pumps in India. Read this detailed analysis which starts with basics like What is a Breast-pump,  what breast pumps are available in the market, and factors you need to consider which one is RIGHT for you.
Don't have much time to read the whole article? Here are the best-loved and highly-rated breast-pumps available in India. Check out these three breast pumps or you can just compare in the table below and take a decision.
Best Manual Breast-pump India 2023
Click here to check the latest deal on best manual breast pump
Best Single Electric Breast Pump in India 2023
Click here to check the latest deal on the best single electric breast pump
Also Read How to Store and Transport Breast Milk with an Electric Breast Pump
Best Electric Double Breast-Pump in India 2023
Click here to check latest deal on best electric breast pump
Breastfeeding is a primal thing and it's something a woman's body is made to do. As we all are aware that exclusive breastfeeding should be followed for 6 months hence it is important for us to be well prepared to get through this phase smoothly.
List of Best Breast pumps in India 2023 (Compared)
Also Read >> Best Cloth diapers in India
What is a Breast Pump?
A breast pump is a device which is used to extract milk from a lactating woman's breast.
Breast pump is one piece of equipment that can help a new mom. Breast pumps have proved as a boon to working mothers who can easily provide their kids with breast milk without compromising their working schedule
Why do you need a Breast pump?
When a baby can not feed directly from the mother's breast, a pump is needed to extract the milk. Many times, mother and baby are away and breast pumps make it possible for moms to exclusively breastfeed their babies even when away.
List of Best breast Pump in India 2023
Here I have narrowed down the search to the best breast pumps available in india depending on the type and utility of each one of them.
Philips Avent manual breast pump
Medela Harmony breast pump
Chicco Manual Breast pump
Lansinoh Manual breast pump
R for Rabbit First Feed Manual Breast Pump most Safe & Comfortable Feeding Milk Breast Pump for Moms
SYGA Manual Breast Pump with Feeding Nipple
LuvLap Manual Breast Pump, 3 Level Suction Adjustment, Soft & Gentle, BPA Free
Trumom electric Breast pump
Trumom Manual Comfort Baby Breastmilk Breast Pump with Temperature Indicator Ring, Pink

 out of stock

as of 4th October 2023 3:31 am

Features

Colour Changing Temperature Ring: Position the temperature indicator ring below the bottle and wait 15 seconds. Red colour ring indicates the temperature is ideal for drinking. White Colour alerts alerts it is too hot
HALF STROKES (QUICK TEMPO STIMULATION) Pump faster to imitate baby's first initial sucking motion to start lactation.
FULL STROKES (SLOW TEMPO EXPRESSION) Pump more slowly to imitate your baby's regular sucking motion and expression milk more efficiently.
HIGHEST SAFETY AND QUALITY: FDA Approved, Baby Safe Food Grade Silicone, BPA FREE material to ensure that your milk remains natural and safe for your baby's consumption. It's fully comply and test by FDA, so it's definitely safe. And in order to protect your precious milk, our manual breastfeeding pump freely provide you with lid and nipple to care for your baby.
PORTABLE, PAIN FREE, LEAK PROOF DESIGN AND EASY TO CLEAN: Our pump is completely pain free and leak proof. It has ergonomic handle, easy to install and more comfy for sucking milk. Compact and light weight design, portable and more convenience for using without hurting yourself. The device is also very straightforward, so when cleaning, all you need is a bottle brush, soap, and water. It very easy to keep clean and sterilize, assuring maximum hygiene which is of paramount importance
Medela Swing Breast Pump
Philips Avent single electric Breast Pump
R for rabbit Electric Breast pump
Luvlap electric breast pump
Medela maxi Breast pump
Lansinoh double electric breast pump
Best Hospital Grade Breast Pump In India
Hospital grade pumps are intended for use by multiple users. These are bigger and more powerful. Some brands do make personal use breast pumps as good or as effective as Hospital Grade breast pumps. One such example is –
Spectra Baby USA S1 Plus Hospital Grade Double/single Breast Pump
Best Breast pump for Regular use
Medela Pump in Style Advanced Breast Pump – Pump In Style Advanced is a daily use breast pump designed for moms who pump several times a day. All Pump In Style Advanced breastpumps offer portable convenience for quiet, discreet pumping anywhere. It comes with three stylish microfiber bags to choose from (On-the-go-tote, backpack, or the Metro bag) to hold everything you need to pump.The perfect pump for pumping and transport flexibility, and for greater comfort while pumping.
Best Breast Pump for Working Moms
Spectra S1, Medela Pump in Style as shared above and Medela Freestyle are all good for working breastfeeding mothers.
Medela Freestyle is preferred by many working mothers, from our research we can say that it is one of the best pumps for working moms
Accessories for Breastfeeding mothers
Motherhood comes with a large set of responsibilities and a unique paraphernalia of things. Breastfeeding is natural but, you may need some extra things to make it smooth and easy for you. Here we have listed some stuff that will come in handy for you.
Benefits of a Breast pump
1. It allows working moms to experience the satisfaction of providing the nutrition of breast milk to their baby. Also helps in dad bonding!
2. It allows you to provide breast milk to the babies who are premature or too sick to feed on their own.
3. Pumping helps you avoid the expenses and health risks of using formula milk and we all know how beneficial breast milk is.
4. It can be used in a situation when you are suffering from nipple soreness or breast engorgement or other health issues, where feeding the baby directly from the breasts is not possible, pumping can help empty the breast and aid in the healing process.
5. Pumping can help maintain the milk supply when you are away from your baby. Else there are chances that the time gap can ruin your milk supply.
6. It also allows you the freedom to run for occasional errands.
Do check out these other baby-feeding essentials that will make your life easier. These products are used and loved by other parents. Click here to see the list
Questions to Ask yourself before investing in a breast pump you need
A) Why you need a breast pump? Do you plan on exclusively breastfeeding the baby?
B) Your budget?
C) How much time do you have?
There are tons of breast pumps available in the market and searching for the right breast pump can be really exhaustive. The situation of every mom is different and you will need a pump that precisely suits your needs.
The best breast pump for you will be the one which mimics your baby's nursing behaviour the closest.
What is right for one mom will not be right for the other mom. So I would suggest take your time to decide if you need a breast pump or not and if at all you need one, buy the one that suits your need the most.
Best Manual Breast pumps India
What is a manual Breast Pump? It requires you to manually express the milk out.
It is for those who occasionally pump and feed their baby. A good option for stay at home moms or the ones who occasionally go out and are away from their kids only for a couple of hours.
They can be used in places where there is no access to power supply like while traveling.
Manual pumps are time-consuming and little tiring but are an economical, lightweight, portable, easy to use option in breast pumps. I would suggest this for moms who plan to use it sometimes.
The best manual breast pumps in India are
1. Philips Avent Manual breast pump
2. Medela Harmony breast pump
3. Chicco manual Breast pump
4. Lansinoh manual breast pump
Electric Breast Pump India
There are 2 variants of electric pumps available
a) Single electric pump
b) Double electric pump
Electric pumps are basically for mothers who pump regularly. It gets the job done quickly without having to put in a lot of effort. They can be either battery operated or through power outlet. Although the battery operated a little cheap as compared to power outlet ones but they are considered slow in their working.
Electric pumps are really efficient but they are not portable.
Double electric pumps are for extensive and high milk supply users. It saves up a lot of time and are quite expensive.
Also read – 10 Tips for Pumping Breast Milk with an Electric Breast Pump
Let's compare the Manual Breast pumps
Avent vs Medela vs Lansinoh
Avent Manual Breast pumps
Works more effortlessly as compared to Medela
Requires less manual pressure and time to extract milk from the breast
Easier to clean and every nook and corner of the pump can be cleaned.
Only Avent bottles can be used
See more about Avent Manual Breast pump here
Medela Manual Breast pumps
Needs more pressure to pump milk
Less milk is produced as compared to Avent
Easier to assemble as compared to Avent
Cleaning is a little tricky as it is so designed that some amount of milk will definitely be trapped inside it. It's really hard to clean this pump.
Bottle stand is better than Avent and also any bottle can be used and not necessarily the Medela bottles.
See more about Medela Manual Breast Pump here
Lansinoh Manual Breast pumps
It is effective at producing milk due to its 2 phase stimulation, comes with 2 size flanges.
The diaphragm is very thick and makes the whole process really tiring.
Expensive as compared to the above pumps.
See more details about Lansinoh Manual Breast Pump here
Best Single Electric Breast Pump India
1. Trumom electric Breast pump
2. Medela swing Breast Pump
3. Philips Avent single electric Breast Pump
Let's compare the Single electric pumps
Medela Swing VS Avent
Both the Swing and the Avent Electric are easy to use with one hand.
They are both reasonably quiet.
Both models are BPA-free.
The Swing breast pump is fast at expressing milk because it has the 2-phase method which stimulates milk let-down.
The Avent Electric can be used as a manual breast pump which is handy if there is ever a power cut. Also with this one, you start using the pump as a manual, and then when you are comfortable
You push the button and the pump continues at whichever speed you were doing.
Both are almost similarly priced.
See more details about Medela Swing single Electric pump here
TRUMOM SINGLE ELECTRIC
It is packed with more features such as the massage mode which helps in more milk production
The product is light enough to be carried anywhere
Comparatively a cheaper option to both Avent and Medela and is very efficient.
Can work with power bank and adapter.
See more details about Trumom single Electric pump here
Best Double Electric Breast Pump India
1. Medela maxi
2. Lansinoh double electric breast pump
Best Breastpump for Low Milk Supply
✅ Good breast-pumps tend to mimic baby's natural sucking pattern, which in-turn results in improved milk supply. Two highly rated Breastpumps that improve milk supply are Medela Symphony and Spectra S1.
How to Choose the Right Breast Pump for you
Deciding for an accurate breast pump can be really overwhelming so I have compiled this list based on some personal experiences and product features and reviews. Whenever you buy a breast pump make sure it is properly fitting on your breast and does not hurt you anyway as an ill-fitted pump can be unusable.
Make sure that the pump is properly cleaned after every use by separating the parts of it as it is really important to maintain the hygiene
Let's compare the Double electric Breast pumps
LANSINOH VS MEDELA Breast Pump
LANSINOH Double electric pump
• The price is affordable and a value-for-money product.
• Portable, lightweight
• Soft breast cups
• Flanges allow it to work for different breast sizes.
• The LCD screen means you can easily monitor your pumping time
• Protects your baby from allergens, bacteria, and viruses, as it comes in a closed system, do backflow of milk.
• Offers three pumping styles and eight suction levels
• Easy to wash and maintain hygiene.
• Comes with everything you need including bottles, a cooler, and a pump bag
• Doesn't come with a rechargeable battery.
• It is a little noisier than other pumps.
See more details on Lansinoh Double electric breast pump
Medela Freestyle Breastpump
Handy easy to use.
Can be used as a single or double pump
Almost similar price as LANSINOH
Easy to clean and maintain.
See more details on Medela Freestyle Breast pump here
Don't miss to pin


How to Safely Use Breast Pump?
Wash your hands before you sit to express milk. Ensure the pump and bottles are clean, washed, and sterilized.
You can use fisher price sterilizer, reasonable and good.
How to Store Expressed/Pumped Breast Milk?
Ensure that the bottles are clean. If you are storing in bags, make sure that the bags are right and designed to store breast milk. follow the below-mentioned points to avoid stored milk getting spoilt.
Use storage bags or bottles designed to store breast milk for long periods.
Clean bottles between each use.
Don't add fresh milk to frozen milk.
Don't refreeze milk that has been thawed once.
If there are many packs of frozen mil, don't forget to label them
How do I Thaw frozen Milk?
You can put the frozen milk in refrigerator or out of refrigerator for sometime. You can even use warm water in a large bowl to put the frozen bottle/bags. Ensure that the water is not very hot. DO NOT microwave or boil or use very hot water, that can spoil the milk due to sudden change in temperature.
How Long can the Breast Milk be Stored?
In deep freezer (commercial) at -4°F (-20°C) for 6-12 months
In Freezer (home) for 3 months
In Refrigerator both fresh and thawed milk can be kept for upto 48 hours.
At Room Temperature the milk can be kept for upto 4 hours
Liked this article on Best Breast pump in India
You may also want to read one of our other popular articles on 
>> Top 10 baby wipes in India for sensitive skin
>> Best prams and strollers for babies in India
Your Turn Now
In case if you liked this article do show your support by sharing this article and Liking our Facebook Page
Do you think this article on Best breast pump in India could be useful to someone, Don't forget to share with them. If you have any inputs on any Breast pump based on your experience let me know using the comments below. Would love to hear from you.