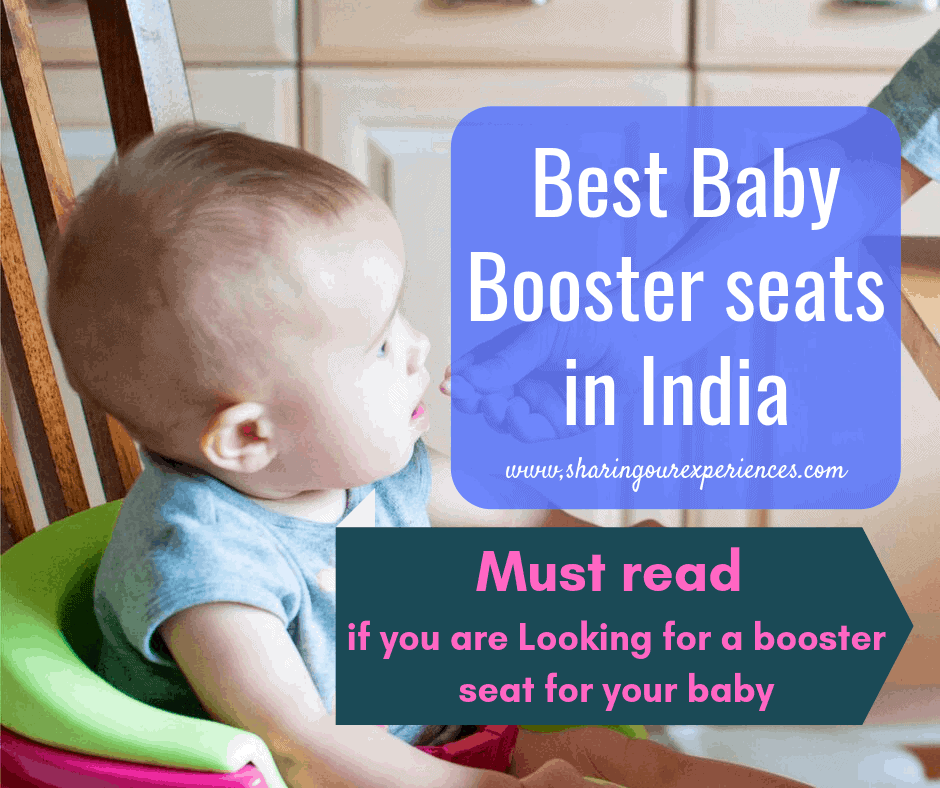 Looking for a baby booster seat in India? Check out the best baby booster seats, pros and cons of booster seats and features you need to look for when buying a booster seat in India. Reviews by real moms
When my baby was nearly a year old I beginning looking for booster chair to make him sit comfortably so that I can feed him. But with little (or can say not much) information about the difference between a high chair and booster chair and so many wide variety of options available online I was kind of lost.
The questions that I had in my mind – First of all what is a booster seat ? What is a high chair? Should I buy a regular high chair or a booster chair? Which one is feasible in the long run? I wanted something in which I could make my kid sit comfortably for eating until he is big enough to sit on regular chair.
So if you are confused between a high chair and booster chair then here is the information I gathered which might help you as well. I have included these after the list of Best baby booster seats in India. I have also summarized the best high chairs in India here.
Below are the BEST rated and most loved Booster seats for toddlers and babies available online
✅
Best Booster seats in India in 2022
So here is a list of the best booster seats for baby toddlers in India that are available in the market in one place. I have tried to include the most comfortable dining chairs and some that are easy on pocket.
This is one of the best options
available online as it has advantages of High chair as well as booster seat. Its good quality, easy to assemble, light weight and complete value for money.
This is one of best baby Booster seat, When we checked reviews on Amazon customers loved this. For eg this review (click here to read) talks about how these booster seats are higher and another review (click here to read)  covers how these can be used from 6 months till 2 years.
This is one of the best booster seats in the market and parents love it for being – durable, safe, easy to clean. One customer mentioned about the weight limit till which they could use the seat, read about it by clicking here.
BAYBEE Deluxe Comfort Folding Booster Seat with 3-Point Harness Dishwasher Safe Tray and Built-in Cup Holder
If you are looking for a booster seat with adjustments you can go for this. But for babies we prefer high chairs as they are more stable.  Do not miss this review in which a customer mentioned this being a little risky.
You can also check BAYBEE 2 in 1 Baby Booster Seat Chair with 3 Point Safety Harness. The reviews for both these products are mixed
This top quality high chair is loved by customers as its light and easy to assemble.  But if you are looking for something sturdy few customers have mentioned that its flimsy. You much check out this review (click here to see) before you make your decision
If you are looking for a booster seat that can also be used as a swing. You can definitely get this one. This is loved by all customers . Do check out this particular review we found it helpful.
This booster seat can be used as an infant feeding chair with a feeding tray in the earlier months and later can be used as a toddler booster seat for your baby to join the family dinner table at mealtimes. Its loved by all customers but if you are looking for a baby seat with cushion then this is not for you.
But again do check out this review about some things lacking in this booster chair before you make your decision.
This booster seat has two tray adjustment and two height adjustments for a good fit. But many customers have complained about what they receive is different from what is shown in pictures on Amazon (check this useful review here)
The product is good but it seems there is some confusion when delivering online.
This booster seat has musical removable toy tray which keeps your baby occupied. It has secure straps and is compact for storage.   Most of the customers love this booster seat except this one review where the person receive a broken product.
LBLA 3-in-1 Baby Feeding Portable High Chair, Toddler Booster Seat with Tray (Blue)
Rs. 4,290
Rs. 2,699 out of stock
as of 22nd November 2022 12:36 pm
Features
Wipeable and washable design for easier cleaning
Convert high chair to booster to toddler seat
Harness keeps little one secure
Easy to move around kitchen with 360° wheels
Full-sized tray with cupholder offers a roomy space for meals
Transitions from Infant to Toddler
This High Chair is a convenient and durable high chair that is filled with value.
Featuring Two unique seating positions, it grows with baby, to independent feeding.

Your child will get years of feeding and fun.

As every parent knows, kids grow up fast. The Trio 3-in-1 High Chair easily adjusts from full-size high chair to booster seat to toddler chair - so it's the only chair you'll need as your tiny baby becomes a big kid. The chair wipes clean instantly and features a dishwasher-safe tray and washing machine-safe seat pad, so you can slow down the clock by spending less time on kitchen cleanup and more time with your family. And as your family expands, it can too. When used as a booster and toddler chair, it can seat two children at the same time. Minimum age - 6 months. Maximum age - 60 months .
What is a booster seat?
A booster seat is an adaptable seat as it can be fixed to a dining chair – helpful in keeping the baby at one place while eating. This can also be used as car seat- booster chair can easily be placed on the car seats and buckled. Though I would prefer that you get a car seat specially designed with safety features.
What is the difference between high chair and booster seats?
A high chair is an independent tall chair (like one we use – a seat, with legs on the floor) in which we can make our babysit and feed them.
A booster chair is a seat that is fixed on top of the existing chair (so no legs of its own as such).
Should I go for High Chair or Booster seat?
If you compare the high chair with booster chair then high chair has certain disadvantages such as
High chair Pros
High chair comes with their own feeding tray (usually removeable as well) thus they are easy for cleaning. 

Many baby high chairs have adjustable heights, reclining positions and nowadays even removal seats. So they can be used as high chair or booster seat or table chair. You can read more about the best high chair for babies in India
High chair is more stable
High Chair Cons
When high chair is used at the dining table it takes more space and is not compact (as compared to booster chairs).
High chair needs more space and is a complete piece of furniture by itself. (Though there are now convertible high chairs available that can be used as a high chair, booster seat, and a table chair for e.g. this one )
High chair is heavier and not portable.
High chairs are more expensive than booster seats
Some of these disadvantages of the high chairs made booster chairs popular and preferred choice among the parents.
Booster seat Pros
A booster chair is multipurpose piece of furniture because…..
It can be easily fixed on the dining chair so that baby feels that he is sitting with all other family members
It is very helpful in keeping the baby in one place while eating.
It can be used as a car seat as well. As the car seat belts are designed for adults they won't fit the baby. Hence the booster chair increases so that the baby is safe when buckled up.
Travel friendly and compact – easy to carry wherever you want without any issue.
It is suitable for kid's right from the age of 6months up till they are 4-5year old.
They are cheaper than high chairs
If you love to travel with the baby then booster seats are the best as they are travel friendly. And if chosen wisely then a compact one will not take much space in your car.
Booster seat cons
There are certain disadvantages as well of the booster seats
It is not for small babies who cannot sit properly by themselves
Make sure the straps are fastened properly or else it might lead to accidents
Booster chairs can be used for limited period of time as the babies grow very fast.
Do I need to buy Booster seat or high chair? 
There are several benefits of using a booster seat or high chair few are listed below.
Booster seats or high chair helps the child to learn table manners and learns healthy eating habit by looking at other family members. This in turn is helpful in strong family bonding.
As the baby can hear the conversation during the mealtime it will be helpful in speech development due to the right sound exposure.
High chairs and Booster seats encourage the habilt of eating by sitting in one place and encourages baby to eat by sitting in right position.
How do I select a good booster chair seat?
One can find booster chairs in different shape and size. So, it is obvious that parents get confused which and what to buy for their child. So make it easy we have all the required information, tips and factors to be considered while buying a booster seat. It will definitely help you in making the decision.
1. Different kinds of booster seats
Booster seats: It appears as a modest chair with buckle to keep the baby safe. It is usually available with a low height back or no back. It is good for a toddler who likes to seat with the family to eat and it is very helpful to teach tables manners from this age itself.
Booster seat for high chair: This has a chair pad, tray and harness for safety. This one is easy to be attached to any chair and it looks very much like a high chair. They are perfect for toddlers.
Booster chair: It looks very similar to a high chair. However it comes with a small tray and undersized back.
2.Adjustable height
Most of the booster seats available these days are the ones that can be adjusted according to the requirement of the child.
Almost all of them offer the flexibility feature as in grow with the child kind of, wherein you can adjust the seat according to the baby height and the feeding tray is attached to it. It makes the product enduring and resourceful.
Therefore, check age appropriate seat while buying one.
3. Safety feature:
The most essential feature every parent looks for is the
child's safety.
Hence, make sure that the product that you buy has at least 2 safety straps to fasten the booster seat to the real chair and check if the strap fits different chair such as the dining chair at the table.
A 5-point harness is good for an infant while 3point harness is enough for a toddler. Make sure the strap is adjustable as it should fit the growing child. Last but not the least, ensure that the tray doesn't move as it might pinch the child's tiny fingers.
4. Comfort:
This is very essential because if the seating is not comfortable the child will not like to sit in for long enough until they finish their meal.
So, ensure that the products has double foam padding. The booster seat should be easy to adjust according to the baby's comfort.
5. Back recline:
Infants do not have good control on their head and neck. Hence they need an adaptable back. But for the toddler's firm back or seat with no back support can also be a good option.
6. Detachable tray:
This feature is good for two main reasons: one, this will make it easy to detach and clean.
Second, if the tray can be detached it work best for toddlers as they can seat on the dining table as it works like high chair if the tray is detached.
7. Easy to clean:
Make sure to choice the booster seat that is plain, simple with no gaps and cuts. As this will make cleaning easy and less messy at the mealtime so that the food doesn't get to difficult to clean place.
8. Portability:
A booster seat is useful when you are traveling with your child. Therefore, it should be easy to fold and compact to carry as bulk one makes it difficult to manage.
Safety tips to be considered when using the booster seat:
Whichever brand or whatever the product is if it is not used correctly, it can be risky.
So, here we have some safety measure to guard for while making use of the booster chair.
Always make sure to buy the booster seat as per the height and weight of your baby.
You should never use a booster chair on a bench or a stool that has no back support.
Do not put the shoulder belt under the arms or behind the back of the child.
Make sure the child feels comfortable and the shoulder and the leg fits effortlessly. The belt around the lap should be low across the hip and the shoulder belt should lie diagonally the shoulders
✅ Compare Best booster seat for toddlers and babies price online (Sorted by price)
Last update was on: 22nd November 2022 12:36 pm
Liked this post ?
You may also want to read How to teach alphabets to my preschooler
Your Turn Now
In case if you liked this article on Looking for a booster seat for your baby? and think it may help someone do show your support by sharing this article.
Like our Facebook Page
Stay connected with us using your favourite social media, we can be found on
Add a comment
Did you like these guide on Looking for a booster seat for your baby? Do let us know using comments below and if you have any more questions or something to add please do let me know. Would love to hear from you.