How to Teach Alphabets to Preschoolers ? What worked for real moms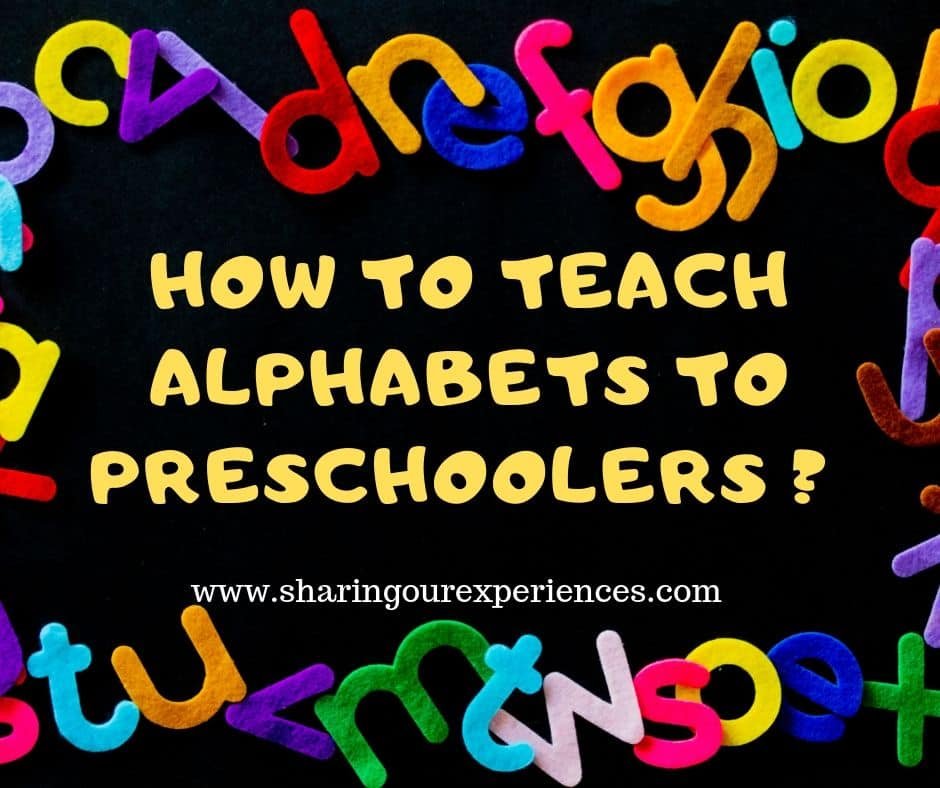 ---
Wondering How to teach alphabets to Preschoolers, or your 3 year old or your 4 year old? Today I am going to share multiple fun ways to teach the alphabet which are loved by kids of all ages.  These fun ways to teach alphabet covers few alphabets activities for toddlers and few for elder kids that you can use to teach your child to recognize the letters of the alphabet.
Advertisement| Article continues below.
---
---
How to help my kid in Recognizing the letters of the alphabet
As a parent, the first thing we teach our children to prepare them for school is alphabet. It is the foundation element for learning reading and writing.
Now I have seen multiples question in our parenting Facebook group on How to teach alphabets to 3 years old, how to teach alphabet to kindergarten kids, what order to teach alphabets to preschoolers and so on
Sharing here some interesting and fun ways to teach alphabets to your playgroup toddler and listing a few well researched resources which helped me a great deal!
Some of my friends who have elder kids asked me – How do I teach my 4 year old to recognize letters or How do I teach my 3 year old the alphabet. And when I shared these simple fun ideas with them, at least one of them worked with their kids.
So today I am going to share strategies and resources which worked for us in learning the Alphabet.
8 Fun ways to teach the alphabet to your child
Reading Alphabet Books
When we think of books, we are reminded of the conventional method of rote learning ABC. But new age publishers and emerging writers are creatively redefining Alphabet books.
Nowadays rhymes and illustrations add so much fun to the alphabet that a child willingly learns.
Two alphabets books for kids which are high on my list are
Dr.Seuss's ABC and
Chicka Chicka Boom Boom
You can see in the pictures how beautifully engaging these board books are
How can we teach alphabets recognition to kids using Alphabets Books in a fun and interactive way
These alphabets books for kids  can be used to teach alphabet recognition as a part of three activities. Here are three ways I used Dr Seuss ABC book to teach alphabets.
1. Reading Books
A parent can read the rhyming lines on the pages and let the child listen while looking at the book; a parent's voice is the best rhyme a child recognizes.
2. Finding Alphabet
The child can be told to find an alphabet on the page. This book devotes a single page to an alphabet so it is easy for a preschooler to recognize alphabet.
3 Finding Object starting with alphabets
As the preschooler progresses in the recognition, a parent can choose a random alphabet and tell the child to search for the object beginning with it. It tests the child's recognition, retention and helps in memorizing the relation between the alphabet and the object.
THE SECOND BOOK "CHIKA CHIKA BOOM BOOM" BY Bill Martin Jr and John Archambault is also pure fun. This book has big bold alphabets and helps in recognizing the upper and lower case of each alphabet with the help of beautiful rhyming poetry.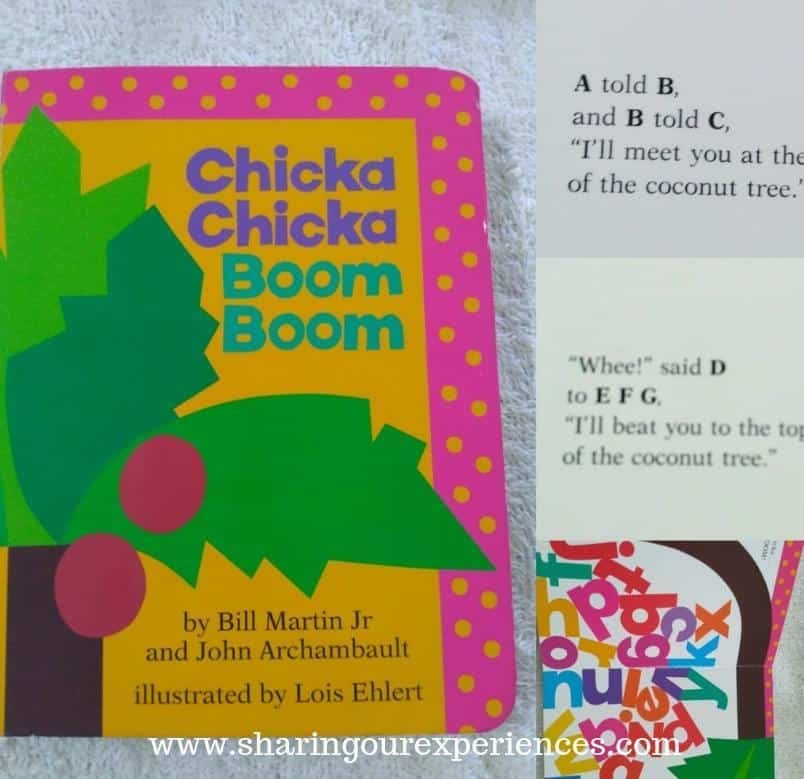 Here are three ways I used Chika Chika Boom Boom book to teach alphabets.
1. Recognition of alphabets both Capital and Small
Teach them using flash cards or picture books showing both uppercase and lowercase alphabets. Teach your kid what starts with A,B,C with multiple pictures and right sounds.
You would love these Alphabet pictures charts that covers simple words that start with letter a b c d e f g h i j k l m n o p q r s t u v w x y z.
Alphabet Uppercase Lowercase Matching Clip cards is also a great hands on activity for learning alphabets as practice make the child confident leading to next topics.
back to menu ↑
2. Matching of alphabets
The book has two sets of ABC, once climbing the coconut tree and then when they fall down from the tree. A child can be told to find the second "a" in the book. This turns it into fun as the preschooler turns all the pages one by one in each attempt and learns so fast.
3. Using Colours
One can happily help the preschooler to recognize the bold colors in this board book and find the alphabet from which the color starts.
You might be interested in our 52 Free beginning sounds clip cards with images (Capital and Small letter Alphabets)
back to menu ↑
Alphabets Worksheets
When we think of worksheets we usually think of boring ones. But I came across SOE store kids learning the alphabets worksheets,  which were colourful and appropriate for what I needed to teach –  alphabets recognition to my kid.
I used SOE store kids first alphabets book in 3 ways
1. Recognition of capital alphabets 
This books has activities in which kids have to recognize and find alphabets.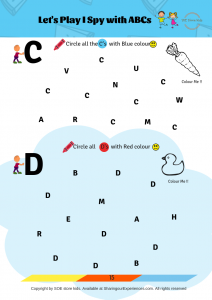 2. Objects starting with an alphabet
The first part of this alphabets activity book contains each alphabet letter followed by multiple objects starting with the alphabet. So I used this is an OBJECT finder game that I have talked about above.
This helped me reinforce and teach about each alphabet and objects that start with it. This activity book also had small fun games which we enjoyed
3. Matching alphabet with object
The same activity book also contains matching activities to practice what kids have learnt in the first part of the book. So I used it for reinforcing and practicing what my kid had learnt.
I also found their 'I Spy book for small alphabets' quite useful to teach recognition of small alphabets. See pic below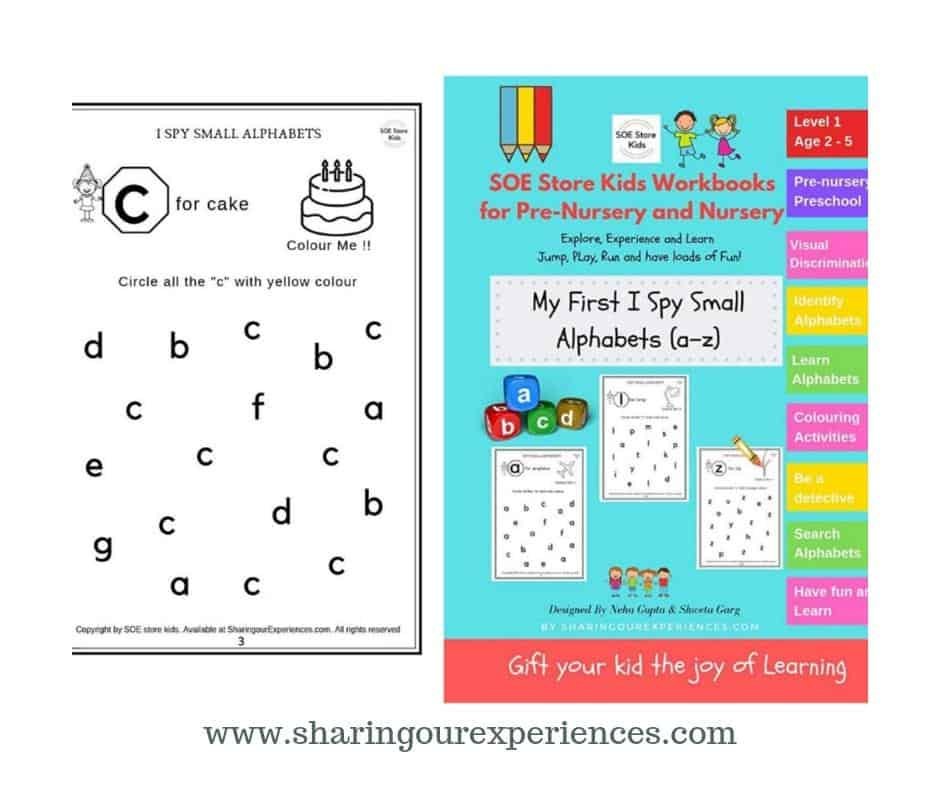 These matching activities are also available as Reusable Alphabets Activities and games. We loved reusable cards as they can be used again and again :-). Actually as many times as we want and they are pretty cheap as well. Thus great for reinforcing and practicing concepts.
back to menu ↑
Flashcards for kids
I always find flash cards handy for a preschooler since they don't require them to sit still.
While flash cards promote recognition of the alphabet, they are also great at reinforcing the learnt alphabet since the child takes it for a game!
Flash cards are great for organizing alphabet classroom games.
These Cardboard ones from Creative have bold and clear print and they suit the pocket well. I have used so many of them and personally prefer them to increase memory.
I love how my daughter learnt to associate pictures with alphabets and sounds with the things by practicing on the these rewritable SOE alphabet cards. See the images for the wonderful alphabet games which make alphabet learning a delight.
I love how SOE cards challenge a child and put her knowledge to test. (You can buy these ABC matching game for preschoolers  from Amazon)
If you are looking for Alphabets flashcards with pictures. You can check out these ones below.
How to use Alphabets Flashcards to teach the alphabet
These flash cards can be used for loads of fun alphabets activities for toddlers and elder kids as well.
1. They can be used to plan games and organize fun ways to teach letter recognition of alphabets
2. They can be used to help the child learn the relationship of an alphabet to the object.
3. The SOE reusable cards specifically test the I.Q of a kid by prompting the kid to circle the object which does not start with the said alphabet.
Check out this Quick and easy Flashcards activities for kids and fun games to play.
Check out this pdf bundle with 600+ pages of alphabet and sounds fun activities for preschoolers and toddlers. Click the below to get them.
back to menu ↑
Alphabet Blocks
Blocks make learning fun. While they teach balance and control, adding alphabets to them teaches so much more!
My set of alphabet blocks has capitals, small, an image of the related word and a number. While my daughter tries to build a tower, she learns a thing or two even though she is not studying.
Activities which can be done with these alphabets blocks are
1. Naming alphabets
2. Naming alphabet and placing an object starting from that alphabet in front of it.
3. Using blocks to help children learn the difference between capital and small.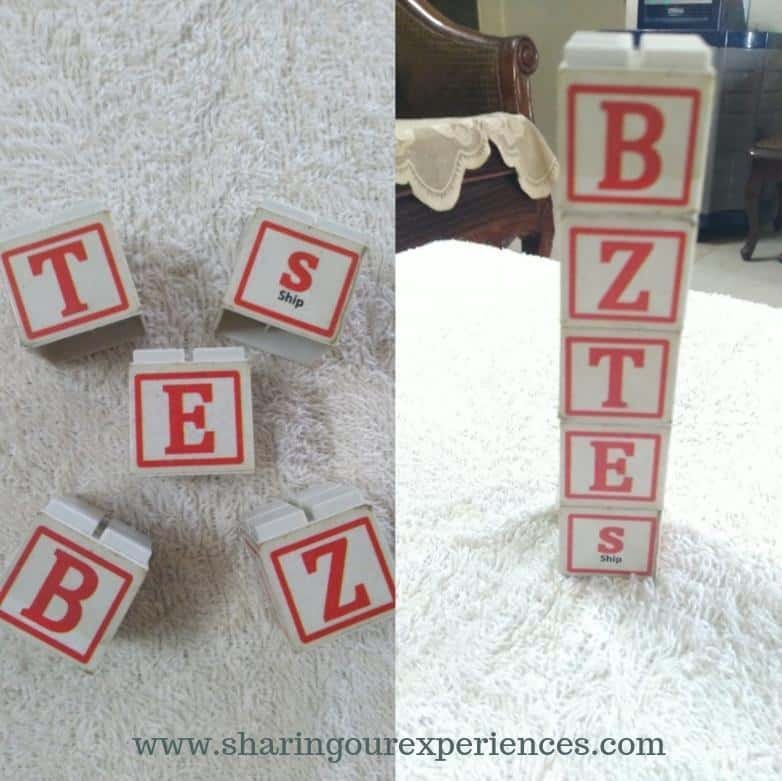 back to menu ↑
Magnetic Alphabets
Expecting preschoolers to sit still is too much to ask for 🙂
I love magnetic alphabets for they can be placed on the almirah, fridge or her bicycle and she learns through play.  Its a great way for teaching letters through movement.
I have these magnetic alphabets, These are pretty affordable and quite open ended to plan loads of alphabets activities..
back to menu ↑
Songs
So far, music is the strategy that worked best for me. I play the alphabets and phonics song from (http://www.dreamenglish.com/) as the alarm song and my daughter has magically picked up the alphabet sounds and happily sings them while getting ready for school.
So you can reply on music and rhymes to teach alphabets to kids.
back to menu ↑
Alphabet sensory games – eating the alphabet
One thing that I have learnt from my pursuit of knowledge is that what seems like a burden is never happily learnt I make sure that learning is all fun for my little prodigy!
See for yourself how we are learning to recognize alphabets these days! yummy friams 😊 we name them and we eat them and so we learn them !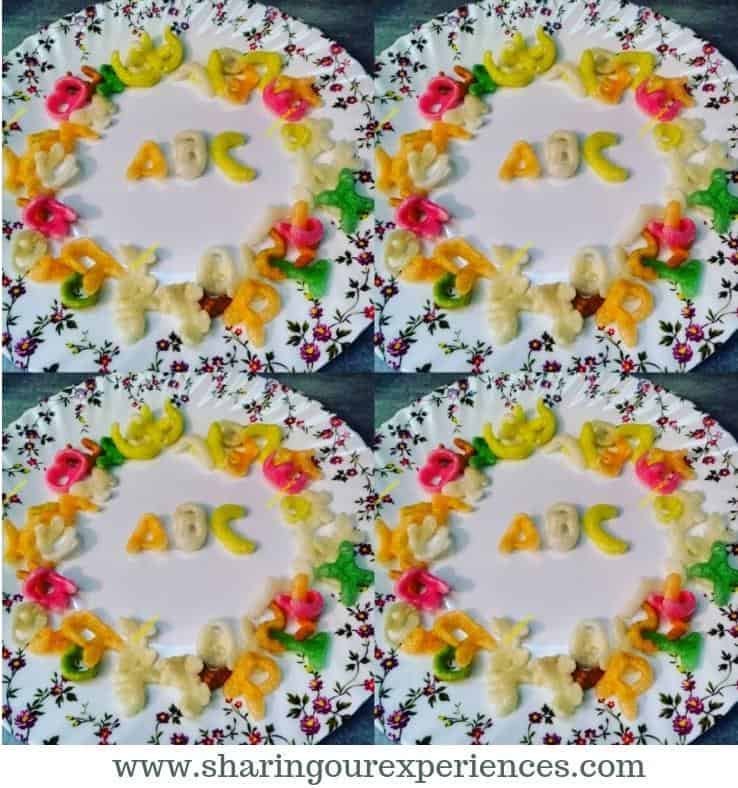 It's always amazing how these little miracles of nature, our children learn and grow up every day.
The attempt here is to make their learning experience more playful so that they look forward to reading and exploring the world.
back to menu ↑
Alphabet learning with a canvas art for preschooler
Learning when included with fun activity kids learn fast and enjoy it. Here we have a simple canvas art activity to learn Alphabet for preschoolers. This activity is shared with us by @happymommydiaries.
back to menu ↑
Alphabet Sequencing with Raindrops for toddlers
It's rainy season now and kids enjoy playing with raindrops. So, why not combine the Alphabet learning with tip-tip raindrops… Here is a simple and unique activity to learn the alphabet. This activity was shared with us by @mom_of_sardarji_ekam.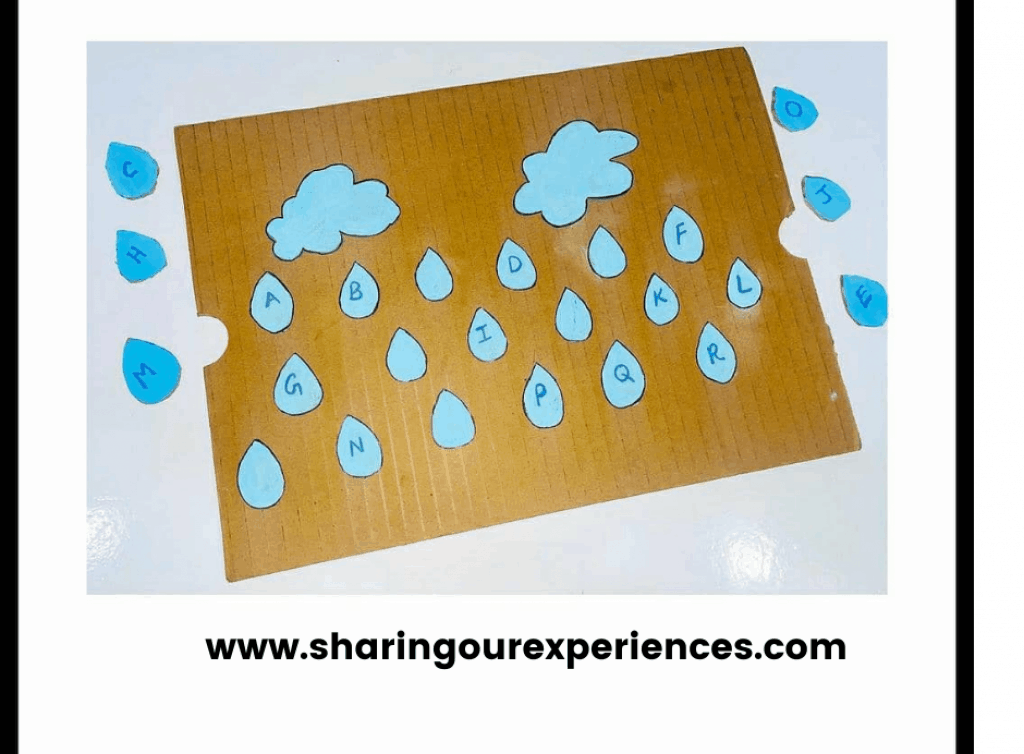 FAQ
back to menu ↑
Should a 3 year old be able to identify letters?
Most children between 3-4 years learn to recognize letters. My son learnt the letters in his name first and gradually started identifying other letters. Most children in kindergarten begin to associate the sound with letters by the time they turn 5.
back to menu ↑
How do I teach my 3-year-old numbers and letters?
You can check the details of activities and fun ways to teach letters in our article and for numbers, can use this article.
back to menu ↑
How many letters should a 3 year old recognize?
By the time children turn 3, they are able to recognize half of the letters in the alphabet. By the time they are 5 year old most children recognize all the letters in the alphabet and most often can associate the sounds with the letters.
Did you use something outside my article to help your kid learn ABC alphabets recognition, please share in comments.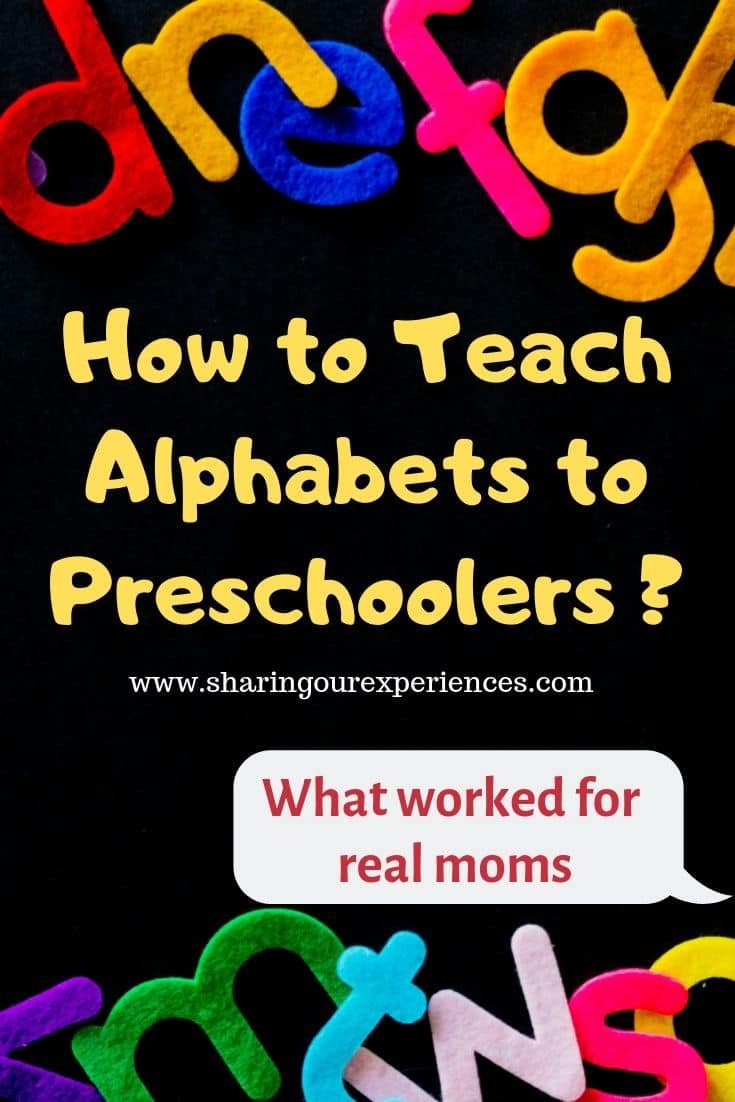 Don't miss to pin

Liked this post ?
You may also want to read our popular post to keep your 2 year old engaged – Games, activities and toys for 2 year olds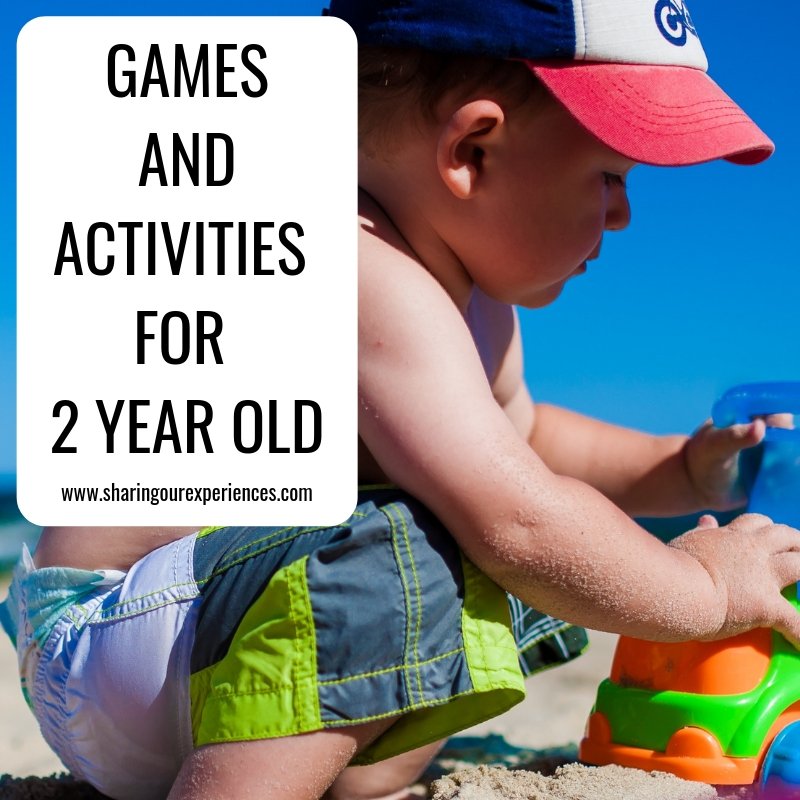 Your Turn Now
In case if you liked this article do show your support by sharing this article.
Like our Facebook Page
Stay connected with us using your favorite social media, we can be found on
Add a comment
Do tell us what are your favorite alphabets activities and games are. If you want to add any  – Let us know using comments below, we would love to hear from you.