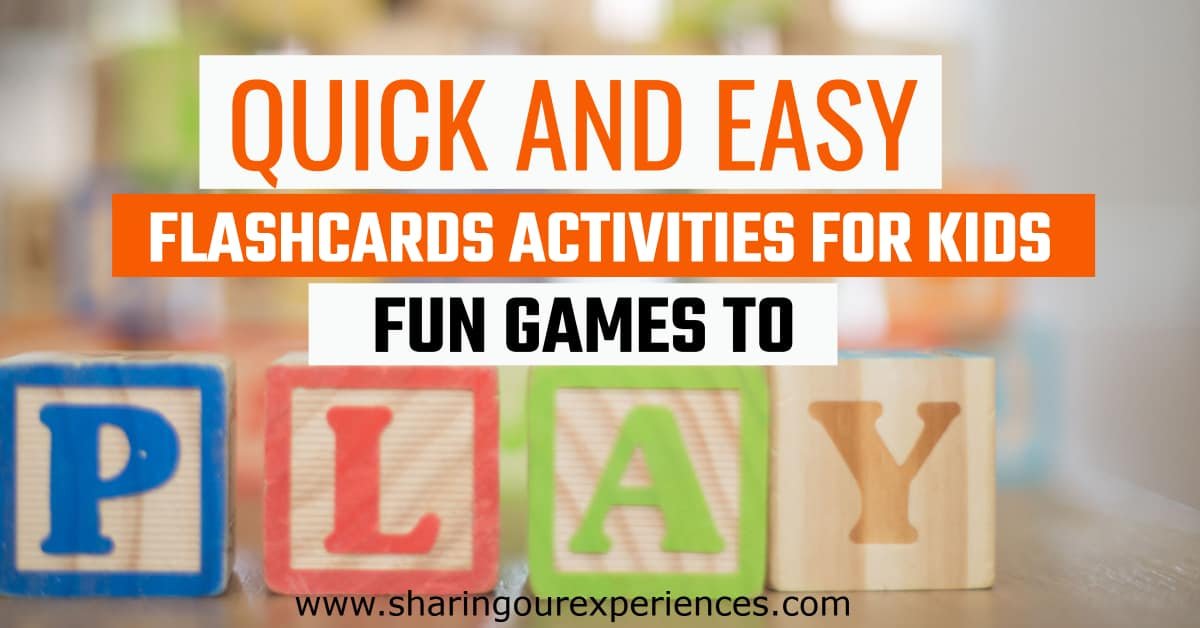 Looking for ways to keep your toddler engaged? Check out these simple and easy Flashcards activities for toddlers. These are fun flashcard games that your kid will love. Can be easily set up at home to keep your toddler away from TV and mobiles and also helps kids in learning preschool concepts. 
Flashcards are one of the most common tools used in teaching. They are pretty easy to use and versatile.
Yet, often underutilized.
✅ >>>>Why Flashcards are a great learning tool for Babies and Toddlers <<< Check out Here
Numbers Activity Flashcards for toddlers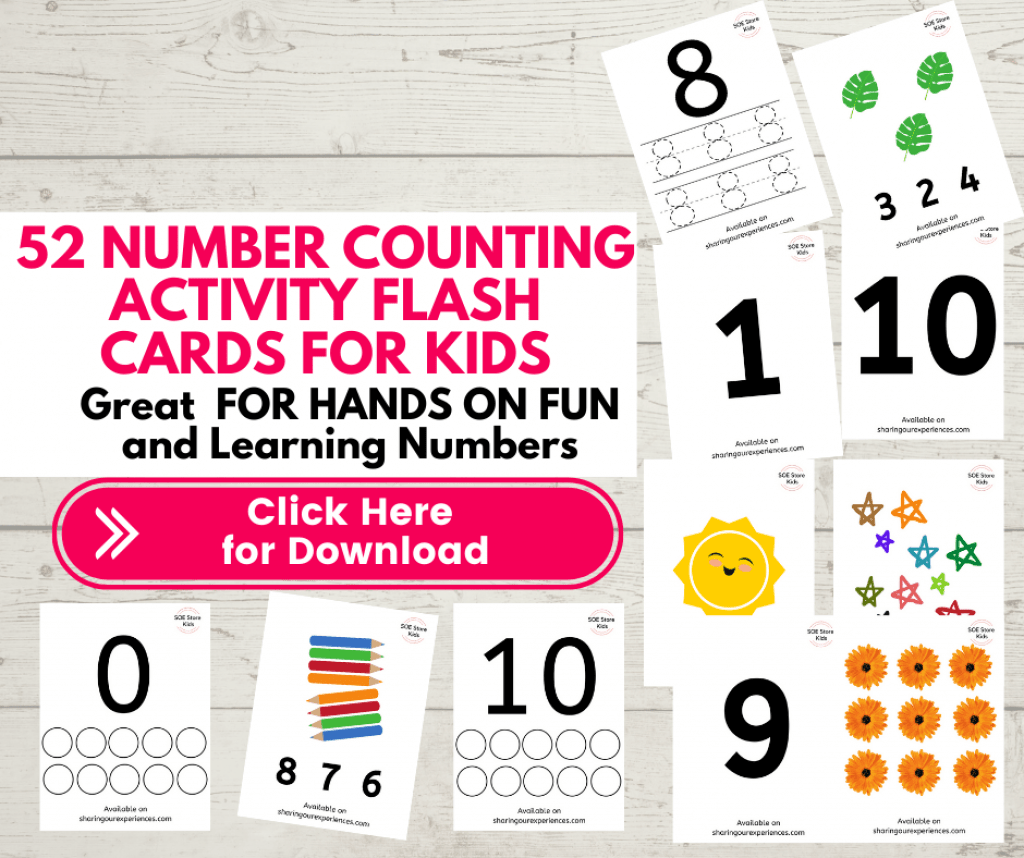 Alphabet Activity flashcards for toddlers and preschoolers
Check out this Alphabet activity flashcards pdf set for toddlers and preschoolers.
There are great for Preschool and Nursery kids. Just download, print, laminate to make reusable activity flashcards – and have hours or fun with your kid.
Available in INR here and Available in USD here (50% off special link) here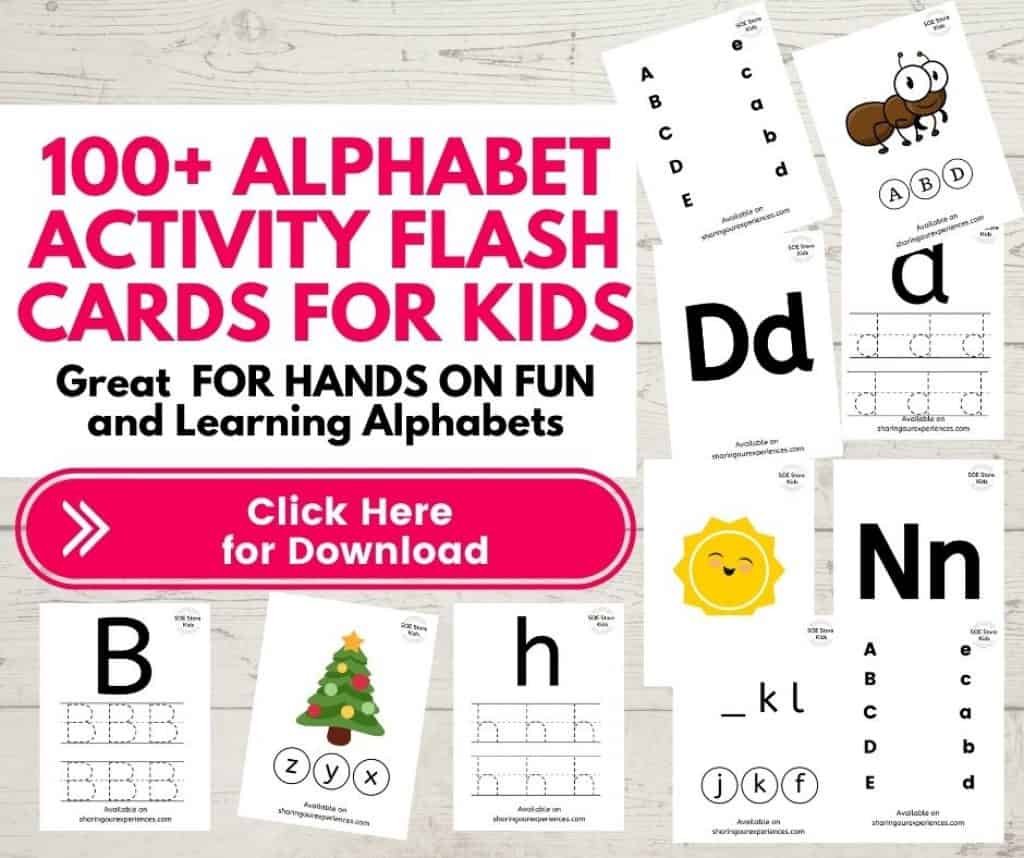 Reusable Activity Flashcards for kids
These are amazing if you are looking for a physical option rather than digital one. And it is available on Amazon here
Why flash cards are useful?
Flashcards are used to improve vocabulary, memory drills and more. With kids REPETITION IS THE KEY.
Visual learners learn by reading or seeing pictures.  Understand and remember things by sight. While tactile learners learn through physical movement. And, auditory learners hear and learn.
So, how to use the flashcards for all types of learners? Plus, that learning should be fun.
Fun games with Alphabets flashcards
Toddlers are talkers and many are curious readers too. If you are raising a reader or trying to start with alphabets for them. Flashcards are perfect. Easy to understand.
Point and show each Alphabets as you move through each Alphabets card. Tell letter name and for grown up kids you can also mention letter sounds. 
Introduce the alphabets with cards as above. Start with a few letters at a time and slowly grow with time. This way a child can learn without feeling overwhelmed.
Always remember with flash cards REITERATION IS THE KEY.
Also let me show you some few easy activities and games you can set up with your Alphabets flashcards
Last updated on 22nd September 2023 3:03 am
Set up a sensory bin with alphabets Flashcards – Recognize letters and match
An exciting fun game to play with alphabets flashcards is setting up a sensory bin with alphabets flashcards and peg letters.
How to set up a sensory bin
Take a basket which is a little deep. Add sand or things you have easily available in kitchen – I use Sooji or salt. Spread the peg letters in a sensory bin and let the child search for them.
Matching the letters with the cards makes it fun and kids are able to identify different letters and recall from memory.
This helps in developing visual discrimination skills as well.
Note – For older kids you can set up a sensory bin with alphabets flash cards and toys as well. For e.g. matching a car with flashcards 'C'.
Rs. 3,198
Rs. 4,569
in stock
as of 22nd September 2023 3:03 am
Last updated on 22nd September 2023 3:03 am
You may also be interested in reading – Setting up Chicken sensory bin learning activities for kids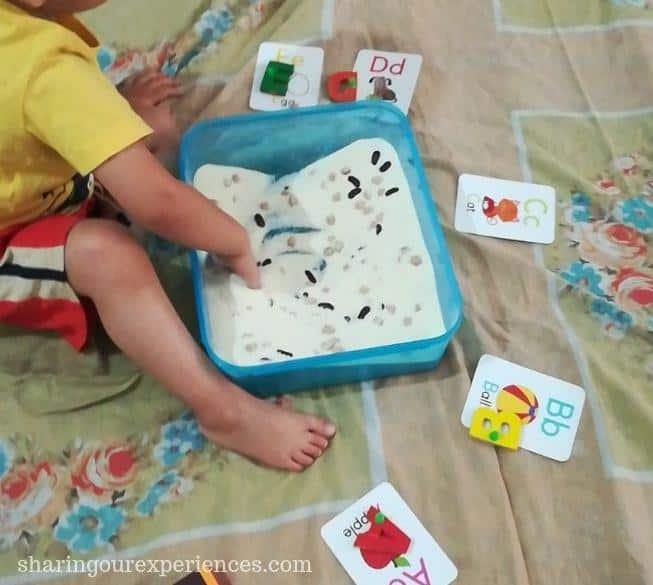 Creating alphabets letters with Popsicle sticks
Popsicle sticks are versatile. You can color them and play in endless ways. They have always been our favorite for that reason.
If you don't believe me. Click here to check out multiple ways you can use Popsicle sticks
While learning alphabets let the child try imitating the figure with these colorful Icecream\Popsicle sticks. This helps in kids observing and learning letter formations
Start with easy ones like A, E, F, etc. before going for curvy ones like B, C, D and more.
Beginners can commence with tracing on papers/ cards before doing independently. Let them be creative and practice the much need pre-writing skills.
Rs. 128
Rs. 350
in stock
as of 22nd September 2023 3:03 am
Last updated on 22nd September 2023 3:03 am
Also read what is Visual discrimination, why its important and more activities to develop visual discrimination)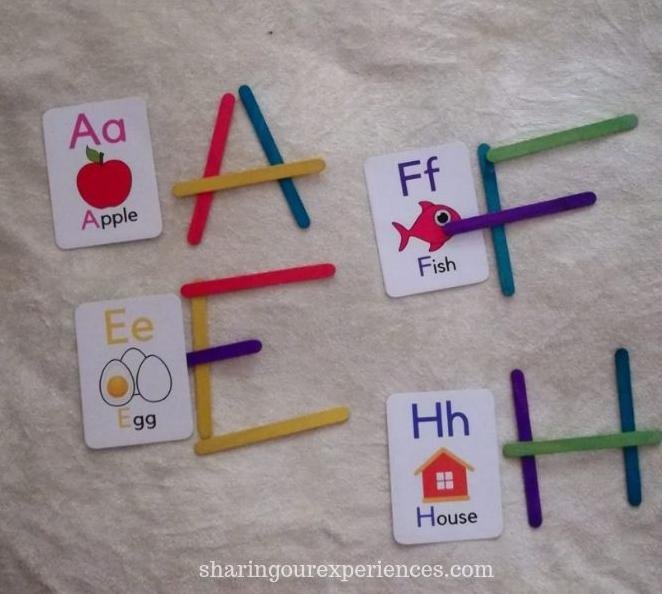 Play Bingo with Alphabets flashcards
If your kid is already a pro in recognizing alphabets, here is a fun game for you. Take blocks or buttons or anything fun and few bingo sheets. Bingo sheets are pretty simple DIY.
How to create DIY Bingo cards
Just take paper. Cut them into rectangles. Make grids and write random alphabets
How to play Bingo with alphabets cards
2 or more players can play along.
One player can reveal the card while others start marking. You know how to play along, right?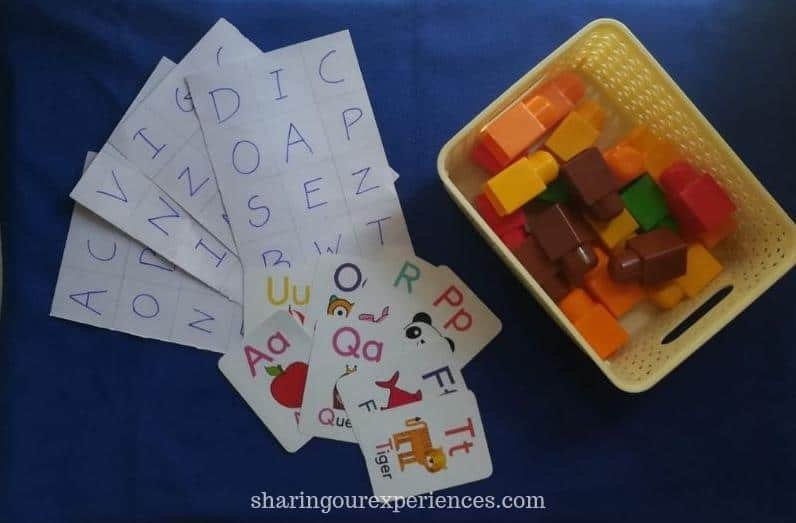 Fun games with Numbers flashcards
Research says most toddlers have a sense of counting. They group up similar objects together and do count up to 3 along. So, introducing them to counting rhymes and flashcards makes sense.
Numbers Flashcards can be used in the traditional way to recognize number and count.
You can also get below Number activity flashcards set, laminate and use it for reusable wipe clean activities or just print on thick cardstock for hours of fun
Grab these Number flashcards set now
and
Last updated on 22nd September 2023 3:03 am
But there are multiple other fun games that you can play with numbers flashcards. Let us talk about few here.
Parking spot (Counting game for all vehicle lovers)
Dig in your kid's toy collection and you can surely find some vehicles. Be it cars or bikes or buses or the heavy engineering ones.
Now, let's take up some post it notes and write numbers on each and stick them on the vehicles.
Well!  Next is Clean up space, place Numbers flashcards to form parking slots. Ask your kid to park the vehicles in the designated spot..
You can play along the child to match the vehicle and parking spot.
This easy game is a HIT with kids who love cars. Not only is it fun but this easy peasy game works on their matching skills and improves visual discrimination skills.
Last updated on 22nd September 2023 3:03 am
Learning Counting by making towers
Stacking is probably much loved by all young ones.
Use that curiosity in counting. If you have Megabloks great, else get any stackable object that child fancy.
Place the cards on a flat surface and help the child to understand how the stack grows into towers as the number grow. While the kids learn numbers, they can also visualize the difference between more and less here. An early math skill learned
Rs. 5,020
Rs. 7,179
in stock
4 new from Rs. 5,000
as of 22nd September 2023 3:03 am
Last updated on 22nd September 2023 3:03 am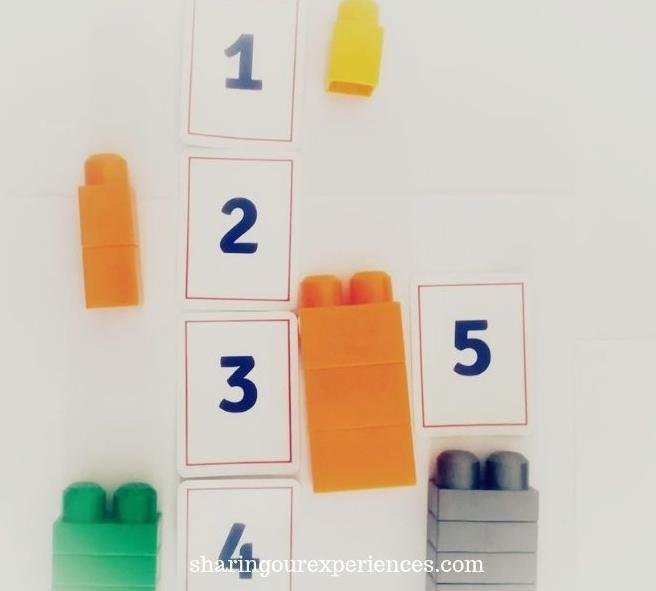 Counting with pom poms
The soft colorful pom poms are fun and kids just love them. You can sort them on colours or can use them for counting. Thye can also be used in multiple crafts
but is a good mental workout for kids.
So let us do this easy activity on how we can teach kids counting with pom poms and number flashcards.
Place all numbers flashcards on a flat surface, encourage the child to pick one pom pom at a time and count.
This is an easy game or activity to help kids understand the relationship between the quantity and number. While learning counting, kids are improving their pincer grip too.
This is an easy activity to develop their fine motor skills. For older kids, you can also increase the difficulty level by asking kids to pick up pom poms using tweezers
Fun games with Transportation flashcards
Kids are observers. They watch things around us and get curious. When you go on a walk or trip, your kids would surely have asked what's that thing moving? Transportation vehicles are captivating. We always do see and hear vehicles around us.
And most of the kids usually love cars, aeroplane and rockets 🙂
Last updated on 22nd September 2023 3:03 am
Identification of things that go using Transportation Flashcards
So, let's initiate this learning with identification of various means of transportation.
Flashcards would help your little one in recognizing and identifying means of transportation that they have currently seen and also gives you way of introducing things they have not yet seen.
So what do we need to do? Flash each transportation card. Talk about each cards, where you saw that means of transportation. You can also read stories related to them or sing a rhyme.
We loved this Amazing aeroplanes book for kids
Rs. 411
Rs. 464
in stock
16 new from Rs. 406
2 used from Rs. 260
as of 22nd September 2023 3:03 am
Last updated on 22nd September 2023 3:03 am
'Wheel on the bus .. 'is the most popular one. Add a bus, truck, police car in the song and make it fun. You can also make it a memory drill or game.
Sorting the means of Transportations
Once, the child knows what the vehicle is for. Go a little deep and explain where they move and what they do.
You can take a printout of road, air, and water from Google to help them understand and classify the modes of transport.
A child can categorize each means of transportation on the basis of where they go. This  easy activity also helps with buiding and developing hand-eye coordination and critical thinking.
This is an easy logical thinking game with visual-motor integration.
Matching with peg puzzles
Matching miniature vehicles with flashcards is another quick set up and a game with kids play and enjoy.
Take out all the transport miniatures or pegged ones and cheer child to match with respective cards.
This simple activity with flashcards is experiential learning that toddlers love. It requires them to be able to match and understand the concept of same and different.
This activity helps in developing fine motor skills, hand-eye coordination, visual recall and problem-solving. Phew! That's a lot.\ and it takes just a few minutes to set up.
Last updated on 22nd September 2023 3:03 am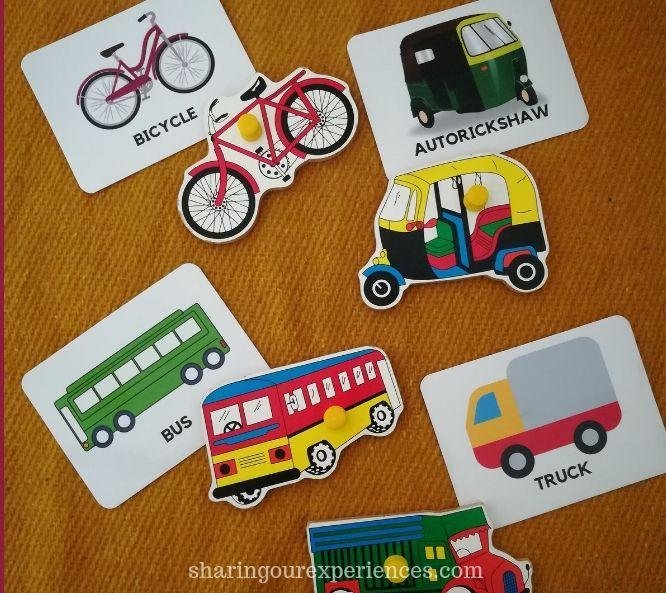 Fun games with Fruits and vegetables Flashcards
Do you have a fussy eater? If not, still read on.
Grandmas and scientists would agree that a culture of food appreciation is needed today. So its important to help kids understand fruits and vegetables, where they come from and learn to respect your food
Last updated on 22nd September 2023 3:03 am
One who makes friends with food can rarely be fussy about it.
Matching with Real fruits and vegetables
Showing food picture to kids and saying out the name would be a rote learning form. Even though its good to this at times  – but if we can make it sensory, touch, see, smell and feel, learning gets experiential and kids have more fun.
So, moms and dads, bring out your veggies and fruits from the kitchen to play area.
You can introduce them to your child along with the flashcards.
Match the tomatoes in reality and those in cards. It might get messy but its a good way to familiarize kids with food. Also when kids understand about food, they enjoy eating it and less chances of fussy eating.
Sorting Fruits and vegetables
Now that your child is sure about what is the name of each fruit and vegetable.
Its a good time to do a sorting activity with flashcards. We can ask kids to sort fruits and vegetables.
Write down "Fruits" and "Veggies" on a piece of paper or go for a popsicle stick. Then do sorting with your child.
Talk about each fruit and vegetable. As making it with real ones might not be easy, use flashcards. They are easy to manipulate too.
Sorting fruits and vegetables based on Seasons
Do you find mangoes in winter? Or when can you eat strawberries?
The child would be inquisitive to know more. Talk about the changing seasons and food of the season.
Take a printout illustrating season changes or just make quadrants in a sheet. And teach the child about seasonal fruits. Once understood, encourage the child to go for a seasonal sorting with flashcards.
With these flashcards activities you have taught about science, introduced geography and did visual memory recall. Plus, fortified their listening skills. All of this can be used for a long time.
Fun games with Animals Flashcards
Mostly kids love animals – some like cats, others dogs and some elephants and rabbits 🙂
Children books are full of animal characters. There are classic tales and animated series on animals. So I have saved these fun a games for the last!
Last updated on 22nd September 2023 3:03 am
Matching animals flashcards with animal figurines
Miniature animals and matching with a realistic picture is a Montessori learning activity. One of the most popular flashcards activities to do with kids.
Lay the cards on a table and help match them with miniature animal figurines.
It helps the child to correlate the real ones to printed ones. Even the ones printed in storybooks.
This is a great exercise for Little hands on the gripping skill and helps in developing pre-writing skill too.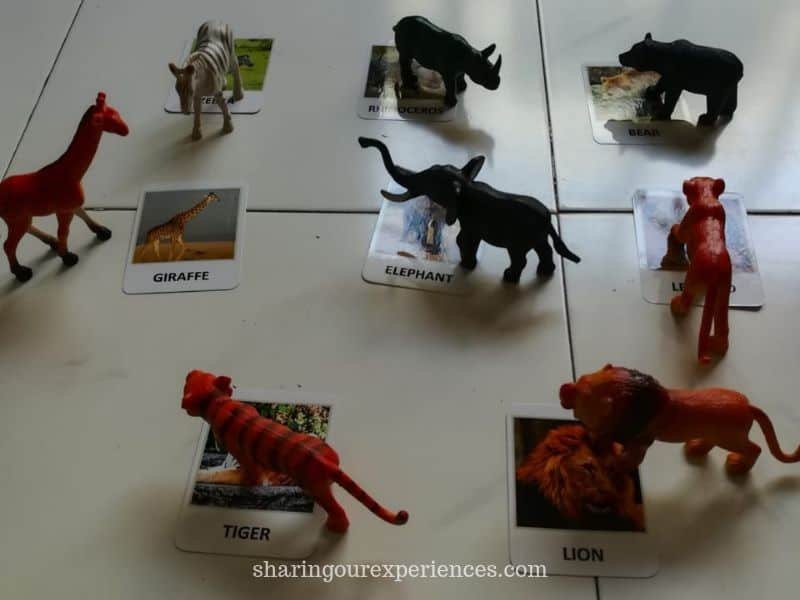 Having fun with Animal Sounds
Noisy energetic toddlers can have an amusing game with these animal flashcards.
Play the "Make the sound of …" or "Walk like a …." game with kids..
Just Flash out a card to your child and ask him to act like the animal on cards. Kids can either make the sound of the animal or may be walk like them.
This game can be used during Preschool circle time too.
Sort animals based on Habitats
Does your child ask where the lion lives? You said jungle and she wants to send her stuffed dog there. Well, time to learn where do animals live.
Use the animals flashcards to categorize animals based on habitats. You can sort animals  living in land on one side and those living in water on the other side. You can also sort on the basis of farm animals, wild animals and sea animals.
Place a habitat mat and sort your flashcards based on habitats.
So in the end I would say Flash cards are versatile. You can use them in a hundreds of  ways as they are open ended educational toys. Also the levels of activities can vary as per the kids age so the same set of flashcards can be used from 1 till atleast 5 years of age 🙂
I had got these set of flashcards from Amazon. And there are more in this set than I have used in the above activities :-). So invest in flashcards for your kid and have fun learning creatively.
Last updated on 22nd September 2023 3:03 am
PIN THESE FLASHCARD ACTIVITIES FOR LATER
Liked this post ?
You may also want to read this List of Best books for your kid
Your Turn Now
In case if you liked this article and think it may help someone do show your support by sharing this article.
Like our Facebook Page 
Stay connected with us using your favourite social media, we can be found on
Add a comment
Did you like these flashcards activities for kids? Do let us know using comments below and if you have any more questions or something to add please do let me know. Would love to hear from you.