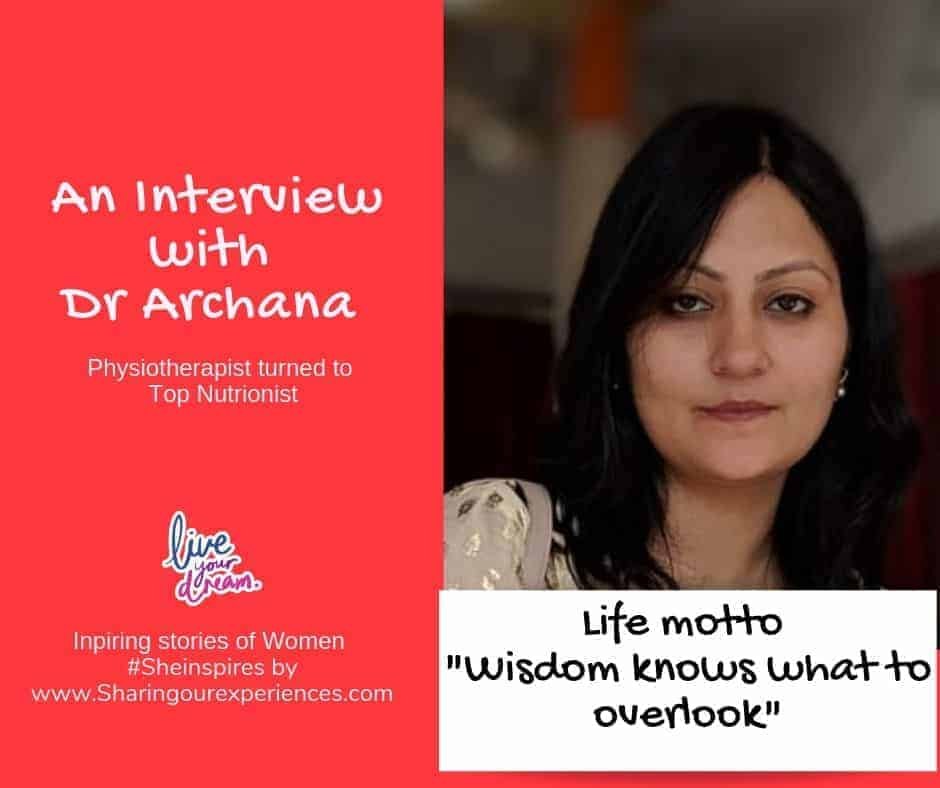 As part of our She Inspires series, in which we are featuring and interviewing leading women across industries. Let us meet Dr Archana Batra – Both Nutritionist and a physiotherapist by profession.
Dr Archana Batra has an experience of more than 13 years in the field of nutrition and phsiotherapy, who provide customized diet plans to her clients.  
So let us welcome Archana and get to know her  🙂
What would you call the Turning point in your life (How did the idea of getting into this field come about? What made you choose this? And what would you say sets you apart?
I did my bachelors in physiotherapy in the year 2007. While I was doing my internship in max hospital, I used to treat patients suffering from knee / back pain. It was at that time, that I realized that physiotherapy treatment alone doesn't help much in the treatment of these conditions especially if the patient is overweight.
Also some patients used to have associated medical issues like diabetes, hypertension and high cholesterol levels and I really wanted to feel like helping them with the correct dietary knowledge.
This aroused my interest in studying nutrition knowing that such issues can be treated and even prevented with dietary modifications alone.
In layman's terms could you please tell me what is it that you do as a nutritionist ?
Meeting new clients, taking their diet recall and planning the diet plans as per their lifestyle. medical history, food habits etc is what a nutritionist do.
Or in simple words , you can say helping people to lead a healthy lifestyle is a nutritionist's  job.

What do you like most about what you are doing?
I feel good by helping people achieve their fitness goals and also in helping them to  become the best version of themselves in terms of health.
What is your definition of Success?
Success is contentment. If you love what you do, you are already successful. Success doesn't come from money and neither fame.
If you had to give a advice to your younger self when you were starting out, what would it be or If you had the chance to start your career over again, what would you do differently?
If I would have discovered my love for nutrition earlier, I might have started with the nutrition education only rather than physiotherapy.
But sometimes I think the physiotherapy education has given me an advantage only, as I can now counsel clients about diet and exercise both and help the community in a better way.
Any regrets as of now? And if yes would you like to share
No regrets. I love what I do😊
Top 2  regular practices that have helped you
1) I love studying and keep on doing online courses on nutrition and attending conferences etc whenever I find time as learning is a lifelong process only
2) I am communicative and love counselling clients.
Motivational factor (What keeps you motivated)
Results of my clients, their feedback is what keeps me motivated the most.

One relationship that helped (Who has been your biggest support in this journey ?)
There are two – My Mother ( who motivated me to do  nutrition courses) and my Husband – who is still so supportive in my diet business. He handles the administration and marketing business of our diet clinic.
What is the biggest misconception you think people have about you?
That I really don't know. You might have to ask my clients
What is the biggest conception you think people have about your profession?
That my diet plans are highly customized…and that's my USP too.
What would you say are the top three skills needed to be a successful entrepreneur?
One has to have – Indepth Knowledge of the respective field, Be Hard working  and Innovative

When you are not working, what are you doing?
Taking care of my son or studying or may be doing some art work.
What would you have been if not what you are doing currently?
Teacher or may be a homemaker
What qualifications are required to pursue this career
One should have at least bachelor's in home science or any medical/ paramedical field with pg diploma in nutrition from a recognized board/ university OR Msc in nutrition and dietetics again from a recognised university
What qualities are needed to pursue this career?
Good Communication skills , patience , love for healthy eating/ fitness , aptitude to help others is what you need.
What courses are available in India if one wants to pursue this course?
Almost all universities offer bachelors, masters and pg diplomas in the field of nutrition and dietetics.
Any advice to parents whose kids may want to pursue this course?
If you think that your child has deep interest in food and nutrition, encourage them to study in nutrition as there are lots of opportunities in this field.
Nutritionist is required in each and every hospitals and in clinics,
In schools especially those providing the day meals,
In corporates as well to plan the meals that are served in the organizations.
They can also get into teaching in schools and universities ( providing nutrition courses)  or can get into nutrition research as well.
Anything that you would like to say to our readers
Success comes from hard work, perseverance, knowledge or learning, sacrifice and most importantly by loving what you are doing.
Best Food –  Rajma Chawal / Besan cheela 😊
Best Book – The Power of Positive Thinking by Norman Vincent Peale
Best song or music –  Country Roads , by John Denver
Best Destination –  Goa
Any personality/Celebrity who inspires you – Jay Shetty's inspirational videos
Life motto – Wisdom knows what to overlook
Rs. 133
Rs. 199
in stock
25 new from Rs. 133
as of 20th September 2023 6:42 pm
Last updated on 20th September 2023 6:42 pm
Thanks Archana, for taking time out and doing this interview with us.
So here I am wishing Archana a lot of luck in her future endeavors and hoping she continues to inspire many other women across. Hope you enjoyed this interview. If you have any other questions or have something to say please do so via comments below.
Liked this post ?
You may also want to read stories of other women who inspire
Your Turn Now
In case if you liked this article do show your support by sharing this article.
Like our Facebook Page
Stay connected with us using your favorite social media, we can be found on
Add a comment
Don't you find this interview inspiring. What do you want to do in life – Think and Go ahead and do it. Live your dream :-). There is no perfect moment to start working on your dream so start now
In case if you have any inputs or comments do let me know using comments below. I would love to hear from you. If you have a story to share drop me a mail at sharingourexperiencesblog@gmail.com