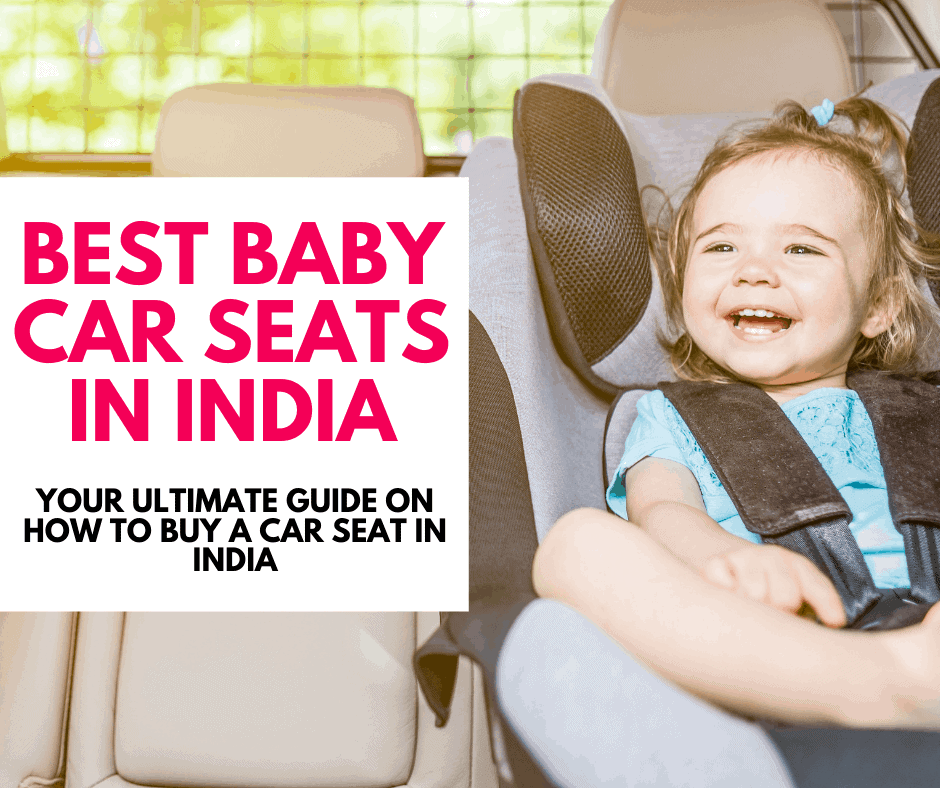 Looking for best cars seats in India? This article covers everything you need to know – best car seats for infants, best convertible seats, how to choose a car seat , what are travel systems. Honest reviews from moms on choosing a car seat in India.
Traveling with your little one can be an adventurous and stressful experience. It needs a lot of planning, caution, and preparations to travel with kids. You should make all efforts necessary to maintain the safety and comfort of your kids while traveling.
Amongst the most common safety measures taken while traveling with kids, the purchase of a baby car seat is essential and would ensure the safety of your little one.
Take a look at Today's Top car seats for kids online. This can help you quickly compare helpful customer reviews of the best rated products and pick up the best car seat in your budget.
✅ Winner – Best baby car seat in India 2020
The plethora of options might confuse you about the selection of the perfect baby car seat for your little one. You should try to perform some research, understand your requirements, and then purchase your baby car seat.
If you are not convinced about why you need a car seat – you may read why car seats are important here
✅ Best Infant Car Seats in India 2020
Infant car seats usually have a weight limit of 35 pounds or 16 kg and are most suitable from the time of the birth of your baby until 15 months. The infant car seats can only be used as rear-facing seats. Usually, these car seats come with handles which can make it convenient for you to carry the seat in and out of your car without causing any disturbance to your baby's sleep.a
Let us find out the best infant car seats available in the Indian markets.
Car Seat from Graco Snugsafe
The GracoSnugsafe baby car seat is very light and is compatible with the stroller manufactured by the GracoSnugsafe.
Graco Snugsafe car seat review
Trumom Infant Baby Car Seat
The Trumom Infant Baby Car Seat is suitable for use when your baby is within the age of 0-15 months. The weight capacity of this baby car seat is around 13 kg. This car seat can be used through 4 position settings i.e. feeding position, rocker position, carrycot position, and car seat position.
Trumom Infant Baby Car Seat Reviews
Pros:
It has a five-point harness that helps in providing adequate safety along with one pull adjustment.
The soft padded cover of this car seat can be removed and washed conveniently without much ease.
This baby car seat has a wind/sun canopy with UV protection and also is lightweight which would help you to carry for a longer duration.
Cons:
Nothing much
R for Rabbit Picaboo Grand Infant Car Seat with Base
This car seat is lightweight and has side impact protection which would help in providing maximum comfort to your little one while traveling. This grand infant car seat can be carried easily and is quite comfortable for your little one.
Chicco XT Plus Infant Car Seat
The Chicco Synthesis XT Plus car seat would help in providing support to your kid until he is 13 kilos. It is easily compatible with the Chicco stroller thus, making it a great combination while traveling.
Luvlap Infant Baby car seat cum carry cot and Rocker with canopy
The Luvlap infant baby car seat is a budget-friendly car seat and can be used until your baby is around 9-12 months.The seat is rear-facing and can be reclined in 3 different positions which can offer adequate support to your little one's neck and head.
✅ Best Convertible Car Seats in India
Convertible car seats are rear-facing and can be converted into front-facing once your kid grows up. It can be rear-facing until your kid is 1 year old and is 8 kilos in weight. After, your kid crosses the age of 1 year the rear-facing car seat can be converted to front-facing. These car seats have a weight limit of 50 pounds or more and are a common choice amongst the parents.
Luvlap Sports Convertible Car Seat for baby and kids
This convertible car seat consists of a 5 point safety harness which helps in protecting your kid from his shoulders, waist, and crotch. There is soft padding present on the harness, head, and seat for maximum safety. There are 3 reclining positions i.e. 2 forward-facing and 1 rearward-facing reclining level present in the Luvlap Sports Convertible Car Seat for kids. There are 3 positions height-adjustable headrest and harness system present in the Luvlap Sports Convertible Car Seat and can carry a capacity of up to 13 kilos.
Graco 4ever 4-in-1 Convertible Baby Car Seat
The Graco 4ever 4-in-1 convertible baby car seat has 6 reclining options that help in keeping your kid comfortable. The right latch system and easy-read level indicator make the installation of this car seat quite easy. The steel-reinforced frames help in providing strength and durability to the car seat. This car seat can be enlarged along with the size of your kid and can be used until your kid is of 10 years of age. It is plush, has comfortable inserts and the seat covers are washable to add up to your convenience.
Chicco Nextfit Convertible Car Seat
This convertible car seat has recliner sure 9-position leveling which helps in providing numerous recline options of any convertible car seat. The presence of a super Cinch Latch Tightener which uses force-multiplying technology would help in achieving a tight fit with minimized effort. There are two ride right bubble levels which help in indicating the correct seat angle in case of both rear and forward-facing modes. This car seat can be easily converted from rear-facing to forward-facing with the help of an integrated slide path which makes it quite easier to re-position the Latch strap.
R for Rabbit Jack N Jill Convertible Baby Car Seat
The Jack N Jill Convertible Car Seat is ECE R44/04 certified and is engineered to meet the European Standards. It can be used from 0-18 kilos of your child's weight and can be used until your kid is 5 years of age.It is available with 3 positions recline which can be well adjusted according to the comfort of your kid. This baby car seat comes with a machine seat cushion.
TruMom Baby Convertible Sports Car Seat
The 5-point safety harness of this convertible sports car seat has a 5-point front-adjust harness which helps you in getting your baby in and out easily while traveling. This convertible car seat has side impact protection with deep and softly padded side wings which also help in protecting your child's head, neck, and spine. Moreover, its 3 position recline can be adjusted according to the age and comfort of your kid. Rear-facing seat adjustment for can be done for your baby from birth till they are 13 kilos whereas forwarding facing seat adjustment for is feasible till your kid weighs 25kilos. This car seat is compatible with all varieties of cars and has a height-adjustable headrest suitable for children with different heights.
Pros and cons of Baby Car seats
In many countries, baby car seats are law as your kid tends to remain safe in a car seat rather than on your arms during the occurrence of an accident. During an accident, it is much safer when your kid is in a car seat as this reduces the probability of being hurt in the accident.
After the age of three months, your little one starts recognizing things very well and would try to pick them up too. By a baby car seat, your baby would stay installed in his position for a long time while traveling. There have been many cases where kids have suffered huge damages due to accidents because of the mother's distraction as the baby moves while driving.
Also, if you have a baby car seat you can easily carry your baby along with you for performing your daily chores and trips rather than leaving your baby at home and worrying about him.
But, as there are two sides to a coin; similarly, baby car seats have some disadvantages as well.
✅ Best car seat and stroller combos
Many parents opt for a car seat cum stroller for their kids. The car seat will keep your baby safe while you are driving and the stroller makes it easier and convenient to go anywhere you want to.
A car seat and a stroller would seamlessly work together. You will have to click the car seat into a base of your vehicle and then you can convert it easily to your travel system stroller.
Let us check out some of the best options for the car seat and stroller combo.
Chicco Bravo Trio Travel System
Chicco travel system helps in minimizing the number of times you need to take your baby out of your car seat and stroller which can disrupt his sleep as well. This car seat cum stroller is designed for those babies who are from 4 to 30 pounds and are 30 inches.
Graco Duo Glider Click Connect Stroller
The Graco Duo Glider Click Connect Stroller is extremely helpful if you have twins. This stroller will hold two Graco Snug Ride Click Connect infant car seats which are designed to hold children who are up to pounds of weight.
Evenflo Pivot Modular Travel System
This car seat and stroller combo are one of the best amongst its types due to its flexibility, overall usefulness, and moderate price.
More FAQS on Car seats – How do I choose an infant car seat
Some important points which you must consider while purchasing a car seat for your baby can be mentioned below.
Car seat for right age–It is necessary that you must invest in a car seat as per the age of your baby. You should avoid placing your kid into a car seat which he has outgrown. You must not forget to check the age and weight limit of the car seat which you are going to purchase for your kid.
The comfort of your kid–The car seat which you are selecting must be comfortable for your kid along with appropriate head support, back support, and reclining positions.
Adjustable belts – Your little one would remain safe with the help of the belts present in the car seats. So, you must ensure that your kid's car seat should have a 5-point safety harness and also belts which can be adjusted from the front.
Easy to Install – The baby car seat which you are selecting for your kid should come with an instruction manual and its installation procedure should not be complicated.
Stability – You must check that your baby car seat is stable as your kid's comfort might be hampered if the seat is shaky or unstable.
Easy to wash – The car seat must be easily detachable, washable, and must be easily re-installed to maintain proper hygiene for your kid.
What is a baby car seat and why it is important?
A baby car seat can be considered as one of the safest ways which can be used while traveling with your little one. It is an essential baby product; however, it is an overlooked baby product as well. Car seat for your baby is one of the hassle-free means of transporting your little ones and must be on your "to-have" list from the beginning.
When a car accident occurs, a car occupant who may be a child will be moving at the same speed as it was before the collision and as a result can catapult forward either towards the front dashboard or back of the front seat.
However, a baby car seat would prevent your kid from being thrown forward thus, reducing the severity of injury in case of an unfortunate car accident. Usually, many parents consider carrying their kid in their lap while traveling will give the kid a cushion feel and would save from sudden fall as well. But, the lap would not be security which you would like to provide to your kid while accidents.
During an accident, the laws of physics turn you as a threat to your kids present in your arms and laps. So, you should opt for a baby car seat for your little one while traveling at least till the age of 5 years.
Are baby car seats mandatory in India?
Most parents in India do not consider baby car seat important but rather believe it to be an unwanted expensive investment. This is mainly due to the below-mentioned causes.
There are no stringent laws made by the Government of India for the use of car seats. The use of baby car seats is not mandatory by the law in our country. The Government had proposed for the implementation of the child safety law from April 2015 but it was not implemented. In October 2014, it was made mandatory by the Government that every car manufacturer in India must equip its cars with the provision for the installation of car seats. However, this law did not apply to all cars which imply that many car manufacturers avoid the mechanism of equipping their cars with the mechanism for the fitment of child car seats.
Another major reason for most of the low use of baby car seats in India is due to the lack of awareness and benefits of the baby car seats. The majority of the Indian population has cars for travel, for showoffs but is unaware of child safety.
However, the number of accidents in India has been increasing every year. Head injury is the most common injury which occurs when a car crash involving a child occurs. Spinal injuries, chest injuries, lung injuries, etc. are the other common injuries that can occur due to car crashes involving kids.
Baby car seats help in reducing the risk of injury by car accidents to almost 70% and risk of death to around 28% in comparison to those kids using only seat belts in cars. Proper enforcement of the laws related to the safety of child passengers must be done by the Government and adequate promotion of the use of car safety seats should be ensured.
Types of baby car seats
Let us find out the different types of car seats available for your little one.
Rear-facing car seats
The Rear-facing car seat is best suitable for your little one till the age of two years. You must use this option as long as possible since this is the safest option available for your baby. Rear-facing seats can be snapped easily on to the base and can get locked into a place thus, transforming the baby seat into a baby carrier. A rear-facing car seat is a good option as it helps in spreading the crash force much more evenly across the back surface of the baby car seat and your little one's body thus preventing any serious injuries due to accidents.
Forward-facing car seats
When your kid outgrows the height and weight limit of the rear-facing car seat, then he should start using a forward-facing car seat with a harness which is as long as possible up to the highest weight or height permissible by the manufacturer. Forward-facing car seats can be used on the back seat of your car where you can use the seatbelt or the latch for putting the baby car seat securely.
Booster seats for babies
Booster seats can work until your kid is old enough to not use the car seat anymore. Booster car seats are mainly used for those kids who are in a forward-facing position. The minimum weight requirement for the booster seat varies from 30-40 pounds based on the model which you have selected. This car seat can use its own set of buckles or harness or the seat belt found in the car can be used even. The height of your kid would help in determining which is efficient either buckles, seat belt or harness.
Is it alright if I let my baby sleep in his car seat?
Yes it is alright. Rather personally I felt that my baby seemed more comfortable in a car seat rather than in my lap when we were travelling long distance. Just invest in a good quality and safe car seat.
How long can my baby use an infant car seat?
Infant car seats can be used until your baby is 1 year old. They you can get car seats for elder kids. These car seats can be used till a longer period of time.
Do I need a base for my child's car seat?
Yes you may need a base for your child's car seat. You can get it installed in your car on the back seat and then you can change car seats based on your kids age and weight.
Do all car seats fit in all cars?
No. all car seats do not fit in all cars.
Conclusion – Best Baby car seats in India
So, your baby's safety is your topmost priority while traveling and you must always consider buying a baby car seat from the beginning.
By strapping your little one to his car seat, you would have complete peace of mind as your precious munchkin is safe and comfortable.
However, you must purchase one which suits your kid and is affordable.
Liked this post on baby car seats ?
If you liked this article on best car seats for babies in India. Don't forget to Share it