10 Best Baby Massage Oils in India 2021 (What moms trust)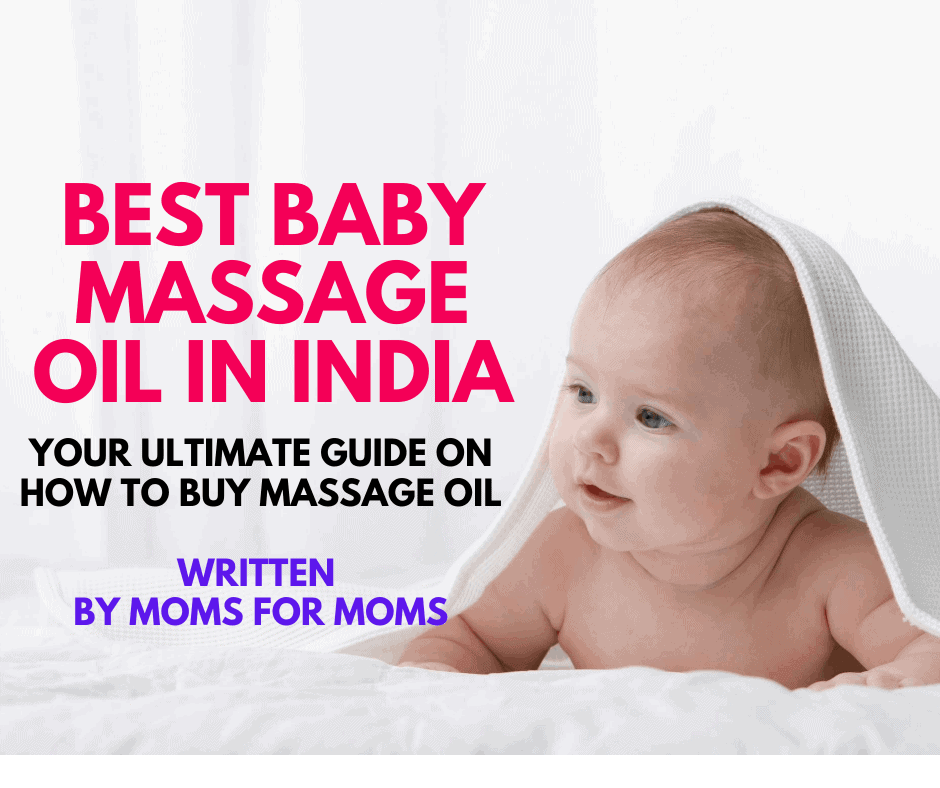 ---
Looking for the best massage oils for babies in India? We have not only covered the best baby oil brands but answered questions like – Which oil is best for baby massage in summers, winters, and other seasons. Best ayurvedic oil for babies. How can you choose massage oil for your baby? Which oil is best for Diaper rash. So all questions a mom has answered in one place by another mom.
Massage promotes the bond between you and your child, a delicate massage can calm your little one's mood, also aids in stronger bones.
Below is the list of 10 best massage oils for babies, which are based on mom's suggestions and what worked for other moms, but do a patch test on babies' skin or consult a pediatrician before using any oil.
Advertisement| Article continues below.
---
---
✅ Best Massage Oil for babies in India
1. Figaro Olive oil – best massage oil for infant massage
There are many brands of baby oils containing olive oil but Figaro is one of the safest oils to use on an infant's skin, it is gentle and irritation-free.
Figaro Olive Oil Tin, 1L
12 new from Rs. 725
Free shipping
as of 1st March 2021 6:17 am
Features
100 years of trusted service – Figaro as a brand has been celebrating the goodness of olive oil for over a century. You can rest assured that generations of grandparents since 1919 will vouch for the purity of Figaro
Heart-Conscious Super-food – Boosts your health with antioxidants, MUFA and PUFA rich diet for lower cholesterol and a happier heart making it a great substitute for plain butter and ghee
Exquisite Flavour and Aroma – Experience the richness of meticulously, hand-picked olives straight from lovingly cultivated native orchards combined with the healthy goodness of Figaro olive oil
Durable, Sunlight-resistant Packaging – Metal tin packaging so you can enjoy your delicious cooking and not sweat it over broken glass hazards or sunlight spoiling your delicious olive oil
Ideal for All Types of Cooking – Figaro olive oil is an excellent all-purpose cooking oil suitable for sautéing, shallow frying or deep frying all your favourite Indian dishes
2. Himalaya baby massage oil – Best oil for body massage for baby
A regular massage with mild oil boosts your skin's health and This is enhanced with the best ingredients like olive oil, aloe vera, and winter cherry. Helps in maintaining radiant and healthy skin.
Himalaya Baby Massage Oil (500ml)
13 new from Rs. 235
Free shipping
as of 1st March 2021 6:17 am
Features
Vegetable oil with the power of herbs
Olive Oil: Vitamin E nourishes, protects, and softens skin
Ashvagandha: Improves skin tone ; How to Use: Massage baby's body with Baby Massage Oil, preferably half an hour before bath time
Free from Mineral Oil & Animal Fat, the usual factors for rashes & allergies
Clinically tested to be mild on your little one's skin
3. Sebamed soothing massage oil – newborn baby massage oil
As the baby's skin is sensitive and tender, this is the best oil for soothing their skin, It also has natural soya oils and Vitamin F, (soya oil composite) which aids in strengthening your little one's skin tolerability.
SebaMed Baby Massage Oil, 150ml (Pack of 3)
Rs. 1,323


Rs.

1,200
in stock
4 new from Rs. 1,200
Free shipping
as of 1st March 2021 6:17 am
Features
| | |
| --- | --- |
| Part Number | 10751 |
| Color | Clear |
| Size | Children One Size |
4. Mamaearth baby oil
This oil is 100% natural, cold-pressed, and helps in maintaining supple and soft skin for babies.
Mamaearth Soothing Massage Oil for Babies (100 ml, 0-5 Yrs)
5 new from Rs. 200
Free shipping
as of 1st March 2021 6:17 am
Features
It has natural blend of Sesame, Olive, Sweet Almond and Jojoba oil
Sesame Power -Healing And Immunity Building Power Of Cold Pressed Sesame (Til) Oil
No Harmful Chemicals - Completely Free Of Harmful Chemicals Like Lipids, Parabens, Sulfates, Phthalates, Mineral Oil, Petroleum, Synthetic Fragrances Or Dyes
Natural Fragrance - No Synthetic Fragrance, Contains Mild Natural Fragrance From Essential Oils
Item Weight: 100 ml
5. Baby Dove oil
This acts as a magic radiant on your baby's skin. the non-greasy features help in easy absorption into each layer of skin and thus help in keeping the skin glowy and fresh. The fragrance is a soothing pleasure for both mother and baby.
Baby Dove Rich Moisture Baby Massage Oil, 200ml
out of stock
as of 1st March 2021 6:17 am
Features
Safe for Baby's skin from Day 1
Keeps baby's skin soft and moisturized all day long
Locks Moisture and soothes dry skin
Light, non-greasy and fast absorbing
Deeply nourishes skin
6.Cetaphil baby massage oil
The best oil for healthy and nourished skin, also proven suitable for sensitive infant's skin
Cetaphil Baby Massage Oil and Baby Wash & Shampoo
Rs. 1,155


Rs.

1,119
in stock
as of 1st March 2021 6:17 am
Features
Massage Oil And Baby Wash & Shampoo
Set Of 2
Specially Designed To Soften And Smooth
7. The moms co natural massaging oil
A regular massage with this oil helps in strengthing the bones and gives complete nourishment without spoiling the glow of the skin.
The Moms Co. Combo of Natural Baby Shampoo, Wash, Lotion, Massage Oil and Diaper Rash Cream Complete Care (White)
Rs. 1,599


Rs.

1,199
in stock
3 new from Rs. 1,199
Free shipping
as of 1st March 2021 6:17 am
Features
It is without 5 tear baby products made with a perfect blend of powerful cleansers and natural oils - baby's skin loses moisture faster than adult skin, and our unique blend of coconut based cleansers and oils like avocado oil that gently clean baby's skin retaining moisture while also being gentle on eyes
Usda-certified organic oils gently protect - carefully chosen ingredients to be safe from day 1, organic carrot seed oil , red raspberry seed oil and pongamia glabra seed oil provide natural sun protection and reduce skin redness while shea butter moisturises, soothes and keeps baby skin soft
Hypoallergenic, mild and gentle care for baby soft skin - themomsco. Range of baby skin care products are all clinically tested to be hypoallergenic, mild and gentle for baby's soft sensitive skin
The moms company baby care range is made without compromise - unlike other natural sunscreens that may contain hidden chemicals, our lotion for sun protection is also australia-certified toxin less, made safe and australia allergen certified, so you never have to worry about getting only the safest moisturising solutions for your baby
Nature in, toxins out : It is without Sulphate and paraben products contain no harmful or synthetic ingredients - our toxin less, sulphate and paraben baby shampoo from our range of best baby products is made without mineral oil, sulphates (SLS, SLES), parabens, dea/tea, phenoxyethanol, synthetic fragrances, pegs and many other potentially harmful chemicals
8. Lotus baby massage oil.
Herbs and different flowers are combined together to give protection for the baby's delicate skin. Safe oil doesn't contain alcohol, no preservatives, no artificial fragrance.
Lotus Herbals Baby+ Eternal Love Baby Massage Oil, 200ml
3 new from Rs. 273
Free shipping
as of 1st March 2021 6:17 am
Features
No harmful chemicals
100 percent goodness
99.9 percent naturals
Paediatrician recommended
No preservatives
9. Lal tail
According to research, it is clearly mentioned that, babies who were massaged with this oil, shown 2 times progress in physical and mental health. A soothing massage with this oil also helps in practicing sleeping patterns.
Dabur Lal Tail 200 ml – Ayurvedic Baby Oil 200 ml
8 new from Rs. 125

as of 1st March 2021 6:17 am
Features
Dabur lal tail is clinically tested to give 2x faster physical growth (basis a 10-week clinical research on babies up to 6 months of age in comparison to no massage group)
Strengthen's baby's bones and muscles
Induces better sleeping pattern
Keeps the baby's tender skin soft and supple
Enriched with shankpushpi, ratyanjot and ashwagandha
10. Johnson's baby oil
This is perfect for moisturizing, it gives mild and sensitive massage, 100% dermatologically and sensitivity tested. Contains vitamin E which can prevent your baby's skin from dryness.
Johnson's Baby Oil with Vitamin E, Non-Sticky for easy spread and massage, 500ml
8 new from Rs. 279
Free shipping
as of 1st March 2021 6:17 am
Features
Johnson's Baby oil for massage is enriched with Vitamin E
Johnson's baby oil is formulated to spread easily on new born baby skin
Dermatologically tested for allergies
Recommended by doctors
No Sulfates, No Parabens, No Dyes. Fragrance : Natural Aroma
Best oils for babies during summer:
1. Coconut oil

Coconut oil contains is anti-bacterial and anti-fungal so it prevents rashes and skin infections. It is mild in texture and easily absorbs into the skin.

back to menu ↑
Best oils for babies during winter:
Almond oil
As almond oil is rich in vitamin E, it can is used in any season, smells great, and moisturizes the baby's skin.
Olive oil
This is not recommended for sensitive skin and having skin problems, but this helps it retaining the vitamins and keep the skin smooth.
Mustard oil
Mustard oil is very beneficial during the winter months. Make sure mustard oil is used in combination with other carrier oils. A carrier oil is used to dilute a concentrated essential oil so that it can be applied on the skin without the fear of side-effects
back to menu ↑
Best massage oils during rainy season:

1. Almond oil

Almond oil is the best choice among all during the rainy season, it is a source of vitamin E, which prevents from dryness and keeps the babies skin soft and moisturized.

2. Olive oil

Olive oil can also be used during the rainy season, to keep the skin soft and moist.
back to menu ↑
Best Ayurvedic baby massage oil:

1. Kama Ayurveda ayurvedic baby massage oil

The best baby massage oil that soothes, nourishes, protects, and softens delicate skin to keep it healthy and radiant.
Kama Ayurveda Ayurvedic Baby Massage Oil, 21.7 Fl Oz
as of 1st March 2021 6:17 am
Features
Color: Yellow
Material: Others
It soothes, nourishes, protects and softens delicate skin to keep it healthy and radiant


2. Nature's Paradise Organic Coconut Baby Oil

It is paraffin-free, chemical-free, and biodegradable massage oil. The calming fragrance of coconut relaxes the baby.




back to menu ↑
Best massage oils for sensitive skin:
The Baby's skin will be more sensitive, should be given gentle care from the beginning. Olive oil, almond oil, and coconut oil are the best treats for sensitive skin.
back to menu ↑
FAQs – How to choose massage oil for babies
Few frequently asked questions about baby massage oils are answered below:
• How can I choose the best oil for my baby?
Always advisable to do a patch test before using any massage oil, because babies vary in types of skin ranging from normal to dry, oily, or even extra sensitive.
• Which massage oil is good for strong bones?
The best and safest oil is coconut oil, there won't be any itching or rashes, suitable for all skin types. And best oil massages strengthen the bones.
• Which oil can be used for diaper rash?
Coconut oil is best home remedy for diaper rash, it gives a soothing effect to baby's skin also avoids itchiness. If it is more please consult your pediatrician.
• Which massage oil is better, Himalaya baby massage oil or Figaro olive oil?
For baby body massage Himalaya oil is recommended, because olive oil is a little thick and sticky during summer.
• Which oil is best during winter?
Olive oil is better for babies during winter as it is thick and acts as a moisturizer.
• How to choose baby's massage oil?
A regular massage with the best oil helps in strengthening bones and skin protection. If your baby's skin is sensitive, or dry, don't use vegetable oils like olive oil, sunflower seed oil. But before giving a massage, do a patch test. To make sure the oil is not itchy and chemical-free.
The best time for creating and expanding the bond between mom and baby is while giving a good massage. Make sure you make use of it. Also, it will help strengthen the bones and keep the skin moisturized. It is advisable to perform a patch test, also consult your pediatrician for more recommendations on the best oil for your baby.
back to menu ↑
Liked this article on Best baby massage oils in India
If you found this guide on how to choose a massage oil for your baby. Do not forget to share with others.
Also would love to hear from you so anything you have in mind – please do add in the comments below
We love hearing from you. Add a Comment using your Facebook id (if you don't want to use Facebook, scroll down to leave a reply using other options)