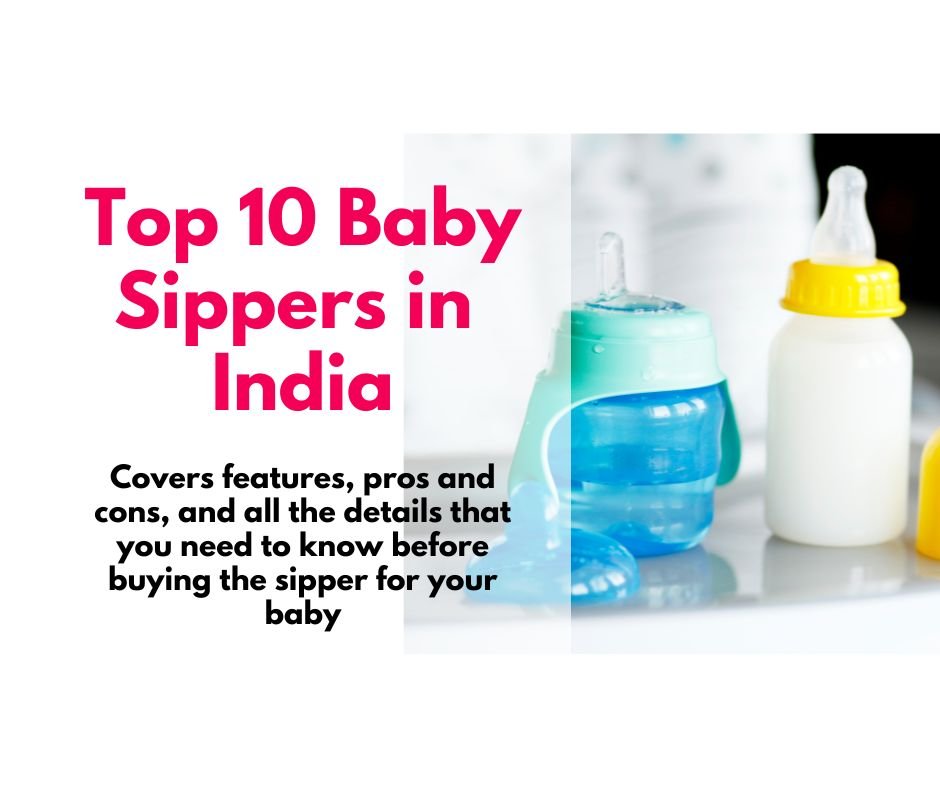 When babies are young, their primary source of nutrition is their mother's milk. However, as babies become older, they do require other liquids in addition to milk for a balanced diet. And to simplify the transition and close the gap between the breast and the cup, a sippy cup is the best solution. According to a world-famous pediatrician, "If given the choice between having milk in an unfamiliar cup and water in their favorite bottle, most kids will choose the cup." Therefore, a lovely, baby-friendly sipper can be a fantastic option to ease the transition. To assist new parents, we have done a significant amount of research in selecting the best sippy cup intended for the transitional phase.
Many factors were taken into account by our staff when shortlisting infant sippers, some of which are included below.
Type of spout: The spout of a sippy cup is one of the main factors to take into account. The portion of the cup that makes touch with your child's mouth—the spout—can therefore have an impact on how their teeth erupt. You must choose your child's sippy cup spout with the same level of care as you choose the teats for their feeding bottle. The most common spout styles offered in sippy cups are Soft Spout, Hard Spout, Straw, Open Rim, and Spoutless.
Material: A lightweight cup is typically preferred when the baby is younger than nine months old. So choose one made of plastic or light steel. Food-grade steel is typically preferable to plastic. Contrary to plastic, choose a silicone spout of medical grade.
Easy to Use: The cups are made to fit comfortably in the small hands of babies. Trainer handles are helpful for a baby under 9 months old to grasp the cup and invert it for drinking. The cup's form and grip should be such that a baby older than 9 to 12 months can readily handle it in both hands.
Handles: Sippy cups with handles are a great choice so that little hands can hold them. One handle or two handles—one on each side—can be seen on cups. Perhaps you should consider sippy cups with built-in grips. When your child is no longer in need or interested in the handles, you can remove them from his sippy cup using a sipping system.
Leak-proof: If you're going for a drive or a stroll through the park, having a leak-proof cup is a tremendous benefit. Sippy cups that are leak-proof typically include valved spouts so that the liquid can be delivered more conveniently.
Customer Reviews: This is yet another crucial factor that our team considered when choosing products. We read through Amazon customer reviews to select sippy cups that have received great marks from other parents.
Top 10 Baby Sippers in India
The market is flooded with different types of sippy cups. We've compiled a list of the top-selling brands in India and their most popular sippy cups in the post to assist you in choosing the best sippy cup for your child.
Philips Avent My First Transition Cup is very good for infants from 6 months and up.
Pros
Suitable for infants six months of age and older.
Perfect for everyday use
Easy to clean
Detachable
Made from a BPA-free substance
Good size
Long-lasting
Cons
Pricey
Handles have a jiggly motion.
I personally recommend Munchkin Miracle 360 Trainer Cup as have extensively used it for my baby. It helped in a smooth transition to regular glass/cup.
Pros
Automatic sealable design
BPA free material
Suitable for kids six months of age and older.
comfortable handles.
Dishwasher safe and simple to clean.
Vibrant tints.
Cons
Assembling is not smooth
NUK Learner Sippy Cup
This Learner Sippy Cup has handles with an anti-slip surface, helping your baby to have a good grip.
Pros
Handles with anti-slip surfaces.
Both portable and strong.
Complies with global safety standards.
Available in adorable designs.
Appropriate for younger infants.
Dishwasher-safe.
Cons
Spouts may only emit a small amount of water.
Possibly not suitable for outings
R for Rabbit Sipper is quite an affordable sipper for babies, below are some pros and cons-
Pros
Beautiful transparent design
Made of phthalate- and BPA-free materials
Ideal for 9 months old babies
Flip lid
Long-lasting plastic
Cons
Thin sipper straw
possibly not dishwasher-safe
Spoutless training cup, perfect for training babies.
Pros
Approximately one ounce is contained in the cup.
Lid suitable for travel
Sturdy straw
Detachable handles
Created with BPA-free materials
Cons
Not leak proof
It might not be resistant to mold.
HAPPY BEAR Sea Sipper Bottle
Happy Bear Sipper bottle claims to help with colic and flatulence
Pros
Anti-colic
Soft silicone straw
Anti Flatulence control
Design that saves space
Free of phthalates, PVC, and BPA
Reasonable cost
Comes in beautiful pink color
Heat and cold resistance
Cons
Packaging could have been improved
Unsafe for microwave
This is a cute tumbler-style sipper
Pros
Includes a silicone seal for the straw
Can be mounted on vehicle holders
The plastic used is devoid of BPA.
Safe to wash in a dishwasher's top rack
Portable style
Skid-resistant
Cons
Cleaning the venting openings may not be simple.
Pros
Ergonomically designed with side handles for a comfortable grip
Detachable, supple handles
Suitable for kids four months and older.
Cons
Possibly not leak-proof
Could grow mold
Pros
Spill-Proof
Ideal for 12 months or more
Free of phthalates, BPA, and BPS
Sterilizer-safe
It can be used to keep hot beverages
Cons
It could be hard to get the contents out by sucking.
Pros
Includes a soft-tip straw
Spill-resistant body
Simple to clean
Beautiful design
Free of PVC and BPA. Made of plastic.
Cons
The straw seems a little fragile.
Classification of Products
Best Sippy Cup for Daily Use: Philips Avent My First Transition Cup
Dishwasher Safe Sippy Cup for Six Months Old: Munchkin Miracle 360 Trainer Cup
Portable and Anti-Slippery Sippy cup: NUK Disney Learner Sippy Cup
Best Sippy Cup in Transparent Design: R for Rabbit Premium Bubble Sipper
Travel-friendly Sippy Cup: Brown's Cheers 360 Spoutless Training Cup
Budget-friendly Sippy cup: HAPPY BEAR Sea Sipper Bottle
BPA-free and Spill-proof tumbler: Contigo Spill-Proof Kids Tritan Straw Tumbler
Best cup for 4 to 6 months Old Babies: Munchkin Gentle Transition Trainer Cup
Sterilizer-safe Sippy Cup for Toddler: Tommee Tippee Sportee Toddler Sippy Cup
BPA-free and Spill resistance cup: The First Years Mickey Baby Trainer Straw Cup