Check out these Top wishes from real moms – Understand what moms really want on Mothers day.
As opposed to what is fed to us via marketing companies and brands the real wishes are very simple. And you don't need loads of money to fulfill these wishes.
Check out this list of what mom's really want. And yes we asked moms in our community to answer this for us and thus took the guess work out :-).
We know how difficult it is to find the perfect Mother's day gift.
Motherhood is a gift for women, we cherish our babies and family life but sometimes when we are tired of all the chores associated with motherhood and family life – what comes to our mind is "what if somebody could do this for me? If only for a day!"
Yes that's right.
But each mom is different so while some crave for some me time to pamper ourselves others crave for some more quality time with families.
So if you are looking for a perfect gift for our mom or wondering what can I do to make her happy or just don't know what things do moms like you can read what moms in our community  had to say.
And try to make your mom feel special not only on Mother's day but also on other days 🙂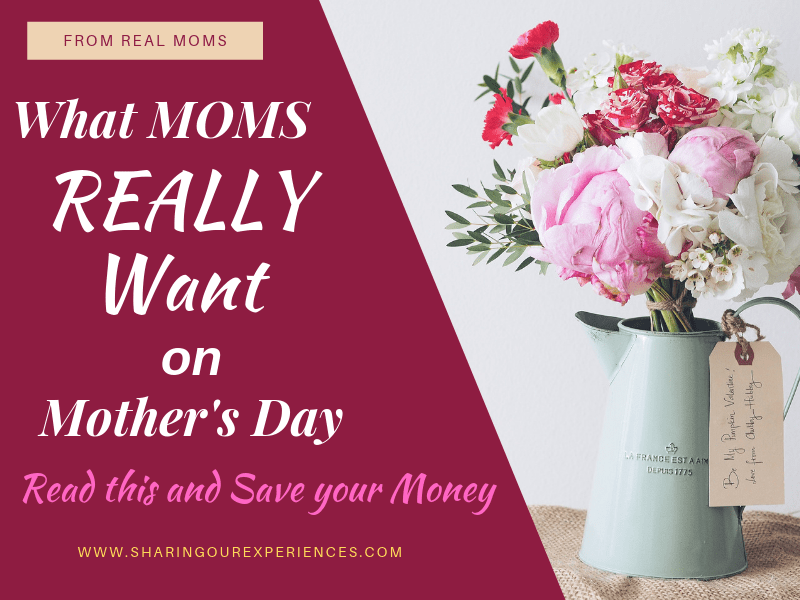 What moms really want on mother's Day. Top wishes that moms secretly desire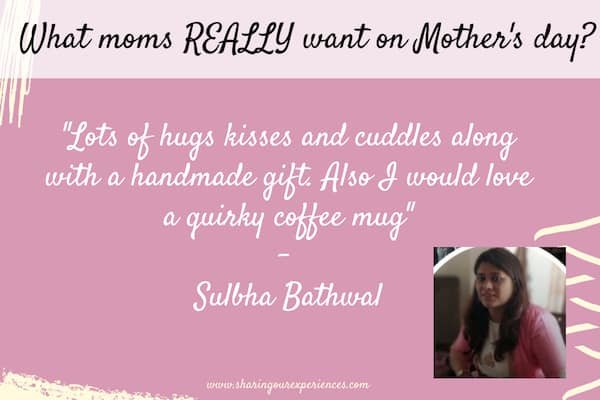 Lots of hugs kisses and cuddles along with a handmade gift. Also I would love a quirky coffee mug
says Sulbha Bathwal, mother of two adorable twins.
And we completely agree. Every mother cherishes simple and imperfect cards or small gifts that her child has made for her.
When the children grow up and they get busy in their own world these are the things that make her happy whenever she sees them. So handmade card, photo frame or simple handprint are excellent gifts for a mother.
We loved the personalized mugs from Archies . You can check them out here
Last update was on: 20th September 2023 6:44 pm
A photo frame or fridge magnet with our memories
says Swetha Kalyan.
I personally love looking through old photos and reminiscing when they were clicked. It could be printed photos or a photoframe or beautiful fridge magnet.
You can get Photo frames from Amazon here
Related – How to make handmade wall hangings from popsicle sticks that you can use as photo frames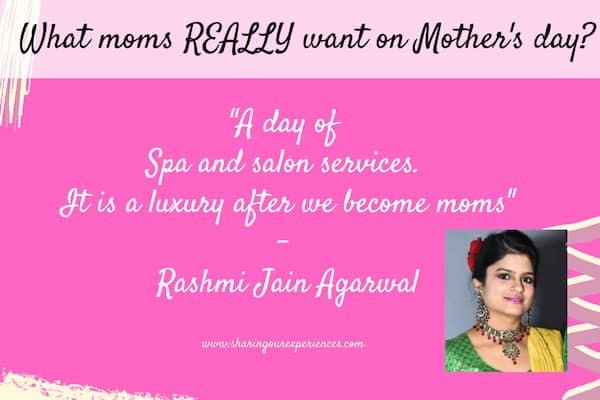 A day of Spa and salon services. It is a luxury I think after we become moms
says Rashmi Jain Agarwal
Nothing makes you feel better than being pampered and feeling cared for 🙂
Well a good relaxing spa can help every women feel pampered and what could be a better gift than a gift coupon or booking at a good Spa. Show how much she is appreciated and let her take a day off ..
If the kids are old enough then they can set up a home spa with homemade scrub and candles.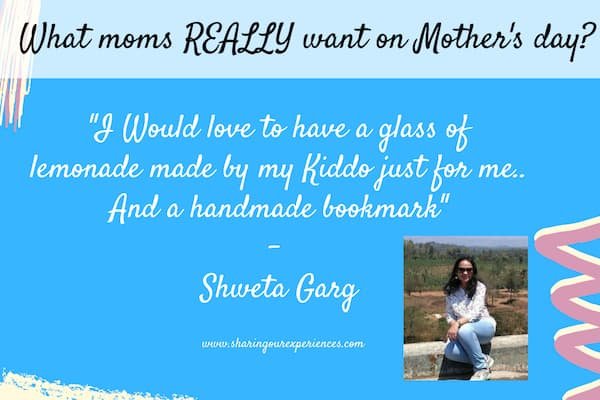 Would love to have a glass of lemonade made by my Kiddo just for me.. And a handmade bookmark
and Spend my whole day with my Kiddo with lots of hugs and lovely smiles.  says Shweta Garg
Simple pleasures of life :-). Time with our kiddo and handmade gifts and lemonade. Sounds awesome. Its not big gifts but simple things done with loads of feelings that wins our heart
Related – How to make a Easy bookmark at home

A beautiful handwritten note and beautiful picture of both of us together
says Atti Goyal Bagaria
There is something about a hand written note that toucher our heart and makes us feel loved.
So go ahead instead of getting a greeting card from market. Take out time to jot down your feelings in handwritten note and make your mom feel special. For younger kids fathers can help kids in writing this note.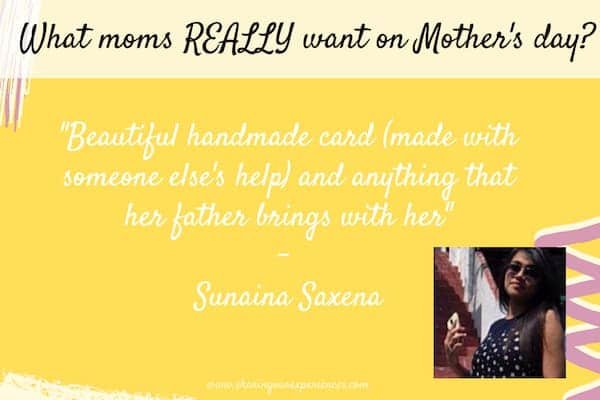 Beautiful handmade card (made with someone else's help) and anything that her father brings with her
says Sunaina Saxena on what she wants as mother's day gift.
and yes its not WHAT you got but WHO gave it. That makes a gift.
Related – Check out this Easy Handmade Palm shaped flower perfect for mothers day craft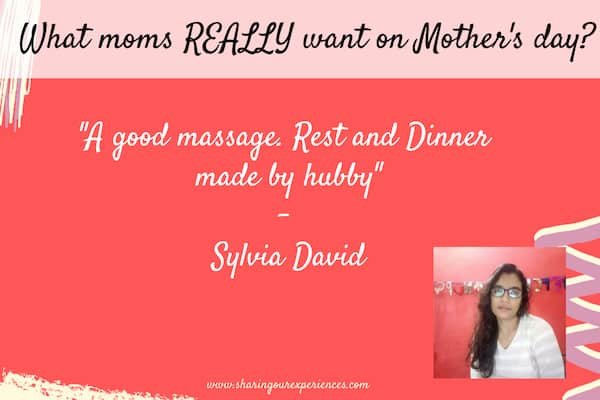 A good massage. Rest and Dinner made by hubby 
says Sylvia David on being asked- 'what mom's want on mother's day'
Rest and Sleep is something a mother craves for.
A day free from all the daily routine activities that a mother does would be lovely. If she is freed from all these chores for a day then that will be the best mother's day gift for her and she gets extra time to spend with her kids.
And Yes, after you become a mother a complete 8hrs sleep without having to wake up to crying baby or demanding toddler or when alarm rings  is something every mom wishes for.
So a good night's sleep will make any mom's day 🙂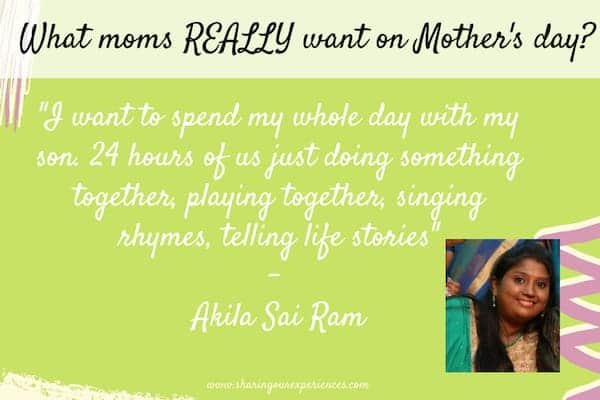 I want to spend my whole day with my son. 24 hours of us just doing something together, playing together, singing rhymes, telling life stories
says Akila Sai Ram

A child's good health,  her children's love and happiness. 
Also would love something unique with wonderful memories like a DIY string art with pictures,  pallet frame or a shadow box says Gayatri Shah
A Clean house
says Shilpa Bankapur.
Everyone loves to have a clean and organised home but with the kids in the house it's always a mess.
So on this special day coming home to a clean and organised home even if it is for some time is what every mom wants.
So if you are wondering as a husband what does my wife wants on Mother's day. Note above wish 🙂
That doesn't mean she wants you to hire a professional to do the job, instead buying her probably easy cleaning supplies she needs or helping her also means a lot for her.
A relaxing day to spend with family on beach, play and lots of fun time with little one
says Anshu Agarwal.
So going out on a short vacation could be one of the things you can do as a family on mother's day.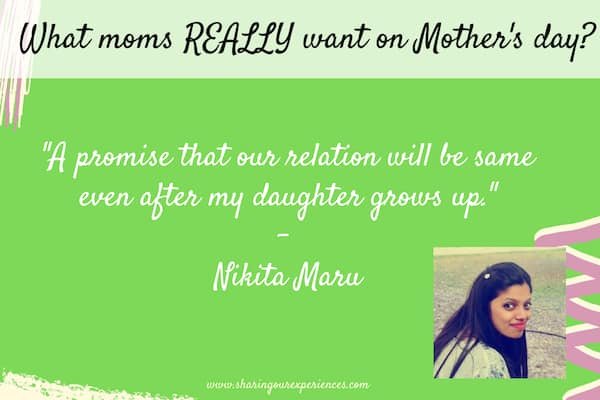 A promise that our relation will be same even after my daughter grows up. 
says Nikita Maru. As a mother, I want this moments to be captured though its already there in my heart. The way she laughs, the moment she cries for silly things, hugs and kisses she keeps on doing!! For me mothers day gift will be a promise that our relation will be same even after she grows up or gets married
Some Time for workout
This was another wish multiple moms had.
After the baby workout takes backseat for mothers but workout actually is a good to boost your confidence and fight post-partum depression.
It is very difficult for a mother to find time for workout with the baby in hand.
So this Mother's day offer to look after the child once in a week so that she can join any fitness club according to her convenience such as Yoga, Zumba, aerobics, bodyweight training or even a simple meditation classes.
A good Subscription or good Books and time to read them
Few moms said that they would enjoy a good subscription
Any magazine of her choice or DIY activity box  or self-care kits are good to amaze her.
Also, you can get her books she wants to read and help her find time when she can read them.
It could be books on parenting, or self care or just being happy, or decluttering or eating healthy. But give her what she enjoys reading and finds useful
Related – Best Parenting books for moms to make their life easier
Help in getting my To do list done
Well who would say no to as helping hand. You can help her in completing the task for her or just being there for .her, while she takes care of her to do list.
All I would like to say in the end. Motherhood is not easy. So take out time and make a mom feel special. Spend time together, talk to her, give a hug and help her take care of herself. Give her a gift she cherishes and that brings a smile to her face.
https://www.instagram.com/p/BwKHf7FFkER/
Liked this post ?
You may also want to read related post for moms
Five skills you perfect after becoming a Mom
Successful Women – Have we got our definition right 
Inspiring stories of Women who are doing great in each fields
How to make Super easy handmade foam flowers for your mom
How to make Handmade wall hanging as mother's day gift
Your Turn Now
In case if you liked this article on what moms want on Mother's days and think it may help someone do show your support by sharing this article.
Like our Facebook Page 
Stay connected with us using your favourite social media, we can be found on
Add a comment
Did you like these guide on All about what mom's want on Mother's day and how can you make them feel special ? Do let us know using comments below and if you have any more questions or something to add please do let me know. Would love to hear from you.
What moms want on Mother's Day