Dinosaur Worksheet Printable Pack for Toddlers, Preschoolers and Kindergarteners
Learning about dinosaurs was never so much fun with our fun and engaging dinosaur worksheets printables bundle which focuses on prewriting, early literacy, math skills, coloring pages, logical reasoning, science skills, brain stimulating activities, dinosaur mask craft, templates and many more organized and well thought of activities to develop age appropriate skills.
Use these fun and no prep dinosaur worksheets for preschool, toddler, pre-k, kindergarten and first graders to create you own toddler printable busy book or file folder game.  This Dinosaur learning binder can be used by homeschooling moms or as a supplementary resource for parents.
Here is a SPECIAL LIMITED TIME link to get this ultimate bundle at unbelievable price (GET 50% OFF NOW) – Click here to GRAB THIS DEAL NOW ( exclusively for our readers)
Searching for an exciting educational resource for your little explorers? Look no further! The Dinosaur Worksheet Printable Pack for Toddlers, Preschoolers, and Kindergarteners has been a roaring success in our household.
🌋 Prehistoric Adventures Await 🌋 These worksheets transport your child to the age of dinosaurs! With captivating illustrations and engaging activities, our little ones were thrilled to embark on a journey through time. Learning has never been this dino-mite!
🦕 Fueling Curiosity 🦖 These worksheets sparked endless questions and curiosity about dinosaurs. From coloring and tracing to matching and puzzles, they offer a range of activities that educate and entertain, making learning a delightful experience.
📚 Building Skills, One Fossil at a Time 📚 We appreciate how these worksheets promote essential skills development. Whether it's fine motor skills, critical thinking, or letter recognition, these activities are designed to lay a strong educational foundation.
👨‍👩‍👧 Quality Family Time 👨‍👩‍👧 Not only did our kids have a blast, but we enjoyed quality bonding time as a family. These worksheets are a fantastic way to combine learning and togetherness.
💡 Why We Love These Worksheets: 💡
Engaging and Interactive: Keeps kids entertained while learning.
Affordable and Convenient: Easily printable from home.
Fuels Imagination: Encourages a love for learning and exploration.
Designed for Success: Developed with educational expertise.
🦖 Don't Miss Out on Dino-Tastic Learning! 🦕
Give your child the gift of knowledge and adventure with these incredible Dinosaur Worksheets.
🛒 Get Started Today – Click the Link Below! 🛒
🌟 Unleash Your Child's Inner Paleontologist! 🌟
Download now and Get instant access to Ultimate dinosaur worksheets printables bundle, a complete organized pack to develop age appropriate skills.
The Ultimate Dinosaur Worksheet printables pack includes:
Dinosaur Pre-writing tracing practice
Dinosaur tracing letters
Write the missing letters
Upper and lower case letter match
Dinosaur initial sound match cut and paste
Tracing names of Dinosaurs and Dinosaur word scramble activity for kid
Dinosaur crossword game and word search game for kids
Dinosaur early maths worksheets
Counting dinosaur worksheet
Dinosaur color by number, dinosaur dot to dot sheet and dinosaur puzzle by number activities
Dinosaur themed addition and subtraction mats
Dinosaur matching worksheets
Dinosaur Logical Reasoning worksheet for preschoolers
Dinosaur Color and Shape matching worksheets
Dinosaur cutting skills activity
Dinosaur Playdough mats
Printable Dinosaur lacing cards
Design your own Dinosaur skeleton cut and stick activity template
Printable Dinosaur Masks Template
D is for dinosaur craft template
Dinosaur coloring worksheet
Dinosaur jigsaw puzzle printable
Dinosaur Flashcards Printable
Dinosaur Fact Cards printable
Dinosaur life cycle craft worksheet
Label the Dinosaur worksheet
Dinosaur Poems for preschoolers
If your kid is a dinosaur enthusiast then this ultimate dinosaur printables pack is for you. This pack amazing covers all early learning skills required for a preschooler.
This No-Prep Dinosaur Worksheet pdf pack includes:
✅ Fun Dinosaur Pre-writing tracing practice:
These dinosaur-themed trace the line printables help the little ones to practice their prewriting skills to become to confident writers. Children trace the lines on the page, left to right. Children trace over the dots on the dinosaur picture tracing page to complete the picture on dinosaur theme and then colour it.
✅ Attractive Dinosaur tracing letters (Upper case lower case alphabet printable):
Children start tracing the upper and lower case letters on the page, they also get to learn upper and lowercase alphabet association.
✅ Attractive Write the missing alphabet worksheets (alphabet sequencing worksheets):
Children can fill in the missing letter of the alphabet a-z on the empty dinosaur eggs.
✅ Colorful Alphabet Upper case and lower case matching game printable:
This would be a fun hands on uppercase and lowercase letters game printable. Children match the upper case letter to the correct lower case letter by matching the upper case Dino with the lower case dinosaur eggs.
✅ Dinosaur initial sound identification worksheets (Beginning sound match cut and paste fun game):
Children cut the pictures along the dotted line on the dinosaur footprint and then match the sound letter with the image.
✅ Irresistible Dinosaur coloring pages by Alphabet and sight word codes:
Color by code is a beautiful coloring activity to enhance the kids visual discrimination skills. Wonderful dinosaur coloring pages with sight words and alphabets used for color codes.
✅ Tracing names of Dinosaurs and Engaging Dinosaur word scramble activity for kids
Two pages of different types of dinosaurs names to trace and learn. Lots of jumbled words in this dinosaur alphabet puzzle related to dinosaur's vocabulary to be solved for kids.
✅ Brain stimulating Dinosaur crossword game and word search game for kids:
Every kid loves crossword games and its fun when the hints are cute little cliparts. Lots of words are introduced to strengthen the dinosaur vocabulary in this fun word search game.
✅ Lovely Dinosaur early maths worksheets for little learners:
Lovely pink dinosaurs assist you to find the missing numbers in the number sequence. Lots of dinosaurs carrying dots and asking the child to roll the dice and color the corresponding dino.
There is a huge crowd in this dinosaur party. The child needs to figure out how many dinosaurs have attended the dino party.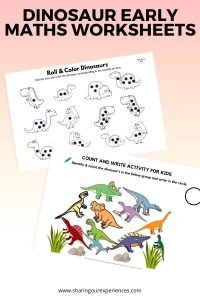 These early maths printables are low prep worksheets which can be downloaded, printed and put in to use immediately.
✅ Attractive Dinosaur Counting printable worksheets:
Dinosaur Counting cards for early maths practice. Dinosaur I spy sheet with lots of dinosaurs to count and followed by a dinosaur bar graph activity to introduce the concept of graphs.
Dinosaur color by number, dinosaur dot to dot sheet and dinosaur puzzle by number activities:
Little learners will color dinosaur pages by following color codes. Distribute plenty of crayons and markers for this coloring activity that asks students to identify numbers and fill in the matching colors in this prehistoric-themed dinosaur pictures. A brilliant Dinosaur Dot to Dot Colouring Pictures are great for maths lessons and art lessons.
Number Order Puzzles – This dinosaur theme resource contains 2 Puzzles. This fun and creative worksheet is perfect for kindergarten and the younger grades.
✅ Wonderful Dinosaur themed addition and subtraction mats for Kindergarten kids:
Adding and subtracting with Dinosaur theme line fun! Addition and subtraction within 10. 2 pages of addition practice, and 2 pages of subtraction practice.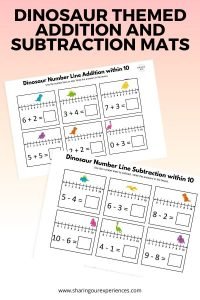 ✅ Fun and Easy Dinosaur matching worksheets and puzzles:
There are different types of matching activities such as Dinosaur head and tail match, Dinosaur shadow match activity and dinosaur pattern matching. This activity is ideal for toddlers.
✅ No Prep Dinosaur Logical Reasoning worksheet for preschoolers:
This logical reasoning sample activity set was created for preschoolers till 1st graders to practice using problem solving skills in a fun, engaging, and educational way. Colorful cliparts for preschool children with dinosaurs, dinosaur hatclings, bones. Funny dino prehistoric games for kids.
✅ Engaging and cute Dinosaur Color and Shape matching worksheets:
Ideal for toddlers to match different shape and colors and learn their names.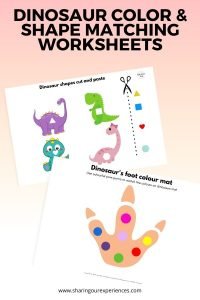 Dinosaur cutting skills activity:
Couple of pages to practice more of cutting skills.
✅ Fun hands on Dinosaur Playdough mats:
Some dinosaurs have lost their tails and some their spikes. Use playdough to give their parts back and also work on you finger muscles.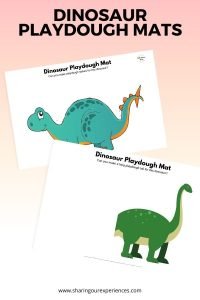 ✅ Adorable Printable Dinosaur lacing cards:
This is a pretty easy activity to prepare. Just print out the lacing cards (below), laminate them for stability, and punch holes around the perimeter of each card. Then, let your little one starting lacing. Lacing cards are great for helping little ones work on their hand-eye coordination and for building fine motor skills.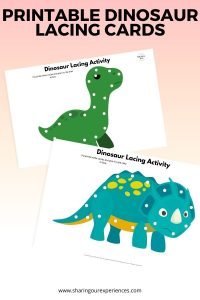 ✅ Design your own Dinosaur skeleton cut and stick activity template (Brilliant activity for kids):
This interactive resource is a hands-on way to see how fossils can make up one whole dinosaur skeleton. Kids must cut out the pieces and stick them back together to make a whole skeleton!
✅ Exclusive Printable Dinosaur Masks Template (fun party printables):
This will be perfect for a dino birthday party or with any other dinosaur related activity!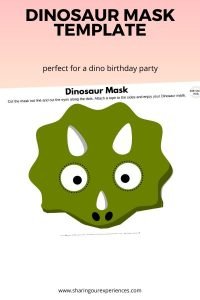 ✅ Awesome D is for Dinosaur craft template:
A beautiful template for D is for dinosaur to simple cut and stick. It can also be used as a dinosaur puppet.
✅ Fun and engaging Dinosaur coloring worksheet:
Some really fun coloring pages with lots of dinosaur scenes.
✅ Irresistible Dinosaur jigsaw puzzle printable for brain development:
This package contains 3 unique printable dinosaur themed jigsaw puzzles, ready to be printed onto card stock and marked for cutting at home. A quick and easy way to make your own jigsaw puzzles and, best of all, you never need to worry about losing a puzzle piece – because you can simply print another one.
✅ Dinosaur Flashcards Printable:
This handy set of dino (dinosaur) flashcards cover the main vocabulary for studying dinosaurs with lovely images to illustrate each one. You can easily print them so your children can keep them on hand or put them up in your classroom as a prompt for independent writing tasks.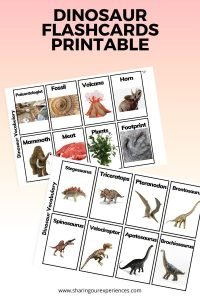 Bright and colourful to keep the kids engaged, these dinosaur flashcards will really capture your children's imagination. The illustrations help these ancient reptiles come to life too; they're a wonderful way to teach kids all about dinosaurs.
✅ Epic Dinosaur Fact Cards printable:
These dinosaur fact cards are wonderfully versatile and can be used to teach your children lots of fascinating dinosaur information. They can learn about the ancient world as well as its inhabitants and are fully printable.
✅ Hand on Dinosaur life cycle craft worksheet:
This is a great addition to any dinosaur unit. Your littles have space two draw and then label the different stages.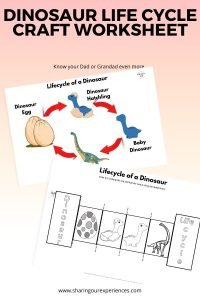 ✅ Label the Dinosaur worksheet:
Use this dinosaur worksheet to get your children labelling the different parts of a dinosaur. You can use this as a great way to enhance your History, Science and Geography lessons if you are covering a Dinosaur-themed topic, and they can be used to enhance fine motor skills in a variety of way by writing in the body parts or by cutting out and sticking the correct prompts in the correct area.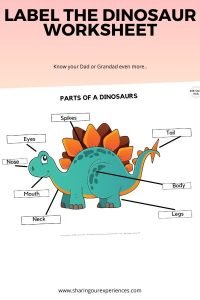 ✅ Fun and easy Dinosaur Poems for preschoolers: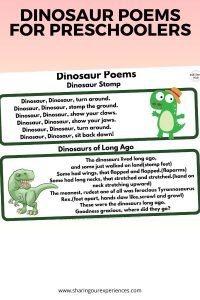 A great set of resources to support the teaching of dinosaurs!
For more Fun Worksheet Printables click here.
——————————————-
I N S T A N T ✱ D O W N L O A D
——————————————-
This is a DIGITAL FILE. No physical product will be sent to you.
How it works?
1) Purchase this printable
2) We will send you an email receipt and a download link
3) Download the file
4) Print PDF
5) Use it for LIFE!
For printing on 8.5" x 11" paper. Highly recommended to print on heavy cardstock and laminate for reusability and durability. You may also use Velcro dots or small magnets to assemble.
FAQ's – If you are in India – You can go for this printer , this laminator and these Velcro dots. If you are outside India, Check out the amazing handpicked list of supplies by clicking here (This is a list of items moms usually buy to plan activities at home)
———————————
T E R M S ✱ O F ✱ U S E
———————————
For personal use only. Not for commercial use or resale. You may not sell, alter, or share files in any form. Thank you!
6 reviews for
Dinosaur Worksheet Printable Pack for Toddlers, Preschoolers and Kindergarteners

Dinosaur Worksheet Printable Pack for Toddlers, Preschoolers and Kindergarteners