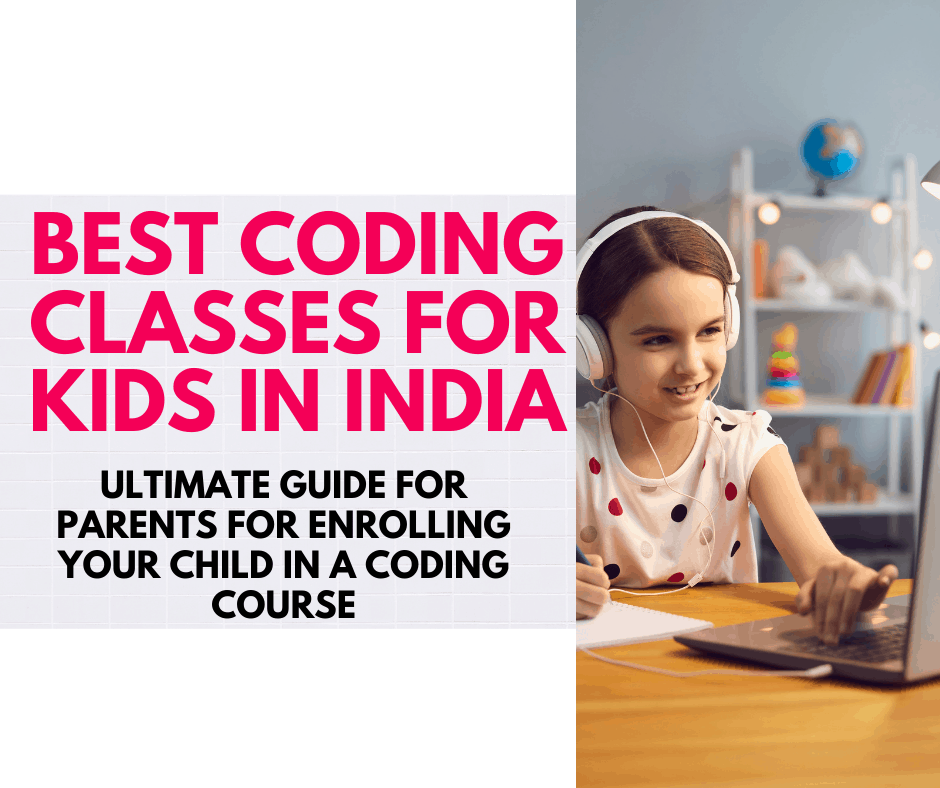 These days' online coding classes for kids are gaining a lot of popularity. As a parent of young kids, even you must have asked yourself if coding is something you should consider for your kids. Or is it only for those who aim to become developers when they grow up!
Why should kids join the best coding classes?
At 7-8 years, kids are too young to decide what they will become when they grow up. However, in whichever field they go, they will definitely come in contact with technology in one form or the other. So everyone should learn to code. It is not just restricted to developers but to everyone who wishes to be successful.
Steve Jobs has rightly said, "Everybody in this country should learn to program a computer because it teaches you how to think."
So, coding for kids is not just restricted to developing an app or a game. It comes with a plethora of benefits. It develops problem-solving abilities, logical and computational thinking. The earlier we introduce coding classes to children, the more comfortable they will become with computers and technology. It will condition the kids to think in a more logical way which would be beneficial in the future and make them successful too.
How to choose the best coding classes for kids?
You search online for the 'best coding classes for kids' and a million results will crop up. However, to choose the best online coding class for your child, you need to research a little and check a few parameters.
Curriculum: It should be well-structured and easy to understand for the kids. The curriculum for online coding classes is available on the website. So check it beforehand to avoid any confusion.
Tutors availability: 1: 1classes should be preferred for young kids to build a strong foundation on a topic before moving on to the next. Also, tutors must be available readily to clear doubts.
Fee Structure: If you are price sensitive, please check on the fees of the package and the services provided under the package.
Trial Classes: They give a fair idea of the teaching methodology. So, always take a trial class before finalizing a coding course for your kid.
Best coding classes for kids
For your ease, we have curated a list of the 8 best online coding classes for your kids. These classes are specialized in teaching coding to the kids in the most effective manner.
Camp K12
Camp K12 is a global online school for 21st-century skills. It has been teaching coding to kids since 2010. An MIT computer graduate, Anshul Baghi founded Camp K12 as India's first coding boot camp for K-12 students. Till now, it has already taught more than 50,000 students and has partnered with 100's schools and institutions for coding classes. It teaches coding and STEM subjects to kids from 5-8 years of age.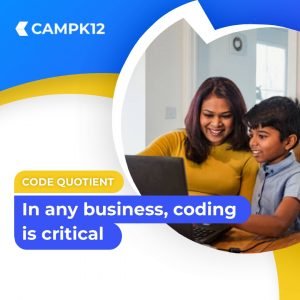 The coding courses at Camp K12 include the following:
Mobile App development
3D coding (VR and AR)
Artificial Intelligence (AI)
Web Development
Python Programming
Game Programming
At Camp K12, kids can choose long-term or short-term coding courses. The long-term coding courses begin from 36 classes and can go up to 144 classes. On the other hand, short-term courses finish in a month or so. The virtual classrooms are designed in such a way that online coding classes are fun and effective at the same time. Book a trial class with them here.
CodingZen
CodingZen is an online coding academy situated in New Delhi that was started in 2016. They provide a variety of coding classes and workshops for kids as an easy way to transmit technology knowledge and entrepreneurial skills to youngsters.
All of CodingZen's classes are geared toward students aged 6 to 18. The major goal of the CodingZen is to motivate young people to think, create, and develop crucial technical abilities in order to become the future generation of coding leaders.

At Coding Zen, all of the mentors are incredibly ambitious and full of energy. They have a very experienced Instructors who teaches with patience and never leaves any questions unanswered. The coding programs for kids India at Coding Zen are specifically prepared and categorized for students of various ages. Few main highlights of the courses are:
CZ Junior (5+ Year)
CZ Learner (9+ Year)
CZ Explorer (12+ Year)
CZ Creator (14+ Year)
Request a Trial class, which is a 60-minute free session, if you want to see how they are differ. You'll receive a free diagnostic evaluation as well as a better understanding of what methodologies they use to teach. The methods to gain access to these world-class cutting-edge programmes are actually rather simple. Just hit the link below:
Aside from that, you may sign up for their summer coding classes, which are highly popular and essentially lesser versions of their main coding programmes.
These sessions are open to youngsters aged 6 and up, as well as for those students who have no prior coding expertise. Summer camp offers a few unique modules such as viz Drone, AR/VR, and 3D Printing.
CodingZen is incredibly reasonably priced, yet providing the greatest online courses on the market.
Vedantu SuperCoders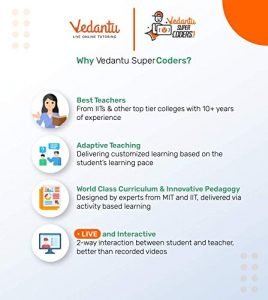 It is a personalized platform for teaching online coding to children in the age group 6-12 years of age. Vedantu SuperCoders promotes activity-based learning. It teaches kids to create apps and games and also develop artificial intelligence-based application systems using python. The learning is customized at the kid's learning pace. So if your child is a slow learner, the pace is accordingly adjusted. Various courses offered by Vedantu SuperCoders are:
Introduction to Game Designing
Introduction to Web designing & Multimedia creations
Master Apps, Games and Devices with Blocks/ Python/ Java Script
Introduction to Artificial Intelligence
Introduction to Internet of Things and Robotics
Master Apps, Website with Python, JS and AI-ML
CueMath
At CueMath coding classes, the aim is not just to build apps and games. They focus on mastery of computational thinking. Kids are taught coding by using various means like mazes, chasing games, artwork, and animation. CueMath aims at interlinking the concepts of mathematics with coding which makes learning easy for the kids. The worksheets shared are intelligently created and kids are made to solve them in the presence of a teacher. The child gets personalized attention as the teacher-student interaction is always 1:1 (even in group classes).
The various courses offered by CueMath coding classes are:
Game Development
App Development
Python Basics
Toppr Codr
It is a one-stop after-school learning platform. Toppr Codr is their coding platform to teach coding skills to the creators of tomorrow. TopprCodr solves student's problems using advanced technology to help them learn better. Toppr has more than 1.5 million learning pieces, including practice questions, solutions, concepts, and videos that come together to give 360° learning. Toppr Codr is also known to use artificial intelligence-based algorithms to create personalized learning paths for millions of students.
Courses offered by TopprCodr are:
Introduction to coding
Visualize and create
App and Game development
Web development
Code and create
Professional development
MindBox
The platform MindBox, offers the best coding class for kids because they help the kids in becoming Creator, Thinker, and Innovator. MindBox offers specialized, focused coding classes for different age groups. MindBox is changing the way kids learn. Here the kids explore, learn, apply the knowledge and create new things. The teachers just act as facilitators of learning. It provides Context-Based Experiential Learning and expands the Creative, Digital & Life Skills of Students using Design Thinking, STREAM, and Skill Development frameworks to develop a solution mindset among students.
All the courses are focused on fundamentals that not only ensure a strong foundation for the kids but also enhance their creative confidence. You can check out the detailed curriculum here. Courses offered by them are:
Graphic Design
GameDesign
3D design and animation
App Design
Web Design with coding
Coding
WhiteHat Jr
White Hat Jr is a Mumbai-based startup founded by Karan Bajaj. It has online coding classes for kids in the age group of 6-18 years. It offers 1:1 live interactive classes for kids of all age groups. White Hat Jr offers various courses like app development, space tech coding, python training, etc. Their curriculum is designed by industry experts and the top 1% of selected teachers take the classes.
At WhiteHat Jr coding classes you will learn the following:
The essentials of coding: Logic, Structure, Sequence
Creating Websites, Animations & Apps
Manipulating data using programming languages
Becoming a problem solver
Learning how technologies converse with each other
WhiteHat Jr coding classes offers courses which can be accessed here.
RoboGenius
RoboGenius was founded by Sudhanshu Sharma. It has been offering coding, robotics and artificial intelligence classes for kids for more than 14 years now. The online coding classes are apt for kids aged 6 – 16 years. The RoboGenius courses are logically structured to make kids the tech all-rounders over time. It uses a 5C Teaching Methodology to teach coding to the kids:
Connect with real world examples
Concepts are demystified
Code to create digital creations
Contemplate on the viable possibilities
Continue to ideate and practice learning
There are a variety of courses for all age groups which can be checked here.
CodeVidhya
The team at CodeVidhya aims to facilitate technical education besides contemporary learning to the kids. CodeVidhya teaches with creativity, sharing, and collaboration. They are making the young generation future-ready. They teach kids concepts that help to understand the future needs and also make complex learning easy with effective tools and techniques. The courses offered at CodeVidhya are:
Scratch Coding
App Development classes
Web Development
Artificial Intelligence
Python Coding
As parents, you should empower your kids to become the innovators of tomorrow by teaching them online coding. It would teach them an overview of computer science and its applications in the world.
These are the platforms that offer the best coding courses for kids in India. Technology is getting advanced with each passing day. With the changing technology, you have to make sure that your kid stays in the game by learning from any of these platforms. Let your child learn from an expert and become a coding expert himself/herself.
FAQs on Online Coding and Programming for Kids
What are the best free online coding courses in India?
5 Best Free online coding courses in India
Code.org – Learn to Code
Code.org is one of the most popular websites that offers free coding classes for kids. It employs interactive teaching methods such as maze games. There are a number of exclusive videos featuring individuals of high caliber including Bill Gates and Mark Zuckerberg.
ScratchJr.org and Scratch
These platforms are widely used by children. The site is aimed at kids from 6 – 16 years old. It has one of the easiest interfaces using visual code blocks. You can just drag and drop blocks of code to program various stories and games. Scratchjr also offers curriculum, activities, and assessment exercises for teachers too.
LightBot
It is an app-based experience that is interactive and enjoyable for all age groups. LightBot is basically a puzzle game that requires coding knowledge to advance. This promotes the problem-solving skills of children. LightBot offers a range of lessons that includes sequencing, procedures, overloading, conditionals, and recursive loops.
Codemonkey.com
Another excellent platform that offers free coding lessons for kids is Code Monkey. It teaches coding to children through the interactive environment of online gaming. The general objective of Code Monkey is to have the user help a monkey obtain bananas. To make this happen, the user has to work through a series of tasks and challenges to correctly code the monkey towards the bananas.
Crunchzilla.com – Code Monster
Crunchzilla is again a simple teaching platform when it comes to boosting your kids' knowledge of coding. Code Monster provides interactive coding practice using JavaScript. Its interface has a friendly monster graphic with a chat bubble that displays questions and step-by-step guides.
At what age can a child learn coding?
Generally, experts recommend that kids should start coding at the earliest possible age. There are several studies that have proven that kids who start coding in elementary school, achieve better academically. Different kids learn differently and at different paces. Kids as young as 5-6 years old can start coding and learning programming basics. Having said that, it's never too late. Kids can even start to learn to code when they are 14 years or older.
How much does it cost to learn coding in India?
There are a lot of websites and apps where your child can learn coding for free. However, if you wish to go for paid coding classes then it depends on which institute are you choosing and whether you are taking 1:1 classes or group classes. Usually, the best coding classes for kids in India costs 250-800 per session.
Can a 12-year old learn coding?
Kids as young as 5 years old can learn coding using blocks or visual programming. However, kids above 12 years can learn programming languages and their syntax too. It is the ideal age to start learning python.
Which is the best coding class for kids in India?
MindBox is the best coding class for kids because it follows a holistic learning approach. It believes that every child is unique and learns differently. Hence, they all need to be taught differently too. MindBox is changing the way kids learn. Here the kids are allowed to explore, learn, apply the knowledge and create new things. The teachers just act as facilitators of learning. MindBox uses a multidisciplinary approach of STREAM that helps kids to create apps & games by understanding how subjects integrate and work together. Kids learn to apply the combined knowledge of all the subjects and create solutions for real-world problems.