Wedding Anniversary Wishes for Parents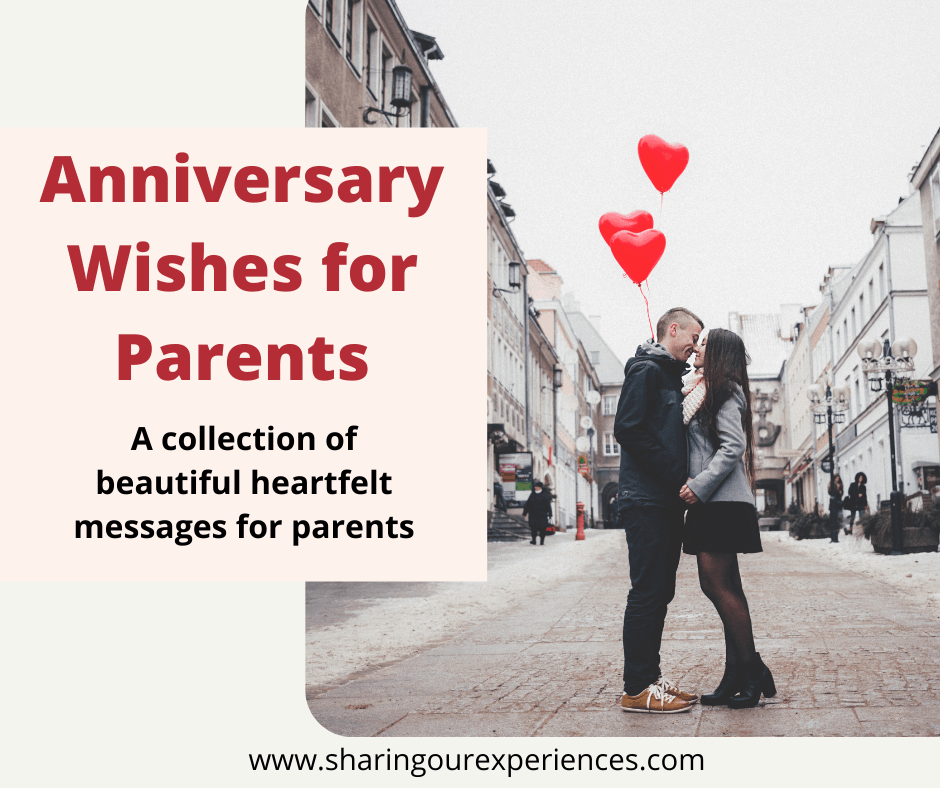 ---
Looking for wedding anniversary wishes for parents or in-laws? We have got you covered with these best anniversary wishes and quotes for parents (all at one place – for you to just read and choose)
Anniversary is a great day to show your love, and respect for your parents. Parents together work hard and try to do whatever best they can for their children. On their anniversary surprise them with an anniversary party or a gift or just something special that would make their day worth remembering.
Here are some messages that you can write on a wedding anniversary card or send as an SMS. They're beautiful and romantic and will instantly brighten up the mood of your parents.
When you plan to write a message to wish them, think of 5-6 positive words, that put together will give you a lovely wish for them. You can even pick from the messages/wishes below
To my lovely parents, I love how truly, madly and deeply you are still in love after all these years.
You both have set an epitome for what it means to be in love! Happy anniversary dear Mom and Dad.
My children are so lucky that they have the best and coolest grandparents in the world.
"Dear mom and dad, wishing you lots of happiness and love. Thank you for setting a remarkable example of true love.
 "You have shared happy and loving times over all these years together, wishing you love and laughter in the coming years too."
 As your child, I can say you two are the perfect inspiration for love, marriage, friendship, and parenthood. Mom & dad, You both rock!!
"Dear mom and dad, I wish you all the happiness on your wedding anniversary and on the days to come. Wishing you both many more joyful moments in the years to come"
Advertisement| Article continues below.
---
---
Happy Anniversary Wishes for Parents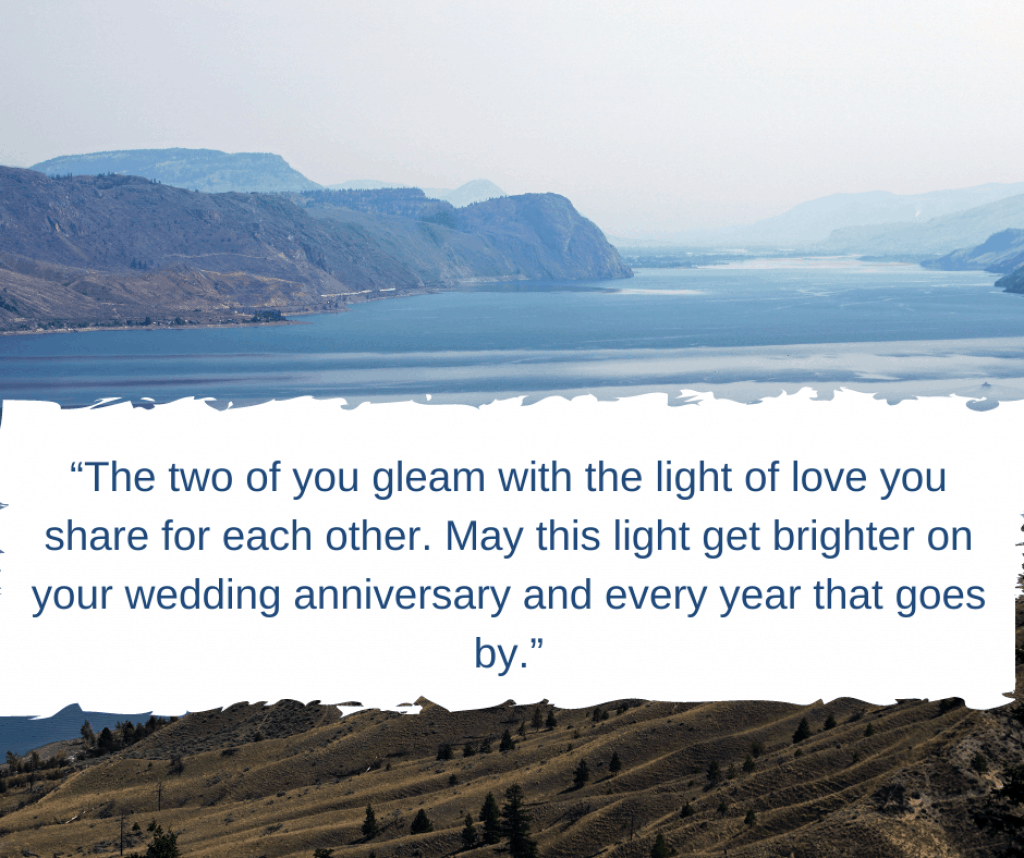 "The two of you gleam with the light of love you share for each other. May this light get brighter on your wedding anniversary and every year that goes by."
You both are a perfect couple. I'm truly blessed to have you as my mother and father. Happy wedding anniversary to you!
Dear Mom and dad, you both are committed to each other for so long, your love story is truly inspirational. Happy Anniversary
It' has been a gift to be the child of such cherishing parents hope you have the best anniversary ever.
Wishing a lifetime of love and all the best for the two of you on this day, you are my all-time favorite couple.
On this wonderful occasion, let us celebrate another year to strengthen your beautiful love. We are proud children of our loving parents. Happy Anniversary
25th Wedding Anniversary Wishes for Parents
Marriage is a beautiful set-up between two people that most often leads to families and coming generations. It takes a lot of continuous efforts, trust, patience and sacrifices to build a successful relationship. Completing 25 years together is a big-big milestone indeed. A milestone that calls for big celebration! here are some messages wishing the couples on their 25th anniversary.
Another year of being a lovely pair. Congrats mother and father for reaching together to this big milestone of 25 years of togetherness. wishing you both a happy anniversary.
Happy 25th Anniversary to you mom and dad! Congratulations on reaching this big milestone made of love and trust! Wishing you happiness for the days ahead too!
So good to see you both, you are a perfect match for each other. Dear parents, happy 25th anniversary.
Dear mom and dad, Congratulations to you both on your 25th anniversary. May you celebrate many such anniversaries in your life. Congratulations on your 25th one.
Growing old with someone you love is the most beautiful thing ever. May God bless you and fulfills the years ahead with joy and happiness. Cheers to your 25 years of being together
Congratulations on the silver jubilee of your wedding! The bond you two have is remarkable and inspiring to the spectacle! May you always stay blessed!
Kudos to you both for making your relationship run a long way. Dear parents, happy marriage anniversary for the 25th time.
50th Marriage Anniversary Wishes
Anniversaries are a big occasion for a married couple, and it gets even better with age. The 50th marriage anniversary is a big milestone that not too many couple get to see. Surprise your parents on their big day. Use one of our lovely messages on their greeting card.
How incredible it is to know that you have been together for 50 years. Cheers to the love and bond that you share. Wish you a very happy marriage anniversary!
It's your 50th-anniversary parents, your smile says how much you both are in love with each other! Stay blessed. Happy anniversary!
You two became one 50 years ago this day, crossed a long journey together, and overcame every distress with the power of your love! Happy 50th Anniversary!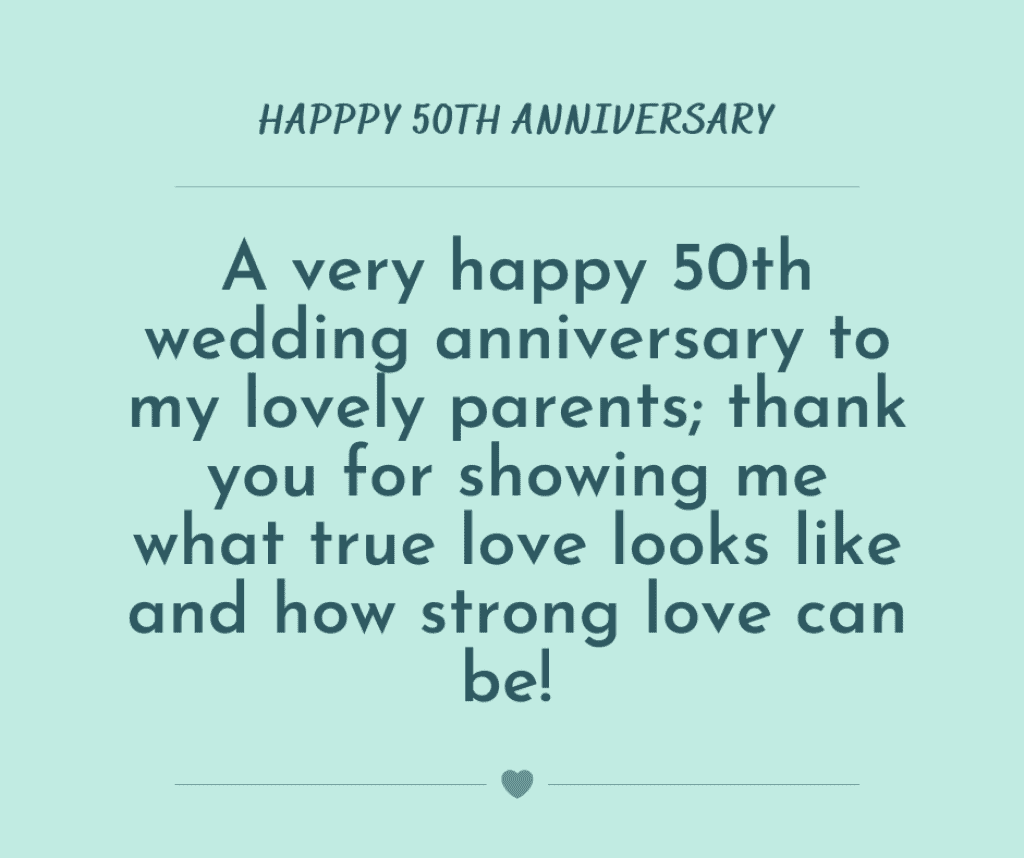 A very happy 50th wedding anniversary to my lovely parents; thank you for showing me what true love looks like and how strong love can be!
Happy 50th wedding anniversary to my amazing parents. Thank you for teaching me how strong love can be.
Wedding Anniversary Wishes for Couple
 "Wishing the most perfect pair a perfectly perfect day."
"May the love you that you feel for each other today grow stronger every single day."Happy Anniversary mom and dad.
On this special day, you have shared your love years ago and your love is still getting stronger and stronger. Happy anniversary!
"Hope every day that you share together is more beautiful than the last! Happy anniversary."
Dear mom and dad, your love has made this world a better place to be in, thank you for having me as your offspring. Happy anniversary!
"Congratulations on completing another year of being deeper in love with each other. Happy anniversary!"
Funny Anniversary Wishes for Parents
One more year of wedded bliss and you are the best & cutest couple ever. Please share your secret with us, for us to apply it and live a happy married life!
Congratulations on having someone to annoy for all these years. Happy anniversary mom and dad.
Dear Dad, you keep making fun of mom's decisions and choices, don't forget you are one of them! Happy anniversary.
Hats off to you guys for tolerating each other for the last 25 years! wish you both more patience, may you bear with each other for another 25 years and more… Very happy wedding anniversary to my dearest parents
You argue and reconcile, you fight, and then you make up.  I have seen you both laugh and cry, fight and love. You both know how to balance a perfectly married life!
I have heard people say that the wedding ring is the smallest handcuff in the world, but you both make this jail of marriage look so beautiful! Happy wedding anniversary mom and dad.