Beautiful Quotes for Father's day, perfect for Father and Daughter and Father and son, quotes that will melt your heart.
Looking for quotes to suit your dad and daughter or dad and son relationship? Or looking for something to write on your Father's Day card? Or a special message for your father's birthday Day? Simple lines with a beautiful quote can make the whole message heartfelt and touching.  
Here we have curated a list of over 100+ quotes for your beautiful relationship.
Check out our Father's Day Gifting Guide- Best Father's Day Gifts
Loving Quotes for Father & Son
The bond between father and son is inexplicable, a father can be rough, harsh, but only for the good of his children. here are some beautiful love quotes that we have put together for you.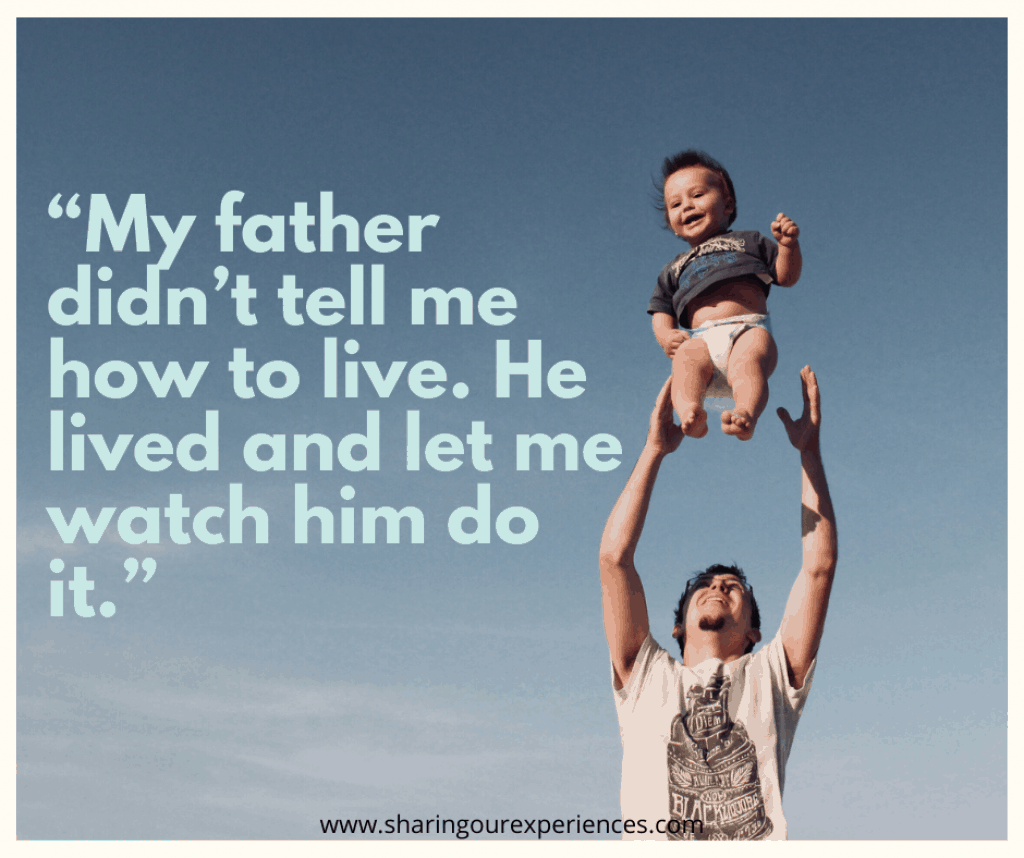 "A son can change his father from being selfish to selfless."
 "A son may outgrow a father's lap, but never his heart."
"Fathers, like mothers, are not born. Men grow into fathers, and fathering is a very important stage in their development." – David M. Gottesman
"There is no greater need in childhood than the protection of a father."
"A son is a promise that a father will always have a friend."
"A dad will always need his son, no matter how old he is."
"Like father like son: Every good tree maketh good fruits." – William Langland
"I love the comic opportunities that come up in the context of a father-son relationship"- Harrison Ford
"We became friends, not just father, and son." – Richard Bergeron
"With sons and fathers, there's an inexplicable connection and imprint that your father leaves on you." – Brad Pit
"My father didn't tell me how to live; he lived, and let me watch him do it." – Clarence Budington Kelland
"What was silent in the father speaks in the son, and often I found in the son the unveiled secret of the father." – Friedrich Nietzsche
"A father is a man who expects his son to be as good a man as he meant to be." – Frank A. Clark
"The nature of impending fatherhood is that you are doing something that you're unqualified to do, and then you become qualified while doing it." –John Green
"If there is any immortality to be had among us human beings, it is certainly only in the love that we leave behind. Fathers like mine don't ever die." –Leo Buscaglia
"The fact that my relationship with my son is so good makes me forgiving of my father and also appreciative." – Anthony Kiedis
"A father is someone you look up to no matter how tall you grow."
"It is easier to build strong children than to repair broken men." –Frederick Douglass
"A father's love is eternal and without end."
"Fathers are men who dared to place the world's hopes and dreams in their children."
"The value of a loving father has no price."
"When a father speaks, may his children hear the love in his voice above all else."
"A dad is half of you, so he knows you better than you might even know yourself. Rely on his wisdom in life."
"Even the best dads make mistakes. But there is no mistaking their love for their children."
"Children need models rather than critics." –Joseph Joubert 
"Dads share wisdom with their children in the hopes they spread it throughout the world."
"Life doesn't come with an instruction book — that's why we have fathers." H. Jackson Browne 
Inspirational Father Son Quotes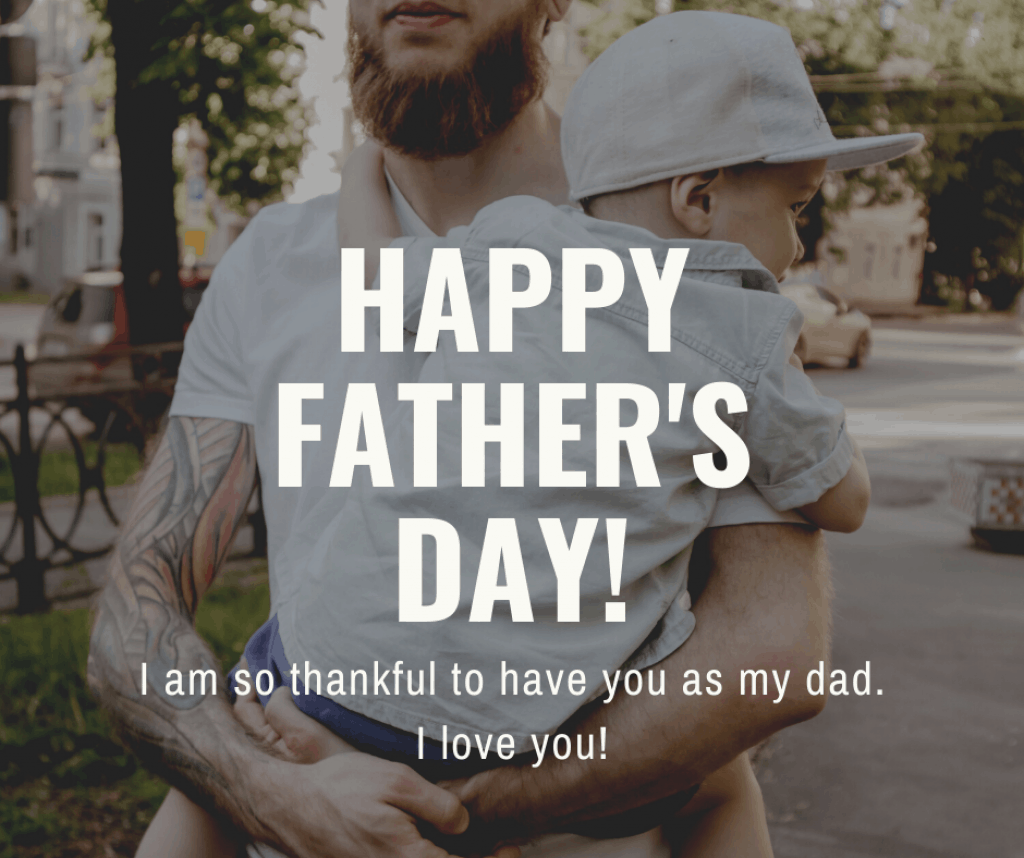 Our parents are our role-models. We look up to them, but it is parenthood that makes them so, children only get the better of their parents. check out these inspirational quotes for fathers and sons.
"It is not flesh and blood, but heart which makes us fathers and sons." – Johann Friedrich Von Schiller
"Being a great father is like shaving. No matter how good you shaved today, you have to do it again tomorrow." –Reed Markham
"Father!—To God Himself we cannot give a holier name." –William Wordsworth
"The best way of training the young is to train yourself at the same time; not to admonish them, but to be seen never doing that of which you would admonish them." –Plato
"Every dad, if he takes time out of his busy life to reflect upon his fatherhood, can learn ways to become an even better dad." —Jack Baker
"There is no love on earth greater than that of a father for his son."
"It is the duty of the father to give his sons a good chance."
A father has such an enormous impact on his child's life. The father's image is the strongest impression in the son's memory about a wise and brave man.
During his son's childhood and even lifetime, the father means the protection, the inspiration, and the warmest love.
Fathers should know that sons follow their example, not advice."
"Nothing is dearer to an ageing father than his son."
"When my dad did not hold my hand, he had my back."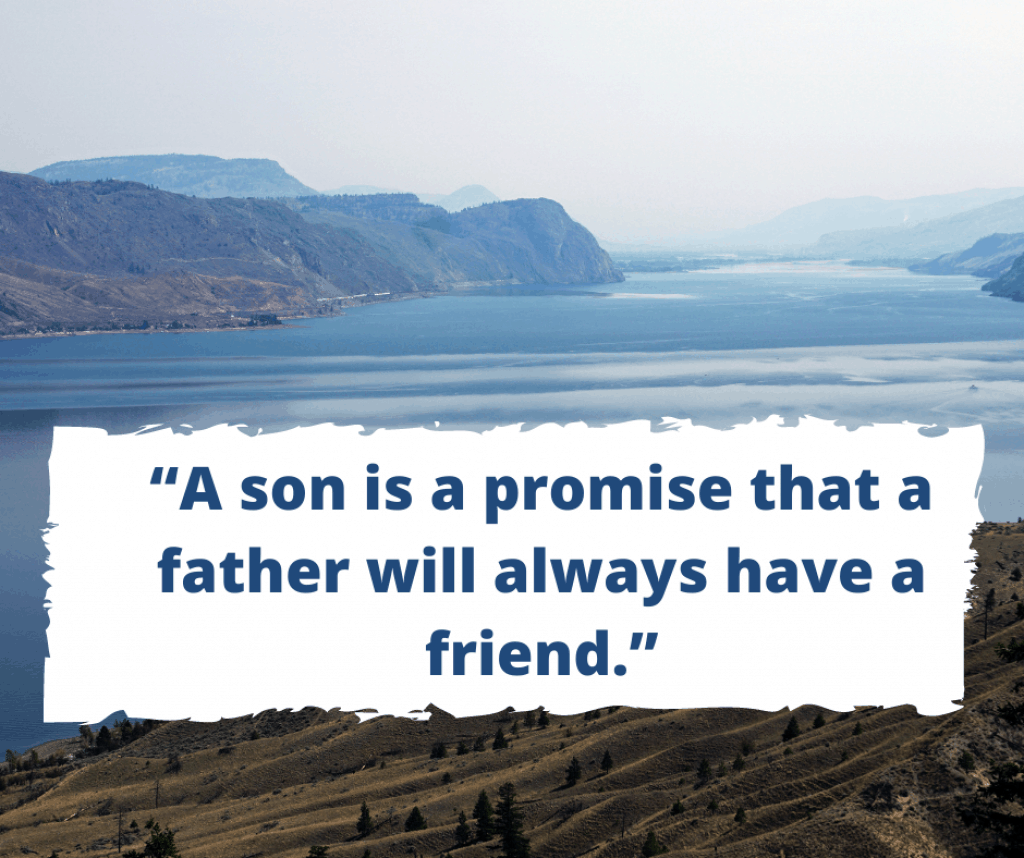 "My father gave me the greatest gift anyone could give another person, he believed in me." – Jim Valvano
"Fathers should know that sons follow their example, not advice.""Until you have a son of your own, you will never know the joy, the love beyond feeling
that resonates in the heart of a father as he looks upon his son." – Kent Nerburn
"When you teach your son, you teach your son's son."
"Becoming a dad means you have to be a role model for your son and be someone he can look up to." – Wayne Rooney
"I hope I can be as good of a father to my son as my dad was to me." – Calvin Johnson
"Nothing is dearer to an ageing father than his son."
"A boy's first hero is his dad."
Proud father son quotes
"You don't raise heroes, you raise sons. And if you treat them like sons, they'll turn out to be heroes, even if it's just in your own eyes." –Walter M. Schirra, Sr.
"My father didn't tell me how to live; he lived, and let me watch him do it." -Clarence B. Kelland
"Some people don't believe in heroes, but they haven't met my dad."
I'm proud of many things in life, but nothing beats being a father.
Dad Quotes from Son
 "My father was the one who taught me to value myself and I am forever grateful."
"To the world you are a dad. To our family, you are the world."
"My father is like no one else. He has always believed in me, protected me, strengthened me, and I know without a doubt that he loves me unconditionally."
"My favorite words to hear in the whole world are 'Daddy, I love you.'"
"A father is a man who expects his son to be as good a man as he meant to be."
"Every father should remember that one day his son will follow his example instead of advice."
"When a father gives to his son, both laugh; when a son gives to his father, both cry, tears of joy and pride"
"DAD – A son's first hero, a daughter's first love."
Father Daughter Love Quotes
"Being a daddy's girl is like having permanent armor for the rest of your life." — Marinela Reka
"No one in this world can love a girl more than her father."
"A man's daughter is his heart. Just with feet, walking out in the world." — Mat Johnson
"Dad, you've always been the coolest — like all those times you said 'yes' when Mom said 'no.'" — Unknown
"Behind every great daughter is a truly amazing dad."
Dad and Daughter Inspirational Quotes
"Fathers, be your daughter's first love and she'll never settle for anything less."
"A daughter needs a dad to be the standard against which she will judge all men."
"In the darkest days, when I feel inadequate, unloved and unworthy, I remember whose daughter I am and I straighten my crown."
"It was my father who taught me to value myself." – Dawn French
"A good father will leave his imprint on his daughter for the rest of her life." – Dr. James Dobson
"My father didn't tell me how to live. He lived and let me watch him do it."
"He was a father. That's what a father does. Eases the burdens of those he loves. Saves the ones he loves from painful last images that might endure for a lifetime." – George Saunders
"You brought me every single toy that I wanted when I was young. I hope I can return the favor when I grow up by achieving every single goal that you always wanted me to. I love you."
Daughter Quotes from Dad
"Dear daughter you are my true love."
"A father doesn't try to hold his daughter back or take the path for her, his job is to light the path with his love so she can always find her own way."
"And I love a little girl very, very much, even more than I love myself."
"You are loved for the girl you are, the woman you will become, and the precious daughter you will always be."
"I never want my kids to mess up and think 'dad is going to kill me'. I want their first thought to be 'I need to call my dad.'"
"A daughter may outgrow her father's lap, but she'll never outgrow his heart."
"As a father I'm only ever going to be in 1 of 3 places. In front of my daughter cheering her on, behind her to have her back, or beside her so she never has to walk alone."
"A father is always proud of his daughter, not because she has achieved something great, but because she is his daughter."
"Daddies and daughters may not always see eye to eye, but they are always heart to heart."
"One of the greatest things a father can do for his daughter is to love her mother."
Love Quotes from a Parent to a Child
I see the best parts of myself reflected in you, but you've made all those qualities even better.
I haven't been a perfect person, but the one thing I will never regret is bringing you into this world.
There's no bad thing you could do that would ever change my love.
Wherever you go, my love is with you.
When times are hard, when your friends turn against you and your luck seems to fail, know that I will always be just a phone call away.
It's a beautiful thing, watching another adult walking around out there in the world with my heart beating inside them.
I know you must walk your own path, but let my love be the light to guide you.