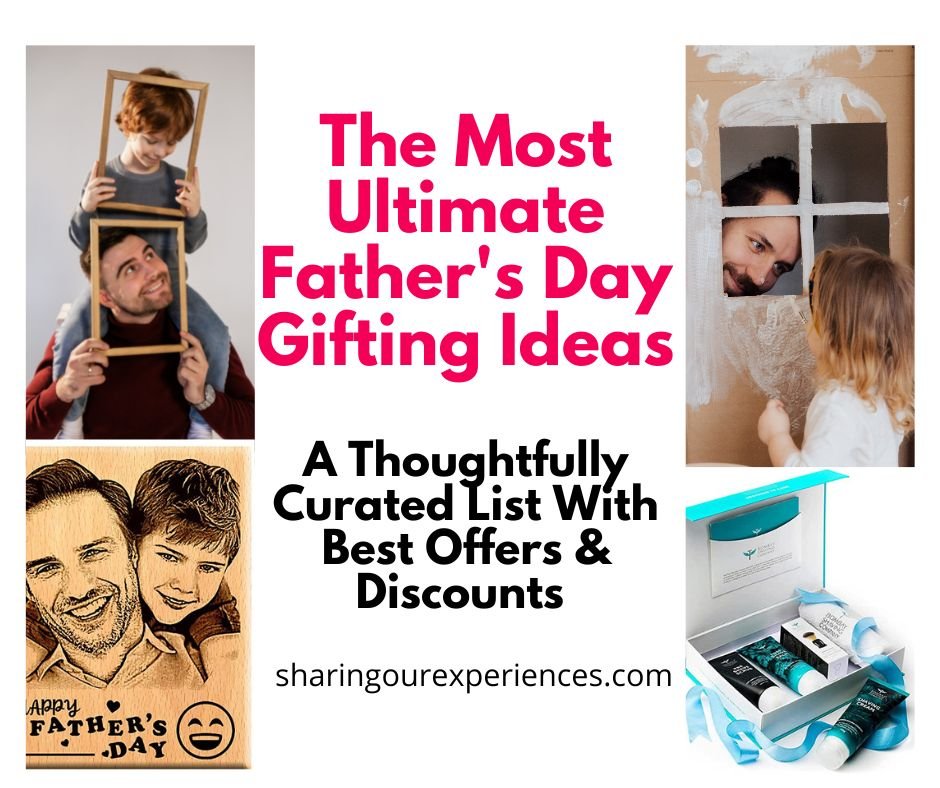 Fathers day is a day to make fathers, and grandfathers feel special, not that you should not make them feel special every day. But this day comes as a reminder to mark their contribution and selfless love and celebrate fatherhood.
The bond between a father and his children is inexplicable, a father can be rough, and harsh, but only for the good of his children.
On Father's day across the world, children, older or young present useful and unique gifts to their fathers. With markets and online sites flooded with options, choosing that perfectly suitable gift becomes difficult. Here in this article, we have put efforts to curate a list that your father will love.
Check out Fathers' Day Quotes here>> Best Father's Day Quotes.
Tips for Buying Fathers Day gift
Consider those items as a gift that your father needs but has not bought, such as a Bluetooth speaker, ear pods/earphones, or a book that he has been meaning to read.
Consider things that he can use every day
You may also consider your father's hobbies before buying a gift.
Also, Read – 120+ Heart touching quotes for husband
Unique Gifts for Father's Day
Below is the list of unique father's day gifts to surprise your father.
Perfume Kit- Best father's day gift
Who doesn't want to smell good and fresh all day? Gift a perfume set to your father, a luxury gift, and something he will definitely use, this perfume set will make a great gift for father's day
Passport Cover For Dad-Unique Father's Day Gift
The sleek cover looks elegant, makes for a wonderful gift if your dad is a frequent traveler.
Useful Gift Ideas for Father's Day
It is important that the gift looks good is different, but what is most important is that it should be useful and not just lie in some corner, never to be checked again.
 Leather Wallet, Keychain and Pen Set
This is something all men can use and will use, a beautiful set for your dad, to make his day special.
Tool Kit Set- For Mr. Fix It All Daddy
Tool kits are important in homes as they help in doing repairs and small DIY projects. Every house should have a basic set of tools like a hammer, screwdrivers, chisel, saw, etc.
Perfect Gift- Phone for Seniors
Perfect phone with elder-friendly features, If your dad is someone who is not comfortable with smartphones, this can make a very good gift.
Foot Massager For Father's Day Gift
Our fathers take all the pains to pamper us, a foot massager can help you pamper your father. This massager helps to relieve fatigue and improves blood circulation and overall wellness.
Laptop Bag- Useful Gift For Father's Day
Laptop bags are a very useful gift if your dad goes to the office and carries a laptop. These laptop sleeves/bags look stylish and elegant.
Pen or Pen set- utility gift for father's day
This pen set is a very good gift as your father can use it every day.
Grooming Kit- Father's Day Gift Set 
This can make a great gift, most fathers don't like to spend on grooming items, pamper them this father's day with a grooming kit.
Cool Aviators for Cool Dads
If your Father likes to dress up and go out, Aviators good make for a great gift apart from regular shirt, trousers, aviators will make for a unique gift.
Gifts For Dads who Love Tea
Most dads love to have chai in the morning, some even love to have it round the clock, for such dads, get some lovely chaitastic gifts like Chai mugs, exotic organic tealeaf combos, and tea coasters, etc.
Masala Chai Tea Gift Set by Vahdam
Vahdam Teas has been featured in the prestigious Holiday Gift Guide curated by Oprah Winfrey for 2 consecutive years now. This is a perfect gift for tea lovers.
Hot Coffee/Tea Mug with Lid
If Your dad loves tea/coffee, then he will really appreciate this gift. The cup is insulated, which means it keeps hot things hot and cold things cold. This Mug comes with a lid, hence it is travel-safe too.
Bollywood Themed Quirky Cool Coasters
If your dad is a tea lover and also a Bollywood fan, don't forget to get this coaster set for him this father's day.
Father's Day Gift Ideas for Fitness Freak Dad- fathers day gifts for dads into fitness
Fitness is important and you are lucky if your dad is a fitness freak, which means he will remain healthy and happy also it means it will be easy for you to choose a gift for him to make him happy!!!
Back Massager – Father's Day Gift to Pamper Your Dad
It is a multifunction product and can aim at affected areas like the neck, shoulders, back, calf and thighs. It is Portable as well as it has handles on both sides. The best part is that it is contoured in accordance with the human body's back shape, so it gives complete relief to each and every zone.
Fitness Band For Fitness Freak Dad
This fitness tracker by Xiaomi is a perfect gift for your dad if he is concerned about fitness. This cool fitness tracker is so much more- comes with SpO2 Sensor + 24Hr Heart Rate Monitoring, tracks 30 different activities using Mi wear Application, this band autodetects 6 fitness activities. Check it here- Best Fitness band
Gift Ideas for Travel Enthusiast Dad
If your dad loves to travel then do consider some of the gifts from the list below. We have identified some really cool stuff for your dad to gift this father's day.
Binocular for Long Distance, Bird Watching, and Trekking
If your father loves traveling, he will definitely love this gift. This Binocular can be used for birding watching, travel, hunting, climbing, hiking, etc.
Neck Pillow – Rest Cushion for Travel
This pillow ensures that your neck is well rested while on travel. This Neck cushion is big compared to others available in the market. It gives you a great head lift. Show your dad that you care by gifting him this Rest Cushion.
Best Personalised Gift Options For Father's Day
Personalized gifts hold a special place in every heart. Get a personalized gift and make your dad feel special this father's day!
Personalized Engraved Wooden Photo Plaque
Engraved Wooden plaques make for lovely decor pieces. Your dad will surely love this as a Father's Day Gift.
Personalized Worlds Best Dad Photo Led lamp Frame
This beautiful lamp can go by your dad's side table or study or office desk.
Best Father Personalized Table Top Standy Wooden Photo Frame 
Tabletop gifts are a constant reminder of your love, gift your dad this beautiful wooden photo frame.
Do checkout >>> Father's Day Activity Printables here <<<
Hope you were able to choose a gift for your lovely father. Hope he likes it. If you think we missed including something, do comment below!